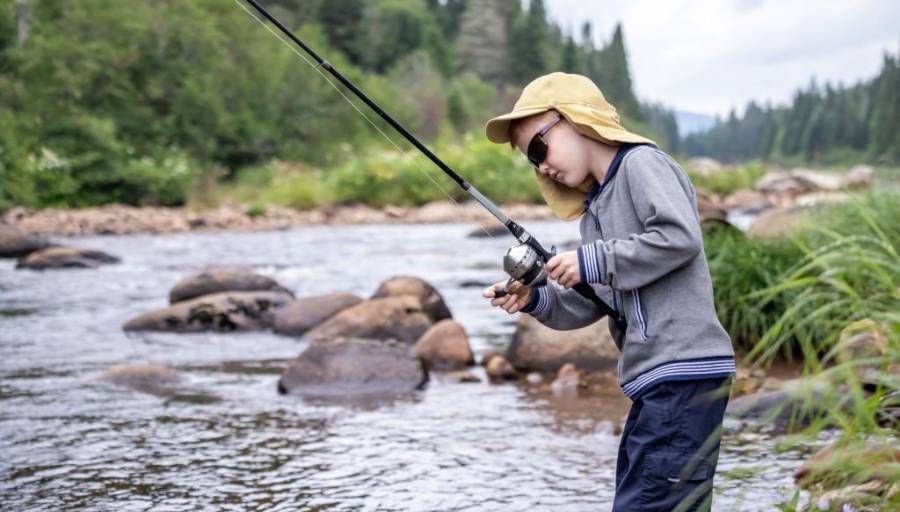 How to choose a fishing pole for kids? Well, on the market, the number of fishing rods dedicated to kids is far lower than that of adult fishing rods. Yet those who want to give their first fishing rod to their son or grandson must still face a series of doubts.
Here, you don't need to pay so much focus on the most efficient or best-performing fishing pole: here the focus must be on the comfort of use and even more on the fun… To choose a fishing pole for the little ones, you want to see the child get interested or even pleased!
So today we will see what are the parameters to take into consideration before buying a fishing pole for your kids. Enjoy the reading!
Some Tips for Buying Your First Kids' Fishing Pole
What should the first fishing rod for kids look like? Of course, it all depends on what you actually want to do with that tool. As anticipated, everything must be oriented toward maximum fun: this is the goal that one must keep in mind who want to spend a few hours of pure relaxation in the open air with their grandchildren.
Of course, to involve the boy or girl in this great passion, the trick is to make this activity simple without immediately aiming for difficult or elaborate techniques.
We are talking about children, and therefore people who tend to get bored immediately, who continually want to try something new, and who are immediately ready to get angry when something doesn't seem to work.
Then, much better to teach basic techniques for catching easy and small fish so that you're always guaranteed new stimuli for children. Furthermore, it always would be good to show the catch and release technique as soon as possible, so as to teach children respect for nature.
Choose the Length
When you start looking for the first fishing rod for kids, undoubtedly the factor that gives rise to many doubts is the length. Here we are talking about small kids, usually aged between 5 and 10 years who would have many difficulties in handling long rods.
The first piece of advice is therefore to choose small telescopic rods, which allow kids to handle them easily on every occasion.
Undoubtedly, those who aim for comfort, for a small child, could look at a rod from 1.40 to 1.80 meters. This will allow them to have a lot of fun in a comfortable way. So it must be said that spinning will prove to be good for rivers, but often insufficient in the case of small lakes.
Those who want more versatility and perhaps sacrifice a bit of comfort should choose a lightweight 2.10-meter rod, perhaps with a 2,000-meter reel: this could be a great choice for a child who has already shown his passion quite clearly for fishing.
One thing is certain: for younger kids and beginners, fishing rods of 2.7 meters or over 3 meters are downright heavy and unmanageable.
How to Choose a Fishing Pole for Kids: Some Models
Shakespeare Cosmic Combo rod + reel for Kids
Here is the first kids' fishing rod I want to introduce to you. I'm talking about a combo of rod and spinning reel, weighing 331 grams and a length of 1.40 meters. It is an ideal choice for those approaching the world of casting fishing for the first time. It is difficult to find a better combination (even in terms of price) to bring the little ones closer to the fishing rod with a spinning reel!
Zebco Splash Kids Spincast Reel and Fishing Rod Combo
With this fishing rod for kids, I talk about spincast instead. For this model, the length is 1.22 meters and the weight is 300 grams. As in the previous model, the barrel is in fiberglass. Of course, the reel in this model is fixed.
Shakespeare Catch a Monster Spinning Combo rod + reel for children
This is a very nice fishing rod for children. It is designed for spinning. This model is available in purple, pink and orange colors. It always has a length of 1.40 meters and a fixed reel with moderate fast action.
Conclusion
There is no doubt that kids are very proud when they have tools "like grown-ups". Here then, after choosing the fishing pole for your kids, it can be an excellent idea to buy a fishing suitcase for the little ones, which allows the little ones to carry everything they need to fish.
Thanks for reading… See you Soon!