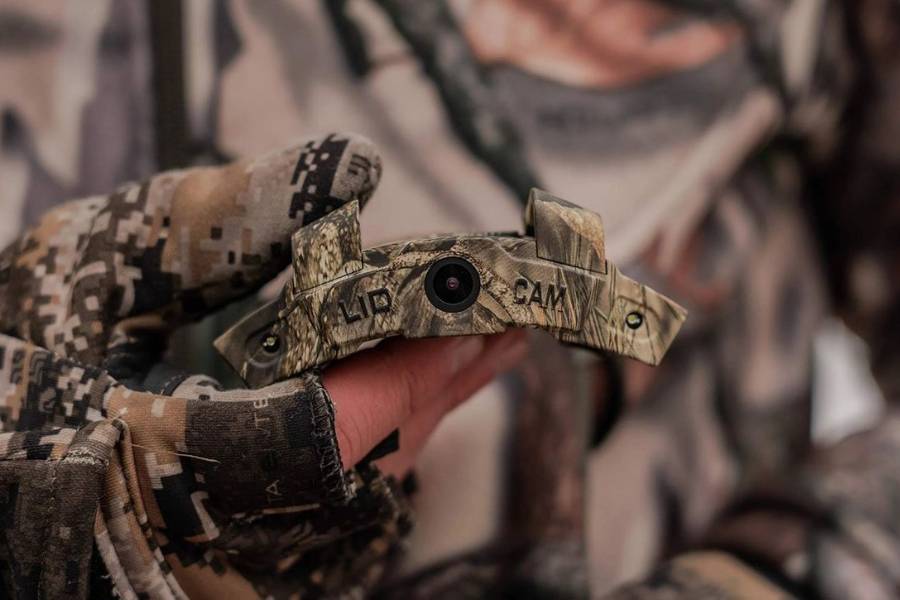 As the year 2023 unfolds, passionate hunters and outdoor enthusiasts are seeking to capture their adrenaline-pumping moments and triumphant conquests with the latest cutting-edge technology: action cameras. These compact rugged devices have revolutionized the way we document our hunting adventures and allow us to relive our most daring exploits from unique and immersive perspectives.
In this era of innovation and ever-advancing technology, the market is flooded with a plethora of action camera options, each boasting its own set of impressive features. From enhancing image stabilization to expanding recording resolutions, manufacturers have embraced the challenge of refining these devices for the demanding requirements of hunting in 2023.
We're here with the top 7 best action cameras for hunting. Throughout this guide, we will explore and analyze each model according to our experiences. So whether you're tracking elusive games deep in the wilderness or seeking to capture your trophy-worthy moments with pristine clarity, our guide will aid you in making an informed decision.
Best Action Cameras for Hunting In 2023
Here is our updated ranking of the best action cameras for hunting for this year…
IMAGE
PRODUCT
DETAILS

Best Overall

Best Overall

Connectivity:

Wi-Fi

Resolution:

4K

Weight:

5.3oz

Check On Amazon

Editor's Choice

Editor's Choice

Connectivity:

Wi-Fi, USB

Resolution:

1080P

Weight:

8oz

Check On Amazon

Modern Design

Modern Design

Connectivity:

USB

Resolution:

480P

Weight:

1.17 lbs

Check On Amazon

Premium Quality

Premium Quality

Connectivity:

Wi-Fi

Resolution:

4K

Weight:

2.44 lbs

Check On Amazon

Streamlined Design

Streamlined Design

Connectivity:

Bluetooth

Resolution:

4K

Weight:

14.7oz

Check On Amazon

Portable

Portable

Connectivity:

ANT+, Wi-Fi

Resolution:

4K

Weight:

3.2oz

Check On Amazon

Super Wide FOV

Super wide FOV

Connectivity:

Wi-Fi

Resolution:

1080P

Weight:

1.3 lbs

Check On Walmart
1. RunCam ScopeCam 4K Hunting Action Camera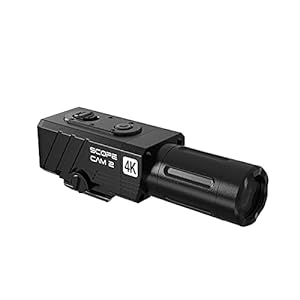 Key Features:
Connectivity Technology: Wi-Fi
Flash Memory Type: Micro SD
Waterproof: Yes
Video Capture Resolution: 4K
Lens Type: Zoom
Recording Time: Up to 4 hours
Weight: 5.3 oz.
The best action camera currently available on the market is the RunCam ScopeCam2. It is lightweight, waterproof, and made of durable aluminum. With 4K pixel resolution and a high frame rate, you can clearly record every motion of your shooting target.
You can attach and release from desired mounting locations including picatinny rails very easily. It also features a 4X digital zoom with customized crosshairs, which allows you to at multiple distance ranges.
This device is IP64 waterproof to protect it from rain and dust. This will enable you to play games and hunt in tough environments. You don't have to worry about recording time because the RunCam ScopeCam2 action camera comes with a 1400mAh rechargeable battery that continuously records up to 240 minutes.
It is easy to use with Instant-on Record Switch. You just need to slide the record button to start recording and pull the button to stop the process. You can also connect this device to your smartphone.
PROS
Excellent picture and video quality
Metal Shockproof Body
Customized Crosshairs
Easy to operate
WIFI Connection
CONS
Apps connectivity sometimes doesn't work well
---
2. LIDCAM+ LC-WF Hands-Free Full HD Action Camera
Key Features:
Connectivity Technology: Wi-Fi, USB
Flash Memory Type: Micro SD
Waterproof: Yes
Video Capture Resolution: 1080P
Lens Type: Eyesight
Recording Time: Up to 3 hours
Weight: 4 oz.
The LiDCAM+ LC-WF model is the newest addition to the LiDCAM family, with several improvements to make sure you'll get clear shots every time. It is built with eyesight wide-angle lens, which ensures to capture your full field of vision! The video quality is phenomenal.
You can connect this device to your smartphone via WI-FI. This allows you to control your camera and review your shots. You don't have to be an expert to use this camera, you can easily record your own hunts and other outdoor adventures. However, the phone App is pretty basic.
LiDCAM+ LC-WF hunting action camera features wind noise reduction technology. The dual LED lights help you to navigate tough terrain. You can see small red light that lets you know the camera is on or recording.
Additionally, the package includes a wall charger, car charger, USB cable, and removable lithium-ion battery. You can also use this device for fishing. The only thing we don't like is that when you click on and off button on the camera, it's very loud in the woods.
PROS
Great video quality
Long battery life
Lightweight and compact
Won't come off your hat
Loud and clear audio
Offers 120° of field view!
CONS
No control on auto off timer when on standby
Audible buttons when pressing them
Audio has a bit too much treble
---
3. TACTACAM 5.0 Action Camera for Hunting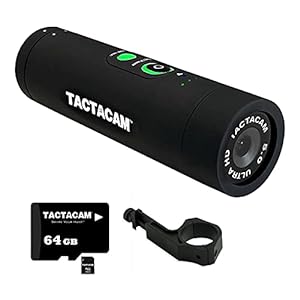 Key Features:
Connectivity Technology: USB
Flash Memory Type: Micro SD
Waterproof: Yes
Video Capture Resolution: 480P
Lens Type: Zoom
Recording Time: Up to 4 hours
Weight: 1.17 lbs.
The TACTACAM 5.0 is designed for Modern-Day hunting enthusiasts. It is a camera system that allows you to capture Crystal Clear footage in 4k. With 8x zoom, the device is easy to use and sync. It is designed to withstand the rugged conditions of hunting.
The TACTACAM 5.0 camera is known for its high-quality video recording capabilities, which provide clear and detailed footage. You can mount it under your rifle scope, giving you a clear view of your target and the shot. This can be incredibly useful for capturing the moment of truth during a hunt.
The inclusion of an ultralight 64GB MicroSD card is a practical addition. It'll provide you with ample storage space to record your hunts without worrying about running out of space.
The controls are typically straightforward, you can easily operate it even while in the field. Depending on settings and usage, the TACTACAM 5.0 usually provides a decent battery life. However, the blackout function is worthless. Also, the vibration function is louder than we expected.
PROS
Easy to use
Good battery life
Under Scope Rail Mount
Built with Image Stabilization Technology
Very stable
CONS
The micro SD card is hard to remove
Bulky
---
4. TACTACAM Outdoor Spotter & Hunt Combo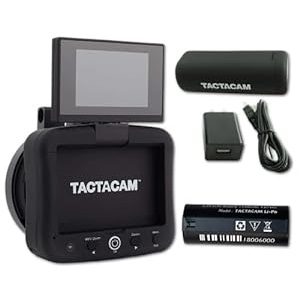 Key Features:
Connectivity Technology: Wireless
Flash Memory Type: Micro SD
Waterproof: Yes
Video Capture Resolution: 4K
Lens Type: Zoom
Recording Time: Up to 8 hours
Camcorder Weight: 9oz.
The TACTACAM Outdoor Spotter is a specialized recording device designed for use with spotting scopes. This innovative camera boasts a revolutionary design, featuring a unique body build equipped with cutting-edge digiscoping technology. This device offers high-resolution 4K video recording and provides detailed and clear footage.
Its adaptable form allows for easy attachment to both hunting weapons and caps. It's optimized for long-range observations, which could be crucial for hunting. It's designed to withstand outdoor conditions, including exposure to water, dust, and other elements.
It has different recording modes, such as continuous recording, time-lapse, or slow motion, to suit different situations. Additionally, this camera offers the convenience of instant photo editing right after capturing the shot, and you can live stream your videos.
The comprehensive package includes all necessary charging equipment and a range of mounting accessories to augment your shooting experience. With the user-friendly interface, you don't need an extensive learning curve to operate this camera effectively.
PROS
Portable and small
Built with digiscoping technology.
Live streaming option
Wi-Fi and app connectivity
Long range capability
Easy to use
CONS
We didn't find any negativity
---
5. GoPro HERO8 Black Digital Action Camera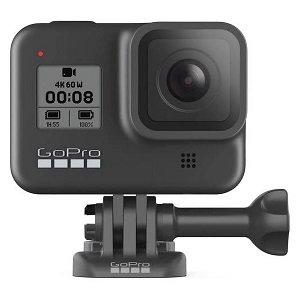 Key Features:
Connectivity Technology: Wi-Fi, Bluetooth
Flash Memory Type: Micro SD
Waterproof: Yes
Video Capture Resolution: 4K
Lens Type: Zoom
Recording Time: Up to 4 hours
Camcorder Weight: 14.7oz.
GoPro HERO8 camera is designed for extreme sports and outdoor recreation. This is the most versatile and unshakable action camera from GoPro. Thanks to built-in folding fingers, the streamlined design makes it easily pocketable. It can withstand the rigors of white-water rafting, skydiving, and skiing, and is more than up for the challenges of hunting.
GoPro HERO8 action camera impresses us with its ability to capture 1080p HD footage, thanks to its three levels of HyperSmooth stabilization: On, High, and Boost. This feature ensures exceptionally smooth videos, regardless of the level of motion you're facing. It's perfect for filming during recoil from a firearm or the precise draw and release of an arrow from your hunting bow.
Moreover, the camera offers a range of filming capabilities including TimeWarp 2.0 for captivating time-lapse videos, live streaming, SuperView, WideView, Linear, and NarrowView options. Additionally, it features a slow-motion function to immortalize those heart-pounding moments.
It is not only entirely waterproof but also boasts a newly designed lens that's twice as resistant to impacts compared to previous models. So you can use this device harshest conditions without missing a beat. The package includes rechargeable batteries, a curved adhesive mount, a mounting buckle, a USB-C cable, The Handler* for a secure grip, a sleeve, and a lanyard to keep your camera close at hand.
PROS
Strong and durable construction
Impact-resistant digital lens
Advanced wind-noise reduction
Live Streaming capabilities in 1080p
Versatile
---
6. Garmin VIRB Ultra 30 Action Camera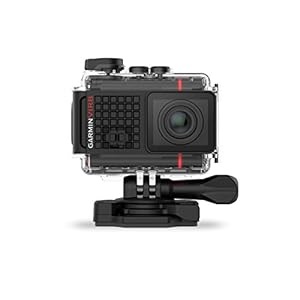 Key Features:
Connectivity Technology: ANT+, Bluetooth, Wi-Fi
Flash Memory Type: Micro SD
Waterproof: Yes
Video Capture Resolution: 4K
Lens Type: Zoom
Recording Time: Up to 4 hours
Weight: 3.2oz.
The Garmin VIRB Ultra 30 is a compact rugged action camera capable of capturing high-quality video and photos in various action-packed scenarios. It features a variety of sensors like GPS, accelerometer, gyroscope, and compass. These sensors allow you to overlay data such as speed, altitude, G-force, and even heart rate onto your videos.
You can record video in stunning 4K resolution at 30 frames per second. This provides incredibly detailed footage. In addition to video, the VIRB Ultra 30 can capture still images at a resolution of 12 megapixels. This allows for high-quality photos in addition to video.
One of the standout features is the built-in voice control. This allows you to start and stop recording, take photos, and even tag footage with specific moments using voice commands. To ensure steady and smooth footage, especially in dynamic environments, the camera is equipped with a 3-axis image stabilization system. This helps to reduce shakiness and blurriness in videos. It also supports slow-motion video recording as well as time-lapse photography.
This device is waterproof up to 40 meters without needing an external case. This makes it suitable for water-based activities like snorkeling, surfing, and swimming. It has a 1.75-inch touchscreen display that provides a convenient way to control the camera and navigate through settings.
PROS
3-Axis Image Stabilization
G-Metrix Sensors
Wireless connectivity
Slow motion and time lapse
LCD Touchscreen & voice control
---
7. ION CamoCam REALTREE XTRA Video Camera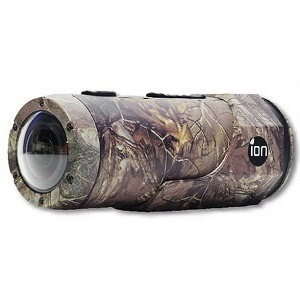 Key Features:
Connectivity Technology: Wi-Fi
Flash Memory Type: Micro SD
Waterproof: Yes
Video Capture Resolution: 1080P
Lens Type: Eyesight
Recording Time: Up to 2.5 hours
Weight: 130 grams.
The ION CamoCam Realtree Xtra action camera is designed for those who are already involved in hunting and wildlife observation. The CamoCam can capture images at a resolution of 14 megapixels, providing high-quality photos and ensuring sharp and clear footage.
The camera is designed with a Realtree Xtra camouflage pattern, making it blend in well with outdoor environments, particularly forests and woodlands. It features a wide-angle lens which is useful for capturing a larger field of view, making it great for action shots and wildlife observation.
ION CamoCam action camera is equipped with a motion detection feature, which allows it to start recording automatically when it detects motion within its range. This is very useful for wildlife observation. It also has a time-lapse mode that allows you to capture images at set intervals. This is great for capturing the gradual changes in a scene over time.
It comes with a built-in microphone for recording audio along with video. The LCD screen helps you to frame your shots and navigate through the settings. This device is compatible with various mounts, making it versatile and suitable for different applications. You can attach it to helmets, tripods, and other equipment.
PROS
Realtree Xtra camouflage
Wide-angle lens
Motion detection
Built-in microphone
Mounting options
Long battery life
---
Buying Guide
You already know which are the best action cameras for hunting available now. Let's explore these essential features that you should consider as an action camera buyer.
Durability and Build Quality
Hunting often takes you through harsh environments, including dense forests, rugged terrains, and adverse weather conditions. To ensure your action camera survives the challenges of the wilderness, opt for a model with robust and weatherproof design. Look for cameras with high-grade materials like durable plastics or ruggedized housings, which can withstand shocks, dust, and water immersion to a certain extent.
Additionally, consider cameras that are resistant to extreme temperature volatility, as they will perform reliably in various hunting scenarios.
Video Quality and Image Stabilization
The quality of your hunting footage is paramount. Look for an action camera that can record at least 4K resolution video at a smooth frame rate. High-resolution footage ensures you capture every detail of your hunting experiences and allows you to relive them with astonishing clarity.
Moreover, image stabilization is crucial for reducing camera shake during fast-paced movements or when you're traversing uneven terrain. Look for cameras with advanced stabilization technologies, such as electronic image stabilization or gyroscopic stabilization.
Low-Light Performance
Hunting often involves early mornings, late evenings, and dimly lit conditions. A camera with excellent low-light performance will enable you to capture clear and vivid footage even in challenging lighting situations. Larger sensor sizes, larger pixels, and wider aperture lenses all contribute to better low-light performance.
Battery Life
A long-lasting battery is essential for extended hunting trips where charging opportunities may be limited. Consider an action camera with a sizable battery capacity that can endure several hours of continuous recording. Additionally, look for energy-efficient features, such as power-saving modes, to extend battery life even further.
Mounting Options and Accessories
Versatility in mounting options allows you to attach your action camera to various points on your gear or yourself and provides unique and immersive perspectives. Ensure the camera you choose is compatible with a wide range of mounts and accessories that cater to your specific hunting needs.
Field of View (FOV)
The field of view determines how much of the scene the camera can capture without distortion. For hunting, a wide-angle FOV is generally preferred as it allows you to cover more area in your shots, especially when tracking game or capturing scenic landscapes.
Connectivity and App Integration
Seamless integration with your smartphone or other devices enhances the overall experience of using your action camera. Look for a device with Wi-Fi and Bluetooth connectivity, which enable you to transfer footage and control the camera remotely through dedicated apps.
FAQs
How important is image stabilization in a hunting action camera?
Image stabilization is crucial for a hunting action camera as it reduces camera shake and ensures smooth and steady footage during fast movements or when navigating rough terrains. It allows hunters to record clearer and more watchable videos, particularly during intense moments and enhances the overall viewing experience.
What is the best resolution for hunting action cameras?
A 4K resolution (3840×2160 pixels) is considered ideal for hunting action cameras in 2023. It offers high-quality footage with crisp details and allows hunters to relive their experiences vividly. Some cameras even provide higher resolutions, such as 5.7K or 6K, for professional-grade videography.
Can action cameras be used for night vision during hunting?
While action cameras are not specifically designed for night vision, some models come with enhanced low-light capabilities, making them suitable for capturing footage in dimly lit environments. For dedicated night vision, hunters often use separate night vision devices or attach compatible night vision accessories to their action cameras.
How long should the battery life be for a hunting action camera?
A good hunting action camera should have a battery life of at least 2-3 hours of continuous recording. However, some models come with extended battery packs or swappable batteries, allowing hunters to capture footage for longer periods without the need for frequent charging.
Are there any action cameras with GPS features for hunting?
Yes, some hunting action cameras come with built-in GPS functionality, which can be beneficial for tracking your location and route during hunting trips. GPS data can be overlaid on the footage, helping you remember specific hunting spots or navigate back to a previous location.
What accessories are essential for using an action camera while hunting?
Essential accessories for hunting with an action camera include various mounts (chest, head, or gun mounts), spare batteries, a protective carrying case, lens filters for enhancing image quality, and potentially a remote control or smartphone app for convenient operation. The choice of accessories depends on your specific hunting needs and shooting preferences.
Conclusion
Choosing the best action camera for hunting in 2023 requires a careful balance between durability, video quality, battery life, and additional features. The market is brimming with options, each catering to specific needs and preferences. The recommended models mentioned above are stunning for hunting. However, it's essential to assess your own requirements before making a final decision.
You are now well-equipped to find the ideal action camera that will immortalize your thrilling hunting experiences for years to come. Happy hunting!
---
Related Posts: