Bathroom scale is a precious instrument that is generally found in the bathroom but sometimes can be moved into the bedroom to helps us keep our body weight self-controlled.
The digital body weight scale is a must-have for anyone who wants to track their weight regularly. Despite more accurate than older analog waves, today's digital scales are relatively simple devices with a professional performance: delivering a precise weight reading.
If you spend a little more, you can get a more advanced scale that measures body fat, muscle mass, and water weight or even a scale that can synchronize with your smartphone. For this reason, the price ranges are very wide, from $10 to over $100.
Best Bathroom Scales in 2021
We need a bathroom scale because we care about the line or we are following a diet prescribed by the nutritionist that will help us solve our health problems.
However, there is a huge number of models available on the market with unique features. We have reviewed top 10 best Bathroom Scales for 2021. Depending on the price, our picked bathroom scales communicate either via Bluetooth or Wi-Fi with mobile terminals.
Best bathroom scales in 2021
1. Withings Digital Bathroom Scale with app
2. Bluetooth Body Fat Bathroom Scales
3. FITINDEX Smart Bluetooth Scale
4. Yunmai Smart Body Fat Scale
5. Etekcity High Precision Digital Body Scale
6. ToiletTree Digital Cleaner Bathroom Scale
7. Digital Body Weight Bathroom Scale
8. Etekcity Smart Bluetooth Body scale
9. Etekcity FIT 8S Digital Bathroom Scale
10. Digital High Precision Bathroom Scale
Our top ranking of best bathroom scale in 2021 is from Withings, Withings is always famous for manufacturing high-quality weight scales since 2009. After the takeover of Withings by Nokia, the scales were meanwhile sold as "Nokia Body +", but now the Withings brand has been reactivated and the products have been renamed Withings again.
This is their latest edition smart body weight scale which is simple in design, efficient and easy to use. This body composition scale helps you to achieve a clearer picture of your overall health and fitness. And it can be connected easily to your phone, so you will be able to view different aspects of your weight!
The numbers are digital and show up in white that is easily readable. It tracks your weight, BMI, body fat, body water, muscle mass, bone, mass, and more. The display can be adjusted as you like, so you can only display the values ​​that interest you and you can also change the order of the displayed values.
Withings smart body composition scale uses bioelectrical impedance analysis (BIA) technology and 4 ultra-high precision weight sensors that provide users highly accurate results. It won't speak your weight but it will sync up with your phone perfectly.
You can easily track your all fitness data with their app while you are traveling. Then the device automatically compares your data. The accuracy is also higher than most of the smart scales on the market. However, after weight, you should stay on the scale for more 6s to collect other data and then open the FeelFit App. All the data would be in sync with it. It also built with high durable construction and provides long time service.
Withings well-finished bathroom scale is lightweight and the maximum weight limit is 400 lbs. The durable construction provides long time service. And with this device, up to 8 users can access their personal weight histories. So, Withings could be an ideal device to track your all family member's health details.
What we liked
Lightweight and easy to use
Advanced tech and high precision
Accurate and instant result
Free APP and sync to other APPS
Safe to use anyone including kids
What we didn't like
First time it is a little bit confusing
Black shows footprints really badly
---
2. Uten Digital – Best Smart App Control Bluetooth BMI Scale
Do you absolutely need an excellent bathroom scale that guarantees maximum precision? Then we have the model for you!
Uten Bluetooth weighing bathroom scales is an accurate tracking assistant for your health. It can be set up for 12 different users, so your whole family can track their fitness data by using one device. Within 30 seconds, this bathroom scale will provide a detailed analysis of your body.
This model is impressive for both men and women thanks to its impedance meter functionality. Its surface platform is made of 6 mm tempered glass and the bottom is made of quality ABS plastic. It weighs up to 400lb, with graduation increments of 0.2lb. The larger weighing range can meet all your needs.
With its inspired design, this Bluetooth body analyzer scale features a unique fitness to motivate you to stay in healthy shape. You can simply review the history, the health data on your phone to track your physical status. This product is also CE and ROHS certificated.
The Bluetooth body fat weight scales also use BIA technology. As previously mentioned, it helps you to set a target weight and track your progress for fat loss or muscle gaining every day. The smart precision features accurately measure and displays your fitness condition.
Uten weight scale is equipped with four high-precision sensors. The device therefore takes the form of a classic connected bathroom scale (13.4 x 12.9 x 1.6 in) with a tempered glass top.
What we liked
Sturdy and perfect dimension
Easy to read the large digital numbers
Very nice modern and clean design
8 body composition analysis
Instructions are super clear
What we didn't like
A little bit finicky connecting to the phone app with Bluetooth
The minor downside is it does not work on carpet
---
3. FITINDEX ES-26M – Smart Wireless Bluetooth Body Fat Scale
If you want a functional fitness scale, then look no further, because the FITINDEX ES-26M Smart Bluetooth bathroom scale is equipped with four high-precision sensors and four electrodes to ensure a quick and accurate body composition analysis. Like Uten digital weight scale, the surface is made of 5 mm tempered glass, and the bottom is made of quality ABS plastic, making it a splendid choice for heavy person.
This smart weight scale tracks your way to your dream body! It also helps you stay on target with the latest wireless tech. It is easy to connect to your smartphone Via Bluetooth and has a lot of outstanding features that you can use to track your progress.
When used with Bluetooth, the scale will show your BMI, percentages of fat, water, lean muscle, bone, etc, and even your metabolic age. You can manually calibrate this scale, step on the scale then step off and wait for the LCD screen to display '0.0', and step back on the scale to weigh with accurate results.
You can also measure the percentage of fat on the arms, legs and trunk area and establish programs to lose weight in those areas with the same ease with which you measured it!
The sensors are highly developed according to the manufacturer.
It is also compact and light, you can slide under almost anywhere in your home. Setup and connecting it to the app is super easy. All the info calculated and shown on the app is pretty accurate. It also tells you whether you are good or average in all the different measurements.
This is a great and affordable device for anyone serious about their health and weight.
What we liked
Easy to use and setup App
Modern and lightweight design
4 high precision sensor
Auto-calibration
13 body composition measuring functions
You can view your progress on a chart
What we didn't like
The simple instructions are poorly written
There is no way to manually change previous data
---
4. Yunmai Premium – Best Easy to Read Bathroom Scale
The YUNMAI 2. 0 App connects your real-time body metrics to a world of data charts, social sharing, and fitness tracking. Simply step on the scale to instantly connect your profile and begin pushing data to your App. No additional setup is required, so you can begin tracking instantly after unboxing. This enables ultra-precise results on any surface.
With this premium model, you can have up to sixteen users recognized and tracked by the device. With Low Power MCU and HY3116 24-bit conversion chip, this unit has a processing resolution of 16 Million, with much higher precision than those of 12-bit conversion processing unit.
A solid app that gives you the ability to monitor day over the day your weight, water, muscle, and fat via the tracking graphs. You can simply weigh yourself anytime without your phone. The digital bathroom scale also measures your heart rate while standing which enables a long-term analysis of your heart rate.
This product is auto-calibration, also comes with four high sensitive electrodes and 3 x AAA batteries. Added benefits of this scale are a read on how much water you're carrying and what kind of body fat percentage you are, which are useful in improving overall body composition.
When you enter the setting page, you can find there is a button you click and then the data will sync to Fitbit easily. Visually attractive and easily integrated into the desired.
What we liked
User-friendly display
Doesn't require setup
16 users tracking management
Easy to clean because of the glass top surface
Stunningly thin 17mm edges
What we didn't like
Poor instructions
There is no footmark
---
5. Etekcity 4410B – Ultra Wide Platform Bathroom Scale
The Etekcity digital body weight bathroom scale is perfect for any active or tranquil lifestyle. It'll accurately help you track your progress regardless. This bathroom scale made with 6mm thick tempered glass, which provides exceptional sturdiness.
The scale is quite heavy compared to other accurate bathroom scales and slightly larger than a typical run-of-the-mill scale. However, the 14″x 12″ wide platform perfect for those with big feet or people with balance issues. This smart weight scale also comes with a large 4.3 inches LCD display with large numbers, and the bright backlit display is easy to read from any distance or angle, even in the dark. And it looks decent that will fit all modern bathrooms.
It turns on automatically when you stand on it, so no need to turn it on then step on it. This model uses AAA batteries (included). The Etekcity 4410B also comes with a measuring tape and it went up to 62 or 64 inches. It has two measuring units: kilogram and pounds, and easy to set up according to the bottom of the scale.
It will display your weight for 15 seconds after you step off. Because some people don't want others to see their weight. All you have to do is give it a tap with your foot after you step off and it will display 0.0 in less than a second, then turn itself off. It weighs very accurately, no difference wherever you stand on it.
What we liked
Light and easy to store
Durable construction
Sleek surface easy to clean
Sturdy and steady platform
Large and easy to read LCD display
What we didn't like
Does not have a memory function
---
6. ToiletTree Product – Precision Digital Bathroom Scale
The ToiletTree personal bathroom weigh scale is designed with high accuracy, simplicity, and beauty in mind. No Fluctuations, and no cheap-looking plastic. Just reliably accurate readings with an elegant touch to boot. It is easy to stow away in your luggage due to its handiness.
The Large, Clear LCD Display allows you for easy reading from any angle. This tempered glass surface can confidently support anyone up to 400lbs and is conveniently light for easy portability. Celebrate good health consistently with this weight-loss tracker scale, to read and measure the number of pounds your body has gained, lost, or maintained.
With a large and easy-to-read LCD display, the beautiful high-tempered glass seamlessly blends into any décor and gives any bathroom a stylish look.
Ready for instant tracking, weighing, and seeing your results right out of the box with the included CR2032 battery. This unit is 11 3/4 inches square and approximately 1 inch tall.
It measures in decimal points, so you can celebrate the small victories, as well as full pounds lost. It can be set to measure in pounds, kilos, or stones. We can say that ToiletTree's Precision Digital Clear Glass Bathroom Scale is your best bet when it comes to measuring weight loss.
What we liked
Impressive accuracy
Comes fitted with well-spread out sensors
Very easy to step up
Simple yet stunning
Customizable settings
What we didn't like
There is no backlight
Basic and simple design
---
7. NUTRI FIT – Best Digital Bathroom Scale for Weight Loss
The NUTRI FIT digital bathroom scale has a simple, sleek and modern design, and comes with a basic White Transparent Glass color. It is not just a bathroom scale but a good Decoration that makes it fit perfectly into your bathroom or bedroom! It also comes with a retractable tape measure.
The most important thing, the body scale detects changes in weight of a few tenths of a pound, whereas most other scales will only respond reliably to a weight change on the order of half a pound, or will even pull your weight readings from memory without trying to measure you.
It has a comfortable, wide platform and is attractive enough to leave out on your bathroom floor. Just remember, you will need to take out the little piece that is in the battery before it will turn on. This model reads your weight really fast compare to others. And it is very sturdy and durable compare to the plastic model available on the market.
Their flat design and the large step surface made of safety glass ensure more safety when weighing. And due to its flat surface, it also can be easily stowed under the bed. The scale will automatically display first your weight and then your BMI. Highly recommend it for an affordable price.
However, it can't remember the user setting height, it just would keep the latest height. So, if this scale for one person then the height value is confirmed, BMI is confirmed. If it is for a family, then different people need to enter their height each time. Then get their BMI value.
What we liked
Modern design
Instructions are super clear
Sync data is without App
Good with the glass finish
Large easy to see LCD display
What we didn't like
Cannot remember the user setting height
---
8. Etekcity ESF24 – Best Smart Accurate Weight Scale
Learning how these numbers contribute to your Metabolic Age will spark you to change your habits or to maintain your present form. All of these ideas are provided on a scale costing less than $25. From my perspective, it makes any other scale at this price range or higher obsolete.
The Etekcity ESF24 offers a lot for little money: It has a large display and measures reliably. Customer satisfaction is always at the top of the brand's concerns, offering a 1-year warranty, plus lifetime support.
Etekcity ESF24 smart Bluetooth fitness scale uses BIA technology to calculate 13 body composition data. With this in-depth analysis, you'll be able to focus on what matters most to you. The elegant black scale can adorn your living environment and bring you a healthy lifestyle.
It also allows you to create unlimited member profiles to seamlessly track multiple users. You can just use it as a regular scale to monitor your weight. Your family can share fitness data together. It's especially helpful for bodybuilders and those working on weight loss.
This scale works with Bluetooth on iOS and Android. The free VeSyncFit app syncs data with Apple Health, Google Fit & FitbBit, so you can store all your data in one convenient, centralized location for viewing trends and tracking progress. It also comes with batteries so don't need to buy anything separately.
The bathroom scale itself only displays weight but the app is amazing. The app does not need to be opened to get measurements at that moment but needs to open for it after for it to sync to the phone.
What we liked
Extra-large and sturdy surface
Full body composition analysis
Sync 13 measuring health metrics
Support multiple users
Accurate measurement
What we didn't like
It is not good for carpet
---
9. Etekcity FIT 8S Smart Digital Body Weight Bathroom Scale
The next one on our list is also from Etekcity, it is the digital body weight bathroom scale from the FIT series launched by Etekcity. This bathroom scale is highly accurate, so you can easily reach your weight goal consistently. It's powered by 3 AAA batteries that are included. It is also CE and ROHS approved, and if your budget around $20 this is the best option for you.
This innovative design fitness scale allows you to ideally calculate your body mass, and more particularly visceral fat, thanks to its eight sensors. It is suitable for people weighing up to 400 pounds and wishing to follow their detailed weight curve. The digital scale also uses 4 high-precision sensors for advanced accuracy.
This connected scale shows numbers instantly as you start to step on, and the numbers increase as you put your full weight on, and then it stabilizes at a final reading. Like all the Etekcity products, it comes with a 1-year warranty with lifetime customer satisfaction guaranty.
The design of the device is rather simple, the step surface made of safety, and the display shows the bodyweight clearly visible. You just stand on it and have your body weight within seconds. The features offered are largely sufficient for regular and family use.
Etekcity FIT 8S is also nice and big so that there is enough space for bigger feet. It comes with 12 essential measurements. And with the fitness Apps, you can store all your data in one convenient and centralized location.
What we liked
Four latest technology sensors
Auto turn off when not in use
Sturdy surface and looks beautiful
The battery is simple to install
Bright LCD display
What we didn't like
Doesn't announce the weight
Not very strong
---
Last but not least, this digital scale has the advantage of being meaningful. It is therefore suitable for a more specific panel of users. It supports up to 200 kg which can be intended for people suffering from greater overweight.
This digital scale is aesthetically beautiful, and the sleek tempered glass design looks nice and stylish. You can read immediately as soon as you step on the scale, easy and straightforward to read your weight with the large LCD display. White backlit LCD display, step-on, auto shut-off, low battery, and overload indication sign, which helps to preserve battery power and efficiency.
Uten Cyan bathroom scale is made of high-quality safety glass. And it's crafted to be strong, accurate, fast and durable. The four sensors technology from Germany provides high precision weight measurement. And anti-skid padding provides you extra stability while weighing.
You can easily change between lb, st, and kg at the bottom of the scale. The larger weighing range can meet all your necessity. Auto-switching on/off with step-on technology makes for very convenient use. It is about 1.5" thick and the display numbers are pretty easy to read.
It must place on hard and flat surface. To be truthful, if you place it on a carpet or soft surface, the surface isn't level, and the gravity is unbalanced, so it will have different weights every time.
What we liked
Modern looks
Reliable scale for fitness enthusiasts
Easy to read LCD backlit display
Very sturdy and solid construction
Fast results and solid craftsmanship
Very secure and comfortable
What we didn't like
Takes around 30 seconds to totally stabilize & finish
---
Bonus Review
Are you ready to discover the best bathroom scale for value for money? Then no looks further. This Etekcity bathroom scale comes with backlit 3.25 inch LCD display, modern style, smooth, sleek surface that's dependable and easy to clean. The ultra-chic tempered glass platform is not only durable but also has an auto on/off feature for superior convenience and maximum battery life.
It's extremely easy to use and very accurate. To calibrate it, you just press one foot on it to trigger it to power it up, then remove your foot and wait a couple of seconds until it reads 0.0. Once you calibrated it the first time, then all you have to do is step on it to get an accurate readout. You don't have to calibrate it every time.
Low battery and overload indication deliver vital safeguards during use. The slim bathroom scale also includes a white tape if you are on a weight program and wish to increase or decrease certain parts of the body frame. The tape can be used for that purpose or not.
The Etekcity Upgraded slim design scale is very glossy which can mean slippery, and the tape measure isn't helpful if you're over 6 feet tall but other than that it's a very good buy.
For the best accuracy, please lay the device on a hard and flat surface stand in the central area.
What we liked
Durable and accurate
Beautiful color and design
Large LCD display easy to read
Comes with measuring tape
Lightweight
Steady platform
What we didn't like
Gives only current weight
A little bit slippery
---
Buyer's guide
The purpose of this guide is precisely to inform the buyer and user about the various functions available in the bathroom scale (including some new ones that are generally completely unknown) to compare and understand which model to choose. So please follow these instructions:
Multifunctional
There is no particular claim that will be oriented towards traditional analogical and mechanical models today. However, body weight scales no longer only measure weight but have become particularly complex and able to offer other information that the consumer increasingly feels the need for and assesses to understand what based on his needs the best bathroom scale on the market.
For example, those who care a lot about their physical form may be interested in a very precise balance that also measures the body mass index, a biometric datum of their own weight that previously had to be calculated manually. If several family members follow specific dietary or fitness regimes, there are scales that take these different needs into account.
Certainly, a nutritionist will be interested in a scale that indicates the body composition of an individual in terms of fat mass, lean body mass and water percentage. Those who have heart problems will be able to draw up their own personal ranking of the best scales considering those that also measure the pulse.
For technology enthusiasts, the smartest digital bathroom scales can connect to the home PC or mobile devices and allow the dietician to access at any time information on the progress being made in terms of control of the weight. So you have to determine the purpose of use.
The design
Other users will be able to evaluate which is for them the best brand of bathroom scales simply considering the models that are offered their external appearance.
In a well-finished and furnished bathroom, the device cannot be out of tune and it is important that it matches well with the whole context. At this point, it becomes very important to evaluate its shape, color and size. For example, for a very small bathroom, a mini bathroom scale could be ideal.
Instead, those who have a digital weight scale with stainless steel accessories or finishes obviously will be interested in evaluating a scale made of stainless steel. Then there are ultramodern or retro models, elegant or fun, single-colored or with very lively patterns.
The digital bathroom scales today are not only more or less square as usual but also can be found round, in the shape of feet, etc. or with the image of heroes and cartoons preferred by children or finally, they can even be personalized.
The price
As for the bathroom scale, there is something for every budget, from the cheapest of 20-30 dollars to more expensive from 50 to 80 dollars. On average, you should plan about 50 dollars for the most accurate dital bathroom scale. Remember that the price of the device also depends on the quality of the materials.
Display and security
Therefore, the user evaluates many aspects and compares prices before making the purchase. The elderly and people with mobility problems may be interested not so much in the various functions or aesthetics of the balance but in a display that is large and easy to read, which can be digital or analog.
In reality, there are scales that use both at the same time. If you download the apps for the digital display, it still remains the analog that works. Even a backlit display is useful because it is easier to read for those with vision problems. Some models also equipped with dim light.
Likewise, those who interested in comfort and safety, will pay more attention to a balance that is solid and has a wide padded and non-slip platform.
Protection against splash water
Protection against splash water only plays a role if the bathroom scales are to be placed in the bathroom. Here it can quickly happen that the device gets water from the shower or sink. Many models are made of waterproof glass, but it is not completely waterproof.
Other characteristics
Many of the models on the ranking showed other information, such as BMI and information on body composition like muscle mass, bone mass and water, which could be useful if you are trying to increase muscle mass. Some models also show goals that are based on personal information (age, height and gender) and measured weight and body fat such as a suggested target weight or daily intake of kilocalories.
The Body Mass Index (BMI) is often used by health professionals to assess whether a person is underweight, normal weight, overweight or obese. Although BMI is a better indicator of health than weight alone. These additional features are very comfortable and useful, especially for those people who want to lose weight or put on muscle mass or simply want to feel good.
For those who want to do a thorough check of their body weight, it is not enough to just measure the kg, but you must also have the values ​​of lean mass, fat, BMI, and so on. It will be possible to establish certain requirements and find which one is fit or not.
How to use bathroom scale correctly
In order to obtain the most accurate measurement values, it is important that you observe the following points when using the bathroom scale: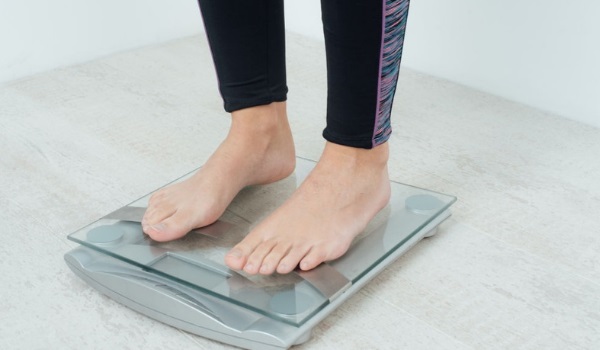 The bathroom scale must be placed on a hard and flat surface and make sure that it is properly calibrated. If it is lying on a carpet or rug, it can indicate a weight that is up to ten percent higher. Usually, the bathroom floor or that in the bedroom or in the kitchen is best suited for the scales.
Try to calculate the weight too often, because the average person's weight can fluctuate up to 5 pounds in one day. However, it is important to follow the manufacturer's instructions to ensure accurate and consistent measurements.
Make sure that the scale is level. A digital body scale that is tilted in one direction or stands unevenly cannot measure weight accurately.
You must also calibrate the scale at regular intervals. To do this, it is sufficient to place an object on the scale or to check a packaged liquid and the result. In most cases, the operating instructions for the balance reveal how to calibrate it correctly. Other points that show the advantages of calibrating scales:
Reliable measurements: The use of calibrated scales ensures that the measurements at home match the measurements at another location if you want to take the scale with you on vacation.
Calibrated scales lead to cost savings and avoid unnecessary recall campaigns and ultimately frustration for the consumer.
Despite the ease of use, there are a few things you need to consider when using a digital scale. In addition, you can always contact the respective device manufacturer, who is usually at your side with expert advice.
Frequently Asked Questions
How accurate is a bathroom scale?
The accuracy of bathroom scales essentially depends on the workmanship and quality of the built-in mechanics. Our comparison analysis has shown that most devices on hard floors provide exact or minimally deviating measurement results. There were differences in the use of soft carpets as the surface. However, there are also many electronic bathroom scales that can weigh accurately on soft floors.
Who are the most popular bathroom scale manufacturers and brands?
Many manufacturers and brands offer bathroom scales. The range of providers is large and ranges from well-known manufacturers such as Yunmai and Withings to brands such as RENHPO or Etekcity. The following manufacturers and brands were frequently rated positively by customers:
Etekcity
Withings
RENHPO
YUNMAI
INEVIFIT
NUTRI FIT
How much the excellent bathroom scale cost?
In our comparison, we offer you a selection of different price categories – 20 dollars are the cheapest bathroom scales, over 60 dollars the most expensive bathroom scales. As we said before, on average, you should plan around USD 50 for a high-quality bathroom scale.
Which one to choose digital or mechanical?
Although the scale of most bathroom scales is somewhat more coarse, high-quality devices measure just as precisely as digital scales. There are differences in the so-called fine division – i.e. how exactly the results are displayed – but not with regard to the quality of the measurement. So it is not possible to say in general which type of scale good choice. Rather, it is about the fact that high-quality mechanics are installed.
Should you prefer a Bluetooth or Wi-Fi scale?
Bluetooth connected scales require you to turn on your smartphone and open the dedicated application during the weighing process. In this way, the measurements are transmitted and recorded by the mobile terminal. Wi-Fi scales instantly transmit their data to the manufacturer's cloud. You can consult them from your smartphone and don't need to carry them with you during a weigh-in.
Where to place your bathroom scale?
As previously mentioned, the heavy person should be placed on a flat surface, such as tile so that the result is optimal. You should avoid for example placing it on the carpet and the object must always be in the same position.
Is the digital body weight scale a medical device?
No, it does not replace the expertise of a doctor or the recommendations of a nutritionist. It is a complementary device that helps users monitor their weight, which can motivate them to stick to their diet and gain a better understand of their body.
Conclusion
The users have the choice between different shapes and colors according to their tastes and preferences. However, if you are still unsure of your choice, you can pick our top ranking, most reliable models according to our test report.
To find the best accurate bathroom scales, you can also consult the various online sites, such as Amazon where you will find a large selection of products from different brands. Obviously, the best bathroom scale does not exist, but there is one that best suits your needs.
Buying a food scale for counting macros is the best way to motivating for lose weight. If you're thinking of buying, don't miss checking our food scale for macros buyer's guide.