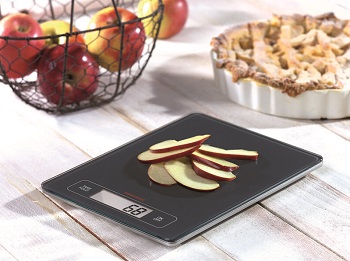 Digital food scale for tracking macros works with control cards and sensor chips, so they are not based on a series of springs or dials like the analog ones. A digital macro counting food scale provides more accurate information and in most cases, they are made for dieting.
It has a wide variety of features that you may find useful, depending on your goals (weight loss, keto diet, and more). As a rule, best food scale for macros gives you the opportunity to determine the weight of flour, sugar, butter, and many other ingredients.
However, to successfully achieve the goals, it is essential to equip yourself with good equipment. Based on the selection criteria that matter most to users, here is a list of best food scales for macros that might meet your expectations.
Best Food Scales for Counting Macros in 2021
1. Etekcity Digital Kitchen Scale – Best for Weight Loss
2. Wasserstein Digital Nutrition Scale – All about Accuracy
3. Mackie Digital Food Scale – Best for Tracking Macros
4. Muzili Nutrition Smart Kitchen Scale – Multi-Functional
5. Ellessi Food Weight Scale for Macros – Compact & Slim Design
6. Gourmia GKS9190 – Best Nutrition Kitchen Scale
7. Greater Goods Nourish Digital Kitchen Scale – Best for Keto Diet
8. INEVIFIT Digital Kitchen Scale – Design for Athletes
9. GreaterGoods Ash Grey Food Scale Macros – Best Budget
10. HOMEVER Digital Food Scale – Best for Dieting
This scale is one of the most precise macro food scales I have tested. The weight of the ingredients can be read very quickly which is very practical when you are in a hurry in the kitchen. It features a conveniently large platform yet slim profile design, rounded corners, thick, tapered edges, easily cleaned stainless steel.
This digital kitchen scale's from Etekcity also built-in high sensitive platform and can be used by multiple devices. You are able to measure accurately anything between 3 g to 5000 g in measurement increments of 1 g/0. 04 oz. And it has a large functional display for showing nutrition info.
Due to fingerprint-resistant technology, you can simply wipe it down with a cloth and it's good as new. This smart nutrition scale could help you accurately calculate the amount of the calorie and carbohydrates you have eaten, especially suitable for people like diabetes.
The latest version of VeSync app can add the food manually, which means you can add food without putting it on the scale. It measures macros and perfect for a keto diet. It also equipped with anti-skid padding and rounded corners.
Overall, the Etekcity food scale is stylish and thoughtfully designed for every kitchen.
The app requires the user to create an account for storing entries. However, it can be installed on multiple devices and each device can use a single account or separate accounts.
PROS
Portable and easy to use
Record your intake at any date
It syncs with the fitness app
The screen is sharp and easy to read
looks super modern and stylish
CONS
Has trouble weighing out anything under 3 grams
Maximum capacity only 5kg
---
Wasserstein kitchen food scale is not only conveniently slim and compact but also designed with black onyx tempered glass that exudes a contemporary elegance and is a cinch to clean. It is designed in anthracite. No need to deal with big and bulky nutrition scales that eat up valuable space.
Accurate results are integral to any meal prepping plan, that's why it has included 4 precision sensors. The 4 sensors measure the weight within 1g to 5kg, giving you the ability to weigh lighter foods.
It is operated by two AAA batteries. These are included in the scope of delivery.
If you are on a diet if tracking macros specific this scale is where it's at. So easy to stay on point with your macros using this scale. Everything is laid out on the screen in terms of nutrient content. It even has a fluid ounce option. You don't worry about which container to use; it fits most kitchen utensils.
The ultra-flat format allows it to find a place everywhere. There's also a food manual that contains the food codes for a variety of food from fruits to veggies to fish, poultry, duck, milk, eggs, etc.
Although it is very thin and small, it works great for counting macros. Overall Wasserstein would be a good choice for cooking good meals on a daily basis.
PROS
Multiple sensors for enhanced accuracy
Memory function to store recent foods
Decent price compared to others
Super slim and looks beautiful
Lightweight and portable
CONS
If your fingertip is wet, the keypad won't respond
No app connectivity
---
Mackie digital scale is the most accurate macros counting food scale with the proprietary calorie calculator and macros calculator that makes selecting a healthy snack and diet easy! The NutraTrack Mini has 999 food preprogramme and allows you to add new custom foods or recipes to its database.
I have tested this scale on the market and know them inside and out. It is a well-balanced and precise instrument that you can easily read because the display is big and backlit so you can see and it anywhere at any time. It is also accurate, even for small amounts of grams.
This model allows you to add granularity of 0.1 to 0.9 when adding Nutritional content for your custom foods. No other scale offers this! The maximum carrying weight is also advantageous, weight capacity is 11 lbs. And the scale measures approx. 6 in wide x 9 1/2 in high x 1/2 inch thick.
Mackie digital food scale gives you a running total of all the nutritional content. It is lightweight and easy to maintain. The macro codes are also very convenient for a large group of people. You can add multiple ingredients into a bowl and keep a running total of their nutritional content.
It is very easy to use and suitable for kitchen decoration due to its modern design.
PROS
Well built and easy to use
Not too big, not too small
Customizable and accurate
Auto-off to save power
Macros calculator
CONS
It is slim, not very thick
Not good for large or professional kitchen
---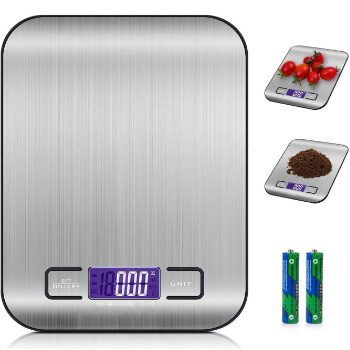 Muzili is the first scale with 3 functions as nutrition scale, coffee scale and kitchen scale, which controlled by APP to simplify your healthy life. Such a good product can be connected to your phone and have a record of how many weight you measured and all nutrition information about the food you need.
You can read the measurement results digitally on an LCD display. And with the tare function, you won't need to weigh the container and contents apart before getting the exact measurements.
The Muzili food scale is also a versatile device with a precision range that calculates the weight of your ingredients more exactly. You can easily convert units in pounds, ounces, grams, and milliliters. The minimum weight is 3g and the maximum weight of this scale is 5060g. The size is small and easy to store.
It does just that and comes with a stainless steel finish. It is not only weight training and tracking calories but tracking macros. The food database provides you with increasing various kinds of food nutrition data. It is suitable for fitness life and allows you to succeed in all your recipes without a problem.
PROS
Coffee scale with timer
Tare/zero function, and auto-off
It has a clear LCD display
Easy Bluetooth connecting
3 in 1 functions scale
CONS
The app is a little glitchy but not bad
---
The Ellessi food scale uses kinetic energy as its power source. You can travel with this battery-free food scale because you can pack it easily into your check-in luggage. And it has a tare feature, very easy, a button with a "t" on it right by the screen. It is elegantly designed and offers a slim design.
The Ellessi food scale has a high weight range of up to 5kg, and the minimum is no less than 3g. The weight of the ingredients can be read very quickly and you can easily adjust the unit of measure. It will be able to measure oz, g, lb, kg and ml for liquids.
This product is super easy to use because the button is on the underside, with each press it changes. It also has lots of pre-programmed foods in it. Measuring even very small amounts is quite easy. You can also add your own options, which is great when you have specialty items you eat regularly.
If you are diabetic, try to accurately track your carbs and exercise with good portion control with this kitchen gadget. And this digital food scale is the best choice for someone who controls diet.
It comes with a code book with numerical codes for hundreds of common foods. You enter the code and you get complete nutritional information. If you can't find a code for what you are weighing, it just gives you the weight. It is also very handy to carry from kitchen to dining.
PROS
It's small and slim size
Pleasant design
Extremely simple to use
Easy to keep clean and store
Accurate measurements
Robust construction
CONS
Black-white display
It is slow to react
---
6.

Gourmia GKS9190

: Best Nutrition Digital Kitchen Scale
Gourmia kitchen food scale with nutritional calculator features digital touch display measures up to 11lbs of food within 1g/.1oz division. It's a built-in 4mm tempered glass platform and high-precision strain gauge sensor system which ensure many years of regular and reliable use.
This portable kitchen scale also includes manual auto-off timer, commercial tare function, low battery & overload Indicators with a large easy-read LCD display. It turns off within ~30 seconds of last use at most, so sometimes you have to be quick to note the weight.
Gourmia is also one of the most accurate digital food scales for macros on the market. It is ultra-flat and can be stored anywhere. The design is very modern to suit all kitchen decorations. It's lightweight and easy to use and could be a superb choice for you especially if you're keeping track of weight.
It has 999 foods stored and will calculate the calories plus 6 other nutritional components for each. The measurements are reliable. The automatic switch-off and a tare function will be really helpful if you are a busy athlete. And the keypads are particularly sensitive and react to gentle touches.
PROS
Small and perfect size for home
Touch responsive and easy to use
Convenient to carry for travel
Multiple measuring units
Excellent value for the price
CONS
Need to improve more comprehensive food list
---
No matter what your health goals are, eating well is an important part of getting there. Greater Goods food scale provides detailed nutritional information that helps you prepare meals or track macros. This ultra-slim scale is a must-have for those watching their macros because it has a zero feature that can allow you to calculate your meal.
Greater Goods food scale is built around quality products made the right way. It comes with a booklet that has codes and you have to type in the item code. It then calculates the nutrients based on the code and the weight. You can also turn it on without having to do those annoying repeated taps, presses, etc.
The precision is 1g, allowing you to determine the weight of your objects as accurately as possible. And you have the option of weighing in multiple units of measure for solid and liquid elements.
It takes a lot of work out of counting calories, carbs, fat, sodium, etc. It's all displayed the instant you weigh your food. You can track entire family meals on this scale, making portion size, or daily calorie/carb intake easy. Overall, it is a must-have device for a healthy lifestyle.
PROS
Easy to weigh larger amounts of food
The lit-up display is easy to read
It shuts off after a minute of no use
Comes with 2-year warranty
Strong and well made
CONS
There is no app for the codes
---
One of the most accurate scales we've tested, the INEVIFIT digital kitchen scale has made it convenient to cook your favorite recipes and portion control your diet by developing their all-new Food Scale. Taking control of your diet is exactly what you need to reach your goals faster and stay motivated in the long run.
This kitchen scale will weigh anything up to 13 lbs in 0.04 oz increments. That means you will be able to weigh everything you need to get you closer to the summer body you always wanted faster than ever.
Whether you are a fitness professional counting your macros or someone just starting to live a healthier life, you will find that this digital food scale is a great fit for your weighing needs. This INEVIFIT food scale has been laboratory tested and certified, so you can be assured that you are getting a top-quality product.
The total diameter of the metal platform is 6.25″. However, it has a small lip which makes the inner diameter 6″ and the LCD screen stretches 2.25″ diagonally. In addition to the black color of this model, INEVIFIT offers several other colors to go with all styles of kitchen.
PROS
Basic and simple function
Slim design fits in your drawer nicely
Modern backlit display
90-second auto-shutoff
Reasonable price
CONS
Large bowls and plates can obscure the display
---
It has 4 precision weighing sensors that ensure accuracy within 1 gram or 0.1 ounces. With a high-contrast LCD screen, this food scale shuts off and calibrates automatically.
It's incredibly sensitive so it can detect the smallest amounts. It changes the automatic shut-off time from 2 minutes to 5 minutes. GreaterGoods 480 food scale is also nice, thin and you can easily throw it in a backpack. Very easy to clean with no moving buttons.
It also looks great on your counter, stores away easily, and tells you what you need to know to make better meals, whether you're trying to count macros or perfect your signature cookie recipe. A straightforward design, focused on the essentials, makes it easy to quickly weigh the ingredients you use every day.
This scale for macros can handle up to 11 pounds, and can therefore indicate the measurement results in different units. It's a watch battery and comes with an extra battery as well! You can't bet the price as well. It is also small enough to carry but not too small.
To ensure quality, it comes with 5 years warranty against manufacturer defects. Any mechanical damage or mistreatment of the product will void the warranty. It made in China, but its durability is excellent.
PROS
Easy to use and maintain
Able to measure small amounts
The flat surface makes cleaning a breeze
Small and easy change battery
Great choice for the price
CONS
It's extremely lightweight and feels cheap
---
Last but not least, HOMEVER digital food scale provides 5 measuring units. With the blue LCD display integrated, there's little chance of confusion but it's not a big problem. Its 4 sensors at the bottom can reach 1g accuracy. You can still get the accurate number even if the food is placed beyond the scale.
The dimension is 9 x 6.3 x 0.9 inches and the digital food scale for macros can hold big containers like a plate or pot. The aluminum brushed panel is easy to clean with a wet cloth with waterproof. Also, the smart function of auto-off within 2 inactive minutes. You can also turn it off manually.
Full plate sensing to get stable and accurate results in different places. It features a low battery indicator and an overload indicator. Excellent quality with 3-layer structure, tempered glass, ABS plastic, and stainless steel. And with the ultra-flat format, the maximum load capacity is 15 kg.
I use it for baking and cooking most often. It is easy to use precisely and easy to clean. For all your quick and easy culinary weighing, the HOMEVER food scale provides you with very practical functions.
PROS
It has 3 smart function
Good price and user-friendly
15kg limit and 1g accuracy
Quick response time
Very simple to clean
CONS
Doesn't come with a weighing basket
The display is not very bright
---
Buyer's Guide
You already know that the food scale for counting macros is different from numerous households scale. But what are the key points to keep in mind when buying a food scale for tracking macros? Here are the most important factors that should be considered before your next purchase.
Units of measurement
Nutritional scale generally provides different data such as grams, oz, etc, which is not possible with a general kitchen scale. However, None of the models calculated during this comparison display at the same time grams, kilograms, ounces, pounds centiliters and milliliters. It will be wise to determine which units of measurement you need the most and choose your scale accordingly.
If you plan to weigh a lot of liquid, a scale that displays the milliliters will be most useful.
Specific scales
Among these scales, there are the professional food scale and the connected scale, which are intended for a specific type of weighing.
The professional food scale can often weigh quite heavy food very accurately and equipped with 2 screens, which is very interesting for artisans such as butchers, butchers, cheese or vegetables.
The connected scale allows interaction between the scale and user via an Apps that allows you to know the nutritional values of the weighed food. It is therefore suitable for people who pay attention to their line!
The container
One of the important things we need to check is the platform and container. The size of the platform varies and therefore you must choose the one that suits your need. It is often a good idea to have a food scale with a generously sized platform so that you have room to weigh a variety of foods together.
Also make sure that the container is removable for easy cleaning. Some models are equipped with a measuring cup attachment, which allows the ingredients to be easily measured.
The display
Another very important factor is that of easy reading. Not all digital displays are the same. Some models are small and difficult to read, so try to choose a model with a large digital display that shows macros measurement.
Also, look for displays that do not hide when you cover the scale with the items to be weighed.
Size & design
Another factor to consider is that of design and ease of storage. If you keep the scale on your kitchen counter, it's important to choose a model that fits well and adds an extra touch to your kitchen. With a flat and more compact format, this type of scale is easily stored in small kitchens.
The design may seem like a detail, but it can make the difference between one scale to another. Choose a scale with a large display and check the dimensions to make sure it fits in your kitchen. This point is essential if you don't want to end up with a bulky model.
Weight capacity
A good kitchen scale for tracking macros will make your life easier with assets such as a large weighing area and a large weighing capacity because you will be able to be sure you can weigh everything you need.
Keep in mind, not all food scales support excessive weights, so try to find which scales can hold enough weights so that you can weigh your food without difficulty.
For occasional use, a 5kg scale with an accuracy of 1 gram may suffice. On the other hand, a more efficient kitchen scale capable of weighing up to 10kg will be ideal for a more experienced person.
Tare function
This is the function that must be used every time you want to weigh ingredients in a container. The Tare function is therefore used to reset the kitchen scale to zero when an object is placed on it. So all you have to do is put your empty container on the scale and press Tare. Then you can put your ingredients in the container. Thus, the scale will only tell you the weight of the ingredients that you have put in the container.
We strongly recommend that you opt for a device that comes with a tare function so that you can weigh your ingredients in the containers without getting bored with tedious calculations.
The material
Some digital kitchen scales for macros are equipped with a stainless steel surface or are made entirely of stainless steel. These models usually look high quality. In addition, stainless steel is less susceptible to rust. Other kitchen scales have a glass surface.
This is often a safety glass. For this purpose, numerous digital kitchen scales are at least to a certain extent made of plastic. Analog kitchen scales are made of plastic or steel.
Automatic switch-off
The automatic switch-off can ensure longer battery life. Thanks to this function, the kitchen scale switches off if it has not been actively operated for a while.
When buying, you should pay attention to the period of time after which the kitchen scale switches off automatically. Too short a period is impractical. Most kitchen scales turn off after about 60 to 120 seconds of inactivity.
The precision
Whether digital or analog models, precision is a key factor to take into account. If you want to be successful in your preparations or meeting your dietary goals, your scale must be as precise as possible.
Most of the models are offered an accuracy of 1 g. But for even more precise data, it is possible to find scales with the graduation of 0.1, 0.01, or even 0.001 grams.
Sensor function
If the kitchen scale is equipped with a sensor function, it is sufficient to touch the keys gently. It eliminates the need to press the keys with effort. Such a kitchen scale has highly sensitive keypads. This is advantageous if your hands are dirty from baking or cooking and you want to operate the scale.
The time
The display of the time can be useful if there is no separate clock in your kitchen. If the kitchen scale is operated electronically and is equipped with a clock, this usually shows the time digitally.
An analog kitchen scale with a clock is usually provided with a clockwork and an additional scale.
Additional features
Depending on their degree of sophistication, some scales offer features that make them even more convenient. For example, the piece counting feature is often added to some kitchen scales for macros, eliminating the need to count small items piece by piece.
A smooth scale without hard-to-reach corners where liquids or food can get stuck is the best solution. Some scales have parts that can be removed for easier cleaning.
FAQs:
Are food scales for macros useful for dieting?
If your goal is to lose or gain weight, the food scale will allow you to monitor your daily intake and calories eaten. With a smart kitchen scale, it's even easier, just scan or register the products before weighing. Then, it will automatically calculate the calories and nutrients provided by the food. All data can be viewed on your smart device via App.
Can we weigh other things with a food scale?
Yes, you can use it to weigh other objects. Generally, a digital kitchen scale is primarily for weighing food, but you can also use it for weighing precious metals, clothes, and more.
What is the average price of a nutrition food scale?
A basic model costs around twenty 20 dollars. To find models that are good value for money, it is a good idea to fixed a budget of around 20-40 dollars.
Are inexpensive food scales reliable?
Inexpensive kitchen scales are reliable. As previously mentioned, most precision scales usually cost no more than $40. So, from 10 dollars you can have a very good digital food scale that weighs to the gram near food that can weigh up to 10 kg.
Is tare function essential for food scale?
The Tare function should not be overlooked when buying a digital kitchen scale. It is very practical because it won't count the weight of a container when weighing. Just put the container, empty, on the weighing pan, then press the Tare button to reset the scale to zero.
What is the margin of error on a food scale?
The digital food scale has a margin of error of 1g, while the analog kitchen scale is less accurate by 5-10g.
Conclusion
According to the test report, the Etekcity Digital Kitchen Scale is the best way to follow a diet. It has digital technology with an automatic shut-off function. Its design is very modern, to suit all kitchen decorations.
Keep in mind, as part of a slimming diet or simply to monitor your health, the usefulness of a bathroom scale is proven.