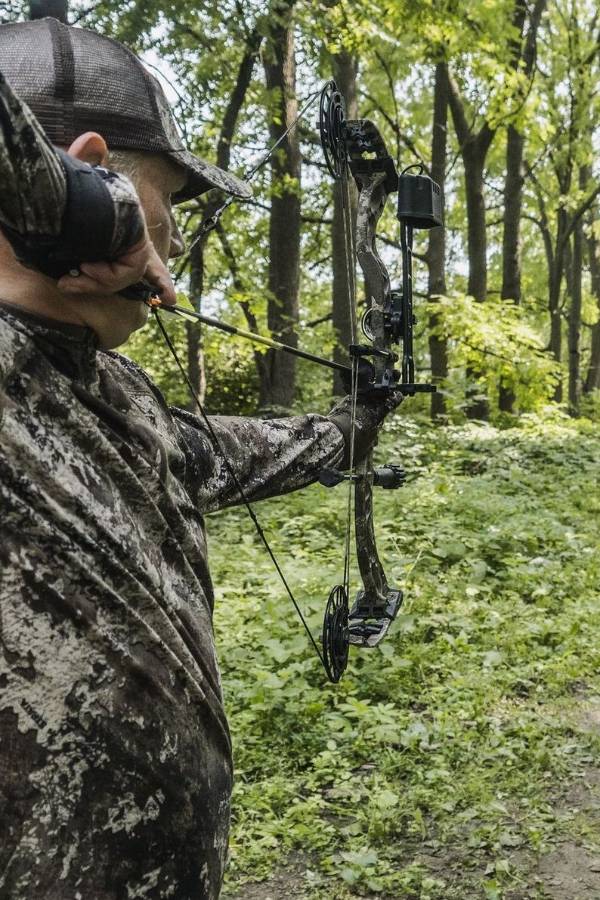 The bow release stands out as a critical component for both hunting and precision shooting. With advancements in technology and design have ushered in a new era of releases, the market offers hunters and target shooters a diverse array of options to choose from.
This guide aims to navigate the options available, spotlighting the best bow releases for hunting and accuracy in 2023. Whether you're a seasoned archer seeking an upgrade or a newcomer looking to invest in a reliable release, we've compiled a list of the top ten best bow releases for hunting and accuracy that excel in various aspects of performance, comfort, and durability.
We'll also discuss factors to consider when making your selection, ensuring that your choice aligns perfectly with your specific needs and preferences.
Best Bow Releases for Hunting and Accuracy (2023)
Let's check the ranking and discover the best bow releases in 2023 and elevate your archery experience to new heights.
| | | | |
| --- | --- | --- | --- |
| Image | Name | Highlight | Weight |
| | Scott Archery Verge Release | Best Overall | Check |
| | SPOT HOGG Wiseguy | Premium Bow Release | Check |
| | STAN PerfeX Thumb Release | best Thumb Trigger | Check |
| | B3 Archery HAWK FLEX | Best Index Finger | Check |
| | TruFire Edge Buckle | Best for Accuracy | Check |
| | Scott Archery Hero X | Best for beginners | Check |
| | Trophy Ridge AFL1151C | Best for Hunting | Check |
| | Scott Archery Quick Shot | Best Under $50 | Check |
| | Tru Fire Hardcore | Good Value | Check |
| | Tru-Fire Spark | Best for Youth | Check |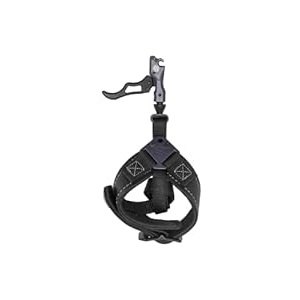 Scott Archery has been known for producing high-quality archery equipment since 1982, and their releases are recommended by many experienced archers for their reliability and performance. The Verge is a high-quality index finger release, designed to enhance accuracy and consistency for bowhunters and target shooters.
The Hybrid Hinge design combines elements of both hinge-style and thumb-button releases, which offers a unique blend of control and forgiveness in your shot execution. The hinge mechanism allows for a smooth rotation of the release head as the bowstring is drawn, which helps to reduce target panic and improve shot execution.
This model is medium in size, which means it will fit a wide range of hand sizes comfortably. It comes in a sleek black finish. To ensure longevity and consistent performance over time, it is crafted with precision and durability in mind by using high-quality materials.
The Scott Archery Verge Release also offers a wide range of adjustability such as trigger sensitivity, travel, and handle position to accommodate individual preferences.
PROS
Hybrid Hinge Design
Wide adjustability and versatile
Single sear mechanics
Pre-shot click option
Slim and auto-return open hook
CONS
The click and release are set to close
A bit expensive
---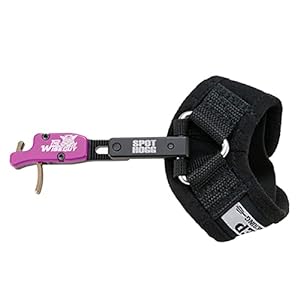 While Spot Hogg doesn't have the same level of recognition as some other archery and bowhunting companies, their product range is impressively extensive and most of them are premium. We've had very positive experiences with their bow releases, especially the Wiseguy. This model exceeds our expectations for a top-tier bow release.
The fold-back option allows you to keep your draw hand free in the hunting environment without hindrance. With customizable adjustments, you can fine-tune it to your liking. The open-hook design ensures you can securely clasp the D-loop on your drawstring without diverting your gaze from your target.
Again, the fold-back function is a game-changer for hunting. It enables you to neatly tuck away the release mechanism when not attached to the D-loop and offers unparalleled convenience while navigating your hunting surroundings. Keep in mind, that if you opt for the fold-back feature, you'll be wearing the release for extended periods, which is something to consider.
The length adjustability allows you to move the release head, which houses the hook, forward and backward. This feature proves invaluable when managing a new D-loop. It is a super solid wrist release and won't lose its place like cheaper adjusted releases.
The BOA system offers a secure and snug fit. However, it generates a considerable amount of noise and sounds quite mechanical when adjusted.
PROS
Super-duper light trigger
Micro-adjustable dial
Adjustable length
Quick loading draw
Open Hook Design
CONS
Not the most comfortable strap
Very light trigger
---
3. STAN PerfeX Metal Long Neck Thumb Release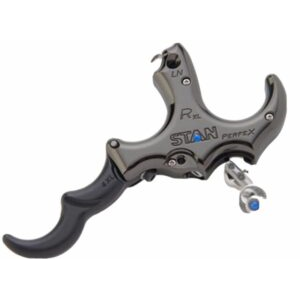 The Stan PerfeX Longneck is a sleek, all-black thumb-button release that embodies Stan's trademark precision and adjustability. Its brass core imparts a weighted sensation, which promotes controlled movements for consistently smooth shots.
Customizability is a key feature of the Stan PerfeX. It includes interchangeable 3 and 4 finger extensions with an adjustable finger sweep to offer a modified fit. With three different trigger post lengths and two thumb barrel sizes, you have huge options to fine-tune the release to your preferences.
Furthermore, it serves as a versatile release aid platform, ensuring handle consistency regardless of the internal mechanism. You can choose between a thumb-activated or resistance-activated mechanism to suit your shooting style. It fits amazing in the hand and the heavy metal gives it a perfect weight.
This model is available in both Long and Short Neck versions and ranges from small to X-large sizes. The short-neck models slightly extend your draw length, ideal for maximizing rig speed. Meanwhile, the long-neck model is perfect for archers with larger hands which ensures the hook mechanism clears fingers comfortably.
For hunters, all PerfeX models feature a lanyard boss on the bottom, and the long neck version offers a "Blackout" finish option to minimize unwanted glare during pursuit of game.
PROS
Customizable Fit
Versatile mechanism
Short and long neck options
Hunting-friendly features
Resistance
---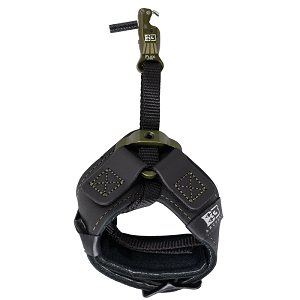 The Hawk Flex stands out as a single sear release, which features a durable 440C stainless steel open hook. The angled forward trigger and adjustable travel provide you customized shooting experience. The interchangeable knurled post and a spring-loaded return hook ensure swift and efficient shooting without any delays.
Renowned for its smooth and consistent release, the Hawk Flex minimizes interference when letting go of the arrow. This leads to heightened accuracy and shot consistency, which is crucial for archers seeking precision in their shots. The package includes a standard wrist strap, complemented by green head, bracket, and stitching details.
The patented swivel stem connector offers multiple length adjustments for serving archers of all sizes. It's designed to swivel a full 360 degrees and can even be folded back and securely locked in place, which ensures it stays out of the way during treestand ascents.
While still built for durability, the case head has been thoughtfully shortened to reduce bulkiness without compromising strength. A Tension Adjusting screw on the release case's side allows for a tension range spanning from 10 ounces to 3.5 pounds. This flexibility means you can choose between a hair-trigger, an ultra-heavy trigger, or find a comfortable middle ground.
Though not the most budget-friendly option on the market, the HAWK FLEX more than justifies its price tag through its exceptional quality, performance, and adaptability. It offers outstanding value for the investment, particularly for serious hunters looking for a high-performance index finger release.
PROS
Heavy-duty head design
Smooth and ergonomic
Comfortable strap
Angled forward trigger
Infinite length adjustment
CONS
Not feather light
Easy access tension screw
---
5. TruFire Edge Buckle Foldback Bow Release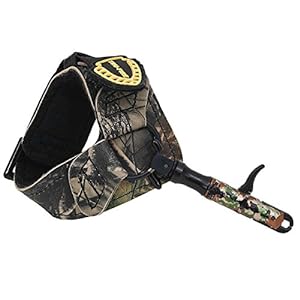 As the foremost manufacturer of archery release aids worldwide, TruFire leads the industry in both innovation and product development and All products are proudly 100% American Made. If you're seeking a release that offers a great balance of quality and affordability, we highly recommend considering this option.
The Tru-Fire Edge Buckle Foldback series, known for its remarkably compact head, boasts a size smaller than a dime. Despite this scaled-down design, the Edge series maintains the high level of functionality and benefits that archers have come to expect from TruFire.
The Max strap offers an impressive 2.5 times more padding, coupled with a slightly wider profile and thoughtfully rolled edges, resulting in the most comfortable strap available in the market. This, in combination with the Tru-Fire Foldback buckle, ensures a superior level of comfort and usability.
The added linear motion bearing delivers an exceptionally smooth trigger action. Simply pull the trigger to open the jaws, and release it to securely close them.
A noteworthy addition to the Edge releases is the inclusion of a lockdown set screw for personalized length adjustment. Once you have determined the correct length, a simple tightening of the set screw ensures that it remains firmly in place.
PROS
Easy adjustments
Very well assembled
Comfortable fit
Smooth action
Good value for the money
CONS
The length isn't long enough for big adults
---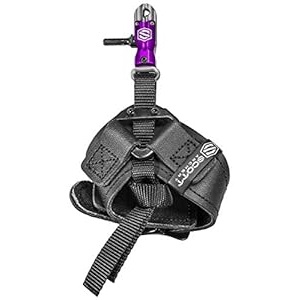 For over four decades, Scott Archery has been dedicated to pinpointing the subtle details that make a substantial impact on both bowhunters and archers. Among the latest additions to the Scott Archery youth release collection, the Hero X stands as the younger sibling to the Scott Legacy.
It features an NCS connector strap system for infinite length adjustment, which is very practical for beginners. The streamlined design and beautiful colors are sure to captivate young archers.
Its compact and ergonomic body ensures a more comfortable and consistent anchor point. The NCS strap linking the head to the body offers limitless adjustment possibilities to serve those with shorter fingers. Additionally, the release mechanism operates with remarkable smoothness.
It offers a wealth of adaptability and a buckle strap designed for future growth. This release is built to last for an extended period without the need for replacement. While the release can be designed to fit various hand sizes, it's important to note that individuals with larger wrists may find it less accommodating.
PROS
Leather buckle strap
NCS connector strap system
Very light trigger
Auto closing
---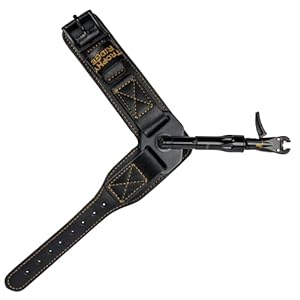 With its time-tested excellence and field-proven performance dating back to 2000, Trophy Ridge has established itself as a trusted name in the industry. It is a compact and reliable dual-caliper bowhunting release, which features a robust ball joint connection and a full 360-degree swivel arm design. This innovative design allows it to be easily tucked away in a shirt or jacket sleeve when not in use, ensuring convenience and ease of carry.
You can adjust the release to your exact specifications with up to 1 inch of length to accommodate both left- and right-hand bowhunters seamlessly. This impressive range of length adjustment surpasses many others on the market.
It is made with a premium leather buckle strap. This release is the ideal choice for discerning bowhunters and target shooters alike. The buckle strap provides a comfortable fit for larger wrists. It also offers a snug adjustment for older youth hunters.
The trigger mechanism is a marvel in itself, which offers a hair-trigger sensitivity without any concern for accidental discharges. Its durability is evident, and the leather, while soft to the touch, proves to be exceptionally rugged.
PROS
360-degree rotating dual-caliper head
Premium leather buckle strap
Pewter finish
Ultralight
Cheap price
---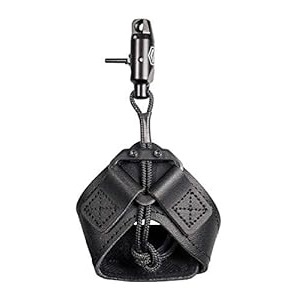 The Scott Quick-Shot release is a remarkable blend of precision and reliability at an accessible price point. This single-jaw caliper release features an enhanced signature roller sear design, which ensures an exceptionally crisp trigger activation.
When you pull the trigger, it reacts swiftly and provides a quick and controlled release without any unwarranted surprises. You retain complete control, as it won't release on its own; it waits for your deliberate action.
The Quick-Shot bow release is equipped with a standard leather buckle strap and a versatile rope connector that offers infinite adjustability to fit archers of all sizes. For those who admired the Blitz design, it introduces an entirely new category of cost-effective archery release aids.
Although this model is specifically tailored for youth archers, it is an excellent choice for anyone seeking a high-quality release aid without breaking the bank. It strikes a perfect balance between affordability and performance.
In a departure from releases that require a small Allen wrench for pin adjustments, the Scott Archery Quick-Shot release offers a hassle-free experience. It doesn't spring closed, which ensures it remains open until you're ready for release. This emphasizes the importance of securing a firm grip on the D-ring to prevent any accidental releases.
PROS
Unmatched accuracy
Ultra crisp trigger activation
Comfortable buckle strap
One size fits most
Inexpensive and reliable
CONS
Needs to come with an Allen to adjust
---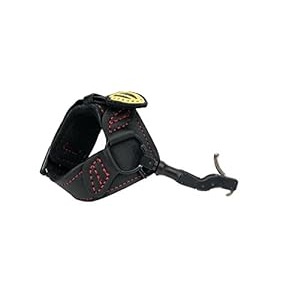 The Hardcore release by Tru Fire was designed to be the pinnacle of single-jaw hook releases, boasting an array of features unrivaled by any other in its class. The self-centering knuckle is positioned behind the main body, effectively eliminating the issue of side-to-side torque that plagues many other hook-style releases.
The body is designed to pivot up to 20 degrees in either direction to provide adaptability to varying anchor point positions. This ensures that once affixed to a bow, the loop or serving aligns perfectly with the release's centerline. This guarantees an accurate shot with every use.
The robust steel jaw automatically engages upon trigger depression, and with minimal travel, the trigger exerts a mere 4 ounces of pressure. It is the epitome of excellence for dedicated hunters and competitive archers alike.
The ingenious foldback feature adds a valuable dimension to its functionality. It allows users to ascend into their stand, observe their surroundings, employ a rangefinder, and even send messages, all without the cumbersome interference of the release accidentally bumping into objects.
The Hardcore release offers a wide range of adjustments for a customized fit to individual preferences and usage. This is a top-tier piece of equipment to facilitate effortless positioning of the hook in and out of the d-loop.
PROS
Super plush black buckle strap
Fully adjustable trigger travel
Guaranteed not to slip off loops
Good value for the money
---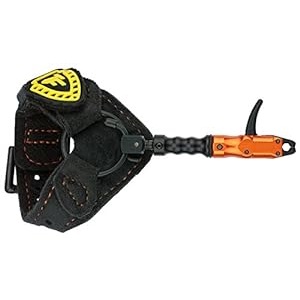 Saving the best for last, we present the final pick in our lineup of the top ten best bow releases for hunting and accuracy. Experience the pinnacle of precision in length adjustment with the Tru-Fire Spark. It Offers over 1″ of customizable length between the trigger and strap and stands as the industry's finest in this regard. This model is specially designed for young archers or those with smaller wrists.
Tru-Fire is renowned for their impeccable workmanship, the Spark is no exception. It is made from high-quality, non-stretch fabric and features a compact strap design catering to smaller wrists. This ensures a secure and snug fit and provides unparalleled control with each shot.
The trigger mechanism exudes both precision and security. The wristband boasts ample adjustments and a clever secure catch for excess band to enhance user convenience. And with straightforward usability, it avoids any complex setups, making it accessible for archers of all levels.
The trigger action is consistently reliable in facilitating a controlled and steady release of the arrow. It is equipped with Tru-Fire's signature fold-back feature, which proves invaluable in a variety of field and range scenarios.
While the head of the release lacks freespining capability, it's a minor consideration. As long as one remembers to relax their hand at the moment of release, this feature hardly poses a significant issue. However, considering the quality and features, the Tru-Fire Spark offers excellent value for its price point.
PROS
Durable
Easy to use
Foldback design
Fits both hands
Very impressive for the price
---
What To Consider When Choosing a Bow Release for hunting and accuracy?
Choosing the right bow release is a crucial decision for any archer, as it directly impacts accuracy and performance in hunting or target shooting. Here is an in-depth guide on what to consider when selecting a bow release for hunting and accuracy in 2023:
Release Type
Wrist Strap Release: This is the most common type of release. They are attached to the wrist and are easy to put on and take off. They provide a stable anchor point and are approved by many hunters.
Handheld or Thumb Release: Held in the hand, these releases are activated by thumb pressure. They offer precise control and are often preferred by target shooters for their accuracy.
Back Tension Release: These bow releases are activated by increasing tension on the bowstring. They promote a surprise release, which can improve accuracy but require more practice to master.
Adjustability
Trigger Sensitivity: Look for a release with adjustable trigger sensitivity. This allows you to customize the amount of pressure needed to activate the release, feeding to your preference.
Length and Fit: Ensure that the release can be adjusted to fit your hand comfortably. A well-fitted release will enhance accuracy and reduce strain during extended shooting sessions.
Ease of Use
A good release should provide a smooth and consistent trigger action. Any hesitation or jerkiness in the release can negatively affect accuracy. Consider how easy it is to make adjustments to the release, such as changing trigger sensitivity or length. Some releases offer tool-free adjustments, which can be convenient in the field.
Noise and Vibration
In hunting scenarios, minimizing noise is crucial. Look for releases designed to operate quietly, reducing the chances of spooking game. Releases with vibration dampening features help absorb shock, providing a more stable shot and reducing hand fatigue.
Material and Durability
Opt for releases made from durable materials like aluminum or steel. This ensures longevity and reliability, even in rugged hunting conditions. Also look for corrosion-resistant coatings that protect the release from the elements, especially if you'll be hunting in wet or humid environments.
Budget
Determine your budget beforehand, but be willing to invest in a quality release. A reliable release is a critical component of your archery setup. Established brands with a reputation for quality and reliability are often a safe bet if you have a limited budget.
Compatibility
Bow Compatibility: Ensure that the release you choose is compatible with your specific bow model. Some bows may have unique requirements for the type of release that can be used effectively.
FAQs
Difference between a wrist strap release and a handheld release?
A wrist strap release is attached to the archer's wrist, providing a stable anchor point. It's commonly used in hunting due to its convenience. A handheld release is held in the hand and activated by thumb pressure, which offers precise control and often recommended by target shooters for accuracy.
How important is adjustability in a bow release?
Adjustability is crucial for achieving a comfortable fit and optimal performance. Features like trigger sensitivity adjustment and length customization allow you to tailor the release to your specific preferences and shooting style.
What advantages do back tension releases offer, and are they suitable for hunting?
Back tension releases promote a surprise release, which can improve accuracy by reducing anticipation and flinching. However, they require more practice to master. While they can be used for hunting, they are not the best choice for high-pressure situations.
How can I reduce noise and vibration with my bow release?
Look for releases with features like Vibration Dampening technology. Additionally, choosing a release made from quality materials and a smooth trigger mechanism can help minimize noise and vibration, which is crucial for hunting.
Is it worth investing in a more expensive bow release, or are budget options sufficient?
While budget options serve adequately for casual shooting, investing in a higher-quality release is recommended for serious archers, especially hunters. A reliable release is a critical component that directly impacts accuracy and performance.
Can any bow release be used for both hunting and target shooting?
Although some bow releases are versatile enough to be used for both hunting and target shooting, it's essential to consider your primary use case. Some releases are optimized for specific scenarios, so choosing one that aligns with your intended purpose is recommended.
How do I know if a bow release is compatible with my bow?
Check the manufacturer's specifications and guidelines for compatibility. Some bows have specific requirements for the type of release that can be used effectively.
Conclusion
The world of archery releases has seen remarkable advancements, providing archers with a diverse range of options to enhance their hunting and accuracy.
Here, we've highlighted some of the top contenders in the market, each excelling in specific aspects. From wrist strap releases offering stability and convenience to handheld releases providing precise control, and even back tension releases for those seeking an edge in accuracy, the options are extensive.
It's crucial to prioritize adjustability, smooth operation, and noise reduction, as these factors directly impact performance in both hunting and target shooting scenarios. Investing in a high-quality bow release is an investment in your archery journey.
Related Posts: