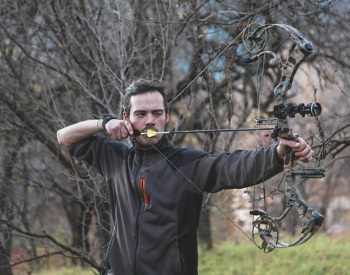 Today, compound bows convince with modern design, excellent accuracy, and different arrow speeds. You can learn the compound bow shooting process very efficiently and enjoy the bow for a long time even with rapid training progress.
Many well-known manufacturers such as Predator Archery, Bear Archery, and TOPOINT ARCHERY, also offer compound bows especially designed for beginners.
In this way, the extension and strength of the draw weight can be easily adjusted to user needs without a bow press. Thanks to their high variability, that will help to improve your skills consistently.
Are you looking for the best beginner compound bow?
Then you've landed in the right place. From affordable hunting bows to mid-range models, this buying guide covers all of the top compound bows for first-time hunters or target shooters. We've tested every bow here to make sure it's fit to shoot and improve your hunting skill steadily.
Best Compound Bows For Beginners In 2023
With that out of the way, let's take a look at some of the best starter compound bows on the market.
1. Predator Archery Raptor Compound Bow
2. GCQ Complete Beginner Compound Bow set
3. SAS Scorpii Compound Bow Package
4. TOPOINT ARCHERY M2 Youth Compound Bow
5. RAPTOR Black Compound Hunting Bow Kit
6. Bear Archery Royale Youth Compound Bow
7. Diamond Archery Edge SB-1 Compound Bow
Draw length: 24.5-31″ | Draw weight: 30-70LB Pull | Brace height: 7.5-inch | Speed: 315 FPS | Let off: 75% | Axle to axle: 30-inch | Weight: 3.6 LBS | Package included: 5 Pin Lighted Sight, Rest, Quiver | Warranty: Lifetime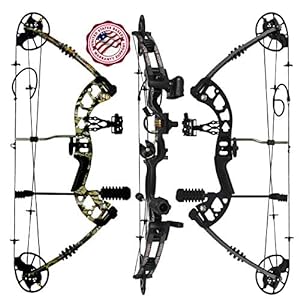 Whether you're a professional archer in a club or learning about sports, the Predator Archery Raptor bow set is simply perfect in both cases. It is a complete compound bow package for beginners. And for less than $270, you're doing everything convenient way with this hunting bow.
This high-quality compound bow is easy to handle and comes pre-assembled. You will just need a bow square to set the nocking point. Both the cams and modules are made of top-grade aluminum.
Predator Archery Raptor compound bow allows for 75% let-off and features a split yoke tuning system that provides precise adjustments for proper arrow flight while shooting. It is also a versatile compound bow that comes with all the bells and whistles of a much more expensive bow.
Accessories that include in the package are of good quality and great for starters for frequent practice. However, we recommend buying a wrist release that has a trigger because this package does not include this.
You can adjust the draw length from 24.5"-31" and the draw weight from 30lbs-70lbs, making it a perfect choice in competition for beginners and experts alike. However, choosing the right arrows is a bit difficult for beginners that's why we recommend you choose arrows at least 1 to 1.5 inches longer than your full draw.
It doesn't matter if you're a hunter, bow fishing enthusiast, or target shooter, Predator Archery Raptor compound bow offers everything you need. Your purchase will be guaranteed with excellent customer service and a lifetime warranty.
PROS
Requires little setup
Well priced for the beginner
Lightweight design
Well built
Very accurate
Fast and quiet
CONS
Doesn't come with arrows
Instructions could be better
---
2. GCQ Complete Compound Bow for Beginners
Bow type: Recreation & hunting | Bow material: Aluminum Magnesium Alloy | Arrows material: Glass fiber | Axle to Axle: 22.5-30.5 | Let Off: 75% | Bow String: Dyneema | Draw length: 25″-35″ | Draw length: 30-70LB | Speed: 320 FPS | Weight: 3.8 LBS | Warranty: N/A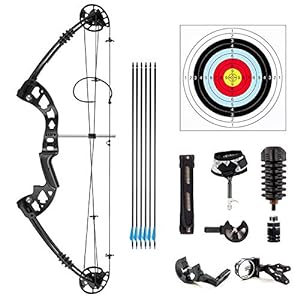 A good and inexpensive alternative for beginners is the GCQ hunting bow. This entry-level compound bow reaches an impressive IBO speed of 320 fps when fired and is equipped with a robust double wheel system and stabilizer for accurate shots.
It features a rotary synchronized Binary cam system for a flawlessly smooth draw, which maximizes accuracy and consistency. And the integral stabilizer creates a perfect balance and a steadier shot. The adjustable draw weight is from 35-60 lbs draw weight and the length is 25-35 inches. Depending on your skill level and height, you can choose from different options.
GCQ beginner compound bow comes with Dyneema glass fiber bowstring, which is much strong and higher than carbon fiber. In terms of price-performance ratio, the GCQ complete bow set would be most likely to be recommended. The package includes everything you need, even bow sight and paper target.
This composite bow is equipped with CNC milling bow riser and split bow piece. For precise aiming, you can adjust this model in five-needle sight. The self-contained lighting system also helps you to use it normally without light.
The let-off is 75%, which is quite enough for both target shooting and hunting. Thanks to its clean workmanship and adjustability, it is well suited for ambitious beginners. You can optimally adjust this bow according to your needs. Also, a real eye-catcher visually!
However, you need to assemble this bow. There is no complete instruction. The arrows are ready to use. If you have trouble with the string, you could take it to Cabelas or bass pro and they can assist with it.
PROS
Smooth surface
Good wear resistance
Professional Bowstring
Superior Shock Absorption
Reasonably priced
CONS
No visible instructions
Left-hand version is not available
---
Bow type: Hunting & bow fishing | Arrows material: Aluminum | Draw length: 19″-29″ | Draw weight: 30-55LB | Speed: 260 FPS | Let-off: 68% | Axle to Axle: 28-inch | Hand direction: Right hand | Weight: 3.5 LBS | Warranty: N/A | Bow sight: Included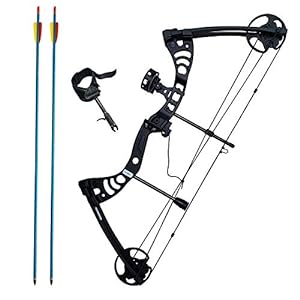 The SAS Scorpii is a great beginner compound bow but can be a nice hunting bow with a lot of useful accessories. The Scorpii model from Southland Archery is the perfect size for treestand hunting. It is not heavy but also durable. The assemble weighs only 5 pounds. It has a higher let-off of 68%.
In addition, the model is easy to adapt, as it has modules that are adjustable. You can transport this beginner bow very effectively in a bow hunting backpack. It has a very smooth draw back with little wobble after you release.
It has a wide range of adjustments. For example, the draw length of 19 to 29 inches, and the draw weight is from 20 to 55 lbs. You don't need a press to change the draw length. It's actually almost too easy to do, just remove the screw on the cam and rotate it to the correct one.
SAS Scorpii compound bow is very accurate. And it is powerful enough to take down a large size deer. Keep in mind, the SAS Scorpii is an inexpensive entry-point bow for shooters. You need at least 2 or 3 shots before you think of shooting it out of the home.
The package has everything you need, even the predator light for the sight. It has sights, arrow rest, stabilizer, wrist strap, peep sight, loop string, and two sets of Allen wrenches that will fit everything you need. Remember that you need to assemble the accessories yourself.
The plastic cable slide will be worked but chews the string away. So we highly recommend buying the Saunders Hyper Glide. Overall, we decidedly recommend the Southland Archery Supply Scorpii for the person who looking for a modern beginner compound bow without breaking the bank.
PROS
Sight and rest are fully adjustable
Peep sight is of decent quality
Sleek design
lightweight
Solid bow for the price
Complete bow package for right-hand user
CONS
Instructions paper could be better
Doesn't available in left-hand version
---
Speed: 290 fps | Axle to Axle: 25″ | Brace height: 6.8″ | Let-off: 75% | Draw weight: 10-40lbs | Finish: Powder-coated / Camo | Draw length: 17 – 27″ | Riser: Aluminum | Cam: Dual/Adjustable | String Length: 49.13″ | Cable length: 27.95″ x 2 | Weight: 2.54lbs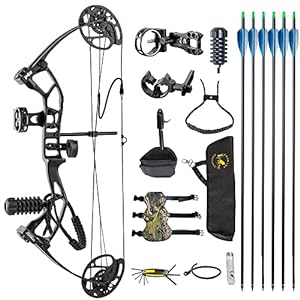 The TOPOINT ARCHERY M2 could be a good choice for youth beginner archers because it is very cheap and offers many accessories with delivery. It is very accurate; club shooters and professionals rightly appreciate this model as a beginner bow. This model also has many grown functionalities.
This entry-level compound bow is not only suitable for the beginner shooter but appropriate for women. It is relatively large and the string length is 49.13″. Because of its high shooting accuracy and acceleration, you can often use it for hunting.
The draw weight is quite high at 40 lbs. It has plenty of adjustments to increase draw length and weight. It is also robust and stable. The processing is absolutely fine.
The installed peep is perfect for youth, don't need to change a thing but easily can if you need to change the draw length very far. The pulling weight can be set particularly low so that not much pulling force is required.
TOPOINT ARCHERY M2 compound bow is made of high-quality materials with a maximum speed is 290 fps. The package comes with everything you need; Allen set, arrows, and a hip quiver.
However, this is a right-hand starter bow, which means you need to hold the bow in your left hand and pull the string with your right. Although the TOPOINT ARCHERY M2 is not ambidextrous at all, read the manual carefully. Otherwise, it will hurt you if used the wrong approach.
PROS
Lightweight
Complete bow package
Very safe and reliable design
CNC machining bow cam
Sturdy construction
Cheap price
CONS
Max draw weight only 40lbs
Stabilizer is not good
---
Draw length: 24.5-31-inch | Draw weight: 30-70 LB pull | Speed: 315 FPS | Cams material: Machined Aluminum | Let off: 75% | Axle to axle: 30-inch | Weight: 3.6 LBS | Includes: 5 Pin Lighted Sight, Biscuit Rest | Warranty: 30 days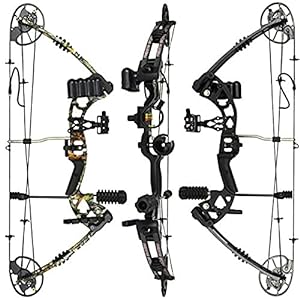 If you're looking for a bow for very accurate and consistent shots, then the Predator Archery RAPTOR Black model is for you. This model is a little bit advanced and expensive, so motivated beginners and advanced enthusiasts can implement their requirements.
However, both RAPTOR series bows are smooth pulling, fast shooting, and versatile compound bows for different uses. For example, you can use it for hunting, bow fishing, target practice, and more.
You can adjust the draw length from 24.5-31″ and the draw weight from 30-70 lbs without pressing the bow. The draw and poundage can be changed fairly easily if needed. This model is also designed with 75% let-off. So if you pull 70 lbs, you only hold just 17.5 lbs!
It has an axle-to-axle length of 30″ and weighs 3.6 lbs, which is pretty light. So all different level users can control and carry it easily. The CAMS are fully machined aluminum with ZERO plastic that users basically found in high-end models. The setup process is also very easy.
This hunting bow provides the best performance in class at 315 ft per second when at max settings with a 350-grain arrow. It allows for precise adjustments and proper arrow flight.
Predator Archery Raptor compound bow comes out of the box ready to shoot. Even the included bow sight has 5 colored pins with an eye-relief light for hunting at night. You just need to mount the accessories. However, you must tighten them all the way to get full draw weight.
PROS
Easy setup
Very powerful bow
Sturdy and very lite
Excellent bow for the price
Includes good quality accessories
CONS
Doesn't come in a left-handed configuration
There is no screw to tighten the cable guard
---
Draw length: 12-27-inch | Draw weight: 5-50 LB | Speed: 290 FPS | Let off: 75% | Axle to axle: 27-inch | Brace height: 6-inch | Weight: 2.7lbs | Includes: Mist Sight, 5 spot quiver, whisker biscuit | Warranty: 30 day | Designed for: Youth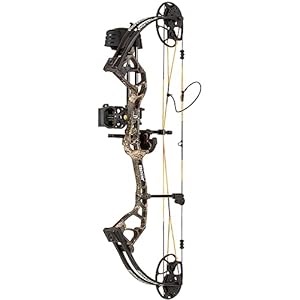 Royale Youth compound bow from Bear Archery will be impressed you with its high-quality workmanship at a reasonable cost. It is an impressive bow set that included all the essential accessories you need. The model is short and light. For adjustable trigger force, the Royale Youth bow is particularly suitable for beginners and young archers.
It can adjustable from 12 to 27 inches in draw length and from 5 to 50 lbs. peak draw weight. The adjustments are (draw length, weight) easy to make on a DIY at home basis on the bow. Also, the module system is adjustable without the use of a press.
This model is designed more than a youth bow but all lever shooters can use it. It can adjust and grow with the bow user. It is an extremely versatile compound bow for those who are already familiar with target shooting or bow hunting.
The package comes with everything you need to start bow shooting, a peep, sight, rest and quiver. The peep and sight are very good quality. The only additional parts you need; arrows and release aid. You don't need to assemble it. Because this model comes ready to hunt. Just make sure to choose the right size arrow.
The quiver is detachable. It has a button you press, then rotate the quiver out of the mount. It will deliver arrows at 290 feet per second. However, the total weight is only 2.7 lbs. If you set all accessories, it will be 3.3 lbs. Remember that the draw is not full adult size.
PROS
Comes ready to hunt
Outstanding design
No bow press required
Excellent bow for the price
Light enough for kids to handle
CONS
Doesn't come with arrow
No release included
---
Draw length: 15-30-inch | Draw weight: 7-70lbs | Speed: 318 FPS | Let-off: 80% | Axle to axle: 31-inch | Weight: 3.6lbs | Available: Right & Left hand | EZ Adjust pocket: Yes | Hand direction: Right & left hand | Preferred: Hunting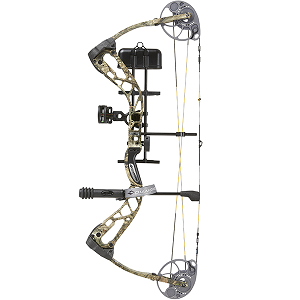 You may know that Diamond Archery is the leading company on the market, which supplies high-quality professional bows around the world. Their mission is to provide advanced and reliable bows and complementary products and develop innovative bows.
Let's talk about the quality part of the Edge SB-1…
Passionate employees who take pride in every step of the build process made this compound bow in America. And you will feel the quality, even the first time when you use it. Diamond Archery Edge SB-1 compound bow is also built with the most accurate and sought-after Cam system, which is the latest one on the market today.
Adjustability and versatility are the key features of the Diamond Edge SB-1. For example, it features 63 lbs of limb adjustment and has EZ Adjustable pocket, which makes it set up the bow anywhere in between a snap. Not only that, the rotating Modules allow for 15 inches of draw length to fit almost every archer.
The limb pockets are made of aluminum. And the cams are matte black. However, this is an adult bow. But it can be set up for a youth from a 15-inch draw length to 30 inches and 7 pounds of draw weight to 70. This model is also covered by a lifetime warranty, so don't need to worry about quality.
With a simple turn of the limb bolt, you can easily adjust from maximum to minimum poundage, or anywhere in between the range. It comes in the string but you will have to adjust it to fit your shooting size. Although the Edge SB-1 model won't come with a peep sight, it has the d loop.
The package includes everything you need to start bowhunting, except arrows and a release. However, this bow is suitable for a wide variety of arrows available on the market.
PROS
Available on right & left hand
Extreme adjustability
Versatile and easy to use
Synchronized Binary cam system
Very accurate
---
How to choose the best beginner compound bow?
Choosing a compound bow for beginners is not a trivial matter. To make an informed choice, you therefore have to master your subject. You need to determine the activity you want to practice with your bow. Because some bows are designed to optimize target shooting while others are for hunting. You can also find versatile bows that can adapt to all practices.
Here are some noteworthy points to look out for when buying a beginner compound bow.
The cams
Cams are the main part of a compound bow. They are located at the end of the compound bow and hold the tendon. With the modern compound bows available on the market, bow cams generally are made of three types; single cams, dual cams and hybrid cams.
Hybrid cams are the all-rounders among the cams and combine the positive properties of single cams and dual cams. Every marksman can choose the cams that are best for them. Because every cam system has its advantages and disadvantages.
Let's see them in detail…
Single Cam: Single cam is only located at one end of the curve. Usually, the lower end of the bow is used for this. At the top is a round wheel, also known as the idler wheel. The single cam is elliptical as there is only one cam and the setting effort is very low. After all, there is no need to coordinate several cams. Since you don't have to make regular adjustments. The single-cam scores with a high level of sustained accuracy. However, one disadvantage is that the arrows seem a little sluggish when it comes to behavior.
Dual Cams: Cam wheels are located at both ends of the bow. They have to be coordinated so that the bow can optimally fulfill its function. Nevertheless, dual cams are quite low-maintenance. However, it can happen that the bow gets out of balance and the cams have to be readjusted. A decisive advantage is an extremely high speed that can be developed with dual cams. In addition, the arrows of the dual cams bows not only shoot precisely but also extremely straight. However, the only downside is the dual cams are synchronization. It is very difficult, especially for beginners, and it can only be done with proper instructions.
Hybrid Cams: Hybrid cams are different and available in duplicate on the bow. They are asymmetrical to one another. This gives you more control and excellent precision. Basically, hybrid cams combine and implement the advantages of both variants. The setting effort for the hybrid cams is very low. Mostly, they only need to be set once and will stay that way.
Bow length
Bow length is determined by the use. A basic distinction is made between FITA and 3-D shooting. The FITA usually takes place in the hall and the 3-D shooting is in the open area.
FITA shooting involves shooting at targets that are at a certain distance. In 3-D shooting, 3-D targets are shot at. The length of a bow for FITA shooting must have a large center distance. For 3-D shooting, a more compact compound bow is required.
Draw weight and extension
Draw weight and the extension (draw length) are very important for a compound bow. There are bows that can only be drawn up to 29 inches. That is usually enough.
With a compound bow with a larger draw, the shot possibility cannot be optimized. If the extension or draw length is too small, problems arise as they cannot be backward compatible. However, pay attention to the information provided by the manufacturer.
The accessories
Accessories play an important role when buying the beginner compound bow. The arrow window is part of the basic equipment. The arrow window keeps the arrow in the right direction after being shot. Usually, the window is available on the bow and can be adjusted with the help of an existing spirit level.
Bow sight plays an important role in the accessories area. A good quality bow sight is essential for aiming at the target. Bow sights are available from the manufacturers; single pin, 3-pin, 5-pin, and 7-pin. However, you can choose this part separately if the package is not included.
Stabilizers are a must for sports shooters from a certain point in time. They use more precision. The weight is stored forward and therefore a much calmer aiming is possible. The stabilizers are usually available when you buy them. However, you can buy them from manufacturers.
Bow Release is an aid that is essential. Here a decision is made between the Kasaken release or a hand strap release. With the hand strap type, precision can be lost. But there are other release variants that will be determined by the shooter.
The power
Power is the heart of a compound bow. Each bow has a range of power. This is adjustable by acting on the pulleys or directly on the cables and the rope. You can twist either to change this power.
The price
You know the compound bow offers different price ranges. The cheapest compound bows are basically designed for children, teenagers or beginners; available from 50 to 200 dollars. These are very simple bows that are suitable for practicing and getting to know archery.
In the middle price segment, the beginner's compound bows start at 200 dollars and stop at 300 or 400 dollars.
High-quality compound bows start at a price of around four or five hundred dollars. Usually, not only a bow is available but also includes arrows and plenty of useful accessories.
FAQs
What kind of compound bow is best for a beginner?
The big manufacturers like Predator Archery, Southland Archery Supply, and TOPOINT ARCHERY spare no expense or effort to win you over with their large selection of compound bows. Their great designs, ever-better performance data, and additional features help you make your selection process much easier.
However, do some research before buying a compound bow. Together with a reasonable price and convincing workmanship, compound bows are variable. They can be optimally adjusted to the shooter without knowing exactly which specifications are optimal.
Besides a large adjustment range of the draw weight, for example, 5-70 pounds, the extension can cover a wide range of possible settings. Also, make sure that compound bows have a so-called RTS (ready to shoot) set. And it will deliver with an extensive accessory set that is tailored to the bow. So that you can get started right away and don't have to worry about purchasing additional attachments or accessories.
What's the ideal draw weight for a beginner?
The ideal draw weight depends on your individual strength and experience. It's recommended to start with a lower draw weight (around 15-25 lbs) to build proper form and technique before gradually increasing it.
How to adjust a compound bow?
With the technical complexity of a compound bow, you need several adjustments before using it. These adjustments help calibrate the power according to the application and the user. But you can adapt the extension or the timing of the pulleys for optimal performance. The viewfinder is not to be outdone.
Follow us and we'll explain…
Depending on the user's body type, some pulleys are adjustable to allow the extension to be modified and the bow more comfortable. The draw length is the running distance of your rope. If the pulleys are not adjustable, then it is possible to act on the arms or on the rope directly.
It will be necessary to twist or untwist depending on the desired result. For more extensions, you can twist the cables or untwist the rope. For less extension, proceed in the reverse order, twist the rope, or untwist the cables.
Acting on the cables and the string will modify the power of your bow. Winding the cables will increase the power. For the rope, this will decrease the power. Reducing this value will allow you to hold your bow more easily by reducing the effort you will have to provide.
By acting on the alignment of the pulleys, you will reduce the oscillations because of the release of the arrows. The adjustment is made by acting on the V-shaped cables on the outside of your bow. However, you can use a straight mark to determine if your bow is curved on one side.
The arrow rest and the sight are the last points to be adjusted. Acting on the first will allow your arrow not to have feathers coming in contact with the handle and would destabilize it. Your arrow should be positioned exactly in front of the arrowhead marker point. However, adjustment screws are available at the rear to modify this positioning.
For the bow sight, this is the angle that will need to be adjusted to your gaze. Here again, screws make it possible to operate directly on this adjustment. Once it's done, they won't move if the user doesn't change.
Should I buy a ready-to-shoot package or individual components?
Ready-to-shoot packages often include essential accessories like sights, rests, and quivers. These can be convenient for beginners, as they provide everything you need to start shooting. However, some people prefer to select their accessories individually for more customization.
Conclusion
Of course, we are at your side with words to support you choose the right beginner compound bow. However, various brands sell compound bows for beginners or models for more experienced users. As a beginner, don't forget to pay attention to the type of pulley on the bow you want to purchase. Hope you will soon become an expert in your area!
If you're a female hunter or target shooter, make sure to take a look at our guide to the best compound bow for women or the best crossbows for women.
And for any suggestions or information, ask your question in the comment section below.
Thanks for reading!
See you soon…