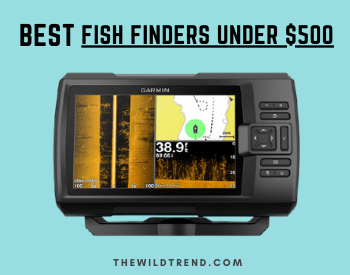 For getting better performance in your fishing sessions, the fish finder provides practical and engaging information such as the presence of fish, the underwater relief, or the water temperature. From our perspective, the echo sounder or fish finder contributes to the joy of fishing, and we enjoy it too.
However, the multitude of offers leaves you perplexed: Which fish finder is best under $500?
Don't worry!
After spending tons of hours researching different budget fish finders from reputable brands, we got in touch with industry experts and consulted them to create this definitive list of the best fish finders under 500 dollars.
Whether you prefer to fish from a canoe, kayak, boat, dock or shore, the best fish finders under 500 awaits. Not only that, this article enables you to make an informed decision about which style and model are right for your fishing style.
Best Fish Finders Under $500 in 2023
Comparison Table of Top 7 Best Fish Finders Under 500 Dollars in 2023:
IMAGE
PRODUCT
DETAILS

Our Top Pick

Our Top Pick

Dimensions:

7.3″x4.1″x4.4″

Display:

5-inch (480×480)

Max Depth:

1000 ft

Weight:

3 pounds

Check On Amazon

Best Garmin Fish Finder of 2023

Best Garmin Fish Finder of 2023

Dimensions:

11.4″x8.9″x8.2″

Display:

7-inch (800×480)

Max Depth:

800 ft

Weight:

1.5 pounds

Check On Amazon

Best Fish Finder for Ice Fishing

Best Fish Finder for Ice Fishing

Dimensions:

7.55″x3.3″x4.64″

Display:

5-inch (800×480)

Max Depth:

400 ft

Weight:

Not specified

Check On Amazon

Best Portable Fish Finder

Best Portable Fish Finder

Dimensions:

2.56″x2.56″x2.56″

Display:

Displays users smart device

Max Depth:

100 meters

Weight:

90 grams

Check On Amazon

Best Fish Finder for Kayak

Best Fish Finder for Kayak

Dimensions:

11.4″x8.9″x8.2″

Display:

7-inch (800×480)

Max Depth:

1900 ft

Weight:

4.9 pounds

Check On Amazon

Best Underwater Fishing Camera

Best Underwater Fishing Camera

Dimensions:

11″x 9″x6.8″

Display:

9-inch (1000TVL)

Max Depth:

1000 ft

Weight:

7.69 pounds

Check On Amazon

Best GPS Fish Finder Under $500

Best GPS Fish Finder Under $500

Dimensions:

15″x10″x5″

Display:

5-inch (800×480)

Max Depth:

1500 ft

Weight:

2.5 pounds

Check On Amazon
1. Lowrance Hook Reveal 5 000-15500-001 Fish Finder
Screen: 5″ (480×480) | Sonar: 2D CHIRP and DownScan | Max depth: 1,000 ft | Power Output: 500 Watts (RMS) | Maps: BaseMaps | GPS: 16-channels, Internal | Wi-Fi: No | MicroSD Slot: Yes | Down viewing: Yes | Side viewing: No | Waterproof: Yes | Weight: 3 lbs
When considering the best quality fish finder, you simply must talk about Lowrance. The company has an ambitious goal of changing the fishing scene. The Lowrance Hook Reveal 5 Splitshot is one of the best fish finders under $500 overall owing to its full feature set and accessible price point.
It's not far different from the same year's Hook Reveal 5 Splitshot Xdcr but offers two important extra features. For example, it helps you quickly find and locate the fish. And the noise Rejection system and auto-tuning sonar make it an incredibly well-rounded choice for most anglers.
You will get high-detail maps of almost 4,000 US inland lakes. You can also create custom contour maps with even greater detail over any map or GPS plotter with Genesis Live (Genesis Live is a real-time mapping feature), so you can get onto the fish faster. It has a GPS speed function so that you can calculate the speed of your boat based on the GPS input.
The auto-tuning sonar automatically adjusts settings as fishing conditions change and the 5 inches crisp display delivers clear views no matter the conditions, even in direct sunlight with excellent clarity. Lowrance Hook Reveal 5 fish finder has an internal temperature sensor.
This one includes the SplitShot transducer, which is plastic and features a transom mount and trolling mounting possibilities. It supports multiple frequencies, including 50/83/200 kHz for standard CHIRP sonar, and 455/800 kHz for DownScan. It was designed for lake fishing or inland fishing.
However, you can be used off-shore in areas with shallow waters, or you can opt for an extra 50/200 kHz skimmer transducer.
It has a coverage of 40° and a maximum depth capability of 1000 ft. (305 m). And it is one of the most advanced Lowrance Fish Finder Combos under $500 without having networking features.
Therefore, because of the lack of Ethernet and NMEA support, you cannot use external GPS. However, you need a bit of knowledge to operate but nothing too difficult if you've used fish finders before.
PROS
Looks great with 2D Broadband Wide CHIRP Sonar
Fast and accurate GPS with Genesis Live real-time mapping
Adjustable backlight for superior readability
Bracket mount and panel mount kit included
Easy-to-use interface and easy to install
We like the GPS function which indicates the place but also the time to get there
CONS
It has no networking features
Lack of support for external GPS
---
2. Garmin Striker Vivid 7sv 010-02553-00 Fish Finder
Screen: 7″ (800×480) | Sonar: High Wide Traditional CHIRP, CHIRP DownVü, CHIRP SideVü | Max depth: 2D: 800 ft DownVü: 500 ft SideVü: 500 ft | Power Output: 500 Watts (RMS) | Maps: No | GPS: High-precision, internal | Wi-Fi: No | MicroSD Slot: No | Down viewing: Yes | Side viewing: Yes | Waterproof: Yes | Weight: 1.5 lbs
Garmin is a company that has been in the smart world for some time now. They sell only high quality products, from fish finders to smartwatches. Despite its very good features and a recognized brand, the purchase price remains very correct.
As we previously mentioned, their goal is to change the future with smart electric connectivity. We have connected their smart product – actually they are very popular in the fish finder world.
However, the Garmin 7SV is the recent and advanced model from the Striker series. It features a 7" WVG color screen with 800×480 pixels resolution. The display provides clear views and you can make full use of all of its sonar capabilities by using the split-screen functionality to view up to four different sonar images.
Garmin Striker Vivid 7sv fish finder comes with an all-in-one transducer which able to cover regular sonar, down imaging, side imaging, and CHIRP and delivers top-notch imaging performance. The display also shows water depth, water temperature, plus your boat's speed, movement and heading.
The quality of the sonar returns generated with Garmin CHIRP is truly excellent, providing extremely good object separation, and resulting in a high image resolution on the screen. And the Garmin Striker Vivid 7sv is one of the best fish finders on the market in terms of sonar imaging technology, while still being under 500 dollars.
It has high sensitive GPS to plan and create routes and has a maximum depth range of 2300 ft. in freshwater (1100 ft. in saltwater). Also includes built-in quickdraw contours mapping is good enough for basic navigation and for recording important locations. You can use waypoint marking to find your way back easily.
However, it's a medium size range fish finder with a waterproof rating of IPX7, so you don't need to worry about getting it wet, since this level of waterproofing is strong enough to withstand full immersion. This model also features wi-fi connectivity, which allows you to connect your smartphone via App.
The overall quality and build materials are excellent to provide both durability and ease of use (especially as the interface is easy to learn, because of its intuitiveness), which you might expect from Garmin fish finder.
PROS
High sensitive GPS
Smart device connectivity
Generous display with great functionality
High-end combination of sonar technologies
Includes swivel mount plus transom and trolling motor mounting hardware and cable
All of the functions have been well thought out
CONS
You can't use the device to create custom maps
Doesn't come with a slot for a MicroSD card
The package doesn't include user manual
---
3. Humminbird 410970-1 ICE H5 HELIX 5 Fish Finder
Screen: 5″ (800×480) | Sonar: Dual Spectrum CHIRP | Max depth: 400 ft | Power Output: 500 Watts (RMS) | Maps: BaseMaps | GPS: High-precision, internal | Wi-Fi: No | MicroSD Slot: Yes | Down viewing: Yes | Side viewing: Yes | Waterproof: Yes | Weight: Not specified
For a long time, the HELIX series stay on the market, and if you want to get a full-featured fish finder under 500 dollars that maintain stability in bad weather like rain and includes strong safety features, then go with the Humminbird 410970-1 HELIX 5. Both Pro and novice anglers appreciate its small and light size.
With dual spectrum CHIRP sonar, you will be impressed when viewing in detail that other forms of sonar won't show you. It is designed to help you see individual fish, clearly identify bait and structure, and reach greater depths and ranges. However, the depth range is 400ft.
You can easily see fish, lures, and activity of fish along the bottom with high resolution 1024-segment flasher and traditional 2D sonar. You can easily adjust the brightness and color of the screen; just press the power button and it will give you the changing option.
Humminbird HELIX 5 fish finder features six settings to keep competing for sonar signals from cluttering your screen, which gives you a clear image all day long, in both sonar and flasher modes. And with the new Jig charge mode, the battery power is considerable. You can use more than 15 hours between charges.
You can move the zoom range to locate where the fish are. And the adjustable Sonar Zoom allows you to hone in on fish, whether they are tight to the bottom, or suspended high in the water column. You can turn it on to utilize 2X zoom on the flasher screen or up to 8X zoom on 2D sonar view.
Humminbird HELIX 5 fish finder has an amazing amount of features and performs better as a fish finder or flasher than either of them. Like all HELIX series fish finders, the ICE HELIX 5 is compatible with all transducers. Also, the package comes with hummingbird basemaps but not many details.
However, if you're planning to mount it on a boat, it may be a tad on the small end, but it is a substantial size for all types of fishing kayaks. We highly recommend it for people who fish both open and hard water.
PROS
GPS, Mapping, CHIRP Digital Sonar
Compatible with all smart features
Portable and easy to carry
High-speed LCD with micro SD card reader
Built in new cable and transducer management
Comes with 1 year warranty
CONS
The screen is just 5-inch a bit small compared to Lowrance Hook Reveal 5
Instruction papers visually could be better
Doesn't include suction cup
---
4. Deeper DP3H10S10 CHIRP+ Smart Sonar Fishfinder
Target Separation: 1cm | Sonar Beams: Three angles (47°, 16°, 7°) | Water Temperature: Yes | Salt or Freshwater: Salt & Freshwater | Built-in GPS: Yes (only CHIRP+) | Create Bathymetric Maps: Yes | Create Bathymetric Maps from Shore: Yes | Fast Charge: Yes | Weight: 90g
There's no doubt that the Deeper CHIRP+ overshadows the older Deeper PRO+ in many respects, particularly when it comes to TimeSaving. The main reason is you should consider the Deeper DP3H10S10 sonar fish finder over its newer cousin: quickly move on fishing trips.
It is a portable, wireless, castable, CHIRP fish finder/ depth finder with built-in GPS, making it perfect for experienced anglers. It is also a versatile fish finder under $500 that generates its own Wi-Fi signal to connect to your smartphone.
The Deeper CHIRP+ is smaller than a tennis ball and weighs only 90G, which is very useful in situations where it is not possible to enter the water, making it perfect for those who favor urban fishing, especially when you're standing shoulder-to-shoulder with others anglers.
You can locate fish, holding spots, and Ambush points faster than any other portable fish finder. You can attach the Deeper CHIRP+ directly to your fishing line. However, because of the lightweight design, you'll need to use a robust rod, line, and knots to make sure it doesn't go flying off in the wrong direction at some point.
The Deeper app also offers detailed readouts directly on your smartphone or tablet, which allows you to make the most of your display size. You can see fish, structure, vegetation, bottom contour and hardness. You can measure the water depth and temperature, and able to mark the points that you are interested in using waypoints.
Deeper CHIRP+ fish finder built-in GPS which enables you to create bathymetric maps from the shore. You can access all of your scans, maps, points of interest, photos and notes on Lakebook, your personal fishing journal. You can also update the software to use any new features and functions that Deeper releases.
The three-beam frequencies (47°, 16°, 7°) allow you to scan larger areas first, then you can narrow in your target species or location. You can accurately scan in water from 15cm to 100M deep. Deeper CHIRP+ Fishfinder designed and made in Europe.
PROS
User-friendly design
Great GPS signal
Strong Wi-Fi signal
Battery lasts a long time
Delivers data precisely and accurately
Designed for all types of fishing
CONS
A bit overpriced than CHIRP Pro
Operation was a bit strange at the beginning
---
5. Garmin Striker Vivid 7cv 010-02552-00 Fish Finder
Screen: 7″ (800×480) | Sonar: 2D CHIRP and ClearVü | Max depth: 2D: 1,900 ft ClearVü: 750 ft | Power Output: 500 Watts (RMS) | Maps: No | GPS: High-sensitivity, internal | Wi-Fi: Yes | MicroSD Slot: No | Down viewing: Yes | Side viewing: No | Waterproof: Yes | Weight: 4.9 lbs
Garmin has unveiled a new version of its Striker Vivid series called 7cv, this mid-range fish finder is the best choice for people who want to be serious anglers. If fishing is your favorite activity, you are probably looking for a device that is both practical and precise. It's one of the best Garmin fish finders released at the end of 2021 which offers a larger 7-inch color display and wireless connectivity.
It's more affordable than the Garmin Striker Vivid 7sv and may just suit you better if you don't need a model that includes batteries. Though it costs $100 more than the Vivid 7sv, it comes with a few key upgrades and many of the best features that you'll find on the company's larger models.
It supports multiple sonar frequencies (50/77/200 kHz for its standard CHIRP mode, and 260/455/800 kHz for ClearVü). Garmin Striker Vivid 7cv fish finder also supports dual-frequency, so if you pair this device with a dual-beam transducer, you can use both sonar beams simultaneously and view the sonar returns in split-screen. With measuring water temperature, it will work accurately up to 1900 feet depth water.
Like the Garmin Striker Vivid 7sv, this unit has Quickdraw Contours mapping software that lets you create and store maps with 1′ contours for up to 2 million acres. And with the STRIKER 7cv, you are not only tracking location, but it allows you to navigate via waypoints, which means you can mark productive spots and return to them later.
Like all previous models in this round-up, the Garmin STRIKER 7cv's transducer uses CHIRP technology to explore the water column. The CHIRP transducers sweep across a range of frequencies, so it collects much more data, and can therefore produce a much more detailed image.
In fact, this device provides nearly photographic-quality images of the world below your boat. Because the very high-quality screen is incredibly visible when combined with the included tilt-and-swivel mount.
Garmin Striker Vivid 7cv fish finder features almost all of the things that offer high-end models. Although it is an IPX7 rating, a Genuine Garmin protective cover is also included in the package. This means saving your device from any damage or discoloration from the sun.
PROS
Easy to use and affordable
Fish Symbol ID to identify targets quickly
Bottom lock feature allows you to view the water column from the bottom up
Records and displays water temperature in graph form
Features split-screen zoom capabilities
IPX7 water-resistance rating won't be harmed by water
CONS
Lacks the chart-plotting capabilities many similar units have
Doesn't include battery
---
6. Eyoyo Underwater Fishing Camera & Video Fish Finder
Max depth: 30 meters | Video recording: YES (8GB Card included) | Night vision: 18 pcs IR LED | Image: Color | Focus(mm): 3.6mm | Pressure: 0.5 MPa | Resolution: 1000TVL | Monitor: 9-inch | Battery: Lithium battery 4000mAh | Battery life: Up to 5-6 hours | Monitor input voltage: 12V DC | Work temperature: -20–60 degree | Storage temperature: -30–80 degree
To be mindful, underwater fishing cameras and fish finders are different devices that can complement – but not replace – each other. A fish finder is a must-have while a camera is nice-to-have.
Eyoyo Underwater Fishing Camera is ideal for anyone who needs a slightly more affordable fishing camera with impressive video quality. It is simple to use and has large display, designed for professional fishermen. And despite its budget price tag, Eyoyo fish finder offers plenty of features.
With 360° Horizontal Panning Camera, you can record videos of your fishing antics and get more fishing information. The recording feature is also really nice when you want to capture the amazing fishing moment, making it an outstanding fishing camera for adventure lovers.
The color viewing is really appreciable and big too (wide 9 inches altogether). It has a pretty good 1000TVL resolution, so you will get true-life images. The picture quality and flashing light are also adequate for visual inspection.
For fishing on dark nights, it has 18pcs of high-power IR lights, so you can even see black and white images of the fish clearly. You can use the remote to control the direction and turn off IR lights by using controller.
The camera itself is designed for use in extreme weather. Because it has impact protection and is anti-corrosive and the waterproof rating is IP68. There's a handy sun visor to keep the glare off, for when it gets bright.
The package includes 8 GB TF micro SD for videoing your fishing. So you don't have to buy any extra items separately. It can also be connected to TV by AV ports.
It has 4500mAh capacity rechargeable lithium large battery; after fully charged it will work for up to 5 hours. The connecting cable is also incredibly long, measuring a full 30 meters. The briefcase-style carrying case helps you to pack everything right away.
Eyoyo Underwater Fishing Camera is specially developed for fishing enthusiasts. That's why it's ideal for sea fishing, ice fishing, lake fishing, boat fishing, and other underwater adventures. If you use it in the ocean, wash and dry the camera with clear water after use, or saltwater will corrode the camera.
PROS
You can record videos of your fishing
Includes 8 GB TF micro SD
Waterproof and good battery life
Large size but portable to carry
Overall performance is outstanding for all anglers
CONS
Anti-corrosion type cable
It has no vertical view function
Hard cover case is not open 90 degrees
---
7. Humminbird 410220-1NAV HELIX 5 CHIRP Fish Finder
Screen: 5″ (800×480) | Sonar: DualBeam Plus with SwitchFire | Max depth: 1,500 ft | Power Output: 500 Watts (RMS) | Maps: BaseMaps | GPS: High-precision, internal | Wi-Fi: No | MicroSD Slot: Yes | Down viewing: Yes | Side viewing: Yes | Waterproof: Yes | Weight: 2.5 lbs
The Humminbird 410220-1NAV HELIX 5 is physically identical to the HELIX 5, which was launched in 2017, but there are some key upgrades if you're looking for the best imagery from underwater. When Humminbird first released the 410220-1NAV HELIX 5, we were surprised to see fish finders for under $500 with Side and Down Imaging! But now it is actually common in all leading brands.
Whether you're fishing freshwater lakes, coastal waters or the ice, you will locate and see fish more clearly and find the right solution for your environment and prey.
The display is physically average (it's actually a 5-inch) but captures more details and provides better dynamic range, along with LED backlit. It also has two display modes, Max Mode and Clear Mode, so you can be well concerned in detail, including fish, structure and thermoclines.
With built-in GPS, you can easily find your most successful fishing spots and view underwater terrain. A temperature sensor is also installed that gives you the exact temperature so that you can fish even more precisely. You can also get depth information on the display device with a depth range of up to 1500 feet.
You can attach the transducer to a suitable place on your boat and you receive the data display device with the appropriate mounting base so that you can attach it near the encoder. The two components are connected with a long cable, which guarantees secure data transmission.
The encoder sends a frequency of 200 kilohertz and the manufacturer promises wide-angle technology. You can set a depth alarm so that the device notifies you when you exceed it. The clear menu selection of the Humminbird fish finder also promises you easy handling.
Humminbird 410220-1NAV HELIX 5 fish finder is suitable for boat and kayak fishing because of its stationary mounting method. And with a lightweight and compact design, it is one of the most far-reaching fish finders under 500 dollars on the market today.
PROS
High definition display
X-Press Menu System keypad control
GPS chartplotting with internal GPS receiver
Provides an eye-level view of the terrain below your boat
Easy to use and set up
Instructions are easy to follow
CONS
5-inch display is a bit small
Doesn't come with additional accessories like cover
Transducer cable is short for longer boats and may require an extension
---
Buyer's guide: Best Fish Finder Under 500 Dollars
Depending on your fishing habits
Not all fish finders are created equal, depending on where you are fishing. For example, if you are used to sea fishing, you will have to opt for a sounder displaying 50 / 200Khz, while for freshwater fishing, favor an 83 / 200khz device. This is often specified on the product sheet to facilitate the purchase.
Choose a good size screen
Display is very important for fish finder since makes it possible to read the data found by the probe. It must therefore be large enough for unobstructed views. The definition of images, but also the ability to adapt to sunlight or on the contrary to a gray sky are essential.
Some displays show additional information for different areas. However, it still depends on the functions of the device. Many fish finders give you the depth and temperature of the water. You can also find information about battery status, signal range, or active features such as fish alarm on the screen.
Transducer
Transducer is an essential part of all fish finders because it sends and receives the sonar wave messages. When the waves are emitted into the water, the principle is that they bounce off any object they encounter. These objects are then picked up by the transducer, and this data is usually transmitted to a central unit where it can be processed and turned into a visual analysis of what is happening underwater.
Transducers come with different types of brackets to install. They are usually made of plastic and are easy to assemble and disassemble and are compatible with almost all types of boats.
Wattage
This common thing is applicable for fish finders, higher power is better than lower. But if you only intend to fish in shallow water, low power won't be a problem.
The high-power models bring some advantages, for example, the faster these sound waves and the more accurate the reading you will receive. If you regularly go fishing in open saltwater or a large body of water such as a large lake, more power will be better.
Additional functions: technology
Fish finders are above all maritime accessories intended to locate fish. It was without counting on the expectations of the consumer. So, if this function is not sufficient, look at the on-board technology. Does the device act as a GPS, can it memorize the places where fish evolve in whole schools? Obviously, these functions often drive up the purchase price.
Ease of use
Just because it is hard to understand, a high-end fishing finder can be a product. The important thing is helpful for you to easily master this device and enhance your fishing trips. Make sure your device is lightweight and easy to carry. Some models also include carrying bags.
The price
There is some disparity between the different fish trackers. If the brand can raise the price, we often pay for the presence of advanced technology.
However, before making an expensive purchase, ask yourself how often you will use this accessory and the functions that are most useful to you in order to decide on the most suitable device. If you prefer GPS as part of a fish finder, you will certainly find it on the market in the higher price ranges.
FAQs
Are all fish finders waterproof?
Not all fish finders are waterproof, but the majority of famous brands always offer that. On the other hand, some may survive splashing, but not adequately submersion.
Which fish finder is good for ice fishing?
The short answer is Dual Spectrum CHIRP Sonar. However, it is entirely possible to use both hand-held and mounted sounders for ice fishing. Keep in mind, the cold temperature ruins the transducer easily if you choose a cheap fish finder. So for ice fishing, always recommend investing in a high-quality model.
What is CHIRP technology?
CHIRP stands for "Compressed High-Intensity Radar Pulse". Echosounders with CHIRP emit different waves. Ultrasonic tones have differentiated frequencies – like a bird – in order to get the clearest data possible. Using CHIRP technology, the encoder can analyze each returning wave and transmit detailed results to the visual display device.
CHIRP technology is therefore suitable for professionals or even beginners who want to collect as much information as possible.
How to evaluate the data correctly?
The image of the data display device is generally divided into three regions. The uppermost region shows you the surface of the water as a line, just below you can sometimes see marks that represent water disturbances because of winds or the movement of the boat. The upper area is not that important to you as there are hardly any fish in the area.
The middle region represents deep water, which is much calmer and therefore easier to read. In the area, the fish finder shows you possible objects. You will usually also receive information about the size of the object and how deep it is.
The third and final level gives you the metro. You get a good cross-section, although the promising devices tell you something about nature. For example, if it is a hard stone floor, the sonar will find information and indicate that the area is very dark. On the other hand, if the ground is littered with plants, the screen displays light-colored ground.
Do I need to maintain a fish finder?
Yes, because regular fishing can quickly leave residue on the encoder. The data display device is also contaminated with frequent use. For this reason, you should clean the sonar unit with lukewarm water after each use.
Use only a little detergent for stubborn dirt and do not use harsh cleaning products. Otherwise, the electronics could be damaged. A microfiber cloth is suitable for drying so that no stripes appear on the screen.
To ensure the proper functioning of your fish finder, it is recommended that you protect any open jacks or connections. Use wax or grease for example to cover vulnerable areas. In this way, no water can enter and sensitive places are secured.
If you don't need your device for a long time, store it in a dry place to protect it from light. Extreme cold or heat can permanently damage electronics.
If you use the fish finder in the sea, it is necessary to take extra care of it. Because of the saltwater, corrosion can occur more quickly and the material is also attacked by the high salt content.
The Verdict
Fish finder contributes to the joy of fishing. Whether you are an amateur or an experienced fisherman, a good fish finder is an ally for going out to meet fresh or saltwater fish. Just to let you know, we spend a lot of time doing research because we don't want people to buy cheap sonar of poor quality.
Also, to make this list unbiased, we made sure that none of the experts we consulted were part of any brand.
You now know how to choose the best fish finders under 500 dollars and pick the one that will allow you to fish more. Keep in mind, not all detectors will give the same results.
More fish finder contents: