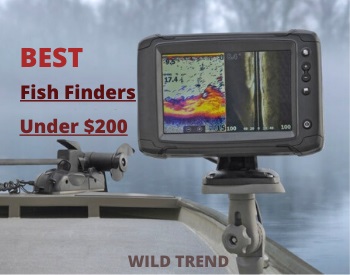 How do you know at which point of the lake it makes sense to cast the line? For finding the perfect place to fish, a fish finder can be a very practical device. Today, advancements in sonar technology, GPS integration, and user interface design have made fish finders more accessible and user-friendly than ever before.
There are also lots of different fish finders for different needs, so it is not easy to keep track and find a suitable fish finder under $200 for your own purposes.
Whether you're fishing from a kayak, canoe, or ice fisherman, you'll find the best fish finders under $200 on this list for your needs. Our team has researched and evaluated numerous options available on the market to identify the top contenders that provide reliable performance, user-friendly interfaces, and advanced features, all within the $200 price range.
You can use these devices in unknown areas for fishing for big fish and they are very practical for sight fishing. So, whether you're a seasoned angler looking to upgrade your equipment or a beginner hoping to get a solid start in the world of fishing technology, check the best fish finders under $200 available in 2023.
Best Fish Finders Under $200 Reviews 2023
Let's see our ranking of the best fish finders under $200 at a glance…
1. Garmin 010-02550-00 Striker Vivid 4cv – Top Pick
Striker Vivid 4cv fish finder from Garmin comes out as the test winner on various test portals, which is due to the very good price-performance ratio. On the other hand, the fact that there are also some extras installed here. We would recommend this model for any kayak angler who looking for a fish finder with good value for the money. It doesn't take up much space.
Besides the dual-beam with frequencies of 77 kHz and 200 kHz, the Striker 4cv works with the frequencies 455 kHz and 800 kHz to enable an accurate representation of the soil structure. Garmin Striker Vivid 4cv fish finder has a lasher feature like the Garmin Striker 4 Plus.
It has 7 color chosen options to see fish and structure in maximum contrast and clarity. The different color schemes can also be independently set up. The screen is easy to remove from the mount bracket for storage. The package includes a tilt/swivel mount plus transom and trolling motor mounting hardware and cable.
You can make a plan or create routes to view your boat speed on your fish finder by using a high-sensitivity GPS. And with the Striker Vivid 4cv model, you can store up to 2 million acres of maps with 1' contours.
The transducer is a streamlined design to be mounted to a kayak or boat. However, it can be dropping down an ice hole. There is a special ice fishing display view. For a fish finder less than $200, the quality and functionalities are right up there. It is very easy to install and use.
With Garmin Striker Vivid 4cv fish finder, you can find whole schools of fish that will cap off the day of fishing with success. However, the side imaging is functional and shows you fish and large features but not Crystal clear images. If this is not a big issue for you, you won't go wrong with this fish finder.
PROS
Water-resistant
Easy-to-use color display
Built-in high sensitive GPS
It be can set to alarm at a set depth
Display is available in 4 different sizes
Easy to set up and navigate
CONS
No touchscreen option
Does not come with a cover for the screen
There is no instruction
SD card slot isn't available
---
2. LUCKY YT-US-Y2020-CLA Wireless Handheld Fish Finder
This wireless fish finder from Lucky can localize the fish up to a depth, measure the water depth and the water depth, and recognize the bottom contour. It has a range of 100 meters, which is a pretty solid figure.
This model has a simple design and a 7.1 cm LCD display. The sonar transducer works with 125Khz in a 90-degree beam angle and it can be worked for 5-6 hours after completing the charge.
You can throw this device very well into the water from the bank. Then it shows the depth of the water and any fish echoes. It can be used in both salt water and fresh water. Another advantage is the ease of use; this fish finder only has to be switched on and is then ready to use.
LUCKY handheld fish finder is waterproof in rain, so don't need to worry about the splashes which make the display damaged. Even if it will drop into the river or lake, it would be floating on the surface water. You just need to set it in the open air to avoid water vapor because of the temperature differences.
You can easily be well-concerned about the water depth when the sonar transducer is fully in the water. If you attach the transducer to the hull of your boat or kayak, you can identify the water depth distribution of a specific area when your boat or kayak is moving. This means you can understand the approximate fish location and fish size by the display.
LUCKY wireless handheld fish finder supports up to 328ft wireless operation and max 147ft water depth detection for wireless mode. And the depth detection range can reach up to 328ft when you switch to wired mode. You can easily switch to wired mode or wireless mode depending on the different fishing environments.
The package also comes with a 25ft/7.62m extension cable and an anti-fish bite plastic float.
Package Content:
Fish Finder Display | Wireless Sonar Ball | Sonar Transducer with 25ft cable | USB Charging Plug and Cable | Car Charger | Side-Scan Adapter | Stainless Bolt and Wing Nut | Glowing Cap & Swivel Snaps
PROS
Waterproof display
Both wired and wireless design
Anti-corrosion material
Durable and very user friendly
Great fish finder under $200 for kayak fishing
CONS
Only 90° offers a wide detection area
---
3. Aukfa 001254 Portable Underwater Fishing Camera
Whether you're a beginner, or already fishing at a professional level, you can take your fishing experience next level with Aukfa portable underwater fishing camera. Although it won't cover all the point that offers a stationary fish finder, this underwater fishing camera lets you know what's going on under the surface, so you can transform your fishing experience.
It features a 7-inch LCD screen with an HD definition that provides crisp and clear images. Also, the LCD monitor features a removable sun visor so you can use it when you're going fishing on sunny days in the sea or lake. You can easily identify the depth and temperature of the water through the screen.
This device is equipped with 12 pcs IR LED lights that you can turn on or off, which allow you to 130° viewing so that you can see clearly the fish in dark environments or murky waters, and shoots an HD quality video in the dark. Also, this fishing camera is fully waterproof.
Aukfa underwater fishing camera with fish finder includes a powerful 12V 4500 mAh battery that gives you up to 8 hours of service when fully charged! The package includes an 8GB SD card, so you can record the underwater landscapes to take photos and videos of the wonderful moments when fishing.
To ensure safe transportation, this model comes with a durable carrying case so that you can easily carry it with your other fishing gear. You will be able to continue using it for a long time with no issues.
Package Content:
7″TFT LCD Screen | Underwater Fish Camera with 30m cable | Li-battery & Charger | Set of Metal Clip | Aluminum Box | User Manual | Float 1xSun-visor | 8GB SD Card
PROS
Good battery life
Convenient to use
Large and depth temp display
HD camera with IP68 waterproof
Perfect for all types of fishing
Large cord length
CONS
Doesn't have wireless function
Instruction paper is useless
---
4. Garmin Striker 010-02246-02 Castable Sonar with GPS
Garmin castable sonar device works with free striker cast app and is compatible with Apple or Android devices. It is a wireless stream sonar that locates the fish and displays them on your smartphone or tablet in a second. Just download the app, connect your device then start fishing in minutes.
Garmin Striker Castable Sonar is built with GPS feature that lets you create your own custom fishing maps with 1' contours. The traditional 2-D and ice fishing flasher sonar modes stream wirelessly from up to 200' away with the striker cast app on your mobile device. It performs well in both shallow and deep water, and shows water depth and fish depths and fish size.
The battery life is incredible, which provides 10 plus hours of service after being fully charged. To conserve battery life, it will automatically power on when it's floating in the water and turn off when it's not.
To make using sonar even simpler, turn on fish icons to view graphic images of fish targets and their depth readings, so you'll know exactly where to drop your line. You can also access the Garmin Quickdraw community to download maps and communicate with others.
Garmin Striker Castable Sonar is water-resistant to ipx6 and ipx7 standards. However, that is not completely waterproof and able to be exposed to water of up to 1 meter for up to 30 minutes.
It works in any water even for ice fishing to show you fish and structures in crisp detail. You can use this device to check water temperature as well. Overall if you're looking for an affordable sonar to use ice fishing, we highly recommend this model.
PROS
Surprisingly small, but quite capable
Quick and easy to set up
Works great on any water
Durable and easy to cast
Built-in GPS
Lightweight
CONS
It will get some interference from the sides of drill holes unless you use a larger hole and find a way to keep the device in the center of the hole
---
5. LUCKY FF718LiC-W Portable Fish Finder
We believe that every angler deserves accurate data they can trust, whatever they need their fish finder for. LUCKY FF718LiC-W fish finder determines the water depth, and the approximate location of the fish and is able to detect weeds, sand, and stones on the bottom. It can be used in a variety of ways and is therefore suitable for ice fishing, sea fishing, and deep sea fishing.
This portable fish finder works very well up to a depth of 100 meters. It is sable for all waters and can analyze the facts in detail. And it is very practical that users can also specify the value in feet. Other useful functions of this device are; a battery-saving mode, a fish alarm, and a backlight.
The sensitivity of this device is widely adjustable. You can add or remove fish icons and alarms and choose from 3 color displays. It is simple to use but has all the power to ensure accurate, reliable readings. It is a fast, effective small tool for marking fish from the shore, boat or kayak.
This unit can display the shape of the lake bottom and structures such as holes and drop-offs. So, if you are looking for a cost-effective fish finder that has high depth capability, then the LUCKY FF718LiC-W should be your first priority. The manufacturer also offers 1 year guarantee.
However, this model is listed in our ranking because of its handy size and very adaptable mounting system. You can mount it anywhere such as kayak, canoe, or ice. It works really well even when the wave is high.
Keep in mind that this device doesn't include a power adaptor, but the package includes a USB cable. So you can charge it with that USB via computer or other smart devices. Also, the topographical mapping isn't good enough to get you on the edges.
PROS
Good price with high quality
Easy to use and compact
Nice color display
Wired and wireless mode
Floating design
---
Best Fish Finders Under $200 Buying Guide
Several useful features make a fish finder or echo sounder a fisherman's best associate. So when buying a fish finder under $200, a few points must be considered, which we will now introduce in more detail.
Frequency range
Frequency range should be chosen depending primarily on where the angler is fishing and what needs the angler has. For example, if you want to find certain predatory fish mainly in local lakes and rivers, you can only use a fish finder with a single beam, a so-called single beam.
But if you are looking for cod, flatfish, or sea salmon in deep waters, you require a fish finder that not only extends in width but above all in-depth.
A high-frequency range basically means that rather short waves are given into the water. In the ideal case, these are reflected by obstacles and then picked up again by the device and evaluated. The angler then sees the result on the display and then knows where the fish are, how deep and how cold the water is, and also receives information about the nature of the bottom.
The longer the wavelength, the better the images. A fish finder that offers 200 kHz, for example, not only provides very precise data but also shows whether the bottom is flat or rocky.
Transmission power
Another important purchase criterion when buying the best fish finders under $200 is of course the transmission power. Here anglers can use a simple rule of thumb as a guide. The higher the transmission power (in watts), the more details are shown on the display. Very good models have values ​​between 500 and 4,500 watts.
However, you should not save in the wrong place here. Because the clearer the pictures, the higher the chances of a catch. This is especially true in the event that you often fish in murky waters. Very weak models could then no longer clearly show whether it is a fish or just a part of a plant. The transmission power should therefore be as high as possible.
Display and presentation
Most fish finders on the market have an LCD display. Nevertheless, there are sometimes quite big differences. In order to be able to see all details images very precisely, the monitor should have the highest possible resolution and good contrast. Sun protection is also an advantage so that you can read all information ​​without any problems on very sunny days.
Black and white displays should have a large number of so-called gray levels. Display that works in grayscale is very helpful, as the contrasts are even better visible.
Stationary or mobile
There are stationary and mobile fish finders available today.
Stationary fish finders are attached directly to a boat. It emits ultrasound waves to the water from its underside and usually delivers very good results. After all, it is located directly above the water and there is less interference.
A mobile fish finder on the other hand is very useful for anglers who do not own a boat. The difference is that such a device sends ultrasonic waves over the water. So you still have to bridge a little bit of air and sometimes deliver somewhat poorer images.
There are also some very good mobile fish finders in this price range, that deliver excellent results and do not hide behind stationary versions.
Side imaging
A very practical function that many best fish finders under $200 bring with them is the so-called side imaging. Thanks to this technology, the device can not only look down but also see everything to the left and right of it. As a result, the fish finder delivers precise images through a large viewing angle.
However, the results of such a device are a little harder to read. The angler should therefore already have some experience if he wants to use such a fish finder.
Price and performance
This is probably the most important point in comparison for consumers. Is the expensive device really worth it, or is the best device the cheapest fish finder?
Price and performance must be in a usable ratio to each other. And of course, that is not only determined by what the manufacturer gives the device in terms of performance, but also by what the angler needs.
In our list, we only added the most useful models under $200. However, a comparison analysis is more useful before making the final buying decision. The different functions, extras, and performance points of the various fish finders are marked as available or not available depending on price.
FAQs
How does a fish finder work?
Fish finder uses echo sounder technology: it emits ultrasonic waves that are reflected by hard objects. The device calculates the distance based on the time discrepancy. In this way, both the underground and objects and fish in the water are displayed.
Can I use a cheap fish finder in saltwater?
Yes, many budget-friendly fish finders are suitable for both freshwater and saltwater use. However, you should rinse the equipment with fresh water after using it in saltwater to prevent corrosion.
Are apps better than separate devices?
It depends on consumer demands. While stationary echo sounders work very precisely, the apps that only use GPS are very imprecise. But there are also manufacturers who combine different technologies and offer quite reliable app-based fish finders. Stationary devices that are permanently installed on the boat work most precisely.
Do you really need a fish finder?
No people have been fishing successfully without sonar for this century. Many still do that today. Fish finder helps in the test to increase the fishing success. And of course, having fun with technology also plays a role. Fish finder does not show where there are fish, but where there is something in the water that has a higher density than the water. It could be a fish. And maybe it will even bite you.
How expensive can an echo sounder or fish finder be?
It depends on the demands of the technology, the size, and the use of the device. The cheapest fish finder currently costs 50 dollars on the market. If you have more budget, you can get a high-quality fish finder that costs vary from 200 to 500 dollars. Some models also reached a thousand dollars price tag.
On average, the products presented here in the fish finder comparison cost around 160 dollars. Whether the device is any good depends not only on the price.
Is the whole underwater area recognizable?
No, that's not possible. It can be adjusted so that the fish in the respective areas are very easy to recognize.
Can the fish indicators be charged via USB if needed?
Generally yes. Most devices have a handy USB hub, so the fish finder can be recharged anywhere.
Expert Advice:
You have to pay attention to these points when using a fish finder if you want to achieve a really optimal result.
The assembly of the echo sounder
Your fish finder must point down as straight as possible when attaching it to the bottom of your boat. If the transmitter moves to the side, the sound waves are also sent to the side. This leads to a falsified result that even the most experienced angler can hardly interpret correctly. Because the depth of the water alone is misrepresented in such a case.
Even if the device is installed too close to the motor or its propeller, this can lead to a falsification of the result. Because water bubbles caused by the motor can slide into the measuring range here. The Echo sounder or fish finder should also not be attached to sharp edges. The resulting water eddies can seriously affect the result.
Where the assembly of the encoder makes the most sense depends on the type of your boat. When gliding, the encoder should be installed as centrally as possible on the boat. If it is a displacement boat, the front third of the boat is the best choice. Here it is most sensible to install it with a transducer rod specially developed for fish finders.
Pay attention to external sources of interference
In addition to errors during assembly, external sources of interference can also lead to the result being interpreted incorrectly. For example, the screw water of passing ships can lead to incorrect results.
However, this also settles down relatively quickly so that you simply have to wait until the water has calmed down again. Technical faults, for example, from the onboard electronics or from other fish finders that are used in the vicinity with the same frequency, are much more disruptive.
Conclusion
A fish finder is a helper to find fish easily, even if they are in hidden areas in the water. In order to find the perfect fish finder model under $200 for your own purposes, the points described above should be followed.
Keep in mind that a high-resolution display is very important so that every detail can be seen very precisely. You should know exactly what requirements you place on a fish finder. If you choose a fish finder that is really tailored to your needs, you have an excellent basis to increase your catch quota over the long term.
Now is a great time to outfit your boat or kayak with technological fish finders. If you have more budget, you can get high-quality fish finders for around 300 dollars (we have reviewed them). We also have narrowed down some of the best high-tech fish finders on the market under $500.