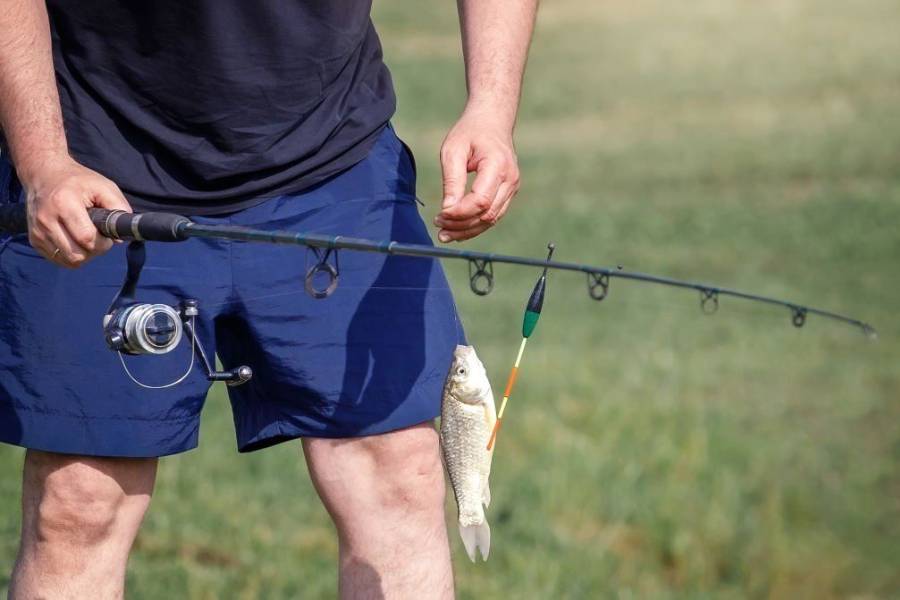 Fishing is an exciting activity that requires adequate equipment to be able to fully enjoy it. Today, big brands call on their creativity to design innovative shorts to face all situations. In the height of summer, the best fishing shorts will keep you cool and comfortable.
In this guide, we will explore the top fishing shorts that have gained popularity and acclaim among anglers in 2023. Whether you are a pro or an amateur, these fishing shorts will be sure to be well protected and dry during your hunts for fish on or at the edge of the water.
Ranking of the Best Fishing Shorts in 2023
Find here all the shorts for fishing. We offer you the best brands at the best prices!
IMAGE
PRODUCT
DETAILS

Best Overall

Best Overall

Inseam:

10.5 Inches

Sun Protection:

Yes

Buy Now

Editor's Choice

Editor's Choice

Inseam:

7 Inches

Sun Protection:

Yes

Buy Now

Good Thermal Properties

Good Thermal Properties

Inseam:

10 Inches

Sun Protection:

Yes

Buy Now

Versatile Design

Versatile Design

Inseam:

9 Inches

Sun Protection:

Yes

Buy Now

Quick Drying

Small & Light

Inseam:

10 Inches

Sun Protection:

Yes

Buy Now

Lightweight

Lightweight

Inseam:

7 Inches

Sun Protection:

Yes

Buy Now

Best Value

Best Value

Inseam:

10.5 Inches

Sun Protection:

Yes

Buy Now
Huk technical short is designed to fuel your passion and pursuit no matter when or where you fish. It is made of Anti-Microbial SPF-rated fabric which maximizes breathability. These men's fishing shorts are UV protected, so your skin is from harmful sun rays.
These next-level fishing shorts have perforated back yoke, zippered back pocket, plyer and cargo pockets and gusseted crotch, which ensure maximum mobility. It also features quick drying system which ensures all day comfort.
It has the perfect balance of style and function and the 10.5″ length falls at your knee. It is a multipurpose short and you'll never want to fish without this. The waist and a stretchy band allow the shirt to fit snuggly in size.
PROS
Versatile fishing shorts
Light and breathable
Soft and comfortable
Stain resistance
Quick drying
CONS
The pockets are a bit small
---
These lightweight men's fishing shorts are made from quick-drying polyester and elastane blended stretch material. They build with advanced moisture wicking for a natural cooling effect that offers up to 30% reduction in body surface temperature. They also provide 40+ UPF protection. These have a 7″ inseam.
Mossy Oak fishing shorts are ideal for all outdoor activities both in and out of the water. For example, you can use these shorts for fishing, hiking, exercising, and also for casual wear.
They have 2 hand pockets, 2 rear buttoned pockets, 1 left leg pocket for multi-tool, 3 right leg front pockets, and 1 right side pocket with an elastic band. However, the stitches/thread is not as stretchy as the overall material.
PROS
Affordable
Lightweight
Comfortable to wear
Multiple storage pockets
Good fit
CONS
These are not stain resistant
---
You may know that high quality materials and expert craftsmanship are the backbone of Columbia brand. Columbia PFG Terminal Fishing Short was designed with anglers in mind—it's the ultimate fishing-day staple. It is made of soft nylon, which makes it lightweight, yet durable. For paying around 20, they are super lightweight and comfy.
The exterior layer is made up of Columbia's signature protection fabrics for ensuring maximum durability. This is a combination of water and stain repellent fabric with UPF 50 to help block and shield from UVA and UVB sun rays. It is also breathable with comfort stretch to personalized fit. No matter the weather or activity, you will enjoy your next fishing trip with full of energy.
PROS
Angler friendly design
Good value for the money
Soft and breathable fabric
Easy to wash and fast to dry
Deep mesh pockets
Very stretchy
CONS
Run slightly
Has a bottle opener on the right leg
---
When the summer is your fishing season, these fishing shorts have your back. Whether you're dressing for a day of fly fishing on the river or a deep-sea excursion, ATG Wrangler angler shorts are full of features to help you catch fish in comfort and safety.
These are ideal for almost any type of fishing. These fishing shorts are designed with a regular seat and thigh for a comfortable fit. Designed to move. ATG angler shorts are made with high qualiWrangler Authentics Men's cargo shorts are made to keep you comfortable through any activity. These are made of nylon-stretch fabric, which gives you the excellent freedom to stretch, bend and move around comfortably.
With UPF 50 protection, you can rest assured you will stay well protected from the sun with UPF 50 protection. Built with extra storage for easy access helps you to organize your small fishing accessories.
PROS
Machine washable
Designed for all types of fishing
Good value for the money
Oversized watch pocket
---
With a great look and well-made design, these are the most comfortable shorts in existence. Wrangler Authentics cargo shorts are designed with a relaxed fit and comfortable waistband. These are made of soft and breathable fabric to keep you comfortable through any activity.
Wrangler Authentics fishing shorts feature a 10-inch inseam that hits right at the knee for all day comfort. The innovative flex waistband ensures a comfortable fit so that you can easily move and bend with you. They are made of stretch fabric, which allows natural range of motion with every activity.
These cargo shorts are built with quick-drying mechanism to help keep you dry through any unexpected conditions. You can also wear these comfortable and functional shorts for your everyday wear. This model is equipped with 2 cargo zip pockets, 2 back pockets, and 2 slash pockets for easy-access storage.
PROS
Designed for all weather
Sweat-wicking and sun shading
Lightweight and durable
Easy wash and dry
Breathable
---
This is another great pair of fishing shorts from the HUK brand. This technical fishing gear is designed to enjoy your fishing trip. The shorts are lightweight and fit great with an elastic waistband. They are extremely durable and the zipper pockets are very useful for holding while working over water.
They have a classic design, making them super comfortable. The quick dry and stretch fabric protects your skin from the sun's harmful rays. Because Huk added the most advanced sun-blocking +30 UPF materials to these fishing shorts to block both UVA and UVB rays.
The stain-resistant treatment keeps stains from sticking and makes them easier to wash out. The anti-microbial treatment inhibits and kills the growth of odor causing micro-organisms, which maximizes your health safety.
PROS
Anti-microbial & water repellent
Durable and lightweight
Ever adjustable waistband
Super comfortable
Stain resistant
---
These shorts by Staghorn are great for perfect for fishing and other outdoor activities. Staghorn Men's fishing shorts are made from 55% Cotton, 35% Polyester and 10% Spandex, making them very comfortable. Additionally, the shorts feature an elasticated drawstring waist and roomy side pockets.
In addition to excellent wearability and comfort, the new Staghorn fishing shorts allow you to always have your pliers close at hand, thanks to the special pocket, but also your cell phone or other equipment.
These eco-friendly fishing shorts feature a 4-way stretch material that ensures comfort and mobility and helps clean up the oceans we love by eliminating plastic waste from our waters and beaches.
PROS
Available in different sizes
Big pockets
Very comfortable to wear
Elastic drawstring waist
Great value for money
CONS
A little tight in the rear
---
How to Choose the Best Fishing Shorts – Buying Guide
If you choose the wrong model of fishing shorts, it may become very uncomfortable, or even spoil the pleasure of your activity. This is why it is important to choose models that meet a few essential criteria.
Material
The fabric manufacturing material is one of the most important selection criteria for choosing the best fishing shorts. Opt for breathable fishing clothes that will bring you unparalleled comfort. The materials most used in the production of fishing shorts are synthetic blends such as nylon and polyester. Nylon and polyester shorts are durable and long-lasting.
Comfortability
When you're looking for a pair of the best fishing shorts, comfort is very important. You will probably be fishing for many hours and you don't want to wear a pair of shorts that is too tight or restrictive. It's important to find a top-notch pair of fishing shorts that you want to wear.
Comfortable fishing shorts for both men and women should feel soft against the skin, so they won't cause irritation. The waistband should not be too tight and should be adjustable so that you can customize the fit of the pants. Lightweight fishing shorts are best for long trips and wading because they won't weigh you down, making them more comfortable to wear.
UV protection
The best fishing shorts must have UV protection. This means that the sun's rays cannot penetrate through the fabric and cause burns. Most of the best have a minimum 30+ UPF rating. You can even find some shorts with a 50+ UPF rating.
No matter which rating you choose, make sure they have a minimum UPF rating of 30+. This will protect your skin from sunburn and keep your shorts healthier.
Waterproof
While most fishing shorts are not fully waterproof, we recommend that you dry them quickly. Prefer waterproof models to stay dry or with an "active fit" cut guaranteeing you freedom of movement. You will also find "anti-odor" clothes thanks to the technological solutions provided by the brands.
Pockets
The best fishing shorts will have multiple pockets to carry your gear. Pockets are a great way to keep your essential gear items close by, so you can easily access them while fishing. The best fishing shorts will have a variety of open and closed pockets to help you carry your gear.
FAQs
What materials are best for fishing shorts in 2023?
In 2023, fishing shorts commonly feature materials such as nylon, polyester, and blends of these fabrics. These materials offer excellent moisture-wicking properties and quick-drying capabilities, ensuring comfort even when exposed to water. Look for shorts with UPF (Ultraviolet Protection Factor) technology to shield against harmful UV rays during sunny fishing days.
Can I wear fishing shorts for other outdoor activities?
Absolutely! Fishing shorts' versatile design and durable materials make them suitable for various outdoor activities beyond fishing. Whether you're hiking, camping, or engaging in other water sports, fishing shorts offer practicality and comfort.
What length should I choose for fishing shorts?
The ideal length of fishing shorts largely depends on personal preference. Mid-length shorts that fall just above the knee are popular among anglers. They offer a good balance between coverage and freedom of movement. However, some anglers prefer longer or shorter lengths based on their comfort and style preferences.
Are there any eco-friendly options for fishing shorts?
Yes, in 2023, some brands have started offering eco-friendly fishing shorts made from recycled materials or sustainably sourced fabrics. These shorts aim to minimize environmental impact while maintaining high-performance standards. Look for shorts labeled as eco-friendly or made with recycled materials if you prioritize sustainability.
Conclusion
Finding the best fishing shorts is not always simple. These are products that come into contact with rain and seawater. So it is necessary to make them waterproof. Thanks to the buying advice provided by our experts, you can decide with greater awareness and choose the ideal product for your needs. Apart from all of the above, other famous sources provide equally valid comparisons between the best products in the category.