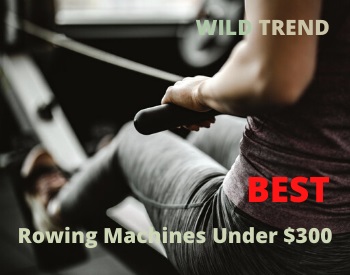 If you're looking for a way to stay fit and healthy or get back to your previous shape, you can't avoid regular exercise with a rowing machine. Regardless of the weather and the opening times of a fitness studio, this exercise equipment is always ideal.
Besides exercise bikes, cross trainers and treadmills, rowing machines are very popular in the home gym. The reason is that working out and building muscles with the rowing machine is very efficient because 85 percent of the body muscles are involved in training.
The good news is that you can find good quality rowing machines under $300 for your home gym. There are even famous brands that offer high-quality rowing machines under 300 dollars for home use. They are also small and take up little space.
However, choosing the best rowing machine under $300 is a little bit tricky. On the market, you can find models with hydraulic, air, magnetic or water resistance. In this guide, we're going to explore the top 7 best rowing machines that offer a balance between quality and affordability, all priced under $300.
The following rowing machines come from some popular brands. Their function is just as well as their pricier counterparts and provides assistance for your personal requirements. We'll also provide you with insights into the pros and cons of each machine, which will help you make an informed decision that aligns with your fitness.
Best Rowing Machines Under $300 at a Glance
Let's see our ranking of the best rowing machines under $300 according to their performance.
Dimensions: 75.2"L x 19.29"W x 33.46" H | Frame Material: Alloy Steel | Resistance Mechanism: Magnetic | Resistance: 16-Level | Weight: 58.8 LBS | Max Weight Capacity: 265 LBS | Flywheel: 10 LBS | Display Type: LCD | Transport Wheels: Yes | Warranty: 1-Year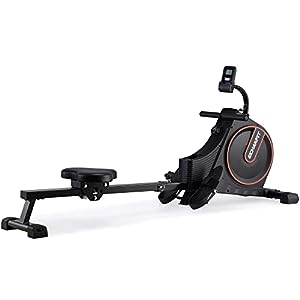 ECHANFIT is not a well-known brand on the market. But they really designed some of the best affordable rowing machines for terrific workouts at home. Also, the ECHANFIT constantly innovates and controls product quality and manufacturing processes.
ECHANFIT CRW 4901 rowing machine is suitable for beginners to fitness enthusiasts to enjoy healthy diets. It will efficiently work on your upper and lower body.
This machine focuses on core strength to keep your heart rate up. You can also track your energy output on the LCD screen. The console angle is adjustable for different heights of view.
The frame is made of high-strength steel with durable powder-coated paint. The seat rail is wide and made of high-grade steel to ensure smooth and quiet movement. The 16 levels of magnetic resistance also give you an effective fitness experience by simply twisting the Tension Control Button.
The handles covered with soft foam and polypropylene fiber help you maintain a comfortable grip and minimize strain throughout your workout. However, the handle can be rotated for small-hand people. If this is the case for you, make sure to wear gloves.
The belt drive system provides smooth and maintenance-free operation. ECHANFIT folding rowing machine is also built with transport wheels at the front, which allows users to move easily and simply store in an upright position. It is able to accommodate individual weights up to 265 lbs.
Overall, The ECHANFIT CRW 4901 is a very good rower for the money, as long as the expectations are realistic. It is a good alternative of walking or doing exercise on an elliptical trainer.
Key Features:
Ergonomic design handles and footplates
Convenient fold-up frame
Row handle with polypropylene fiber
Built in tablet and bottle holder
Adjustable console displays
Large and secured footrest
Very strong rowing Cords
PROS
Wide seat with great cushion
Foldable and easy to store
Smooth and quiet operation
Solid steel frame
Easy to transport
CONS
Handles are close to the body
Very basic display
---
2. Merax Golden-Black Indoor Magnetic Rowing Machine
Dimensions: 80.3"L x 18.9"W x 31.5" H | Frame Material: Aluminum | Resistance Mechanism: Magnetic | Resistance: 8-Level | Weight: 59 LBS | Max Weight Capacity: 340 LBS | Flywheel: 2.2 LBS | Display Type: LED | Transport Wheels: Yes | Warranty: 1-Year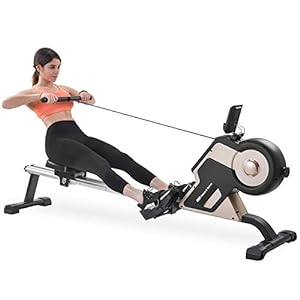 Merax Golden-Black rowing machine features a 2.2-pound CNC flywheel with 8 different levels of tension for effective aerobic and endurance exercises. The frame is heavy-duty and strong enough to provide you with challenging and customized fitness exercises. This will help to achieve different fitness goals for you and all of your family members.
This rower is completely silent, which prevents you from disturbing other people while exercising. You can adjust the resistance manually or from the selection knob. In addition, the device holder allows you to put your phone on for a more relaxing and encouraging exercise.
The commercial-grade aluminum rail ensures consistent and smooth sliding action. However, the electronic display is not very robust or fancy, but it's adequate for the price under $300. The adjustable LED display shows time, stroke, distance, calories burned, and more.
The foot pedals are slip-resistant and adjustable which comfortably hold your feet and enhance safety. The easy-to-grip extra padded handlebar helps your elbows consistently maintain a comfortable height for efficient, healthy muscle building.
Merax Golden-Black rowing machine is not foldable. But it comes with transportation wheels, which make it fairly compact and easy to move. You can move any narrow corner in seconds without wasting time and energy. The plastic pad is also attached to the legs to prevent your floor from damaging.
This heavy-duty rowing machine gives off an elegant hue that upgrades your space immediately. The 3-degree angle saddle seat is ergonomically molded to match the curvature of your body. However, the seat is 1 1/2 inches thick and not replaceable. You cannot adjust the length of the product size.
Key Features:
Ultra-compact design with no need for folding
Silent fitness equipment for Home Gym
8-level adjustable tension resistance
Reliable ergonomic construction
Traceable workout results
PROS
Adjustable anti-slip foot pedals
Large contoured cushion seat
Built in transport wheels
Easy space-saving design
Very easy to assemble
CONS
Display is basic and doesn't have a backlight (a little hard to read data from a distance)
Seat height is not adjustable
---
3. SunFitter Magnetic Rowing Machine for Cardio Training
Dimensions: 60"L x 21"W x 26" H | Frame Material: Aluminum | Resistance Mechanism: Magnetic | Resistance: 8-Level | Weight: 49.55 LBS | Max Weight Capacity: 220 LBS | Flywheel: Not specified | Display Type: LCD | Transport Wheels: Yes | Warranty: N/A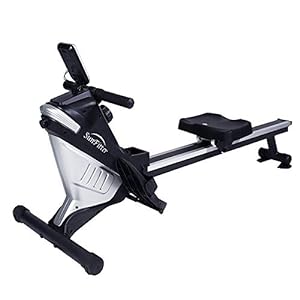 Sunfitter magnetic rowing machine helps to exercise all movements from low to high. It is easy to use for all ages, who need to burn calories or tone the body. The 8 levels of resistance allow wide variants of strength for your body. Also, the resistance adjustments are really nice and very easy to change.
SunFitter rowing machine doesn't occupy too much space in your room because of its slim design and small size. It can be lifted to save space. The seat is of good size and glides smoothly on the base. You won't feel a huge difference compared with the high-end rowing machine in the gym.
The display gives multiple fields to see your workout progress. The monitor is also very accurate, you can clearly see from long distances.
There is a compartment slot for the phone/water bottle. The pedal grips are comfortable for the feet to keep in place. With an ergonomic steering wheel and anti-slip pedals, it is one of the best magnetic rowing machines under $300 for home use.
SunFitter rowing machine is simple to assemble, only takes 20 min if you follow the instructions. The instruction booklet is also pretty straightforward. It is almost completely silent. Only smooth sound comes from the seat sliding, that's really not noticeable.
The pulling cable is very strong to work for a long time. The footrests are of a good size that holds the feet in place as well. For those with big size feet, it could be an excellent choice. However, the transport wheels don't work really well over rugs and carpets.
Key Features:
Professional details design
8-Level of magnetic resistance
Multifunctional digital monitor
Non-slip pedal with adjustable buckles
Compact and foldable design
PROS
Perfect fit different users
Doesn't take up too much space
It's quiet and smooth
Easy to assemble
CONS
Slim design but pretty much heavy
---
4. Fitness Reality 1000 Plus Bluetooth Rowing Machine
Dimensions: 88.5"L x 21.5"W x 21.5" H | Frame Material: Steel | Resistance Mechanism: Magnetic | Resistance: 14-Level | Weight: 63.6 LBS | Max Weight Capacity: 250 LBS | Flywheel: 6.4 LBS | Display Type: LCD | Transport Wheels: No | Warranty: N/A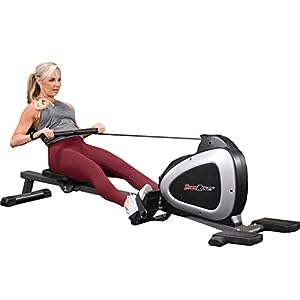 Fitness Reality 1000 Plus rowing machine is equipped with a silent magnetic brake system, which provides smooth workout experience at your own pace. It has manually adjustable 14 resistance levels, which are practically noticeable when changing.
It features Bluetooth connectivity, so you can track basic workout data by using the app. Also, the tablet and bottle holder are included. This device can be used for curls, lifting, and a few other exercises that round out the upper body exercise.
Using the built-in display, you can choose one of the 6 pre-installed training programs, and check the training time, distance, strokes per minute, total strokes, heart rate, and calorie consumption. You don't need to be plugged in because the display operates on battery power (included).
The ball-bearing seat is also very comfortable and glides smoothly on the steel rail. However, you should tighten the screw on the seat if it is a bit wobbly. The front basis with the two pedals is 22 inches and the rear basis is 15 inches. It will fit users' heights from 4'9" – 6'6".
It measures 88.5″ L x 21.5″ W x 21.5″ H open and 39.5" L x 21.5" W x 53.5" H closed. The maximum load capacity of this model is 250 lbs. However, this rower is bigger than most hydraulic rowers, but when it folds up, it's easy to roll into an out-of-the-way corner.
Fitness Reality 1000 Plus indoor rowing machine has a 6.4 lbs flywheel, which is spun with a dual transmission pulley system that spins the flywheel faster. So you will feel like a rower with a heavier flywheel. It is also robust, quiet and comfortable, but not bulky.
Key Features:
14 Level dual transmission resistance
Bluetooth connectivity magnetic rower
On-demand studio classes
Fast 6.4 lbs spun flywheel
PROS
Strong and durable construction
Very easy to assemble
All tools are included
Large digital screen
Dead silent movement
CONS
No incline
Handlebar has no cover
It tends to shift slightly during training. However, you can easily solve it by using a non-slip mat.
---
5. CIRCUIT FITNESS AMZ-979RW-BT Rowing Machine
Dimensions: 72"L x 19"W x 38.5" H | Frame Material: Steel | Resistance Mechanism: Magnetic | Resistance: 8-Level | Weight: 75 LBS | Max Weight Capacity: 300 LBS | Flywheel: 9 LBS | Display Type: LCD | Transport Wheels: No | Warranty: 2-Year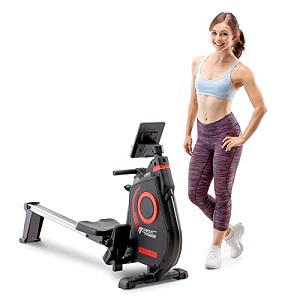 Circuit fitness AMZ-979RW-BT rowing machine itself is solid. The tension is easy to adjust pretty much on the fly. It burns fat and tone muscles every time you use it. This will help you to increase cardiovascular endurance and develop a well-defined upper and lower body.
This device allows you to carry out a workout based on your personal preferences, giving you the possibility to choose whether to increase or decrease the resistance or tension.
The foldable design and transport wheels also allow you to store it conveniently when you're not using it. The Rail can be folded up nicely and can roll away to a corner out of the way.
This rowing machine comes with a user-friendly LCD monitor, which provides all the useful information you need to make an excellent workout. Furthermore, It has been designed in such a way as to replicate exactly the natural motion of rowing at home. You can also start personalized visual workout sessions with this Bluetooth-compatible fitness equipment.
Circuit fitness AMZ-979RW-BT rowing machine is made with a durable ergonomically designed mold-injected seat that allows you to exercise comfortably even if you have old back pain. The seat rolls nicely, and the rail has a suitable length so that users can easily handle it.
The two pedals have a slip-resistant design for extra user safety and comfort, plus the foot straps are customizable to accommodate people of all sizes. Finally, this model is robust and resistant, and designed for long time use. It has characteristics that allow it to be used for several years without problems.
Key Features:
Kinomap App Compatible
Durable mold-injected seat
Excellent for cardio workout
Adjustable Resistance
Large LCD monitor
PROS
Ergonomic design
Compact and foldable
Convenient media holder
Easy to move and store
Smart connectivity
CONS
Made in China
Instruction paper could be better
---
6. MaxKare Magnetic Quite Folding Rowing Machine
Dimensions: 76.4"L x 19.7"W x 42.3" H | Frame Material: Alloy Steel | Resistance Mechanism: Magnetic | Resistance: 16-Level | Weight: 64 LBS | Max Weight Capacity: 243 LBS | Flywheel: Not Specified | Display Type: LCD | Transport Wheels: Yes | Warranty: N/A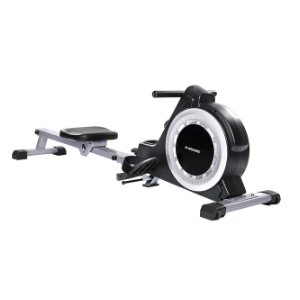 MaxKare magnetic folding rower could be a good option under 300 dollars if you have tight space. It provides very high performance, and it could be a decent rowing machine if you want something cheap to get started. It has a nice smooth glide on the rail, and it's sturdy. There is also nice resistance on the settings, which definitely performs well on low-impact workouts.
MaxKare rowing machine is extremely sturdy, and all bracing is super heavy duty. With this model, you can exercise the core muscles such as legs, waist, arms, chest, back, and so on. And with each stroke, these muscles will complete a contraction and extension to achieve the effect of exercise.
The slide rail length rowing machine is 49 inches and 45 inches in inseam length, which is suitable for people up to 6'5". MaxKare rowing machine is also solid, stable and quiet. The seat is very comfortable. It can be used indoors without any problems because you can easily store it in a tight space.
The power supply battery is included. However, the display won't show distance tracking, but it shows the data of count and total counts on the display. It will turn off automatically a few minutes after you stop using it.
However, this rower isn't really designed to be folded on a daily basis. In order to fold the track, you have to remove a pin and unscrew a bolt with a large plastic head. It is also very awkward to move once folded and a bit difficult to maneuver. But it is fairly compact once stored.
Key Features:
Portable and space-saving design
16 Levels of magnetic resistance
Multi-functional LCD monitor
Extra-long slide rail
PROS
Non-slip foot pedals
Comfortable cushion seat
Easy to adjust the tension
Very smooth operation
Excellent for the money
CONS
Not good for heavy training
Small size
---
7. Doufit RM-01 Magnetic Rowing Machine for Home Use
Dimensions: 70.5"L x 21.3"W x 22.4" H | Frame Material: Aluminum, Alloy Steel | Resistance Mechanism: Magnetic | Resistance: 8-Level | Weight: 55.5 LBS | Max Weight Capacity: 264 LBS | Flywheel: Not Specified | Display Type: LCD | Transport Wheels: Yes | Warranty: N/A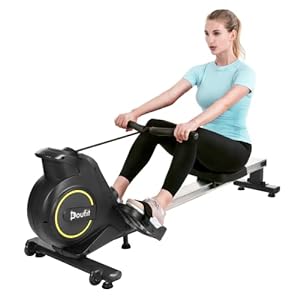 Doufit RM-01 rowing machine offers all the benefits of aerobic exercise at home. It is ideal for your whole family to tone body shape and improve health. It's good for those who are first starting out into rowing while watching television, or reading a book at home.
With 8 levels of magnetic resistance, it has a compact design, which makes it one of the best rowers under $300 for small space. And the fact that it is easy to store when not in use. It is also built with transport wheels which help you store it easily after use.
The steel and aluminum structure is highly robust and resistant, which allows it to support a boulder weight of 364 lbs. Doufit RM-01 cheap magnetic rowing machine is super easy to use, which makes it a great option for beginners.
The seat is large and comfortable to guarantee correct posture. The digital display allows you to keep under control all the fundamental data to monitor training and performance. The pedals are nonslip and have adjustable straps. However, the pads themselves are not.
The footprint of the rowing machine when folded up is approximately 34 inches by 22 inches (28×22 if you take off the floor stabilizer on the rail). And approximately 50.5 inches tall. The open size is 70.5 x 21.3 x 22.4 inches, and the closed is 28.7 x 21.3 x 49.6 inches.
Doufit rowing machine can be easily folded up, and it just occupies less than 0.35 square meters of space after folding. The package comes with all the assembly tools. So setting up this device won't be a problem for you, even if it is the first for you. However, it is not designed for very large apartments.
Key Features:
8-level of resistance settings
Smooth aluminum rail design
Foldable design with moving wheels
Quiet and adjustable for different people
Magnetic control heavy flywheel
PROS
Easy to put together
Intuitive computer
Light yet sturdy
Cushioned seat
Small and slim
CONS
Not very heavy-duty
Assembly instructions were a little confusing but workable
---
Best Rowing Machine Under $300 Buying Guide
In order to avoid a bad purchase with the variety of rowing machines that the market offers, you should familiarize yourself with the most noteworthy features of this fitness equipment.
The following points can serve as orientation in order to create your own checklist:
Height and weight
When choosing the best rowing machine under 300 dollars, the height and weight of the user are decisively important. For taller or heavier people, a narrow seat is sometimes too uncomfortable. And if the seat rail does not reach far enough, the athlete cannot perform a smooth rowing movement.
In addition, pay attention to the maximum permissible weight, which is specified in the respective product description. Most of the best rowing machines under $300 weight vary between 50 and 75 lbs.
Size and dimensions
If you live in a small apartment, you should measure all the available space more precisely to figure out how much space the fitness equipment takes up when it will be settled up. Many rowing machine models, designed for home use, can be foldable when not in use and stowed away to save space – be sure to clarify before buying!
The seat of the rower
The seat should provide excellent support so that rowing does not become uncomfortable or even painful even over longer training sessions. Also, be shaped appropriately, not too narrow and sufficiently padded.
Noise level
If you have noisy neighbors, you should get a rowing machine that is as quiet as possible. In particular, those who like to train late in the evening are better served with a hydraulic or (electro) magnetic indoor rower than with a fitness device that works with air or water resistance and causes a corresponding noise level.
Training computer
Most rowing machines have a training computer that offers various setting options and displays relevant parameters during the training session. With most devices under $300, the user can read the time, distance, stroke speed, wattage, calories consumed, and more during the training.
Inertia mass or flywheel
The flywheel mass of a rowing machine should be good enough, at least 8-10 pounds, in order to guarantee quiet and smooth movement while rowing.
The functionality
Before buying a rowing machine, you should consider whether you just want to row with it or whether you want a wider variety of training options. Under certain circumstances, a rowing machine with multiple functions could be considered, which can also be used for pure biceps training, for example.
Equipment and connection
In many models on the market, some training programs are already installed as standard. These include, for example, special endurance or cardio fitness programs. Connection options to the smartphone or tablet are generally useful, especially if training units and successes are to be evaluated or compared.
Keep in mind that the more resistance levels the fitness equipment offers, the more individual the training can be.
The manufacturers
Anyone who takes a closer look at the topic of the best rowing machines will quickly notice that there are many different brands that offer cheap devices. In addition to names such as CIRCUIT FITNESS, Merax, Fitness Reality, and MaxKare should be mentioned.
Concept2 rowing machines are particularly popular among professional athletes. But they are very expensive.
FAQs
Which rowing machine would be best for me?
In order to find out which rowing machine is the best for you, your own wishes and requirements should be as clear as possible. Because an excellent rowing machine for professionals is not necessarily the best choice for beginners – and vice versa.
It is also important to have solid workmanship, as many resistance levels as possible, and that the device fits your body size and weight.
Using the comparison table and factors listed in this guide, your selection process can be narrowed down to find the model that suits your own needs.
What does a good rowing machine cost?
Rowing machines are available for around 100 dollars with almost no upper price limit. In general, the more professional the sports equipment, the higher the price.
However, when buying the rowing machine, the buyer should consider what is important to him/her and what budget is available. Especially for beginners, it doesn't have to be the most expensive model on the market. It's worth comparing prices.
Which rowing machine to buy for home?
Before buying a rowing machine for home use, the dimensions of desired models should be carefully evaluated so that there is no unpleasant surprise. A rowing machine for home doesn't have to be studio quality. However, it should still be robust and cleanly processed so that you can enjoy using it for as long as possible.
Rowing Machines – Are they really effective?
There are of course other training devices that help you build your stamina, lose weight or keep fit, but the rowing machine is one of the most effective training tools because it involves so many parts of the body and muscles. Whether with a rowing machine or a real rowing boat, rowing is one of the healthiest sports.
According to doctors, 60 percent of the maximum pulse value is reached within a very short time. Rowing is an optimal mixture of endurance and muscle training. New nerve cells are formed when rowing, which makes our brain more receptive.
Rowing is equally suitable for women and men. Also, the risk of injury on a rowing machine is low compared to other sports equipment. Compared to jogging or playing football, it is much easier on the joints.
How many calories can I burn by using rowing?
You can burn Up to 1,000 calories per hour. Beginners should not train with too high a resistance and avoid peak loads with a high pulse. Here, too, it is better to steel yourself with a lower pulse (maximum 180 minus age) and a few minutes longer.
Is a rowing machine good for losing weight?
Since rowing is a full-body workout, a rowing machine is great for losing weight. It burns more calories than other fitness equipment that uses fewer muscle groups. As always, the necessary self-discipline is important. Rowing machines should be used regularly in order to achieve success.
What is the optimal number of strokes when rowing?
When rowing, it is initially important to execute correctly the sequence of movements. Stroke numbers or train movements initially play a subordinate role. Depending on the level of difficulty or training selected, the number of strokes should be around 24 to 30 strokes per minute.
How often should I use the rowing machine?
As with all sports and training equipment, the following applies to the rowing machine:
Regularity is the key to success in training. If the training goal is to build stamina and muscles, this should be pursued consistently in the form of training several times a week. However, experienced athletes and sports physicians advise against daily training on the rowing machine.
Which is better – treadmill or rowing machine?
Both training devices offer intensive use of the muscles and can help you lose weight. Everyone has to decide for themselves which device is better for their personal use. Those who enjoy running will prefer the treadmill while those who enjoy rowing will opt for the rowing machine. If you want to tackle a full-body workout, the rowing machine is the better choice.
Which accessories are useful when rowing?
A chest strap is useful for heart rate measurement, which is not included with all rowing machines. The manufacturers usually state which chest strap is compatible with their rowing machine or supply it at an additional cost. Depending on the surface on which the rowing machine is to be set up, a protective floor mat is recommended. It has a soundproofing effect and protects the floor from damage.
The Verdict!
Indoor rowing machine is suitable for beginners as well as gym fanatics of all ages, because it strengthens the cardiovascular system and a variety of muscles, improves lung capacity, and helps weight loss.
Now you are ready to choose the best rowing machine under $300 according to your needs and the use you are going to make of it. If you're still in hesitation, we recommend ECHANFIT CRW 4901. Because it has unbeatable quality at this price range and it will please both beginner athletes and more seasoned athletes.
See Also…