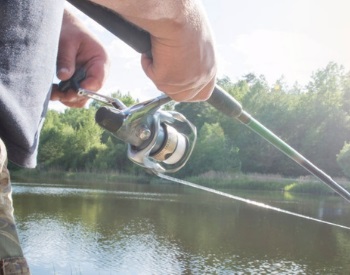 Whether you are an experienced fisherman or a novice angler, you need a good reel to fish effectively and comfortably on the river, lake or sea. With a fixed open-face spool and under-rod mounting, spinning reels are easy to use – making them a popular choice for novice anglers. Experienced anglers also appreciate spinning reels because of their versatility and ability to cast light lures.
You are here because maybe your old reel has reached the end of its days or you are a beginner angler and want to buy a cheap spinning reel under 50, but don't know where to start. Don't worry… You can definitely choose a brand new spinning reel under $50 from our expert recommendations.
In this buying guide, we are going to show you the top 10 best spinning reels under 50 dollars for 2023. We have carefully tested these models by our expert team, paying attention to all the most important features such as smooth operation, long-lasting durability, and good value for the money. Besides the mechanical quality, we also considered the lightness of the materials.
We'll highlight their technical features, benefits, and provide you with some insights to help you make an informed decision. You can select the size based on the casting weight of your rod. In this way, everything will be balanced and you will have optimal performance without making too much effort in the arc of the catch.
Best Spinning Reels Under $50 2023
Take a look at our ranking of the best spinning reels under $50 in 2023.
The rankings are constantly updated, so right now the best-selling ones can see below!
Let's see them together one by one in detail…
1. Ugly Stik Ugly Tuff Spinning Reel – Top Pick
Technical Specs:
Gear Ratio: 5.2:1
Bearing Count: 5
Weight: 8.70 oz
Retrieve Rate: 22″
Max Drag: 16.5lb
Ugly Stik is one of the best-known brands in the fishing industry around the world. Ugly Stik Tuff is by far the best spinning reel under 50 dollars that you can buy for your spinning rod It is suitable for most of the fishing rods on the market. It is also widely used by professional anglers.
Ugly Stik will provide 7 years of warranty service. However, the first strength of the Ugly Stik Tuff spinning reel is undoubtedly the resistance and sturdiness that it offers you. Despite this, it turns out to be incredibly light so that you can make long casts without particular problems and without getting tired.
Ugly Stik spinning reel made with aluminum construction and stainless-steel ball bearings, means to stand up to the toughest of fights. The spool is also of exceptional quality; it is the latest creation spinning reel under $50. It not only allows you to get even longer casts than previous models but remarkably reduces friction.
We also want to underline the fantastic design that the reel offers to you. It is really modern and adapts perfectly to any type of fishing rod. So if you want to upgrade your fishing rod to ensure top performance, then you can choose the Ugly Stik Tuff fishing rod without any hesitancy!
PROS
Large comfortable handle
Well-made and looks nice
Versatile spinning reel
Smooth casting
Easy to install
7-year warranty
CONS
Does not have a reverse lock lever
---
2. SHIMANO Sienna RE Lightweight Spinning Reel
Technical Specs:
Gear Ratio: 5:1
Bearing Count: 4
Weight: 5.0 oz
Retrieve Rate: 25″
Max Drag: 15.0lb
The new SHIMANO Sienna RE is a new version of the spinning reel from Sienna RD. It is a low-end rear drag spinning reel, making it perfect for every angler who likes to fish occasionally and does not want to spend a large amount of money on a fishing reel without compromising quality.
First of all, let's start with one of the absolute strengths that the SHIMANO Sienna RE spinning reel offers you, namely lightness. It weighs just 5oz, however, it guarantees you the same performance as the heavier and more massive models. You will have no difficulty in making very long casts both from your boat, from the rocks in the sea, or from the shore of a lake.
The Shimano Sienna RE also has an extremely balanced format that gives the anglers support for deep and long casting. It is designed to be used in all weather conditions and perfectly adapts to different surface conditions. For example, you can use it both in saltwater and freshwater.
The casting has been crafted with propulsion technology and your casting will be long-drawn, so you will find a greater level of accuracy in the casting that basically offered by expensive spinning reels. It is not the top-of-the-line spinning reel from SHIMANO but still provides a nice smooth action.
PROS
Sturdy and resistant but light
Instant Drag Double Bearing Clutch
Modern design suitable for any fishing rod
Smooth bail closing
Quality construction
CONS
It won't work well with braided lines, only nylons
---
3. Tempo Vertix Series 2000 Spinning Reel
Technical Specs:
Gear Ratio: 6.2:1
Bearing Count: 11
Weight: 9.1 oz
Retrieve Rate: 32″
Max Drag: 16.0lb
If you are looking for an ultralight powerful spinning reel based on value for money, you absolutely have to pay attention to the Tempo Vertix Series 2000. It is produced by one of the most reliable industries named Tempo. It is super smooth, practical, and versatile in use!
Like all Tempo spinning reels from the Vertix series, an exceptional smoothness of rotation characterizes this model. You will hardly be able to find such smoothness in a product of a similar price range. Even the recovery ratio that this reel offers you is among the highest ever, reaching up to 6.2: 1. So you can wrap a lot of lines in a very short time.
The high-quality drag of this reel mounts not 2, but 10+1 ball bearings in order to minimize friction during rewinding. In this way, not only you will not risk breaking the thread and consequently losing the much-coveted fish but also the effort you will have to employ will be considerably reduced.
The premium carbon fiber drag system also provides a consistent and powerful drag. However, it has a max drag of 16 lbs. This unit comes with a braid-ready machined aluminum spool that prevents line slip. The optimized spool lip design reduces line twists and wind knots to maximize casting distance.
Finally, we cannot but spend a few words on the exceptional design it presents. The fantastic coloration in silver and black makes it beautiful to look at and mounted on a totally black or silver rod, it really makes an exceptional figure! Also, remember that the Tempo Vertix Series 2000 reel remains under $40.
PROS
Lightweight and powerful
Variety of test strengths
Practical and versatile design
Super smooth drag
Excellent durability
---
4. Okuma Ceymar Spinning Reel
Technical Specs:
Gear Ratio: 5:1
Bearing Count: 8
Weight: 9.1 oz
Retrieve Rate: N/A
Max Drag: 20.0lb
Okuma is one of the most competitive fishing gear manufacturing brands on the market today. The Cemar series spinning was first launched on the market over 4 years ago, but unmoving in 2023, it is one of the best affordable spinning reels on the market. It's quality construction and competitive features. According to the users who purchased this model frequently, they have seen the last four years this model's quality has been consistently improving.
It is powerful, lightweight, and designed for diversified saltwater and freshwater use. This unit also includes an Ergo Grip handle for better control, which enormously increases cranking power during fights with big-size fish.
Its sleek design, utilize a fluid 8-bearing drive system, and Okuma precision elliptical gearing ensure optimum performance based on a user's intended catch. The multi-disc drag system also allows more consistent and reliable drag because it will maximize drag strength over a smaller surface area.
Okuma Ceymar spinning reel features a corrosion-resistant design, which makes it suitable for use in all weather conditions and water types. The anti-reverse roller bearing is also quick to set, which will engage the drag to fight the fish and prevent the reel from turning backward. And with a rigid, machined aluminum spool, it will provide a strong foundation for monofilament lines and braided fishing lines.
PROS
Compact size
Comfortable to handle
Sufficient drag for versatile uses
Diverse range of sizing
Corrosion resistant blade body
CONS
Slower gear ratio
Not as smooth as other models we have already reviewed
Saltwater may cause damage
---
5. Diwa KCN12000 Spinning Fishing Reel
Technical Specs:
Gear Ratio: 4.6:1
Bearing Count: 12+1
Weight: 20 oz
Retrieve Rate: N/A
Max Drag: 70.0lb
You will love the Diwa KCN spinning reel because it offers amazing best-in-class up to 70 LBS of smooth drag and high durability. Diwa KCN12000 spinning reel has built-in reliable triple disc aluminum alloy, oversized stainless steel main shaft, and stronger precision mesh manganese brass pinion gears, which ensure more fishing muscle. Although, it is a high-quality spinning reel; the price is pretty much accessible for every angler.
It has more features like an expensive spinning reel, such as including 12 + 1 high quality, saltwater rated double-shielded stainless steel ball bearings, instant lock anti-reverse, stainless steel hardware, aluminum handle, and more line capacity.
Diwa KCN12000 fishing spinning reel is sealed with a KCN Intrusion Shield System, which ensures long-lasting service life. It also has a unique protection water-resistant design for its spool, body, and rotor KCN Intrusion Shield System to help keep water and dirt out.
You'll be blown away with its quiet and silky smooth retrieve. And with the unique Shark Fin Braid Ready aluminum spool, you don't need to use the backing line when spooling on the braid fishing line.
Overall, it is the best all-around spinning reel under 50 dollars for any angler who looking for durable spinner gear. You'll benefit from more line capacity to go after larger fish. It also comes with one year Peace of Mind Warranty.
PROS
Comfortable to handle
Super smooth drag
Affordable innovation
Quality and well made
Beautiful design
CONS
Gear exposed is made of plastic
A little bit heavy
---
6. PENN Pursuit III Spinning Reel
Technical Specs:
Gear Ratio: 6.2:1
Bearing Count: 4+1
Weight: 12 oz
Retrieve Rate: 35"
Max Drag: 70.0lb
PENN is a well-respected brand in the fishing industry, known for producing high-quality reels and fishing equipment. For all deep sea fishing enthusiasts, our recommendation is to choose the PENN Pursuit III. It undoubtedly proves to be the best saltwater spinning reel under 50 dollars in 2023, and we can confirm that it will allow you to catch even the most difficult prey. It has a balancing system, which gives strong and light maneuverability.
Like all the PENN pursuit fishing reels available on the market, each component of this model is designed to guarantee maximum durability, strength and performance. The smooth dragging system and lightweight design make it an ideal choice for beginning saltwater fishing.
PENN Pursuit III spinning reel house made of corrosion-resistant graphite and the carbon fiber drag system designed to battle. In this way, you will get at the same time robustness but extreme handling.
The shielded stainless-steel ball bearings ensure smooth operation and the line capacity rings let you know how much line you have out.
This model is available in six sizes from 2500 to 8000. It has advanced technology at an entry-level price, making it suitable for most anglers.
PROS
Lightweight
Corrosion-resistant
Durable and well made
Instant Anti-Reverse
Superline Spool
Easy to maintain
CONS
Not a high-performance reel
---
7. Lew's Mach 2 100A Spinning Reel
Technical Specs:
Gear Ratio: 5.2:1
Bearing Count: 9+1
Weight: 6.9 oz
Retrieve Rate: 30"
Max Drag: 80.0lb
Lew's is not a popular brand like Shimano, PENN Pursuit, or Diwa, but their latest generation spinning reel, especially the Mach Series, ensures outstanding durability and high performance. The material used for the production is blended and resistant, and at the same time, extremely light.
Compared to many other spinning reels under $50 available on the market, Lew's Mach 2 one has only 9+1 bearings. In this way, it will be able to exceed the performance of classic bearings! And in order not to miss anything, it has several technologies that improve your fishing.
Lew's all-purpose spinning reel features a lightweight yet rugged aluminum body. The aluminum bail is also strong and well-balanced and the spool is double anodized ported knurled aluminum. The fold-down anodized aluminum handle is fitted with a Winn Dri-Tac knob.
The pinion gear is precision-cut solid brass and the Zero Reverse anti-reverse is rock solid and reliable. The gear ratio is highly appropriate for a broad range of fishing applications. It'll provide uninterrupted performance in all weather conditions from extreme heat to freezing cold.
Consequently, if you often find yourself in difficult fishing situations where your elbow grease alone is not enough, you can rely on Lew's Mach 2 100A and you will see that all your efforts will be rewarded. No fish, not even deep-sea fish will escape you after all the effort you have taken!
PROS
Very smooth operating reel
All-purpose spinning reel
Suitable for all fishing rod
Ultra-slim body
Very cheap price
CONS
It is a big size spinning reel
---
8. KastKing Spartacus II New Spinning Reel
Technical Specs:
Gear Ratio: 5.2:1
Bearing Count: 7+1
Weight: 12.0 oz
Retrieve Rate: 30"
Max Drag: 22.0lb
KastKing Spartacus II spinning reel is built tough to handle any fishing conditions, whether used as a saltwater spinning reel or freshwater reel. It is a superb lightweight spinning reel under $50, with a reinforced nylon body and rotor. The air rotor offers you maximum balance and sensitivity.
It is an ultra-smooth fishing reel with some great features. For example, it has reliable 22 lbs of triple disc carbon fiber drag that allows you to use light fishing lines. It also features 7 + 1 double-shielded stainless steel ball bearings and CNC Aluminum handle with an EVA handle knob to keep everything turning smoothly.
KastKing Spartacus II spinning reel also has a perfect balance of strength and lightness. The Tough Digigear transmission guarantees excellent performance and is certainly considerably superior to previous models of the same brand.
It offers you more than 150% better results than the previous model KastKing Brutus. And the control will be in your hands in every situation, even when the sea is rough.
This model incorporates four waterproof Everseal rings into the main body, which enhances its waterproof capabilities. It is an excellent spinning reel if you are interested in excellent braking control during line retrieval. In this way, you can stop and resume winding without risking the line breaking and the trout escaping.
PROS
Perfect balance of strength and lightness
Various supporting technologies
Powerful Aluminum Handle
Very good finish/paint
Four sizes available
CONS
Not feather light
Smooth but not as smooth as my PENN pursuit 3
---
9. Okuma Avenger ABF-500 Spinning Reel
Technical Specs:
Gear Ratio: 5:1
Bearing Count: 6+1
Weight: 6.7 oz
Retrieve Rate: 21.9"
Max Drag: 6.0lb
OKUMA is a fishing rod and reel manufacturer based in Taiwan since 1986. They are mainly famous for their advanced technology fishing accessories. They have over 3 decades of fishing equipment supply experience. However, the ABF-500 model is their cheap addition to the ABF series, but except for a few differences, all the features are relatively the same.
It is lightweight and precise, including spinning, baitcasting, trolling, and fly reels. It is made with advanced materials with dynamic designs. The handle knob is made of hard PVC that won't turn 'sticky'.
The Cyclonic Flow Rotor technology also reduces the weight by over 20% compared to other models. Not because lighter, however, means less performing, the center of gravity is in fact perfectly balanced. However, Despite its remarkably smooth operation, the maximum drag capacity falls within the range of 12 to 14 pounds.
This model is complemented by additional technologies such as silent rocking, cross winding, and much more, so you can never go on a good fishing trip without this reel after a few uses. It will deliver the ultimate fishing experience to everyone. But could be the best choice for freshwater and saltwater fishing.
PROS
Air rotor for maximum balance and sensitivity
On/Off auto trip bait feeding system
Comfortable to handle
Great for ice fishing
Slim design
CONS
The grease layer of the bearings must be revised often
Maximum drag only 6 lbs.
---
10. Shimano Sienna 2500RE Spinning Reel
Technical Specs:
Gear Ratio: 5.2:1
Bearing Count: 1+1
Weight: 10.5 oz
Retrieve Rate: 30"
Max Drag: N/A
Shimano Sienna 2500RE is among the best spinning reels to be used both in the sea and in freshwater pools based on the recovery ratio it offers you. The recovery ratio is significantly higher than many other cheap models on the market. You can rewind a huge amount of lines in no time, to attract your prey to you right away!
The body and side plate are made entirely of metal to withstand heavy loads. The Sienna 2500RE is also one of the most versatile spinning reels under 50 dollars in 2023. You can use it without difficulty in any situation and in any competition, and the results will be always satisfactory!
Given its weight and manageability, it is suitable for both professionals and amateurs. It does not require special precautions. Therefore, you will not risk making messes and letting your prey escape. You can use it both in counter-current streams and in the sea, and fatigue will be reduced to a minimum. However, it is not possible except for the fishing reels coming from SHIMANO.
The rear drag of this spinning reel also allows you to have excellent fluidity. This model is easily adjustable during the hunt in order to make it suitable for all circumstances. It allows you to act according to how the fish behaves. You can perfectly control it during your fishing sessions.
If you are interested in not only having good quality but also a beautiful spinning reel, then consider the SHIMANO Sienna 2500RE. However, if you are not used to it, there's a chance you might unintentionally shift the anti-reverse lever from the No Reverse to the Reverse, as it's situated where you grip the rod.
PROS
One of the most versatile models on the market
Best recovery ratio
Handy and light
Excellent fluidity and control
Modern look
CONS
Recovery time must be measured well to get good results
Not suitable for very large spinning rods
---
Factors to consider when buying a spinning reel under 50 dollars
Choosing a good spinning reel under 50 dollars that is suitable for your spinning rod can be difficult if you are a beginner and don't have particular knowledge or no one to ask for advice. For this reason, we have created a list of useful features so that you can make a good purchase at this price range.
Gear ratio
The recovery ratio of the reel indicates how many lines it can wind up and for how long. To get good control at the same time to prevent the fish from escaping but also have a good speed, we recommend you to look for at least a 4.6: 1. In this way, you will be able to thoroughly control the direction of the line without risking that the fish escapes.
The weight
Weight is a very important factor for choosing the best fishing reel. Here we must be careful because a greater weight corresponds to the possibility of approaching greater prey. So try to choose reels that do not exceed 700 grams so that you do not have to work too hard during your fishing sessions.
The materials
Materials must guarantee you a perfect balance between performance and lightness. The SHIMANO house uses a composite called XT-7 which is light and very strong.
If you are looking for other brands of spinning reels, a good alternative can be carbon fiber which is just as strong but very light. And in this way, your arms won't get too tired.
We do not recommend buying fishing reels made with cheap materials, which allow you to save money but won't offer all the necessary functions and guarantee long-lasting durability.
Dredging system
Spinning reels are available with either a front or rear drag reel design. A front dredge system provides smoother drag, while a rear dredge system is more comfortable to adjust when fighting a big fish. Rear dredging system also easier to change spools. However, the best solution is usually a matter of preference.
Ball bearings
Be sure to check how many ball bearings the reel has. As a general rule, the more ball bearings you have, the better the reel will perform when recovering. At a minimum, you should have at least four ball bearings to give the reel sufficient stability and support to make it bearable.
Cut it
The choice of the reel is strictly linked to the type and weight of the fish to be caught. So besides comparing prices and performance, you must pay attention to the size which is expressed in numbers, from 1,000 to 20,000, which indicates the size and capacity of the reel.
For example, very light reels up to 2,000 are suitable for fish up to 2 kg; the light ones from 2,500-3,000 for fish up to 4 kg, and so on up to the heavy ones, are recommended for large specimens over 8 kg in weight.
Anti-Reverse
An anti-reverse switch prevents the handle from turning backward when a fish pulls. This feature can be important for hooking and landing fish.
Usage
Although not everything depends on the reel, but also on the rod itself, the type of use should direct you to some models rather than others. You absolutely have to consider if you are going to fish mainly in the sea or in fresh waters.
Additional technologies
Fishing reels can be fitted with a whole series of additional technologies to improve your fishing sessions according to your availability. A brake for more control, stainless steel coated discs, or an assisted rewind system is just a few of them. However, these technologies increase the price of the product and not just a little!
FAQs:
How much need to pay to buy a good spinning reel?
You can buy a spinning reel for around 20 dollars if you're fishing in freshwater. However, the cheapest solution does not always mean the most effective one: sometimes spending little on a sea spinning reel means having to buy another one in the future, thus not limiting the cost over time. On average, you can buy a good quality spinning reel from 30 to 100 dollars.
Are spinning reels under $50 suitable for saltwater fishing?
While some spinning reels in this price range have features that make them suitable for light saltwater fishing, they are not corrosion-resistant or durable like higher-end models specifically designed for saltwater. Always rinse your reel with freshwater after saltwater use to prolong its lifespan.
Can I upgrade the parts of a budget spinning reel if needed?
Yes, you can replace certain parts of a spinning reel. However, budget reels do not have the same level of customization options or availability of replacement parts as higher-end models. Additionally, the cost of upgrading parts can reach or exceed the price of a new reel.
How big should my spinning reel be?
If your intention is to orient yourself towards fishing for small fish, a reel of size 500 to 1000 will be absolutely suitable. If the reel is too big for your line size, you will have more lines than you need and therefore your casting distance will be reduced.
Can I use a spinning reel for any type of lure?
There is no limitation about using lures, you can use just about any lure with the spinning reels. However, some fishing reels are better suited to certain types of lures, but spinning reels are versatile.
Spinning or Baitcaster – which one is best to use?
Spinning reel is best when using a light line and baitcaster is recommended when using a heavier line. Bait casters have a higher gear ratio than spinning reels, which makes them ideal for faster presentations. They are also great for power fishing techniques like pitching and flipping. On the other hand, the relatively slow layout makes the spinning reel a better choice for novice anglers.
Conclusion
Spinning reels are the most popular type of fishing reel these days because of their ease of use and versatility. Unlike traditional bait broadcasters, you don't have to be very skillful to learn how to use one, and chances are you'll end up with a messy bird's nest, what anglers call a mess of lines.
To be extremely competitive, you must have suitable and valid equipment. Then choose one of the 10 best spinning reels under $50 on our list and we are sure you will always be at the top. No fish will escape you.
We also have reviewed some of the best portable fish finders under $200; you can check them.
Read Also…