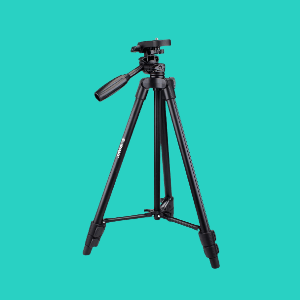 If you try to balance your spotting scope magnification by using your hand, you will find it extremely difficult to keep the device steady for proper observation. The picture wobbles continuously and a lot and becomes blurred.
Without a good tripod for your spotting scope, you can hardly use the higher magnifications on your device. However, spotting scope tripod quality is often overlooked, but it is nevertheless an indispensable tool.
Anyone who has invested in an expensive and high-quality spotting scope should not fall back on a weak tripod. Because the performance of the spotting scope is significantly influenced by the quality of the tripod.
In this article, we're going to show you the top 10 best spotting scope tripods currently on the market. We have evaluated tests and opinions and added them to an overall grade so that you can figure out which features are actually worthwhile.
Best Spotting Scope Tripods Reviews for 2022
1. Vortex Optics TR-HCY High Country II Tripod Kit – Best Overall
Material: Aluminum | Tripod Head Type: Pan Heads | Maximum Height: 62.5 Inches | Minimum Height: 11.3 Inches | Weight Limit: 22 lbs. | Number of Leg Sections: 3 | Item Weight: 4 lbs.
Vortex is the most famous optics brand in the world: the company produces high-quality aluminum and carbon fiber spotting scope tripods to be used both in hiking and for "static" photographers. However, The TR-HCY High Country II tripod made is of aluminum which is 30% lighter than most tripods.
Vortex Optics TR-HCY tripod is also robust compare to other same quality spotting scope tripods. Thanks to a 2-way Pan Head, you can easily switch out your long-range tools. The plate also fits solidly on the top so that user can easily change their device frequently if needed.
It has a maximum 22lb maximum load capacity, so you can put small to large spotting scope on it. This model also has a detachable counterweight hook for convenient use. It has three tripod leg sections that can be adjusted out to 70°, 49°, or 25°, to accommodate the tripod's height according to your needs. Vortex High Country II spotting scope tripod delivers outstanding durability and stability while putting your device on it.
The tripod head also swivels well in any height level and is damped to prevent flopping around with a heavy item on top. This model is so secure, you can carry this scope without worrying about falling off. For reliable, packable performance, prefer this model and take the high ground with you.
PROS
Quick-release camera plate
Versatile design and easy to use
Stability and durability is incredible
Lightweight tripod with extendable legs and rubber feet
Comes with packing Strap, carrying case, and all the right features
CONS
Needs larger grip if used for any period of time
---
2. Celestron 93612 Ultima Pan Tilt Head Tripod – Editor's Choice
Material: Aluminum | Tripod Head Type: Pan Heads | Maximum Height: 67.7 Inches | Minimum Height: 12.5 Inches | Weight Limit: 25 lbs.| Number of Leg Sections: 3 | Item Weight: 5.4 lbs.
Celestron is another famous brand in the world, especially well known to European and American optics markets. The brand offers several models of Aluminum tripods and monopods. However, Celestron tripods are famous for their stability and lightweight design. They are guaranteed a very long time service life.
Celestron 93612 tripod can be frequently used by Spotting Scope, Binocular or Camera. It has a quick-release plate that will attach to the 1/4″-20 tapped mounting block. The quick-release plate is also very handy larger than on many other scopes. You can smoothly pan the horizon or tilt the viewing angle up and down with two-directional adjustments – even flip your optic sideways.
Celestron spotting scope tripod is also widely customizable and the configuration will be fit any viewing conditions. Because the three leg sections allow this tripod to work with virtually any user or terrain. The extendable center column provides even more height when you need to view 180-degree angle.
The Celestron 93612 is a versatile and easy-to-use spotting scope tripod, it is perfect for just about any application. The package also comes with a protective carrying case for storage and transport.
PROS
Very handy quick release plate
Easy adjustable good height
Versatile and functional tripod
Reasonably smooth and stable
Barely to beat for the price
CONS
Crank handle that adjusts height is a bit flimsy
---
3. Nikon 16749-Black Compact Outdoor Tripod Stand
Material: Aluminum | Tripod Head Type: Ball Heads | Maximum Height: 49.61 Inches | Minimum Height: 15.75 Inches | Weight Limit: 5.5 lbs.| Number of leg sections: 4 | Item Weight: 2.3 lbs.
If you ask us which is your favorite optics brand, our answer is obviously Nikon. However, the tripods from NIKON brand are less known all over the world, but popular in the nature enthusiast communities. Nikon compact tripod is strong enough, but not too bulky. With a ball head, it weighs only about 2.3 lbs (without the spotting scope), which requires a strap for transport. However, this weight makes it very stable even with a strong wind.
The 360 degrees ball head is pretty much versatile, which makes it easy to swap spotting scope, binoculars and camera. You can switch between camera and spotting scope quickly and easily. Foot release latches are also convenient, but require some force and tend to loosen, causing general foot unscrewing problems!
The height is quite suitable for large observers. The four-section aluminum alloy legs can be extended nearly 50 inches when fully extended. However, the maximum load capacity for this tripod is 5.5 lbs, which is pretty much low compared to the Celestron or Vortex spotting scope tripods.
The flaw is the noise caused by the opening of the feet if you want to go too fast: this is not ideal when trying to approach shorebirds! Despite its small flaws, with good maintenance, you will be satisfied with Nikon 16749-Black Compact Tripod Stand.
PROS
Small but heavy-duty construction
360-degree rotating aluminum ball head
Suitable for spotting scope, binoculars and camera
Lightweight and Easy to transport
Ergonomic and stable platform
CONS
It takes a little time to learn how to use the various knobs to adjust
---
4. Vanguard VEO 2 PRO 233CO Carbon Fiber Tripod
Material: Carbon Fiber | Tripod Head Type: Pan Heads | Maximum Height: 67.5 Inches | Minimum Height: 22 Inches | Weight Limit: 8.8 lbs. | Number of Leg Sections: 4 | Item Weight: 3.2 lbs.
Vanguard tripods are not widely used. They are (global company) that mainly produces high-quality spotting scope, binoculars and other camera devices. The reputation of this brand is very satisfactory, even with their heavy spotting scopes. However, Vanguard VEO 2 PRO spotting scope tripod is lighter than the Celestron, so they are a little less stable. Its total height is 57.5 inches.
This tripod stand features 360° degree 2-way pan head with quick release plate. Also, the backup safety lock and bubble level improve stability. The fixing head is easy to use. It can be tilted -60° backwards or 90° forwards. You can adjust the legs among 20°, 45° and 80° degree angles.
The feet are very quick to deploy, thanks to a "twist-to-unlock" system. The VEO 2 PRO model is also strong and easy to unfold. And to improve stability, the package comes with spiked feet. The Tripod Bag and Allen Wrenches are also included in the delivery.
If you're tall and looking for a tripod that's weight less than 1kg, you should consider the Vanguard VEO 2 PRO Carbon Fiber Tripod (also available aluminum). It is more expensive, but taller. You can adjust the feet independently for different uses. However, there are a few possible positions that are good.
PROS
Advanced camera vibration and shock control
Non-slip, all-weather TPU grips for perfect hand grip
Ultra-smooth 2-way video pan head
Well made and has backup safety lock
Multi-angle leg adjustments
CONS
The Head is not very smooth compared to the Vortex Optics TR-HCY
Only 8.8lbs load capacity
---
5. Orion Paragon-Plus XHD Extra Heavy-Duty Tripod Stand
Material: Aluminum | Tripod Head Type: Pan-and-tilt-heads | Maximum Height: 68 Inches | Minimum Height: 31.5 Inches | Weight Limit: 10 lbs. | Number of Leg Sections: 4 | Item Weight: 9 lbs.
For entry-level spotting scopes or binoculars, we recommend the Orion Paragon-Plus XHD (well-known brand across the Atlantic) because it is an inexpensive and versatile tripod. It is mostly a spotting scope tripod with a reinforced central column.
Three aluminum-tube adjustable tripod legs with lever lock's mechanism graduated reference marks for quick and easily repeatable setup. For smooth, controlled motion, it has two-way fluid pan head with tension adjustment knobs on both axes. It also has a standard screw-on mount on a centering balance rod with about a 1 1/2 inch base.
Orion Paragon-Plus XHD tripod measures 34 inches when folded, and 68 inches m fully unfolded. It weighs 9lbs when fully assembled, which is pretty much heavy. The extensions of the feet have latches. It is not suitable for a very large spotting scope, but quite suitable for a 60mm to 8mm model with a 20x-60x eyepiece.
When you adjust the height, the head remains stable because the center column cannot rotate. This is useful if you are sharing your spyglass with someone of different heights. This model is also great for chasing open star clusters, even from less than inky-black urban skies.
PROS
Widely adjustable aluminum-tube tripod legs
Best choice for binoculars, cameras, spotters, and small telescopes
Pan head is very easy to remove or attach to other devices
Stable and very secure design
High-quality mechanism
CONS
A little bit heavy
Minimum height 31.5 inches, pretty much high
---
6. Davis & Sanford TR684C-36 Carbon Fiber Tripod
Material: Carbon Fiber | Tripod Head Type: Ball Heads | Maximum Height: 68 Inches | Minimum Height: 9 Inches | Weight Limit: 18 lbs. | Number of Leg Sections: 4 | Item Weight: 4 lbs.
Davis & Sanford (D&S) tripods are not widely used under spotting scope. They are mainly bought from camera dealers who offer the famous Tiffen filters. However, we have selected this tripod for making our youtube channel videos.
It was designed for compact and large diameter spotting scopes. Its 8 layer Carbon Fiber Legs feature quick twist-lock 31mm-4 sections post sections. However, the maximum height can be reached up to 68 inches with a minimum height of 9 inches and folds down to 19 inches.
The total weight of this tripod with head is 4 lbs and takes a maximum capacity of 18lbs in weight. You can easily carry it in your backpack. You can even easily and quickly break down for optimal storage and transportation.
This heavy-duty spotter tripod provides optimal stability on a variety of terrains. With quick twist leg locks and the option for rubber or spike feet, the Davis & Sanford TR684C-36 can be easily repositioned to allow you to get the perfect shot every time.
This model can also be the perfect choice for DSLR & mirrorless cameras for Portrait, Landscape & General Photography. However, this spotting scope tripod will accept any head with a 3/8-16 thread. For the price, Davis & Sanford TR684C-36 is very good value for money.
PROS
Good for on-the-go types without carrying too much gear
Arca-Swiss compatible quick release plate
Compact and lightweight design
Padded carrying bag included
Reasonable price
CONS
Takes a little longer to set up due to screw-based compression legs
---
7. Bog DeathGrip Tripod for Hands-Free Operation
Material: Aluminum | Tripod Head Type: Arca Swiss ball head | Maximum Height: 59 Inches | Minimum Height: 7 Inches | Weight Limit: 20 lbs. | Number of Leg Sections: 3 | Item Weight: 8.5 lbs.
Bog offers a wide range of video kits that represent an optimal tripod/head combination. There are several key advantages to choosing this tripod and head kit. Competence, quality, and pursuit of constant innovation make these products the perfect solution for all nature lovers looking for the optimal kit for their spotting scope.
You can be sure that the Bog DeathGrip tripod and head will fit together perfectly, but with almost all models you have the option of either swapping the head or the video tripod or of using it with many other Bog products. You can choose between different versions, each version designed for specific requirements.
Compared to spotting scope tripods with double tubes, this system has higher torsional rigidity and therefore offers excellent protection against jerky pivoting movements. Thanks to the aluminum tubes and magnesium castings used, this tripod is extremely light.
The variable fluid control and the weight compensation system of the head also ensure shake-free and precise recordings. Bog DeathGrip has a particularly large height range from 9 to 59 inches. Therefore, it is an extremely versatile tripod that doesn't require any additional accessories.
PROS
Illuminated bubble level for easy alignment
Slide plate for quick attachment of the camera
Variable fluid control for smoother movements
Adjustable compensation system for camera stability
Versatile and stable shooting platform
CONS
If you are hiking several miles, this is not perfect
Heavy
---
8. Celestron 82050-Black TrailSeeker Portable Tripod
Material: Aluminum | Tripod Head Type: Pan Heads | Maximum Height: 70.5 Inches | Minimum Height: 18.9 Inches | Weight Limit: 9 lbs. | Number of leg sections: 4 | Item Weight: 4 lbs.
Celestron TrailSeeker spotting scope tripod offers you high stability with a very low weight. In addition, the TrailSeeker series is very compact. Just take your tripod out into nature, you will find the right stage there – you, your tripod, and your camera/binoculars are the audiences.
A big advantage of the Celestron TrailSeeker tripods is the high load capacity. Depending on the model, they carry an optimal weight of 5-10 lbs. So just put on your camera or spotting scope for nature observation. It sits so stably that you can enjoy absolutely calm observations with it.
Celestron tripod can be pulled out to the desired height, if the height is not sufficient, you can simply pull out a central column as well. So that the tripod always feels comfortable in the hand, there is a black foam area in the upper area. Even in cold temperatures, you always have a firm grip on the tripod.
Like many other aluminum tripods, this model consists of aluminum tubes. Each of which can be pulled out 3 times. Most of the Celestron tripods are equipped with a 3/8 "screw and a mounting plate. So you can freely decide which photo head you want to use. Simply screw on the head and it is mounted.
PROS
Excellent legs adjustment angle
Comfortable foam handles in the upper area
Big quick release head surface area
The package includes a tripod case and shoulder strap
Suitable for heavy optics, large binoculars and large spotting scope
CONS
The base of the plate is approximately 41mm x 42mm, limited available
---
9. Vortex Optics Pro-2 GT for Spotting Scope Tripod
Material: Aluminum & Plastic | Tripod Head Type: Pan Heads | Maximum Height: 67.1 Inches | Minimum Height: 23.9 Inches | Weight Limit: 20 lbs. | Number of Leg Sections: 3 | Item Weight: 4.5 lbs.
Vortex Optics Pro-2 GT tripod impresses with its excellent workmanship. The large tripod legs have a tube diameter of 20mm. Why is that important? Well, this makes the tripod strong, but the material makes it very easy to transport.
This is exactly what the tripod is made for. Simply take it out of the compact bag, fold down the three legs and it offers you a stable stand. Each leg consists of 3 individual segments. If you want it to be particularly high: Pull out the central pole and reach a height of 67.1 inches. No matter how the tripod always cuts a fine figure.
With a folding length of only 24.6in, you can take this tripod with you almost anywhere. It is hardly noticeable in the matching tripod bag.
Who would think that this little bag hides a whole tripod? The pleasant thing is that you take the tripod out of the compact carrying case and in less than a minute it is set up and fully extended.
There are also three thick foam rubber handles where your hands come into most contact with the tripod. Even if it's cold, you don't necessarily need gloves. The soft handles make reaching around the legs as comfortable as possible.
PROS
Safely under control even when it's cold
One-click and your legs are already dancing
Macro photography made easy
Redesigned to handle any conditions
Lightweight and easy to use
CONS
Looks great, but not quite as classy as the carbon version
---
10. Amazon Basics WT3540 60-Inch Tripod with Bag
Material: Aluminum | Tripod Head Type: Bubble and Tilt Heads | Maximum Height: 60 Inches | Minimum Height: 25 Inches | Weight Limit: 6.6 lbs. | Number of leg sections: 3 | Item Weight: 3 lbs.
And last but not least, if you are looking for an affordable tripod for your spotting scope, the Amazon Basics WT3540 could be the best option for you. Thanks to the innovative opening and closing mechanism, it is incredibly quick and easy to use. Simply pull your legs down; they automatically clamp in any position – without screws, buttons or levers. To slide it in, all you need to do is press the leg release.
Its large installation area and numerous professional features make this tripod ideal for use outdoor under difficult conditions. The WT3540 has a built-in handle, a two-part center column for low or normal shooting angles, and three fixed leg angle settings. And its "inverted" leg construction ensures that the worst dirt cannot get inside the legs on site.
The construction is combined with plastics, aluminum, and steel. Amazon Basics tripod is characterized by high-quality materials, technical competence, innovation and elegant design. Amazon Basics provides comprehensive solutions and supports photographers in expressing their creativity in the best possible way.
Overall, this is a high-quality spotting scope tripod under $30, which is the ideal companion for professionals enthusiasts to make a perfect photography experience.
PROS
Suitable for numerous tripod heads
Quick assembly thanks to light twist locks
Selector switch for the leg angle for smooth movements
Easy-Link connection for easy attachment of accessories
Cheap price but includes carrying case
CONS
Max load weight is only 6.6lbs
First released in 2012
---
Buyer's Guide: Spotting Scope Tripods
Which tripod you should use under your spotting scope depends primarily on two factors: the spotting scope and where and how it is to be used. If you consider the following requirements for the tripod of your spotting scope, you will get the right model and have a lot of fun with it.
Load capacity
When choosing a spotting scope tripod, you should pay attention to the permissible load capacity. This especially plays an important role when doing digiscoping. A camera attached to the spotting scope and the adapter add significantly to the weight of the overall construction.
The tripod must be able to withstand this and still be sufficiently stable and without wobbling. This can be a problem with unstable tripods, for example in windy conditions, despite the tripod, the picture shakes and does not allow for sharp pictures.
A payload of up to around 1 kilogram is sufficient for small compact spotting scope. For heavier spotting scopes, it should be more than 1.5 kilograms and correspondingly more for heavier equipment.
Weight and stability
When you go on long hikes in nature and need to carry the tripod with you, you are happy if it is as light as possible and does not pose a significant burden. Light tripods are often not stable enough so that you have to fall back on heavier, more massive constructions. But then they are bulkier and more strenuous to carry.
Therefore, you usually have to find a personal compromise between weight, size and stability. Even if the lightness of your accessory remains appreciable, you will have to make sure that it is heavy enough to be useful to you.
Operation and swivel range
You want to be able to follow the objects, especially when observing animals and birds, but also when observing the landscape. For this, you need tripod heads that can be swiveled horizontally and vertically in order to aim at and follow the movement of the object.
Tripods differ here, for example, in their maximum swivel range, the spotting scope can be rotated on the movable tripod head using an attached tripod handle.
Working height of tripods
Do you observe while sitting or standing? And how tall you are? These are the questions you should ask yourself before buying a tripod for your spotting scope. You can only use it comfortably when your tripod has reached your working height. For example, if you measure 1.80 meters and observe through a spotting scope with an angled view, predominantly standing in nature, you should be able to look comfortably through your spotting scope with a slight head tilt. This is not possible if the tripod is too small.
In the worst-case scenario, you have to bend far down in order to observe. A poor posture during the use of spotting scope and tripod is quickly unpleasant possibly even cause and pain in your back or neck.
Observation situation
Include your observation situations in the decision against a tripod. If you observe "indoors" on the shooting range, there are fewer weather conditions such as wind, so less stable spotting scopes are sufficient. However, if you are observing over long distances in the open field, you should invest in a sturdy tripod.
Prices of spotting scope tripods
The price range of spotting scope tripods extends from low double-digit amounts to 1,500.00 dollars and more. The tripod head is not always included in the price. Light, stable and easy-to-use tripods are usually more expensive. However, that does not mean that you have to spend four-digit amounts on a decent tripod. If you are looking for a tripod for shooting sports, you can confidently invest less. Even ambitious hobby nature watchers can get a solid and easy-to-use tripod for their spotting scope from around 30 to 200 dollars.
FAQs:
Which spotting scope tripod is right for me?
It depends primarily on two factors: the camera and where and how it is to be used. It is important to note that the load capacity of the tripod head can differ from that of the tripod. In both cases, the information should be treated with caution and should not be exhausted.
As we previously mentioned, around 1-1.5kg is sufficient for small to medium spotting scopes. For large and heavy devices, they should be more than 2 kilograms and correspondingly more for heavier equipment.
If you like to take pictures close to the ground, you should make sure that the minimum height is low or that the center column can be turned around. With the center column reversed, it is possible to hang the camera upside down under the tripod.
Which material is right for spotting scope tripod?
According to our market survey and field test, light models are often made of carbon. This not only has a weight advantage over metal, but it is also stiffer, which benefits the general stability. If you compare between carbon and aluminum tripods, the weight varies around 20 percent, depending on the tripod model. However, carbon tripods are significantly higher than the aluminum versions.
Should you use compact and lightweight spotting scope tripods?
Light tripods are not good in windy nature because vibrations and movements affect the overall performance. Most tripods are therefore equipped with a hook on the center column to which an additional stabilizing weight can be attached. In order to achieve a particularly small pack size, the individual legs of compact tripods are equipped with several links – often more than four.
However, the more limbs the legs have, the more unstable and prone to vibrations the construction becomes. Professional users and we normally rely on larger models with fewer links.
Clamp or rotate – which tripod is better?
There are two fundamentally different ways of locking the individual segments of the tripod legs: screw locks and clamp locks. Which form of closure is better depends on the user's preference. We find the screw caps to be quicker to use, however, some people prefer clamping levers.
Most manufacturers offer models with both types of closures, but recently screw-type closures have become more common.
How to use spotting scope tripod properly?
To minimize noise when you unfold the legs, hold your tripod horizontally, then open the latches and unfold the segments.
To increase the stability of your tripod, hang a heavy object from its center. For example, hang your backpack on it!
Wrapping the feet with rubber bands will prevent them from making noise.
If you plan to use your tripod in a humid environment, choose a model with feet without opening at their base, and waterproofed on the inside (with nylon for example).
Should I prefer brands spotting scope tripods or no-name brands?
Various spotting scope manufacturers are also active in the accessories market. For example, brands such as Celestron, Vortex and BARSKA offer tripods from their own production.
However, the manufacturers who specialize exclusively in photography equipment and observation devices are of interest. These brands include, for example, Nikon, Bushnell, and Athlon. Brands such as Vanguard or Gosky are probably less well known. But here too, it can be worthwhile to get information on individual devices.
Alternatives to spotting scope tripods
As an alternative to a tripod, you can of course place your spotting scope on a calm surface. If you are traveling by car, the roof of your vehicle is a good option. In a high seat, hunters can also use the window ledge as a support.
Possibly a small table is also suitable as an object in nature. A grain cushion can support it or bedded on it so that the device does not tip over. However, operating elements such as the zoom (with zoom eyepieces) and the focus can be operated rather poorly than fairly in all of the alternatives mentioned.
Placing or supporting spotting scopes with other aids usually turns out to be mere improvisation.
The bottom line is that there are no particularly suitable alternatives to a tripod for your spotting scope.
---
These articles might be interesting for you: