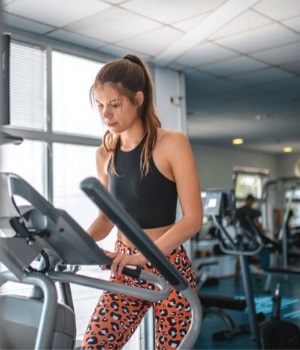 No more excuses! Do you want to improve your fitness or are you looking for joint-friendly sports equipment for your own four walls? Then a low-impact elliptical trainer is a good option for you.
Whether you are a beginner or a sports enthusiast, the best ellipticals under $500 offer the right program for every fitness level, thanks to a large selection of resistance levels. You can also read directly how successful your training session was and find out the calorie consumption, pulse and distance.
However, choosing the best elliptical under $500 for home use is not easy, no matter what kind of indoor bike you're looking for. It can be overwhelming because so many poor-quality models on the market can make your purchase junk.
Don't worry!
Our team has researched and analyzed numerous ellipticals available on the market to bring you a curated list of options that provide solid performance, durability, and features without exceeding the $500 price point. There are also the Buying Guide and FAQ sections below that provide a handy overview of things you may need to know before and after you buy your new elliptical trainer.
So whether you're a fitness enthusiast looking to add variety to your home workouts or someone who's just starting their fitness journey, this guide will help you make an informed decision when choosing the best elliptical under $500 that suits your preferences and fitness goals.
Why Should You Trust Us?
To find the absolute best elliptical trainers under $500, we have searched through most of the available ellipticals for less than $500 and read all the comments left by people who bought and used them for home. Then we compiled the list of the top 7 best ellipticals under 500 dollars based on their price, durability, specs, type of resistance, weight, and ratings by real users.
Best Elliptical Trainers Under $500 Reviews
Let's see our comparative analysis of the best ellipticals under $500 in 2023…
1. Sunny Health & Fitness SF-E3919 Premium Elliptical
Dimensions: 44 x 25 x 64 in | Tension System: Magnetic | Flywheel: 14 LBS | Stride Length: 10-inch | Resistance Level: 8 | Display: Digital LCD | Heart Rate Monitor: Yes | Device Holder: Yes | Max User Weight: 260 LBS | Weight: 94.80 LBS | Warranty: 3-Year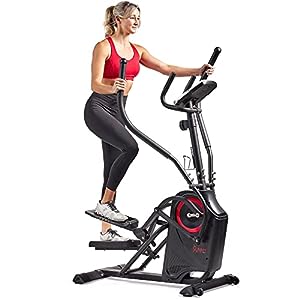 Why Choose Sunny Health & Fitness SF-E3919:
Multifunctional performance monitor
Adjustable magnetic tension
Full motion handlebars
Versatile step stride
Transportation wheel
Sunny Health & Fitness SF-E3919 elliptical should contribute to effective endurance training. It is not only able to enable extensive endurance training to increase basic endurance but is also designed for intensive interval training. You can adjust the resistance to 8 different levels to match your training goal.
The on-board computer has a total of 5 display modes. You can receive direct feedback on your performance via the built-in training monitor. Among other things, it shows the calories consumed and the distance covered at the same time. The display combines a time display and a heart rate monitor. The room temperature reading is a great bonus for the display.
With Sunny Health & Fitness SF-E3919 elliptical trainer, you can adjust padded handles four times in height. The legs and arms are used simultaneously when exercising with this device. For the pedal system, the manufacturer relies on a medium-duty flywheel weighing 14 lbs.
Sunny Health & Fitness SF-E3919 elliptical works a lot of the muscles of the body and helps burn calories to lose weight. The stride length of the trainer is around 10 inches. The SF-E3919 model is made of durable materials and has a maximum weight capacity of 260 lbs. A mechanical braking system is installed.
However, this unit is not collapsible. But it has transportation wheels so that you can roll from room to room in your home for ease of storage. This beautiful Black-red elliptical trainer comes with installation and operating instructions. And the assembly process is very simple.
PROS
Smooth operation
Pulse-sensing grips
Space-saving design
Easy to assemble
Heavy-duty frame
CONS
Display is not backlit
Incline is not adjustable
Doesn't have preset programs
---
2. SNODE E20 Heavy Cross Crank Driven Elliptical
Dimensions: 61 x 24 x 47 in | Tension System: Magnetic | Flywheel: 22 LBS | Stride Length: 13.78-inch | Resistance Level: 8 | Display: Digital LCD | Heart Rate Monitor: Yes | Device Holder: Yes | Max User Weight: 265 LBS | Weight: 77.2 LBS | Warranty: 1-Year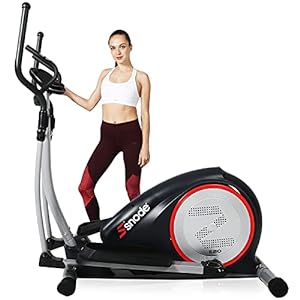 Why Choose SNODE E20:
Variable tension control system
Built-in effective heavy flywheel
Stable and comfortable handlebars
Comfortable big non-slip pedals
Large digital LCD multi-functional display
The E20 is a new design magnetic resistant elliptical trainer from SNODE, available in two different versions. This model has 8 levels of magnetic resistance while E20i has 16. However, both models provide a variety of exercise intensities to make your fitness training more effective and energetic. SNODE elliptical offers one-year quality warranty for this model, which ensures that this indoor fitness device is much more durable.
It is built with a precision balanced flywheel which ensures smooth and quiet operation. The monitoring display provides real-time data. For example, the display shows distance, calories burned, time, speed, scan and pulse. You don't need to plug into the power, just stand in the equipment and then start your workout.
It has large Non-slip Pedals which assure your safety while exercising. The stride length of this elliptical is 13.78 in. With 265 lbs of weight capacity, the heavy-duty construction increases the durability and stability of this elliptical trainer. So it could be an excellent piece of home fitness equipment for your whole family workout.
The transportation wheels allow you to move it from one place to another with ease or store it away out of sight. SNODE cross trainer measures 61 x 24 x 47 inches. It doesn't take up too much space. And I personally like that when you glide, the rear end never surpasses the back crossbar so that you can pretty much put the back right up against a wall.
The resistance is strong and smooth – ideal for challenging activities. It allows you to slim down the whole body including losing stomach, arms, legs, thighs and buttocks, and provides smooth flowing workout for your upper and lower body without impact.
PROS
Includes pulse rate grips
Designed for smooth and quiet workouts
Portable and easy to move
Easy to use and convenient
Very compact for small areas
CONS
There are no programs; you must turn the tension control knob to increase the resistance
---
3. Body Champ BRT7989 3-in-1 Elliptical Trainer
Dimensions: 60 x 28 x 64 in | Tension System: Magnetic | Flywheel: 18 LBS | Stride Length: 12-inch | Resistance Level: 21 | Display: Digital LCD | Heart Rate Monitor: Yes | Device Holder: Yes | Max User Weight: 250 LBS | Weight: 110 LBS | Warranty: N/A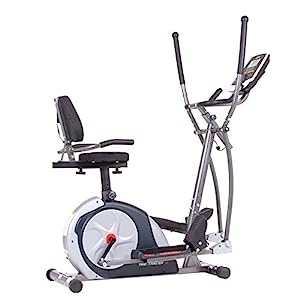 Why Choose Body Champ BRT7989:
21 Training Programs with Media Shelf
Hassle-free Transitions without unmounting
Three Sets of Integrated Handlebars
Heart rate monitor with adjustable resistance and motor
Transport wheels for easy relocation and storage
Body Champ BRT7989 is a 3-in-1 elliptical; upright stationary, recumbent exercise, and sprint road bike cycling. It has truly the best features that are rarely found in exercise machines under 500. Because no other fitness equipment offers the same features at this price range.
The Body Champ BRT7989 features 2 additional upper-body stance options for a better and easier workout. However, there is no way to make the pedals go up and down as a stepper.
The innovative design allows you to effortless transitions without the need to dismount or adjust. You can set the handlebars in 3 different ways and you have the option to choose from: pro cycle, dual-action, and wraparound.
The large display gives you all the information about the training and tells you how many calories you burn. It will take less than two hours to assemble. However, the instructions are easy to follow.
The smooth magnetic-encased flywheel provides ultra-quiet motion so that you can work out early in the morning or late at night when all family members sleeping. You can easily adjust the magnetic resistance to customize your workout to your needs.
The seat is adjustable and can be moved forward or backward. This means that the Body Champ elliptical trainer can be used as a training bike on your own four walls.
The bike portion is fine, and the seat and pedals are easy to adjust. However, for the elliptical portion, motion is limited and a bit narrow. But the overall motion is pretty much smooth. The transport wheel also makes this model easy to transport and store when not in use.
PROS
Compact and solid built
Two-way adjustable seat
Multifunctional design
Fluidity flywheel system
Perfect choice for small families
CONS
Display is gray not color and does not have a backlight
Seat isn't swivel
---
4. Body Power BST800 2-in-1 Elliptical Stepper
Dimensions: 42 x 24 x 62 in | Tension System: Magnetic | Flywheel: 30 LBS | Stride Length: 13-inch | Resistance Level: 8 | Display: Digital LCD | Heart Rate Monitor: Yes | Device Holder: Yes | Max User Weight: 250 LBS | Weight: 96 LBS | Warranty: N/A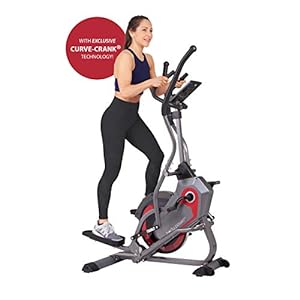 Why Choose Body Power BST800:
Built-in Exclusive Curve-Crank Technology
Combines 2 exercise machine movements
8-level of quiet resistance control
Compact design fits almost any space
Simple and straightforward LCD computer
Body Power BST800 2 in 1 elliptical gives you a smooth workout experience in your home. And with smooth operation and efficient motion, you will get the most out of your cardio equipment under $400. It is combined with the easy strides of an elliptical and the power generated from an upright stepper.
The ergonomic crank allows you to adjust safely the resistance in eight-level while you are running. It was designed for a weight capacity of 250 lbs, which is pretty low compared to other models on this list. However, the Body Power BST800 model can be fairly easily moved, tight spaces get tricky because of the height.
This is a space-saving elliptical that combines the benefits of a vertical climber, an elliptical trainer, and an exercise stepper. The synchronized handlebars and stepper movement provide a total-body workout in a short period of time. You can comfortably paddle forward and backward.
With a compact design, it is the perfect home workout device for anyone who wants to exercise in their home, apartment, or fitness room. Like most modern ellipticals in 2023, there are wheels on the front side; so you can move the machine forward easily. The tablet/device holder is also wonderful.
However, it is not exactly 'hardwood floor friendly' – as you try to move and tilt the machine on its wheels, it makes permanent indentations on the hardwood floor. Also, the stride length is a bit short for long-leg people.
PROS
Very sturdy and easy relocation
Measures heart rate very accurately
The steps are very smooth
Extremely well-made
2 in 1 design
CONS
It is pretty heavy
It wobbles just a tiny bit, especially in the lower resistance range.
---
5. ANCHEER Smooth Driven Elliptical for Home Use
Dimensions: 60 x 24 x 44 in | Tension System: Magnetic | Flywheel: Heavy | Stride Length: 10-inch | Resistance Level: 10 | Display: Digital LCD | Heart Rate Monitor: Yes | Device Holder: Yes | Max User Weight: 390 LBS | Weight: 82.67 LBS | Warranty: 1-Year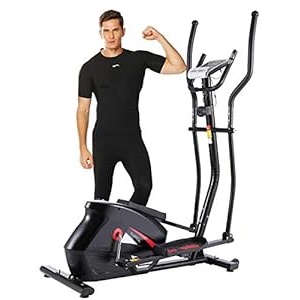 Why Choose ANCHEER Elliptical:
Ergonomic & adjustable resistance
Dual power motion & quiet driven
Upgraded APP connection system
Multi-function digital monitor
Large cushioned footplates
If you are looking for a 5th generation elliptical under $500, the ANCHEER smooth-driven elliptical can be the first option for you. ANCHEER elliptical trainer features an APP control system that can be connected choose one of your like scenes to be more fun when working. The large digit features of an LCD screen show all the information such as calories burned, time, speed, and distance.
Pulse pads on the additional stationary handlebars give heart rate monitoring, which allows you to control your heartbeat, recording your fitness statistics more easily. ANCHEER elliptical is quiet and smooth especially, since the precision balanced flywheel and V-belt drive provide a smooth operation.
The stride is 15-inch Large which is enough for long legs athletes. With a compact ergonomic design, it has 10 levels of magnetic resistance adjustments. The built-in friction-free linkage system and the tubular steel construction ensure long-lasting durability. And the wide base ensures robust stability.
The dual power motion will work your upper and lower body simultaneously, which helps you to isolate your legs or arms for added intensity. The anti-slip foot pedals are wrapped with texture plastic which increases friction to ensure your safety during exercise.
Anyway, the monitor is too low, so you feel like you are looking straight down if you are over 6 feet and like to watch or iPad or phone while you work out. The assembly process is a bit tricky, do not expect to assemble it in less than an hour. Otherwise, the ANCHEER elliptical's a good buy with very good value for money.
PROS
Portable wheels
Heart Rate Sensor
Build for a Healthy Life
Heavy duty construction
1-year warranty
CONS
A little bit heavy
Instructions are awful
---
6. Bestlucky UPGRADED Elliptical for Home Use
Dimensions: 40.9 x 18.9 x 63 in | Tension System: Magnetic | Flywheel: 6 KG | Stride Length: 14.2-inch | Resistance Level: 8 | Display: Digital LCD | Heart Rate Monitor: Yes | Device Holder: No | Max User Weight: 265 LBS | Weight: 78.9 LBS | Warranty: N/A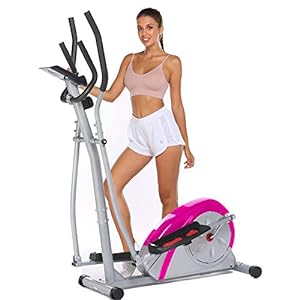 Why Choose Bestlucky UPGRADED Elliptical:
Built-in effective inertia-enhanced flywheel
Easy-to-read large window LCD computer displays
Extended Leg Stabilizers and transport wheel
Design for high safety and convenience
Bestlucky is well known for its high-quality sports equipment at a reasonable cost. Bestlucky Upgraded elliptical model is robust and durable, making it ideal for home use. And if you are looking for a cheap but efficient elliptical, this model is right for you! With its 24 integrated programs, you can train according to your goals without risk.
Bestlucky High-Intensity Cardio Elliptical Trainer is built with dual action forward and backward pedaling system, which provides a full-body workout. The 13-inch stride length is also suitable for different heights people.
It is lightweight and doesn't take up much space in the room. The strong frame can support a maximum of 330 lbs. You can easily assemble it, around 1 hour for assembly and installation before you can fully enjoy your new elliptical! You can also personalize your workout by entering your weight, gender, height, etc. for a suitable activity that suits you.
Bestlucky elliptical has 8 levels of the magnetic tension control system, which is average. However, it is enough for a simple to challenging workout at your own pace. You can use a convenient tension knob to adjust exercise intensity easily. You can increase or decrease the resistance with a simple turn, so your workout will be always challenging and effective.
The Inertia-enhanced flywheel provides a more natural ride. The slip-resistant pedals ensure stability and the stabilizers maintain balance during exercise. It's robust, quiet, smooth, and comfortable to use. This model also has transportation wheels, which make it portable.
PROS
Easy to move around
Safe to use
Smooth and quiet
Simple to store
Cheap price
---
7. FUNMILY EM530 Elliptical & Cross Trainer for Home
Dimensions: 47 x 24 x 60 in | Tension System: Magnetic | Flywheel: 18 LBS | Stride Length: 15-inch | Resistance Level: 10 | Display: Digital LCD | Heart Rate Monitor: Yes | Device Holder: Yes | Max User Weight: 265 LBS | Weight: 77 LBS | Warranty: N/A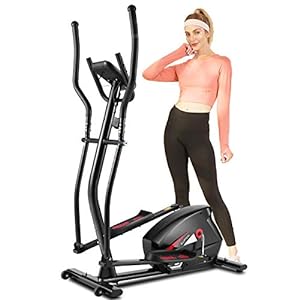 Why Choose FUNMILY EM530:
Built-in tablet/phone holder
Free Mobile APP function for training
Solid steel frame and chip-resistant paint
Fixed center handle post
Built-in pulse sensors
Transportation wheels and floor stabilizers
FUNMILY is always famous for its innovative design, by R&D. With the very cheapest price point, FUNMILY EM530 elliptical bike is ideal for casual or regular use. This unit is very quiet and not bulky. It will quickly find a storage place because of its compact design.
The FUNMILY EM530 features an 18 lbs belt-driven magnetic flywheel and high gear ratio that delivers a natural feeling of both forward and reverse motion. It has 10 levels of magnetic resistance, allowing you to exercise for more muscles and providing you challenging yet smooth workout. You can place your tablet or a book in front of the on-board computer to keep yourself busy or to conduct online training.
The advanced LCD display provides real-time workout information. The built-in heart rate sensor is connected to the monitor to read your pulse, burnt calories, time, speed, ODO, and distance. The multifunctional display is also App-compatible, so you can share your fitness data with your friends.
FUNMILY EM530 elliptical is made of a sturdy steel frame with a capacity weight of up to 390 lbs. Like the Bestlucky elliptical trainer, this model has anti-slip foot pedals, wrapped by textured plastic, which increases friction and ensures safety during the exercise.
The ergonomically engineered 15-inch stride fits most users' heights. The convenient transport wheels are appreciable for use or storage; you don't need heavy muscle for lifting. The 4 rubber adjustable floor rests are also suitable for both carpets and hard floors. Overall, this cheapest, easy-to-use elliptical is an excellent choice for beginner fitness enthusiasts.
To strengthen your legs and lower body muscles, you'll need to buy a spin bike. If you are interested in what is the best spin bike for home use, feel free to check out our unbiased reviews of the Best Spin Bikes under $500.
PROS
Heavy-duty construction
Ergonomic dual handlebars
Professional quality
High-safety design
Optimum movement and joint protection
Very easy to assemble
CONS
Doesn't include a preset program
Instruction could be better
---
What You Should Know Before Buying the Best Ellipticals Under 500 Dollars
Now take a look at what features each elliptical on this list offers. Let's discuss what exactly these features mean. Once you have a better understanding of what each feature involves, choosing the right elliptical under $500 for you will be much easier.
The flywheel
Flywheel and the braking system are decisive for effective training on the elliptical trainer. The mass of the flywheel determines the maximum resistance and ensures smooth movement, which is especially important for ambitious endurance sports.
For most of the devices in every elliptical test on this list, the resistance can be set in several stages.
Stride length
When buying an elliptical trainer for less than 500, pay attention to the setting options for the elliptical with adjustable stride length. The longer the stride, the softer the movements, and the better the training effect. This feature is especially important for tall people with long legs.
Maximum weight capacity
Many people want to lose weight by using an elliptical, so heavyweights should pay attention to the maximum body weight for the device. Some ellipticals offer a maximum of 220 lbs. For many users, this is clearly not enough. Heavy people need a model that can withstand them over the long term. Adjustable ellipticals also adapt to weight, size, and training intensity.
Board computer
Hardly any fitness station today can do without a computer. An onboard computer on the elliptical provides all the information you need and enables sophisticated training programs of your choice. And with the selection of different training programs, you can tailor your training perfectly to adjust your goal.
While the mechanical function guarantees the actual training effect, the training computer of the elliptical trainer provides you with a lot of useful information and allows you to set certain training programs to optimize your training.
However, these training programs have a motivational effect that you should not underestimate. Endurance training can be very monotonous and then has a demotivating effect. An onboard computer, which shows your progress on a color display and makes the resistance varied, helps enormously in maintaining the training.
The same applies to an elliptical with a calorie consumption display. But always monitor your pulse. You noticed that Good elliptical trainers on our list come with a chest strap or a hand sensor for heart rate measurement.
Braking system
A magnetic brake or an induction brake guarantees smooth and even movements and absorbs the momentum so that the resistance is maintained. However, an elliptical trainer needs a good braking system so that your applied force does not affect you in the same way during the downward movement. As a rule, magnetic brake systems are more powerful and gentler than brake belts and have established themselves in almost all models.
Exercise programs
Elliptical trainers are endurance sports equipment, but individual training programs make monotonous training easier and motivate through intermediate goals and interval training.
Heart rate monitor
Keeping an eye on the heart rate is particularly important for senior athletes, people in rehab measures and during pregnancy, and it usually works with a chest strap or hand sensor.
Available space
If you have little space at home, you should also think about the size of your chosen model. Elliptical trainers with transport castors can simply push into any corner when the training is finished. Besides this, some models can be folded up, making them even easier to stow away. Find a compact elliptical at Intersport.
Accessories
If you enjoy watching films or videos during your running training, Bluetooth equipment could be the ideal option for you. You can connect your smartphone or tablet to the elliptical trainer via Bluetooth and listen to music or watch films. Training apps for iOS and Android may also play a role in the purchase decision.
A tablet or mobile phone holder on the training device itself can be an advantage. Some of the elliptical trainers on our list are equipped with water bottle holders.
FAQs
Which muscle groups are being trained with elliptical?
An elliptical is primarily a piece of sports equipment for endurance and therefore primarily uses the leg muscles, especially the thighs (hamstrings, leg extensors), but also the calves and buttocks (glutes).
With an elliptical, the additional arm movements strengthen the core of the body and include the arms. In this respect, elliptical trainers can also be worked as whole-body training devices.
What is the difference between cross trainer and elliptical?
The difference between a conventional cross trainer and an elliptical is hardly noticeable at first glance. Namely, it lies only in the changed motion control. While the movement on a cross-trainer is more circular, on an elliptical it is elliptical, i.e. more oval. This enables softer movements with sweeping steps and has been proven to be gentle on the joints. This also makes an elliptical trainer the first choice for everyone who wants to protect their joints and still wants to train effectively.
Why do I invest in an elliptical instead of other gym equipment?
Compared to other endurance sports equipment, elliptical trainer is much more effective, and above all safer to use. The guided movements prevent the user from moving incorrectly or making fundamental mistakes in the operation, as is possible with free training on the ergometer or the treadmill.
This is why ellipticals are so popular in rehab sports and with seniors. Even seasoned fitness athletes swear by the efficiency of the best ellipticals precisely because training on such a machine is so effective.
How much flywheel mass should the elliptical have?
When looking for the best elliptical, many manufacturers advertise a high flywheel mass, but how high does it actually have to be? The flywheel mass should be tailored to your body weight. For beginners, up to 10 lbs flywheel mass is suitable, whereas professionals need an elliptical with up to 25 lbs flywheel mass.
What is the best stride length on the elliptical for me?
The stride length should suit your height. The average stride length is 46 cm, for tall people even up to 52 cm. Neither an extended nor a shortened stride length on the elliptical is ergonomic. Also, take a look at the manufacturer's information or measure your stride length with a centimeter ruler.
Can I expect a smooth and quiet operation on ellipticals under $500?
While the quality of operation can vary, many ellipticals in this price range offer relatively quiet and smooth performance. However, keep in mind that lower-priced models aren't as silent and stable as higher-end options.
Conclusion
In this elliptical comparison analysis, we have evaluated numerous tests to make your purchase decision easier. We also looked closely at their pricing and specs to find that Sunny Health & Fitness SF-E3919 is the overall best elliptical under $500 out there.
However, ellipticals from Marcy as well as models from MaxKare, or EFITMENT did not make it into our top rankings because we have worked to provide the best model under the $500 price range. Although these brands are among the top manufacturers in the home trainer and affordable fitness equipment category.