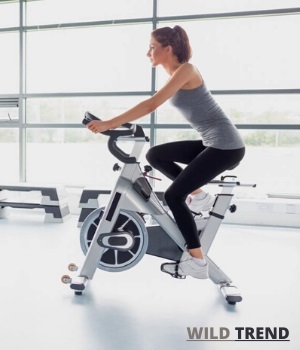 For effective workouts, smart people do not hang back to invest in a spin bike because it is one of the best cost-effective and convenient exercise equipment for cardio workouts. Spin bike is very efficient for burning calories in a short period of time. It also takes less space compared to treadmills, elliptical and recumbent bikes.
However, choosing the best spin bike under $500 can bewilder you, especially if you're planning to buy it for the first time. For example, if you choose incorrectly, the spin bike can become your next hanger.
Luckily, you can find a good quality spin bike under 500 for home use from our recommendation. We have researched and compared more than 100 models in this price range and finally selected the top 10 best spin bikes under $500 for different buyers' demands.
We also consulted with a professional fitness instructor on the proper use of these machines and workout planning, to advise you on how to get the best results.
Important Note: Many people use the words Spin Bike and Indoor Cycling Bike interchangeably, but not all indoor cycling is "Spinning," and not all indoor bikes are Spin bikes.
Best Spin Bikes under $500 in 2023
The biggest success of the moment is the JOROTO X1S01, it is a really modern, well-equipped spinning bike for under 500 dollars. This model is made from high-quality materials. All the major features include in this model. It was originally designed for high-performance training.
In the comparison table below, you will find the different options that we independently researched, tested, and finally recommended.
IMAGE
PRODUCT
DETAILS

Our Top Pick

Our Top Pick

Max Capacity:

280lbs

Inseam Cap:

25.6″ ~ 35.4″

Flywheel:

35lbs

Drive System:

Chain Drive

Check On Amazon

Editor's Choice

Editor's Choice

Max Capacity:

280lbs

Inseam Cap:

27″ ~ 35″

Flywheel:

30lbs

Drive System:

Belt Drive

Check On Amazon

Ideal for Indoor or Outdoor Use

Ideal for Indoor or Outdoor Use

Max Capacity:

287lbs

Inseam Cap:

28.3″ ~ 36.6″

Flywheel:

35lbs

Drive System:

Belt Drive

Check On Amazon

Best for Smooth and Quiet Driven

Best for Smooth and Quiet Driven

Max Capacity:

300lbs

Inseam Cap:

36″ ~ 43″

Flywheel:

35lbs

Drive System:

Belt Drive

Check On Amazon

Double Triangular Structure

Double Triangular Structure

Max Capacity:

300lbs

Inseam Cap:

28″ ~ 37″

Flywheel:

43lbs

Drive System:

Belt Drive

Check On Amazon

Multi-functional handlebar

Multi-functional handlebar

Max Capacity:

400lbs

Inseam Cap:

36″ ~ 43″

Flywheel:

40lbs

Drive System:

Belt Drive

Check On Amazon

Excellent Cardio Workout

Excellent Cardio Workout

Max Capacity:

300lbs

Inseam Cap:

36″ ~ 41″

Flywheel:

40lbs

Drive System:

Chain Drive

Check On Amazon

Best for the Price

Best for the Price

Max Capacity:

330lbs

Inseam Cap:

37″ ~ 43″

Flywheel:

40lbs

Drive System:

Belt Drive

Check On Amazon

Heavy-duty Frame

Heavy-duty Frame

Max Capacity:

330lbs

Inseam Cap:

36″ ~ 43″

Flywheel:

35lbs

Drive System:

Belt Drive

Check On Amazon

Suitable for Most People's Needs

Suitable for Most People's Needs

Max Capacity:

270lbs

Inseam Cap:

25″ ~ 35″

Flywheel:

35lbs

Drive System:

Belt Drive

Check On Amazon
Why buy a spinning bike?
Cycling spinning has many benefits for the practitioner's health. It also saves money…
Massive calorie-burning: indoor cycling improves your heart condition, metabolism and blood circulation. It helps burn calories quickly depending on the intensity of your workouts.
Low impact exercise: indoor biking has little impact on joints compared to running or other forms of cardiovascular training. The benefits of indoor cycling include full-body training.
Save money: owning an indoor bike will help you save on transportation and monthly gym membership fees. It is more practical, especially in difficult weather.
1. JOROTO X1S01 Spinning Bike: Best for Cardio Workout
Dimensions: 42.9 x 19.7 x 42.5 inches | Materials: Alloy Steel | Resistance Mechanism: Magnetic Resistance | Max Weight Limit: 280 Pounds | Drive System: Chain-Drive | Inseam Cap: 25.6″ ~ 35.4″ | Flywheel Weight: 35 pounds | Pulse Sensors: Yes | Handlebar: Adjustable | Transport Wheels: Yes | Total Weight: 98 pounds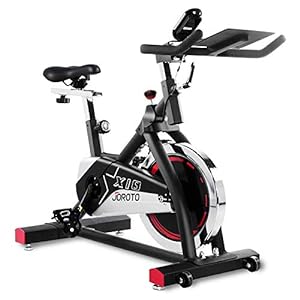 At the top of our list of the best indoor spin bikes under 500 dollars of 2023, we find the JOROTO X1S01; it is a modern and state-of-the-art bike for home use. With robust and solid construction, it can support a maximum load of 280 lbs. It is certainly one of the best spin bikes for those who want to start a cardio workout at home.
There is a wide range of resistance and goes up pretty high. The braking system features skids. Thanks to the micrometric adjustment of the effort which offers excellent training experiences. This model comes with all the programs and accessories you might need to enjoy a gym-like workout from the comfort of your home.
The frame is equipped with a safety lever for quick flywheel locking. The onboard mini-computer displays speed, distance, time & calories burned, and is calculated based on the other variables just mentioned.
The handlebar is widely adjustable, which allows you to adjust it up and down for various heights. Meantime, this multi-functional handlebar provides you with different ways of exercise.
It has dual transportation wheels to ensure effortless movement and relocation; you don't need heavy lifting or muscle strain. The total 4 horizontal adjustment knobs keep the bike stable on different surfaces.
Thanks to the sensor and app included with the spin bike, the JOROTO X1S01 spin bike will even improve your heart rate to measure your blood oxygen. smartwatch by default. Overall, it is the perfect choice if you want to cover miles from your living room.
What we liked:
Easy-read digital monitor to track workouts
Sturdy frame with a weight capacity of up to 280 lbs
2-way adjustable handlebar and 4-way adjustable seat
10.2″ large tablet support allows you to put your device
Chain Drive Mechanism with Dual transportation wheels
What we didn't like:
Assembly takes maybe an hour for beginners
Handlebars are a little rough
PROS
Large tablet support
Silent transmission
Ergonomic handlebars
Stable and triangle-type frame
Easy resistance adjustment
User-friendly design
CONS
There is no measure of wheel range
Handlebars cannot rotate
Doesn't include clip-on pedals
---
2. HARISON Pro Spin Bike for Home: Best for Small Space
Dimensions: 47 x 20 x 44 inches | Materials: Stainless Steel | Resistance Mechanism: Magnetic Resistance | Max Weight Limit: 280 Pounds | Drive System: Silent Belt-Drive | Inseam Cap: 27″ ~ 35″ | Flywheel Weight: 30 pounds | Pulse Sensors: Yes | Handlebar: Adjustable | Transport Wheels: Yes | Total Weight: 68 pounds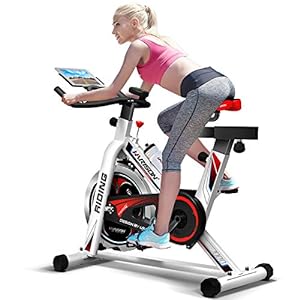 The sleek and versatile design of the HARISON Pro spin bike make it an excellent choice for home gym and offers users superlative performances without breaking the bank. It is the flagship of the range of indoor bikes from the American brand HARISON.
As you can see from the design, it is extremely robust and solid and can reach up to 280 lbs of weight. It has 24 different levels of intensity; any starter or PRO athlete can play on it. Adjustable resistance gives you the experience of a real-road feel. You can easily change the braking more or less strongly.
The liquid crystal display allows you to view information such as time, speed, calories, distance and pulse. This model is equipped with hand-held sensors that allow you to measure your heart rate.
To guarantee a smooth ride, HARISON Pro spin bike uses a chain drive. If you want to move the spin bike from one side of the house to the other, you can do it easily thanks to the transport wheels and the base leveling feet. It is a great indoor bike under $500, designed for small spaces.
The seat is fully adjustable and the handlebar is perfect for a flexible workout. The ergonomic saddle also makes it comfortable even when you use it for a long time.
The integrated bottle cage allows you to take liquids as often as you need while you train. This indoor cycling bike is suitable for people who are about 4.9 feet to 6.6 feet tall. This model comes with an iPad holder, so you can watch TV when you are cycling. To ensure quality, the company also offers 1-year warranty.
Assembly is also pretty easy because the package includes everything you need. If you have a decent wrench won't take long at all. However, the electronics module seems like a complete afterthought.
What we liked:
High quality non-slip basket pedal
Adjustable for people of different height
Transport wheels for easy moving and storage
Adjustable resistance and press down the emergency stop
Large table holder for iPad, magazine, and so on
What we didn't like:
Connecting wires have no guides
If you adjust the handlebars into the higher positions, they get a little loose
PROS
Quiet belt drive system
Durable and portable
Multifunction display
Built-in tablet and bottle holder
Very comfortable to use
High-quality basket pedal
CONS
Handlebars are a little bit shaky
Seat is a bit hard and narrow
Display is not LCD backlit
---
3. SNODE 8731B: Best Magnetic Resistance Spin Bike
Dimensions: 43.1x 8.9x 33.9 inches | Materials: Alloy Steel | Resistance Mechanism: Magnetic Resistance | Max Weight Limit: 287 Pounds | Drive System: Belt-Drive | Inseam Cap: 28.3″ ~ 36.6″ | Flywheel Weight: 35 pounds | Pulse Sensors: Yes | Handlebar: Adjustable | Transport Wheels: Yes | Total Weight: 90.4 pounds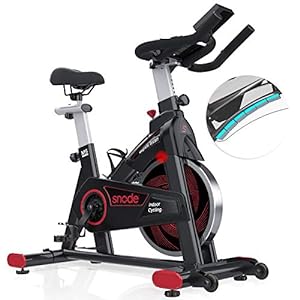 Our next pick is much more resistant than the HARISON Pro but offers a lot of excellent functions and flexibility. SNODE Fitness 8731B spin bike has a 35 lb flywheel and the advantage of being particularly quiet even when the speed is maximum. The overall built-in quality is outstanding.
The braking system is a pad, and the pedaling is quite fluid and comfortable. It allows optimized synchronization of your exercises to protect your joints and ensure natural movement.
This model is very stable when riding because the frame is super strong. The double orbit gives this bike a rock-solid build and it supports 280 lbs maximum user weight. It won't shake cycling ride after ride and ensures your safety and stability for different postures like sitting, climbing, and racing during your workout.
The magnetic resistance system delivers quick and reliable changes to the resistance, which makes it a good choice for beginners. It has a large LCD display with 12 pre-defined programs to give you data on calories consumed, heart rate, time traveled, speed, and pedaling power.
The pedals come with SPD clips to ensure high-strength support for your feet. Because SPD clips are able to prevent your feet from slipping and causing injuries when riding at high speeds and help you get a smoother, and more efficient riding experience.
Overall, the SNODE 8731B spin bike could be an excellent choice dedicated to daily use for regular training. It is also suitable for people of great morphology because the bike holds well in place.
What we liked:
Comes with a heart rate belt
Not completely quiet, but good enough for home use
Sturdy steel frame and easy transportation
Magnetic control system and belt-driven
Age and height input functionality
What we didn't like:
Pretty hard to spin in the lowest resistance levels
Handlebars only adjustable in 2 ways
PROS
Adjustable padded saddle
Very simple to assemble
Smooth and looks beautiful
Built-in non-slip cage pedal
Multi-grip handles with elbow pad
CONS
Seat could be better
Handlebars and seat are too far apart
We have published a complete buyer's guide of indoor cycling bikes under $500, you can check from
here
.
---
4. L NOW Pro Indoor Spinning Bike: Smooth & Quiet
Dimensions: 41 ×20 ×52 inches | Materials: Alloy Steel | Resistance Mechanism: Magnetic Resistance | Max Weight Limit: 300 Pounds | Drive System: Belt-Drive | Inseam Cap: 36″ ~ 43″ | Flywheel Weight: 35 pounds | Pulse Sensors: Yes | Handlebar: Adjustable | Transport Wheels: Yes | Total Weight: 101 pounds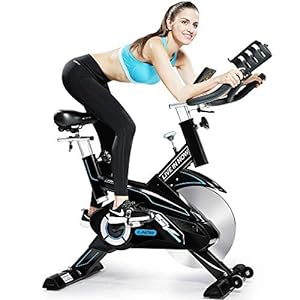 Here's another best affordable spin bike that we found very smooth and quiet. This is a durable and strong spin bike from L NOW. It is very well built and provides pleasant operation. Also, L NOW is a highly powerful exercise bike under 500 which is made with a very solid square structure to withstand up to 300 lbs.
This model is quite sturdy and allows you to increase or decrease the resistance with a simple twist. The seat is anatomically adjustable and larger than what comes standard, which makes it more comfortable to ride. The display is large enough to see while riding in the standing position.
L NOW Pro spin bike comes with two seats for you to choose what works best for your comfort. The saddle and handlebars can adjust up and down, front and back so that you can adjust the position for a better workout for your buddies or family members.
This model is also equipped with a skid braking system. However, the free-sprocket pinion ensures excellent pedaling fluidity as well as a certain degree of safety.
We appreciated its comfort, 35 lbs flywheel, and emergency stop system which allows you to "brake" safely. The combination bottle holder/iPad or phone stand works perfectly for viewing YouTube for spinning classes, as well as a monitor for checking your heart rate, speed, etc.
It is cheap but robust enough to offer all essential workouts. There are a few models that combine style and features as well as this. From beginners to regular cyclists, it will provide a great workout for the whole family.
What we liked:
You can adjust the seat height from 36″ to 43″
Built-in durable aluminum alloy pedals and adjustable covers
Equipped with handlebar with microfiber form
35lbs flywheel and solid leather transmission belt
Rock-solid construction with an extra-wide base
What we didn't like:
Need some assembly (but comes with the proper tools and instructions)
If you are very tall and going to stand and ride, the monitor may not be easy to see
PROS
Large heavy flywheel
Heavy-duty construction
Easy to read & large monitoring display
Comes with a comfortable seat
Supportive and very well made
CONS
Doesn't have a water bottle holder
The monitor is not backlit
The monitor has no rpm
---
5. YOSUDA Upgraded: Customized Cardio Bike
Dimensions: 42.2 ×21.7 ×47.7 inches | Materials: Carbon Steel | Resistance Mechanism: Magnetic Resistance | Max Weight Limit: 300 Pounds | Drive System: Belt-Drive | Inseam Cap: 28″ ~ 37″ | Flywheel Weight: 43 pounds | Pulse Sensors: Yes | Handlebar: Adjustable | Transport Wheels: Yes | Total Weight: 88 pounds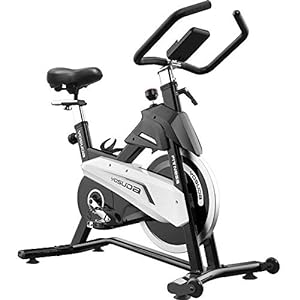 Yosuda L-007 Spin Bike is one of the best and most popular indoor bikes under $400 out there. With 300 lbs of weight capacity, it is very durable and well-built. The sturdy steel frame and high-end technical features and structure make this bike suitable for both men and women.
Yosuda L-007 indoor cycling bike is designed for intensive use and offers a wide range of resistance with easy operating functionality. The knobs allow adapting users of various sizes. It is infinitely adjustable from zero to extremely hard. This model also doesn't make much noise so you can work out at night time.
The display performs its function and shows the data quite clearly; and with the usual possibility of activating the SCAN mode, you can automatically switch between speed, distance, time and calories. It helps you keep track of all the information you need for a complete workout.
The primary advantages (for back pain people) are the balanced racing pedals and the handlebar that can adjust both vertically and horizontally. We also like the chain drive system and the flywheel, which weighs a whopping 43 lbs. It stays smooth after a long time workout.
This model is comfortable to sit on and both the seat and handlebar are height-adjustable. Overall, the Yosuda L-007 could be a good spinning exercise bike for the price, even if you don't have to wait for the comfort and performance of a high-end bike. It is a very coveted device by advanced athletes.
What we liked:
Quiet belt drive system
Cage-type non-slip pedals
Constructed with the newest carbon steel
Comes with phone and water bottle bracket
Adjustable seat vertically & horizontally (28″-37″)
What we didn't like:
Makes a bit of noise, first time
The sitting position is not comfortable for big guys
PROS
Widely customizable cardio bike
Fast transportation speed
Good in appearance
Excellent in manufacture
Comes with 2-year warranty
Cheap price
CONS
It's tough to assemble for beginners
Bottle holder could be nice
---
6. L NOW Indoor Bike: Commercial Standard Quality
Dimensions: 41.3 x 20.4 x 49 inches | Materials: Alloy Steel | Resistance Mechanism: Magnetic Resistance | Max Weight Limit: 400 Pounds | Drive System: Belt-Drive | Inseam Cap: 36″ ~ 43″ | Flywheel Weight: 40 pounds | Pulse Sensors: Yes | Handlebar: Adjustable | Transport Wheels: Yes | Total Weight: 90 pounds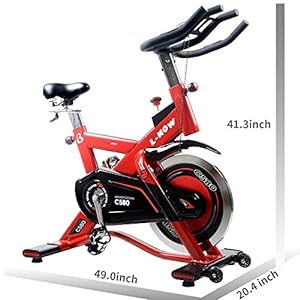 This is another great spin bike under 500 dollars from the L NOW brand. It is a professional spinning bike model that is enriched with some fun gadgets but that should not influence the purchase. It turns out to be the best model if you want a way to train comfortably at home, but also if you are a cyclist and need extra training.
This unit caught my attention because the seller now offers a nice promotion which makes it a medium-range spinning bike at the price of an entry-level. It is fully adjustable for different heights and weights.
The package comes with a multi-functional handlebar that provides you with different ways when practicing indoor cycling. You may grasp the top handlebar for your shoulder workout while you can grasp the down handlebar for your waist build-up exercise.
L NOW Indoor Cycling Bike is easy to handle and comfortable to offer aerobic, fitness and cardio exercises. The sitting position is very comfortable, and the improved belt drive makes your ride smooth.
Its slim and essential design is not aggressive one of the most professional spin bikes, but it is extremely robust. It supports 280 lb of weight. In fact, the fixed pinion flywheel measures 40 lb. It is stable and you can easily move all around your home.
L NOW exercise bike equipped with cage pedals only. But you can purchase one pair of SPD pedals and replace them (it is very easy to do so). It is also compatible with normal bike pedals. Anyone who needs a spinning bike for a vigorous workout won't be disappointed with the L NOW.
What we liked:
40-pound heavy-duty star flywheel
Adjustable knob to stop the bike immediately
Rock-solid construction with large base
Anatomically designed and ultra-comfortable cushion
Multi-functional handlebar for different ways of riding
What we didn't like:
The underside of the seat support frame is plastic
Distance display on the monitor only shows KM
PROS
Heavy-duty crank
It is fairly quiet
Multi-use handlebar
Comfortable cushion
Tough cage pedals
Anti-scratch sanded paint
CONS
Heart rate sensors aren't mounted tight
There is no place to put a water bottle
---
7. Marcy Cycle XJ-3220: Best for Short Person
Dimensions: 40 x 20.5 x 43 inches | Materials: Alloy Steel | Resistance Mechanism: Magnetic Resistance | Max Weight Limit: 300 Pounds | Drive System: Chain-Drive | Inseam Cap: 36″ ~ 41″ | Flywheel Weight: 40 pounds | Pulse Sensors: Yes | Handlebar: Adjustable | Transport Wheels: Yes | Total Weight: 89 pounds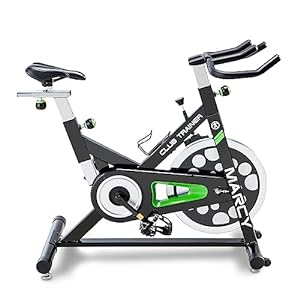 The Marcy Cycle XJ-3220 is one of the most popular and affordable spin bikes on the market. If you want to buy the best spinning bike for short people, all you have to do is choose this one.
It is an elegant, modern, functional, and technological spin bike that will satisfy you even if you are among the most demanding users. It has already satisfied the thousands of users who train professionally. It has a digital multifunction display that returns the usual data on performance and training.
The frame is in anti-corrosion-treated steel for excellent strength and rigidity. The chain is slightly noisy but won't bother you. Certainly not quiet enough for someone to sleep. Marcy XJ-3220 spin bike is also stable on different surfaces and offers good user comfort thanks to its UltraSoft transmission system.
Marcy indoor spinning bike offers you a compatible cardio belt for your heart rate-based workouts and a heart rate monitor that is present on the handlebar. The technical characteristics are numerous with 100 different resistance levels; you can engage at the press of a button.
At the equipment level, the ergonomic gel saddle and handlebars are adjustable in height and depth to adapt to all sizes of people. The handlebar allows you to assume a comfortable and pain-free posture throughout the workout. At their highest points, both the seat pad and handlebars measure 39 1/2″ from the ground.
What we liked:
Road bike style saddle with chrome seat adjustment
Transport wheels for easy mobility and storage
Built-in easy brake mechanism for quick stop
Stable and adjustable basket pedals
What we didn't like:
Seat is a very hard
Front moving wheels are small and cheap
PROS
Silent and technological
Ergonomic seating position
Durable steel construction
Smooth flywheel
Reasonable price
CONS
Doesn't have a monitor to register progress
---
8. ANCHEER Exercise Bike: Multi-functional Design
Dimensions: 42.5 x 19.3 x 44.5 inches | Materials: Alloy Steel | Resistance Mechanism: Magnetic Resistance | Max Weight Limit: 330 Pounds | Drive System: Belt-Drive | Inseam Cap: 37″ ~ 43″ | Flywheel Weight: 40 pounds | Pulse Sensors: Yes | Handlebar: Adjustable | Transport Wheels: Yes | Total Weight: 81 pounds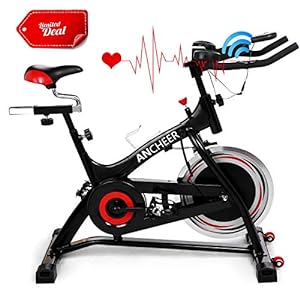 It wouldn't be possible to make a good spin bike collection without the ANCHEER device! It's one of the best spin bikes under 500 in terms of multi-functional strength. It is very user-friendly and comes with paper instructions and all the tools you need to assemble the bike straight out of the box.
ANCHEER spin bike has an exclusive immediate flywheel locking system in the event of danger, which makes it ideal for those with walking difficulties or for the elderly. As well as for its professional services, it is among the best spin bikes of 2023.
This bike is belt-driven, so it is much more smooth and quiet. The weight it can support is among the largest on this list and reaches 330 lb. The saddle, instead, has horizontal and vertical adjustments. The handlebar can also be adjusted vertically.
It has an extremely precise LCD display that allows you to keep an eye on all the pedaling variables: time, speed, distance, calories and scanning. It is suitable for all sportsmen, even experienced ones.
ANCHEER Multi-functional spin bike has been painted with high resistance powder paint that makes it resistant to wear. The movement is precise, fluid and silent. Thanks to the chain transmission and the 40 lbs flywheel, it is designed to reproduce the actual feeling like on the road.
This model is equipped with a bottle holder, level compensators, and casters for easy storage.
What we liked:
Quiet smooth belt drive system
Digital functional monitor display
Heart rate sensor & Elbow tray design
Adjustable seat and handlebars and base
Stepless speed changing
What we didn't like:
Seat is a bit hard
Includes adjustable wrench is a little bit small
PROS
Road feeling spin bike
Does not wobble
Easy to assemble
Adjustable handlebars
Stable and easy to move
CONS
It doesn't have a spot for a phone to rest
---
9. Pooboo Indoor Cycling Bike: Best for Tall Person
Dimensions: 43.8 x 21.6 x 48.1 inches | Materials: Alloy Steel | Resistance Mechanism: Magnetic Resistance | Max Weight Limit: 330 Pounds | Drive System: Belt-Drive | Inseam Cap: 36″ ~ 43″ | Flywheel Weight: 35 pounds | Pulse Sensors: Yes | Handlebar: Adjustable | Transport Wheels: Yes | Total Weight: 69 pounds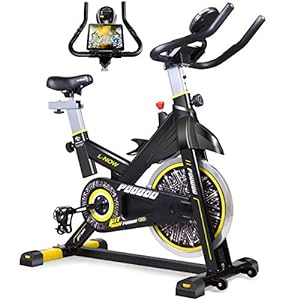 Pooboo is the best equipment you can choose if it doesn't count for you having professional performances but only for a valid spinning bike, which allows you to save extra money. With a lower price than the average, you will have a model that helps you lose weight and keeps you fit comfortably at home.
Pooboo indoor spin bike is appreciated by tall people and it can hold up to 330 lbs in weight.
It has an ergonomic design, made to reduce oscillations while pedaling. And despite the low price, it allows you to simulate uphill routes. It is equipped with a silent belt drive mechanism which means it keeps silent while you train.
The construction materials are excellent and the adjustable seat guarantees greater precision and comfort. Both the saddle and the handlebar, filled with foam rubber, are adjustable according to your height. You can raise the seat up and there's also an adjustment to move the seat forward toward the handlebars.
Pooboo spin bike has an electronic meter that tells you how fast you go and how many Kilometers you travel, how many minutes you're riding the ride and how many calories you've burned, etc. The digital display also allows you to create a personal training profile to control your fitness.
This model has armrest adornment cove that you can place a book on it to read while you are cycling. Or place your phone or iPad if you want to watch something. It has all the features that stationary bikes have that you find in the gym.
However, it's not as heavy-duty as the commercial ones but ideal for residential use, even if you have a large family. Also, we found that the digital screen was built in poor quality. Otherwise, it's a solid all-around piece of equipment that's offered in five different colors and customized designs.
What we liked:
Heavy-duty steel Belt-Driven system
Easy adjustment for uneven floor surfaces
Strong and durable frame that supports up to 330lbs
The cushion standpipe can withstand 270lbs
Good mechanism for long training sessions
What we didn't like:
Seat less comfortable than other options
A bit hard to put together
PROS
Customized design
Good value for the money
Installation is straightforward
Easy to assemble and move
It has very good resistance
CONS
The cup holder on the bike is a bit weak
Wheels are not very stable
---
10. YOSUDA L-001A: Digital Indoor Spinning Bike
Dimensions: 40.16 x 21.65 x 46 inches | Materials: Heavy-Duty Steel | Resistance Mechanism: Magnetic Resistance | Max Weight Limit: 270 Pounds | Drive System: Belt-Drive | Inseam Cap: 25″ ~ 35″ | Flywheel Weight: 35 pounds | Pulse Sensors: Yes | Handlebar: Adjustable | Transport Wheels: Yes | Total Weight: 68 pounds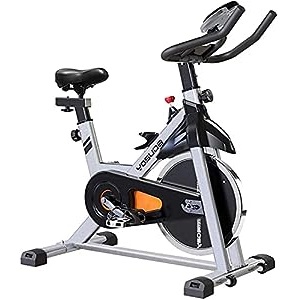 For our last pick of the best spin bikes under $500, we are going to review something cheap and affordable for someone who wants an indoor bike with most of the smart features. If you are looking for a distraction-free workout and space-saver spin bike, the YOSUDA L-001A is the right option for you.
It proves you get can an excellent workout without breaking the bank. The professional quality and stylish design look great, making it ideal for those who want to train on an indoor bike without sacrificing comfort.
At the moment, you can say that it is sturdy and doesn't wobble while riding. Because the wheel runs smoothly, and the resistance is adequate. The handlebar and seat height can be adjusted. Consistent rotation and sensitive knot resistance will help you get a quality ride every time.
YOSUDA L-001A spin bike is very easy to assemble. Most customers can complete it in 30 minutes, even for the first time. This model also has two rolling wheels in the front for you to move it around easily. Its flexibility and ergonomic side reduce the risk of injury during exercises.
The dashboard can track your time, speed, distance, calories burned and odometer, but not display resistance. It is a heavy-duty spin bike that is infinitely variable and you can adjust the resistance according to the continuity of your exercise intensity. And with a maximum weight capacity of 300 lbs, the L-001A model is even suitable for tall people.
What we liked:
Heavy steel frame and smooth & quiet belt transfer
35lbs flywheel and anti-skid cage pedal
Ultra-thin and smooth brake system
Friction resistance, adjustable
LCD monitor and tablet bracket
What we didn't like:
The resistance knob turns like its rusty
PROS
Very easy to move around
Adjustability is great for different heights people
Very sturdy and comfortable to use
It is quiet when you ride on it
Very cheap price
CONS
It makes a little bit of noise
Some parts need to be installed
---
Buyer's Guide: Best Spin Bike Under $500
Spin bikes are available in a wide range of prices, designs and functions, making the choice more challenging. Whether you're going through rehab or trying to get fit with grueling HIIT sessions, this guide covers everything you should consider to find the best model under 500 for home use.
See the criteria to take into account when choosing the best spinning bike under 500.
Fluid & comfortable
A spin bike capable of fully satisfying the users should need fluid, comfortable and efficient movement. These factors mostly depend on the flywheel. This is the metal wheel attached to the bike by accumulating and restoring mechanical energy, which uniforms the movement of the pedals and legs.
We must assess the weight of the flywheel, which has a very important function. Although it cannot be considered a decisive element to buy a spinning bike. But if the flywheel weighs less than 10 kg, the bike will hardly guarantee adequate performance. Because a higher weight flywheel guarantees greater fluidity of pedaling, and ultimately a more pleasant and more similar training to that practiced on the road.
The structure
A robust and stable structure allows you to work as a dancer and its lifespan will be longer. That the parts are screwed or welded plays on this quality. With perspiration, parts can oxidize: a frame treated against oxidation will resist time better.
The maximum user weight is also an important parameter for the durability and lifespan of the spin bike. And of course, the large size model is not suitable for home use.
Type of resistance
You can choose the best spin bikes under $500 between two types of resistance: mechanical and magnetic.
The mechanical resistance spin bike is cheaper and the action on the wheels is exerted through levers or other mechanical systems to be manually adjusted through knobs.
The magnetic resistance model consists of two magnets that move closer or further away from the wheel, which makes pedaling with the spin bike more or less hard. This system is more expensive, but the pedaling is smoother than the mechanical one and can be adjustable via a digital display.
Adjustment resistance
Spin bikes under $500 of the best brand are those with a resistance that the user can modify based on the effort he/she wants or can make. Equally, it is important that the handlebar and saddle are adjustable both horizontally and vertically. In this way, people will be able to find the correct position during training and riding regardless of their height.
A spin bike that offers the possibility of raising and lowering the saddle a lot and the handlebar can be used without problems by the whole family, even by the tallest components.
Some cheap models do not offer the option of choosing your own level of tension, which can be a definite advantage for new users. Because it improves their metabolism and allows them to maintain longer and more strenuous workouts.
Monitor functionality
All the best spin bikes under $500 have a computer that monitors the training progress and shows certain parameters, simultaneously or one at a time. The basic ones are time, calories burned, speed and distance covered.
These are useful indications that the sportsperson needs to monitor constantly his/her performance and evaluate the progress made compared to the previous sessions. These values ​​are more than sufficient to meet the needs of an average user.
However, you must emphasize that the most complete bikes – and with a higher price – also have two other measurements. One is heart rate which can occur through the chest strap or through hand pulse sensors on the handlebar. This function is pretty much useful for those who always want to monitor the effort they are making to not overdo it.
The other measurement is valuable for the most demanding sportsperson who needs to control training more effectively.
Needs and budget
The personal needs of an athlete depend on the type of machine they will need. A person who only wants to lose weight quickly can certainly buy lower quality, much cheaper model. But more dedicated athletes might want to get a more robust and reliable indoor cycling bike designed for heavy use.
The weight of your body must also be considered if you want to make the best choice. Choose a model that is suitable for your body type and weight.
Magnetic brakes
Magnetic resistance spinning bikes are much more suitable for veterans than beginners for home use. These models also offer several types of terrain, including uphill. They last longer because the magnets completely eliminate the risk of friction and minimize wear.
Belt drives
Belt drive systems require very little or no maintenance and they are easily adjustable. Unlike regular upright bikes or exercise bikes, spinning models offer the option of standing and training, which means there is no need to invest in thick padded models.
Suitable your need
Before investing in a particular spinning bike, the basic rule consists of constantly researching and examining different models in order to make the most suitable choice.
Finally, don't forget that a well-built spin bike choice will easily open the way to better health and can last several decades without effort.
Other characteristics
Compared to prices and performance, you should pay attention to other features that may have a certain importance for you, such as the maximum capacity, especially if you are not exactly a featherweight.
Also make sure that the pedals are covered with a non-slip substance. The factor most appreciated by users is the silence that only the best indoor cycling bikes can offer. The advantage is a more pleasant, relaxing, and less disturbing workout for those at home.
Finally, you might find the indoor cycling bikes more comfortable where the bottle cage and the water bottle are already present. These are very useful accessories to quench your thirst while pedaling without having to interrupt it.
FAQs
What is the difference between a spin bike and an exercise bike?
Unlike the regular exercise bike, a spinning bike is a sport in its own right. In fact, most of the time, the spin bike is practiced in the gyms with a coach and rhythmic music during 30-minute sessions which aim to be intensive and enduring. Conversely, the exercise bike allows you to do longer sessions but is less tiring at the pace you want.
However, indoor cycling provides health benefits that are very similar to other forms of aerobic exercise. They strengthen the heart and lungs, help control weight and improve overall stamina.
How to adjust the spin bike for successful workouts?
The right fit of your equipment will allow you to make your workouts truly effective. Here's what you need to know for it:
Overview of the bike position: Your riding position determines your pedaling efficiency and comfort level. The more accurately you make adjustments; the more comfortable you are. For this reason, wise athletes spend the time to get the setup right.
Adjusting the saddle angle: The angle of your bike seat should be level to support your total weight and allow you to move around in the seat if necessary. Too much upward tilt can cause pressure points and too much downward tilt can cause you to roll forward and put extra pressure on your arms, hands, and knees, which can lead to injury.
Seat height adjustment: To adjust the seat height, wear your cycling shoes and running shorts and place your heels on the pedals. As you pedal back, your knees should extend fully down.
Adjusting the front: You can also adjust the bike seat forward and back. With your feet on the pedals and the crank arms parallel to the ground, the correct position will put your front knee directly over the axis of the pedals.
Adjusting the handlebars: If the handlebars are too high, too low, too close or too far away, you could have pain in your neck, shoulders, back and hands. Good reach allows you to use comfortably all positions on the handlebars and comfortably bend your elbows while riding.
Adjusting the straps of the pedal: Spin bikes have clip-on pedals that allow indoor riders to use their cycling shoes and crampons to "clip" directly into the pedals for a secure fit.
Warm-up before your workout: A proper warm-up can increase blood flow to the working muscle, resulting in decreased muscle stiffness, lower risk of injury, and improved performance.
Adjust resistance: Adding resistance simulates inclines and engages your hamstrings and glutes. Pedal with very little ankle movement, and remember to push and pull on the pedals for better handling.
How many calories do you burn on the spinning bike?
If your goal is to lose weight, then you should know exactly how many calories you can burn in each exercise bike session. On average, about 300 \ 400 calories are consumed in 40 minutes on a spin bike. Obviously, this is an approximate calculation, it depends on the intensity of the training you carry out and the resistance you set.
How much does a good spinning bike cost?
For entry-level models, the prices will be around 100 to 200 dollars. But they are sufficient for occasional and non-regular use. For example, entry-level models are designed well for beginners.
The price of a good-quality mid-range bike is between 400 and 700 dollars. The mid-range models are suitable for individuals who train regularly.
Finally, for high-end spinning bikes intended for professional use, the price easily exceeds 1000 dollars.
Are there any specific brands known for producing good spin bikes under $500?
There are several brands that offer reliable spin bikes within this price range. Some popular brands known for producing good spin bikes under $500 include Schwinn, Sunny Health & Fitness, JOROTO, and Pooboo, among others.
Are spin bikes under $500 suitable for all fitness levels?
Yes, spin bikes under $500 can be suitable for various fitness levels. Many models offer adjustable resistance levels, allowing users to tailor their workouts to their fitness level and gradually increase intensity as they progress.
Are spin bikes under $500 comfortable to use?
Comfort levels can vary between spin bike models. Look for bikes with adjustable seats and handlebars, padded seats, and ergonomic design features to ensure a comfortable riding experience. Some bikes may also offer additional features like built-in fans or water bottle holders for added convenience.
Conclusion
We are now sure that after the complete evaluations, now you know everything about how to choose, which one to choose, and easily identify the best spin bike under 500 that suits your needs.
However, if you are still in doubt, we highly recommend the JOROTO X1S01 because it will adapt to all levels and is ergonomic and comfortable. If you are on a tight budget and only want to work out once in a while, then the ANCHEER Indoor Spin Bike is more than sufficient for occasional use.
It's time to jump in the saddle and start exercising right away.
If you have any questions leave a comment below.
---
More on spin bikes: