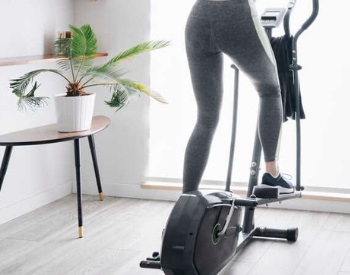 In the last few years, ellipticals have quickly become a staple in our homes, and yet we do not know all the benefits of an elliptical trainer.
If you don't have big bucks to spend on a high-end elliptical trainer, there are plenty of affordable alternatives that you choose for less than $200. Because currently manufacturers trying to create a wide range of audiences, offering different prices of fitness equipment.
However, it is not easy to find a good elliptical under 200 dollars. It's important to be aware of the average specifications and features of the ellipticals under such prices and categories. And this is what we're going to discover in this buying guide of the best elliptical trainers under 200, which will allow you to find the best model.
Best Ellipticals Under $200 for 2022
With our home elliptical trainer reviews, we'll try to find the right machine that fits your needs. To achieve your ideal fitness level and lose weight, we have carefully evaluated every technical feature so that everyone can find the right model at this price range.
Before going into more detail about the best cheap elliptical under $200.
1. Goplus Magnetic Elliptical Trainer – Top Pick
Dimensions: 60 x 20 x 28 inches | Flywheel: Yes | Resistance: 8-level | Stride length: 12 inches | Display: LCD | Heart rate: Yes | Weight capacity: 220 lbs | Weight: 55.4 lbs | Warranty: 1-year
If you are looking for the best elliptical under $200 that offers everything you need, undoubtedly you can choose the Goplus. This is simply the best value for money for those who want a high-performance elliptical trainer. It is suitable for both beginners and advanced athletes.
The sturdy magnetically controlled flywheel provides fluidity of movement and great comfort; you don't need to worry about the joints. The stride length is also comfortable for smooth workouts. The pedals are good sizes and have non-slip textures. The ergonomic handles are also covered with kin-friendly and sweat-absorbent soft foam.
We also appreciate the very complete console as well as the 8 levels of resistance, you can adjust the training intensity according to your needs. The digital LCD digital display tracks your workout time, distance, speed, odometer, pulse and how many calories you burn.
To adjust the rhythm of exercise, the grips on both sides can record the heart rate for you. It is a complete cardio trainer that provides the same benefits as a treadmill, rower, stepper and exercise bike. The assembly process is easy and requires less than 1 hour if you follow the instructions.
Goplus elliptical trainer also has a large phone holder, which allows you to listen to music and watch videos while exercising. The small size and silence allow this machine to take place in a small room. The transport wheels also help you move easily this cross trainer from one room to another.
PROS
Comfortable Handles and Non-slip Pedals
Very smooth and quiet flywheel
Digital monitor with heart rate sensor
Easy to move and store
Simple to assemble
CONS
Resistance level has small different
Height is not adjustable
---
2. Sunny Health & Fitness SF-E3607
Dimensions: 39 x 23.5 x 63 inches | Flywheel: Yes | Resistance: 8-level | Stride length: 11 inches | Display: LCD | Heart rate: Yes | Weight capacity: 250 lbs | Weight: 71.5 lbs | Warranty: Lifetime for frame
Sunny Health & Fitness SF-E3607 elliptical trainer offers the same range of features that we have found in models with medium price ranges. For example, it is enormously comparable with the Fitness Reality E5500XL model. However, it does not have the same magnetic tension levels though, but its construction is quite similar.
It features a simple 1-piece frame construction, and it's not extremely large compared to the Goplus, which indicates it can easily fit in a small room or apartment. Sunny Health & Fitness SF-E3607 elliptical trainer is also easy to put together. It provides a smooth and flowing workout for your upper and lower body and the digital monitor track all of your necessary progress.
The hand pulse monitoring system is built into the stationary bars which help to monitor and maintain your target heart rate. The console also features a tablet holder, but the placement is not good we think (placed right under the three keys). You can design custom workouts with 8 levels of resistance, to meet your fitness goals.
Sunny Health & Fitness SF-E3607 is equipped with extra-large pedals which provide superior adherence during exercising. The front base also incorporates a set of two small wheels for easy transportation.
Although Sunny Health & Fitness elliptical has 8 resistance levels, we recommend it for light cardio workouts because the top resistance level provides medium cardio at best.
The natural movement of running preserves the joints. Differently, the Sunny Health & Fitness SF-E3607 is pretty much a basic elliptical machine, but the best affordable elliptical under $200 for home gym.
PROS
Solid and sturdy construction
Little to no maintenance is required
Comfortable fixed and mobile arms
Fixed arms with pulse sensors
Extremely quiet operation
Easy to assemble
CONS
Pedals are a bit too close to the front of their bars
Tablet once placed covers the LCD screen
---
3. MaxKare Cardio Training Elliptical
Dimensions: 52 x 19 x 61.4 inches | Flywheel: Yes | Resistance: 8-level | Stride length: 13 inches | Display: LCD | Heart rate: Yes | Weight capacity: 240 lbs | Weight: Super light | Warranty: 1-year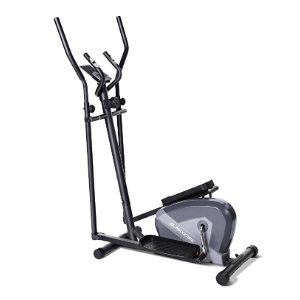 MaxKare offers several models of low to high-end elliptical trainers, and in terms of features, the MaxKare Cardio Training Elliptical machine has large stride compared to Sunny Health & Fitness SF-E3810, but other fitness goal setting functions and programs are mostly the same. With 240 lbs of load capacity, this product could be a good choice for both men and women.
It has 8-level magnetic resistance, and with simple turns, you can increase or decrease the resistance to develop the most appropriate exercise intensity for yourself. Similar to many other manual magnetic elliptical trainers at this price range, the first level of resistance offers a pretty light pedaling difficulty.
The heavy-duty construction metal frame features a durable paint finish resistant to corrosion. The large size foot platforms can accommodate all sizes and soft grip ensure safe pedaling in the most demanding strenuous exercise. MaxKare elliptical also has a large tablet holder, suitable for all sizes of phone and Pad.
The slim design can relatively fit in a small space. Its front base also integrates a set of small wheels that facilitate its relocation if needed. You don't need maintenance too much because internal parts don't need lubrication. You only have the keep the unit clean and periodically check the bolts or parts.
However, if you are a bigger person (tall or heavy) this model probably isn't a good choice for you. It won't bother you but the strides aren't very long and it wobbles as you use it.
PROS
Large foot platforms
Fixed grips with pulse sensors
Extremely quiet operation
Little maintenance required
Super lightweight design
Nicely fits in small spaces
CONS
Not recommended for first time beginners
Instructions are not super easy to follow
---
4. Marcy Pro NS-40501E Cross Trainer
Dimensions: 49 x 24 x 64.2 inches | Flywheel: No | Resistance: 8-level | Stride length: 14 inches | Display: LCD | Heart rate: No | Weight capacity: 300 lbs | Weight: 77.0 lbs | Warranty: 2-year
Marcy Pro NS-40501E elliptical trainer is indeed one of the cheapest elliptical trainers under 200 dollars in the market today. This is not the highest quality at this price range, but needless to say, this model is good enough for those who are looking for low-impact, light cardio training equipment without breaking the bank.
The Marcy Pro NS-40501E is manual resistance elliptical, not flywheel, and equipped with a basic console that doesn't have preset programs. However, the LCD screen is battery-powered and lets you keep track of time elapsed, distance traveled, and calories burned.
With adjustable resistance levels, this elliptical trainer comes with a tension knob that allows you to turn the resistance up or down to customize your training according to your fitness needs. You can also train your upper and lower body simultaneously to strengthen different muscle groups and execute comprehensive workouts.
The construction is solid and can support a heavyweight user of up to 300 lbs. It doesn't provide as smooth as a more expensive gym machine, but not so bad as to be unusable. Like the MaxKare, the Marcy Pro NS-40501E elliptical also includes handy transport wheels so that users can conveniently move it from one room to another.
The stride is also smooth and the arms are not too far away, you can keep your grip through the whole movement. To ensure quality, the manufacturer offers 2-year limited warranty to let you maximize your purchase hassle-free.
The only complaint is, this model doesn't have a water bottle holder or top support for holding tablets. However, you can put iPhone or tablet, but it blocks the screen.
PROS
Ergonomic handles and pedals
Light and solid construction
It requires very minimal maintenance
Extra huge, durable pedals
Easy to transport
CONS
There is no pulse reading functionality
Not a lot of tension options
---
5. Sunny Health & Fitness SF-E3988 Underdesk
Dimensions: 33.5 x 18.5 x 51.75 inches | Flywheel: No | Resistance: 8-level | Stride length: 7 inches | Display: LCD | Heart rate: No | Weight capacity: 220 lbs | Weight: 32.6 lbs | Warranty: N/A
Sunny Health & Fitness under-desk elliptical combines the striding motion of an elliptical cross trainer with the small footprint of an exercise stepper machine. It helps you to keep your legs, feet, and lower body active. It features heavy-duty construction and going to last a lifetime. However, the stride is a bit short (only 7-inch), but that's the expected trade-off.
This mini-bike from Sunny Health & Fitness is a great choice for testing endurance, burning calories, and overall improving your immune system. It has a 220 lb. weight capacity. There is no assembly required at all.
Its magnetic resistance and range of motion keep your blood flowing. The handlebars can be adjustable for all sizes of users. The foot pedals are textured non-slip pedals which accommodate all sizes for safe moving. It is a versatile, Compact Stand Up, space-saving and lightweight elliptical machine under 200 dollars.
Like all cheap magnetic ellipticals on the market, it has 8 levels of magnetic resistance to provide precise control and customization of your workouts. However, there isn't a lot of difference between its high and low resistance levels.
The built-in digital LCD monitor tracks speed, time, distance, calories and scan. You can store it in a small space. This model also has convenient transport wheels. The handle is easily removable for storage.
However, it doesn't have the full range of customization like a more expensive one does or the moving arms but you will definitely feel the training after using it for a while in your legs.
PROS
Non-slip foot pedals
Has a wide range of motion
It's easy to assemble and use
Different resistance levels
2-way adjustable handlebars
Compact size for easy transportation
CONS
It is not smooth as a traditional elliptical
Very short strides
---
6. Body Rider Body Flex Sports BR1830 Elliptical Machine
Dimensions: 38.58 x 9.06 x 24.8 inches | Flywheel: No | Resistance: Adjustable | Stride length: 12 inches | Display: Smart LCD | Heart rate: No | Weight capacity: 250 lbs | Weight: 58.0 lbs | Warranty: 1 years frame / 90 days parts
The Body Flex Sports BR1830 model was first released over a decade, despite that, it could be an excellent elliptical trainer under 200 dollars. And if you want an elliptical trainer exercise within your own home, you have to be considered the Body Rider Body Flex Sports BR1830.
However, it is a basic model and overall cheaply made. But the included features are pretty decent. It doesn't offer a wide range of features and functions like Sunny Health & Fitness SF-E3607, but it can supply the required training setting for a light cardio workout.
Body Rider elliptical built-in fan resistance system as air rowers and the resistance system features a friction belt that can be adjusted via turning the tension knob on top of the main tube of the frame. There are no specified resistance levels, but this machine offers a really consistent top resistance setting.
The transmission chain drive system connects the fan with the crankset. The crank is pretty solid with steel-made crank arms. And with a lightweight design, (weight only 58lbs) it can support users up to 250 lbs.
The footplates are pretty large and can easily accommodate any size of athletic shoes. Body Rider elliptical also features an anti-slip, ribbed design but is not effective on the top resistance setting. Because the footplates do not feature any type of cushioning or articulation.
Like most elliptical trainers in this roundup, the Body Flex Sports BR1830 offers a pretty smooth stepping motion (do not compare with high-end models), with a minimal impact on the joints. However, it features a short action stride not acceptable for running.
PROS
Pretty decent build for the price
Extra-durable chain drive
Performance computer included
Easy to handle and transport
Low maintenance require
CONS
Pedaling motion reminds me downhill walk
It's not exactly quiet
Feet position is a bit slippery
---
7. Sunny Health & Fitness SF-E3908 Stand Up
Dimensions: 25.2 x 18 x 12.6 inches | Flywheel: No | Resistance: 8-level | Stride length: 7 inches | Display: No | Heart rate: No | Weight capacity: 220 lbs | Weight: 25.4 lbs | Warranty: N/A
Sunny Health & Fitness SF-E3908 portable elliptical machine uses a durable belt-drive mechanism that keeps your strides smooth, quiet, and consistent in shared and compact spaces, including bedrooms and living rooms. This is a well-designed elliptical and manufactured with advanced technology to provide you with incredible health benefits.
You don't require any assembly, you can jump straight to your workout after unboxing. And with built-in carry handle, this space-saving machine can be stored easily while not in use.
The adjustable height top half of the handle is easily removable. And when the handle will be removed, you can store it under a normal height dinner table. With the 220 lbs maximum user weight limit, you will feel confident standing or sitting on this home-use cardio machine. And definitely feel the workout after using it, especially in your legs.
You can control your workout intensity with the easy-to-use 8 levels resistance dial. Like most cheap elliptical trainers, there isn't a lot of difference between high and low resistance, but there is some adjustment. Sunny Health & Fitness SF-E3908 elliptical trainer won't give you a hard workout, but it is great for a regular, mild exercise plan.
The wide-textured non-slip foot plates are designed to keep the user's feet steady and secure during activity. However, for large feet people, it's very difficult in the standing position.
Also keep in mind that this unit doesn't design for whole body workout, but help you develop muscles in your lower body and improve blood circulation through consistent exercise.
PROS
Whisper quiet
Compact design
Provides optimal stability
Convenient carrying handle
Dual sit/stand action
Versatile
CONS
Doesn't have data display
No heart rate sensor
Small stride length
---
8. ANCHEER Mini Pedal Under Desk Elliptical
Dimensions: 18 x 14 x 10 inches | Flywheel: No | Resistance: 5-level | Stride length: 6 inches | Display: Small LED | Heart rate: No | Weight capacity: 220 lbs | Weight: 20.0 lbs | Warranty: Lifetime
ANCHEER is always famous to provides affordable fitness equipment. This is a 2-in-1 under-desk and stand-up elliptical from ANCHEER. With a V-belt drive mechanism and 20 lbs weight, you can use it for a regular total body low-impact aerobic workout at home, in the office or wherever you see suitable.
The large pedals are anti-slip and measure 5.11 x 13 inches. You can move in two directions- forward and backward and are able to target different muscles. You can simply use it in different sitting positions.
Surprisingly, ANCHEER mini indoor elliptical comes with an integrated advanced LED display, which monitors the distance of travel, time, calories, speed, counter and time. You'll also get a remote control with the Power, Start/Stop, Function, Direction, Mode, Speed up and down buttons.
It is a compact and quiet electric elliptical trainer under $200, you can start workout when you're sitting at a desk or on your couch while watching TV or reading a book. However, you can only use this unit in a seated position and not standing. It is smooth at all times as it is a low-decibel exercise machine that will not disturb your work or whatever you're listening to.
ANCHEER Desk Elliptical trainer is also compact and portable and the overall dimensions are 18 x 14 x 10 inches, so you can move it between your house and office easily by holding its handle. You can also choose from 5 levels of manual speed or one of the three automatic programs.
PROS
Solid and flexible magnetic pulleys
Compact, quiet, and easy to move
Built-in smart LED display
Multiple movement options
Lifetime warranty
CONS
Overall size is a bit short
Doesn't feature for standing position
No tension adjustment of any kind
---
9. Exerpeutic 1000XL Heavy Duty Magnetic Elliptical
Dimensions: 23 x 54 x 76 inches | Flywheel: Yes | Resistance: 8-level | Stride length: 13 inches | Display: LCD | Heart rate: Yes | Weight capacity: 300 lbs | Weight: 76.0 lbs | Warranty: N/A
The Exerpeutic 1000XL is one of the cheapest elliptical trainers in the market with maximum advanced features. It's compact, however, weighs 76 pounds and the dimensions are 23″ W x 54″ L x 76″ H.
Compare to other cheap ellipticals under $200 we have reviewed, this unit features heavy-duty construction and has high load capacity. It can hold up to 300 pounds and it is designed to give the user a zero-impact workout that is easy on the hips, knees and ankles. However, the Exerpeutic magnetic elliptical will take almost two hours to put together, if you never had before. But the process is very simple if you follow the instructions.
It has eight levels of resistance, which the trainee adjusts by turning a knob. However, the lowest setting had a high amount of resistance compared to the highest setting (You may notice that most of the cheap ellipticals have the same issue).
It has a small workout monitor which can display data about distance, calories burned, time, speed and heart rate. We like that heart rate is estimated through sensors on stationary handlebars. It provides a dual-action workout to improve tone and strengthen the upper and lower body simultaneously.
Exerpeutic 1000XL elliptical also features a natural elliptical motion that eliminates any bouncy movement and delivers smooth workouts. The precision-balanced flywheel allows forward or backward. It is a piece of family-friendly gym equipment and an excellent addition to any home gym.
However, because of the low price tag, the manufacturer has used some very basic and rather low-quality components. For example, it has 13" stride length, which is about a third shorter than the average adult's most natural-feeling stride. Also, it doesn't have workout programming.
PROS
Heavy-duty construction
It has heart rate monitor
Dual Action Workout Arms
Designed for different heights of users
Quiet operation
CONS
It takes time to assemble
Foot placement appears to point slightly downward
---
10. MaxKare Heavy Magnetic Elliptical Trainer
Dimensions: 40.9 x 18.9 x 63 inches | Flywheel: Yes | Resistance: 8-level | Stride length: 14.17 inches | Display: LCD | Heart rate: Yes | Weight capacity: 286.6 lbs | Weight: 72.7 lbs | Warranty: N/A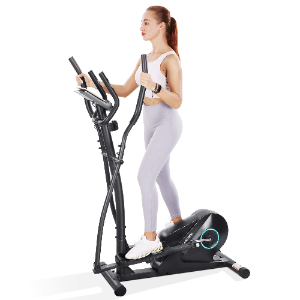 For our last pick, we wanted something cheap but rich in features, the MaxKare. This is an affordable and simple magnetic elliptical with a lot of things that may just make it worth your while. The heavy-duty construction and Magnetic Resistance are good for Cardio workouts and provide a low-impact workout that is comfortable for your knees.
It can hold a maximum weight of 286.6 pounds, so it can even withstand pedaling from professional athletes. The stride length of the MaxKare Magnetic Elliptical Machine is 14.17 inches, which is the largest on this list. And with bottle holder and tablet holder, it is definitely worth the price.
The MaxKare Magnetic Elliptical has a large LCD backlit display panel which allows you to monitor your form during workouts, including exercise time, distance traveled, current speed, pulse rate, calories burned, and scan. You can hold the handles to see the real-time heart-rate changes during training. You can also use the data to keep track of your fitness.
It has two wheels in the front, making it very easy to move to another place. Even you can move forward and backward to meet all your training needs without any problem. The instruction is also easy to read, even if you are a beginner, you won't feel any difficulty assembling it.
It is a very heavy package because of the solid construction and heavy flywheel. However, the heavy flywheel means the foot pedals are extremely smooth. It provides the most consistent and natural workout.
PROS
It has pulse sensors on the handlebars
Attached tablet holder and a bottle holder
Extremely quiet during operation
Little maintenance is required
Built in transport wheels
Very easy to assemble
CONS
A little bit heavy compared to other models on this list
---
Buyer's Guide: Cheap Ellipticals Under $200
The structure
The structure of the elliptical trainer must be adapted to your morphology so that you can perform the movements with ease. In terms of length, your chosen elliptical trainer should be between 1 m and 1.30 m long depending on your height. The wheelbase on the ground is also an important element for better stability. The wider it is, the more stable the bike is during exercises.
Some models are also equipped with level compensators intended to correct unevenness in the ground. Apart from comfort and stability, make sure that the structure of the device is sturdy and durable.
The flywheel
Flywheel is the key element of an elliptical trainer because it has a close relationship with the smoothness of the machine when in use (although most cheap ellipticals don't have flywheels). This wheel is located at the front or rear in the large block, often round, at the end of the pedal supports. A quick rule of thumb is: the heavier the flywheel, the smoother and quieter the elliptical will run because the extra weight helps it turn more efficiently.
Resistance or braking system
With more resistance levels, you are able to increase the difficulty of your workout more gradually. When there are few resistance levels, you are forced to adapt to challenges that you may not yet be ready for. Or you will end up with a sports machine whose limits you will quickly reach.
Generally, cheap elliptical trainers have 8-12 resistance levels.
Stability
In general, a heavier elliptical trainer will be more stable. However, it also remarkably depends on their design. The difficulty is sometimes finding the balance between the weight of the assembly and the need to move or bend it. Indeed, some models with a front flywheel can fold to save space.
Amplitude of the stride
Stride length varies from model to model and it is more important to some people than to others. Here is what you should look for depending on your height:
You are less than 1.65 m tall: 30 to 39 cm stride length.
You are 1.65 m to 1.80 m: Stride length of 40 to 50 cm.
You are over 1.80 m tall: Stride length greater than 50 cm.
Console board
Not all elliptical trainers come with an on-board computer or display. But it is essential to get the most out of your session. Indeed, the digital display will serve you at least to create tailor-made workouts and reduce the risk of you getting bored on your machine. However, before making a purchase make sure the console is easy to read, even while you are in your midst. Backlighting is a plus, but not necessarily fundamental.
Data showed
The best displays will give you a range of data including distance, stride speed, session time, and your heart rate with a supplied sensor or smartwatch. Some of the best elliptical trainers offer the option of uploading your data to external devices or websites to track your progress. Others allow you to connect a smartphone or tablet and are compatible with various paid or free applications.
Training programs
This capability goes hand in hand with your device's electronic console. Your elliptical should include a number of programs that focus on weight loss, HIIT intervals, cardio, muscle tone, and more.
Size and weight
Size is also a factor to consider. Professional-grade machines take up a lot of floor space. If you are limited in this regard, it might be worth looking for the best foldable or at least easily movable elliptical trainer with fixed wheels that touch the ground when lifted a bit.
FAQ:
What is the best cheap elliptical brand?
Sunny Health & Fitness is undoubtedly the best high-quality but cheap health and fitness products distributor and importer. They offer you fitness and sports equipment that is both light and very quiet. They come in different ranges to suit all budgets.
Goplus offers quality products at a mid-range price. In terms of advantages, you will receive one year warranty worldwide. Goplus is not the best elliptical supplier but their low price of fitness equipment is pleasing.
How often do you use the elliptical trainer every day?
Elliptical trainers should be used on average between 15 to 60 minutes per day. However, this frequency will depend on your goal and your physical condition.
Is it possible to build muscle with an elliptical trainer?
As an ideal piece of equipment for cardio training, elliptical trainer can strengthen both the upper body and the lower body.
How long does it take to see the first results?
The first results depend mainly on the frequency of use. They will only be seen if you use the elliptical machine regularly. The gluteal muscles, thighs and calves are the most visible.
How many sessions for a better result?
The number of sessions may vary depending on each user, their physical form and their goals. Some people will be able to get significant results in just a week of use while others will not.
Final Thoughts
Elliptical trainer is undoubtedly one of the cardio devices most appreciated by fans of gyms of all kinds. You benefit from 15% more calories burned compared to the exercise bike since it will also work the upper body. In fact, at an equal expense, elliptical trainer beats treadmill and exercise bike in efficiency and intrinsic value.
However, we would like to point out that we have NO interest in promoting elliptical trainers over other fitness equipment because each device has different benefits. We hope this solid review gives you all the information you need to make a well-informed choice.
Also Read: