Welcome to our definitive guide, where we venture into the realm of cold-weather hunting bibs to uncover the zenith of innovation and functionality for the year 2023. Each bib in our careful selection stands as a testament to the tireless dedication of manufacturers in crafting garments that not only shield against the numbing chill but elevate the hunter's experience to unprecedented heights.
From the rugged terrains of the Rockies to the dense, snow-laden forests of the Northeast, these bibs have been rigorously tested and researched to ensure that no climatic extremity stands in the way of the dedicated sportsman.
Together, we'll equip you with the knowledge to make an informed choice, ensuring that your next hunting expedition is not only marked by success but also a symphony of comfort and protection against even the most unyielding of cold fronts.
Best Hunting Bibs for Cold Weather – At a Glance
Comparison table of the top 10 best hunting bibs for cold weather in 2023…
IMAGE
PRODUCT
DETAILS

Best Overall

Best Overall

Material:

Polyester

Closure:

Button

Weight:

23.5 oz

Check On Amazon

Best Value

Best Value

Material:

Polyester

Closure:

Buckle

Weight:

3.3 lbs

Check On Amazon

Breathable

Breathable

Material:

Synthetic

Closure:

Snap

Weight:

16 oz

Check On Amazon

Extra Long

Extra Long

Material:

Polyester

Closure:

Zipper

Weight:

3.4 lbs

Check On Amazon

Affordable

Affordable

Material:

Polypropylene

Closure:

Buckle

Weight:

11.2 oz

Check On Amazon

Heavy-duty

Heavy-duty

Material:

Cotton/Poly

Closure:

Zipper

Weight:

3.25 lbs

Check On Amazon

Scent Blocking

Scent Blocking

Material:

Polyester

Closure:

Zipper

Weight:

1.96 lbs

Check On Amazon

Deadly Quiet

Breathable

Material:

Polyester

Closure:

No

Weight:

53.1 oz

Check On Amazon

Soft and Cozy

Soft and Cozy

Material:

PolyBlend

Closure:

Button

Weight:

2.2 lbs

Check On Amazon

Premium Choice

Premium Choice

Material:

Polyester

Closure:

Button

Weight:

47.2 oz

Check On Amazon
1. SITKA Gear Stratus Hunting Bib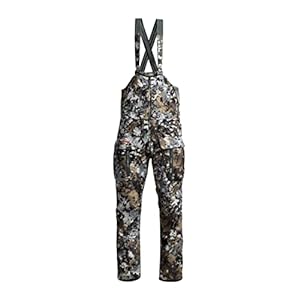 When you're on a hunting trip that involves a lot of sitting after a long hike, go for the Sitka Gear Stratus Bib. It's perfect for those chilly hunts. The Stratus Bib is great because it stops the wind completely and makes no noise. It's made to handle all kinds of weather during the season when you're hunting deer.
It has a special layer called GORE WINDSTOPPER between a quiet outer layer and a warm but breathable inside layer. This layer helps keep your body temperature steady, whether you're moving around or sitting still.
The suspenders are simple to adjust and stay in place. There are also quiet snap pockets that are easy to reach when you're sitting. You can open up the full-length zippers on the sides if you get too warm. This is really helpful when the weather keeps changing.
The zippers make it easy to put on or take off while you're in your spot. You can also reach into your pants underneath the bib if you need to get something like a small candy bar. The large front pockets on top of the thigh area are very roomy. However, the zipper handles are just cords, which might not be what you'd expect for the price.
PROS
Full length side zips
Silent snap cargo pockets
Durable water repellent finish
Adjustable No-Buckle Suspenders
Quiet and breathable
CONS
It is a little tight if you have a bit of a gut
A bit expensive
---
2. Guide Gear Steadfast Camo Hunting Bibs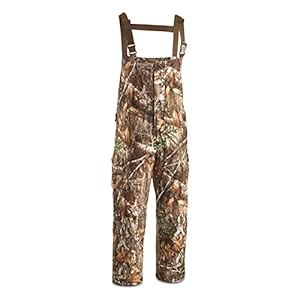 The Guide Gear Steadfast Men's Hunting Bibs are a solid choice for any hunting expedition. These bibs are designed to keep you warm, comfortable and concealed in the wild. It features 150-gram insulation, which provides a good level of warmth without adding too much bulk. This will allow for ease of movement during your hunts.
The waterproofing is another big plus. No need to worry about getting wet while trekking through damp or rainy environments. This feature helps keep you dry and comfortable.
The camo pattern is effective for blending into natural surroundings. This can be a game-changer when it comes to getting close to your prey without being detected. However, these bibs are a bit on the heavy side, which could be a consideration for extended treks or hunts that require a lot of mobility.
The inclusion of X Static technology is known for its anti-odor and antimicrobial properties. It helps keep unwanted scents at bay, which is crucial for staying undetected by sensitive wildlife. They're built to withstand rugged terrains and the wear and tear of outdoor activities.
PROS
Multiple pockets
Quiet and comfortable
Waterproof and breathable
X-STATIC® antimicrobial odor control
Good value for the price
---
3. ArcticShield Heat Echo Sherpa Bib – Realtree Edge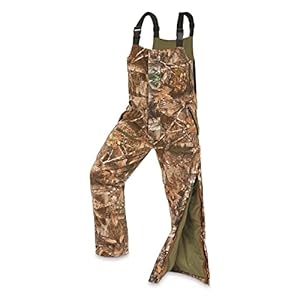 ArcticShield, part of Absolute Outdoor of America, LLC, is based in Sauk Rapids, Minnesota. The Heat Echo Sherpa Bib is a top-notch choice for cold weather. These bibs are designed to keep you cozy even in the most frigid conditions.
The Heat Echo technology effectively retains and reflects your body heat back towards you, and ensures you stay warm throughout your hunt. This is radical for those early mornings and late evenings when the temperatures drop.
The bibs are also designed with practicality in mind. The Realtree Edge camouflage pattern is well-designed to provide excellent concealment in a variety of terrains. It gives you a strategic advantage in getting closer to your target.
The Sherpa fleece lining adds an extra layer of insulation, which provides additional warmth without sacrificing mobility. This is especially important for those extended hunts in freezing temperatures. The adjustable suspenders and waist ensure a snug fit, while the zippered chest and hand pockets offer convenient storage options for your hunting essentials.
PROS
Storm flaps with snap closures
Adjustable hook and loop cuff
Easy to get on and off
Side flex points
Weatherproof
Lightweight
Affordable
---
4. Legendary Whitetails HuntGuard Reflextec Camo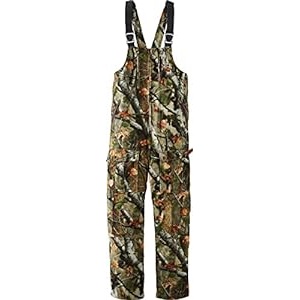 The Legendary Whitetails HuntGuard Reflextec Hunting Bibs offer an exceptional combination of warmth, durability, and functionality for serious hunters. The Reflextec lining and waterproof construction make them an excellent choice for cold and wet hunting conditions.
It keeps you comfortably warm without overheating during periods of high activity. The Reflextec lining in these bibs really shines in cold weather. The reinforced seams and high-quality stitching ensure that these bibs can withstand rugged outdoor conditions and will likely last for seasons to come.
The camo pattern is highly effective in providing stealthy hunting. The adjustable shoulder straps allow for a customized and comfortable fit, accommodating different body types and layers of clothing.
The multiple pockets have enough storage space for hunting essentials like calls, ammo, and small tools. The bibs feature robust, stealthy zippers that are both heavy-duty and quiet. With their full-length design, they make donning and doffing a breeze, and also grant convenient access to pants pockets underneath.
While the initial investment may be higher, the quality and performance of these bibs make them a worthwhile addition to any hunter's gear collection.
PROS
Durable construction
Effective camouflage
Superb insulation
Adjustable Fit
Full length two-way leg zippers
CONS
The removable liner is noisy
---
5. FROGG TOGGS Men's Classic Pro Advantage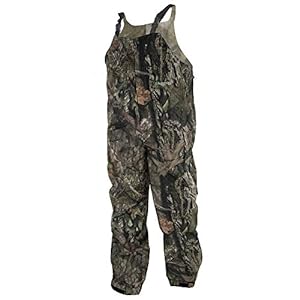 The Frogg Toggs Pro Advantage Rain Bib is made from special waterproof material that's both lightweight and surprisingly tough. It's not easy to tear this fabric. You can use it for any activity near or on the water. And for the price, you won't find better protection from the rain.
The pants have seams that are completely sealed, so you stay dry even on long days out on a boat. These seams are very well-made, so they don't have any visible flaws that might let water in. However, they can melt if they get too close to something very hot like an exhaust pipe. So be careful around strong heat sources.
These pants have a loose fit, which means if you're wearing them over thick work pants, it would take a long time for any moisture to reach your legs. They also let some air in to help prevent moisture from building up.
The legs of the pants have a 12-inch zipper that won't rust, and the ankle parts have closures that you can adjust with hooks and loops. This makes it easy to put on and take off over boots and shoes. There's also a 20-inch zipper at the front that is easy to use.
The suspenders are stretchy and you can adjust them. They have buckles that you can open quickly. This makes sure they fit you well and feel comfortable. The bottoms of the legs have openings that you can adjust with hooks and loops, so you can put on and take off over boots or shoes without any trouble.
PROS
Dependable foul-weather protection
Machine washable
Breathable fabric
Wide adjustability
Functional pockets
CONS
Nosy
Not ideal for extreme cold
---
6. Realtree Xtra Insulated Bib for Men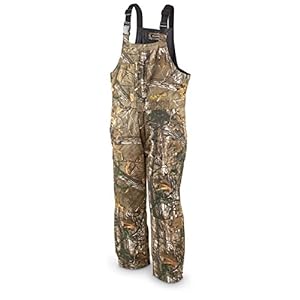 Meet the Legendary hunting bib – it's a fantastic piece of clothing for hunting in winter. This bib provides excellent weather protection and has built-in padding for comfort and warmth, even in temperatures below freezing. Also, if it warms up, you can take out the liner. And considering the price, these bibs are truly impressive!
It's designed with 6 ounces of heavy insulation in the legs and 4 ounces in the chest and back. It also has special sweatproof technology that makes the material breathable. The only thing we'd improve is making the leg zippers go a bit higher so they're easier to get over your boots.
Legendary hunting bib is made from high-quality materials like polyester, a special membrane, lining, and insulation to keep you shielded from the wind. The fabric is warm and doesn't make noise like cheaper bibs. It's equipped with full-length, two-way zippers on both sides, so you can take it off quickly without needing to remove your boots.
There are plenty of pockets, which is super useful if, like me, you like to wear lots of hunting accessories like a wind tracker, compass, and glasses. The cargo pockets are especially effective for keeping your items secure. However, the camo pattern might not be ideal in the snow.
PROS
Good choice at this price
Great fit and very warm
Plenty of room for layers
Good quality stitching
Easy to wear
---
7. Scent Blocker Drencher Insulated Camo Hunting Bibs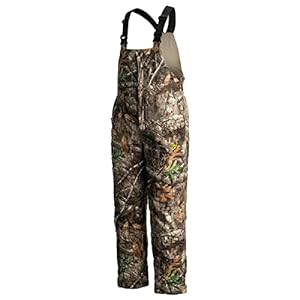 Since 1998, Blocker Outdoors has been providing hunters with top-notch gear. Whether you're spot and stalking, spending a day in a tree stand, or engaged in hunts that demand movement like using a tree saddle, these bibs have got you covered. These waterproof and windproof bibs offer both comfort and durability, making them a valuable addition to your hunting wardrobe. They can be worn over a base layer or other hunting attire, and for a complete outfit, pair them with the Drencher insulated jacket.
Scent Blocker Drencher hunting bibs are made from reliable polyester, making them ideal for mid to late-season hunting, especially for those undeterred by rain. The breathable fabric allows air to circulate, facilitating sweat evaporation, and ensuring you stay comfortable even during intense hunts.
These bibs feature RainBlocker Technology and taped seams to keep you dry in the field for extended periods. The two-pocket design provides secure and dry storage for your essential gear and ensures you're always prepared.
They also integrate exclusive S3 Silver Technology for odor prevention to give you the advantage of a fresher, cleaner hunting suit in the field. No need to worry about scent as you stay outside for as long as necessary. With 180 grams of insulation, Scent Blocker Drencher bibs keep you warm without sacrificing breathability.
PROS
Very comfortable to wear
Waterproof and windproof
Built with odor control technology
Snap closure ankle
Highly insulated
CONS
Polyester fabric
Not recommended for people who have high skin sensitivity
---
8. Sitka Men's Insulated Fanatic Bib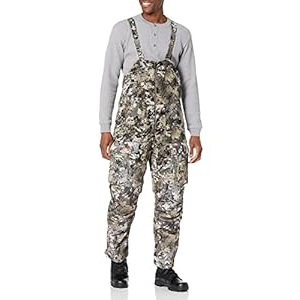 Absolutely, when you're facing the freezing Wisconsin late season, nothing beats the combination of these bibs and the Fanatic jacket. The new Fanatic system, including the Fanatic Bib, gives hunters the confidence to move freely. The Fanatic Bibs are designed to provide whitetail hunters with top-notch cold-weather protection and noise reduction technology for ensuring a more comfortable and successful day in the treestand.
These hunting bibs feature Gore-Tex InfiniumTM with Windstopper® for added defense against chilly winds. The PrimaLoft® Silver Insulation microfibers offer exceptional warmth without the bulk, and the plush Berber fleece ensures superior comfort.
Additionally, these bibs come with spacious cargo-style pockets that securely snap shut, which allows you to store your hunting gear silently. Exceptionally quiet and warm, these bibs for men fuse comfort and agility, ensuring you stay hidden during your next late-season hunt.
The high-loft Berber fleece-facing is strategically placed to deliver excellent comfort, while the burr-resistant material on the legs and gusset prevents pesky burrs from sticking in crucial areas. Just a heads-up, be sure to open all vents and zippers on your way out, or you might find yourself getting too warm!
PROS
GORE-TEX Infinium
Windstopper technology
Seamless integration
Sound-suppressing system
Warm and breathable
CONS
The price is ridiculous, but worth it.
---
9. Wildfowler Waterproof Insulated Bib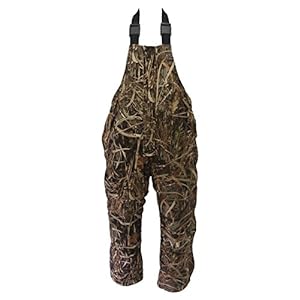 Wildfowler's Waterproof Insulated Bibs are designed to provide unmatched protection against rain, snow, and wind while maintaining breathability. These bibs feature a specialized layer that efficiently wicks away moisture and ensures a comfortable fit.
In the late season, when temperatures plummet and the ground turns cold and damp, Wildfowler insulated bibs offer reinforced seating and knees, which add an extra layer of insulation and defense against harsh conditions.
This model is designed with Wildfowler's adaptable waterfowl pattern to boast a lifelike 3D appearance that effectively conceals hunters in various environments, from wetlands and grassy fields to cornfields. Whether you're patiently waiting in a layout blind or discreetly positioned in a duck boat, the Wildgrass pattern keeps you hidden from the keen eyes of ducks and geese.
You'll stay warm with 180 grams of lightweight and heat-trapping polar fleece. These bibs are rated to withstand temperatures as low as -20F, which ensures reliability and longevity. The fabric is exceptionally soft to the touch and remarkably quiet.
Wildfowler hunting bibs also have two-inch adjustable shoulder straps and elastic side panels, which guarantee a comfortable and secure fit. Versatility is key, making them suitable for a range of activities including hunting, skiing, snowboarding, ice fishing, early-season fishing, and more.
PROS
Very well insulated
Multi-layered shell
Pretty quiet & comfortable to wear
Affordable
Versatile
CONS
The legs are a little tight
Hand wash only
---
10. SITKA Gear Incinerator Hunting Bib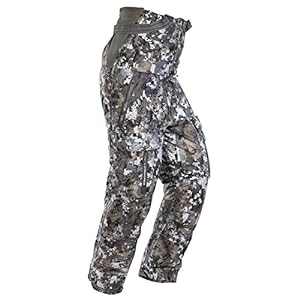 We finished our list with SITKA Gear because we believe that the hunting experience matters a lot. The warmest set from Sitka is called the Incinerator system. It's the best gear you can get for hunting in very cold weather. The Sitka Incinerator is worth every bit of its cost, and even more.
The stuff inside that keeps you warm weighs 6.8 ounces. It's a mix of 40% Primaloft down and 60% 650 fill water-resistant duck down. This mix keeps you warm even if the fabric gets wet. This is really good because it means the bib will keep your body warm even if it's wet outside, so you won't have to worry about the weather affecting your clothes.
The outer shell of Sitka's incinerator bib is made from a special material called GORE-TEX, which keeps you completely dry and stops the wind. On top of the GORE-TEX, there's another outer layer made of a soft polyester fabric. This helps you move quietly when you need to.
These bibs let you move easily because you don't have to wear lots of layers with them. You can move around more because you don't have lots of layers to fold up. However, you might feel a little tightness at the folds of your knees.
One great thing about these bibs is the pockets on the sides that let air in. If you get too warm in the cold winter, you can unzip these pockets and cool down a bit. This helps you keep a good body temperature while you're out on your stand.
PROS
Extremely warm and comfortable
Windproof and waterproof
Lightweight with good mobility
Pockets are well laid out
Ventilation system
---
A Comprehensive Buying Guide for the Best Hunting Bibs for Cold Weather
By following this section, you'll be poised to make an informed decision when selecting the best hunting bibs for cold weather.
Understanding the Cold-Weather Challenge
Before paying attention to the specific bib models, it's essential to comprehend the unique challenges posed by cold-weather hunting. Factors such as insulation, breathability, waterproofing, and mobility play a crucial role in determining the effectiveness of hunting bibs in extreme conditions.
The Fabric Arsenal
Insulation: Look for bibs equipped with cutting-edge insulation technologies like PrimaLoft, Thinsulate, or Gore-Tex. These materials provide exceptional warmth without compromising mobility.
Waterproofing and Breathability: Opt for bibs with advanced waterproof membranes such as Gore-Tex or eVent, ensuring moisture from snow or rain is kept at bay while allowing perspiration to escape.
Durable Outer Shell: A robust exterior fabric, preferably constructed from materials like Cordura or Ripstop, ensures resistance against abrasions from thorns, branches, and rough terrain.
Ergonomic design
Articulated Knees and Gusseted Crotch: These features facilitate unrestricted movement, allowing hunters to navigate challenging terrains with ease.
Adjustable Straps and Cuffs: Bibs with customizable straps and cuffs provide a snug fit, preventing drafts from penetrating and retaining vital body heat.
Ventilation Zips: Look for strategically placed ventilation zips that can be opened to release excess heat during strenuous activity.
Storage and Accessibility
Opt for bibs with an array of pockets, including chest, cargo, and handwarmer pockets. These provide convenient storage for essentials like ammunition, maps, and hand warmers. Silent closures are crucial to avoid alerting the game to your presence.
Sizing and Fit
Getting the right size and fit is crucial for comfort and functionality during your hunting adventures. Ensure the bibs offer enough room to comfortably layer underneath without restricting movement. Bibs with adjustable waistbands or suspenders allow for a customizable fit. If you plan to wear multiple layers underneath, you need to go for a slightly larger size to accommodate them comfortably.
Camouflage and Visibility
Select bibs that offer camouflage patterns optimized for your specific hunting environment, be it woodland, snow-covered landscapes, or open fields. The incorporation of blaze orange or reflective elements is crucial for ensuring visibility to other hunters.
Ventilation
Ventilation in cold weather hunting bibs is important to regulate body temperature, prevent overheating, and reduce moisture build-up, which can lead to discomfort and potential health risks. Look for bibs with vents or zippers that allow you to regulate your body temperature.
Scent Control
Some hunting bibs come with scent-control technology to minimize your scent profile, which is essential for staying concealed from game.
Durability and Maintenance
Durability and proper maintenance are crucial factors when it comes to any hunting gear, including bibs. Choose bibs made from high-quality materials like ripstop nylon or polyester. These are known for their durability and resistance to tears and abrasions.
Reinforced Seams and High-Quality Zippers contribute to the longevity and robustness of the bibs. Follow the manufacturer's guidelines for cleaning and maintenance to ensure the bibs remain in peak condition.
FAQs
What makes hunting bibs different from regular cold-weather pants?
Hunting bibs are specifically designed for the needs of hunters. They often feature specialized insulation, durable materials, and strategic pockets for storing hunting essentials. Additionally, they typically have adjustable straps or suspenders for a secure fit and added mobility.
How do I choose the right camo pattern for my hunting environment?
Consider the specific terrain and vegetation in your hunting area. Opt for a camo pattern that closely matches the surroundings. For snowy environments, choose a white or snow camo pattern. Woodland patterns are suitable for forested areas, while open field patterns work well in grassy or prairie settings.
Are waterproof bibs necessary for cold-weather hunting?
Although waterproofing is not always mandatory for winter hunting bibs, this feature can be a game-changer in wet or snowy conditions. They help keep you dry and comfortable, which is decisive for staying warm during prolonged hunts. Look for bibs with advanced waterproofing technologies like Gore-Tex or eVent for superior protection.
Can I wear regular layers underneath hunting bibs, or do I need specialized base layers?
You can wear regular layers under hunting bibs, but specialized base layers designed for cold-weather activities can enhance your comfort and warmth. Look for moisture-wicking materials to keep sweat away from your skin, and choose insulating layers appropriate for the temperature range you'll be hunting in.
What is the importance of blaze orange or reflective elements in hunting bibs?
Blaze orange or reflective elements are important for visibility and safety, especially in areas with other hunters. These features help ensure that you're easily distinguishable from wildlife, reducing the risk of accidental shootings. Always check local hunting regulations to ensure compliance with visibility requirements.
Conclusion
As we draw the curtain on our exploration of the finest hunting bibs for the unforgiving chill of 2023, it is abundantly clear that this year marks a height in the evolution of cold-weather hunting gear. The meticulous fusion of advanced technology, innovative design, and unwavering durability has birthed a selection of bibs that stand as veritable sentinels against the harshest of elements.
Our picked cold-weather hunting bibs will not only keep you warm and dry but also provide comfort, durability, and functionality in the field. So choose a model that aligns with your specific hunting needs and the environmental conditions you'll face. You'll become an indomitable force, seamlessly integrated into the vast tapestry of the wild.
---
Related Posts: