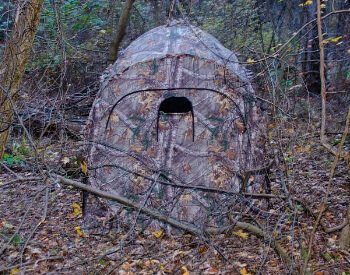 If you're a passionate hunter or serious about hunting, hunting blind is an indispensable component of your outdoor pursuits. It plays a vital role by providing effective concealment, allowing hunters to remain hidden and poised for a successful takedown.
However, to get substantial effects in research, you must own the best quality hunting blinds to ensure that you remain efficient during your research experience. The market has a wide selection of hunting blinds, so choosing the best one at the right price can be a bit challenging.
Some ground blinds can comfortably hide your entire body to prevent prey from identifying your location. Others are camouflaged and they can help you mix easily with trees and woods. Some models look like hay bales; they allow you to hunt in the center of the field without being directed by the victim.
Rest assured! We've invested countless hours in thorough research and have carefully reviewed over 20 blinds from reputable brands. As a result, we've made a list of the top 10 models designed for various specific uses.
Best Hunting Blinds 2023 – At A Glance
Make sure to checkout our ranking of the best hunting blinds of 2023…
1. Rhino Blinds R150 Pop-Up Hunting Ground Blind – Best Overall
Size: One Size | Occupancy: 3 Person | Installation Type: Easy Setup, Pop Up | Seasons: 4 Season | Center Height: 66-Inch | Item Weight: 13.8 Pounds | PRO Camo Patterns: Yes | Waterproof: Yes
Whether you're a novice or a seasoned hunter, RHINO's R150 hunting blinds could be the perfect addition to your next hunting expedition. This blind, expertly made by professional hunters, is designed for seamless use in any weather conditions.
The ground blind is made of a true 150 denier polyester – 150 denier thread in both the horizontal and vertical weave, which ensures long-term service life.
It has a big window that you can break up into smaller windows. It also has windows on all 4 sides, which makes this shelter much more breathable. All small windows can accommodate the large, making this an ideal choice for both bow and rifle hunting.
This is a wall pop-up ground blind with a durable rod and hub system, so you can easily set up and take down. However, there is no zipper, simply 4 small clips that can be attached to the frame, and you are done. This feature is especially useful for bowhunters because they don't have to move around to get the right position through a window to take a shot or move between windows.
The package comes with a carrying backpack, stakes, & tie-down ropes, and replacement parts are always available. Rhino Blinds R150 hunting ground blind is also lightweight. Transporting this model is not a problem, because the carrying case straps are widely adjustable and work great when carrying long distances.
However, although this is a 3 person blind, it is a little excessive for a bow (you can probably fit two). But for Rifle, you could fit 3. All in all, this is a fantastic hunting blind, especially for the budget hunter.
What we liked:
Easy to set up and take down
Designed to withstand 4 season
Comfortable and very roomy
Popular Camo Patterns
Good value for the money
What we didn't like:
There is no instruction, but installation is simple
---
2. Ameristep Care Taker Premium Ground Blind – Editor's Choice
Size: Four Size | Occupancy: 2 Person | Installation Type: Easy Setup, Pop Up | Seasons: 4 Season | Center Height: 60-Inch | Item Weight: 15 Pounds | PRO Camo Patterns: Yes | Waterproof: Yes
Ameristep is renowned for producing some of the best hunting blinds globally, excelling in both wet and dry conditions, be it rain, snow, or late-season hunts. These features make the Ameristep Care Taker Pop-Up blind easy to use and more efficient for many seasons. This premium ground blind ensures that you are completely protected from insects and insects during research.
This distinctive blind has 3 separate windows on its side coated with different shoots for durable mesh. They ensure that you can shoot through several holes offered by the awning.
What is fantastic about this awning is its lightness which ensures that it is portable and user-friendly. It also features a moderate weight of around 15-pound sizes, making it easy to find.
The 55in wide and 60in high can allow a two or single of any size to fit inside. This insect-resistant hunting blind increases its overall function in research. Its small size and weatherproof design also make it easy to transport and deploy in a variety of environments.
Ameristep ground blind comes ready to use and can be easily acquired at a favorable cost. The package includes a Hub blind, carry bag, ground stakes, and high wind tie-downs. However, there is no interior pole. It is made from a Durashell Plus source substance which improves its effectiveness. This model also has many shooting holes, making it a powerful instrument to use for exploration.
What we liked:
High-quality construction
Compact and lightweight
Thick and durable fabric
Plenty of rooms
Easy to use
Affordable
What we didn't like:
There are very small pin holes
Doesn't have external ties or loops
---
3. Guide Gear Deluxe Ultra-Light Pop-Up Ground Blind
Size: One Size | Occupancy: 1-2 Person | Installation Type: Easy Setup, Pop Up | Seasons: 4 Season | Center Height: 72-Inch | Item Weight: 9.4 Pounds | PRO Camo Patterns: Yes | Waterproof: Resistant
Guide Gear Deluxe Ultra-Light Instant Hunting Ground Blind comes equipped with top features ultimate in concealment and with a maximum field of view that will help you to improve your overall hunting success. It is an exceptional hunting blind that covers all its foundations.
It can easily take on different shapes when you choose to remove it from its packaging, so you will need to fold this blind back to its original shape. It is weather-resistant and designed for 4-season use, to provide concealment in any environment and stands up well to wear and tear. The package also includes a backpacking carrying case that makes it easier to transport.
It has 3 large full-zip windows and 4 porthole-style windows with shoot-through mesh that offer maximum visibility and allow users to shoot from any side in the blinds.
Installing this hunting tent is not as difficult as preparing it for the first shape. You can easily hang it up and its imitation leaf-covered camouflage pattern easily combines with other forest components. Also, it's encompassing, which makes it difficult for prey to understand your existence and your location.
Guide Gear blind has different shooting holes creating an unforgettable searching experience. It's made from heavy-duty 150-denier shell, which makes it easier to find prey. Overall, this portable 2-person ground blind is ideal for deer hunting, antelope, elk, and more that you can take anywhere.
What we liked:
Scent-containing inner shell
Simple and near-instant setup
Comes with a backpack case for easy carry
Maximum field of view
Small and lightweight
What we didn't like:
There is no frame around the windows
Not totally waterproof but acceptable
---
4. Barronett Blinds PR200BT Road Runner Hunting Blind
Size: One Size | Occupancy: 1-2 Person | Installation Type: Easy Setup, Pop Up | Seasons: 4 Season | Center Height: 67-Inch | Item Weight: 9. Pounds | PRO Camo Patterns: Yes | Waterproof: Yes
For novice hunters or those embarking on their first hunting trip, the Barronett Blinds PR200BT is a budget-friendly option that offers a glimpse into what you might prefer in the future. It allows you to hide your face effectively while looking.
The setup process is surprisingly simple. In less than a minute, you will be done. There are also loop/button closure points at the top and mid-height for easy disassembly. This is a great hunting tent with excellent construction material. The Barronett Blinds PR200BT has plenty of space for 2 people.
This model is also very handy to carry. It features a height of about 67in and a length of about 60in allowing you to observe your prey from many angles hence a simple shot. Although it does not have screens for the windows, you will be thrilled with it. It has a wide selection of shooting holes that make it easy to aim at prey.
The zipper opening with noise-free adjustment makes shooting convenient. Barronett PR200BT hunting blind also has a Shadow Guard coating that comfortably eliminates silhouettes and shadows throughout the search.
It comes with all the necessary items you need. For example, the package includes a carry bag, ground stakes, and tie-down ropes. However, it has no floor, but you can build a platform and add floor mats.
What we liked:
Intelligent design
Easy to put up
Ultra-light
Convenient carry bag
Plenty of room inside
What we didn't like:
Doesn't have mesh window
The fabric has some small daylight pin holes through it
---
5. Tangkula Portable 360-Degree Pop up Ground Blind
Size: Five Size | Occupancy: 2-3 Person | Installation Type: Easy Setup, Pop Up | Seasons: 4 Season | Center Height: 78.5-Inch | Item Weight: 15 Pounds | PRO Camo Patterns: Yes | Waterproof: Yes
The Tangkula Portable Pop-Up Blind is an excellent ground blind designed for hunting, offering exceptional quality at an affordable price point. Its sturdy construction and durability make it a valuable shelter for researching hunts and providing reliable concealment and protection in the field.
It has enough space to ensure a comfortable experience, allowing for ease of movement and maneuverability. Tangkula ground blind is also water-resistant to light rain but stays safe in heavy rain.
The installation is quite simple and does not require a lot of time. Because this blind is equipped with a hub system for simple setup and take down. In addition, it contains reinforced points that are worried. The zippers are plastic but very sturdy and quiet.
This ground blind offers enough space for three people. It also has a backpack with other essentials, which makes it convenient for transportation, and suitable for hunting deer, antelope, elk, and more. Treated with antimicrobial and DWR, making it more reliable to use in harsh environments. It also features vivid jungle camouflage. It can integrate into the surrounding habitat naturally.
The frame is made of robust fiberglass rods, which are covered by thick polyester fabric. The poles are also lightweight but robust enough to support the tent.
Tangkula hunting blind has large detachable mesh windows on 3 sides, which provide you wide views to watch your prey. To help you hide from your prey, each window has a non-transparent window screen inside the blind.
What we liked:
Stable and durable structure
Convenient pop-up design
Wide range field of view
Ample inner space
Good choice for the price
Easy setup and take down
What we didn't like:
Stakes quality is not great
The backpack straps are pretty bad
---
6. PRIMOS HUNTING Double Bull 360-Degree Surround View
Size: Five Size | Occupancy: 2-3 Person | Installation Type: Easy Setup, Pop Up | Seasons: 4 Season | Center Height: 70-Inch | Item Weight: 23 Pounds | PRO Camo Patterns: Yes | Waterproof: Yes
PRIMOS HUNTING is a great pop-up blind for hunting. It is simple to set up (user will not find it difficult to channel) and the amount of room was noticeable. Although this is a 2 person hunting blind, it has enough room for 3 people and gear as well. The blind was designed by Hunters as there are many shooting options for all types of hunters including kids, bows, Pistols, etc.
The opening and closing of the windows are fantastic along with the "Slit" for shooting. The 360 view is also a great option that helps you with Claustrophobia and makes your hunting season more enjoyable. This surround-view hunting tent comes with four one-way see through walls with one movable black-out wall so that you can place it on any wall you choose.
The 70-inch height can easily fit two taller people. The shade includes a shadow protection coating that eliminates silhouettes and shadows, ensuring the user remains hidden and concealed for a striking search. To ensure quality, the PRIMOS HUNTING Double Bull comes with a limited Lifetime Warranty.
It also has multiple holes for shooting. With a sturdy and water-resistant design, you can also spay Camp Dry on it to give it more water resistance for heavy rain. However, the Window Slit is too low to accommodate a normal-sized hunter in a typical field chair or stool.
What we liked:
360 degree surround view
Very well-made blind
Heavy-duty construction
Plenty of room
Lifetime warranty
What we didn't like:
Pretty low window slit
The carry bag is incredibly cheap
Heavy
---
7. THUNDERBAY SPUR Collector 2 Person Hunting Blind
Size: One Size | Occupancy: 2 Person | Installation Type: Easy Setup, Portable | Seasons: 4 Season | Center Height: 66-Inch | Item Weight: 11.75 Pounds | PRO Camo Patterns: Ye | Waterproof: Yes
The THUNDERBAY SPUR Collector hunting blind is a top-quality option that can significantly enhance your hunting experience. With a huge space to comfortably accommodate two people, it ensures you have all the room you need. The added feature of a roof with pop-up windows not only enhances its aesthetic appeal but also facilitates easy and effective shooting.
You don't have to struggle to put on this hunting tent as it's easy setup, with five-hub design and waterproof properties. However, the instructions are very poorly written, and it does not just pop up.
THUNDERBAY hunting blind is made from 100% Polyester fabric which increases its durability and protects it from harsh weather conditions. It has a black interior with PU coating to ensure great longevity and weather ability. It also features a huge flat window ideal for shooting.
This foldable ground deer hunting blind comes with a free high-end carrying bag, stakes and ropes. It is super lightweight even for a woman. It also has exceptional brush holders.
The real hardwood and leaf camo pattern design is ideal for concealing for viewing and hunting. Also, the 270° windows with silent sliding system offer noise-free adjustment.
It has dimensions of 69" x 69" (width x length) with 66″ center height. It proves to be a dependable tool in helping hunters reach their goals. However, this 2-man ground blind does not come with a built-in floor. But if desired, you can add one for your convenience easily without causing any disturbance.
What we liked:
Made of durable materials
Easy to use and carry
Great concealment
Noise-free sliding window
Good value for the money
What we didn't like:
Doesn't have mesh screen over the shooting openings.
Vague instruction manual
---
8. Rhino Blinds Realtree Edge Person Hunting Blind
Size: One Size | Occupancy: 2 Person | Installation Type: Easy Setup, Pop up | Seasons: 4 Season | Center Height: 66-Inch | Item Weight: 11 Pounds | PRO Camo Patterns: Yes | Waterproof: Yes
Rhino hunting blind is economical and will match any type of hunting. If you demand a blind that can maintain a harsh environment, this is the instrument you can get. It features waterproof properties with strings connected for easy folding. In addition, it is light and durable. Because it is designed to withstand the most inclement weather conditions like rain, snow, hail and wind.
The Rhino Blinds Realtree Edge is made from 150 denier polyester fabric which protects it from harsh weather conditions and increases its durability. This model also comes with an adjustable height of approximately 30 to 66 inches. It is comfortable for shooting since you are sitting on a seat.
Rhino Blinds Realtree Edge is ideal for 1 person but you could hunt two people in this blind if they aren't very large people. It has a zipper door and hook/bungee windows but no Velcro!! It is very user-friendly and portable. It can be conveniently folded up and stowed in a compact carrying pouch for effortless transportation and storage.
However, it doesn't come with poles. But it is built in two fiberglass rods that go from corner to corner crossing each other that you may be seen in a dome tent. This model includes steaks and string to tie this blind down. The steaks leave a little to be desired but they work well.
What we liked:
Well made and durable blind
Lightweight and small
Easy to set up and take down
Best for a single person
Great choice for the price
What we didn't like:
A bit small for two bowhunters
Very low windows
---
9. Ameristep Silent Brickhouse Hunting Ground Blind Mossy
Size: Three Size | Occupancy: 2-3 Person | Installation Type: Easy Setup | Seasons: 3-4 Season | Center Height: 67-Inch | Item Weight: 16 Pounds | PRO Camo Patterns: Yes | Waterproof: Yes
The Ameristep Silent Brickhouse hunting blind prioritizes safety during your hunting expedition. Its design allows for effective concealment and provides a secure hiding spot for your physique.
The blind also gives enough space for only two to three people while searching and inside. And it is possible to adopt silence when aiming at your prey as it gives more darkness to the consumers. This setting will give you an advantage if you are searching in the woods.
The purchase price of this blind shouldn't scare you because, at the end of the hunting trip, you want better results. Although it's not warm, it will definitely help from the wind and some cold. However, we don't recommend using it for windy days.
Ameristep hunting blind is very tall at about 67 inches; this can allow you to shoot effectively, especially once you stand vertically. It was designed for both archery and rifle hunters because it has shoot-through mesh windows and gun ports. It also has plenty of windows on the sides and corners.
It features spider Hub frame design with superior metal-stamped hub, which maximizes strength and durability to extreme weather for many years of use. The outer shell is made of Durashell Plus, custom-woven, matte-finish, which makes the hunting blind lightweight and durable.
What we liked:
Strong structure
There are windows on all sides
Can hide and reveal necessary
Improves quiet operation
Plenty of room for two people
What we didn't like:
Not fully windproof
The little hooks that keep the window flaps closed are weak
---
10. Barronett Pentagon Bloodtrail Backwoods Ground Blind
Size: One Size | Occupancy: 4 Person | Installation Type: Easy Setup, Pop up | Seasons: 4 Season | Center Height: 80-Inch | Item Weight: 19 Pounds | PRO Camo Patterns: Yes | Waterproof: Yes
Finally, the Barronett Pentagon blind is constructed using high-quality materials. This choice of substance ensures durability and reliability, making it a good option for hunters seeking a long-lasting and dependable hunting blind. And of course, they were created to blend in with the woods, improving your hunting methods.
It is also one of the best multifunctional hunting blinds as it can be used for searching and shooting. The blind is made of high-quality fabric covered with camouflage patterns and wood. This allows you to combine easily with the surrounding woods to improve your research experience. This built-in clever hub technology and durable fiberglass poles remain very portable.
The incorporated large and unobstructed windows ensure better views of your surroundings. You can also open or close the windows in various configurations and feature shoot-through mesh coverings.
It is also resistant which produces efficient shooting functionality. Barronett Pentagon multifunctional ground hunting blind can be used to hide musicians when turning occasions. The noise-free window adjustments won't scare off the game. You can open and close these windows with one hand.
This model is designed in a special way that makes it easy to disassemble or install. You can easily put up with its simple pop-up design. It offers enough space for three people to hide and show off throughout the search. And with this blind, you have the option to shoot while standing, which is very useful, especially with archery equipment.
What we liked:
Noise-Free Windows
All components are strong
Plenty of room and good views
Windows are low enough to shoot from a sitting position
Five-sided design
What we didn't like:
A bit hard to reattach to the blind
Storage bag could be a bit bigger
---
Hunting Blinds Buying Guide
Here's a complete buying guide, focusing on factors that demand careful consideration:
Material and Durability
Look for blinds constructed from durable materials like denier fabric or heavy-duty nylon. These materials offer longevity and resistance to wear and tear. Also, consider reinforced stitching and seams because they contribute to the overall durability of the blind.
Concealment and Camouflage
The camouflage pattern of the blind should harmonize seamlessly with the natural environment where you'll be hunting. Opt for blinds with realistic and nature-inspired designs that mimic the surroundings. This ensures that you blend into your hunting environment effectively, making it harder for prey to detect your presence. Also, consider blinds that offer versatile camouflage options, allowing you to adapt to different hunting terrains.
Size and Space
Consider the size of the blind in relation to your hunting needs. A spacious blind allows for more mobility and can accommodate additional equipment or multiple hunters. However, make sure to strike a balance, as excessively large blinds can be more challenging to conceal effectively.
Portability and Weight
If you anticipate moving frequently, we recommend you choose a lightweight and portable blind. Features like carrying straps or backpack-style designs can greatly enhance portability.
Setup and Takedown Speed
The speed and efficiency of setting up and taking down a hunting blind are critical factors to consider. A quick and seamless process ensures minimal disturbance to the hunting area, which increases your chances of success. Look for blinds with straightforward assembly mechanisms and intuitive designs. Features like pop-up frames or hub-style systems often facilitate swift setup. If possible, choose a blind that offers easy and compact folding for efficient takedown. This allows for swift and inconspicuous exit from the hunting location.
Windows and Shooting Ports
Assess the number and size of windows or shooting ports. They should offer a clear line of sight without compromising concealment. Adjustable options are advantageous.
Stability and Wind Resistance
Make sure that your selected blind has a sturdy frame and anchors well to the ground. This will prevent it from shifting or collapsing in windy conditions. Designs with additional stability features like guy ropes or weighted bases can also provide extra assurance in gusty weather.
Insulation and Climate Considerations
For cold weather hunting, insulation is key. Look for blinds with features like insulated floors and walls to keep you warm during extended sessions.
Scent Control and Material Treatment
Some blinds come treated with scent-blocking or antimicrobial technologies to reduce human scent detection. This can be a significant advantage in scent-sensitive hunting scenarios.
Accessibility and Mobility Features
Assess entry and exit points, as well as any additional features like pockets, gear loops, and accessory attachment points. These can greatly enhance convenience.
Ventilation
Adequate ventilation prevents condensation and ensures a comfortable interior. Look for blinds with mesh or vented windows that can be adjusted based on weather conditions.
Customization and Accessories
Consider whether the blind allows for customization or accessory attachments, such as brush loops for natural camouflage or pockets for storing essential gear.
Conclusion
A quality hunting blind is essential for increasing your overall chance of hunting animals like turkeys, coyotes, ducks, and deer. Hunters have used hunting blinds throughout human history, even in prehistoric times, hunters used primitive blinds to hunt various animals without facing them. On the market, you can still find some of the best primitive hunting blinds with great features.
We have provided in-depth insight into each blind and listed the pros and cons of each model. We hope this article helped you to make a wise decision in your hunting blind purchase! If you have any questions, don't hesitate to ask in the comment section below.
Related Top 10 Hunting Gear Reviews Posts: