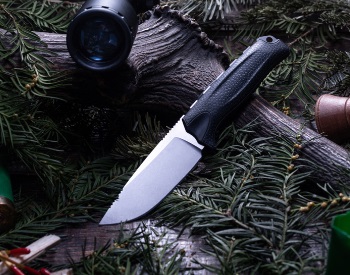 Expert hunters know that an efficient hunting knife how much essential to catch their prey successfully. For an effortless hunting trip, a hunting knife must be of good quality because a poor quality knife may not be effective as the best quality model.
A poorly made hunting knife often has a less sharp blade and a handle that is difficult to grip. In all cases, the knife must have a good grip with an imprint of the hand on the handle.
Hunters often use their hunting knives and they place high demands on performing their knives. However, their requirements vary depending on their use. In this article, we'll talk about the best hunting knives in 2023, but this practice involves more equipment than just a knife.
What is the Best Hunting Knife in 2023?
First of all, your hunting knife must be well-sharpened to allow you to proceed with any game butchering operation. It should also be sturdy enough in case you need to use it for any other activities. It must be suitable for your hand to avoid any injury, cut or accident.
Make sure your hunting knife is not too long or bulky. This is not a professional butcher's cleaver. Also, don't forget that the knife comes into play when the animal has already been slaughtered!
Here is our selection of the best hunting knives in 2023:
1. SOG FSA8-CP Flash II 8 in. Straight Edge EDC Knife
The SOG Flash II hunting knife serves as a daily carry flip knife with assisted opening tech. This folding hunting knife measures 11.43 cm in closed length. It has an AUS-8 Serr steel blade and an FRN handle. This model also has an assisted opening system for this.
SOG FSA8-CP Flash II knife features one-hand opening which is one of the most reliable and fast blade knife systems ever. The locking mechanism is super strong. The safety lock keeps it from opening unless it's unlocked. You don't need to think that it may unlock and slip and cut you.
The equipment is compatible with all hunting activities and its lightweight design makes it good for camping or hiking. This tool also benefits from a pocket clip safety system and a hardness of 57-58.
PROS
Solid single-handed design
Lightning-fast deployment
Made from high-grade stainless steel
One hand open folding design
Good locking mechanism
---
2. JEO-TEC Nº15 Bushcraft Multi-positioned Hunting Knife
JEO-TEC Nº15 hunting knife has been specially designed to be used in rough conditions and hard outdoor environments. The length of the blade is 140 mm and its total length is 280 mm and the thickness of its blade is 5 mm. The Nº15 knife is suitable for hikers, hunters, fishermen, and other outdoor exploration sports enthusiasts.
It has a cocobolo wood handle and a multi-position leather sheath. As for its high-quality leather carrying case, it is convenient for multi-position.
The box comes with a genuine leather multi-positioned Sheath, Sharpener Stone & Fire steel. Overall, the JEO-TEC Nº15 Bushcraft knife is a must-have for your survival and camping gear. We have had a chance to use this knife. It is well-balanced and fits in hand well.
PROS
Multipurpose hunting knife
Not too big, not too small
Variety of handle grips
Well-tailored sheath
Very well made
CONS
Sheath would have been made of a higher quality
---
3. CELTIBERO BLACK Premium Survival Tactical Knife
CELTIBERO is a Spanish manufacturer, handcrafted with a polished and laser-cut blade. This BLACK hunting knife from CELTIBERO is made of stainless steel with a micarta handle. The blade Length is 145 mm / 5.70″ and the overall length is 275 mm / 10.82″. The blade has thickness of 5mm and a total length of 27cm.
The handle is so much comfortable to handle and use; you don't need any gloves or jimping. However, without the gloves, you will get blisters using the jimping for a longer period of time.
CELTIBERO hunting knife to be used in rough conditions and hard outdoor environments. It has been specifically designed for hunters, campers, and wildlife enthusiasts. It comes packed in a multi-position carrying case with fire starter pockets. A sharpening stone is included with the package.
To ensure quality, CELTIBERO BLACK hunting knife comes with a lifelong guarantee.
PROS
Made of Exotic Cocobolo Wood handle
Lifelong quality guarantee
Multiple carry options
Nice stone great handle
Affordable
CONS
Jimping is too aggressive
A little bit heavy
---
4. Perkin Damascus Steel Fixed Blade Handmade Knife
This American model hunting knife is of impeccable quality with a blade made of 440c steel. With a very successful stainless steel finish, this hunting knife is the perfect tool to live your passion in all serenity. Its blade is sharp enough and the walnut handle is also impeccable.
With a flawless finish, it comes with a leather case for a total length of 26.67 cm. It is an ideal model for both hunting and camping. The blade at its widest is 1 1/2″ the sheath is 2 1/2″. It is built-in excellent craftsmanship with razor-sharp blade. Perkin is also a beautiful hunting knife for the price.
In our point of view, the sheath is extremely tight with one defect. However, still very well-made and highly functional. We prefer round handles and full tangs, but we recommend this model because of its uniqueness.
Keep in mind, if you do not properly care for and oil your Damascus, it will not stay beautiful.
PROS
Solid and well-balanced hunting knife
Genuine Damascus Steel
Very well made
Functional
CONS
Not very sharp compared to others
---
5. Perkin Bushcraft Full Tang Hunting Knife with Sheath
We need to mention that the Perkins knife company is located in England, however, the Perkin knives are actually made in both UK and some Asian countries. This Estaing- style hunting knife in the bushcraft model is delivered in its genuine leather case. It has a sharp Damascus steel blade and a deer antler handle. This knife also has a good finish like the Japanese models.
It can be used for all the same reasons a small pocket knife is used – as an EDC, opening packages, cutting string, etc. However, this military model is often used for hunting, underwater exploration or camping.
The entire blade length from the center of the handle to the tip is 8 inches. It has a micro bevel, definitely not a Scandi grind, but for the money, you can't beat it. However, the sheath is a little on the Cheapish side (the sheath is a vertical model).
PROS
Great value for the price point
Comes with Handmade Leather Sheath
Full tang knife walnut wood handle
Razor sharp blade
CONS
The sheath is a vertical model
---
6. Jellas Pocket Folding Knife with Figured Wood Handle
Jellas folding pocket knife measures 20.50 cm and has a stainless steel blade with an opaque finish. The length of the blade is 8.50 cm. This pocket knife features a clip point shape blade for improved piercing power. The package comes with a black leather case for additional security.
Jellas hunting knife is Unique in the World. It was created from original figured wood with Nature Wood Fragrance and naturally formed grain on high quality timber. The handle is streamlined, and with its ergonomic design, you'll be extremely comfortable when holding it.
Jellas hunting knife also has an excellent balance of hardness and corrosion resistance, which ensures proper operation without sharpening frequently. This pocket hunting knife also provides razor-sharp cutting performance. For any manufacturing defect, Jellas promises a free new replacement guarantee.
PROS
Robust and stylish handle
Comes with sheath for attachment to the belt
Well-selected blade material
Perfect tactical knife for everything
Very lightweight design
CONS
A bit hard to open and close single-handedly
---
7. Walther OSK II Outdoor Survival Knife
The name of the knife is Osk II: Acronym for Outdoor Survival Knife. One of its distinguishing features is its 440 stainless steel blade painted black. The blade is serrated on the reverse.
One of its other typical aspects is that its blade and handle are made of alloy. The handle is covered with non-slip rubber for a more comfortable grip. At the end of the handle is a glass breaker with an eyelet, through which you can also slip a rope or a tether strap for a better grip.
The knife is sold with its black nylon sheath with belt loop and its Kydex sheath. The ergonomic design feels fantastic. Walther OSK II survival knife has many properties which should be observed. You can place it horizontally or vertically on the belt thanks to a loop.
PROS
Crafted from the highest quality materials
Built for performance and durability
Large size knife
Good moving metal with solid snap open
Comfortable handling
CONS
It is foldable, but it is pretty bulky
---
8. JEO-TEC Nº39 NEW CELTIBERO Bushcraft Survival Knife
It is an aesthetically designed hunting knife. Indeed, the whole is elegant and reflects robustness. In the case of its blade, it is very strong and sharp. It was laser cut and then hand polished to have a perfect finish.
This knife has been specially designed for use in harsh outdoor conditions and environments. The construction is very solid and does not fear water. On the other hand, the end of the neck is very practical for percussion, for example, for opening coconuts.
It is not a folding knife. However, it is more strong and more resistant. JEO-TEC Nº39 hunting knife is designed for long-term use thanks to the thickness of its blade. You can use this knife to kill animals and cut meat while camping or if you are on a mission in the military.
JEO-TEC Nº39 knife was designed for outdoor and survival activities, to be able to cut wood, carve, cut branches and cook. You can also use it to dig holes, drill trees or make constructions. The sharpening stone and fire steel lighter are also included with the product.
PROS
Robust and multifunctional
Made of high-quality materials
Very good construction
Fairly easy to sharpen
Decent look
---
9. MTech USA MT-086 Series Fixed Blade Hunting Knife
MTech USA MT-086 hunting knife has many advantages and will meet all expectations as a hunter. This model stands out for its robustness guaranteeing use in extreme conditions. With a weight of 0.5 lbs and a blade length of 7 inches for a total length of 12.25 inches, it is a practical product. As proof, the nylon case with which it is supplied can hang easily on the belt of its users.
Thanks to a reinforced ABS handle, the MTech hunting knife is characterized by its strength. Let yourself be surprised by the very well-thought-out design of the blade of this model offered by the brand. It is made of AUS-6 stainless steel and always stays sharp for optimal cutting results.
If you plan to invest in a product that perfectly combines elegance and performance, you will be charmed with this delicate knife. The manufacturer has worked with the greatest care in every aspect of this hunter's equipment in order to offer an absolutely magnificent end product of great efficiency and practicality.
PROS
Black stainless steel blade with straight edge
Ideal for camping expeditions or survival training
Easy to use and safe to carry
The balance ratio is pretty good
---
10. Cold Steel AD-10 & AD-15 Tactical Folding Knife with Lock
We end our ranking of the best hunting knives with the Cold Steel AD-10; it is a folding hunting knife intended for several types of use such as hunting, fishing and hiking. It is above all a knife that will help you in your various tasks, especially those that require the use of a very sharp knife. Undoubtedly, it is an outdoor knife that is designed for professional use whether for sculptors or fishermen, handymen as well as campers.
Cold Steel AD-10 and AD-15 hunting knives are made with ultra-tough S35VN stainless steel which is well known for its high chromium content and which is especially used in cutlery. This structure gives the cost the capacity of 57-59 HRC on the Rockwell scale, so you can be sure that this knife slides well and meets your needs.
Overall, if you are looking for a hunting knife that is good value for money, the Cold Steel AD-10 will be your best ally. Its design is contemporary in terms of outdoor knives.
PROS
Premium-grade all-purpose blade
High performance in every situation
Comfortable and secure grip
Ultra-reliable locking mechanism
User-friendly design
---
Types and Uses of Knives: According to Manufacturers
There are 3 main types of knives used specifically for hunting. Some models are engraved.
Knife with drop point blade: Drop point blades have a thorn that slowly descends to the tip of the blade. The downside to dropping point blades is that they are not very useful for drilling, and their tip is not as sharp as, say, point knives.
Bowie blade knife: Bowie blades or spiked blades are usually straight, then stop roughly in the middle of the blade and then curve to the tip. The tip is great for piercing but is narrow and a bit weak. This is a downside of a clip point blade.
Gut hook knives: Hose hooks or zippered knives have an unusual look for the uninitiated. This is used by hunters to open the abdomen of the animal without slicing it into the muscle or any organ. The downside of this type of hunting knife is that the "hook" cannot be sharpened easily, which can be a problem in the long run.
Types of Hunting Knives: According to Hunters
Here, hunting knives are divided into four categories:
The first and most popular: fixed blade knives;
The second includes the folding knives: their blade is foldable and fits into the handle for easy transport and has a "pocket" size, they are reduced to the essentials and offer few extra functions;
The third brings together all the pocket knives, which are probably the ones that depart the furthest from hunting practices and even include scissors and files;
The last category includes Lockback folding knives. It is also a type of pocket knife whose blade locks.
The vast majority of hunting knives in the market are fixed blades while folding knife holds the largest share of the remaining market.
Best Hunting Knives Buyer's Guide
When purchasing your favorite hunting knife, several characteristics must be taken into account:
Fixed or folding
The blades of your hunting or fishing knife will either be in a fixed stationary position or folding. Durability will always be in favor of the fixed blade, and that is common sense, as there are fewer mechanical parts to handle and break. Fixed blade hunting knife is also easier to clean and maintain.
Folding blades are much more versatile in their use and can easily be hidden, removed faster than a fixed blade, and are for everyday use. Carrying a folding knife in the pocket is an advantage. The locking mechanisms of all folding blades are of high quality and very secure compared to fixed blades.
Blade material
Stainless steel blades and carbon steel are the most reputable materials, and both have several features that favor one over the other. Stainless steel is made up of several components such as iron, nickel, carbon, chromium, etc. It is very rust-resistant, but it lacks the sharpness of carbon and is known to stain in certain environments.
Carbon steel blade is sharper compared to stainless steel. It's also easier to take care of and maintain that sharpness. Carbon blades rust and discolor awfully easily, even if they are neat.
Scabbard
Most hunting knives on the market come with their scabbard, although companies often try to save money on this accessory. Indeed, the sheaths already supplied are quite often of poor quality. However, scabbards and holsters are important because they are the safest way to carry your knife.
Most of these can be attached to your belt using eyelets or rings located in the upper or lower part of the knife so that it can be attached to the leg. Some hunting knives can still be attached via other means such as straps or belt loops to your bag for example.
Ease of handling
The handle is a fundamental part of the hunting knife and guarantees its smooth and safe operation. A good grip is firm, provides a good grip in large and small hands, and has ambidextrous characteristics. It must be able to offer you a good, solid, and non-slip grip in all conditions.
It is also recommended that the handle must be comfortable. Fixed blade models are incredibly known for having comfortable handles, as heavy use demands high quality.
Handle grips made of micarta (decorative high-pressure laminate) or G10 (fiberglass dipped in resin) have become very popular. But natural wood handles have never gone out of fashion, as they are durable, comfortable, and often elegant.
Handle end
The handle end of a hunting knife is usually not designed the same way as that of a survival knife. Most of the manufacturers of survival knives seek to provide them with the most extra features without transforming them into Swiss army knives. For this reason, the handle end of a survival knife is often turned into a window breaker, an essential item in an emergency.
The tip of a hunting knife is often normal and does not have a special feature. Because it primarily serves to counterbalance the weight of the knife.
Multi-purpose knives with several characteristics are the most in demand. They allow several types of tasks to be carried out with a single mechanism. The idea of ​​putting two types or 3 blades in a knife is a nice innovation, and there are a lot of choices. Emphasis is placed on the fact that while it is nice to have a multi-purpose knife. The overall quality is best served by using two knives with specific functions rather than a knife with two blades.
Final Thought
Hunting knife is a great accessory for every hunter, and with the many sources online, it becomes even easier to make an informed choice. Pick the one from our list that best suits your needs, and remember that there are a lot of hunters who have more than one tool in their collection.
In this article, we have exposed you to the criteria to take into consideration to acquire the hunting knife that suits you and that would best meet your needs for your outdoor activities. However, our editorial staff's favorite is the JEO-TEC Nº15 Knives fixed blade knife, which impressed us with its versatility and its numerous attachment possibilities. Its stainless steel blade is also very sharp and of high quality.
We also made a list of our favorite hunting knife sharpeners, and they are sorted by price, so you can pick the best one for your budget.