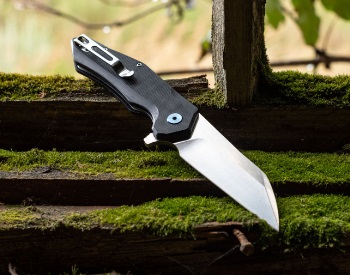 In the essential list of outdoor gear, survival knives unquestionably claim their spot. This accessory is very practical in many circumstances, especially in emergency situations such as defending yourself, lighting a fire, or building a shelter.
When it comes to selecting the optimal survival knife, there are distinct criteria to consider to ensure it lives up to your expectations. Within this guide, you'll discover the sturdiest, adaptable, and budget-friendly survival knives available at the most competitive prices.
However, if you're short on time and can't browse through various online platforms, we immediately invite you to look at the characteristics of the Keenstone Tactical Pocket Knife with Sharpener. Its Backlock locking system ensures safe use. Or you can choose the CDS Axarquia Bushcraft Survival Knife, which is made with a foolproof stainless steel blade.
Best Survival Knives of 2023
1. Keenstone Tactical Pocket Knife with Sharpener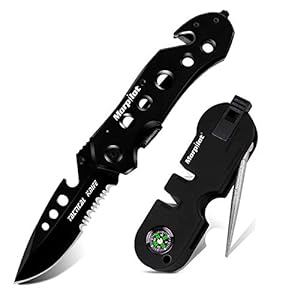 If you like adventuring in nature, then you should consider the Keenstone Tactical Pocket Knife among the other survival gear in your pack. This folding knife will take up little space to reduce your bulk. When unfolded, it is 20 cm long. It is only 5.6 oz in weight, which makes it easy to transport and handle.
Keenstone Tactical Survival Knife earns its spot in our comparison due to its exceptional manufacturing quality. It pleases not only for its aesthetics but also for efficiency in cutting various kinds of structures.
It draws this asset from its AUS stainless steel lance-shaped blade. The walnut wood handle adds a plus to its design. It has indentations for maximizing convenience when gripping. This versatile tool serves multiple functions including a bottle opener, saw, seat belt cutter, tactical knife, and glass breaker.
It also comes with a knife sharpener that you can take with you on your outings. This additional accessory will allow you to keep your equipment sharp to face any situation that may arise.
Pros:
Secure: The knife has a locking system nicknamed Backlock. This ensures the blocking of the blade during its use, to avoid unpleasant surprises such as unexpected withdrawals or injuries.
Ergonomic: The handle has a profile with fingerprints therefore conforming to the shape of the user's hand. The handling is carried out in optimal comfort while reducing fatigue on prolonged jobs.
Cons:
Maintenance: A bit dull, it needs to be pampered to last over time. This is not a high-end tactical knife but is a good survival knife for simple, occasional uses.
---
2. ALBATROSS EDC Sharp Tactical Folding Spring Knife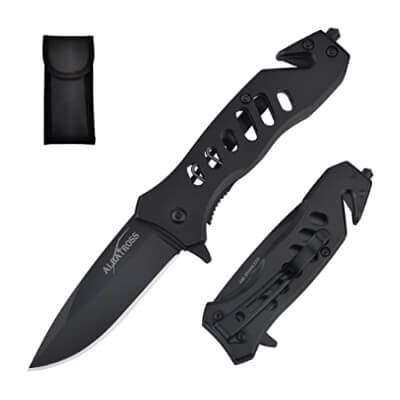 ALBATROSS EDC survival knife comes in handy for those who never used an outdoor knife before. The brand offers this knife, which is found in the specimens with a switchblade. It has an automatic blade unfolding mechanism coupled with a locking system to prevent unexpected retractions.
ALBATROSS EDC Folding Pocket Knife will accompany you in your various outdoor exercises. Indeed, it is suitable for hunting, fishing, hiking, or camping. For this, the manufacturer has equipped it with a titanium blade whose robustness is no longer to be proven.
The spring-assisted pocket knife allows for swift one-handed deployment, thanks to the flipper on the handle. Besides offering a quality cut without burrs, this knife is also indestructible. It does not require special maintenance. All it takes is cleaning with a cloth after each use, and you're good to go.
Pros:
Multi-use: With the design of the blade, this model can be used in various kinds of activities. You can use it for cutting meat as well as for cutting different elements thanks to its semi-serrated edge.
Compact: This specimen includes a folding system to reduce its overall dimensions. Once folded, it's easy to find a place for it in your bag or pocket.
Cons:
Only for initiates: New users will face some difficulty understanding the system during the first few uses. It takes a little time to adapt.
---
3. CDS Axarquia Bushcraft Survival Knife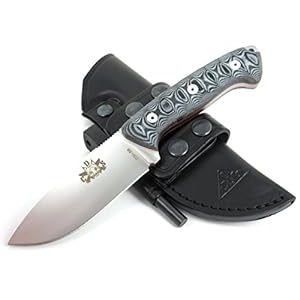 In the Bushcraft category, you have this reference from CDS. By focusing on the features of this survival knife, you will quickly find an address to buy the best survival knife. This knife has been specially designed with hunters, campers, and wildlife enthusiasts in mind.
This is a fixed-blade knife. It presents interesting stability during its handling. Indeed, you will not feel the fear that the cutting-edge retracts, unlike a folding model.
This specimen also reflects a quality that is not lacking in the reputation of the brand. It advances an elegance that immediately catches the eye. Also, the stainless steel blade with a hardness of HRC 56-58 and a thickness of 5 mm is particularly resistant to various wear factors.
It exhibits a particularly polished surface to optimize the cutting of the various elements during your outings. To ensure ease of transport, this knife comes with a faux leather case.
Pros:
Robust: The blade made of stainless steel withstands different types of uses. It does not degrade easily and is also not afraid of external alterations such as corrosion and rust.
Solid Handle: The component is basically made from Micarta. It remains the most efficient in terms of durability over time. In addition, it does not require special maintenance.
Cons:
Position of the case: The attachment systems of the accessory do not allow vertical installation. So, you need to think carefully about its location before leaving for your expeditions.
---
4. Jeo-Tec Nº31 Outdoor Hunting Hiking Camping Knife
Before you consider where to buy a new survival knife at an affordable price, there are a few parameters you should focus on. When you take a look at the features of this Jeo-Tec Nº31, you'll find that it will meet most of the criteria stated by connoisseurs.
This reference is classified in the category of fixed blade tools. The model advances a robust structure in Molybdenum-Vanadium 58 stainless steel which has the particularity of being resistant to any element.
Its length of 11.5 cm does not deform under the action of high temperatures and shocks. This survival knife does not degrade in contact with humidity either. Rust has no effect on its configuration.
The handle is made of Cocobolo wood. Besides being solid construction, it provides an elegant design to the whole with its natural coating. It maximizes the handling of this 24cm Bushcraft in all situations.
Pros:
Versatile: It is made to accompany you in your various outdoor activities. Thanks to this, one can perform various kinds of tasks with this tool.
Case Design: Included in the set is a leather scabbard with two snap flaps on the back. These systems ensure easy placement of the whole on different structures such as the belt holders of your pants or your bag.
Cons:
Need for sharpening: In comparison with the other models which are directly operational as soon as the package is opened, this one requires a little sharpening before the first use.
---
5. Esee RC6P Model 6 Survival Fixed Blade knife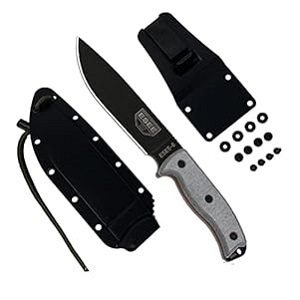 1095 carbon steel is used in the design of the blade of this equipment. Although this element has a certain weakness in the face of rust, the manufacturer has added a powder coating to this knife to optimize its longevity.
On the upper part of the component, there is a serrated area of ​​2.5 cm. This combination of materials and practical design will help you expand this tool in your outdoor activities.
At the level of the handle, we find a structure in Micarta. It adheres to the hand, therefore maximizing the comfort of use. The grooves also provide more handling and limit slipping.
The end has a hole for a strap attachment if you want to add more. Although the knife is not compatible with a glass breaker, it can easily break glass if you find yourself in an emergency situation due to its fairly heavy weight.
Pros:
Handle quality: The handle has a rough coating that ensures optimal grip with the palm of your hand to prevent possible slipping. In addition, the advanced aesthetics bring together fingerprints for the finger to maximize grip.
Edge durability: The knife blade is basically made of carbon steel, sturdy and indestructible. However, the manufacturer covered it with a coat of paint to increase its resistance to corrosion.
Cons:
A little heavy: Users estimate that the whole remains a little bulky with its 335 grams.
---
6. AuRiver G10 Folding Survival Knife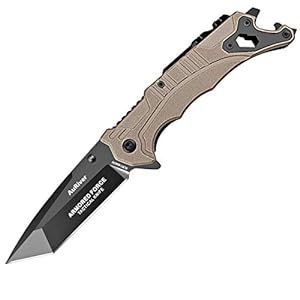 It is obvious that the best survival knife will be the one that meets your needs in difficult situations during outdoor activities. To avoid spending a fortune to buy a variety of accessories for different needs, we invite you to take a look at the AuRiver G10 folding knife. It combines various features in the manner of a Swiss army knife.
This is a 6-in-1 piece set that includes a manual sharpener, a whistle for urgent cases, a belt cutter, a window breaker, screwdrivers and a bottle opener. The sharpener is remarkably effective. The whistle, while decent, may not be the absolute best. As for the bottle opener, it requires a gentle touch; excessive force might puncture the bottle cap, making it trickier to open.
This folding specimen also includes a locking system to secure the assembly between two uses. It blocks the unexpected deployments of the cutting edge.
This folding knife is designed in stainless steel to offer an undeniable quality of cut. As for the handle, its ergonomic design guarantees easy handling. To ensure easy carrying at the belt level, you can count on the clip.
Pros:
Multifunction: The 6 options can be used depending on the situation in which you find yourself. This way, you won't have to look for another tool in your bag since you will have this one handy.
Robust set: The blade is made of stainless steel while the handle benefits from an aluminum structure. This assembly of material is resistant to intensive use and other exterior alterations.
Cons:
Fragile Mechanism: People found themselves with the folding system broken after a while. It is to be handled delicately.
---
7. Morakniv Companion Spark Fixed-Blade Knife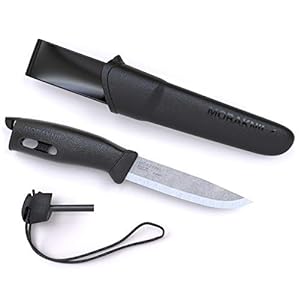 This model from Morakniv has a design combining simplicity and efficiency. It does not present a particular aesthetic but remains efficient in many situations. For this, you can count on the brand's collaboration with the Swedish blade manufacturer, one of the best manufacturers in the field. Their association has enabled the development of this Sandvik 12C27 blade in hardened stainless steel. It presents foolproof resistance over time. Indeed, it is insensitive to humidity and other factors of wear.
As for its handling, the rubber handle remains soft during gripping. It is easy to steer in all directions and does not strain the arm after prolonged handling either. The set comes with a magnesium fire starter, handy in times when you need to produce fire during your activities.
Pros:
Handling: The handling of this knife is facilitated by its rubber handle. It remains pleasant to the touch. In addition, it does not tire during long-term jobs.
Versatile: Despite the absence of teeth on its blade, it can be suitable for various types of use. For example, you can use it for cutting or pruning.
Colors to choose from: When purchasing, you will have a wide range of handle shades available. They are matched with the case and the flint.
Cons:
Fire Starter Durability: Users find this accessory wears out quite quickly.
---
8. Walther Knife OSK II Survival Knife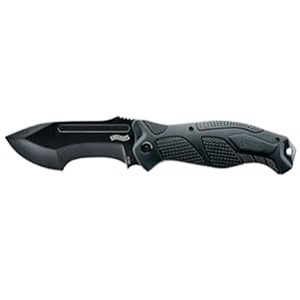 Walther confirms its status as the best brand of survival knives with the presentation of the OSK II. This fixed blade model impresses us with its beautiful look that immediately catches our eye. Its unusual shape combined with its predominantly black hue gives it an authentic look.
As for the blade, it has a 440 A stainless steel structure. While this configuration is not afraid of corrosion or rust, the designer found it advisable to coat it with a protective layer. In addition to enhancing the overall durability of the component, it also contributes to the stability of the entire piece.
As for the handle, it has a non-slip surface with the presence of rubber inserts. Overall, the handling of this knife is very easy. Walther Knife OSK II Survival Knife comes with a nylon scabbard. It also has transverse loops whose mission is to secure the knife once stored.
Pros:
Aesthetics: This knife brings forward a look that will not leave you indifferent. It sports an elegant design with detailed and carefully crafted finishes to please the eye.
Practicality of the blade: The cutting edge has a serrated area and smooth parts. Thanks to this, it can be suitable for different uses and various kinds of cutting.
Cons:
Top of unsharpened edge: For safety reasons, this section of the knife remains slightly blunt. However, you can always sharpen it according to your preference.
---
9. Gerber & Bear Grylls Ultimate Pro Scout Knife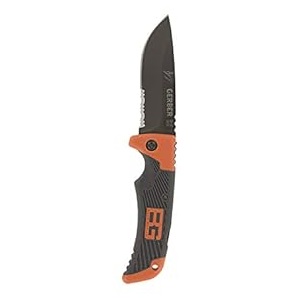 The presence of the Bear Grylls survival knife across various sales sites is a testament to its high-quality craftsmanship. The brand also advances not insignificant notoriety in the field of design of this type of material. You can easily recognize it with the brand's colors, an elegant mix of orange and black.
The further strength of this knife is the reputation of Gerber & RedTent. This model presents a good compromise between robustness and maneuverability. With an average length of 7.3 inches and an ambidextrous handle, both left and right-handed people will have no difficulty in their grip. The rubber structure optimizes its ergonomics.
As for the sharpness, we find High Carbon stainless steel resistant to many elements such as wood or plastic. However, if you are looking for less expensive than average models, this isn't where you will find it.
Pros:
Complete: The set doesn't include a wide variety of accessories but the company offers additional ones that will be useful in survival situations. You will find a case, a firelighter, a sharpening stone, a whistle, a guide, but also a microfiber cloth.
Quality of the blade: The cutting edge is made entirely with stainless steel with a thickness of 4.5 mm. It can overcome various elements during your activities.
Innovative grip: The grooves on the coating optimize the grip of the handle even in wet conditions.
Cons:
Poor instruction: Users who are unfamiliar with the survival knife will find it difficult to read.
---
10. Morakniv Companion Fixed Blade Survival Knife

We conclude our list with a cheap survival knife. So if you have a budget limit, you can turn to this simplistic, yet capable model. This knife benefits from a blade designed by the Swedish brand Mora which is essential in the field for its expertise. In addition, the cutting edge has a carbon steel configuration, making it robust and resistant to intensive use and scratches. It does not bend and offers maximum stability during handling.
This knife features an ergonomic polymer handle with a comfortable, non-slip grip and a protective finger guard for added safety. It remains pleasant when gripping. This great maneuverability allows easy use in many exercises such as hunting or fishing.
The easy-to-clean plastic sheath includes a convenient belt clip, allowing you to effortlessly secure your knife to a belt or rucksack. For storage, you can store it on its case, made of rubber, to protect the knife from external damage.
Overall, if you are looking for a versatile, high-end survival knife at an affordable price, to meet your demands on your nature getaways, you can consider this model.
Pros:
Multifunction: The blade advances a good quality of cut. This gives it the ability to adapt to various situations easily. Therefore, it manages to overcome various elements.
Adherent grip: The handle doesn't slip out of your hands. This coating optimizes the grip of the assembly and offers maximum maneuverability to the user.
Cons:
Maintain Regularly: If you want this equipment to stay with you for a long time, you should remember to clean the blade after each use.
---
Buyer's Guide
Here are our tips to help you avoid regrettable investments. The section is long but it will at least have the merit of preventing you from flashing on a blade whose materials are of poor quality.
Size
In order to determine how to choose the best survival knives in 2023, you initially have to consider the general size of your future gear. Indeed, if your equipment turns out to be a little too big, you will have difficulty putting it back in your pocket.
On the other hand, a minimalist survival knife wouldn't be much better. In terms of handling, it would pose a problem. It would be inconceivable to think that you will have any complications looking for it while you find yourself in an emergency situation.
Here, we especially recommend a model that matches your body type. In all cases, the handle must be at least ten centimeters and the blade, fifteen.
Usually, you will face fixed or folding specimens in the trade. Fixed blade survival knives offer a more advanced grip and stability during use. Folding survival knives mainly focused on practicality. It is possible to make it compact to avoid cluttering your bag or pocket. The blade is also more secure.
The blade
This component is the essential element of your hunting knives. And when you find yourself on a buying guide for the best survival knives, connoisseurs are sure to take stock of this parameter. Generally, you will find two types of blades in the market. Your choice will be based mainly on the nature of use that you foresee for your future material.
First off, you have smooth edges. They are relatively easy to sharpen. With them, we get straight cuts. However, they are not obvious to use when dealing with material to be sawed. On the other hand, you have the notched models. This design remains the most efficient when you need to cut meat or various items. However, their sharpening requires a special accessory.
If you can't make up your mind, you can always go for the semi-serrated specimens, a straight blade upside down and serrated upside down.
The materials
Apart from the shape of the blade, it is also important to take stock of the constituent materials in order to determine how to buy a better value survival knife. If you find that the models on the market have similar structures, think again. There are different types of metal that go into their composition.
Stainless steel: It is probably the most widespread material, and the most requested by users. Stainless steel offers high resistance to corrosion and does not degrade under the effect of rust. Its sharpening requires perseverance because of its configuration. If you practice your activity in a humid or salty environment, it will suit you.
Carbon steel: Unlike the previous one, this one has a high carbon content, hence its name. In terms of robustness, it sits in pole position, and that will serve you well when you put it to the test. It is sharpened quite easily, which is an asset when you find yourself in a survival situation. However, the structure rusts quickly if you leave it in contact with moisture, salt, and saltwater for too long.
Tool steel: Its particularity lies in its combination of the two categories above. It has a high carbon content and a combination of different alloys such as chromium or tungsten. It brings together the advantages and disadvantages of the different elements that make it up. Generally, it will have more robustness than stainless steel with better resistance to oxidation compared to carbon steel.
Ergonomics of the handle
When you decide to buy this type of equipment for your keychain, it is also important to think about your comfort of use. This is why when you are wondering which is the best survival knife on the market, you have to focus on the design of the handle intensely. And on a price comparison, we can say that the choice is not lacking whether it is for the structure or the form.
Among the most popular items in commerce is micarta. It is a composite material that offers a good combination of strength and grip. It does not require any particular maintenance and has an optimal grip in all conditions, unlike wood or rubber.
As for the aesthetics, it depends on the taste of each one. But keep in mind that designer equipment is always pleasant to use.
The cover
Regarding the cover, bet as much as possible on leather. Count on covers that have a good holding force. Also very interesting are the cover models that feature pockets for fire Stone and sharpening stones. Also, choose knife covers with belt clips and those that can provide multiple carrying positions.
FAQs
Folding survival knife or fixed blade?
A folding survival knife will be the perfect compromise for the adventurer looking for ease of carrying and lightness. The fixed blade, for its part, will guarantee the solidity of the whole. So if you plan to use your bushcraft knife for stirring and cutting large segments, this type of blade will be your best ally.
How to sharpen a survival knife?
Start by positioning the whetstone on a stable and solid surface. If it's small enough, you can still hold it in your hand. The other will obviously be used to handle the knife.
During the process, gently brush the blade on the surface of the stone with simple and delicate movements up and down while respecting the angle of the cutting edge.
If you do your gestures properly, you will notice burrs and metal shavings on your accessory. Wipe them regularly to optimize the contact surface. Do not neglect the back of the cutting edge to give more cutting power to your equipment. Take the previous steps for more efficiency.
Are there any safety precautions I should take with a survival knife?
Always handle a survival knife with care and ensure it is stored securely. When in use, be aware of your surroundings and keep your fingers away from the blade. It's also important to maintain a sharp blade as dull knives can be more dangerous.
How to maintain a survival knife?
Apart from the regular sharpening of your survival knife, maintaining it regularly also ensures a considerable extension of its life. It is also important to clean the blade before sharpening it to prevent waste from getting stuck in the structure and damaging it.
To do this, soak the edge in lukewarm water. Rub it with a cloth soaked in washing-up liquid. Rinse it off with clean water. Wipe it with another soft, dry cloth to prevent rusting. In the end, add a few drops of coconut oil to give it a protective film.
If you have a folding knife, don't forget to grease the mechanism to make it easier to deploy and store your accessory.
How to make a case for a survival knife?
First, draw the shape of your case on a white piece of paper with the knife on top. Repeat the same process on another side of the sheet for the back of the equipment. When tracing the marks, take 1 cm of margin before cutting. Then transfer the measurements to the element that will constitute the structure of the case, PVC or leather. Polish the sides with sandpaper before dipping them in water so that the configuration becomes malleable. This will make it easier for you to go to the sewing stage.
How to make fire in survival?
When you want to start a wilderness fire, there are three things you need to consider: oxygen, fuel, and heat. Building a fire can be relatively simple when you have materials such as lighters, matches, or even fire steel. But when you find yourself deprived of these tools, you have to settle for what your surroundings provide.
By using two pieces of wood, for example, you can proceed to the friction technique. Rub them until sparks are produced on a bunch of dry twigs. With pieces of flint, you will also be able to produce fire by percussion. Both of these techniques however require training and experience.
How to make a survival shelter?
First of all, choose the right location such as high places and far enough from water points to avoid possible flooding in bad weather. Also, avoid corners where animals pass and sloping terrain.
For your refuge, you can use the branches that you will lean against to make a roof. Use your surroundings as support. The sheets can be used as insulation for your lean-to. Remember to protect yourself from cold and damp floors by spreading out a rug or blanket before sleeping.
Conclusion
And there you have it, this long article on survival knives is over. Hopefully, you've learned a bit more and found what you're looking for in our selections of the best survival knives, whether you practice survivalism, hiking, bushcraft, or any other outdoor activity.
If you have chosen a model above the list, please let us know in the comments.
---
Read Also: