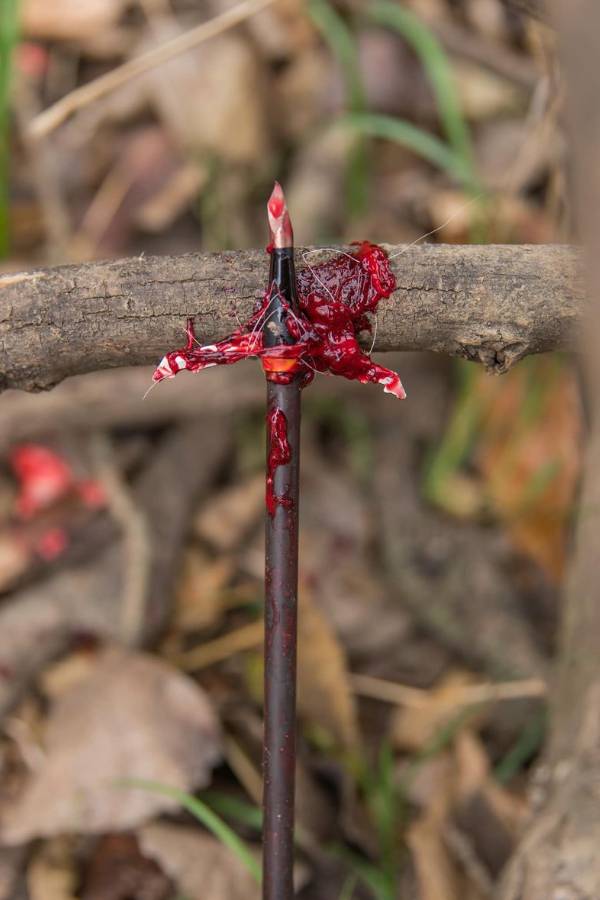 In the dynamic world of hunting gear, selecting the right broadhead can be a critical decision for any passionate deer hunter. With a huge number of options on the market, it's essential to cut through the noise and focus on the ones that deliver on their promises.
In this guide, we bring you the best mechanical broadheads for deer hunting in 2023. To ensure the utmost accuracy and reliability in our assessment, we have tested and used each of these products ourselves. We spent countless hours evaluating these broadheads in various conditions and scenarios. From precision and durability to penetration and wound channels, we left no stone unturned.
Best Mechanical Broadheads for Deer Hunting
The RAGE Hypodermic stands out as our top pick for the ultimate mechanical broadhead. It has all the essential features that define a superior expandable broadhead.
Without any delay, let's take a look at our comparison table of the best mechanical broadheads of 2023.
IMAGE
PRODUCT
DETAILS

Best Overall

Best Overall

Grains:

100 and 125

Cutting diameter:

2-inch

Blades:

.035″ stainless steel

Check On Amazon

Ultimate Accuracy

Ultimate Accuracy

Grains:

100 and 125

Cutting diameter:

1.5-inch

Blades:

.032″ stainless steel

Check On Amazon

Best Value

Best Value

Grains:

100 and 400

Cutting diameter:

2-inch

Blades:

.034″ stainless steel

Check On Amazon

Best for High-Speed Crossbows

Best for High-Speed Crossbows

Grains:

125

Cutting diameter:

1.5-inch

Blades:

.035″ stainless steel

Check On Amazon

Massive Cutting Surfaces

Massive Cutting Surfaces

Grains:

100 and 125

Cutting diameter:

2-inch

Blades:

.035″ stainless steel

Check On Amazon
1. RAGE Hypodermic 2-Blade Mechanical Broadhead
The RAGE is the leading brand of the Evolution in Mechanical Broadheads. Rage broadheads are known for their operational accuracy and their wound channels are legendary for effective tracking and quick, humane harvests. The first mechanical broadhead we acquired was the Rage Hypodermic, weighing 100 grains (Also available 125 grains).
Its compact design is exceptionally tough and provides unparalleled penetration surpassing any mechanical broadhead on record! It comes with improved Shock Collar Technology which ensures proper blade retention. Each collar features three tabs which allow for multiple uses if undamaged.
Like most mechanical broadheads available now, Rage utilizes replaceable blades. After shooting them into our practice target, a quick touch-up restored their edge for deer hunting.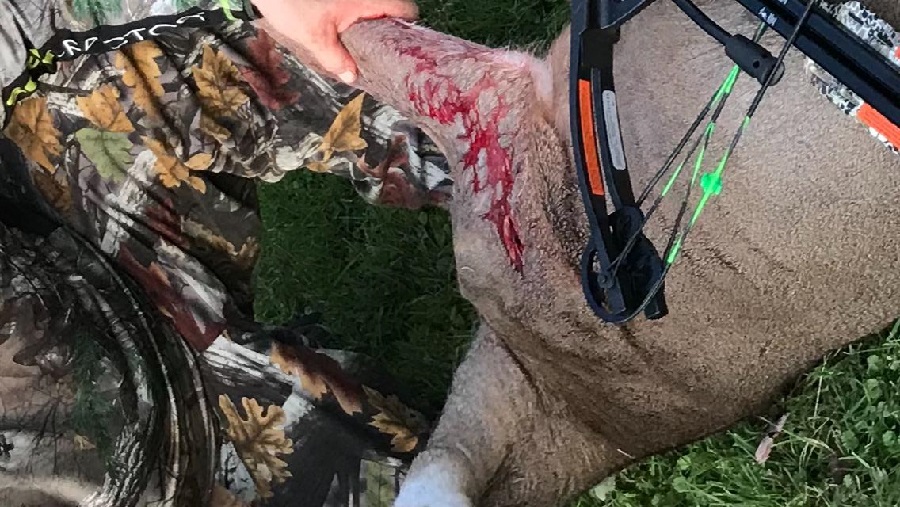 As I mentioned earlier, accuracy is a strong suit of the Rage Hypodermic, owing to its swept-back blade design and field tip-like profile. It features an exclusive hybrid tip that provides surgical accuracy.
Even with minor form or tuning adjustments, the practice heads replicate actual broadheads, effortlessly maintaining tight groupings with field tips at distances of up to 80 yards. This instilled confidence in making longer follow-up shots when needed.
It also has a steel ferrule, which ensures exceptional strength and longevity. However, the Hypodermic's blade durability diminishes upon impact with bone. While designed to bend rather than break, hitting a rib resulted in a blade breaking off during a whitetail doe hunt.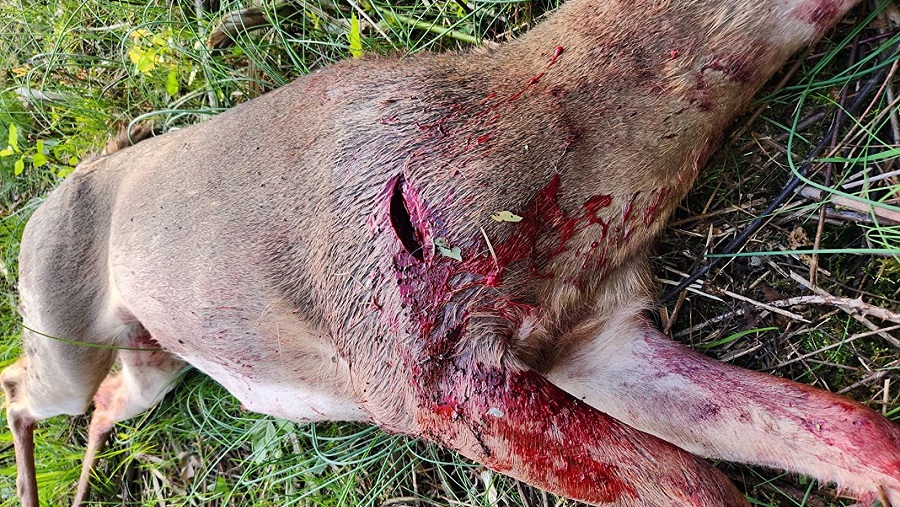 Effectiveness, however, was noteworthy. We secured our first deer with the Hypodermics in 2022, witnessing impressive wound channels. The 2" cutting diameter post-deployment proves excellent for blood trails and overall damage. This proves beneficial for shots that may be too far back, ensuring more damage to the liver area for a quicker expiration.
Overall, the Rage Hypodermic broadhead emerges as the top option for deer hunting. It's also worth noting that Rage broadheads are proudly American-made.
PROS
Impressive accuracy
Wound channels
Easy tuning
Large cutting diameter
Facilitates strong Blood Trails
CONS
Limited draw length and poundage
---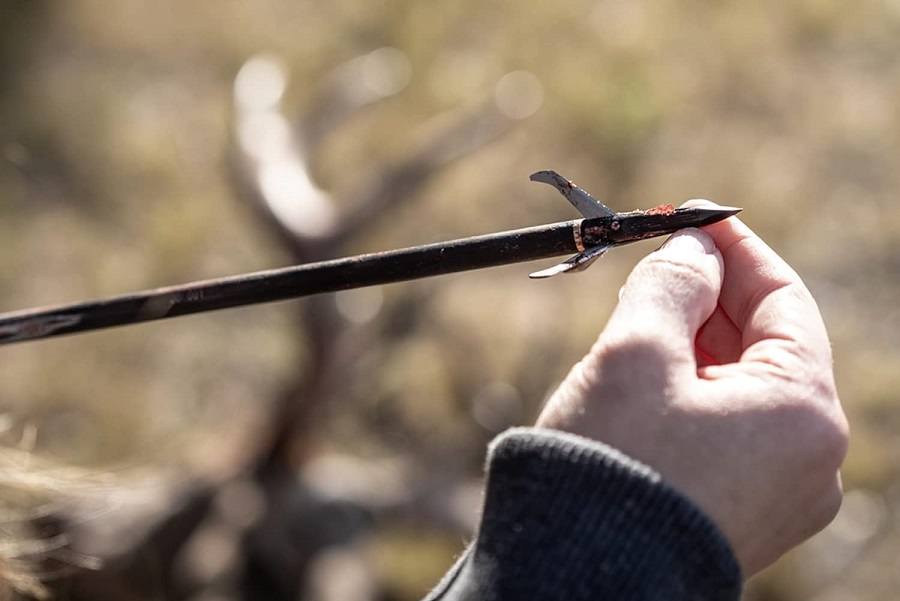 New Archery Products was established in 1971 and swiftly gained recognition as the frontrunner in producing high-quality broadheads. The NAP Spitfire Maxx has proven itself in the most crucial test: ensuring a successful and humane harvest. It is a top-tier quality mechanical broadhead at an accessible price.
The NAP Spitfire differentiates itself with its robust ferrule. Despite numerous pass-through shots on deer, there's been no damage or bending to the ferule—a strength compared to Rage broadheads.
Another impressive feature lies in the Spitfire's flared blade design. The wider and thicker blade ends to aid in efficient blade deployment upon impact. The tension system, a simple piece of metal, effectively secures the blades in place to ensure quiet storage in the quiver and stable flight.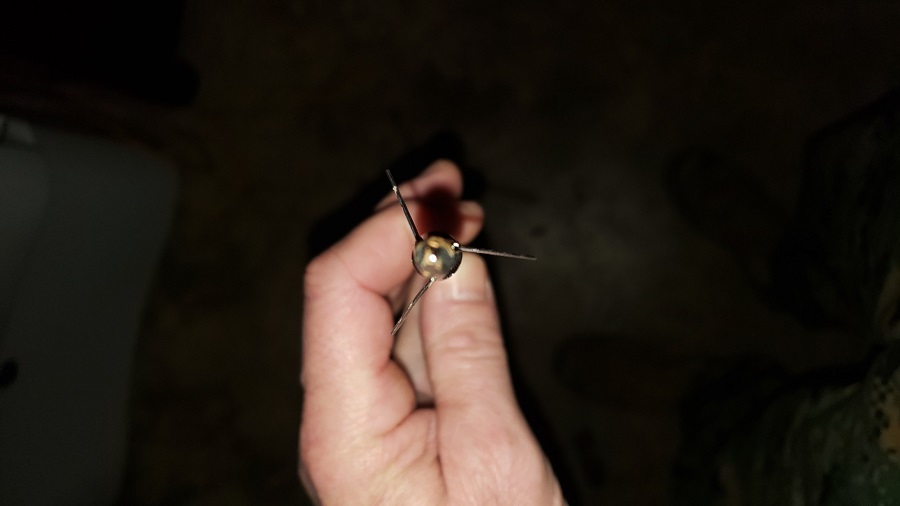 Thanks to this tension system and flared blades, the Spitfire creates impressive entry holes. Accuracy with the Spitfire Maxx is exceptional, requiring no adjustments on the HHA Optimizer even when transitioning from RAGE Hypodermic or field points. This accuracy holds steady at distances up to 60 yards.
The Backflip boasts robust titanium construction. However, the 1 1/2-inch version may not be as favored. Personally, I continue to use and recommend this exceptional mechanical broadhead to deer hunters.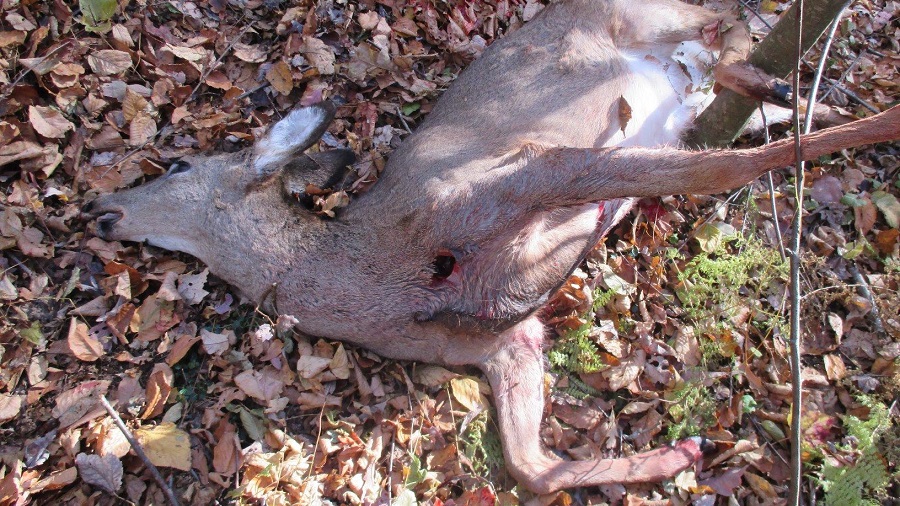 Its design is straightforward and reliable. We have never encountered issues with loose blades or excessive noise. The entry wounds are consistently substantial for indicating proper blade deployment. Most importantly, the resulting blood trails have been impressive for leading to successful tracking and ultimately a downed deer.
PROS
Great Blood Trails
Solid and simple design
High quality materials
Very Sharp blades
Field point flight and accuracy
CONS
It is necessary to ensure proper tuning for optimal performance
---
3. Ravin R102 High-speed Mechanical Broadheads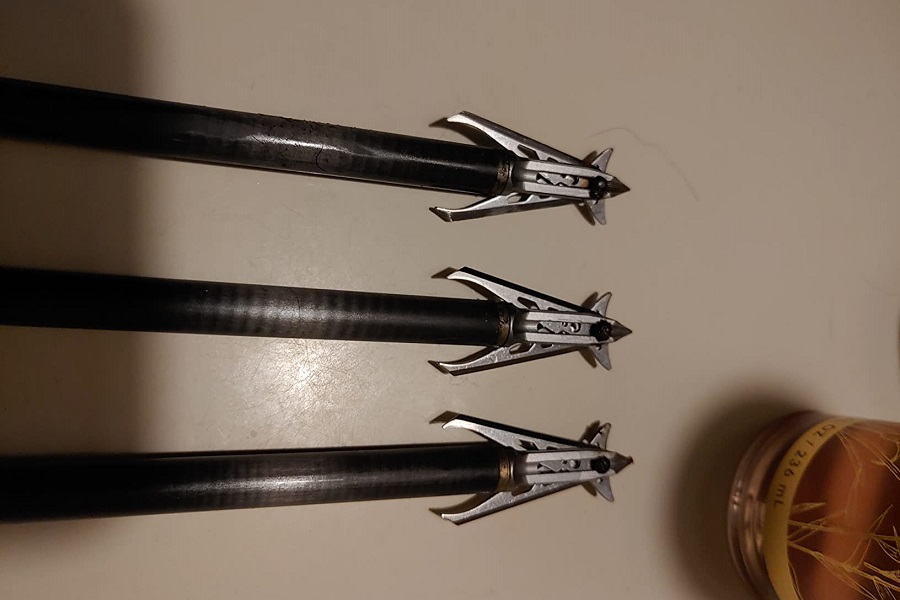 When it comes to crossbow hunting, the Ravin R102 stands out as the top choice for the best mechanical broadhead. Its durability ensures reliable performance with any crossbow, even under high kinetic energy. What sets the Ravin series apart is the absence of lock rings or o-rings, making it exceptionally convenient and hassle-free.
It features a sleek, aerodynamic design optimized for high-speed bows. It is made from high-grade stainless steel, which ensures durability and sharpness retention. The mechanical blades are designed to open upon impact, which maximizes wound channels for quick and humane kills.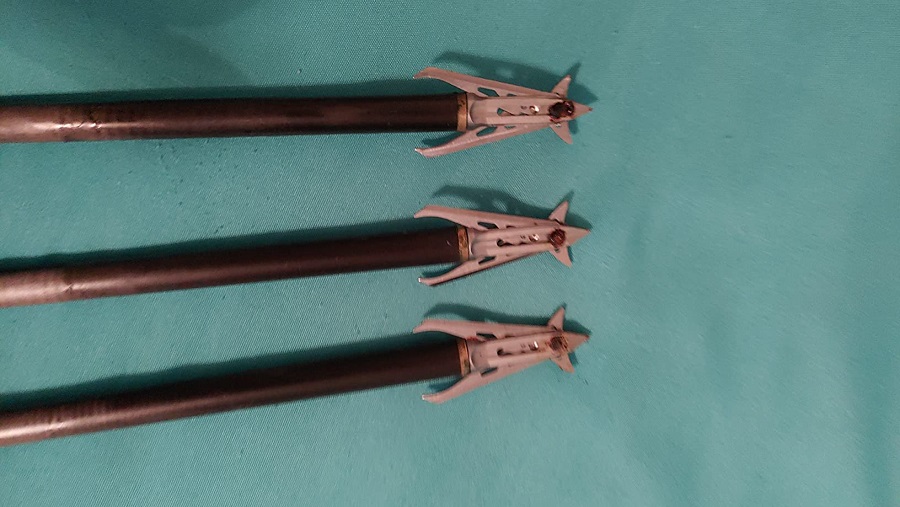 Our experiment consistently showed that these broadheads excel in penetration power. They consistently achieved deep, clean entry wounds, even on angled shots. This result comes in extensive tissue damage to ensure quick and ethical kills. This can be credited to their robust construction and precise blade deployment mechanism.
The Ravin R102 demonstrated commendable accuracy during our tests. Across various distances (20-60 yards), they consistently hit the target within a tight grouping. However, some minor variations were observed at extreme distances, possibly influenced by wind conditions.
Due to their streamlined design, these broadheads exhibited excellent flight stability, especially when paired with high-speed crossbows. The flight path remained predictably reliable, with minimal deviations from the intended trajectory noted.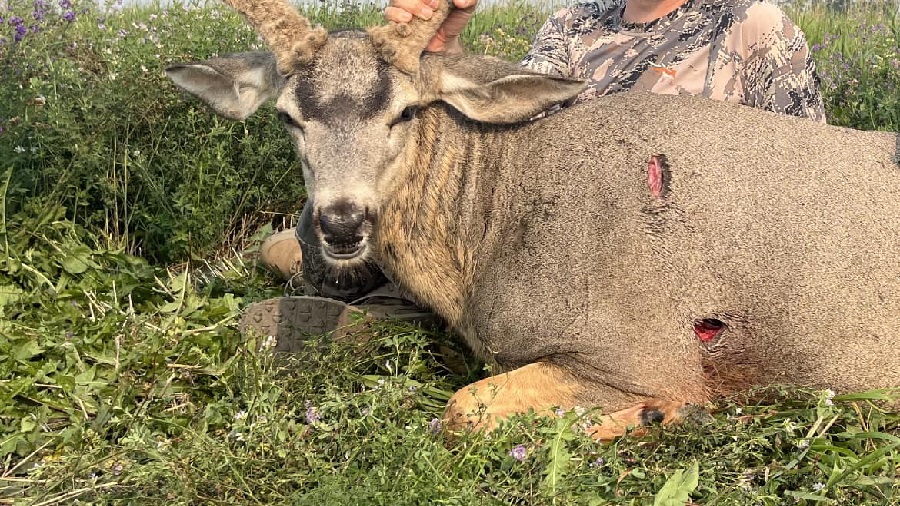 The mechanical blades deployed consistently and reliably upon impact. We observed a high success rate in blade expansion, even on shots involving dense bone structures. This attribute significantly contributed to the broadheads' effectiveness in producing quick, humane kills. Remember, you need high-speed crossbows to fully utilize the broadhead's potential.
PROS
Good design and performance
Very quiet and accurate
No rattle
Easy to set
Great choice price
CONS
Only available in 100-grain
A bit expensive
---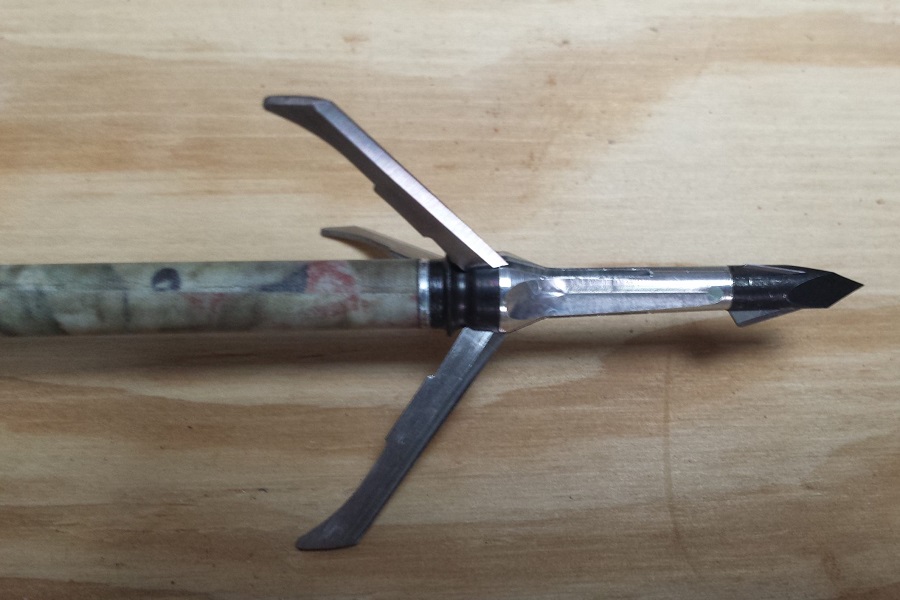 In the world of broadheads, the Grim Reaper Razortip stands out as a reliable but somewhat underrated option. Choosing a broadhead based on genuine user experiences rather than flashy commercials led us to choose this model back in 2020. Over the past three years, they have consistently proven their worth on the end of our Carbon Express arrows, impressing us with their performance.
The Grim Reaper Razortip boasts a distinctive blade design and an innovative deployment mechanism that truly sets it apart. Unlike some other broadheads, there's no need for extra hardware or O-rings to secure the blades. The tension spring system ensures that the blades stay securely restrained until impact. When hitting the target, the blades fold rearward, efficiently transferring energy and causing significant damage.
The tension spring system works remarkably well and keeps the broadheads in the quiver completely silent and rattle-free. Even when navigating through the woods, bumps against branches or other objects don't result in any noise. This showcases the broadhead's dedication to combining stealth and reliability; two essential qualities for any deer hunting equipment.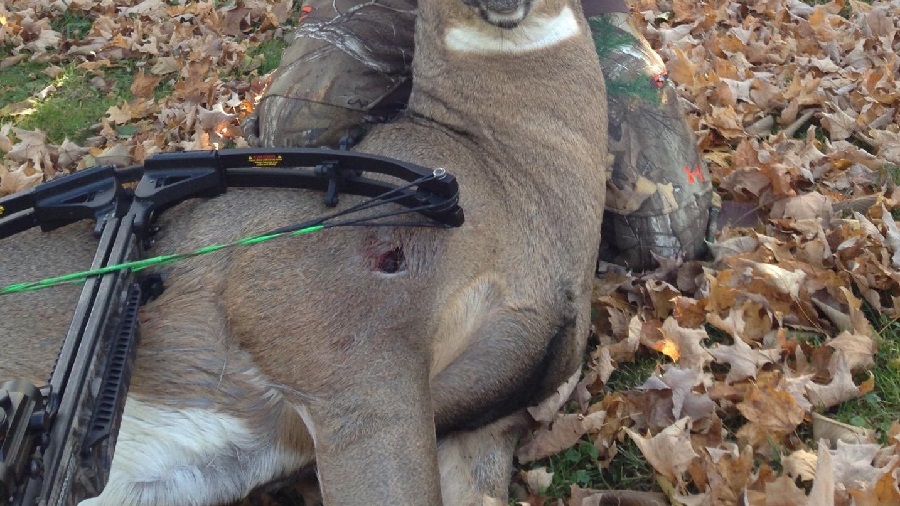 The Grim Reaper Razortip shines in terms of penetration power. The thin and sharp blades offer less surface area, which means less drag. Additionally, the swept-back blade angle after deployment further enhances penetration. This head consistently outperforms for achieving deep and clean entry wounds.
Tuning the Grim Reaper Razortip is very simple. It flies just like a field point, making it easy to practice with. The profile of the practice head mirrors that of the actual head, which is a crucial consideration when selecting a broadhead. This simplicity in tuning adds to the broadhead's appeal for hunters seeking consistent accuracy.
Maintaining the Grim Reaper Razortip is straightforward. To replace the blades, simply unscrew the broadhead, remove the spring tension cup, and slide off the old blades from the ferrule. Replacement blades are also available at a reasonable price, making it a cost-effective choice for the long term.
PROS
Razor tip Broadhead
Fly very true
Include a practice head
Long-lasting design
CONS
Designed for High-Speed Crossbows
Not quite as tough as Rage
Doesn't include any rubber bands or O-rings
---
5. RAGE Chisel Tip 2 Blade Mechanical Broadhead
We are excited to present our last review of the RAGE Chisel Tip 2 Blade Broadhead. Like the RAGE Hypodermic, this 100-grain broadhead is equipped with Shock Collar Technology, which promises to revolutionize your hunting experience.
Let's see various aspects of its design, performance, and overall effectiveness in the field…
The RAGE Chisel Tip 2 Blade Broadhead boasts a robust construction, featuring precision-machined stainless steel blades. The chisel tip design adds to its penetration capabilities to ensure a clean and effective shot. The shock collar system securely retains the blades during flight and releases them upon impact. This not only enhances precision but also minimizes the risk of premature blade deployment.
The process of setting up the RAGE Chisel Broadhead is super easy. Because the Shock Collar Technology simplifies the process and makes it hassle-free even for beginners. We appreciated the inclusion of a practice head in the pack, allowing us to fine-tune our shots before hitting the field.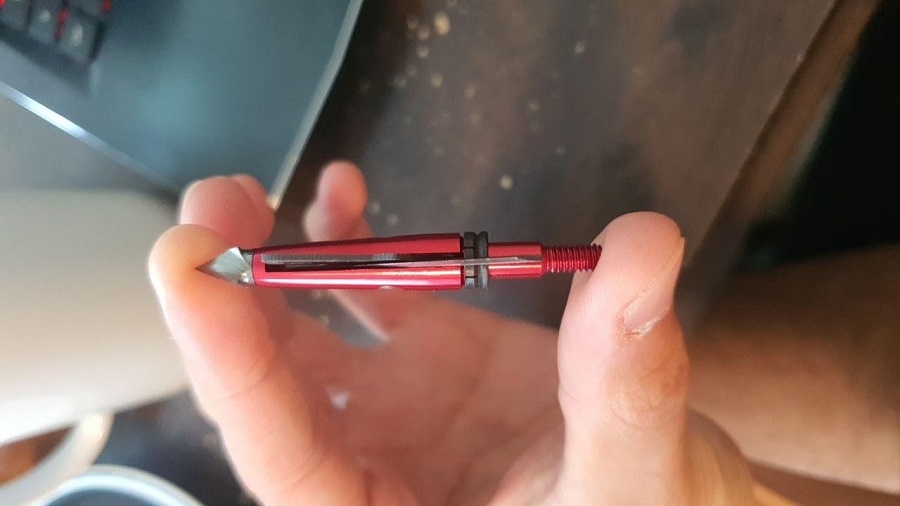 The most outstanding feature of this mechanical broadhead is its exceptional flight accuracy. The chisel tip design helps in maintaining trajectory and ensuring that the arrow reaches the target with precision. During our testing, we observed consistent groupings, indicating minimal flight deviation.
The penetration capabilities are also remarkable. The chisel tip effortlessly pierces through tough materials to provide a clean pass-through and a quick, humane kill. This is crucial for ethical hunting practices.
The stainless steel blades of the RAGE Chisel proved to be highly durable. Even after multiple shots, we observed no signs of wear or deformation.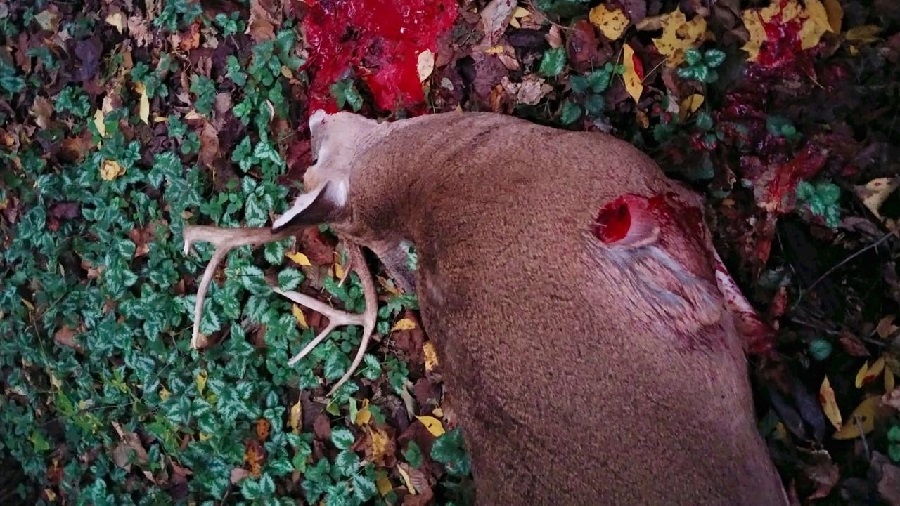 In real deer hunting scenarios, the RAGE Chisel Tip Broadhead truly shines. We tested it on various games, including deer and wild boar, and were consistently impressed with its effectiveness. Overall, the broadhead delivered quick and ethical kills; a testament to its superior design and engineering.
PROS
Massive cutting surfaces
Accurate and reliable
Leave a massive wound
3-pack adds good value for the money
CONS
Doesn't come with the practice head
---
How to Choose Mechanical Broadheads for Deer Hunting
You already informed the best mechanical broadheads for deer hunting available on the market. However, selecting the best mechanical broadheads requires careful consideration of several key factors. Here's a step-by-step guide to help you make a knowledgeable decision:
Blade Design and Cutting Diameter
The blade design is a fundamental factor in the performance of a mechanical broadhead. More blades can result in a wider wound channel, potentially leading to faster and more humane kills. Consider the cutting diameter in relation to your hunting style. Wider diameters cause more tissue damage, while narrower ones offer better penetration.
We examine carefully the blade design of each broadhead, paying close attention to factors like sharpness, number of blades, and overall cutting diameter. We evaluated their performance on various targets to assess how efficiently they impact.
Penetration and Flight Characteristics
Penetration ensures that the broadhead can reach vital organs swiftly over impact, leading to quicker, more humane kills. It's particularly essential in scenarios where shots may not be perfectly placed.
Flight characteristics, on the other hand, dictate the arrow's trajectory and accuracy. A broadhead with excellent flight characteristics minimizes air resistance and ensures a straight and stable path to the target. This enhances the hunter's ability to make precise shots, especially at varying distances. Both factors combined significantly increase the likelihood of successful and ethical hunting.
Wound Channel and Blood Trails
A broadhead that creates a wide and deep wound channel inflicts rapid and extensive tissue damage, leading to faster blood loss and more humane kills. This ensures a swift and ethical hunting.
Additionally, a pronounced blood trail is invaluable for tracking wounded games. It provides clear visual indicators, making it easier for hunters to locate and recover their prey, even in challenging terrain. Together, these factors significantly enhance the overall effectiveness and success of a hunting expedition.
We carefully studied the wound channels produced by each broadhead to evaluate their effectiveness in creating a clear and easily traceable blood trail.
Durability and Material
A robust and durable broadhead can withstand the forces of impact and maintain its integrity even after striking bone or tough tissue. Quality materials, such as high-grade steel, ensure sharpness retention over multiple uses. This means the broadhead remains effective and reliable throughout the hunting season and reduces the need for frequent replacements.
In the field, a durable broadhead also instills confidence in the hunter to know it can handle the rigors of the hunt without compromising performance.
Our tests included shooting them into various targets, and simulating real hunting conditions, to assess their ability to withstand impact and retain their sharpness.
Ease of Use and Deployment
Ease of use and deployment are crucial factors in mechanical broadheads for deer hunting. A broadhead that is easy to assemble and deploy ensures that hunters can quickly and efficiently prepare for a shot, especially in fast-paced hunting scenarios. This feature minimizes the risk of fumbling or making errors during a critical moment.
To measure these features, consider factors such as the simplicity of attaching the broadhead to the arrow shaft, the reliability of the deployment mechanism, and whether it requires any specialized tools. Additionally, look for user-friendly designs that allow for a smooth and hassle-free setup.
Noise and Vibration
A quiet and low-vibration broadhead ensures that the shot doesn't startle or alert nearby game and allows for a more stealthy approach. This is especially important in situations where a quiet draw and release are imperative. To measure these features, consider conducting field tests to gauge the noise level produced during arrow release and the amount of vibration felt through the bow.
Additionally, seek broadheads with noise-dampening technology and vibration-absorbing materials. These features contribute to a smoother and more discreet hunting experience.
FAQs
What is the advantage of using a mechanical broadhead over a fixed-blade broadhead for deer hunting?
Mechanical broadheads are known for their larger cutting diameters, which can lead to more extensive wound channels. They also fly more accurately due to their streamlined design. However, mechanical broadheads are more sensitive to factors like wind and deflection upon impact, so they require precise shot placement.
Are there any specific arrow speeds that work best with mechanical broadheads?
Mechanical broadheads can be used with a wide range of arrow speeds. However, they perform optimally within a specific range. Most are designed to work well with arrow speeds between 280 and 330 feet per second (fps). We recommend you check the manufacturer's recommendations for the specific broadhead you're using.
How do I choose the right cutting diameter for my hunting situation?
The ideal cutting diameter depends on your hunting style and preferences. Larger cutting diameters (2 inches or more) create more extensive wound channels, potentially leading to faster and more humane kills. However, they can be more prone to wind deflection. Smaller cutting diameters (around 1.5 inches) offer more accuracy in windy conditions.
Are there any specific broadhead designs that work better with certain types of bows (compound vs. crossbow)?
Although most mechanical broadheads are versatile and can be used with both compound bows and crossbows, it's essential to consider the manufacturer's recommendations. Some broadheads are optimized for specific bow types such as Ravin R102 designed only for crossbows. So make sure that the broadhead you choose is compatible with your particular setup.
Can I re-sharpen a mechanical broadhead after using it for hunting?
Yes, some mechanical broadheads are designed to be re-sharpened. Keep in mind that improper sharpening can compromise the integrity of the broadhead. So if you're unsure, it's usually best to replace them with a new and sharp set.
Conclusion
It's our commitment to delivering accurate and unbiased information that enables you to make an informed decision when choosing the perfect broadhead for your hunting needs. the mechanical broadheads mentioned above stand out as top choices for deer hunters.
We encourage you to continue exploring and experimenting to find the perfect mechanical broadhead for your next deer hunting trip.
Happy hunting!
---
Related Posts…