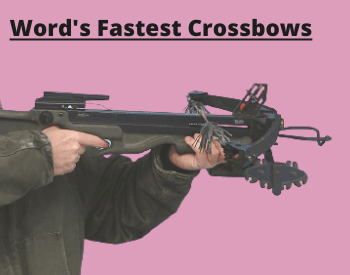 When you think high velocity is the only measurement of the fastest and most powerful crossbow, you might miss some sort of thing, because the speed hasn't always delivered accurate shots. So investing in a super-fast crossbow that includes high accuracy and excellent Kinetic energy can enhance your overall crossbow hunting or shooting experience.
However, it is true that choosing an ultra-fast crossbow according to the exact skill set is a bit difficult.
That's why we design this page in a way so that everyone can find suitable and fastest crossbows according to their skill level.
We will also explain some of the important features and techniques on how to choose the fastest and most accurate crossbow.
Let's see the list of the top 10 Best Fastest Crossbows on the market in 2022.
1. TenPoint Vapor RS470 Hunting Crossbow Package
Speed: 470fps | Weight: 8 Pounds | Draw Weight: 225 Pounds | Kinetic Energy: 191 Foot-pounds | Power Stroke: 17″ | Width (Cocked): 6.25″ | Width (Decocked): 12″ | Length: 31″
It is not the first time TenPoint released a high speed crossbow. Because the Vapor RS470 was introduced to replace the TenPoint XRT that was released in 2019. However, The Vapor RS470 model is an aggressive hunting crossbow with an ingenious design and shape that broke the 450 FPS rules and reach close to 500 fps. With reverse-draw design, it generates mind-bending speeds of up to 470 FPS.
This world's fastest crossbow is equipped with a new revolutionary ACUslide that created a silent cocking and safe de-cocking system, and at the same time eliminates the need for straps or buttons.
TenPoint Vapor RS470 crossbow was built with the latest technology for improved safety and accuracy. For example, it has engineered the new Trigger-Lock Latch that is made of solid stainless steel to ensure that the trigger box is set in the EXACT same spot, shot after shot, and improve downrange accuracy up to 48%.
The power stroke is 17". The limb pockets are located towards the center of the bow, which makes the bow incredibly comfortable to shoulder. A special EVO-X Marksman Scope is also included in the package that gives extra brightness when you hunt in dark areas.
TenPoint Vapor RS470 fast crossbow comes with two Camo Pattern options: Veil Alpine and Graphite. Overall, it is a masterpiece crossbow with a compact design. This model also has an outstanding balance, great trigger, blazing speed, and a great crank system.
What we liked:
ACUslide silent and safe cocking mechanism
NEW Tech Quiver and Bracket
Great trigger control
48% more accurate
Long-lasting durability
Complete package for hunting
---
2. Scorpyd Aculeus 460FPS ACUdraw Crossbow
Speed: 460fps | Weight: 7.5 Pounds | Draw Weight: 180 Pounds | Kinetic Energy: 156 Foot-pounds | Power Stroke: 18.5″ | Width (Cocked): 12.17″ | Length: 34.5″
Scorpyd Aculeus can't quite compete with some of the other fast speed crossbows on this list, but it is powerful, fun, and ready to shoot right out of the box – all at a price that won't break the bank! If you're a professional looking to get into a real killer crossbow, this is the model for you.
The draw weight for this crossbow is 180lbs. However, the AcuDraw cocking mechanism can cut the necessary draw weight in half (almost 80lbs), making the crossbow easier to manipulate. So needless to say, seasoned hunters or beginners will find it a good option for their needs.
With a speed of 460 feet per second, its unique innovative design helps hunters to set down their target without any hassle. Professional hunters also like its Kempf Tech Integrated Trigger Housing system.
Like TenPoint Vapor RS470, the Scorpyd Aculeus crossbow built in patented reverse draw technology, which gives it all that exceptional power. It is also well balanced, and the stock is available in 1911-style grips. The anti-dry fire technology provides top-grade safety, even novice hunters can handle without any risk of injury.
The package also includes an illuminated scope, twelve arrows, Grim Reaper broadheads and a lube kit. However, it is true that this model is a bit expensive, but it will be hard to find the same powerful, high speed and aggressive crossbow at this price range.
What we liked:
Fast and accurate crossbow
A complete kit for seasoned hunters
Equipped with high-end technologies
Unique and innovative design
Portable and lightweight
What we didn't like:
Pretty much wide
Hard to control for beginners
Noisy
---
3. TenPoint Nitro XRT Pro Elite Crossbow Package
Speed: 470fps | Weight: 7.4 Pounds | Draw Weight: 225 Pounds | Kinetic Energy: 191 Foot-pounds | Power Stroke: 17″ | Width (Cocked): 6.25″ | Width (Decocked): 10.5″ | Length: 29.5″
As previously mentioned, the TenPoint Nitro XRT model is basically is the oldest version of the TenPoint Vapor RS470. It is the flagship in 2019 and comes with an incredible speed of 470 fps. TenPoint Nitro XRT crossbow on the other hand is the successor of TenPoint's Nitro X, which is still a very good and powerful crossbow on the market.
The reverse draw crossbow generates more speed but you don't have to draw too much weight. The trigger dry-firing inhibitor and auto-engage safety also ensure better safety. It is a versatile crossbow with high-quality features. It can be safely cocked by anyone.
As an industry-leading brand, the Nitro XRT generates 25% flatter arrow trajectory and its center-balanced design allows you to hold the crossbow steady on the target, with less fatigue so the result will be more accurate and greater down-range accuracy.
This model is quite lighter than Vapor RS470 but the length and width are the same. The buttstock is adjustable in one of three positions for a more comfortable grip. It can easily fit in your hands with comfort and stability. TenPoint Nitro XRT crossbow is an exceptionally well-balanced crossbow because the riser is mounted at the center of the rig, so you won't feel too heavy anywhere.
In the package, you will additionally get EVO-X Marksman Scope (the most accurate crossbow scopes), Bubble Level, ACUdraw PRO cocking device, 6-Arrow Tech Quiver and six Evo-X CenterPunch premium carbon arrows with 100-grain practice points.
What we liked:
Superior balance
String stops dampening system
Built in T5 trigger technology
Stable and accurate
Safe and silent cocking
3 levels adjustable stock
---
4. RAVIN R29X Predator Crossbow with HeliCoil Technology
Speed: 450fps | Weight: 6.75 Pounds | Draw Weight: 300 Pounds | Kinetic Energy: 180 Foot-pounds | Power Stroke: 12.5″ | Width (Cocked): 6″ | Width (Decocked): 12″ | Length: 29″
Ravin is now of the high technology crossbow manufacturers on the planet. However, the RAVIN R29X model is a little more expensive than the TenPoint Nitro XRT with a base price of $2,399. But that price gets you everything you need to start flying at incredible speeds – hits a new pinnacle of speed with 450 fps. Ravin powerful and fast crossbow also has an incredible range, and an extremely durable body.
It comes with all the latest technology to increase accuracy and is pre-tuned and assembled that is ready to use. It also features new fully integrated Silent Cocking System, which reduces the shooter's cocking force to only 12 pounds. RAVIN R29X crossbow is also very easy to cock without making a sound.
With a beautiful look both the inside and outside, it delivers efficient and compact performance. The ergonomic grip also feels really nice in hands while shooting. The HELICOIL technology gives zero rail friction, high accuracy and rope life. It is also able to exert a whopping force and generates 180 foot-pounds of kinetic energy. The axle-to-axle width is six inches when cocked and 10.5 when uncocked.
Another unique feature of this crossbow is the Trac-Trigger Firing System. The trigger release is excellent, well-balanced and stable when holding the crossbow free hand. The Ravin R29X Predator weighs only 6.75 lbs., and therefore is a real light-weight crossbow in this list.
What we liked:
Effortless and silent cocking mechanism
Compact and lightweight
Insanely accurate and fast
Narrow profile
Comes fully assembled
What we didn't like:
Not able to safely let go mid-draw
Doesn't come with a shoulder strap
---
5. Excalibur Matrix Bulldog 440 Crossbow – Mossy Oak
Speed: 440fps | Weight: 6.2 Pounds | Draw Weight: 300 Pounds | Kinetic Energy: 180 Foot-pounds | Power Stroke: 14.5″ | Width (Cocked): 23″ | Width (Decocked): 30″ | Length: 35.75″
Excalibur is a Canadian brand that has a highly reputed name in the crossbow industry. Excalibur designed the Matrix Bulldog 440 for hunters who need a high-speed crossbow that offers insane speeds of 440 feet per second without too much maintenance.
It actually shoots faster than the advertised speed and you will get 450-460 feet per second. and Excalibur Matrix Bulldog 440 Crossbow is not only very powerful but also a long lasting and very accurate crossbow. The total length is 35.75 inches which isn't a big size at all as a recurve crossbow, but quite big for a crossbow. Even though Excalibur Bulldog 440 crossbow is pretty big, its weight is only 6.2 lbs.
This bullpup design ensures that the trigger is more forward so that everything is shorter. It is equipped with bigger limbs and therefore Excalibur couldn't make the Bulldog 440 bow any smaller or more compact.
The rails are made of extremely solid and hardened aluminum without sacrificing durability. It also allows you to better balance, and the result will be highly accurate when shooting from long distance. You can easily maneuver in bushy areas or in a tree stand.
Matrix Bulldog 440 crossbow comes with the all new Pro-Shot ACP trigger, new Tact-100 crossbow scope, and the Charger EXT Crank system. However, the scope reticles are a tad hard to see without the light on. Typically, assembling the Excalibur crossbows has always been an easy task.
What we liked:
Consistent 3lb trigger pull with no creep
Adjustable configurations
Built-in anti-dry fire system
Silent manual safety
Improves accuracy and consistency
Lifetime warranty
What we didn't like:
Does not include a rope cocker
---
6. TenPoint Vengent S440 Hunting Crossbow Package
Speed: 440fps | Weight: 7.7 Pounds | Draw Weight: 250 Pounds | Kinetic Energy: 166 Foot-pounds | Power Stroke: 14″ | Width (Cocked): 5.8″ | Width (Decocked): 11″ | Length: 35″
If you're looking for a duable winner at a fairly reasonable price, the TenPoint Vengent S440 could be an excellent choice for you! It quickly made an impression because of its distinctive shape and black color. The powerful kinetic energy also gives it incredible height and speed and lets it force fly arrow up to 440fps.
It doesn't shoot arrows at a whopping 470 fps like the Vapor RS470, but 440 fps is more than enough to shoot your target at 50-70 yards. However, you can hit a bit high speed when you use a Pro-Lite Carbon Arrow of 370 grains.
It has a solid built-in frame perfect for hunting. But best of all, this is one of the most durable fastest crossbows out there thanks to a tough build to protect from uncertain weather. It comes fully assembled and includes a ready-to-hunt set of accessories. The package also includes a storage case for safe transport.
Like most of the TenPoint high-end crossbows recently released, it has the ACUslide cocking and Decocking mechanism. So you can reduce the draw weight by 95% using the ACUslide Cocking and Decocking system. And it doesn't produce any clicking or sounds from the ACUslide when you crank it.
However, the Vengent S440 is quite long, measures a total length of 35 inches and weighs just under 8 pounds at 7.7 pounds total. This unit is also the narrowest forward-draw crossbow ever, measuring just 11 inches in width uncocked and 5.8 inches cocked. You can also hang this crossbow on the foot stirrup.
What we liked:
Silent Cocking and Safe De-Cocking
Durable and accurate crossbow
Complete hunting package
Value for the money
Comes fully assembled
---
7. BARNETT Predator BAR78002 430fps Crossbow
Speed: 430fps | Weight: 7.6 Pounds | Draw Weight: 187 Pounds | Kinetic Energy: 156 Foot-pounds | Power Stroke: 16.25″ | Width (Cocked): 17.875″ | Length: 37.125″
Barnett is a well-known brand for making crossbows that are affordable easy to assemble and also maneuverable. If you are looking for a high speed crossbow with beautiful finishing, then the BARNETT Predator BAR78002 might be for you. Because the beautiful black finish contributes to its overall appeal. You can rest assured that you will get an excellent fast crossbow for the money.
Most of the crossbow models at this price range we have found quite unbalanced and heavy but that is not the case with this particular model. When you hold the BARNETT Predator BAR78002 crossbow in your hand, you won't feel unbalanced or unnatural, even if you're a beginner.
Also, BARNETT uses the RUCS system on this model, which is responsible for pushing the front of the crossbow upward when it should go downward.
The step-through riser is made from patented Carbon-lite, which keeps the weight of the model to a minimum. To deliver smooth and precise shots, the flight track is made from CNC machined aluminum. This is something that most seasoned hunter wants.
With speeds of up to 430 fps, the draw weight for the model is 187 lbs. So it's not the most comfortable to draw on the market, but it's not the most difficult, either. The 16.25 inches and the total weight is 7.6 lbs, which might not make it the lightest, but not the heaviest model available on the market. The axle to axle isn't narrow, a little over 17 inches, which still makes it relatively easy to maneuver.
However, the scope is of average quality and not sufficient for long-range shooting. If you're interested in that topic, you can read our best crossbow scope buyer's guide.
What we liked:
Built-in TriggerTech Frictionless Release Technology
Anti-Dry Fire Trigger System
It has finger safety reminders
Take very little adjustment
Accurate and deadly
Easy to maneuver
What we didn't like:
Large size
Scope is medium quality
---
8. RAVIN R29 Predator Crossbow Package
Speed: 430fps | Weight: 6.75 Pounds | Draw Weight: 12 Pounds | Kinetic Energy: 164 Foot-pounds | Power Stroke: 12.5″ | Width (Cocked): 6″ | Width (Decocked): 10.5″ | Length: 29″
As we previously mentioned, RAVIN is one of the experts and trustworthy brands in the crossbow industry because they always produce high-quality, highly accurate and powerful crossbows. RAVIN released the RAVIN R29 back in early 2019, it's a very compact, lightweight, fast, accurate and also very expensive crossbow. This model looks a lot like the RAVIN R29X, but there are some small differences.
Like with most of the RAVIN crossbow, the RAVIN R29 Predator Package comes fully assembled and pre-tuned. This means you can instantly be ready to use some target practice. It is structurally stable as it comes with a solid bridge on the front to back. This model comes with HeliCoil technology and built-in cocking mechanism and a removable crank.
This model is only 3 inches longer and 0.25 inches wider than the previous version R26 but it shoots 30 feet per second faster than R26 at 430 FPS. However, the RAVIN R29 is incredibly 5.5-inches shorter than the R20 without compromising performance.
It is very comfortable to hold because the ergonomic rubberized foregrip is really well made. The RAVIN R29 crossbow has a total weight of only 6.75 pounds, length of 29 inches and a width of 10 inches uncocked and 6 inches cocked. Its small size and lightweight design make it an excellent choice for bowhunters who prefer to operate from blinds or up tree stands.
What we liked:
Compact and powerful crossbow
Stable and robust construction
Perfect for shooting from a blind
Ready to shoot
Easy to use
Safe
---
9. Barnett HyperGhost 425 Mossy Oak Camo
Speed: 425fps | Weight: 7.7 Pounds | Draw Weight: 206 Pounds | Kinetic Energy: 152 Foot-pounds | Power Stroke: 16.33″ | Width (Cocked): 17.6″ | Width (Decocked): 20.375″ | Length: 36.25″
This is another fairly fast crossbow with durable frame and a more reasonable price point of only less than a thousand dollars. With that said, the Barnett HyperGhost 425 is in fact easy to assemble, taking approximately five minutes to complete the process (included illuminated scope is factory mounted).
The HyperGhost 425 crossbow is relatively compact but over 36 inches long. Its axle-to-axle width (cocked) is 17.6 inches. This model is not much different from the older version HyperGhost 405 in terms of size. It's pretty heavy, but you can easily take it with you during a hunting trip. Because the retractable underarm counterbalance support feels perfectly balanced when you hold it.
These shafts are designed to deliver remarkable accuracy. This fast crossbow also feels good in the hand and is nicely balanced for off-hand shooting. And with 152 foot-pound of kinetic energy, it fires arrows up to a speed of 425 FPS, making it one of the faster crossbows ever made at this price range. This model's also stronger compared to the extremely rated BARNETT predator with 206 lbs draw weight.
For better comfort and support, Barnett HyperGhost 425 crossbow features the pass-through foregrip and the RUCS. The RUCS locks are in place against the stock for easy operation. There are also three additional Picatinny rails on the stock to accommodate various specialty accessories.
What we liked:
Very accurate crossbow
Premium Adjustable Illuminated Scope
String dampeners
Step-through riser
Comes mostly assembled
Reasonable price
---
10. Barnett HyperTac 420 Ultra-Compact Crossbow
Speed: 420fps | Weight: 7.6 Pounds | Draw Weight: 225 Pounds | Kinetic Energy: 142 Foot-pounds | Power Stroke: 15.5″ | Width (Cocked): 9.2″ | Width (Decocked): 13.6″ | Length: 35.9″
Feast your eyes, ladies, and gentlemen, because we have finally reached the last choice of the world's fastest crossbow that you can purchase under the $1000 mark. The Barnett HyperTac 420 is a recent product on the market, and it remains to this day as one of the most viable choices for anyone looking for an affordable and yet very powerful and capable hunting crossbow.
Barnett HyperTac 420 crossbow uses the latest innovative technology that secures this crossbow among the best modern shooters. The TriggerTech trigger system ensures crisp, smooth, and safe triggers. It is powerful enough to take down Whitetails with its 420 feet per second.
The bow sports an axle-to-axle width of less than 10 inches. Compared to the other fastest crossbows on this list, it is light and still offers a good amount of speed. The crossbow is only 7.6 pounds which makes it easy to use in all positions and you can easily take it with you while climbing up the tree stand.
Barnett HyperTac 420 crossbow also looks outstanding out of the box. Its anti-dry fire system prevents you from doing mistakes. It comes with a ready-to-hunt package including Halo 1. 5 – 5 x 32 mm Illuminated, Speed Compensating Scope, Three 22" HyperFlite Arrows, Premium Side-Mount Quiver, Integrated Crank Cocking Device, and Lube Wax.
What we liked:
Great power
Easy to put together
Affordable price
Sturdy and durable
Soundproof operations
Ready to go from the package
What we didn't like:
Package includes only 3 HyperFlite Arrows
---
Buyer's guide: Fastest Crossbow
If you're looking for the fastest, most powerful and most accurate crossbow, you need to invest around 500 bucks. You remember that there are plenty of cheaply made models available on the market, sometimes these have high velocity but do not accurately hit the target. To help you make a knowledgeable purchase without breaking the bank, now we are going in-depth to explore the world's fastest crossbows and how can choose them.
FPS Speed
For finding the fastest or most powerful crossbow, the first thing is you should take a look at the velocity of the crossbow. The fastest crossbows mean it must go 450 to 500 or more feet per second. Our research showed that less than 420 FPS crossbows aren't the world's fastest crossbow anymore.
A higher number will ensure faster speeds but you need to assume that not all high-speed crossbows are powerful because the power of the crossbow depends on so many factors.
Before 2014, people were good at taking a target down average crossbow. But technology has dramatically changed, big brand crossbow manufacturers such as TenPoint and Barnett, invented different crossbows for different practical requirements. For example, today you will find extremely powerful crossbows with speeds up to 500 FPS, but they are light compared to cheaply made less powerful models.
Draw Weight
For buying the fastest crossbows, it is also important to consider the draw weight. If you're going to be using the crossbow for small game hunting, draw weight not be a big deal. Because on the market, crossbow with more than 300 FPS speed has enough draw weight for small game hunting.
However, if you want to use it for big game hunting (like elk deer) or you are a passionate hunter, you have to make sure that the draw weight is above 150 lbs. Because if you choose a crossbow under this level, you can be assured that the performance is going to drop significantly.
Physical Weight
It doesn't matter if you are a man or woman, or if you have enough strength or not, carrying a crossbow long time can make your hunting trip uncomfortable. Some quickest crossbows are heavier than others. To comfortably carry a heavy model with you through the woods, consider the weight of your physical condition.
Budget
Budget can be an issue for some people because, as mentioned, the higher speed will be more expensive to some extent and you may need to balance your budget plans accordingly. If you're going to be using the crossbow for target shooting, you'll be fine with a cheaper model. On the other hand, if your main purpose is going to be hunting, you'll need a better and faster crossbow.
We categorize our selection in a way so that every budget person can get their dream fastest crossbow without spending a fortune. However, keep in mind some of the more powerful crossbows don't come with additional accessories. In this case, you require extra investments.
Fastest Crossbow isn't always good
Because of high velocity and power, each shot of the crossbow will make more noise. If you're a target shooter, it isn't a huge deal. But if you are a hunter, you know that sound can mess up your shot and alert your target. So, you need to use the extra equipment to reduce the sound which added additional costs.
Conclusion
Some beginners are interested in the fastest crossbow which is good for learning but we don't encourage them to pick a powerful and fastest crossbow for novice hunters or target shooters anymore. On the other hand, if you are an expert and have knowledge of how to control these fast or powerful crossbows, then you can go.
We hope, this guide helped you to understand the fastest and most powerful crossbow and make a wise decision about which model is best suited for your needs. If you have any questions, leave a comment in the section below, and we will answer them.