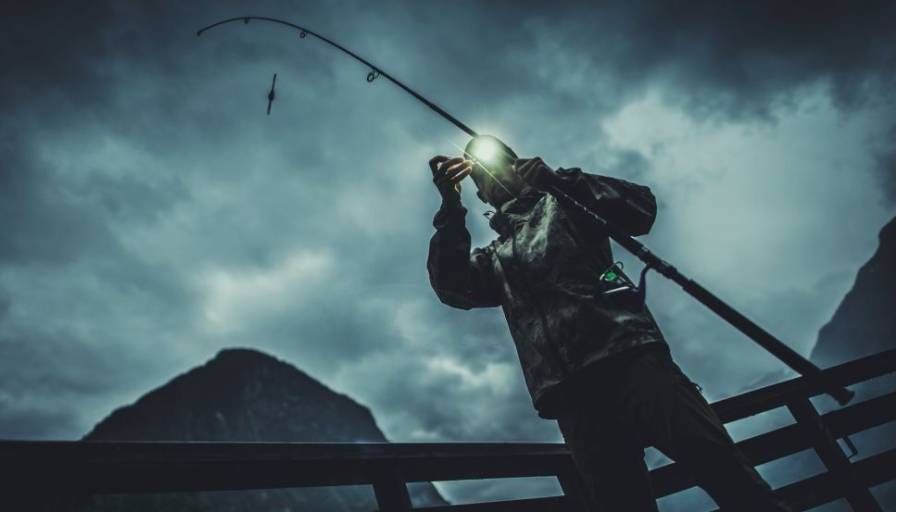 Have you ever thought about fishing at night? And if you are a fan, have you thought about which type of night fishing could be the best for you?
This article will give you 9 very useful tips to understand what to take with you, what are the essential items for night fishing, how to prepare bait and nets, which boat to use if we want to use one, and how to get around to have fun in safety.
Without further delay, let's see our expert tips for night fishing…
1. Get Organized While Fishing for Carp
The waters we find during the day are one way and at night they are a completely different way. Having everything we need ready during the day (before the sun goes down) is much better than trying to find things in the dark while fishing.
Plan ahead, sit quietly, and watch the water with everything you need around you. This means much less anxiety and more peace of mind to fish with peace of mind.
Fishing at night will certainly be much more profitable if you know how to do it. Because the fish that are much more cautious during the day and do not come out of their burrows at night are much freer and go in search of food. So it will be easy for you. And with the right bait, have some fun.
2. Take the Rechargeable Light With You
An important thing, which we must always take into consideration is to bring lights with us when fishing at night. If you bring lights with you, you will have no problem finding what you need whether they are baits, rods, or other things that you will have around you.
Rechargeable light is a great idea because they are much more powerful than the bulbs of the past and because they are rechargeable. They are excellent for illuminating what we need but also last 10 times longer.
Many anglers like to buy OTYTY's lights that stick on the head so that their hands are free.
3. Shelter for Summer Fishing
If you are not happy to experience a wonderful moment of a night of fishing, summer nights are almost always beautiful for this activity. But sometimes, especially if we are far from home, it would be very nice to have a tent with you as a shelter to sleep for a few hours.
Just bring this tent for one person with sturdy pegs, which serve as shelter for us from the wind, sudden rain or summer storms won't ruin your trip. This tent then must be small so that it can fit into the trunk or smaller backpacks.
We are commonly using ALPS Mountaineering Lynx 1-Person tent. It is light and you can easily carry it in your backpack
4. Never Forget to Bring Thermos Coffee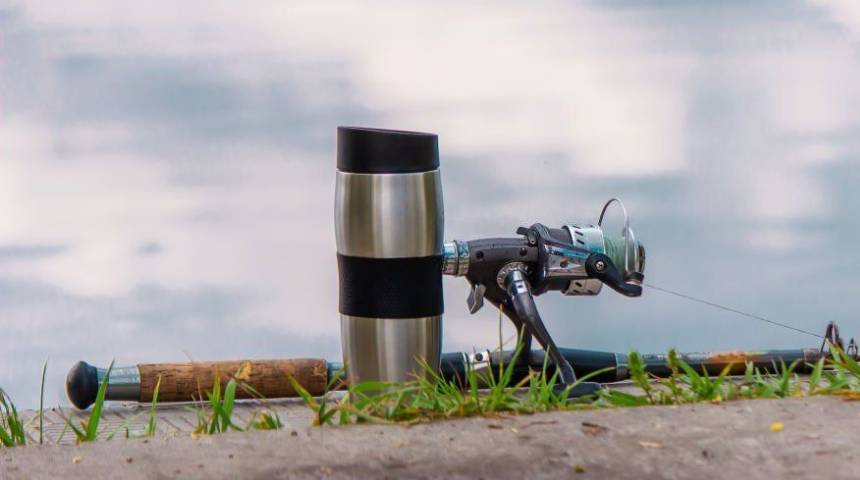 You can always think of bringing a decent meal with you and we know that many aficionados can't give up a good homemade sandwich, a plate of pasta, or a nice pizza to take on the boat when you are out all night. But more than food, we know that no fisherman would ever leave the house without carrying a thermos full of coffee which is really essential to stay alert during night fishing.
If you stay out for a couple of days, do not bring bulky stoves with you but only one that serves to cook something in a saucepan and to prepare a good coffee that is able to give you warmth and company during all hours of fishing.
Don't bring those awful canned beers with you but bring good coffee that will keep you awake and not distract you or fall asleep.
5. Things Not to Forget in the Fishing Backpack
There are many people who focus only on fishing lures and rods to take with them during night fishing (in my opinion wrongly) but they have no idea of many small things that it is always good to carry with you in your fishing backpack.
Beyond the small and large tools, we need to fish at our best, we must think about bringing with us a first aid kit, which is never more.
Some cortisone ointment if we ever have an allergic reaction or a sting insect and sunscreen. Why sunscreen at night? There are many fisherman friends who decide to spend the weekend out for night fishing and prefer to also combine a day of fishing with the next day. And everyone knows how much you can get burned, offshore, on a boat with water as a mirror.
6. Fishing Nets for Sea Fishing
I don't know how many of you prefer the lake or the river for more intimate, quieter fishing. But there are many people who want immense pleasure in living an out-of-the-ordinary experience: sea fishing.
Whether you want to do it on a beautiful day in the Caribbean ocean or you want to wake up at night to do it on the American coast, we can assure you that it will be an experience that you will not forget and that we did ourselves one night in which we went in search of the fish spade.
If you are near Hawaii, I suggest you organize, with some local fishermen, an unforgettable night to choose nets, drop them, wait, and live a night on a boat with the best professionals in the area.
Do not be afraid to ask (even if you are on vacation) to have this unusual experience and also decide what role you can have in a professional fishing trawl. We don't think it can be described any other way than this: fantastic.
You could also have an extra luxury experience on a yacht and with one of those fishing rods that are fixed to the boat and that allow you to fight with the big fish from the American ocean. We have a friend who had this experience and he was amazed. The fight between man and fish, as in a sort of modern reinterpretation of Melville's Moby Dick, makes everything epic, even just stopping at the stern and waiting for some fish to bite.
7. Choose the Fishing Floats and Fishing Lures Most Suitable for Night Fishing
During the night fishing session any more experienced fisherman will bring with him the floats for the best nets and also the fishing lures that he considers most suitable to make a nice haul of fish to be released later or to take home.
Anyone who has anything to do with fishing knows that every fisherman has his own bait, his own fish to catch, and floats that he considers better than others. For newbies, those who want to start this hobby, we can only recommend talking to experienced people or taking a tour in some specialized shop.
However, we know that many of you prefer informative articles like this one to know what is best to do on a fishing night. A float with a detachable antenna can be good advice as long as you don't want to use those starlights (the broken sticks light up). A pre-assembled multipurpose reel can be an excellent idea to avoid obstructions at night.
Then use soft baits so that the already relaxed fish don't waste time latching on.
8. Use Fishing Watches and Fishing Vests to Feel More Protected and Informed
When you choose to live a night of fishing, you must be very prepared and prepare yourself at your best. You must also have comfortable but at the same time very functional accessories.
In the last 10 years, the biggest revolution in the world of fishing has been that of fishing watches. These smartwatches are very functional like real laptops and can be found online where fishing equipment is sold.
How many of the old fishermen found themselves in trouble, with some unexpected storm, while they were at sea at night? This can now be absolutely predictable thanks to a fishing watch that gives real-time weather forecasts and is able to read the state of the tides and moon phases.
This type of information and a good built-in GPS ensures that everyone is much more informed and they are always available in case of difficulty or emergency even if the mobile phone does not take or does not work for example.
Since we have said that a fisherman must always have everything at hand, it will also be very interesting to buy the best fishing vest or jacket, which must be light with many pockets. In this sense, you can be more protected from wind or rain. And you can insert all the small and large tools that we need to fish well.
9. The Toolbox is Always Clean and Organized
When we decide to go fishing we always have to think about bringing with us a toolbox or fishing tackle box that is super organized. We have always thought that it is very simple to make a cassette become a real arsenal, clean and organized precisely (thanks to a series of simple tricks).
Fishing boxes made in rectangles, small and transparent are used to give more comfort while fishing at night. You can put compartments in the box in order to have everything at hand. And if we keep everything, it will be much easier to find what we need even at night.
Also thanks to the light to be worn on the forehead, which will make good lighting and will leave us our hands free to do what we are doing.
Conclusion
As you may have guessed, it doesn't take long to be at your best during a night fishing session, you just need to organize yourself a little more to not be unprepared.
However, fish that swim and feed in depths greater than 5 meters are usually rather insensitive to light. In the movement, they tend to rely on the sensitivity of their lateral line. So make sure to bring a little light that does not affect their behavior.
---
Interested in kayak fishing? Then these guides will help you: