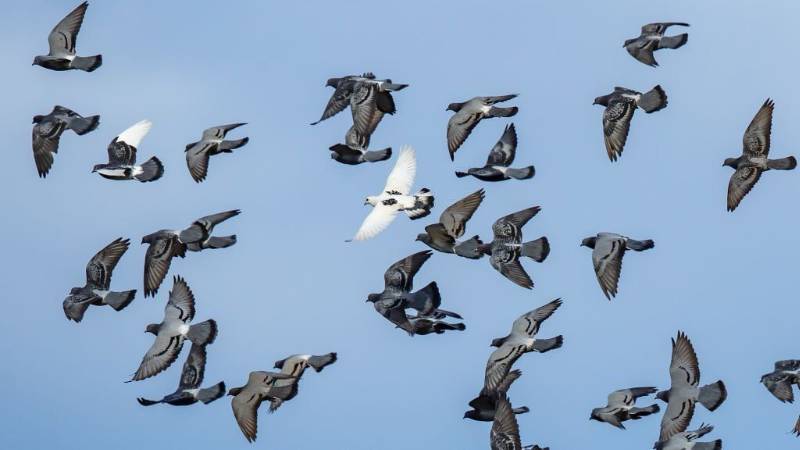 Installing its forms when hunting the pigeon is not a matter of chance. Several factors come into play for a successful pigeon hunting trip. We reveal 5 hitching techniques for pigeon hunting without the decoy.
If you plan to hunt the whole day in the same hide made the same morning, it is important to design it correctly. Think big enough to be comfortable, but not too big so as to remain as discreet as possible. Do not skimp on camouflage, nets, and other essential branches. Your lookout must be invisible.
1. The best conditions
Pigeon hunting is popular all year round. These are the best conditions a pigeon hunter can encounter. The wind blows in the back of the hunter which will encourage the pigeons to come from the front.
The forms of pigeons are positioned between 20 and 25 meters from the lookout, they form a horseshoe, wide enough to allow wood pigeons to pose in its center.
2. Crosswind
The hunter cannot position his hunting blind in such a way as to have the wind at his back, so it comes at him sideways. We will still use the principle of the horseshoe, the opening opposite the direction of the wind. The forms of pigeons are positioned 20/25 meters from the hide, which places the landing zone between 25 and 30 meters, which is an ideal shooting distance.
3. The pigeons pass outside
Using one of these first techniques, you notice that the wood pigeons pass outside the horseshoe formed by your pigeon chard. Make sure it is open, a distance of 20 to 30 meters depending on the configuration. If so, try this alternative technique:
Arrange the chard in the shape of a large "L". Be careful not to overload your team with too many pigeon shapes. The wood pigeon needs to have a clear overview before it is confident enough to come and land in your team. A surplus of forms is not necessarily positive.
4. Increase your chances with moving shapes!
To make your coupling more attractive, it is strongly recommended to use mobile shapes. This chard moves with the help of the wind or a motor. They make it possible to increase the realism of your coupling. Another advantage provided by these forms, the pigeons will focus on their movement and therefore less on you.
There is a multitude of them – the most popular being the Hypaflap. Here is an example of coupling using two Hypaflap shapes, which could be replaced by two pigeon chard with open wings installed on floats or even two pigeons with rotating wings.
The hunter will position his Hypaflap pigeon forms about 30 meters from his lookout. He will then come back to this one by arranging some shapes. Obviously, the Hypaflaps, forms with open wings or pigeons with rotating wings, will be positioned facing the wind in order to allow them movement.
5. Hypaflap and crosswind
Use the "horseshoe" technique, just add the moving shapes to the ends of it.
There are many variations of these few techniques, it's up to you to adapt each of them according to your territory and your hunting methods. We will discuss in a future article the different hitching techniques for hunting pigeons with decoys on the ground.
If you have specific techniques that you would like to share, do not hesitate to comment on this article and if you liked it, share it with your friends!
Conclusion: Pleasure above all
Pigeon hunting is above all a passion, a pleasure shared with a few friends, gathered for a day and sharing unique moments. Leave aside the numbers and the quest for big paintings, remember to treat yourself above all. We wish you an excellent season, rich in passion and emotions!
---
See Also…