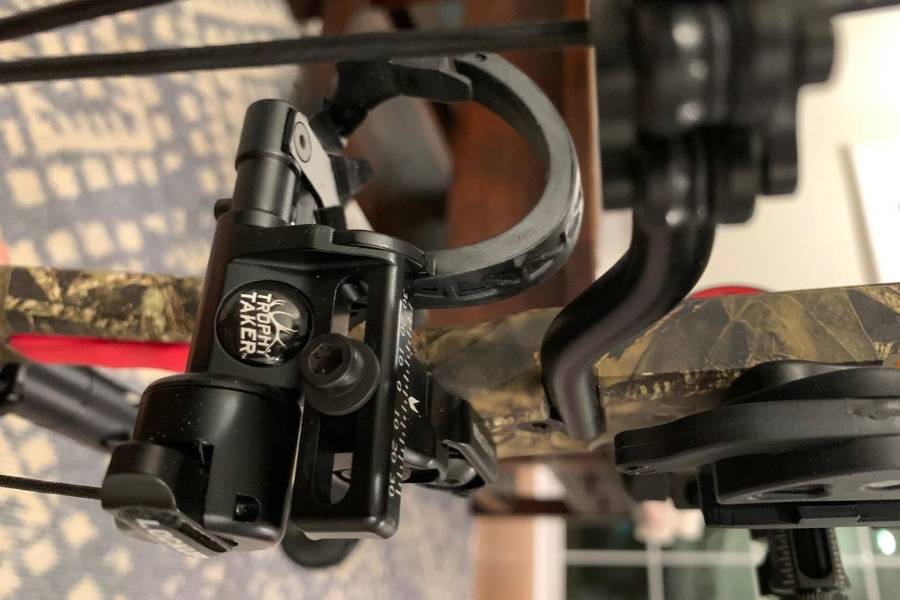 In the ever-evolving world of archery, the aim for precision and accuracy is cardinal. As passionate hunters, we understand the central role of arrow rest that plays in achieving the perfect shot. And it is undeniable that the right arrow rest can be the difference between a near miss and a bullseye
After testing and careful research, we present to you the crème de la crème of arrow rests for 2024. Our assessments go far beyond the Search Engine's first page; we've immersed ourselves in hands-on testing to ensure that only the truly exceptional make it onto this list.
Here, you'll find rests that have set new industry benchmarks, utilizing cutting-edge technology to enhance accuracy and consistency. They promise to provide top-quality shots and ensure a transformative archery experience. We have scrutinized them under various conditions and scenarios.
Best Arrow Rests of 2024
Now let's see the ranking of the top 10 best arrow rests designed for 2024…
1. QAD Ultra Rest Integrate R2 Arrow Rest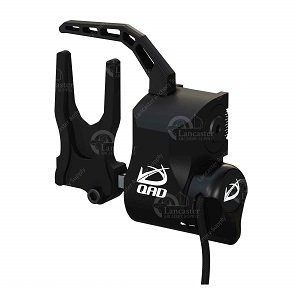 Latest Price At Lancaster Archery
We can confidently assert that the QAD Integrate R2 arrow rest stands out as a top-rated choice for accuracy. And if you're looking for high-performance Drop-away arrow rests for consistent shots, this one's got it. For installation, the cable-driven activation made the process very simple, and it stayed rock-solid and reliable.
What sets it apart is the Grip N Slide technology. It allows for adjustments that stick when you need them to, but move smoothly when you slide the rest. And locking it down with an Allen key? Simple and secure.
Now, let's talk features. It secures your arrow in position and ensures it remains fully contained during both the full draw and after you release it. The lockdown technology? Launches fast, with no bounce, and no fletching contact – a dream for precision shooting. That's a major time-saver.
Safety-wise, they've got it covered. When the launcher's forced down, it breaks away without causing any harm. The advanced vibration technology takes care of noise and vibration with its cambrake and dampers.
However, the key innovation lies in the attachment process, which now involves securing the rest to the back face of the bow's riser. This simple yet ingenious change has profound implications for the rest's performance.
The high-tension spring propels the launcher and sends it hurtling at a blistering speed of over 400 feet per second. It also features the Integrate Mounting System, which is a revolutionary approach that fundamentally transforms how the rest is attached to the bow.
Pros
Cons

Easy mounting system
Attaches to the back face of bow riser
Two parts locking system
Easy to adjust

Micro adjust would be better
2. Quality Archery Products HDX Arrow Rest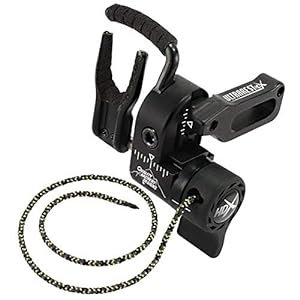 If I'm being honest, the Ultra Rest HDX really stands out as a frontline model. It has a sleek design and good adaptability with the latest bows. It retains all the impressive features of the HD model, making it a no-brainer for archers seeking the absolute best with all the bells and whistles.
The addition of the sleek curved capture bar enhances its versatility. And let's not forget about the Advanced Vibration Technology, Lock Down Technology, and Velocity Drop Away Technology – they all contribute to a smoother shooting experience. The redesigned mounting block makes it more compatible than ever before and ensures a secure fit on a wide range of bows.
The advanced vibration system effectively minimizes peak vibration amplitude, resulting in a quieter and more comfortable shooting experience. I was pleasantly surprised by how well it worked in the field. Also, the durable molded rubber adds an extra layer of comfort.
Adjusting the timing cord is very easy, even after it's clamped to the buss cable. And the full draw indicator marks? They provide a climacteric visual cue to ensure the launcher is in the correct position at full draw.
The setup process is straightforward if you have the necessary tools, including a bow press, Allen wrenches, bow vise, string level, and arrow square. While QAD HDX provides a cable clamp, serving the cord to the downward cable functions better. However, I do recognize that this might be better suited for a qualified bow tech, especially for those less experienced.
Pros
Cons

Drops quickly
Locking feature
Easy to install
Graduated adjustments
High quality and durable rest

If used improperly you can actually cause it to fail
3. Trophy Ridge Whisker Biscuit V Max Arrow Rest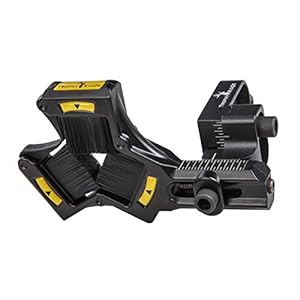 The Whisker Biscuit V Max is a Budget-friendly arrow rest for beginners. As a fellow bowhunter, I appreciate gear that's designed with practicality in mind, and Trophy Ridge delivers exactly that. Their products are designed to give you that key edge in the field or at the range, and this arrow rest is no exception.
You'll love its adaptability, which is rarely found in this price range. It's intelligently designed to board arrows of all sizes, from the tiniest to the largest diameter. That means you don't have to worry about compatibility issues with your different arrow types.
The full-containment, fall-safe bristles provide peace of mind. No more second-guessing whether your arrow is in the right position. Once it's in, it's secure. This feature alone will save you from potential mishaps and boost your confidence in the real scenario.
Adjustments are very initiative thanks to the windage and elevation adjustments with laser-engraved reference marks. And I appreciate not having to fumble around with complex settings.
The custom rubber arrow guides ensure quick and silent arrow loading. This is a big advantage, especially when you're trying to maintain the element of surprise in the field. The all-aluminum construction gives it a solid and durable feel.
However, one small concern we have is that the brushes could be a bit stiffer. We noticed that our Axis arrow can occasionally drop down into the lower right brush if we're not careful.
Pros
Cons

Affordable
Easy to adjust
Light and quiet
Fit well for all arrows

Brushes are not very stiff
4. Vapor trail GEN INTEGRATE 8X Arrow Rest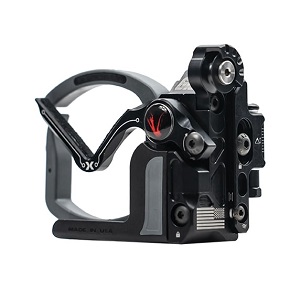 Latest Price At Vapor Trail Archery
The Vapor Trail Gen Integrate 8X is a high-performance arrow rests for hunting. This new model has a low-profile design that perfectly houses the Mathews LoPro™ Quiver. This feature is incredibly handy for streamlining your setup. Mounting it to the Integrate Mounting System™ is very easy, and you will be inspired by how compact and sleek design it has, compared to previous models.
It is also one of the best Arrow rests with micro-adjustability. The smooth adjustments, made with a hex head and lock screw, allow for precise tuning without any clicks. This means you can hit dead center on your target without any compromises. It's a level of customization that really sets this rest apart.
The full capture cage is another ingenious feature. It's designed with a side gate for easy arrow loading and can take in arrows of all sizes. It's made with Vapor Trail's proprietary vibration-dampening material, which adds an extra layer of refinement to its performance.
The option to choose between top or bottom limb activation with the removable Bottom Limb Adapter is a nice touch. It adds an extra layer of versatility and allows you to fine-tune it to your personal preferences.
However, the micro-adjust knob sticks out quite a bit. This can cause a bit of interference with your quiver. Also note this, this arrow rest is a bit bigger and heavier compared to the previous models.
Pros
Cons

Precise and fast arrow release
Minimal noise and vibration
Compact and sleek design
Durable construction for long-lasting use

Relatively higher price point
Installation require some expertise
5. Vapor Trail Archery Pro V Arrow Rest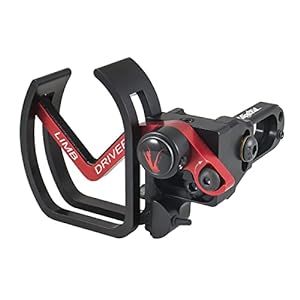 The local archery shop recommended the Pro V Limbdriver bow rest by Vaportrail Archery, and it has proven to be a revelation for compound bows. This model clinched the prestigious Bowhunting World Reader's Choice GOLD award in 2014, evidence of its excellence in the field.
It is designed with precision and has a fail-safe "V" shape that cradles the arrow securely. The consistent placement of arrows has significantly improved accuracy and refined the overall shooting experience.
The "V" swiftly retracts providing an unparalleled 100% fletching clearance. This translates to a notable boost in arrow speed, a factor I greatly value as a bowman drawing a modest 45 pounds. Say goodbye to the fletching wear and the need for frequent arrow re-fletching that plagued with whisker biscuit rest. Its accuracy and reliability have considerably tightened.
The Vaportrail Archery Arrow Rest offers not only top-notch performance but also the option of customization, including eye-catching color choices and personalized engraving. It is also the quietest arrow rest for stealthy hunting.
However, this model is not without a minor quirk. In moments of imperfect fluidity during the draw, there's a subtle arrow movement that can introduce unwanted noise. Also, the arm's flush placement at the rest's bottom can cause a slight jiggle upon arrow release, necessitating additional padding beyond the provided moleskin. This is a small trade-off for an otherwise exceptional product.
Pros
Cons

Swift drop mechanism
Reliable and durable design
Customizable with color options
Award-winning product
Proven track record

Slight post-release jiggle
Initial setup requires
6. Muzzy Mantis II Bowfishing Arrow Rest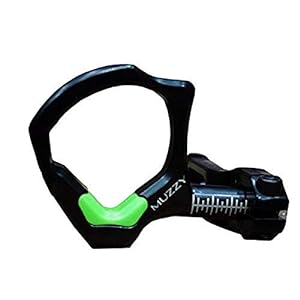 The Mantis II Bowfishing Arrow Rest is proof of its commitment to excellence. With a host of features designed to elevate your bow fishing experience, this rest is a radical for any enthusiast. The anodized aluminum frame ensures not only robustness but also a feather-light feel. The full containment system provides peace of mind, knowing your arrow is securely cradled until the moment of release.
This heavy-duty fiberglass pad is a work of art in durability. It refuses to succumb to wear and preserves its integrity and longevity. This means your investment in this arrow rest is one that will stand the test of time, weathering the challenges of the bow fishing world.
The design is a marriage of functionality and aesthetics. The high visibility coloring is not just for show; it ensures that adjustments are swift and accurate even in low light conditions. Laser-etched markings for windage adjustments add a touch of precision that is bound to be appreciated by seasoned bow fishers.
We're also impressed with its rotatable frame for elevation adjustments and alignment. This degree of customization empowers the user to fine-tune their setup to perfection, enhancing both accuracy and comfort.
The installation process is hassle-free. There are no extraneous components like springs, latches, or trap doors. The solid fixed ring design exudes confidence, leaving no room for unexpected movement. A single screw is included, but for those seeking an extra level of security, using an additional screw from a previous rest is a simple solution.
Keep in mind, the slide stop must face upward during shooting to protect the green Delrin, as some users have experienced breakage in other orientations.
Pros
Cons

Cheap price
Easy installation
Impeccable functionality
No-Wear Delrin Arrow Pad
High visibility markings

Only comes with one screw
Slide stop must face upward during shooting
7. QAD UltraRest TRi Target Rest Black RH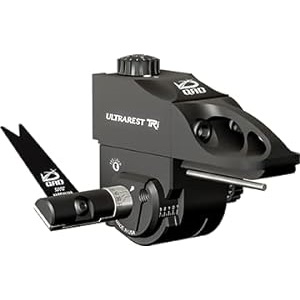 The Ultrarest TRi Target Rest is ingeniously built around Mathews' cutting-edge Integrate™ System, which ensures the most secure attachment to the riser in a sleek and efficient design. Right from the start, it was evident that this rest was engineered with precision and performance in mind.
We appreciate its micro-adjustability. The center shot and elevation adjustment knobs allow for meticulous tuning, which enables you to achieve your desired setup with ease. The laser-etched markings further enhance the user experience. This level of customization ensures that the rest perfectly complements individual shooting styles and preferences.
The blade-locking mechanism within the rest arm guarantees flawless alignment with every shot and contributes to consistent and accurate arrow flight. The patent-pending Lizard Tongue Cover also offers an extra layer of protection during transport and ensures that the blade remains in optimal condition.
The inclusion of three medium blades with varying thicknesses (0.008″, 0.010″, 0.012″) displays the attention to detail that QAD has put into this product. The torque turning adjustments enable you to position the blade directly over the wrist. This not only enhances forgiveness but also adds an extra level of confidence in each shot under pressure.
Pros
Cons

Lizard Tongue Cover
Includes three medium blades
Secure Integrate™ System attachment
Built with blade locking mechanism

Higher price point
Right-hand orientation only
Complex to initial setup
8. HAMSKEA Archery Solutions Trinity Hunter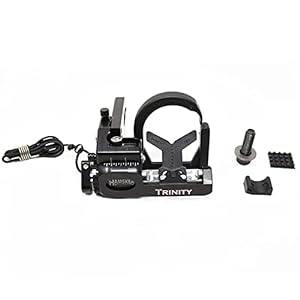 If you're looking for the highest quality limb-driven arrow rest, this model can be a reference for your needs. I can confidently say that it's a good option for any serious archer or bow hunter.
The Trinity Hunter has remarkable quietness and durability. The over-mold material used for the hunting launcher ensures a whisper-quiet draw cycle. Also, the enhanced durability of this material instills confidence that the rest will stand up to the rigors of hunting season after season.
The incorporation of Zero Stop Technology for both the up and down positions of the launcher is remarkable. This guarantees an absolute repeatable launcher position and ensures maximum accuracy with every shot. It's a level of precision that sets this arrow rest apart from others on the market.
I particularly appreciate the thoughtful design that makes the Trinity Hunter incredibly user-friendly. The textured spring knob provides multiple adjustment positions for changing the rotation tension of the launcher shaft, which allows for easy customization to suit individual shooting styles. The EasyGlide cord adjustment and tensioner streamline the setup process, saving valuable time in the field.
The Trinity Hunter's 8-sided, non-slip compression clamp design for the lever arm, coupled with the anti-bounce back-dampening coil, adds an extra layer of stability and accuracy.
Pros
Cons

Sturdy and well design
Good customer service
Versatile 4-way adjustability
Durable construction
Good value for the money

Lack of detailed instructions
Not versatile
9. Bear Archery Weather Rest RH Black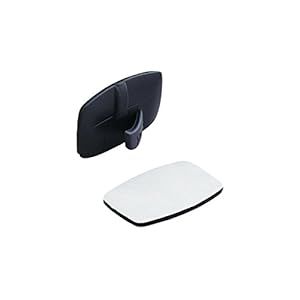 I recently tried out the Bear Archery Weather Rest RH on my recurve bow, and it's a simple yet effective solution for traditional archers. The self-adhesive backing made installation a breeze, allowing you to attach it securely to the side of your bow riser. This feature is very handy for those who prefer shooting without an arrow shelf.
Bear Archery's emphasis on simplicity and reliance on fundamental archery techniques. The rubber material is pliable, which encourages proper form and discourages over-reliance on gadgets. It forces you to focus on your form, ensuring you're not straining your bicep or getting shaky during the shot.
It is exceptionally quiet for a stealthier approach while hunting. The soft and flexible material of the rest absorbs any potential noise, making it an excellent choice for hunters looking to maintain a low profile.
In terms of durability, I did notice some wear after around 30-40 arrows, but this is to be expected with any rest. However, the main drawback is the lack of detailed instructions regarding the set screw. It took some trial and error to find the optimal placement, but once you figured it out, the rest performed admirably.
Overall, it is a cost-effective and reliable solution for traditional archers seeking an elevated rest.
Pros
Cons

Soft and flexible material
Reduces noise and promotes better form
Cost-effective
Suitable for practice sessions
Adhesive backing
Reliable and durable

Soft material can wear out relatively quickly with frequent use
Not suitable for archers shooting feathers
10. Aimdor Fully Enclosed Brush Archery Arrow Stand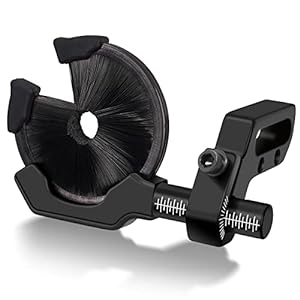 Finally, let's turn our attention to the tenth and final recommendation in our lineup of the top-rated arrow rests for 2024. It is proven that Aimdor Arrow Rest is a valuable addition to any archer's kit. Aimdor, a brand dedicated to delivering high-quality outdoor sports products, truly excels in this offering. As an experienced archer, I like the attention to detail and commitment to creating top-notch gear.
The design of this arrow rest is noteworthy. The fully enclosed brush provides a secure hold on the arrow, which ensures it stays in place at any angle. This feature is good for archers who've experienced issues with standard bottom-drawer triple brushes damaging their vanes. The soft bristles offer a smooth glide for the vanes, preserving their integrity.
What sets this rest apart is its all-weather durability. There's no need to worry about adverse conditions like rain or snow affecting its performance. This rugged design ensures that it remains reliable in various outdoor environments, an influential factor for any serious archer.
Whether you're a left-handed or right-handed archer, this rest caters to all. The replaceable brush head design allows for quick and hassle-free installation. The package includes clear instructions and all necessary tools for installation, making the setup process a breeze.
However, the lack of vertical adjustment can pose a challenge for some archers. Also, the simultaneous adjustment of horizontal and angle settings could be a bit more user-friendly. Achieving precise tuning can require a bit more patience and effort. But considering the quality and affordability, this arrow rest offers excellent value for its price.
Pros
Cons

Vane-friendly design
Fully enclosed brush
All-weather durability
Universal compatibility
Quick and easy installation
Affordable price

Limited vertical adjustments
Simultaneous adjustment can be challenging
Need some patience for precise tuning
Arrow Rests Buying Guide
We have gone beyond the average to provide you with a comprehensive and detailed buying guide that focuses on the essential factors you need to consider. We've tested these factors firsthand to ensure that you're equipped with the most up-to-date and accurate information.
Type of Arrow Rest
There are several types of arrow rests, each with its own advantages and suitable applications.
Whisker Biscuit: This type of rest features a circular enclosure with bristles that hold the arrow in place. It provides excellent arrow support and is particularly popular among hunters due to its durability and ability to keep arrows in position even in adverse conditions.
Drop Away Rest: A drop away rest is designed to drop out of the way upon release. This allows for minimal interference with the arrow's flight. This type of arrow rest offers great accuracy and is favored by many target and 3D archers for its precision.
Containment Rests: These rests encase the arrow and provide full support throughout the draw and release. They are user-friendly and ideal for beginners or those looking for a reliable option for hunting or target shooting.
Prong Style Rest: Often known as a shoot-through rest, this type has two prongs that hold the arrow in place. It offers minimal contact with the arrow and promotes clean and consistent releases.
Plunger Rest: It is more commonly used in recurve and traditional archery. The plunger rest assists in fine-tuning arrow flight by adjusting the amount of flex in the arrow shaft. It's crucial for achieving optimal arrow clearance and accuracy.
Pressure Button Rest: Similar to the plunger rest, the pressure button is used in recurve and traditional archery. It applies pressure to the arrow, influencing its flight path and helping archers achieve better consistency in arrow grouping.
Material Choice
Consider metal constructions, made from aluminum or stainless steel. These materials offer exceptional durability and stability and ensure the rest can withstand regular use and provide a solid platform for the arrow. Also, metal rests often feature precise micro-adjustments, which is significant for fine-tuning your shot.
On the other hand, composite or polymer rests are lightweight, making them favored by archers looking to reduce the overall weight of their bow. They also possess shock-absorbing properties, potentially contributing to improved accuracy. Rests with full containment features, such as those using synthetic materials like high-grade polymers, are well-suited for hunting in rugged conditions, as these materials can endure harsh environmental factors.
Construction
For whisker biscuit-type rests, the bristles or felt pads should strike a balance between secure arrow support and gentle contact to maintain smooth arrow flight. Furthermore, when considering drop-away rests, pay attention to the quality of bearings and bushings. Opt for materials like stainless steel or brass for these moving components to ensure reliable and smooth operation.
Lastly, scrutinize the adjustment mechanisms, including screws, knobs, and other hardware, for resistance to corrosion and wear. These elements are crucial for maintaining proper alignment and function.
Adjustability
A well-adjusted arrow rest ensures that the arrow launches smoothly and follows a consistent flight path. Here are some key aspects to keep in mind:
Micro-Adjustments: Look for arrow rests that offer micro-adjustment capabilities. These fine-tuning options allow you to make precise changes to the rest's position and ensure optimal arrow flight. This level of precision can greatly impact your shooting accuracy.
Vertical and Horizontal Adjustments: A good arrow rest should allow for both vertical and horizontal adjustments. Vertical adjustments control the height of the rest, while horizontal adjustments affect the left-right positioning.
Center Shot Adjustment: The center shot refers to the alignment of the arrow with the bow's riser. Being able to adjust the center shot ensures that the arrow is in line with the bowstring's path. This minimizes any lateral deviation during the shot.
Windage and Elevation Adjustments: Windage adjustments control the left-right movement of the rest, while elevation adjustments control the up-down movement. These features are crucial for compensating for any inconsistencies in your shooting form or bow setup.
Ease of Adjustment: Consider how user-friendly the adjustment process is. Look for arrow rests that have clear markings or indicators for making precise adjustments. Additionally, choose a rest that holds its position securely once set, to avoid any unintended movement.
Locking Mechanisms: Some arrow rests come with locking mechanisms to secure the adjustments in place. This ensures that the rest maintains its position even under the force of the shot.
Noise Dampening
A quiet arrow release is crucial for both hunting and target shooting because excessive noise can startle the game or affect your focus. Look for arrow rests designed with noise-reducing materials or mechanisms. Some rests come with built-in dampeners or features like rubberized coatings that absorb vibration and minimize sound upon release.
Furthermore, containment-style rests, such as Whisker Biscuit or drop-away rests with soft-touch materials, can help dampen noise by securely holding the arrow and reducing any potential rattling or movement. Accessories like silencers or dampening pads can be added to the rest to further reduce noise.
Ease of Installation
Look for arrow rests that come with clear and comprehensive installation instructions. Some rests feature simple designs with fewer components, making them easier to set up. Rests with tool-less installation systems can be particularly convenient because they eliminate the need for additional tools and simplify the process.
Compatibility of Bow and Arrow
When choosing the best arrow rest, make sure it is compatible with your specific bow and arrows. Begin by checking the type of bow you have—whether it's a compound, recurve, or traditional bow—as different rests are designed to work optimally with specific bow types. Consider factors such as the rest's mounting system and whether it aligns with the design and dimensions of your bow's riser. Some arrow rests require specific adapters or fittings, so verify that these are readily available or included with the rest.
Equally important is confirming compatibility with your arrows. Different arrow rests accommodate varying shaft diameters and styles. For instance, if you shoot thinner diameter arrows, make sure the rest has appropriate adjustments or inserts to securely hold them in place. Also, consider the type of fletching on your arrows (feathers or vanes) and ensure that the rest allows for adequate clearance and support.
Price and Budget
Arrow rests come in a wide range of price points, from budget-friendly options to high-end models with advanced features. Set a budget that aligns with your overall archery goals and financial capacity. Keep in mind that a higher-priced arrow rest offers additional features and technologies that can enhance your shooting experience.
However, this doesn't necessarily mean that a more expensive rest is always the best choice for everyone. As we have seen in our guide, there are many quality arrow rests available at more affordable price points that can still provide reliable performance.
Addressing Your FAQs
Choosing the right arrow rest involves a multitude of questions. Here, we've listed the most frequently asked questions about arrow rests…
What is the difference between a drop-away rest and a whisker biscuit rest?
A drop-away rest is designed to drop out of the way upon releasing the bowstring. It is attached to the bow's riser and is activated by the motion of the string. As the string is released, the rest drops down, providing minimal contact with the arrow as it leaves the bow.
On the other hand, a whisker biscuit rest features a circular enclosure with bristles that hold the arrow in place. It provides a high degree of arrow support and is popular among hunters due to its durability and ability to keep arrows in position, even in adverse conditions.
Can I use a drop-away rest for hunting?
Yes, drop-away rests can be used for hunting. In fact, drop-away rests are popular among many hunters due to their accuracy and reliability in the field. However, it's important to choose a model that operates quietly to avoid spooking games.
What material is best for an arrow rest?
Arrow rests are commonly made from materials like aluminum or carbon fiber. Both offer durability and performance benefits. Aluminum rests are known for their strength, while carbon fiber rests are lightweight and often dampen vibrations.
Can I install an arrow rest by myself, or do I need professional help?
Most arrow rests come with clear installation instructions and can be installed by archers with basic equipment and knowledge. However, if you're unsure, you need to consult a professional or seek guidance from experienced archers.
How do I know if an arrow rest is compatible with my bow and arrows?
Check the manufacturer's specifications for compatibility with your specific bow type and arrow size.
Conclusion
In 2024, we've uncovered arrow rests that stand in the hands of archers seeking the top of precision. From the sleek precision of drop-away rests to the steadfast reliability of whisker biscuit rests, we've dissected and evaluated each model with a discerning eye. The micro-adjustments, the hushed releases, the compatibility with various bows and arrows – these details matter, and our tests have reaffirmed their significance.
Guided by the expert team who have years of experience.
Related Posts: