As seasoned hunters with a wealth of field experience, we recognize the pivotal role a stabilizer plays in improving accuracy, reducing vibration, and optimizing overall shooting performance.
We have carefully tested a diverse range of bow stabilizers throughout the entire hunting season in 2023, putting them to the test in actual hunting situations. We examined every detail, from the construction quality and materials used to how the weight is distributed and its ability to reduce noise.
The stabilizers listed here showcase state-of-the-art design, featuring innovations that push the limits of performance. From groundbreaking damping systems to ergonomic designs that integrate seamlessly with your bow, we've left no stone unturned in identifying the standout features that set these stabilizers apart.
Best Bow Stabilizers for 2024
Let's open the ranking of the top 10 bow stabilizers for 2024…
IMAGE
PRODUCT
DETAILS

Best Overall

Best Overall

Length:

10-Inch

Weight:

7 Ounces

Construction:

Aluminum, Carbon, Steel

Check Price

Premium Choice

Premium Choice

Length:

8-Inch

Weight:

11 Ounces

Construction:

Carbon Fiber

Check Price

Best for Compound

Best for Compound

Length:

10-Inch

Weight:

10 Ounces

Construction:

Bio-Composite

Check Price

Best Value for the Money

Best Value for the Money

Length:

8-Inch

Weight:

10 Ounces

Construction:

Aluminum

Check Price

Best for Whitetail Hunting

Best for Whitetail Hunting

Length:

10-Inch

Weight:

12.96 Ounces

Construction:

Carbon Fiber

Check Price

Best for Beginner

Best for Beginner

Length:

7-Inch

Weight:

3.5 Ounces

Construction:

Aluminum

Check Price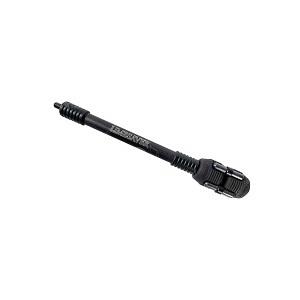 The Limbsaver New True-Track stabilizer is a peak in dynamic-stabilizing systems. With exceptional balance and proven vibration control, it sets a new standard in modern bow stabilization. Whether you're in the wild or at a tournament, this stabilizer guarantees a leap in your skills.
The Limbsaver New True-Track is made from high-strength carbon fiber to endure the harshest conditions. Both 8 and 10-inch versions offer unparalleled durability. However, the real innovation lies in the re-engineered head, featuring damp weights seamlessly integrated into the Navcom body.
It not only delivers exceptional performance but also boasts incredible versatility. From navigating dense brush to taking long-range shots, it is designed for unmatched performance and stability under any condition or shot. Its sleek design ensures a seamless fit with your bow, for a polished and professional look.
We have been thoroughly tested, the results are outstanding. Felt shock and vibration are significantly reduced to ensure each draw of the bowstring yields a smoother and more controlled shot.
PROS
Versatile for various shots
Exceptional balance and vibration control
High-strength carbon fiber construction
Innovative head design with integrated damp weights
CONS
Length (8″ & 10″) isn't suitable for all archers and hunting situations
---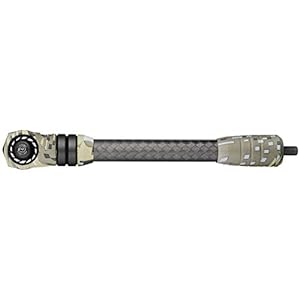 Mathews has long been famous for producing some of the quietest and most vibration-free bows on the market. Their commitment to innovation now extends to the Mathews Flatline stabilizer, proof of their dedication to refining every element of bow design.
The Flatline stabilizer lineup boasts a sleek and minimalist design, eschewing unnecessary add-ons and complexities often found in other stabilizers. Its elegance lies in its sophisticated dampening mechanism that effectively stabilizes the front end.
The test stabilizer I received came in a sharp black finish. Moreover, the color options are extensive, including Black, Lost Camo XD, Optifade Elevate II, Optifade Subalpine, Realtree Edge, Ridge Reaper Barren, and Ridge Reaper Forest. Available in 6″, 8″, 10″, and 12″ models, the Flatline stabilizer offers a range of sizes to suit different shooting styles and preferences.
The Flatline employs the EHS Nano in conjunction with a high-modulus carbon fiber rod and precision machined end cap weights, which ensure optimal rigidity. This combination allows for precise control over added weight, which is a significant factor in achieving the desired balance and feel for your bow setup.
With a straightforward turn of an Allen screw, you can easily remove the end cap to add or subtract weight according to your specific preferences. This level of customization empowers archers to fine-tune their equipment for peak performance.
PROS
Superior dampening
Available in various finishes
Wide range of size options
Utilizes EHS Nano and carbon fiber
Easily adjust weight for personalized balance and feel
CONS
Relatively higher cost compared to other options
---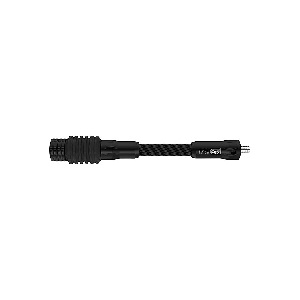 After a year of thorough research, AXCEL's design team created a cutting-edge Bio-Composite Hybrid Archery Stabilizer, blending natural Flax fibers with Ultra High Modulus Carbon. This reduced weight and provided superior vibration dampening compared to glass or pure carbon. Through careful wrapping patterns, they achieved outstanding vibration reduction.
The Axcel Antler Ridge impresses from the outset with its robust and thoughtfully designed construction. The combination of materials results in a stabilizer that feels both light and sturdy. Its ability to steady the bow and reduce movement during critical moments is a testament to its effectiveness.
In real-world hunting scenarios, the Antler Ridge truly shines. We are also impressed with its remarkable noise-reduction capability. Shots fired with this stabilizer are noticeably quieter and provide a significant advantage for stealthy hunters seeking to avoid spooking games.
It also offers a range of customization options to suit individual preferences. With adjustable settings, you can fine-tune the stabilizer to achieve optimal balance and stability to enhance your overall shooting experience.
PROS
Impressive noise reduction
Enhanced shooting accuracy
Exceptional vibration reduction
Lightweight yet durable construction
Customizable for individual preferences
CONS
Specifically compatible with compound bows
---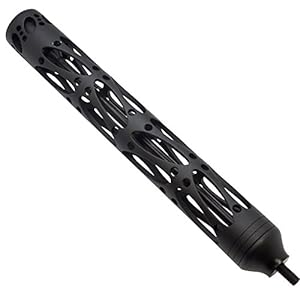 If you're seeking a top-notch stabilizer for your compound or recurve bow without the budget of high-end brands like Mathews, the SAS Archery All-CNC is the best option for you. In essence, the SAS Archery All-CNC hits the mark in terms of performance and affordability. This model is also available in a range of sizes and colors.
However, its primary function is spot-on: it effectively stabilizes your shot by minimizing vibration and ensuring proper weight balance for your compound bow.
We've gathered extensive data and insights from our experiences with this stabilizer in real-world hunting scenarios. In field tests, it illustrated commendable performance. It effectively absorbs and dampens vibrations, resulting in a noticeably smoother and more accurate shot.
The SAS Archery Stabilizer impresses with its solid construction. It is made from high-grade CNC-machined aluminum, which exudes durability and precision. The sleek black finish also adds an appealing aesthetic touch. The length of the stabilizer strikes a good balance between stability and maneuverability.
Installing this device is a straightforward process and comes with the necessary hardware for quick attachment to both compound and recurve bows. The clear instructions provided ensure a hassle-free setup. However, this model offers limited adjustability, primarily due to its fixed design. So if you prefer more customization options, you may find the next option effective.
PROS
Looks great
Easy installation process
Balance the bow perfectly
Solid CNC-machined aluminum construction
Versatile compatibility with compound and recurve bows
CONS
Limited adjustability for fine-tuning preferences
A little bit noisy against the brush
---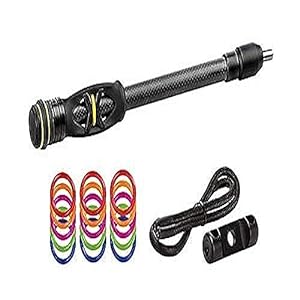 The Trophy Ridge Hitman Stabilizer Kit is a game-changer for bowhunters by offering a host of features designed to enhance performance in the field. It is designed to significantly reduce vibration and ensure a smoother draw and shot release. Its unique carbon design improves the bow's balance at full draw and provides you with greater control and accuracy.
The choice of target carbon material not only adds to the stabilizer's durability but also contributes to its lightweight nature, which is essential for maintaining maneuverability in the field without compromising on performance.
Trophy Ridge's quick connect system is surprising. It allows for hassle-free attachment and detachment, making it exceptionally convenient for transport and storage. It comes pre-assembled with two removable 1 oz. weights, which allows you to fine-tune their setup based on personal preferences and shooting style.
The Hitman Stabilizer is available in four size variants: 6″, 8″, 10″, and 12″. This range is ready to serve a variety of preferences and maximize bow configurations to ensure there's an option for every archer.
The availability of Sidemount Bracket adds another layer of versatility. It allows for quick attachment and removal of all stabilizers. Additionally, its adjustability in both horizontal and vertical directions provides users with boost control over stabilizer positioning.
PROS
Improved balance
Quick connect system
Convenient transport and storage
Good accuracy and consistency
CONS
Not suitable for all types of bows
---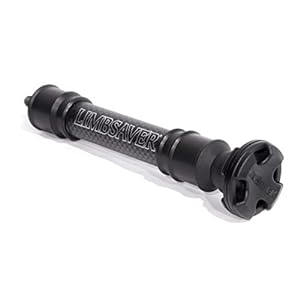 The LimbSaver LS Hunter Lite bow stabilizer is a sleek and rugged tool designed to enhance the bowhunting experience. It is purpose-built to minimize noise and hand shock during bowhunting. Its combination of a high-end carbon fiber tube and LimbSaver's proprietary NAVCOM technology effectively absorbs vibrations to provide smoother and quieter shots.
As a user of the LimbSaver LS Hunter Lite on my carbon bow, I can attest to its outstanding performance. There is virtually no noticeable impact or vibration upon release, resulting in a dead-in-hand feel. The removable Broadband node at the end of the stabilizer is outstanding, employing LimbSaver's advanced NAVCOM material. This technology further enhances vibration dampening to ensure a more controlled and stable shot.
However, its main strength lies in its user-friendly design. You can quickly and easily install it without requiring technical expertise. This accessibility makes it an excellent choice for both seasoned archers and beginners alike.
The LS Hunter Lite is constructed with durability in mind to withstand harsh outdoor environments, including rainy conditions. Its rugged design ensures it can stand up to the rigors of hunting without compromising performance. This model is available in various HD camo patterns for added concealment.
PROS
Ultralight
Vibration dampening
Broadband node technology
Quick and easy installation
CONS
Limited length options
Designed for entry-level bows
---
Comprehensive Buying Guide
In this extensive buying guide, we will share the key features and considerations to keep in mind when selecting a bow stabilizer.
Stabilizer Length
Choosing the right stabilizer length is essential when selecting bow stabilizers. It directly impacts the bow's balance for counteracting additional accessory weight. This balance enhancement reduces torque and leads to a steadier hold.
Lengthier stabilizers mean a smoother shot with reduced hand shock due to better vibration absorption. They enhance aim stability by minimizing unwanted movement. They also exhibit superior wind resistance, which is crucial for maintaining steadiness in adverse weather.
However, longer stabilizers are less maneuverable On the other hand, shorter stabilizers offer increased maneuverability but may have slightly less stabilizing effect.
Weight
A well-matched stabilizer weight complements your shooting style and physique. Heavier stabilizers absorb more vibration and offer increased stability during the shot to aid in accuracy. They also assist in reducing bow torque and maintaining a steady hold. However, they can be more tiring to hold for extended periods.
Conversely, lighter stabilizers provide greater maneuverability, which is beneficial for hunters on the move. They are also less fatiguing during extended periods of use.
Material and Construction
Look for high-quality materials like carbon fiber or aluminum, as they offer durability without adding excessive weight to your bow. They also effectively dampen vibrations contributing to a smoother shot. Additionally, robust construction ensures longevity and resilience against wear and tear.
Stabilizers with advanced features and design often provide intensified performance to reduce noise and stabilize the bow more effectively.
Damping Mechanism
A well-designed damping system effectively absorbs and dissipates vibration and shock. Some stabilizers feature advanced damping systems that absorb vibration and noise very efficiently. Look for technologies like rubber dampeners, gel-filled chambers, or internal weights for optimal performance. This is particularly important for hunters seeking stealth and precision.
Mounting Options
There are primarily two types: front and rear mounts. Front mounts attach near the bow's riser, which enhances stability and balance. They are ideal for shooters prioritizing a steadier hold. Rear mounts, on the other hand, are affixed near the bow's limbs, which provides greater maneuverability and reduces front-heavy weight. This option suits hunters who require more flexibility in their shooting style.
It's important to ensure compatibility between the stabilizer and the bow's mounting system. Choose stabilizers with versatile mounting systems that allow for customization based on your shooting style and preferences. Additionally, consider personal shooting preferences and the type of hunting or archery you'll be engaging in.
Adjustable Features
When selecting a bow stabilizer, consider adjustable features for a customized shooting experience. Look for options with adjustable length, which allows you to fine-tune the balance and stability of your bow. Adjustable weight systems permit you to modify the stabilizer's weight to suit your shooting style and preferences.
Opt for models with adjustable dampening mechanisms that can be fine-tuned. Additionally, explore stabilizers with adjustable angles or offset options to cater to your specific shooting needs.
Noise Reduction
Look for models with built-in dampening materials or technologies designed to absorb and dissipate vibration and shock upon release. Opt for stabilizers equipped with noise-reducing accessories like rubber or silicone dampeners. Consider models with specialized designs that minimize sound waves produced during the shot.
Additionally, choose stabilizers that fit snugly and securely to the bow to prevent any rattling or excess noise.
Aesthetics
Although it is not a fundamental aspect, considering aesthetics when purchasing a bow stabilizer can improve your overall archery experience. A visually appealing stabilizer can instill confidence and pride in your equipment. It can also reflect your personal style and preferences. Matching the stabilizer's color or design with your bow or other gear can create a cohesive and attractive look.
Additionally, some hunters find that a well-designed stabilizer can provide a psychological boost, contributing to a positive mindset while in the field.
Budget
Establishing a budget for a bow stabilizer involves considering your specific needs and financial capacity. Begin by researching the average cost of stabilizers that meet your requirements.
Consider any additional costs, such as mounting accessories or customization options. Evaluate the long-term benefits of investing in a higher-quality stabilizer versus opting for a more budget-friendly option. Be sure to account for any potential maintenance or replacement expenses.
FAQs
How do I choose the right stabilizer length for my bow?
Stabilizer length depends on your shooting style. Longer stabilizers offer more stability and vibration reduction but can be less maneuverable. Shorter stabilizers offer increased maneuverability but provide slightly less stabilizing effect. Consider your hunting environment and shooting preferences when making your decision.
What materials are commonly used in bow stabilizers?
Carbon fiber and aluminum are popular choices for bow stabilizers. Carbon fiber offers a balance of strength and lightweight properties, while aluminum provides durability without adding excessive weight to your bow.
What role does a damping mechanism play in a stabilizer?
Damping mechanisms, like rubber dampeners, gel-filled chambers, or internal weights, absorb and dissipate vibration and noise generated upon releasing an arrow. This feature significantly contributes to a smoother and quieter shot.
Can I adjust the weight of a stabilizer?
Yes, some stabilizers come with adjustable weights, which allow you to customize the balance and feel of your bow. This feature is beneficial for fine-tuning your setup to achieve optimal performance.
Do stabilizers affect the balance of my bow?
Yes, stabilizers affect the balance of your bow. They shift the center of gravity forward, which can enhance stability during aiming and reduce hand shock. Adjusting the weight and length of the stabilizer allows you to fine-tune the balance to your preference.
How can I reduce noise while hunting with a stabilizer?
Look for stabilizers with integrated noise-reduction technologies. These features are designed to help maintain stealth during hunting situations. Additionally, using other noise-dampening accessories, like string silencers, can further reduce noise.
Can I use a stabilizer for both hunting and target shooting?
Yes, many stabilizers are versatile enough to be used for both hunting and target shooting.
Conclusion
Finding the right bow stabilizer is essential to achieve unmatched accuracy and precision. Investing in a high-quality bow stabilizer is not just a purchase; it's an enhancement to your archery experience.
Each of these stabilizers in this guide has shown exceptional performance to ensure that they meet the diverse needs of bowhunters and archers alike. From reducing vibration to fine-tuning balance, these stabilizers are engineered to elevate your game, shot after shot.
With one of these by your side, you'll not only experience improved accuracy but also gain newfound confidence in your archery aspire. We trust that our comprehensive guide has equipped you with the knowledge and insights needed to make an informed decision.
---
Related Posts: