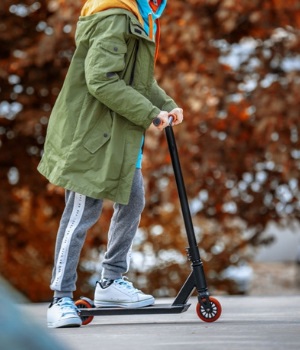 Pro scooters have become immensely popular among riders of all ages and offer an exhilarating way to cruise through the streets, skate parks, and even perform impressive stunts. Children or teens find pro scooters cool: they use them to navigate or to do stunts with them. Adults, like me, enjoy riding pro scooters weekly or occasionally.
Are you looking for a cheap and good quality pro scooter under $100 to bring more fun? Well, finding a high-quality pro scooter that won't break the bank can be a challenging task, but it's definitely possible. Forget it!
We offer you the ranking of the best cheap pro scooters under $100 for 2023. These scooters offer a balance of performance, durability and affordability. So no chance of ending up with a cheap but reckless model.
As for the best pro scooter, we have kept the following criteria: Endurance, stability, comfort, quality of materials, and handling. It emerged that the big winner is RideVOLO T02/T03 pro scooter, ideal for getting into freestyle in 2023.
Best Cheap Pro Scooters Under $100 – At a Glance
Take a look at our comparison table of the top 7 pro scooters under 100 dollars:
IMAGE
PRODUCT
DETAILS

Our Top Pick

Our Top Pick

Bearings Grade:

ABEC9

Wheel Size:

110mm

Capacity:

220lbs

Check On Amazon

Best for Kids 8 Years to Adults

Best for Kids 8 Years to Adults

Bearings Grade:

ABEC9

Wheel Size:

110mm

Capacity:

220lbs

Check On Amazon

Perfect for Boys and Girls

Perfect for Boys and Girls

Bearings Grade:

ABEC7

Wheel Size:

100mm

Capacity:

220lbs

Check On Amazon

Best for Overall Built-in Quality

Best for Overall Built-in Quality

Bearings Grade:

ABEC9

Wheel Size:

110mm

Capacity:

260lbs

Check On Amazon

Lightweight & Easy to Carry

Lightweight & Easy to Carry

Bearings Grade:

ABEC9

Wheel Size:

110mm

Capacity:

220lbs

Check On Amazon

Best Customizable Cheap Pro Scooter

Best Customizable Cheap Pro Scooter

Bearings Grade:

ABEC9

Wheel Size:

110mm

Capacity:

220lbs

Check On Amazon

Average Design for All Age People

Average Design for All Age People

Bearings Grade:

ABEC9

Wheel Size:

110mm

Capacity:

220lbs

Check On Amazon
Best Cheap Pro Scooters Under $100 2023
RideVOLO T02/T03 Pro Stunt Scooter
VOKUL K1 Pro Scooters
Arcade Pro Plus Stunt Scooter
Swagtron ST047 Elite Pro Stunt Scooter
Hiboy ST-1S Pro Scooter
Arcade BMX Pro Scooters
Albott Pro Scooters Trick Scooter
1. RideVOLO T02/T03 Pro Stunt Scooter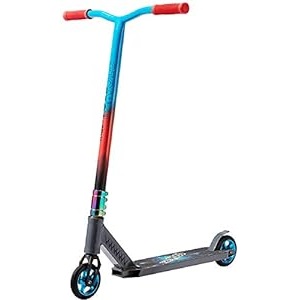 Intermediate Level / Pro Design: RideVOLO T02 pro stunt scooter features high tensile steel-reinforced V-Bars, custom aluminum alloy fork, corrosion-resistant aluminum alloy 5.51-inch wide deck, and solid 110mm aluminum core cast PU wheels.
Ready for Action: The HIC compression system absorbs the impact from your jumps and tricks. The soft rubber grips also work the same for your hands to ensure comfortable riding. The high tensile steel V-bars rotate 360°.
Ride Like A Pro: This model uses high-quality C&U bearings that glide smoothly and silently. You can ride safely by using the durable located 65Mn steel foot brake.
Fitting in While Standing Out: The Body design is a recognizable stunt scooter that surely fits in at the skatepark. The electroplated rims and clamps, cool graphics and vibrant colors are pretty much unique.
Let's kick things off with our top pick for 2023! RideVOLO T02/T03 is a pro stunt scooter for Intermediate riders and children aged 8 and up. It is very stable and allows safe driving in the skate park or on the street. And because of the high-quality manufacturing, various tricks are possible with with model.
It has 110mm wheels, a lightweight deck (ideal for tricks and flips) and V-style scooter bars that will keep you rolling fast and smooth. The wheels are working perfectly, so there are no complaints. The frame part is very sturdy and solid, and brings greater wear resistance, durability and lightness.
Two clamps prevent the height from adjusting while you use it. The sandpaper handle on the deck is also great for keeping a firm footing when moving quickly. The non-slip handles are perfectly spaced from each other, so it is always safe to drive. And the non-slip walking surface ensures safe riding at all times.
Keep in mind that the RideVOLO cheap pro scooter is recommended for beginners to intermediates.
PROS
Simple design
Built to last a long time
Smoothly rid both street or skate park
Incredibly durable and quite light
Easy to slow down and stop
More flexible
---
2. VOKUL K1 Quality Pro Scooters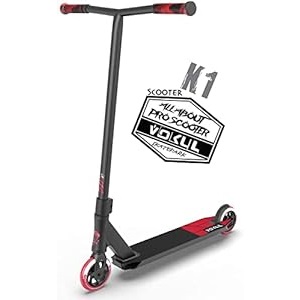 Suitable for Rough Kids: Vokul K1 pro scooters can run on very hard surface because it is equipped with custom components so that you can add some sturdiness. This unit features solid 110mm Alloy Neo chrome Wheels, Noise-free Brakes, Tough T-6061 Aluminum Deck, High Rebound PU Wheels, and One-Piece Fork.
Smooth and Quiet Glide: The ABEC-9 bearing ensures the highest precision and smooth ride. The handlebars were wrapped with thicker 145mm Soft rubber Grips which added extra safety.
Pro & Excellent Service: This pro scooter is designed for intermediate and advanced riders, kids aged 8 and above. It's lightweight but able to carry up to 220 lbs. So adults will feel more secure and pleasure to ride.
Ready for Action: The HIC compression system greatly absorbs the impact while you're jumping and tricking. The high tensile steel V-bars also rotate 360°, which is outstanding for tail whips and other tricks.
When looking for the best cheap pro scooter under $100 for adults, you need to consider the outlook besides the stability, and the Vokul K1 is a cool pro trick scooter that looks fantastic. Thanks to the black and red color scheme, it's more than a beautiful electric scooter. It has smooth glide and fresh graphics.
The sealed headset and high-strength fork make it a great freestyle scooter for learning new tricks, as well as perfecting whips and bars. Vokul Pro scooter will come in handy both at the skatepark and while riding the scooter on the streets. It will deliver long-time service with a high level of durability.
To ensure quality, The VOKUL K1 model comes with 6 months warranty and 30 days money-back guarantee. Overall, it is the best cheap kick pro scooter in 2023 with a sporty and elegant design. It comes with a compact gift package with Bubble protection.
PROS
Elegant looks
Lightweight
Made from sturdy materials
Robust and durable construction
Good quality scooter in this price range
CONS
Deck is too long for kids
---
3. Arcade Pro Plus Stunt Scooter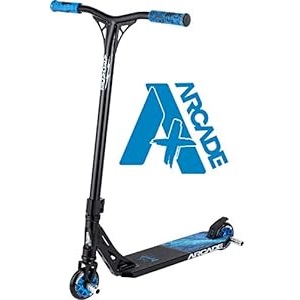 Built Even More Tough: Arcade Pro Plus stunt scooter features anodized aluminum pegs, so your kids can do even more tricks. It has an upgraded reinforced handlebar, strong 3D-stamped fork, custom neck, headtube cutout, smooth bearings, solid, wider deck, and dynamic design.
A stable, Quiet Glide: You can't glide with sticky bearings, and that's why the Arcade Plus pro scooter is fitted with ABEC-7 gear. It is also wrapped with reinforced T-bars in customized 117mm TPR grips and lined up with an 83-degree headtube for a stable ride as you glide.
The Coolest Kid at the Park: The fresh graphics, smooth wheels, and responsive brake offer a great feeling while riding. You can also customize the fork and brake, and switch custom 100mm aluminum wheels for 110mm.
Dialed to Ride: To avoid disappointment, the Arcade Pro Plus comes securely packaged. When it will arrive, the only thing you need to do is add the rear peg and tighten the two screws properly. A solid one-degree concave durable boxed deck (19.5" x 4.5") and IHC compression.
Arcade Plus Pro Scooter has been a bestseller for years and this series will surpass it again. The setup is appropriate for intermediate to advanced scooter enthusiasts. As you know every year large scooters are outfitted with pro-level components and roll straight from the box right side up.
The Revitalized Declare IHC forks are made from the finest aluminum and fitted with 110mm wheels with a diameter of 110mm x 22mm. It is also one of the best high-performance freestyle scooters under 100 dollars, suitable for both boys and girls.
It's lightweight; only 8.5 pounds, and equipped with a 23" high T-bar. The handlebar is 20.5″ wide, which is perfect for jumps and tricks. The handlebar is fixed, so there is no need to adjust it. It can load up to 220 lbs. Arcade also offers 30 days manufacturing warranty plus a money-back guarantee. And it should last a long time.
PROS
Strong and durable construction
Quick and easy assembly
Good for street and skatepark use
Made of high-quality materials
Good finish
CONS
Not designed for experienced adult
---
4. Swagtron ST047 Elite Pro Stunt Scooter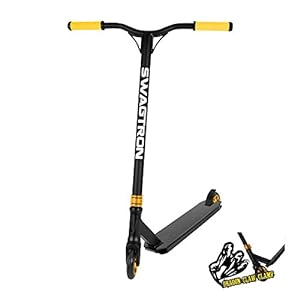 Impossibly Light, Perfectly Strong: Impact-absorbing Chromely (chrome + steel) stem. It is made of an aircraft-grade 6061 aluminum double-plated deck. The ultra-durable complete pro scooter weighs just 8.6 pounds. Stick the hardest landings – no bananas allowed.
Dragon Claw Clamp: The custom DRAGON-style double clamp secures the stem for epic grind sessions with unparalleled stability, even after intense competitions and freestyle tourneys.
Real Steel & Real Deal: The Swagtron Elite ST047 is a high-quality pro scooter under $100 that can take the abuse. It features ABEC-9 chrome steel bearings with 110mm aluminum-core wheels – a match made in skatepark heaven. Stick better and roll better. It can even run on rough terrain.
No Trick Beyond Your Reach: It has a wide deck that ensures a smoother ride. The high-rebound wheels and advanced design help you complete the race. It is designed for ages 15+ who are ready to go pro.
The Swagtron ST047 is the new revised version of a pro scooter for beginners and intermediate users. It is an excellent stunt scooter at this price range, that bridges the gap from beginner to professional with excellent value for money. The deck is wider than the Swagtron ST047 Blue. And it has a reinforced head tube.
Swagtron pro scooter can be performed perfectly for both skatepark and street use. The simple style makes it easy to remodel. To complete the design, the underside of the trays is also designed graphically.
It features no-slip TPE grips, which deliver extra control even skull-shaking landings and enhanced comfort. The total height of the scooter is 82 cm and weighs 8.6 pounds.
PROS
Good finish
High performance
Grip-easy handlebars
Easy to install
Premium construction
CONS
Doesn't come with ABEC-9 bearings
---
5. Hiboy ST-1S Upgraded Pro Scooter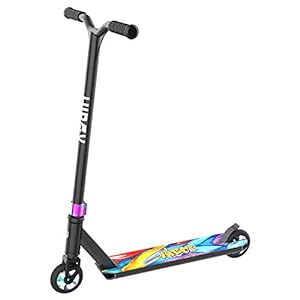 Newly Upgraded Wheels: If you want to fly high in the park, Hiboy ST-1S Pro Scooter can make it possible. Thanks to the 6061-T6 aircraft-grade aluminum core and high rebound Pu wheels, it provides you with greater wear resistance. This scooter delivers 3 times longer service life.
Professionally Riding: You can go fast with Abec-9 bearings and the highest precision you can get. Also, it is geared up with reinforced V Bars for a stable ride. Now, ride with confidence.
Built Tough Specs: Hiboy Trick Scooter is packed with custom components. The HIC compression system with sealed bearings makes this model more durable and smooth to ride. It is designed for entry-level riders who want to do stunts or freestyle riding. Suitable for 8 years and up (teens and adults).
Effortless Assembly: It is designed for intermediate and beginner riders. It comes securely to avoid upset. Again, this Stunt Scooter is here to match your preference.
The first version of the Hiboy was already a high-quality but cheap pro scooter. But this model is now even better! The lower overall weight promises greater flexibility and higher speeds. The Hiboy ST-1S is just as a recreational scooter and is suitable for both beginners and advanced users.
It is even faster than the previous one, more agile, and easier to control in the skate park during blatant stunts. In addition, the Hiboy ST-1S model is available in even more colors and designs than its predecessor. This pro scooter also offers enough space for solid support and stability.
To ensure safety, quality and robust Flex Fender brakes are part of the setup. This city bike combines economical weight and exclusive design. With a combination of black and neon chrome, the Hiboy ST-1S undoubtedly stands out from the competition in terms of color.
The soft grips ensure maximum control and comfort. Hiboy offers this model at a very fair price, so it is a must-have for someone who prefers the noble design to eye-catching color combinations.
PROS
Super lightweight design
Ride is very smooth and silent
Very simple to assembly
Good for kids and adult
Built in high-quality materials
---
6. Arcade Pro Scooters for Beginners Boys and Girls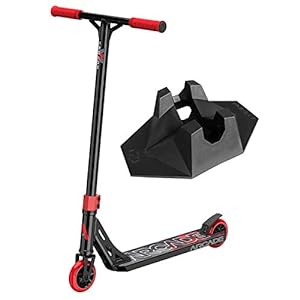 Built Tough: What do kids love most about the Arcade Defender stunt scooter? They can ride it hard just like their heroes! And parents? It's one of the safest entry-level trick scooters under $100! Arcade pro scooter comes with custom parts packed that everyone loves.
Premium Quality Cheap Price: It features strong 3D-stamped forks, a custom neck, smooth bearings, a solid deck, and dynamic design. This model is built to take kids smoothly from beginner to pro. You can customize the fork and brake, so you are able to switch 100mm polycarbonate wheels for 110mm.
The Coolest Kid at the Park: While everyone else rattles around on other scooters, your kids will be whizzing around the Arcade with its fresh graphics design, smooth wheels, and responsive brake.
Dialed To Ride: It comes in a secure package to avoid disappointment. This model is also simple to assemble; only you need to do is tighten two bolts. The package comes already dialed.
If you are looking for a very well-made and technically well-thought-out stunt scooter under 100 dollars and have the peace of mind that you are digging deeper into your pocket, you should take a closer look at the Arcade pro stunt scooter. It is one of the best high-performance affordable freestyle scooters on the market.
The Arcade is also hard to beat in terms of optical elegance. The black and red scooter is relatively easy to ride and holds up very well. It was also one of the best-selling freestyle scooters in 2021.
It is suitable for beginners as well as advanced riders. However, it is continuously developed and optimized for ambitious drivers who want to take their skills to the next level. Thanks to extensive experience in BMX, skating and stunt scooters, are synonymous with sophisticated and high-quality products.
This model is lightweight (7.5 lbs) and equipped with a 22.5" high T-bar. The maximum user weight is up to 220 lbs. To ensure quality, Arcade pro scooter comes with a 30-day manufacturing warranty.
PROS
High performance pro scooter
Smooth, safe and pro ride for kids
Dynamic designs for cool youth
Excellent durability
Cheap price
CONS
Assemble takes over 20 minutes
---
7. Albott Pro Scooters Trick Scooter for Beginners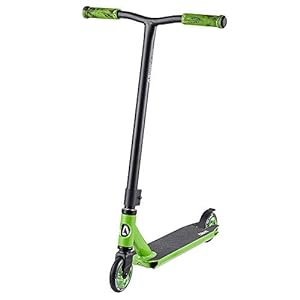 110mm 6061-T6 Aluminum Core Wheels: Albott pro scooter is made of 6061-T6 aircraft-grade aluminum core and 88A cast PU wheels, which provide greater wear resistance and durability. Don't need to worry about broken or lost parts. Also, the ALUMINIUM CORE lifetime will be 3 times longer than the PC wheel core.
Stable Riding: 6061-T6 aluminum box-shaped deck (19.9″L x 4.4″W) and high tensile steel bar with 4.9″(125mm) TPE grips will give a safe and comfortable riding experience
Upgraded Scooter Specs: IHC compression system with the threadless headset is reliable. ABEC-9 bearings' smoothness is great for beginners who enjoy noise-free movement. And the aluminum triple clamp makes the trick scooter pretty much sturdy.
Target Audience: This model is suitable for entry-level riders to help them develop skills in order to advance to the next level. However, it is designed for 8 years and up and teens, and adults. It comes in 2 pieces package. The assembly process only takes 3 minutes.
Albott is a professional pro scooter brand, designed for skate parks, half pipes, or street riding. According to the manufacturer, this pro scooter allows for freestyle tricks and acrobatics. It is made of sturdy 6061-T6 aircraft-grade aluminum, which is very stable, solid and light.
The IHC helmet offers high stability and allows for smooth lugs. And with the ABEC 9 ball bearing, the fast pilots are addressed. It is also the best stunt scooter that allows various stunts and jumps.
The deck has a size of 19.9in x 4.4in and a non-slip walking surface, which increases driving safety. The maximum load capacity is 100 kilograms and the assembled weight is only 7.9 lbs. All parts are also easy to assemble.
The wheels are made of PU and have an aluminum core. With a diameter of 110mm, the wheels are larger than average. The tire size is positively highlighted and the wheels work perfectly. The practical handles and the large footprint provide easy handling, depending on the user's height.
PROS
Allows various acrobatics and jumps
Build quality is pretty good
Excellent bearings
Quiet and smooth
Comes with 2 years warranty
---
FAQs
Which freestyle scooter is best for me on this list?
As for the best freestyle scooter, consider the weight capacity, wheels, handlebar height, and compression system. If you are a beginner or looking for a pro scooter for your child, then we recommend the RideVOLO T02/T03.
What are the differences between a street or park scooter?
Street scooter is designed for those who like to ride the streets and park scooter is for skateparks. Both scooters are more and more popular among young people who like to take advantage of the half-pipes and other facilities dedicated to freestyle.
Can I perform tricks on a budget pro scooter?
While budget scooters don't have the advanced features of high-end models, many of them are still suitable for basic tricks and stunts. Look for scooters with reinforced decks, sturdy construction, and responsive handling for trick riding.
Pro scooter riding: Starting at what age?
Pro scooters are available for children or teenagers as well as adults. But not everyone can use it in the same way. Very often, the youngest wants a scooter not necessarily for doing stunts and tricks, but to be cool! While the elderly will choose pro scooters knowingly for sports use and Park skateboards. It is possible to start scooter riding from the age of 5.
How do you determine the ideal handlebar size?
This is an important customizable part that determines what kind of feel the scooter can provide. Each user will prefer a height, width, and type of bar that will match their height and riding style. Most bars are steel, but some are aluminum. While aluminum bars are lighter, they are also more fragile and can be more difficult to adapt to the scooter. The handlebars should reach between the navel and the crotch.
Can I upgrade components on a budget pro scooter?
Yes. Some components like wheels, grips, and bearings can be upgraded on many budget scooters. However, it's important to ensure that any upgrades you make are compatible with the scooter's existing parts.
What protections and security should I carry?
Helmet, mouth guard, knee pads, and elbow pads are essential for protection and security. Be aware of your surroundings and avoid performing tricks in crowded or dangerous environments.
Conclusion
Although there are standard scooters and affordable electric scooters available on the market, the freestyle scooter is the only product intended to practice this discipline.
You now have known which are the best cheap pro scooters under 100 dollars on the market. We have also carried out special studies on the best pro scooters, best kick scooters for adults, and best scooters for teenagers. Do not hesitate to take a look.
Tell us which pro scooter model meet your expectation in the comment section. If you found this article interesting and useful, don't miss sharing it with your friends.