Pro scooter is more and more popular among young people who enjoy halfpipes and other facilities dedicated to freestyle. Some prefer to use it to cross sidewalks, stairs, and others consider using pro scooters to overcome urban obstacles that an ordinary scooter could not support.
If it is the first time you are going to face the choice of the best pro scooter, it is important to know the basic characteristics so that you can evaluate the features wisely and find the model that best suits your needs.
The market offers low-cost basic pro scooters to high-end models with innovative materials that maximize safety and fun. Low-range pro scooter models are suitable for beginners. If you already have freestyle experience, then look for a high-end model because it will last longer over time.
However, before making the final purchase decision, you have to consider the age of the user because the versions for children or teenagers are generally different from adults. Adults often choose foldable models as they are light and easy to carry.
In the list below, you will find several variants of the best pro scooters for different price ranges. Therefore, the first scooter on our list you can consider the most popular model at this moment. To compare our products, we rely largely on our advanced practical tests. We pay particular attention to the models that we put forward, and we choose them completely independently.
Top 10 Best Pro Scooters in 2023
1. Fuzion X-3 Pro Scooter (Our top pick)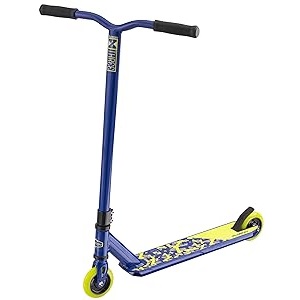 After we had already rejected two other scooters that we sent back because of quality defects, the Fuzion X-3 is finally one that cannot be faulted! Undoubtedly, Fuzion is one of the confirmed manufacturers of the best pro scooters and continues to improve the quality of their products. It is a great model that provides smooth rides. For the price, it is also an unattainable choice for beginner kids or teens.
It was designed for the skatepark as well as for street riding. This model is lightweight with a 4-inch wide deck, which makes it easy to carry and ideal for travel. The height of the handlebars is 29.5 inches, and the width is 18.5 inches. The deck's length is 20 inches, and the width is 4 inches.
Fuzion X-3 pro scooter comes with a new heavy-duty and smooth IHC compression system that has a threadless headset and sealed bearings that only take three bolts to tighten on the triple-stacked 6061 hardened aluminum clamp. It takes no time to put together and comes ready to ride right out of the box.
The wheels are made of high rebound PU making them fast and grippy. The wheel cores are made out of ABS composite for added strength. Fuzion X-3 pro scooter offers high security and easy handling because it has high-quality workmanship. It is also suitable for every street and skatepark.
However, it doesn't carry speed well and the wheels get flat spots extremely easily if you are trying to do large jumps and bowls. But for smaller jumps, spines, pyramids, and boxes, it does well.
Features:
Best Entry-Level Scooter: It is more durable and suitable for beginners, boys, and girls (different ages) with little to no stunt scooter experience.
Ultra-Light: It's lighter than competing scooters on the market. And the total weight of around 7 lbs makes it one of the best lightest pro scooters on our list. 100mm wheels and ABEC7 bearings ensure smooth movements.
Wide Range of Colors: Fuzion X-3 pro scooter is available in 9 colors; all are very good quality and designed for different people's tests. It is very strong, easy to handle, and has a very attractive look.
PROS
Built-in high-quality materials
Lightweight frame
Very clean graphics and light deck
Substantial size for different height people
Comes in nine different colors
Super easy progression
Great choice for the price
CONS
Handlebars are tight, you will need to loosen them up a bit
Wheels are quite light and seem not durable
The brake on the back wheel is a little hard
---
2. Madd Gear Kick Series Extreme Pro Scooter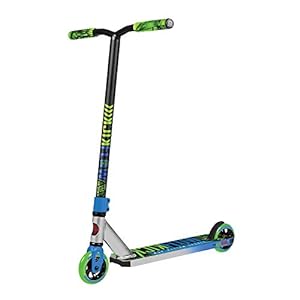 You may know that MADD GEAR is the World's Number 1 Pro Scooter Brand backed by industry-leading durability and quality. Madd Gear Kick Series pro scooter will see you through years of growth and riding progression. This Action Sports model is infused with 9 generations of technology and tested by the world's best pro riders.
The welds are solid and the frame materials are thick enough to carry up to 220 pounds. The handgrips are very grippy, which is much nicer than foam grips. The deck is very solid and looks decent.
Madd Gear Pro scooter is sturdy, and the brake is surprisingly easy to control. It is ideal for people who are looking for a simple, clean pro scooter that will match almost any outfit and accessory.
The bars are 18 inches wide with a lot of back sweep. You can adjust the height from 21 to 23 inches depending on how you place the top bar piece because the bars are 2 pieces. It comes almost fully assembled, you just need to put the clamp on and attach handlebars to the deck.
The wheels roll smoothly and fast on the road, bearings are good. And the wheels not showing any early signs of wear so far. Just like most things, you get what you pay for. However, if you want a pro scooter that can take a lot of hard riding, some crashing, and last… MGP is the one to buy.
Features:
Easy to control: Madd Gear pro scooter is specially designed for boys and girls (6 years old minimum) with little or no stunt scooter experience. It has the characteristic extra-wide wheels and soft-touch grips which help the scooter rider to control the scooter easily.
Ultra-Sturdy All-Metal Body: The main body of the scooter is made of alloy steel, so its stability and toughness won't be lost even if you use them frequently every day. This model is one of the most durable scooters on the market, ideal for doing tricks and going fast.
Cheap price: The price is affordable and accessible for every rider. It could be a fantastic choice for intermediate-level younger riders.
PROS
Built with high-quality materials
The satin black finish looks nice
Bars and deck are very strong
Construction quality is quite good
Comes with 3-year manufacturer warranty
CONS
Pretty heavy
Grips are not good
---
3. WeSkate Pro Scooter for Skatepark (Best for Price)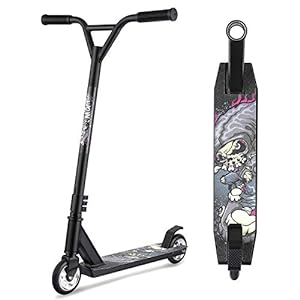 WeSkate has a whole range of freestyle scooters including models for beginners with very good value for money. The deck of this pro scooter has great designs with colorful paint that bring stable performance for beginner riders with efficient composite brakes. The bar is made of medium carbon steel tubes.
The deck's width of 4.1 inches and its length of 18.9 inches. It holds a head tube of 33.5 inches. The tube is made of aluminum alloy with heat treatment. With only 3.9kg of total weight, it will provide high safety with landing support.
The wheels are wide and sturdy, allowing great ease of use. The steer can turn 360, is very strong and sturdy with all-welded strong connections, and can do many tricks on it. WeSkate pro scooter is suitable for those who want to buy a model that can able to provide long time service.
It is also one of the best pro scooters under $100, suitable for intermediate and advanced riders, age 8+. And could be a good option if you aren't looking to go pro, but don't want to buy a Razor folding scooter.
However, this model does not come with extra grip tape. Although it has been used aggressively every day, indoor-outdoor everywhere you could imagine and other than dirt it is still as good as day one.
Features:
Sturdy and Durable: WeSkate pro scooter is made from premium aircraft-grade aluminum with welding technology and robust tubular steel. It can withstand a weight of up to 220 lbs and withstand daily practice.
Smooth and Reliable: Sensitive steel rear brake provides a reliable and safe stop when driving. 100mm high rebound PU wheels and ABEC-9 bearings provide a smooth and fast ride for cruising and the flexibility to deal with heavy impact when landing jumps and tricks.
Simple Setup: It will come out of the box 95% assembled. You just need to install the handlebars, which takes only 2 minutes.
PROS
Super heavy and strong deck
Solid construction and well built
Sturdy and long-lasting grips
Very simple to assemble
Fully integrated on
It can go pretty fast
CONS
Basic quality and simple design
Break quality could be better
---
4. Fuzion X-5 High-Rated Freestyle Pro Scooter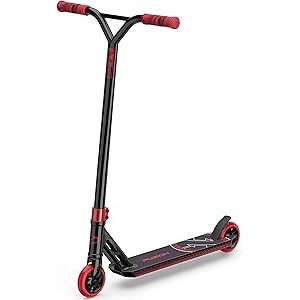 Fuzion manufacturer has completely redesigned every single component of the Pro X-5. It is convenient with high stability and excellent equipment features. It is also light, fast, tough, and has a simple and minimalist design. It is designed to accelerate young riders to the next level quickly and effectively.
The wider handlebars for sturdiness and control and a quiet, smooth ride from the tires and frame make this model an excellent choice for advanced riders. The footbed is solid. With only three bolts to tighten on the triple-stacked 6061 hardened aluminum clamp, it takes no time to put it together.
The comfortable handles protect your hands from the vibrations of the road. The height really comes down to your preference. However, most riders prefer the handlebars to hit at about hip height. From the deck to the top of the handlebars, it is 31.75" tall.
The scooter's deck is a touch larger than most of the other top brands and that's a big plus. It can perform for most kids looking to get into trick scooter stuff. The maximum weight capacity is 200 lbs, which makes it suitable for the young scooter driver who returns to sport.
Fuzion Pro X-5 pro scooter is dialed and ready to ride right out of the box. This is not a top-of-the-line model but it has some of the basic qualities of a trick scooter and will be great to get started on. Keep in mind that the handlebars are not adjustable for different heights.
Features:
Wide Bar: The 21.5" H/18" W, High Tensile Steel construction V-Bar provides extra stiffness and strength, which is perfect for beginner to intermediate riders ages 8 and up.
Suitable for All: It consists of a beautiful and sturdy one-piece design and the headset bearings are pretty smooth. It is more suitable for stunts such as spinning, acceleration, downshifting, shell, etc.
PROS
Standard handlebars
Solid construction
Very sharp colors
Smooth and fast ride
Build-in good thick metal
CONS
Doesn't come assembled but is very easy to put together
The brake is a bit hard to work
---
5. Phoenix Pilot High-Quality Pro Scooter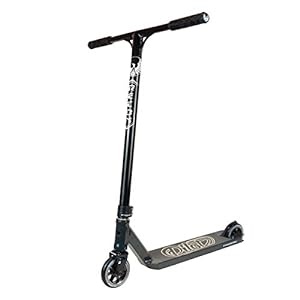 Phoenix Pilot has always been at the forefront of product advancement for the professional scooter scene. They offer high-quality products to the next generation of scooter riders. It is an excellent model for learning balance and your child will also be the coolest kid in the neighborhood.
Let's talk about the construction quality…
The frame material is aluminum. The durable construction with high-quality materials and beautiful design make the Phoenix Pilot the perfect mix for the developing rider to allow users to up their game and master an array of pro scooter tricks.
Phoenix Pilot pro scooter is lightweight with a total weight of only 8.8 lbs. It is made for beginner and intermediate riders, but it can take the weight of mom and dad too. It takes less than 5 minutes to put together and doesn't need any attention or tightening.
When you unbox this model, the only thing you need to do is tighten two screws (instructions included), because it comes already dialed! That means your very first ride feels smooth and safe. And if you're at the trick level, that first jump feels clean with a rewarding crisp sound as you land.
Features:
Durable Handlebar: The 22″ Tall x 20″ Wide handlebars are very durable and equipped with a 4-bolt clamp which provides additional strength. This makes the handlebars very easy to handle when using. The ABEC 9 ball bearing ensures smooth riding.
Perfect Riding Experience: It is perfect for performing cool freestyle tricks in the skate park or halfpipe. It is suitable for cruising through the city, the park, or on the way to work.
PROS
Very smooth ride and sturdy
Made for trick and very nice quality
Wide deck and long handlebars
Compact and lightweight design
Effortless assembly
CONS
More expensive than others
Not good for advanced riders
---
6. Fuzion Z250 Pro Scooter & Trick Scooter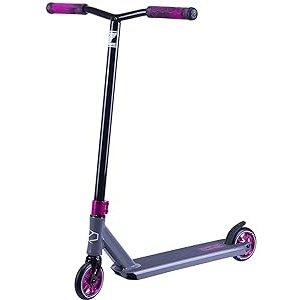 Fuzion's Z250 intermediate-level Pro Scooter just got even better. This trick scooter was redesigned from the ground up with two new graphics, 6 colorways, and all new parts that make this model something special. Undoubtedly, it has been fully upgraded with all newly designed custom components.
It features a brand-new deck & neck design with 3-degree top concave design & a flat bottom with rails, making it ideal for grinding. The new deck and neck distribute landing forces evenly across the deck's outer surface making this one of the toughest and lightest decks around.
The wheels are made of polyurethane which is a great type of plastic. The polyurethane is the best combination of custom-designed components and is ideal for entry-level to intermediate-level riders…. the best intro-level pro model ever. It comes with a narrow 4.25-inch profile and ultra-light design.
The handlebars are stable. The quality and durability are also guaranteed. If you travel a lot or find that you always have to slide your favorite scooter in contests, the Fuzion Z250 a travel companion should be a fantastic idea.
This model comes with an Allen wrench which you can use to tighten the handlebars onto the deck. It has very minimal assembly and no other tools are needed.
Features:
Durable Construction: The fork is built from stamped steel and features a fully sealed integrated headset for smooth, controlled steering. 110mm wheelset featuring aluminum cores and designed with 88a durometer outers to provide the perfect grip.
High safety Design: The step, equipped with a non-slip surface, guarantees safety while driving. The handling of the stunt scooter is simple and completely intuitive.
PROS
Designed in the USA
Sturdy and looks nice
Wheels are good so far
Easy to put together
Beautiful design
CONS
A bit tougher to cram into a car
It is a little bit heavy
---
7. Mongoose Rise Stunt Kick Series Pro Scooter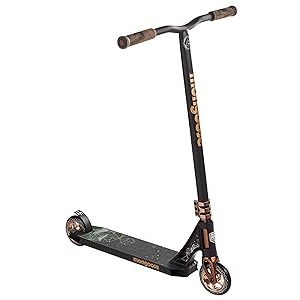 Are you ready for the skatepark with the Rise 110 Expert pro scooter by Mongoose? The majority of consumers have shared positive opinions about the Mongoose Rise Stunt Kick Series with good quality bearings; the Rise is loaded with outstanding features and models for every experience level. By far, it is one of the best kick scooters for adults with the best quality/price ratio at this moment.
The durable ABEC-7 bearings ensure smooth non-slip riding. It is built with a lightweight alloy deck with an extended-standing area for pro-style scooter performance with full-coverage MaxGrip on the alloy deck and steel brake.
The rubber grip handlebars and wide and comfortable deck allow you to control the device even in the most daring jumps. Indeed, the Mongoose Rise pro scooter is made for the skatepark to deliver high-quality rides. With a stylish look, you won't bother for a moment.
The handlebars are about 23″ wide. From the standing deck to the handlebar, it's about 29″. And from the ground to the handlebar, it's about 33″ tall. The scooter weighs about 6 lbs and comes fully assembled.
Mongoose Rise Stunt was designed with the pegs and is suggested for use will all original parts of the product. Epic adventures await with a rise freestyle scooter become your own legend with Mongoose. This model comes with a warranty that covers manufacturing defects.
Features:
One-Piece Construction: The frame is very solid and the wheels are of fairly nice quality at this price range. Its one-piece welded steel T-bar handlebar with bike-style grips provides the perfect combination of durability and comfort. The maximum 100 kilograms load capacity is enough for both children and adults.
Reasonable Cost: This unit could be an excellent quality pro scooter for the price. Because it is more than good enough for use at the local skate park.
PROS
Awesome color scheme
Solid and well-built
High-impact wheels
Nice and sturdy even for adults
Made with a heavy-duty frame
Easy to stop or slow down
CONS
Wheels are connected too tightly
---
8. Swagtron Stunt Freestyle Scooter for Beginners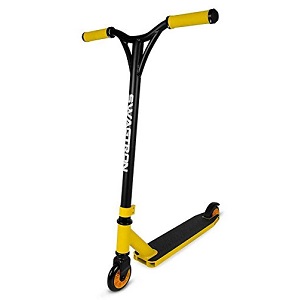 No matter how fast you ride or how quickly you transition between stunts, the Swagtron stun scooter's aluminum brake will bring you to a quick and safe stop each time. Whether you are learning basic moves or developing your own special style to bring to the skate park, this spectacular pro scooter is your best bet to achieve a safe, fun, and exhilarating riding experience.
You can perform your limits using two pegs that can be attached to the front or rear wheel. The two pegs allow you to keep your balance while trying exceptional new tricks so that you'll have added versatility with all the stunts in your arsenal. The heavy-duty deck and rugged NApGA clamp ensure that it will stand up to even the most challenging park.
Swagtron Pro scooter uses aircraft-grade Aluminum 6061-T6 alloy for the frame and stem. It's double-tempered for added durability, while still being pliable enough to absorb the shock and impact of hard falls from hard landings. It is compact and lightweight. The user-friendly carrying handle also makes it easy to store.
The deck grip is heavy gauge grip tape, it is very coarse for maximum grip. As with most scooter decks, you can peel up the grip tape and replace it with a grip/design of your choice. While the current grip tape works very well, you can easily replace it with the grip you prefer.
Features:
Lightweight: The scooter forged in 6061 T6 aluminum is light and resistant with only 7.4 lbs. Undoubtedly, it is one of the most popular pro scooters of the moment with its breathtaking design.
Fast Ride: This freestyle scooter will allow you to progress quickly in the street or in the park. If you like simple, clutter-free designs, it will be the perfect choice for you.
PROS
High-quality welds and paint finish
Takes all of 5 minutes to assemble
Dragon-claw pro clamp
High-rebound wheels
Very smooth ride
CONS
You can take it apart by unthreading the stem but it is not foldable
---
9. Madd Gear VX7 Team Budget Pro Scooter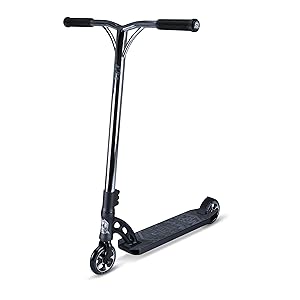 The team edition pro scooter was MADD GEAR's second model ever. It was designed to give pro riders exactly what they want to continue along the path. The vx8 team has been upgraded to 120mm fuse cores running on their proprietary polyurethane blend, making them more durable and even faster.
This is a complete pro scooter package that comes with a piece of high-end scooter grip tape. It has outstanding quality and finish, rides smooth as silk, and looks great. It rides great at the skatepark and it's easy to jump/bunny hop. Tricks are much easier compared to razor scooters.
The color combination of black and white makes a real eye-catcher. The color and pattern are also subtle for a preteen who is ready to move beyond a kid scooter.
MADD GEAR VX7 pro scooter is an admirable choice for beginners and real pro scooter riders similar to the Envy series 5 prodigy scooter. It's very light and the price is accessible to everyone. However, the instructions are a bit confusing but not difficult to assemble even if you're a beginner. It can be a good choice for your growing child.
Features:
Easy Progression: This model is designed for street or acrobatic park skating. It is suitable for beginners to help develop skills to advance to the professional level. Perfect for riders ages 8 and up with a maximum loading weight of 100 kg.
Improved Specifications: The 110mm MGP 88a Rebound PU Wheels with High-Speed ​​Chrome Bearings ensure smooth riding experience. The widened platform provides a wider space for balance and safe stunts.
Durable construction: High-strength steel bars give greater strength. Intended for the skatepark, it is a solid model in all its components.
PROS
Much smoother ride
Great quality and finishing
120MM fuse core wheels
Durable anodized finishes
Colorful eye-catching design
CONS
Instructions are not clear
Quite expensive
---
10. Lucky Crew Complete Bulletproof Pro Scooter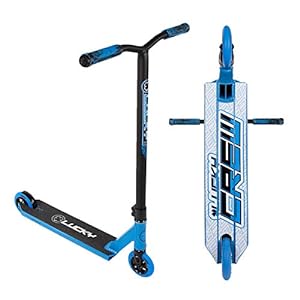 We conclude our list of the best pro scooters of 2023 with the Lucky Crew, which is a complete bulletproof pro scooter that was designed to ride harder, smoother and faster. Whether you prefer to push through the streets or turn heads at the skate park, it is the most worthy accomplice for any beginner or intermediate to the expert rider looking to level up.
The Lucky Crew is upgradeable and compatible with Lucky's entire aftermarket lineup. This model is perfect to grow with any young rider's size and abilities and fits any rider 4 feet or taller.
The 19-inch deck sounds short for a boy your size. The fully integrated design is impressive. Be sure to compare the bar and deck size compared to what you currently ride. This Pro Scooter measures 34 inches tall from the bottom of the wheel to the top of the grips.
In terms of price, the Lucky Crew is one of the most inexpensive pro scooters in our comparison analysis and an excellent choice if it is your first time buying a pro scooter.
Features:
Built-in High-Quality: It holds all its components to the highest manufacturing standards. It uses aircraft-grade aluminum and other choice alloys in its decks, hardware, bars, and bearings. The impressive handlebars' height provides comfortable riding for anyone.
Jump Resistant and Safe: The body is made of top-grade aluminum alloy, which is both strong and malleable, and the high elasticity PU wheels, which can rebound instantly, are suitable for all stunts.
Suitable for Everyone: Thanks to its safe design, the Lucky Crew Pro scooter is suitable for both beginners and experts because it allows children to progress safely like a professional.
PROS
Features a double clamp
Super solid construction
Very reasonable price
Amazing paint scheme
Elegant and bulletproof design
CONS
A little bit heavy but not noticeable
---
Buyer's Guide
Before making the purchase decision of the best pro scooters, you should consider the most significant factors that will help you choose the right pro scooter at a reasonable cost. So if you are really wonderful to identify what are the most important aspects that you must consider before buying a pro scooter, pay attention to this section.
The price
As we previously mentioned, there are many different models of the best pro scooters available on the market, they differ in technical characteristics, as well as price ranges. So it is therefore difficult to give a precise budget. It all depends on your needs and use. You don't want to spend more than necessary, but the quality of a product can however be determined by its cost.
If models with fairly small wheels are generally accessible between 40 and 70 dollars, large wheel pro scooters cost between 100 and 200 dollars, depending on their functionality. Regarding good quality pro scooters, they cost between 100 to 300 dollars.
We've categorized the models based on various factors including budget and brand so we leave no stone unturned to help you find the best pro scooter you're looking for.
The handlebar
Let's start with one of the essential parts of the pro scooter. A good handlebar must be made in one piece design to make it more resistant under the hand. Regarding its size, we can find handlebars of different diameters to adapt to the tastes of each one.
A piece of good advice would be to find a handlebar that fits the width of the shoulder size. For example, if you are looking to make turns, it would be more convenient to take a shorter bar. On the other hand, with regard to height, these types of handlebars are usually lower than the rest.
A perfect reference can be the extent to which our hands reach with the arm completely stretched and stuck to the body.
Let's see what materials we can find them:
Steel handlebar: they are heavier but more resistant.
Aluminum handlebar: they are very light but less resistant than steel.
Chrome-plated steel handlebar: it is not as light as aluminum but it has great strength and durability.
Base or deck
The base or deck is the rectangular platform where the feet rest. Depending on the material used, they can be heavier or lighter. However, heavier ones are more resistant.
The base measurement for this type of scooter is usually between 4 and 4.5 inches. These bases have built-in anti-slip sandpaper to favor the grip of the feet.
The fork
The fork is an indispensable element for the cushioning of the scooter. Basically, there are two types of forks, with thread and without thread. The threaded forks are mounted with compression and threaded steering systems usually come mounted on the simplest models and are more vulnerable to breaking.
On the other hand, the hairpins without thread are of higher quality and resistant, they must be mounted with directions without thread.
Generally, the diameter of the forks is 28 mm, although you can find them in different sizes.
The height
Height is an important characteristic that should be considered when buying a pro scooter or stunt scooter. To find the ideal height, you must choose according to the size of the user's height. For example, the taller you are, the higher the height of the equipment.
However, if you are small, we recommend that you build your own custom scooter so that you can enjoy better comfort and optimal stability.
In all cases, we advise you to look for a pro scooter for adults that is adjustable in height. Because this will allow you to adjust the handlebars or the bar according to your height or posture. Also, you can customize your deck, wheels, and all the other parts of your freestyle trot.
For models dedicated to freestyles, the handlebars are generally positioned quite low, since they must be between the navel and the crotch to perform acrobatics and jumps more easily.
Address
The address is perhaps the most important part of the pro scooter. It is located at the base of the handlebar and will allow it to rotate correctly. The address is the element that will allow us to make 360º turns.
Compression systems
The compression systems make the scooter last longer in time, and in turn, allow the handlebar to rotate better. They serve to give proper compression to the bearings.
If the fork of the scooter is threaded, it must be mounted with a screw compression system. If the system is without thread we will have to mount it with a direction without thread.
There are 3 different types of systems in the market: screwed, semi-integrated and integrated (SCS, HIC and ICS).
The wheels
The types of wheels are fundamental elements if you want to find the right pro scooter for using different terrain. To do this, you must first choose the wheels according to their diameter. Expressed in mm, the wheel can indeed vary from 100 mm to 230 mm.
Be aware that the larger the diameter, the faster and more comfortable the scooter will be.
In addition to ensuring speed and safety, a pro scooter with wheels of 200 mm or more adheres better to the road. However, small diameter wheels, between 100 and 120 mm are recommended for a junior or freestyle scooter rider. This type of equipment is lower and therefore more stable.
Besides the diameter, you must take into account the hardness of the rubber as well as the fluidity of the bearings. A soft eraser offers a better grip, of course, but tends to wear out faster than a harder eraser. As for the fluidity of the bearings, it is defined by ABEC standards. The higher the standard, the more speed there will be.
For the practice of the freestyle scooter, the hardness that usually is used in the wheels is the "85A". It is important to make revisions to the wheels and change them when they are worn.
The brakes
The brakes will allow greater safety on the scooter and it will turn to contribute less wear of the wheels. There are 2 types:
The flexible brakes or Flex fender usually adjusted with one or more screws is shaped like a mudguard and is the most used.
Spring brakes are cheaper and noisier and not good for experienced users.
Options & accessories
The different brands currently offer pro scooters that are not only more and more efficient but also practical. It's up to you to choose what's your needs and expectations. For example, you will find models with front and rear suspensions to cushion effectively runway irregularities.
Some equipment is fitted with a rear friction braking system.
For those who are forced to take their scooters on public transport, it is better to opt for a foldable model. In this case, consider the speed and ease of the folding system.
Small accessories linked to practicality and comfort, such as the crutch. The type of handle or the non-slip strip should not be taken lightly.
The sleeves
The sleeves are rubber grips that will allow you to have a good grip on the handlebar.
Now that you know the main parts that constitute the stunt scooter, you have the easiest way to choose the scooter that best suits your needs.
Why buy a pro scooter?
Boost your confidence: Without fear and reproach, your child will get started on wheels and very quickly make great progress. In a few weeks, he/she will be perfectly at ease. And over the years, they will become excellent level riders. Beyond the performance alone, the child (then the adolescent) develops a taste for discovery thanks to this kind of activity.
Prepare your body for physical effort: The pro scooter is not a sport reserved for under 10 years old, but it must be admitted that the physical constitution of the child facilitates his learning. Their body is more flexible, and their finer musculature adapts much better to demand training. Indeed, for a young child, it is easier to learn the right gestures and to build up muscles to preserve the stressed areas, especially the ankles and back. In addition, pro scooter riding works on balance, motor skills, and improves tone. The list of body and physical improvement does not end there: pro scooter riding is also excellent for muscle development.
An ecological means of transport: Needless to say, the emission of carbon dioxide from cars is one of the main causes of global warming. The pro scooter is an alternative for getting around town without harming the environment. It is a very practical and pleasant ecological means of transport that will allow you to go to school, university, or work every day. In addition, riding a scooter is a sporting practice, since it works your arms, legs, and your breath.
To save with transport: In addition to protecting the environment, the other benefit of getting a scooter is that there is the potential for considerable savings. You will not have to buy fuel, the price of which is constantly increasing, or pay a taxi for your small trips in town. Using a scooter for daily life will also save you time in traffic.
How to use a pro scooter?
A pro scooter is fairly simple to use. It's a bit like riding a bike, you just need to be in balance and get used to it. However, there are still a few rules to follow to drive safely and comfortably.
First of all, you must adjust the height of the handlebars so that your arms are slightly bent. Then place your hands on the handlebars and your support foot on the chainring, bending your leg slightly. You just have to start your movement with one or two pushes on the ground with your free leg.
Position your foot near the brake located on the rear wheel to anticipate a stop each time you just restart. You can flex your supporting leg, put the front of your pushing foot on the ground, and take the momentum to gain speed.
We advise you to reverse the roles played by each of your legs from time to time for better endurance.
It is therefore important to wear the correct protective clothing. A protective helmet or a special skater helmet can protect against head injuries.
Pro scooter tricks
As soon as the pro scooter has been tried out on the flat surface for a few days, you want to make your first attempts in the skate and scooter park. The first tricks should ideally be shown by other drivers, who can explain the subtleties of the exercise and can also take corrective action.
Another good source for learning tricks is YouTube. There are hourly video instructions. Remember the rules of practice make perfect. In order to learn the difficult tricks, even professionals have to put up with hundreds of unsuccessful attempts before they can perfect their move and land safely.
FAQs
Are pro scooters suitable for beginners?
Pro scooters are primarily designed for intermediate to advanced riders due to their advanced features and higher performance capabilities. However, some pro scooter models offer beginner-friendly options with more forgiving designs and features, making them suitable for riders who are just starting out. It's important for beginners to choose a pro scooter that matches their skill level and provides a comfortable and safe riding experience.
Can I modify or customize my pro scooter?
Yes, many pro scooters offer customization options. You can upgrade various components such as handlebars, wheels, grips, compression systems, and decks. However, make sure to check compatibility and consult with professionals or experienced riders to ensure proper modifications and avoid compromising the scooter's integrity.
Are pro scooters suitable for adults?
Absolutely! Pro scooters are not limited to any specific age group. Many adults enjoy riding pro scooters for recreational purposes or as a means of transportation. Just make sure to choose a scooter that accommodates your weight and size to ensure a comfortable and safe ride.
What safety gear should I wear when riding a pro scooter?
Safety should always be a priority when riding a pro scooter. It's recommended to wear a helmet, knee pads, elbow pads, and wrist guards to protect yourself from potential injuries. Additionally, wearing closed-toe shoes and appropriate clothing can provide further protection and comfort while riding.
In Conclusion
You now have all the ingredients to choose the nugget you need from all the pro scooters on the market! Each of the products that are enlisted above in this guide is a guarantee of quality and affordability.
However, if you feel we have missed a model to add or would like us to test/review one, in particular, share its details in the comments section below.
We have also carried out a special study on cheap electric scooters. Do not hesitate to take a look. Tell me the Best Pro Scooter you choose in the comment.
If you found this article interesting and useful, please share it with your friends.