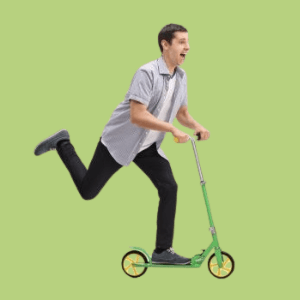 In the frenzy of modern life and its frenzied rhythms, a useful help, at least as regards transport, comes from scooters. It has been fantastic to see the rise of adult kick scooters all over the world.
We use a kick scooter for commuting because it is an economical way to drive ourselves. They are more environment-friendly and not only reduce your carbon footprint but also save your daily transport cost.
Kick scooters come in all kinds of ranges, sizes and price categories. However, because of the huge competition and countless varieties of these all over the market, choosing the most suitable kick scooter for adults is a bit confusing but not difficult.
This is why we have pulled together to create a list of the top 10 best kick scooters for adults to make the whole process easier for you. Check back regularly, as we will continue to update this list with new bestsellers every day.
Best Kick Scooters for Adults 2022
SereneLife SLTS79
Mongoose Rise 100 Pro
Razor A5 Lux
Hurtle Green
Besrey Kick Scooter
HUDORA 205
Swagtron K8
Swagtron K9 Commuter
Mongoose Trace 180
Hudora 230
1. SereneLife SLTS79 Folding Kick Scooter
Frame Material: Steel + Alloy | Handlebar Type: Adjustable | Wheel Size: 8-inch | Wheel Material: Polyurethane | Bearings: ABEC-7 | Weight Limit: 220 LBS | Total Weight: 10.8 Pounds | Brake Style: Rear Braking | Foldable: Yes | Warranty: No
SereneLife SLTS79 Folding Kick Scooter is an improved classic model. This 2021 version is more versatile and offers a good level of reliability and repairability at a cheap price. This adult kick scooter is ideal for daily city trips or discovering the pleasures of urban skiing and always going further.
Its 8-inch PU tires with inner tube give this model a good level of comfort and the ABEC-7 bearings ensure smooth rides on asphalt, concrete, cobblestone, grass and more. And with 3 adjustable height settings, the SereneLife SLTS79 is the quintessential all-terrain kick scooter for both kids and adults. The height is adjustable between 35″ and 39″.
The folding and unfolding mechanism makes this adult sport scooter a breeze. When folded, the dimensions are 31.89" x 4.92" x 12.72", which is perfect for stowing under a desk. The carrying strap is convenient to transport and store. The front wheel also has a mudguard that deflects water splashes.
The rubber deck is slip-proof, which offers steady footing during damp or inclement weather. The handlebars are super comfortable as well. The braking rail is long enough to enhance stopping performance.
SereneLife SLTS79 kick scooter features big open-hub rims for reduced wind resistance and a reflexive front suspension for dips and debris. It has a steady red LED backlight that improves your visibility at night. And it is ideal for all weather.
However, the brake doesn't work well if the road is wet! Also, the kickstand isn't sturdy enough.
PROS
Built in non-slip rubber deck
Easy to open and fold back down
Convenient carrying strap
Fast speed and safe to ride
The color is vibrant and beautiful
CONS
Handles need to be adjusted by using some tools
Kickstand doesn't work the best
---
2. Mongoose Rise 100 Pro Scooter for Youth & Adult
Frame Material: Alloy Steel | Handlebar Type: fixed | Wheel Size: 110 mm | Wheel Material: Polyurethane | Bearings: ABEC-7 | Weight Limit: 220 LBS | Total Weight: 4.3 kilograms | Brake Style: Rear Braking | Foldable: No | Warranty: No
Mongoose is the brand known for their high quality, compact and light scooters, and the Mongoose Rise 100 Pro is a fully featured adult scooter that is designed for commuting. Mongoose Rise 100 adult kick scooter also has all the necessary features for comfortable city riding.
The 19.5″ x 4.5″ aluminum deck is fitted with a rubber non-slip pad with extended standing area to provide pro-style scooter performance. It is not only great for comfortable grip but longevity as well. It offers a smooth ride with the ability to make you climb without difficulty.
The heavy-duty frame supports up to 220 lbs of user weight. T-bar handlebar with padded handles is a single piece of welded steel for extra durability. However, the handlebars are very wide, so it will take some time to adjust the progress if you used to narrow handlebars.
Although it is not foldable, weighs just 4.3kg, which means that you should have absolutely no issues carrying it around. You can easily carry your scooter like a suitcase with wheels in Trolley mode. It has large 110mm wheels, which offer an incredible amount of stability and allow the rider to cover the ground with minimal effort. The tires are also designed for high-impact stunt use.
Mongoose Rise 100 Pro scooter model is available in eleven different colors. All look fantastic. It could be an inexpensive and comfortable scooter for any adult who is looking for an easy grip kick scooter without breaking the bank.
PROS
Slick and lightweight design
Good choice for both beginner and pro riders
Designed for urban commutes
Durable and comfortable
Easy to assemble
CONS
Handlebars are pretty much wide
---
3. Razor A5 Lux Kick Scooter for Adults
Frame Material: Aluminum | Handlebar Type: Adjustable | Wheel Size: 8-inch | Wheel Material: Urethane | Bearings: ABEC-7 | Weight Limit: 220 LBS | Total: Weight: 8.3 pounds | Brake Style: Rear Braking | Foldable: yes | Warranty: 1-year
Razor has been creating innovative, affordable scooters for over 20 years. Focused on the fun riding and leisure industry, all products manufactured by JD Corporation. With some modification, The Razor A5 Lux is still one of the most well-known kick scooters on the market since 2015, used by both adult gender.
We always preferred the Razor A5 Lux over A5 DLX due to size and weight. But we felt A5 Lux was a bit noisy and that is true for every Razor kick scooter we had tested. However, with a wider and longer foot deck as well as higher and wider handlebars, the A5 Lux model is much better suited for me.
It delivers high-caliber from social rides, to school commutes, and to high-stakes neighborhood racing. It has larger and thick Polyurethane wheels which make for a smoother, faster ride. There are 2 types of handlebars available, so if you're taller, be sure to opt for a wider handlebar.
The wheels roll nicely on the surface and the ease of folding it is optimal for carrying it upstairs and storing it next to your desk. It will be extremely efficient transportation for distances of 2-4 miles.
The platform is large enough for large feet and comfortably holds your weight. The wider bar gives you more control and stability. Razor A5 Lux kick scooter also has a nice big rear fender that rear brake keeps street crud off the back of your legs.
PROS
Lightweight frame
Wide and adjustable handlebars
Easy to fold, carry and transport
Wheels roll over anything
No assembly required
CONS
You need tight handlebars securely
Not designed to ride on rainy days
A little bit noisy
---
4. Hurtle Folding Kick Scooter
Frame Material: Steel + Alloy | Handlebar Type: Adjustable | Wheel Size: 8-inch | Wheel Material: Polyurethane | Bearings: ABEC-7 | Weight Limit: 220 LBS | Total Weight: Lightweight | Brake Style: Front Braking | Foldable: yes | Warranty: No
The Hurtle is one of the best adult kick scooters for the average commute. It is perfect for traversing short distances in the urban jungle. It is not just for adults, but for teens as well. The high stability and outstanding durability make this model a steal for the price it goes for in the market.
The Alloy Deck is pretty strong and long enough to fit both of your feet. Also, the Hurtle folding kick scooter is built in Lean-to-steer technology; you just lean your body in the direction of where you want to go. It is thoroughly tested and certified, so don't need to worry about the safety aspect of this new process.
The ABEC-7 bearings and reliable brakes make your ride smooth and more controllable. The handlebars can also be adjusted to three different heights to fit most of the people. So you can keep riding your scooter from when you are a kid all the way to when you are a teen or adult.
Hurtle kick Scooter features a kickstand so the ends of your handlebars won't get scratched and damaged whenever you set the scooter down on the ground or against a wall. The different parts of the model can be easily replaced like the wheels, the T-bar or the kickstand.
Your transport will be more manageable with its folding function. With a simple gesture, you can close the scooter to take it with you and store it in a small space when you don't need it. There is also a carrying strap that you can attach to the scooter and carry like a bag.
PROS
Easy transportation
Spacious non-slip Deck
Easy to carry
Versatile T-Bar
Delivers quality ride
CONS
Feet area is small
Kickstand is too small
---
5. Besrey Kick Scooter for Adults/Teens
Frame Material: Aluminum | Handlebar Type: Adjustable | Wheel Size: 7.9-inch | Wheel Material: Polyurethane | Bearings: ABEC-9 | Weight Limit: 220 LBS | Weight: 14.33 pounds | Brake Style: Hand brake | Foldable: yes | Warranty: No
We have tested 3 kick scooters from Besrey, their price around $100 and all model designed with hand disc brake. And finally found this model was best in terms of adult riding. Because Besrey adult kick scooter is very sturdy and well made and the folding mechanism is by far the easier and best compared to many all other Besrey kick scooters. Just step on it and it folds.
It features full aluminum construction with top-quality ABEC-9 bearing. The tires are solid, almost like hard rubber. Besrey kick scooter has a foot brake and a hand brake that works certainly well. The rear wheel disc brake is effective when you go downhill. The suspension has absorbed all of the cracks and bump.
It is designed with non-slip silicone grip and frosted non-slip pedal which ensures a safe, pleasant and comfortable ride. The folding does not require a lot of time. Besrey adult kick scooter comes with shoulder strap so it will be easy for you to take it everywhere.
The aluminum construction ensures resistance for everyday use, while the low weight allows you to carry it with minimal effort. You can adjust the handle height from 90-108cm to keep adults and teenagers from over 8 years to use the scooter in an easy way. The color is just suitable for modernity and vitality.
However, Besrey scooter is heavy enough, you won't carry it for long distances, but you will love the portability. Although it doesn't come with a kickstand, it can stand alone by stepping on the red peddle to close halfway.
PROS
One button folding design
High level of ride comfort
Robust and non-slip Wide Deck
Very sturdy and well made
Large foot board surface area
Breaking system is remarkable
CONS
Rear-end break is plastic
It is a bit heavy
---
6. HUDORA 205 Folding Kick Scooter
Frame Material: Aluminum | Handlebar Type: Adjustable | Wheel Size: 8-inch | Wheel Material: Polyurethane | Bearings: ABEC-7 | Weight Limit: 220 LBS | Weight: 4.0 kilograms | Brake Style: Rear braking | Foldable: yes | Warranty: No
HUDORA is a German sports brand. With over 14 good years of scooter manufacturing experience, they built an authoritative reputation on the market. However, the sleek design Hudora 205 is a convenient adult kick scooter for daily commute and fun for zipping around.
The 2 Big PU Wheels, Adjustable Bar and Reinforced Deck take your scooter riding to a whole new level with its rich functionality and aesthetics. These wheels are significantly larger than most of the adult scooters on the market, which added a safer and smoother ride.
The durable construction guarantees the capability to withstand everyday wear and tear. And with a stylish look, the mainframe is made of Aluminum, making it strong yet lightweight. Hudora 205 kick scooter comes in 3 unique color options that colors are rarely found in adult scooters.
The folding mechanism is intuitive for users and the body is wear-resistant. If you maintain it properly, it can hold out sheen for a long time. Hudora 205 adult scooter has a shock-absorbing mechanism, to ride smoothly even on uneven surfaces.
Also, the carrying strap helps users to transport it conveniently. We really appreciate its portability and smooth performance, great for both long and short travel. In short, if your budget is 100 dollars, you can't go wrong with Hudora 205 Adult Scooter.
However, the deck of this model is pretty much high (About 4-5 inches) from the ground compared to the majority of adult scooters. About 4-5 inches off the ground. Also, this model produces slight clattering sound when you ride on sidewalks.
PROS
Smooth ride
Sturdy and looks nice
Foldable and lightweight
Very easy to handle
Included strap very handy to carry
CONS
Deck is a bit high from the ground
Sidewalks ride makes a bit of noise
---
7. Swagtron K8 Folding Kick Scooter
Frame Material: Aluminum | Handlebar Type: Adjustable | Wheel Size: 8-inch | Wheel Material: Polyurethane | Bearings: ABEC-9 | Weight Limit: 220 LBS | Weight: 9.75 pounds | Brake Style: Rear braking | Foldable: yes | Warranty: 90 days
The Swagtron K8 is undoubtedly one of the smoothest drives on a manually driven kick scooter you can get. It was designed to withstand adult weight and accommodate grown-up heights. Swagtron K8 kick scooter is also lightweight and foldable that has all the bells and whistles that you could have ever asked for.
This model K8 has an easy tool-free design, you won't need any special tools to put it together. Just click together the handles, then flip the latch to unfold and adjust, and then you're ready to ride. In less than two minutes you will be kicking around and ready to roll, which makes it perfect for beginners.
we're sure you will love the sleek and stylish look and how easy it is to fold and unfold. For teenagers and young professionals, Swagtron K8's also a trendy urban vehicle because it is available in different colors.
The extra-wide 200-millimeter wheels and the ABEC-9 bearings are well-balanced with the consistency and reliability that other scooters don't find. The sturdy deck and handle are non-slip, which provide a safe footing and control. It is fully flexible, allowing riders of varying heights for maximum comfort.
With its lightweight design (weighing just under 10 pounds), Swagtron K8 adult kick scooter can be comfortably held when you need to carry it. The wheels are oversized for speed riding. The wheels are also much better to absorb shock than other small-wheel adult kick scooters.
PROS
Extra-large 200mm wheels
Durable aluminum-alloy stem
Extra-wide deck design with slip-safe grip tape
Sleek design meets impeccable performance
Comes with a kickstand
CONS
Handles vibrate a lot even when locked in
You need to press hard on the break
---
8. Swagtron K9 Commuter Kick Scooter
Frame Material: Aluminum | Handlebar Type: Adjustable | Wheel Size: 240 mm | Wheel Material: Polyurethane | Bearings: ABEC-9 | Weight Limit: 220 LBS | Weight: 7.0 pounds | Brake Style: Rear friction | Foldable: yes | Warranty: 90 days
If you're looking for an affordable commuter kick scooter for adults, we'd recommend you consider the Swagtron K9. The best thing about this scooter is its 240 mm wheel size. Also, it's a premium kick scooter that makes for taller riders without sacrificing quality, durability, and performance.
Swagtron K9 kick scooter crafted with an aerospace-grade aluminum frame with an extra-wide deck that can easily support riders up to 220 pounds. The rear friction brake is very responsive and reliable. You can stop every time when you need.
The extra-large front wheel is nearly 2 inches larger than other kick scooters, which delivers a smoother ride over rough sidewalks and bumpier pavement. Also, the Swagtron K9 adult scooter rides remarkably fast and the streamlined design makes it extremely easy to cut corners and maneuver around the city.
The handle height can be adjustable from 37 to 41 inches so that it can operate comfortably for riders up to 6'5" tall. Of course, this model isn't only for those who are adults, anyone who needs a kick scooter to drive them around the neighborhood can benefit from all that the Swagtron K9 offers.
The foot space is user-friendly both feet side to side. Also, Swagtron K9 kick scooter has a large break finder that works great for slowing down when you ride fast. However, it makes a bit of rattling noise on a rough surface.
PROS
Ideal for tall adult riders
Smooth and stable riding
Portable and easy to fold
World-class service and support
No-slip and sure-grip deck
CONS
Sides are sharp, can easily harm your legs
Brakes are a bit hard to control
---
9. Mongoose Trace 180 Youth/Adult Kick Scooter
Frame Material: Alloy steel | Handlebar Type: Adjustable | Wheel Size: 180 mm | Wheel Material: Polyurethane | Bearings: ABEC-7 | Weight Limit: 220 LBS | Weight: 3.9 kilograms | Brake Style: Rear braking | Foldable: yes | Warranty: No
After the success of the Rise series, Mongoose presents its new high-end adult/youth kick scooter, called Trace Series. With 180mm Wheels size, the Mongoose Trace 180 is one of the lightest kick scooters on the market with weighs only 3.9kg. It is pretty good on rough pavement or sidewalk cracks and gaps. The Trace 180 will be perfect for adult or youth.
It has durable alloy steel deck which provides a comfortable foot placement. Mongoose. Also, it is big enough for a large adult. The heavy-duty steel frame supports up to 220 lbs.
It features ABEC 7 brake to ensure a secure, stable ride and long-lasting use. The easy folding design is convenient for storage and transport. The handlebar is particularly resistant because it is made of alloy steel. The soft foam grips also offer comfortable handling.
It is suitable for beginner to pro riders thanks to its handlebar which has a height of 88 cm from the ground and width of 54 cm. You won't feel a problem getting on/off terrain or bus. And for the price of less than $70, you won't see a better adult kick scooter on the market right now.
However, we found that there is a decent tolerance in the latch mechanism, so it can be a bit of a herky-jerky if you yank on the handlebars. Although this model is lightweight, it rattles quite a bit especially on gravel or on uneven surfaces which can make the ride bumpy.
PROS
Lightweight and fold easily
Nice and wide foot board
Looks great and is very sturdy
Ideal for a variety of urban conditions
Flexible brake doesn't need extreme force
CONS
A little bit loud
Not very much friction
---
10. Hudora 230 Foldable Adult Kick Scooter
Frame Material: Aluminum | Handlebar Type: Adjustable | Wheel Size: 9-inch | Wheel Material: Polyurethane | Bearings: ABEC 5 | Weight Limit: 265 LBS | Total Weight: 5.0 kilograms | Brake Style: Rear braking | Foldable: yes | Warranty: No
This is a big wheel adult kick scooter from Hudora, which was designed to provide a feeling of gliding on the road or park. The greatest advantage of the big wheel scooter is, they are anti-abrasive, which means greatly absorbing shock. The wheels are much more lightweight and wear-resistant than other materials.
It has an ergonomic design with a lower deck and higher T-bar that create a comfortable upright stance for both adults and children. So if you're looking for the best kick scooter to fill your needs as a city, school, travel or commuting, the HUDORA 230 is the option for you.
It is well made with a cool look and exclusive special features in casual black or stylish white. The deck is wide and non-slip with enough foot space so you always have a solid grip on the feet. The back wheel also has a mudguard to protect the scooter and rider from water and dirt thrown up from the road.
Hudora 230 equipped with German patented 3-Seconds Easy-Folding Mechanism, allows you to take this scooter anywhere. Also, the shoulder strap helps you carry them while you are traveling.
The handlebars are adjustable and have quality rubber grips. This human-powered scooter comes fully assembled you simply snap up the handlebars put them in place and adjustment to your height.
PROS
Pretty well built
Very smooth ride
Stable and big wheels
Folds quick and assembles easily
Rear-wheel brake works well with a foot
CONS
They rattle too much
Durability could improve
Not recommended for wet or icy weather
---
Kick Scooter for Adults: Buyers Guide
Here's we'll talk about what to consider before buying an adult's kick scooter.
The deck size
Deck size determines if you will be able to place both feet vertically on it. Deck is mainly made from aluminum or titanium and sometimes even maple plywood. The deck of the adult kick scooter of course should be strong enough because it takes the weight of the rider.
Large deck is more comfortable and allows you to shift your body weight. But keep in mind that larger deck increases the overall weight, which means you require more effort while speeding up or slowing down.
If your prime concern is portability, small size would be best. Deck size also depends on wheel size.
The wheels
Wheel size and material in adult kick scooters is also an important factor you have to consider. You may notice that most of the kick scooters are built with polyurethane (PU)-threaded wheels. The reason is, Polyurethane is highly effective to be used on urban road surfaces.
However, the size varies as well especially in adult scooters in order to provide more sturdiness. Most of the adult scooter's wheel diameter is 180 mm but some are quite bigger than average. You will also see kick scooters that have different sized front and back wheels. The main advantage of bigger wheels is they absorb all the shocks from bumps and go smooth on such surfaces.
The handlebars
Two types of handlebars are common on kick scooters, T-bar and Y-bar. But it doesn't impact the performance of your scooter. For commuting, T-bar is recommended because it will give you more natural control with less effort. However, make sure the scooter handlebars are comfortable to grip and adjustable in your height. The good news is, most of the kick scooter handlebars are adjustable so you can adjust them according to your height. Generally, handlebar height can be extended up to 40 inches, so even a person taller than 6 feet can easily ride.
The brakes
Kick scooters are generally built in rear fender brakes that provide the braking system. However, some models even have a hand brake at the front of the handlebar which is very useful when weaving in and out of traffic so that you can stop quickly if a hazard appears. On the other hand, if you want added extra control safety, then find the one with dual brakes.
Bearing quality
The bearing rating recognized in engineering is the ABEC standard from lowest precision to the highest precision. Kick scooters use bearings rated ABEC 5 to 9. Generally, the higher bearing rating provides good performance compare to the lower rating bearing.
However, not all bearings on the market are equal. The quality of the bearing has a more perceptible impact than the rating you have seen from ABEC-5 ABEC-9. For example, a well-made ABEC 5 bearing will spin better than a poorly made ABEC 7. However, there is no downside to a higher bearing rating.
Easy to carry
Almost all of the kick scooters in the market are foldable which makes them so much easy to carry around the city and store in confined spaces. However, you have to make sure that they are lightweight so that you can carry them anywhere without any inconvenience or tiring yourself.
Parts availability
Before making a purchase of the best kick scooter for adults, it is very important to make sure that the replacement parts are available. No matter how good in quality or how carefully you are riding, there is always a chance of a part coming to lose or stop working at all. Also, after a few rides, you might want to replace the tires, the bearings, or the deck to give it a new look.
The parts should be available from the brand where you buy them. Wheels are relatively compatible with most of the brands, that's why you can find wheels online easily.
FAQs
Who can ride kick scooter?
From kids to adults, anyone can ride and use kick scooters to go around fun or to reach the destination faster instead of walking or using public transportation.
How fast can I ride with a kick scooter?
You can go up to 10 miles per hour on a kick scooter. But that number depends on the material and size of your scooter wheels, how hard you push, and other factors. In our experience, smooth and rigid wheels run fast.
What is the max weight limit on a kick scooter?
The weight limit on a kick scooter is usually 220-300 lbs. However, the weight limit varies from model to model. A well-built with a more sturdy kick scooter can even withstand up to 400 pounds.
Is a kick scooter good for commuting?
Yes, the increase of adult Kick scooters riding basically for commuting. Because people can go faster in shorter distance by using them. Also, scooter riding brings much more fun.
Kick Scooter vs Bike which is better?
You need to measure the distance you want to cover. Both of these are used by human power to move but there are some significant differences.
For scooter riding, you are standing on the deck while you can sit on the bike. Bikes can go faster than a kick scooter but they are not convenient as kick scooters. For example, you can easily fold a kick scooter and carry it somewhere. Some bikes are foldable too but not as portable as kick scooters.
How to maintain my kick scooter?
Start to clean the deck from top to bottom with a damp cloth. Clean the handlebar with the same cloth. You can replace the handgrip after it has worn down from all the sweat. It is good to check bearings and lubricate regularly. You can also replace them if you feel that they have been out of date.
Are kick Scooters Safe for adults?
Absolutely, because they meet all the road safety requirements. However, your safety solely depends on your actions and ways of driving. No matter how safe the product is, it is necessary that you take all the safety precautions yourself. For example, you have to wear a helmet every time when you ride. You can also wear knee pads for added even more safety.
The verdict
We know we just gave a lot of information your way, but choosing the best adult kick scooter isn't really a simple task. If we narrow down our thought, then you should prefer a lightweight yet quality model that will last long. You also need to consider that your chosen kick scooter is foldable and portable. If you are confused about the safety, then by all means get the one that has both the brakes. Of course, your budget should be considered, although the price range is pretty low compared to an electric scooter.
---
Related Posts: