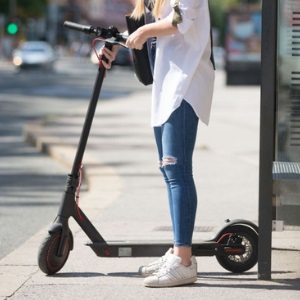 There is no denying that scooter riding has recently exploded in popularity. This helps promote a sense of balance and improve motor, skills as well as coordination and responsiveness. Of course, the joy of driving is not neglected either.
As we step into 2023, the world of scooters continues to evolve, offering a diverse range of options adapted to suit the needs and preferences of teenagers. And when parents want to give their boy/girl a scooter, they are faced with a multitude of models and their variants.
Scooters are available for different age groups and have big differences in terms of quality, and finding the perfect scooter for teens can be an exciting yet challenging task. There are also different types of teenage scooters available on the market, for example, Kick Scooter, Self-Balancing Scooter, Electric Scooter, and more.
In this comprehensive guide, we've carefully examined and evaluated the top 10 best teenage scooters in 2023. We considered several factors such as safety features, performance capabilities, durability, and of course, style. Our aim is to provide a selection that serves various tastes and requirements, and ensure that every teenager can find the ideal ride for their unique adventures.
So whether you're a parent looking for the safest option, or a teenager searching for the trendiest ride, this guide has something for everyone. Without further ado, let's discover the best model according to your demands.
For convenience, we have sorted them and picked the top three.
IMAGE
PRODUCT
DETAILS

Best Kick Scooter For Teenagers

Best Kick Scooter For Teenagers

Wheel Size:

254 mm

Weight Capacity:

220 LBS

Item Weight:

11.0 LBS

Designed for:

8+ to Adult

Check On Amazon

Best E-Scooter For Teenagers

Best Electric Scooter For Teenagers

Wheel Size:

10 inches

Weight Capacity:

265 LBS

Item Weight:

36.0 LBS

Designed for:

Teen & Adult

Check On Amazon

Best Self-Balancing Scooter for Teen

Best Self-Balancing Scooter for Teen

Wheel Size:

10 inches

Weight Capacity:

265 LBS

Item Weight:

24.0 LBS

Designed for:

8+ to Adult

Check On Amazon
Best Scooter for Teenagers at A Glance
1. Razor A6 Kick Scooter: Best All-Rounder Scooter
Handlebar Type: Foldable | Adjustable: Yes | Frame Material: Aluminum | Brake Style: Rear Braking | Max Rider Weight: 220 lbs | Wheel Size: 254 mm | Deck Length: 22.6″ | Weight: 4.97 KG
Razor is one of the best-known pro scooter brands on the planet and the A6 model is a real all-rounder kick scooter that was designed specifically for teenage riders. It is so smooth and fast – even on the gravel. Teenagers can get along with it and then have a friend for life. This scooter is widely adjustable for different ages, making it suitable for long-term use. So you don't need to buy a new model every few years for your kids or teens.
Razor A6 kick scooter has larger wheels compared to the Razor A5 Prime (previous series) and both vary slightly in design, but are basically the same with the exception of the size of the wheels. The 254 mm urethane wheels are super-stronger than A5 and the aluminum frame is designed with patent-pending for extra durability. The big wheels make it fast and the bearings seem pretty good as well.
This teenage kick scooter features Razor's tallest handlebars that can be adjustable up to an incredible height of 42 inches. The handlebars are 31 inches when not extended. The anti-rattle handlebars and one-step folding mechanism ensure the smoothest, quietest ride all around.
The extra-long 13.4" deck also ensures more foot room, which means you're comfortable while riding. However, the A6 model is designed and built specifically for riders ages 8 to adults and up weighing up to 220 pounds. Also, the materials are top-notch.
Razor A6 Kick Scooter will come fully assembled. All you have to do is unfold it and insert the connected handles with a click. Don't need additional tools. Although the price is cheap, the quality is unbeatable.
It can be run over small bumps easily and takes much less effort to get going. And on the smooth pavement like sidewalks, it rides very smoothly and fast. Because of no suspension, you will feel bumps over rough terrain (streets), but the cushioning handlebars and anti-rattle knob help keep things relatively stable.
PROS
Pretty stable scooter overall
Lightweight but tough
It has very effective braking system
Easy to fold and unfold
Smooth ride
CONS
No carrying bag and strap
Handlebars are somewhat narrow
---
2. SereneLife Kick Scooter: for Older Teenager
Handlebar Type: Foldable | Adjustable: Yes | Frame Material: Aluminum | Suspension Type: Front | Max Rider Weight: 220 lbs | Wheel Size: 8 inches | Deck Length: 18.9″ | Weight: 19.84 lbs
SereneLife is one of the most popular adult kick scooter brands on the market. We need to mention that SereneLife is also famous for its affordable home sports and gym items such as treadmill, indoor cycling bike, trampoline, and more.
Let's go back to this teenage kick scooter…
It has large, air-filled tires and a step surface that offers enough space for a safe stand. I gave my nephew this scooter for her birthday. Everything has worked perfectly since then and we are all very satisfied. However, you need to tighten the screws after a few months or once a year.
On the construction part, the SereneLife kick scooter is made of a very robust Hi-Tech aluminum frame and is suitable for adults up to 220 lbs. And, because of its robust construction and ergonomic structure, it is perfect for longer-distance riding.
The handlebar height is preset and adjustable in 3 different positions, which makes this scooter suitable for kids, teens and adults. You can select from 35.04", 37.20" or 38.90". The handlebar rubberized ergonomic grips ensure well-balanced and optimal steering control.
The long-lasting 8" PU tires and ABEC-7 bearings deliver smooth rides on asphalt, concrete, cobblestone, grass, and more. The front wheel has a mudguard to help deflect water splashes and the longer braking rail enhances stopping performance. The big open-hub rims reduce wind resistance and a reflexive front suspension for dips and debris.
It is the quintessential all-terrain scooter for ages 8 years and up and could be a perfect choice for getting across campus or from the office to the bus stop.
That's not all…
SereneLife scooter has a steady red LED backlight to improve visibility at all hours. However, these instructions could be enclosed with the product immediately. Then you would save yourself a lot of trouble.
It is easy to fold and unfold. The folded dimensions are just 31.89" x 4.92" x 12.72", you can easily stow it under a desk or in a school locker. The non-slip rubber deck also offers steady foot positioning during damp or inclement weather. The finishing seems a bit better than Razor A6.
PROS
Fast and non-slip riding
Cost-effective choice
Space-saving design
Three modes adjustable handlebars
Smooth and safe run for teens
Vibrant and beautiful
CONS
Kickstand is really hard to engage with your foot
---
3. BeeFree XLT: Best Kick Scooter for Teens and Adults
Handlebar Type: Foldable | Adjustable: Yes | Frame Material: Aluminum | Brake Style: Rear Braking | Max Rider Weight: 200 lbs | Wheel Size: 7.75 inches | Deck Length: N/A | Weight: 5.5 lbs
BeeFree XLT Kick Scooter could be a great way to stay active with fun. It is comfortable to drive and encourages your teens to get off the couch and into a healthy, active lifestyle. The nice wide and long foot platform ensures optimal comfort while riding.
BeeFree XLT kick scooter is built for teens and adults ages 12 and up. The handlebar is adjustable for different heights, so this model is also well-suited for taller teenagers. With front and rear shock absorbers and large 7.75" wheels, you will always get a smooth ride every time.
It features a rear metal foot brake and low decking with full grip surface, which maximizes balance and control. The T-bar can be adjustable from 32" to 41" in height to accommodate a variety of riders. The handle is cushioned with rubber grips and has an optional shoulder strap for comfortable use.
The frame and handlebars are both made of high-quality aluminum, and the ball bearing is an ABEC 5. The lightweight aluminum frame and foldable design also make this kick scooter easy to carry and store.
BeeFree XLT kick scooter can hold up to 200 lbs. If the scooter doesn't need use, you can simply fold it up and pick it up or stow it in the trunk.
The suspension works great and the brakes are good enough to slow down in most circumstances unless your wheels get wet. Reflectors and a rear wheel friction brake ensure more safety in traffic. The ride is so much better than similar pro scooters because of that suspension.
However, BeeFree XLT kick scooter has several tight spots: the wheels wouldn't really rotate and the handlebar is tight first few rides. Assembly is pretty simple, but the kickstand is a bit hard to get on.
PROS
Smooth and great ride
Sturdy and compact design
Lightweight and easy to carry
Simple to assemble
Cheap price
CONS
Handlebar is tight but after a few rides it will lose up
---
4. Hurtle Kick Scooter: Built for Beginners
Handlebar Type: Foldable | Adjustable: Yes | Frame Material: Alloy Steel | Suspension Type: Front | Max Rider Weight: 220 lbs | Wheel Size: 1.0 inch | Deck Length: N/A | Item Weight: 12.1 lbs
Hurtle kick scooter features advanced technology so that users can maneuver it in the direction they want to go with ease. It can extend the standing area on the alloy deck, so users can easily fit both feet onto the scooter when they are riding along. The footbed is wide, which is good for comfort.
Hurtle beginner kick scooter built in durable ABEC-7 bearings, that are high quality rated. And like all the previous models on this list, the adjustable T-Bar handlebar is another great feature of the Hurtle kick scooter as you can adjust the height to 3 different variations for your comfort. So you can choose this one for older children, teenagers, and adults.
The wheels are made out most advanced Hard silicone and Pu materials, so much better than the tiny, standard Razor-sized wheels. Small and smooth gliding wheels ensure maximum shock absorption and the lightweight alloy wide deck provides comfortable riding experience for your teen.
It is also one of the best cheap pro scooters under 100, that are available in different colors. And with an easy folding mechanism, it can fold and unfold without needing to use any tools. Hurtle kick scooter can carry up to 220 lbs. That's enough for a teenager even for his or her parents.
With lean-to-steer functionality, it can create a unique ride experience similar to that of a skateboard that allows riders to carve turns. It is sturdy, lightweight, portable and affordable, making it suitable for beginners. Overall, it is a very high-quality kickboard in comparison, whose price is more than convincing.
PROS
Lots of outstanding features
Extended standing area
Easy maneuver technology
Fully lab tested and safety certified
Adjustable T-Bar handlebar
And a good bang for your buck
CONS
Instructions are not clear, however, it's pretty easy to put together
---
5. Xspec CRS803913 Oil Slick: Designed for Leisurely Rides
Handlebar Type: BMX | Adjustable Handlebars: No | Frame Material: Aluminum | Brake Style: Rear Flex | Max Rider Weight: 220 lbs | Wheel Size: 110mm | Deck Length: 20.5" | Weight: 7.5 lbs
We go over to the company Xspec in the Scooter comparison. Here we have found a model that comes with an Oil Slick design. According to our market survey, the Xspec is one of the leading scooter, Sports brands in the market. They bring the highest quality products at the most affordable prices without sacrificing style, design and quality.
Xspec Oil Slick teen scooter is equipped with ABEC 7 ball bearings and it has large wheels for comfortable driving. With a maximum weight load of 220 lbs, this stunt scooter is suitable for young adults. It is very practical when the day is coming to an end and the teen still wants to ride a scooter.
It is combined with the highest quality components and the sickest designs with teenagers in mind. It has large wide decks that can withstand older and larger kids and teens to improve their scooter skills at skateparks. And the height adjustment works continuously.
The thick and oversized BMX-style handlebars allow a wide range of grip and hold stances when creating stunts, tricks or jumps. The reinforced design reduces the weight for superior handling. The handlebar is made of 4130 Chromoly alloy steel and the handgrips are made of High-quality TPR rubber.
It has a simple design with excellent HIC compression. The headset also system provides a superior reliable and smooth ride that keeps your scooter dialed longer. Xspec scooter's bars are perfect for someone who is around five feet to five-seven. However, the deck is a little long.
It is one of the most innovative and affordable freestyle scooter components for teens out on the market today. However, this model is a bit uncomfortable to carry because you can't fold it.
PROS
Excellent design quality
Innovative style Handlebar
Made of anti-abrasive
Light and fast
Smooth ride
---
6. REDLIRO Kick Scooter: Comfortable to Use
Handlebar Type: Foldable | Adjustable: Yes | Frame Material: Aluminum | Brake Style: Rear Fender | Max Rider Weight: 220 lbs | Wheel Size: 20cm | Deck Length: 18.3" | Weight: 11.45 lbs
REDLIRO scooter is one of the best all-terrain kick scooters for teenagers on the market in 2023. With its adjustable handlebars, the REDLIRO kick scooter is suitable for adult teens and young teens alike. It provides a gliding feel while riding, thanks to its extruded rear fender brake design.
The frame is made of lightweight aluminum that's robust enough for daily use. It has high-quality wear-resistant high PU wheels and dual damping system, giving you a smooth experience. The 18+ inches deck offers excellent balance and helps you to step easily on and off the scooter. The kickstand provides park and rests with ease wherever you want.
The handlebar is adjustable between 35-39 inches and is wrapped with soft rubber, which allows adults and teenagers (over 12 years) to easily use the scooter together. The T-bar lock ensures high stability and safe driving. Even on uneven sidewalks, the handlebar won't shake. It is a great scooter for teens as a city, school, or travel commuting.
REDLIRO scooter is also easy to operate and slow down. You just need 3 seconds to fold the scooter easily. It can be easily carried by one hand with the included shoulder strap. REDLIRO kick scooter is simple to assemble; you can start in a few seconds.
However, the maximum load-bearing capacity is 200 lbs. It has a really cool bell that informs people of your presence and the break is a foot break in the back. Overall, REDLIRO kick scooter could be a great choice for a beginner to learn balance while benefiting from an inexpensive personal mobility device. Then you can easily take it with you to the skate park.
PROS
Quick folding design
Lightweight and portable
Suitable for all heights people
Smooth and easy riding for all age
Built in extra wide and low deck
Safe braking system
CONS
Wheel bearings often need frequent readjustment
---
Best Electric Scooter for Teenagers
7. Hiboy S2 Pro: Best Electric Scooter for Teenagers
Handlebar Type: Foldable | Adjustable Handlebars: No | Frame Material: Aluminum | Brake Style: E-braking & Disc braking | Max Rider Weight: 265 lbs | Wheel Size: 10 inches | Deck Length: 32" | Item Weight: 36.0 lbs | Max Speed: 19 mph | Motor Power: 350w
Hiboy S2 Pro electric scooter is compact and light around the corner. The weighs in at a solid 12.5 kilograms because a light aluminum alloy from aviation technology has been used in the frame. You can set up this scooter within 3 seconds and folding should also be possible in seconds.
Let's talk about power…
Hiboy S2 Pro matt-gray electric scooter is powered by a lithium-ion battery, which provides energy for a maximum of 25 miles of driving pleasure. For the handle, the manufacturer uses thermoplastic rubber. That is not only easy to grip but also helps riders with less instinct when shifting gears gently.
It is equipped with a kinetic energy recovery system (converts the kinetic energy from every braking process). It will be 19 miles per hour on the road in sports mode. The developers of the Hiboy S2 Pro have purely considered security. The light cone of the headlights was designed so that oncoming pedestrians are not dazzled.
The two wheels were fitted with 10-inch rubber tires and perforated brake discs. And an e-anti-lock braking system in the front wheel enables the aforementioned energy recovery.
It is very strong and suitable for simple movements for complex riding. With a maximum of 265 lbs of load capacity, the Hiboy S2 Pro is the electric scooter most suitable for intermediate to advanced riders.
You can read the information provided by a multifunction dashboard with just one button for all functions. In real-time, the display shows not only the speed but also the performance. You can also read and compare the previous data if needed. The app monitors six functions that are designed to protect the battery, for example, from a short circuit, overcharging, or damage because of extreme temperatures.
PROS
Powerful motor & long battery life
Easy to use and fun to ride
Provides safe riding experience
Perfect for commute and travel
Portable folding design
CONS
10% battery is considered as ZERO percent
---
8. Hover-1 Alpha: Best High-End E-Scooter for Teen
Handlebar Type: Foldable | Adjustable Handlebars: No | Frame Material: Aluminum | Brake Style: Disc braking | Max Rider Weight: 264 lbs | Wheel Size: 10 inches | Deck Length: 31" | Item Weight: 36.0 lbs | Max Speed: 18.0 mph | Motor Power: 450w
We were able to test the Hover-1 Alpha electric scooter ourselves. And this e-scooter made an excellent impression right from the start. The construction is very easy and solid, so we were as good as spared complicated instructions or tools.
Top-notch construction: As mentioned, the Hover-1 convinces us with its solid and stable workmanship. The manufacturer himself points out that the entire frame is made of high-quality cast aluminum. During processing, it is also noticeable that the entire base part is drawn from a cast part and does not consist of plates welded together. Thanks to the automatically locking folding lever, the Hover-1 Alpha scooter is ready for use in just 3 seconds, which we can confirm after our test.
Let's get to the technical details of the Hover-1 Alpha e-scooter…
The motor works with a nominal output of 450 watts and has a maximum output of 850 watts. It can reach a maximum speed of 18 miles kilometers per hour. However, the manufacturer specifies the real range as 12 miles. Both the speed and the range convinced us during our test.
The lithium-ion battery has 6.0 ampere. It is fully charged after 4 hours of charging. It can be used after just 2 hours of charging, but then only with one capacity of 80 percent. However, the full charging time is gentler on the battery.
Hover-1 Alpha teenager electric scooter is equipped with a complete set of lights. The light can be switched on and off directly on the speedometer, which has proven to be very useful in practice. It weighs only 36 lbs and, when folded, has the dimensions 19 x 9 x 44 inches. It is therefore also suitable to take with you in the car.
We wrote another article on the topic for low-budget people. If you're interested, you can see it here.
PROS
Built-in Bluetooth speaker
Convenient and stylish design
Mechanical and electronic brakes
Plenty of space for your feet
Comfortable to ride
CONS
Max distance only 12 miles
If you go up the hill, you need to push yourself
---
9. Hurtle HURES18-M5: All-Terrain E-Scooter for Teens
Handlebar Type: Foldable | Adjustable Handlebars: No | Frame Material: Aluminum | Brake Style: Back Disc Brake & Front E-ABS | Max Rider Weight: 264 lbs | Wheel Size: 8.5 inches | Item Weight: 37.0 lbs | Max Speed: 18.0 mph | Motor Power: 300w
Hurtle HURES18-M5 scooter is everything teenagers would expect, and the features are on top of their preventative game. With its 300-watt Brushless motor, the Hurtle HURES18-M5 reaches a speed of up to 19.2 miles per hour and a driving range of up to 18 miles (depending on the load) – with a charging time of around 5 hours.
The speed can be adjusted in three stages – pedestrian mode 0 to 5 miles per hour, standard mode up to 10 miles kilometers per hour, and sport mode up to 15 kilometers per hour. The speed regulation is worked by hand throttle – i.e. a lever on the handle. The gentle resistance and quick reaction of the manual throttle enable easy-to-control driving speed with fluid acceleration.
Hurtle HURES18-M5 electric scooter is equipped with an LED display on the handlebar that shows important driving data such as speed, battery level or driving mode. You can also control this model via the iOS and Android app "Hurtle App" – for example, changing the driving mode, activating the locking system, or starting the cruise control function.
The hand braking system works well. It will automatically enter cruise control after a 6-second constant speed after which it also beeps. The maximum load capacity amounts to 264 lbs, which is enough to ride from teen to adult.
It has a black design with subtle white and red color accents. The dimensions are 45.7 x 16.5 x 47.2 inches. This is an all-around electric scooter, and the price is very cheap.
It has two 2-watt headlights and leads on 8.5-inch wheels with pneumatic tires, which are anti-flat, abrasion-resistant & have good shock absorption, which lets you safely pass through uneven surfaces and enables a safe driving experience. Overall, it offers a delightful feeling of sliding in an urban environment.
PROS
Made of high-quality materials
Smart device connectivity
You can fold quite easily
Pretty smooth ride
Attractive design
CONS
Not a super light scooter
Makes a bit of noise
---
Self-Balancing Scooter for Teenagers
10. Hover-1 Titan: Self-Balancing Hoverboard Scooter
Wheel Size: 10 Inches | Max Rider Weight: 265 lbs | Bluetooth Speaker: Yes | App-enabled: Yes | Max Speed: 7.45 mph | Max Distance: 8.4 miles | Charge Time: 3.5 hours | Item Weight: 24 lbs
The Hover-1 Titan from the USA manufacturer offers sophisticated technology and the most modern sensors for precise driving maneuvers, even at higher speeds. This is an easy-to-learn self-balancing electric scooter that takes no more than 1-2 hours to operate.
It is equipped with a 150-watt motor, which ensures speeds of up to 7.45 miles per hour. However, it depends on various factors such as road conditions, user weight or driving style. The Hover-1 Titan is also one of the best Off-road self-balancing scooters and the best bang for your buck.
It has an intelligent balance system and an intelligent gravity sensor. And it runs very smoothly because the large pneumatic tires make a real difference. The manufacturer grants a warranty of 90 days for mechanical defects. The buyer can choose from four different color combinations.
Hover-1 Titan self-balancing scooter works really well on different surfaces because it has a solid construction. It can drive riders weighing between 50 and 265 lbs. Your teens or kids can connect to Bluetooth, so they can enjoy not only the music while driving but also the driving mode.
The 10-inch tires and all technical functions can also be controlled and regulated via the app. We can make sure that it will be the perfect hoverboard for teenagers and beginners.
It is equipped with a rechargeable lithium-ion battery and visually appealing LED lights. This model is also integrated with battery overload protection system. However, the battery lasts a good bit, and it charges up fairly quickly. All in all, this is the perfect self-balancing scooter for intermediate or advanced users who want a little extra.
PROS
Engine safety control system
Three learning mode
Built in Bluetooth speaker
Very sturdy and runs smoothly
Bright LED light
CONS
Only 90 days warranty
Volume doesn't turn down
---
How to Choose the Best Scooter for Teenagers
We've already listed our recommended products above. If you're still confused – don't worry, we'll totally get you! Since the web is flooded with so many reviews and information, it can be overwhelming. When buying a teenager scooter, you have to consider various criteria. For example, safety and durability, a good driving experience, and easy handling must be considered.
Here is our complete buying guide, which you can use as an assistant when looking for the best scooter for teenagers with the highest safety.
Age group
When buying a teenage scooter, pay attention to the recommended age group given by the manufacturer. Because each scooter is designed for a specific weight and promotes different skills.
The material
Make sure that the workmanship and materials are of high quality. Sharp edges and rust have no place in a teenager's scooter. Scooters can be made of either plastic, aluminum or metal. Aluminum scooters got the best test results in the teenager scooter tests. They are stable, but still very light and durable.
Keep in mind that inexpensive models are mainly made of heavier materials such as steel while the expensive scooters will have special alloys that are lighter and also resistant or even more.
The handlebars should be adjustable
Before buying a teenager's scooter, it is important that the handlebars are adjustable. If this is not the case, you should be aware that after one season the scooter will probably be too small and you will have to buy a new model.
Nowadays, scooters that grow with the child are the rule, and the handlebars are adjustable in height. You should also look at the weight, because you may have to carry the scooter if your child no longer wants to drive. Furthermore, carrying straps should be available so that transport is easy and problem-free.
Fortunately, many manufacturers now rely on aluminum, which is not only light but also durable.
Pneumatic tires or plastic tires?
Whether you prefer to use pneumatic or plastic tires, depends on a few points, you have to keep in mind that pneumatic tires are similar to bicycle tires and plastic tires to inline skate wheels.
Pneumatic tires have the advantage that they absorb and cushion shocks, which is not the case with plastic tires. Furthermore, pneumatic tires are more stable and comfortable. They run smoothly and easily compensate for bumps. This means that these tires are particularly suitable for insecure children. However, the disadvantage of pneumatic tires is, they are significantly heavier than plastic and therefore the scooter will be heavier.
Plastic tires are much smaller, more maneuverable, and therefore more flexible. The small plastic wheels are only recommended if you and your child are mainly on paved roads. Keep in mind that if you are out and about in nature a lot with your child, scooters with plastic tires can be very dangerous. You cannot compensate for the unevenness and the safety of your child is no longer guaranteed.
Safety and other technical features
When buying a teenager's scooter, safety-related criteria such as a non-slip step and the presence of the brake should be given special consideration.
Braking: Children's scooters are equipped with different braking systems. While some scooters do not have a brake, others have a rear friction brake or front and rear brakes. Brakes generally increase safety when driving.
Mudguard: A mudguard on the teenager's scooter ensures the vehicle can be driven even in bad weather and that long pants do not get jammed in the bike.
Including stand: The stand on a teenager scooter is actually indispensable if the vehicle is to be safely parked on the playground or in the garage. Nevertheless, the scooter for teens tests shows that some manufacturers do not attach a stand.
Non-slip footboard: A non-slip footboard is one of the safety-relevant criteria when buying a children's scooter. Especially when the feet are wet or the child wears a sole without a profile, they should not slip off the scooter so easily.
Scooter safety equipment
Riding a scooter can be dangerous in certain situations, and accidents can be serious. However, this severity can be alleviated with proper scooter equipment:
The helmet is mandatory for all motorized two-wheelers, including small scooters. It must be up to standard and well attached. The gloves become meanwhile mandatory. Gloves are the only equipment that can protect them effectively.
The price
Depending on the model of the teenager scooter, for more sustained use, it is better to have a well-known brand model that favors the quality of materials, lightness and resistance.
The price of a quality scooter starts at around 100 dollars for teen models, but prices can go up to over 500 dollars for high-quality branded models. Below 100 dollars, it will be necessary to be vigilant on its quality of design and to avoid scooters of unknown brands of dubious origin.
Electric scooter is much more expensive compared to stunt scooter. You have to invest at least $200 to buy a good quality electric scooter. For 300-500 dollars, you can get a high-end electric scooter.
FAQs
What types of scooters are suitable for teenagers in 2023?
Teenagers can choose from various types of scooters, including kick scooters for commuting and recreation, electric scooters for short-distance travel, and stunt scooters for tricks and freestyle riding.
What is the average range of an electric scooter on a full charge?
The range of an electric scooter depends on factors like battery capacity and terrain. On average, they can travel between 10-20 miles on a full charge.
What is the price range of teenage scooters?
The quick answer is 50 to 400 dollars. However, it depends entirely on your budget whether you looking for the cheapest scooter for 50 dollars or the most expensive scooter for 400 dollars.
How to find the right handlebar height for me?
The handlebar height is adjustable on most scooters – the rule of thumb here is that you should be able to stand comfortably on the scooter and be able to grip and operate the handlebars with slightly bent arms.
What are good materials for teenage scooters?
Aluminum is a particularly popular and proven material. Because it is not only sufficiently robust and stiff but also light and not too expensive.
The scooter for teens: dangerous or not?
It can be both safe and dangerous. However, before starting any discussion about the safety of scooter riding, there are a few numbers to keep in mind…
Scooters were the number one killer of 14-17 years olds on the roads a few years ago, but since 2000 great progress has been made in road safety for small scooters and fatalities have dropped by 63%. This risk should therefore be put into perspective, even if it remains real.
Final Thoughts
The choice of scooter must be based on the nature of teen needs and the different options that appear to be the most essential for your teen. We recommend always going for well-known brands such as Razor, SereneLife, Hurtle, Hover-1, and more. These are really safe bets that will give good first-gliding sensations.
You have now all the ingredients to choose the nugget you need from all the teenage scooters on the market! We sincerely hope you find our guide useful for purchasing the best teenager's scooter. If you feel we have missed a model to add or would like us to test/review one, in particular, share the details in the comments section below.
We have also carried out a special study on the best kick scooters for adults. Do not hesitate to take a look.