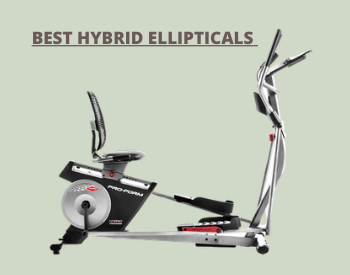 Hybrid ellipticals are versatile pieces of fitness equipment that combine elements of both elliptical trainers and other exercise machines like recumbent bikes or steppers. They have several features that are beneficial for cardiovascular health and overall body training.
Hybrid ellipticals mainly added a seat with backrest, making them an excellent choice for those looking to improve their fitness levels while minimizing stress on joints. So having a good quality hybrid elliptical can significantly increase the desire to devote your body.
With so many features and prices to choose from, finding the best hybrid ellipticals is sometimes difficult. After in-depth research, we have selected the top 5 best hybrid elliptical trainers for 2023. These machines are best based on their durability, functionality, and overall effectiveness in providing a full-body workout.
We considered many features such as simplicity of assembly, resistance, and performance so that beginner user, as well as those who practice sports consistently, can find their desired model. So whether you're a beginner or an experienced fitness enthusiast, hope this buying guide will help you categorize and prioritize your needs.
Best Hybrid Ellipticals In 2023
Take a look at our comparison chart of the best hybrid ellipticals in 2023.
1. Bowflex Max Series M8 Elliptical Trainer
Display: Dual-Mode Backlit LCD/LED Screens | Bluetooth: Yes | APP Connectivity: Yes | Workout Programs: 7 | User Profiles: Up to 4 | Resistance Levels: 20 | Heart Rate Monitor: Yes | Transport Wheels: Yes | Weight capacity: 300 lbs | Weight: 148 lbs | Warranty: No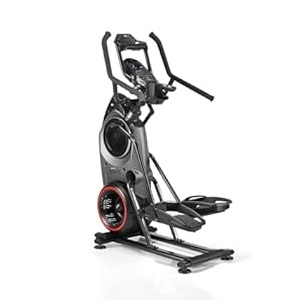 The first choice of best hybrid elliptical in 2023 is undoubtedly the Bowflex Max M8. This model is the latest version of the popular Bowflex Max series, and we need to mention that it is the upgraded version of the M7 which costs more than the M8. Although the New Bowflex M8 model price is 2/3 of the M7, it has more features and includes some extra advanced functions that you never find in the Bowflex M7.
It guarantees a complete workout, thanks to different modes of use and 7 pre-defined training programs. It will work out your entire body. And with 20 resistance levels, it makes the workout challenging, yet controllable. Even the lower settings of the resistance levels are sometimes difficult for beginners and noticeable for professional athletes.
It features enhanced dual-mode LCD/LED screens, multi-grip dynamic handles, and a premium media rack. The unique burn rate display motivates you to reach your targets to achieve your fitness goals. And with less effort, it will make your workout smart, not hard. The magnetic braking system is also silent.
The multimedia console is compatible with the app and Bluetooth. You can automatically sync your workout data with the JRNY App and make hitting your daily calorie goals even easier. Also, the App lets you keep your fitness and health information in one easy-to-read dashboard.
Bowflex M8 hybrid elliptical has a practical device holder, which is good for putting iPads, smartphones, etc. (Not flat surface for laptops). This space-saving hybrid elliptical bike easily rolls into nearly any corner of your home. We also appreciated the Bowflex M8 series because of its futuristic design and durable construction.
However, keep in mind that this model is not easy to use if you max out the resistance. So it would be fine to get you back in shape if you need to start at a lower setting first.
Key Features:
Larger repositioned console
Magnetic media rack for tablet or smartphone
USB charging port
Bluetooth® heart rate compatible
Unique burn rate display
Multi-grip and dynamic handles
PROS
Less time workout provides maximum results
Long-lasting durability
1/3 less expensive than M7
Solid and well-built
Smooth and silent
Compact size
CONS
Not suitable for beginner
Takes time to assemble it properly
---
2. Teeter FreeStep LT1 Recumbent Cross Trainer & Elliptical
Display: Lard Digital LCD Screen | Bluetooth: No | APP Connectivity: Yes | Resistance Levels: Variable | Heart Rate Monitor: No | Stride length: 13-inch | Transport Wheels: Yes | Weight capacity: 300 lbs | Weight: 110 lbs | Warranty: 1-year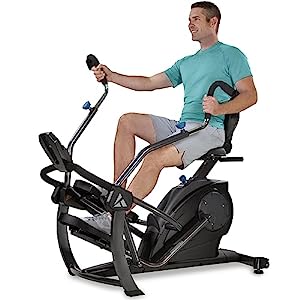 Produced by the company Teeter, the Teeter FreeStep LT1 is a very comfortable cross trainer and elliptical for smooth workouts with natural strides. It is equipped with a silent magnetic brake mechanism that allows you to stop with absolute ease. Also, this hybrid elliptical has different training programs.
It has a comfortable and naturally reclined seated position, which reduces your body fatigue and eliminates the stress on the joints and back, and at the same time, delivers a full fat-burning cardio workout. Teeter FreeStep hybrid elliptical is ideal for all fitness levels (small to big). It is designed to help Arthritis.
The unique striding motion protects your knees and joints from harm. It has engaged near-silent variable magnetic resistance that adjusts with one simple dial. The dual power motion works the upper and lower body simultaneously, so you can modify the workout by isolating your legs or arms.
The smart digital LCD monitor is easy to read from standing and sitting positions. You can track your progress simply. And the battery-operated display helps you to set up this machine where you want. The Device Stand Water Bottle Holder and convenient Transport Wheels are also added.
Teeter FreeStep hybrid elliptical is designed with a patented stride that is more linear, like a stepping motion or leg press. The variable magnetic resistance is also helpful for all different fitness goals. You can start with minimum resistance to work on your range of motion, and then gradually increase over time.
The Seat goes up and down at an angle well, and you can adjust the seatback at a wide angle. It is easy to assemble. However, it would be better if the seat could be re-positioned to the rear instead of only up/down.
Key Features:
Zero-Impact recumbent workout
Adjustable design fits your body perfectly
Affordable, in-home physical therapy solution
Adjustable settings for comfortable use
Whisper quiet
Durable magnetic linkage system
Protect Joints with Patented Stride Technology
PROS
Convenient for indoor exercise
Comfortable and adjustable seat
Whisper quiet and solidly built
Extremely smooth even high resistance level
Robust and stable construction
CONS
Resistance knob has virtually no usable indicator
The bottom of the upright tubes are just a bit small
---
3. ProForm PFEL03815K Hybrid Elliptical Trainer
Display: LCD Window Display | Bluetooth: Yes | APP Connectivity: No | Resistance Mechanism: Magnetic | Resistance Levels: 16 | | Stride length: 13 inch | Heart Rate Monitor: Yes | Transport Wheels: Yes | Weight capacity: 350 lbs | Weight: 116.84 lbs | Warranty: 5-year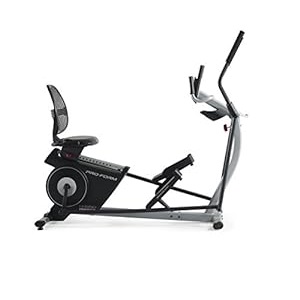 ProForm PFEL03815K hybrid elliptical was first launched more than 5 years ago, but it is still one of the best hybrid ellipticals on the market for personal training at home. The reason is that over the past five years, this unit has received several revisions and improvements. The price is also accessible to any fitness enthusiast.
It has sturdy construction and the two-piece frame is made of steel tubing. ProForm Hybrid Elliptical Trainer is a 2-in-1 fitness device, which combines a recumbent bike and an elliptical trainer, offering a wide array of cardio training possibilities. The newest version is Bluetooth-enabled and iFit compatible.
It has 16 levels of Digital magnetic Resistance and your trainer will auto-adjust your resistance with iFit. The Backlit LCD window displays track distance, cadence, and estimated calorie burn. These sensors also provide a quick estimate of your heart rate so that you can stay informed as you work out.
The pedals are widely adjustable, giving you the option to find the most comfortable position for your feet whether you are using the elliptical or recumbent bike function. And the Inertia-Enhanced Flywheel ensures a smooth workout. This model is also integrated with a Tablet Holder and a Water Bottle Holder.
With 350 lbs of weight capacity, the ProForm hybrid elliptical bike offers the same benefit as an elliptical and a recumbent exercise bike for a unique low-impact workout.
Despite 116 lbs weight, though, it is not difficult to transport. It is easy to put together if you follow the instructions. Because of the many parts, you need more than 2 hours. However, the included manual provides explicit instructions on how to assemble and use it.
Compared to the Teeter FreeStep, the ProForm PFEL03815K can be installed anywhere in your home. It does not need to be connected to electricity, since it is powered by batteries. You can also remove the seat and backrest for more challenging workouts.
To ensure quality and durability, the manufacturer offers a 5-year frame warranty and 90-day parts and labor warranty. However, the package doesn't include extras, bolts, nuts and screws. So be careful when assembling so that you don't end up with missing parts.
Key Features:
Thousands of on-demand workouts
Trainers auto-adjust your resistance
Bluetooth option and iFit ready console
Low Impact bike and elliptical
Integrated sound system
Connected fitness tracking
Interactive training sessions
PROS
Extremely sturdy construction
Smooth and maintenance-free
2-way adjustable seat
Straightforward assembly
Tablet and bottle holder included
CONS
Doesn't have pulse sensor
No cooling fan on the console
Batteries and adapter are not included
---
4. XTERRA Fitness EU150 Hybrid Elliptical & Upright Bike
Display: 3.7 inch bright blue LCD | Bluetooth: No | APP Connectivity: No | Resistance Mechanism: Magnetic | Resistance Levels: 24 | | Program: 12 | Stride length: 13 inch | Pulse Grip Handles: Yes | Transport Wheels: Yes | Weight capacity: 265 lbs | Weight: 70.5 lbs | Warranty: 1-year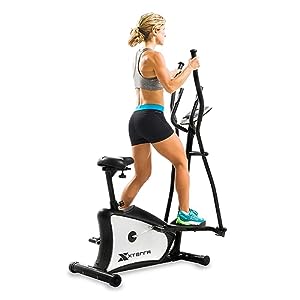 XTERRA Fitness EU150 Hybrid Elliptical combines a full-body elliptical workout with the seated comfort of an upright bike. This 2-in-1 combo combines two great pieces of equipment into one. With a compact and space-saving design, the XTERRA Fitness EU150 offers a smooth, non-impact, and total-body workout. It allows you to challenge yourself with an impressive 24 levels of resistance and 23 inspiring programs.
The belt drive system and friction-free magnetic resistance deliver smooth and maintenance-free operation. With this hybrid elliptical, you can quickly change the intensity of your workout and target alternate muscle groups when you are sitting.
You can easily track your workout data with the large 3.7" bright blue backlit LCD which clearly displays the program profile, time, speed, distance, calories, RPM, pulse, and resistance level. You can also effectively monitor your heart rate with handlebar-mounted hand pulse sensors.
To make users' workouts more enjoyable, the console features an audio jack and speaker, so you can listen to their music. Like all the best hybrid ellipticals on our list, the XTERRA Fitness EU150 is equipped with transport wheels, so you can move effortlessly.
The large contoured and padded seat is not only adjustable up and down but also forward a back for all users' sizes. This model also comes with multi-grip soft padded handlebars along with oversized pedals. Highly recommend it if your budget is less than $300.
Key Features:
2 in 1 design combines a full-body workout
Comfortable and space-efficient design
11 lbs flywheel and oversized foot pedals
Built-in audio jack with speaker
Synchronized upper and lower body movement
3.7" bright blue LCD console window
Ergonomic 13" stride length
PROS
Comfortable seating position
Maintenance-free operation
Smooth and quiet movement
Compact and solid built
Affordable
Designed for small space
CONS
Smaller than typical models
Narrow structure
---
5. Body Power BRT5118 3-in-1 Trio Exercise Machine
Display: Multi Panel | Bluetooth: No | APP Connectivity: No | Resistance Mechanism: Magnetic | Resistance Levels: 16 | Program: No | Pulse Grip Handles: Yes | Transport Wheels: Yes | Weight capacity: 300 lbs | Weight: 90.0 lbs | Warranty: No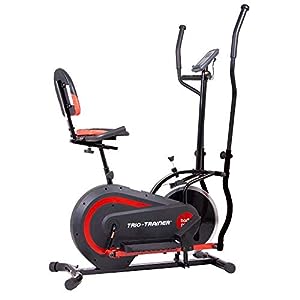 Finally, the cheapest model of the Body Power range is the BRT5118. With a patented 3-in-1 design, this hybrid elliptical has the function of an elliptical trainer, an upright stationary cycle and a recumbent bike. It is a great cardio exercise machine and you will love this convertible equipment.
Like most fitness machines of this caliber, the Body Power BRT5118 features a frame made of high-tensile steel tubing. The innovative design allows for effortless transitions without the need to dismount or adjust hardware. You can easily adjust the magnetic resistance and customize it to your workout needs.
The advanced heavy-duty flywheel system also allows the machine to run quietly with continuous resistance-level adjustment. In addition, the flywheel is comparable to those on professional-grade floor cycles.
This unique and compact fitness glider comes with 3 different sets of integrated handlebars: U-shaped, dual-action, and wraparound. Needless to say, the Body Power BRT5118 Trio is one of the cheapest hybrid ellipticals on the market. It is perfect for your home gym and will provide so many workout possibilities.
The stride length is 13 inches and it can hold a maximum weight of 300 lbs. Unfortunately, this model does not have any programs and is not compatible with Bluetooth or Apps. However, If you focus on the features, you will notice that each one has something unique to offer.
However, the fully assembled weight is not extremely heavy, but not feather-light. Although it is a space-saving design hybrid elliptical bike, the transport wheels allow you to move and store easily when not in use.
Key Features:
Patented 3-in-1 design
Sturdy frame construction
Electronic computer console
Fluidity flywheel system and quiet
Transport wheels for easy storage
Motor-assisted, magnetic resistance
PROS
Quiet and smooth operation
4-way adjustable seat
Multi-panel display
Easy to assemble
Cheap price
CONS
Little maintenance required
Console doesn't have backlight
---
Best Hybrid Elliptical Buying Guide
Hybrid elliptical trainers are generally classified according to the position of the flywheel. We can find it in the front, rear, or center of the machine. To choose the best hybrid elliptical, what are the characteristics to evaluate before purchasing? Let's see which are the most important factors you need to consider.
Size and weight capacity
Size is an important factor to take into consideration when choosing the best hybrid cross-trainer or elliptical bike. In this regard, a hybrid elliptical with a longer structure is recommended. Because it allows longer pedaling and therefore a more effective activity of the lower limbs.
The models on the market start from a maximum capacity of 100 kg. However, high-quality and upgraded versions can withstand greater weights up to 400 lbs.
Before buying the hybrid elliptical to use at home, it is therefore necessary to choose a model suitable for your weight. Also, make sure that you buy a machine that can carry more weight than you. The higher load capacity indicates the overall durability and construction quality.
Flywheel weight
You may know that a heavy flywheel is essential for smooth and comfortable movement. The flywheel determines the resistance of the elliptical. And the greater weight ensures better resistance.
A lightweight flywheel is likely to produce erratic, jerky pedaling at any pace, making it impossible to achieve a rhythmic pace. Not surprisingly, lighter flywheels require minimal effort to reach higher speeds, which definitely doesn't bring you any closer to achieving your fitness goals.
Flywheel position
Now let's see what differentiates the position of the flywheel:
Front position: The front flywheel (usually under the computer with monitor) ellipticals are more compact than other models. Not only that, they have a cheap price, making them one of the most popular choices for home use.
Rear position: Rear position flywheel elliptical offers a more balanced and natural movement and allows users to run. Keep in mind these are expensive and take up a lot of space.
Central flywheel: The hybrid elliptical, with the flywheel on both sides of the machine in a central position, offers greater stability, smooth operation, and natural leg movement. Generally, this type of elliptical cannot change inclination. It is also more expensive than the rear and front position flywheel elliptical.
Noise level
Looking for a hybrid elliptical that is the quietest possible. If you don't want an elliptical that squeaks or makes noise on the wheel and rail, it is necessary to keep it regularly cleaned and lubricated.
Computer functions
The basic functions should never be missing. In a good hybrid elliptical trainer, the common functions are: speed, time, calculation of the distance traveled, calories consumed and heart rate. If it allows you to set custom workouts, it would be better.
Stride Length
A tall person will not use it as a short one. So you have to keep in mind the stride length. Ideally, 50/51 cm is the most common. Also, the correct stride length is essential for a comfortable and effective workout.
40 to 45 cm is suitable for 1.60 meters tall
45 to 50 cm are generally good for between 1.60 and 1.70 meters tall
50 to 55 cm or greater is required for taller than 1.70 meters
If you need to choose your hybrid elliptical trainer for multiple people of varying heights, you should prefer variable stride length. It's worth the added versatility to the machine.
Comfortable of use
Hybrid ellipticals are basically more comfortable than exercise bikes or general elliptical trainers because they add cushioned seats. However, to ensure optimal comfort and productivity from workouts, look for features like articulated pedals, adjustable stride length, easy-to-grip grips, and a reasonably smoother movement.
Additional features
The best hybrid elliptical will give you a good range of technological features that are very useful today. For example, USB ports and built-in speakers can make training more enjoyable.
Most of the Cross-trainer elliptical bikes today also offer wireless connectivity and they are compatible with fitness apps that will help you track your workouts and progress over time.
FAQs
What are the benefits of using a hybrid elliptical?
A hybrid elliptical provides a low-impact, full-body workout, which is gentle on the joints. It combines the benefits of multiple exercise machines and offers versatility in workouts. It also helps improve cardiovascular health, endurance, and overall fitness levels.
Can a hybrid elliptical be used by people of different fitness levels?
Yes, most hybrid ellipticals offer a range of resistance levels and adjustable settings to accommodate users of various fitness levels.
Are hybrid ellipticals suitable for people with joint issues?
Yes, hybrid ellipticals are designed to provide a low-impact workout, making them suitable for individuals with joint concerns. They provide a natural and fluid motion that mimics walking or jogging without the jarring impact on the joints.
Conclusion
Elliptical is one of the most complete cardio machines now available for home gym. As we have seen, the demand for elliptical trainers has increased greatly during the Covid-19 pandemic. This type of fitness equipment is great for developing the immune system.
However, you already noticed that there are different types of hybrid ellipticals depending on the position of the flywheel or the resistance level. And each type of model is appropriate for specific types of training. If you have a small space in your home, you should prefer a foldable model. These are very convenient and allow you to store them anywhere. They are also ideal for office use and can be as efficient as professional ones.
If you are looking to improve the performance of your training, you should look for a more sophisticated hybrid elliptical that allows you to set the resistance, time and inclination.
For the price range, if you are a beginner, we recommend starting with an affordable elliptical trainer that costs around 200 to 300 dollars. On the other hand, if you're a fitness enthusiast, the budget should be around $500.
We are at the end of this guide, now it's your turn to choose a hybrid elliptical.
More on elliptical trainers: