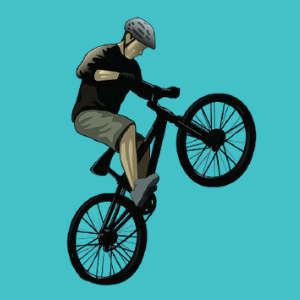 Among entry-level, full suspension and hard trail mountain bikes, more and more enthusiasts are approaching these off-road bikes. The price of the mountain bike is often high that can cost up to several thousand dollars.
However, not everyone needs to invest thousands of dollars on a mountain bike. If you are looking for the best mountain bike under 600, you're landed in the right place. We have selected the 10 best mountain bike models under $600 for 2022, that offer excellent performance on any terrain. We also have included practical advice on how to choose a mountain bike for less than 600 carefully without.
Best Mountain Bikes Under $600 Reviews 2022
The ranking comes from user experience with some of these products, but we must admit that we have also taken into consideration the opinions of buyers and friends, as well as the reviews of the products available online.
1. Best Adult Mountain Bike – Mongoose Comp M25100F10SM-PC
2. Best Dual Suspension MTB – Schwinn S7956AZ Traxion
3. Best Full Suspension MTB Bike with Disc Brakes – Gravity 2021 FSX 1.0
4. Best All-Terrain Mountain Bike – Royce Union 76358
5. Best Beginners Mountain Bikes – Merax FT323
6. Best Front Suspension Mountain Bike – Schwinn Mesa 2
7. Best MTB for Girls – Mongoose Black Silva
8. Best Mountain Bike for Women – Schwinn 27.5 Comp
9. Best Heavy-Duty Moutain Bike – Kent KZ2600
10. Best Mountain Bike for Men – Mongoose Impasse
1. Mongoose Comp M25100F10SM-PC Adult Mountain Bike
Frame Material: Aluminum | Frame Size: Extra Small to Extra Large | Wheel Size: 27.5 Inches | Suspension Type: Front | Brake Style: Disc | Speeds: 21 | Max Weight Capacity: 250 LBS | Weight: 34 LBS | Assembled: 85%
The first model on our list is the Mongoose Comp M25100F10SM-PC. Specifically, we are talking about one of the best mountain bikes on this list in terms of performance and price. You may notice the attractive matte paint on the aluminum frame with internal cables, making it an eye-catching front suspension mountain bike under 600 dollars.
The 27.5 inches tires are of high quality and the accessories are top-grade such as the SHIMANO front derailleur and superior disc brakes. The wheel can also be taken off easily so that users can store the bike in a car very easily. The frame is quality-standard tested to guarantee a better resistance on different surfaces. Therefore, only high-quality components are installed, which contribute to the safety and longevity of the mountain bike.
Also, the Shimano shifters, cassette, cogs, crank, DISC brakes, and Hybrid Kendal's tires help you run smoothly on different terrains. The transmission system also works pretty well. You will be also impressed by how light the bike is, for a mountain bike with a front suspension weight under 34lbs.
And with 21 different levels of speed, the Mongoose mountain bike does a surprisingly good job on super-rocky trails. Low price, beautiful finishing and lightweight design make it the first choice mountain bike under 600 dollars.
Mongoose Comp mountain bike rides are as smooth as possible and are mostly appreciated by beginners that arrive mostly assembled. You just need to assemble the seat and post, handlebars, forks and front wheel. It is something that can be easily done if you have even the slightest inkling of mechanical inclination.
PROS
Well-outfitted bike for the price
Superior stopping power
Comes mostly assembled
Drive is very nice
Lightweight design
Available in seven colors
CONS
Doesn't come with a kickstand
---
2. Schwinn Traxion S7956AZ Dual Suspension Mountain Bike
Frame Material: Aluminum | Frame Size: 18 inches | Wheel Size: 29.0 Inches | Suspension Type: Dual | Brake Style: Disc | Speeds: 24 | Max Weight Capacity: Not Specified | Weight: 49 LBS | Assembled: 85%
Schwinn is one of the greatest bike and riding gear manufacturers on the planet, Founded in 1895 in Chicago, Illinois. So you can continue to trust and rely on Schwinn's quality from kick scooter to mountain bike. Also, the latest innovation has become synonymous with the Schwinn name.
The Schwinn Traxion S7956AZ is a cross-country style mountain bike that features 18-Inch/Medium Aluminum frames and 29-Inch Wheels with Mechanical Disc Brakes. It is also a full-suspension mountain bike that's itching to get out and go.
The aluminum dual-suspension frame with a powerful suspension fork and reliable mechanical disc brakes ensure smooth handles and stopping while riding on different terrains. The suspension on the bike is preset at the factory, so you don't need to adjust it.
We know that durability is important for any riding bike, thanks to high-profile double-wall alloy rims and thick, knobby mountain tires designed to take a beating. Schwinn Traxion mountain bike will give you the most energy-efficient and comfortable riding whatever the incline or surface.
The gears and shifters work extremely smoothly and the number of possible gear combinations won't bewilder you. It also has lots of cushions with the shocks and adds a nice wide comfortable seat. That makes it a perfect dual-suspension mountain bike for big guys.
The bike comes partially assembled. You just need to attach the pedals, seat and handlebars. The manual also has clear directions and photos on how to assemble. Schwinn S7956AZ bike can load up to 300 lbs because of its heavy-duty construction. However, the bike doesn't have a set weight limit. It also comes with a limited lifetime warranty.
PROS
Built in heavy-duty frame
Strong and well built
Easy to put together
Great all-around mountain bike under $600
Delivers smooth ride
CONS
Mechanical disk brakes not hydraulic
A little bit heavy
---
3. Gravity 2021 FSX 1.0 Dual Full Suspension Mountain Bike
Frame Material: Hydro-formed Aluminum | Frame Size: 15 inches | Wheel Size: 26.0 Inches | Suspension Type: Dual | Brake Style: Disc | Speeds: 24 | Max Weight Capacity: 330 LBS | Weight: 35 LBS | Assembled: 90%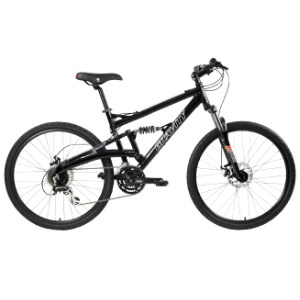 Gravity certainly earns its name when it comes to reducing gravity's effects. The same goes for the dual disc brakes, which are very effective and work well. Among the best mountain bikes under 600 dollars, there is undoubtedly this Gravity 2021 FSX 1.0 mountain bike. Specifically, this full suspension mountain bike has 24 speeds and a structure with a central hinge that makes it perfectly compact and transportable.
The frame is made of aluminum, thanks to the 26-inch diameter wheels, it ensures truly enviable performance on the road with excellent stability. The seat post and handlebar are quick-attach. The gears are really smooth and the shocks are good too. You can change gears almost seamlessly. However, it is not able to beat the Mongoose, but the quality of the Gravity FSX 1.0 is overall good!
Gravity 2021 FSX 1.0 mountain bike arrives 80% assembled, and it takes a few simple steps to start using it. However, it is an entry-level Dual Suspension Mountain Bike under $600. We highly recommend it to beginners who looking for a thousand dollars alternatives without features.
Gravity FSX 1.0 bike has a pretty short wheelbase and the tires are 26″. Although the frame is technically long enough to accommodate a tall rider, the short wheelbase makes you feel cramped and you will feel like the handlebar is too close to your knees if your height is more than 6'2".
PROS
Excellent entry-level mountain bike
Effective disc brakes front and rear
Very smooth ride on different surfaces
Strong and well-built
Decent looks
CONS
Not suitable for advanced
There is no exact weight limit
Paddle is a bit small
---
4. Royce Union RMA Women's All-Terrain Mountain Bike
Frame Material: Aluminum Hardtail | Frame Size: 15 inches | Wheel Size: 27.5 Inches | Suspension Type: Front | Brake Style: Alloy Linear Pull | Speeds: 21 | Max Weight Capacity: 300 LBS | Weight: 42.4 LBS | Assembled: 90%
ROYCE UNION RMA mountain bike is designed by expert engineers. They are passionate about riding every day and realize the importance of the dependable quality of a mountain bike. And we also know that solid reliability is the foundation of every mountain bike. That's why we recommend the Royce Union RMA, it is the ideal model for those who looking for a light, stable and high-performing mountain bike under $600.
It weighs only 42 lbs and the compact structure makes the bike very manageable and comfortable to ride even for beginners. The frame is 15-inch and 17-inch frame is available. You can move up to the next level of riding and training.
The 21-speed Shimano gearbox offers a wide range of customization to your riding while the fork absorbs shocks and vibrations well, significantly improving the riding experience. The Shimano Altus rear indexed derailleur provides efficient and precise gear shifting while riding.
It is an all-terrain mountain bike, ideal for trails, gravel paths and even paved streets. The 27.5-inch wheels maintain rolling momentum and you can adjust the padded saddle for the right fit.
Royce Union RMA mountain bike is available in four different colors which makes it customizable also from this point of view. The price is really very affordable compared to other models of the category. It is also easy to assemble. All in all, we would recommend this model for everyone from casual riders to heavy riders.
PROS
Smooth performance
Comfortable pedals
Easy to handle and use
Includes bike assembly tools
Limited Lifetime Frame Warranty
CONS
Some assembly will be required
Designed only for women
---
5. Merax FT323 Full Suspension Mountain Bike
Frame Material: Aluminum | Frame Size: 15 inches | Wheel Size: 26.0 Inches | Suspension Type: Dual | Brake Style: Linear Pull | Speeds: 21 | Max Weight Capacity: 330 LBS | Weight: Not Specified | Assembled: 85%
The fifth position of the best mountain bike under 600 is the Merax FT323. It is in fact a mountain bike made of top-grade aluminum for what concerns the frame, the fork and the seat post. All this allows getting an ultra-light high-performance mountain bike at a reasonable cost.
The entire structure is aerodynamic with cables that have been inserted directly into the frame so as not to obstruct the cyclist during use. The rear triangle is rigid to further improve the performance and stability of the entire bike. The dual-suspension design also ensures smooth bumps while biking, and at the same time, it will increase control for fluid riding.
The SHIMANO SORA derailleur system delivers up to 18 speeds control with truly impeccable stability control. You can shift the gear comfortably. Merax FT323 mountain bike is designed to be the most fully featured, and it is one of the best mid-range mountain bikes to meet all the bikers' needs.
The braking system is Linear Pull which provides enhanced stopping power. However, the front brake needs adjusting to make it grab better. Even though this bike does not have disc brakes, the stopping power is amazing. The maximum weight capacity is 330 lbs.
The manufacturer also offers 1-year warranty. If you are willing to decrease slightly your budget compared to the previous four models, you can secure yourself with the Merax FT323.
PROS
Good alternative for daily off and on road rides
Clear and well thought out design
Comes with a kickstand
Lightweight design
1-year warranty
CONS
Instructions aren't great
It can be short for the people height of over 6'5″
---
6. Schwinn Mesa 2 Adult Mountain Bike – Small to X-Large
Frame Material: Aluminum | Frame Size: Small to Extra Large | Wheel Size: 27.5 Inches | Suspension Type: Front | Brake Style: Linear Pull | Speeds: 21 | Max Weight Capacity: 264 LBS | Weight: 40 LBS | Assembled: 80%
Let's move on to a much more amateur mountain bike, the Schwinn Mesa 2. In particular, we are talking about a versatile front suspension bike that's equally well-suited to daily commutes and weekend rides on a rail trail. However, this model is especially ideal for out-of-town outings and mountain tours.
On the construction part, the frame is made of aluminum and that is particularly robust and resistant. The durable frame and Zoom HL565 aluminum suspension fork are great for dirt trails and gravel paths. However, there is different frame size available, so you can pick one that matches your height.
The 27. 5" durable wheels and tires provide traction and stability out on the trail. Both front and rear are quick release. The medium size wheels and small frame fit riders 5'2" to 5'6" in height.
Schwinn Mesa 2 features aluminum mechanical disc brakes which provide crisp all-condition stopping power. The Shimano gearbox ensures 21 drivetrains, so you can always select the most suitable one according to the terrain. The total weight of the Schwinn Mesa 2 mountain bike is 40 lbs and carries up to 264 lbs.
In addition to the bike, the package includes a practical kit with a set of tools for adjustment as well as a case for the frame. Compare to low-cost mountain bikes on the market, the Schwinn Mesa 2 is undoubtedly the best choice under 600 dollars. And it could also be an ideal choice for riders who want to take the mountain biking experience to the next level.
PROS
High-performance bike
Good material and sturdy
Easy to assemble
Durable
CONS
Doesn't come with kickstand
Saddle is a bit uncomfortable
Poor instructions
---
7. Mongoose Black Silva Mountain Bike for Women
Frame Material: Aluminum | Frame Size: Women & Girls Suited | Wheel Size: 27.5 Inches | Suspension Type: Front | Brake Style: Linear Pull | Speeds: 21 | Max Weight Capacity: 264 LBS | Weight: 40 LBS | Assembled: 90%
If you are looking for a simple and functional Linear Pull Brake mountain bike for under 600 dollars, the Mongoose Black Silva is the best option for you. It is a light outdoor bicycle equipped with a sturdy aluminum frame and Shimano 21-speed gearbox for better road holding. It is a very slim women's mountain bike with a truly aerodynamic design for better wind resistance. Mongoose bike can be used on any type of route without difficulty.
This mountain bike also appears very stable even on unpaved terrain, which makes the riding sensation quite pleasant. The Hydroformed tubing aluminum frame is also strong and durable. The front suspension fork smooth's out bumps and thumps on the trail.
The design of the wheels makes them perfectly integrated with an easy release. There are different wheel sizes available. However, we recommend complete 26-inch wheel for the people's height vary between 150 and 185 centimeters. And a 29 inch for 175 and 185 cm. It comes almost completely assembled.
It can support up to 150 kg. The handlebars are strong with colored end plugs that complete the sweet mountain bike look. Mongoose Silva mountain bike package also includes a kickstand for easy storage.
PROS
Easy to handle
Built nice and good quality
It will last a long time
Cute and colorful
CONS
Design only for women and girl
Brakes make a bit of noise
---
8. Schwinn white Aluminum Comp for Women
Frame Material: Aluminum | Frame Size: 18 Inches | Wheel Size: 27.5 Inches | Suspension Type: Front | Brake Style: Disc | Speeds: 21 | Max Weight Capacity: 264 LBS | Weight: 35 LBS | Assembled: 85%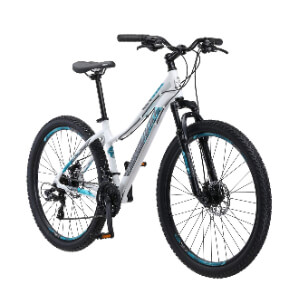 A white mid-range mountain bike, truly a gritty design from a brand known as wind greeting that leaves you satisfied as always. With a lightweight aluminum mountain-style frame and hydro-formed tubing, the Schwinn Aluminum Comp mountain bike is the perfect trail companion for women. It features front and rear mechanical disc brakes which provide crisp stopping and precise speed control on different roads, so you can focus more on beautiful wild paths and less on the ground in front of you.
The Light and strong alloy rims mountain tires ensure optimal durability for all-day riding. This bike also allows agile and fast driving anywhere. The total weight is 35lbs, so carrying won't be a real headache in an uncertain situation. A small wonder dedicated to all those who want a worthy bicycle for all moments.
The middle of the bottom bracket to the top of the seat tube is 16″. It is also perfectly resistant and able to support five times more effort than a common city bike. However, the seat is a bit uncomfortable, but it isn't an uncommon thing when it comes to mountain bikes.
Schwinn Comp women's mountain bike is also super easy to handle. And it is easy to assemble; you just need to install the front wheel, handlebars, seat and pedals. However, the instruction manual, like most bike brands, is a bit difficult to read.
PROS
Great women mountain bike for the price
Lightweight and strong construction
Looks decent on the trail
Solid construction
Easy to handle
CONS
It requires basic assembly
---
9. Kent KZ2600 Dual-Suspension Mountain Bike
Frame Material: Aluminum | Frame Size: 19 Inches | Wheel Size: 26.0 Inches | Suspension Type: Dual | Brake Style: Linear pull; disc | Speeds: 21 | Max Weight Capacity: 300 LBS | Weight: 40 LBS | Assembled: 85%
Kent KZ2600 Mountain Bike features durable aluminum full suspension frame that utilizes a floating beam suspension design. It is a well-constructed mountain bike that has 26″ double-wall alloy rims with 36 spokes, which ensure high strength and durability. The rims are made of aluminum alloy, which offers optimal resistance on any type of terrain.
It has 21 speeds courtesy of a Shimano rear derailleur and shifters. You can stop or control it by front disc brakes and rear linear-pull brakes. The disk brake is also very effective and the gears so far work well.
Kent KZ2600 bike is very resistant with a beautiful ergonomics design, and above all, it is practical to maneuver. The beautiful design also reflects both the frame and wheels. However, the headset is a bit under built for a mountain bike. Surely its sustainability is excellent for those who want a complete product. But the fit and finish are not perfect.
The weight is 40 lbs and can bear a weight of 300 lbs. It is also easy to assemble if you're at all handy with tools. Overall, the Kent KZ2600 is a very valid dual-suspension mountain bike under $600, and we highly recommended it, especially for those who want a product to use every day for the city but also to be used for some excursions.
PROS
Sleek design
Solid build frame
Middle gears shift smoothly
Comes with a great kickstand (spring-loaded)
CONS
Lots of plastic parts
Water bottle holder was poorly designed
---
10. Mongoose Impasse HD Budget Mountain Bike for Men
Frame Material: Aluminum | Frame Size: 18 Inches | Wheel Size: 29.0 Inches | Suspension Type: Front | Brake Style: Disc | Speeds: 21 | Max Weight Capacity: 330 LBS | Weight: 40 LBS | Assembled: 80%
We conclude with the Mongoose Impasse HD, a real top-of-the-range inexpensive mountain bike on our ranking. It is a high-end mountain bike under $600 for men without a doubt. However, this model is only designed for men.
On the structural level, it can count on a sturdy aluminum frame and a front suspension design. It is lightweight and perfectly manageable on all surfaces. It features a hydro-formed aluminum frame and a professional headset and aluminum handlebar.
The gearbox is 21-speed. And the SHIMANO Shift System gearbox allows you to choose easily the desired speed and intensity. The fork is cushioned in the front. The brake is the rear mechanical disc that won't bend easily. Speed and power with less effort are pretty cool.
The saddle of the Mongoose Impasse HD is very comfortable and ergonomic. And this 29-inch wheel mountain bike does not give any back problems or tiredness while walking.
Mongoose Impasse HD is aimed at all those who want to make a qualitative leap compared to an entry-level or those who are the first purchase but already want to get off to a good start with a bike that offers noteworthy performance. It comes almost completely assembled. Also, the instructions are fairly easy to understand if you have the common sense of how bicycles usually are.
However, this model is pretty much hard to move because of its heavy-duty construction. And it is suitable for the vast majority of people height between 4'4" to 6'2".
PROS
Natural size for different height
Smooth gear shifting
Comfortable paddle
High-quality design
Extra-large tire for smooth movement
CONS
A little bit heavy
Seat is pretty low
---
Buying Guide
Choosing a high-quality mountain bike under 600 dollars is not always easy as there are many factors that come into mind. As we have seen, mountain bikes are very technical bikes. For this reason, it is essential to have a minimum of knowledge about their technical features such as suspension, gear, brake, and more. So let's see all the important aspects to consider when buying a quality mountain bike under $600.
Hard trail or full suspension
The first thing to consider if you want a hardtail or full suspension mountain bike. Hard trails, also called front or rigid, are bicycles that have only one suspension at the front. In this way, the har trail frame is generally light and easy to maintain because of the lack of bushings, bearings and pins.
Full suspension mountain bikes, instead called full suspension and, as you can easily guess, have a double shock absorber. The main advantage of this type of mountain bike is the greater resistance to potholes and rough terrain for a much more comfortable ride. Of course, the presence of two shock absorbers makes the entire structure heavier and bulkier.
Frame and materials
Frame is a part that makes up the skeleton of your mountain bike. Surely, the frame must be sturdy, and at the same time light. The reason naturally lies because an excessively heavy frame would compromise the agility of the entire bicycle. Among these, the most popular frames are made of aluminum and steel. Aluminum offers greater flexibility and lower weight while steel is clearly stronger but slightly heavier.
Among the best-selling mountain bikes in the market, there are those with carbon fiber frames. Of course, we are talking about professional and often competition mountain bikes as carbon offers high resistance and very low weight compared to other materials.
Gearbox and gears
Gearbox is also a fundamental part of your mountain bike. It is important that this is of quality and has a good number of gears. Changing gear means ensuring the right type of effort based on the conditions of the road you are traveling on, the percentage of inclination and the energy you still have available. However, the best gearboxes are certainly Japanese brand Shimano. They are now available on all high-quality mountain bikes.
The brakes
Brakes are elements that will prevent you from falling or crashing into some obstacle. Seriously, it is important that you choose a mountain bike that has quality brakes as your safety is at stake.
However, all the best models are equipped with disc brakes or V-breaks brakes which are made up of two distinct and independent pins and a single cable that governs them both. When the brake lever is pressed, they are activated like a caliper, tightening the wheel and braking the bike. Brakes are also very convenient in case of a puncture to replace the rubber.
Foldable structure
Many modern mountain bikes have a practical folding structure. They are equipped with a special hinge located in the central part that allows them to be folded when not in use for more easy transport. However, these are advanced mountain bikes. But they can be very useful if you want to keep them always with you and avoid some thief to steal them.
Shock absorbers
Shock absorbers can prove to be faithful allies for you and your bike. Specifically, these are used to "cushion", precisely, the impact with holes and particularly uneven ground. In this way, the fork is not damaged, and the ride is more pleasant.
A good mountain bike under $600 must necessarily have quality shock absorbers because they are bikes used on off-road terrain. Good shock absorbers can also greatly extend the life of your bicycle.
Electric or not
Another thing you have to decide is whether you want an electric mountain bike or a "manual" one. Electric bikes over the last few years have seen incredible growth as they are environment-friendly that can offer much higher performance than traditional bicycles. Consider that an electric MTB can reach 25/30 Km / h easily and effortlessly for the cyclist, thanks to the powerful electric motors supplied.
Alternatively, there are also bicycles equipped with the so-called pedal assist. These do not have a real motor but a simple electric group that assists the cyclist in pedaling. This means that pedaling will be lighter but still necessary to continue the march.
Finally, there are the classic mountain bikes or those that go forward only thanks to the propulsion generated by pedaling. These models are more basic and often more affordable for everyone.
The brand
Are there any mountain bike brands that are better than others? Absolutely yes. However, we must distinguish those brands that produce professional and high-quality mountain bike, suitable for anyone. Among the best professional brands, we undoubtedly find Cannondale, Diamondback, Mongoose, Schwinn, and Royce Union.
FAQs:
How much does a mountain bike average weight?
The weight ​​varies between 25 and 40 lbs. However, you can possibly lighten it to replace the initial components with some newer and therefore lighter.
How to raise the handlebar of the mountain bike?
First you need to understand how much play it is possible to have. In some mountain bikes, it is not much. So it is necessary either to focus on a new handlebar that is suitable for the occasion or if possible, you can insert shims between the pipe and the steering.
How do you manage the gear change?
In the part of the handlebar, there are levers, which allow through a shift of the numbers to switch from slow to faster ratios. To push these shift paddles, you can move your chain from gear to gear. Changing the type of pedaling allows you to reduce fatigue in particularly difficult situations, such as a long uphill stretch for a considerable distance.
Conclusion
We believe this article is a practical list of the best mountain bikes under 600 dollars in 2022. They come from the top brands and are more than enough for beginner to intermediate riders. So, if you are new to this outdoor sport, ride infrequently, or prefer easier trails with few major obstacles, then you can start from the list we have mentioned above.
Here are the other related articles on the best entry-level mountain bike, best mountain bike under $750, best inexpensive hardtail mountain bike, and best mountain bike under 400 which you can also visit.