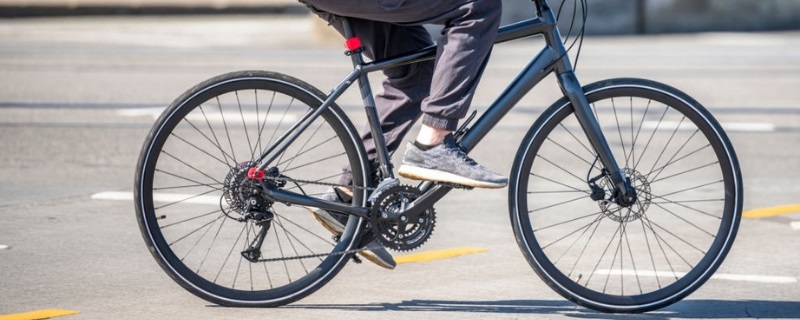 Hybrid bicycles combine typical features of mountain bikes with other types of road bikes with a more touristic setting, which offer great versatility, flexibility, and dynamic use. Undoubtedly, a hybrid bike is a great choice for maintaining fitness, commuting, adventure, leisure, and more physical activities.
However, choosing the best affordable hybrid bikes means not exceeding the budget of 500 dollars. The best hybrid bike under 400 dollars won't be the one that just has a very cool design for riding around town, it must meet other requirements that will allow you to enjoy riding.
If you're looking for the best hybrid bikes under $400 and not sure which model you should get, you are in the right place. We are going to reveal the top 5 best hybrid bikes under 400 dollars.
Each hybrid bike we have selected is designed to deliver a comfortable and fun riding experience. So, whether you're a beginner cyclist or a seasoned rider looking for a reliable and budget-friendly option, here you can find your desired model without breaking the bank.
Best Hybrid Bikes Under $400 for 2023
Let's see our ranking of the top 5 best hybrid bikes under $400 in 2023 at a glance.
1. HH Hiland Aluminum Frame Road Hybrid Bike
Frame Material: Aluminum | Frame Size: 19/21/22.5-Inch | Brake Style: Disc | Suspension Type: No | Wheels: 700C | Tires: Kenda 700-40C | Speed: 24 | Max Weight Limit: 300 Pounds | Item Weight: 32 Pounds
If you're looking for a hybrid bike under 400 dollars that combines the best of a touring bike and a roadside, the HH Hiland is a model that will fulfill your expectations. This is a high-performance hybrid bike, therefore quite strong and not too heavy, which makes it quick and light to reach higher speeds.
Let's talk about the other features…
HH Hiland hybrid bike made of durable aluminum frame with mechanical DISC brake. The 180 mm front and 160 mm rear radius mechanical brakes ensure safe driving and precise braking in any terrain. You have the absolute control over every situation in any weather.
It has 700C durable wheels, which offer fast movement. The comfortable handlebars allow you to change gears easily. The saddle is very comfortable, allowing you to pedal for hours without any discomfort. Both wheels are mounted with quick-release skewers, so you do not even need any tools to assemble or change this bike.
This is a high-speed hybrid road bike with SHIMANO 3*8gear speed change system, which provides a stable speed-changing experience while riding in the city. The Shimano thumb grip switch also makes shifting different gears easy while driving very smoothly.
This model comes almost 85% pre-assembled, and free installation tools and pedals are included in the package. It has a rack for accessorizing with racks and a kickstand for easy parking. To ensure durability HH Hiland hybrid bike comes with 5 years warranty.
It is beautiful and lightweight; approximately 32 lbs. Also, you can choose the size according to your needs. Although the frame is aluminum, this bike is really stable on the road and designed for years of driving pleasure.
PROS
Best quality for the price
Made from reliable materials
You can ride very fast
Easy to assemble
Built to last
CONS
There aren't any hand breaks
Light and a bit nimble
---
2. Royce Union 76238 RMY Hybrid Bike for Women
Frame Material: Aluminum | Frame Size: 15//17/19/21-Inch | Brake Style: Linear Pull | Suspension Type: Front | Wheels: 29-Inch | Tires: 700C | Speed: 21 | Max Weight Limit: 330 Pounds | Item Weight: 35 Pounds
If you want to buy a decent quality hybrid bike under $400 for women, you can't ignore the Royce Union RMY. We need to mention that the Royce Union RMY hybrid bike is designed by young engineers who use road bikes every day and appreciate the importance of dependable quality. The bike has a sharp design for providing premium comfort.
It is very durable but slim. The frame is made of lightweight aluminum, which means it is easy to handle and will never rust. Pearl Blue with a clear coat looks stunning from long distances. It adapts to different types of terrain and is suitable for mountain or road cycling. So you will have the best of both worlds in one team.
Royce Union City bike has great front suspension and 29-inch wheels that cushion any jump. The slight-rise handlebar enables upright riding. It has 21 speeds and is equipped with a Shimano Revoshift gearbox which gives it great precision.
The RMY model has a 17-inch frame, which is suggested for a minimum inseam of 28 inches. However, 15, 19, and 21 inches frame is also available. It comes with a premium-grade padded saddle and the dual springs are ergonomically designed for real comfort. No matter how long you ride, the comfortable pedals maintain a responsive feel.
This bike comes 90% assembled and all tools are included for fast assembly. This is an ideal front suspension hybrid bike, suitable for riding around town, commuting, and exercising. And this is the kind of bike you can use to go to work or to hit the adventure on the weekends.
The lightweight alloy linear-pull brakes with machined alloy wheel rims enable superior brake pad contact to deliver smooth stopping power. Also, if you're enjoying riding on challenging trails, you can consider this bike, and explore and enjoy these great outdoor activities.
PROS
Precise Transitions
Sharp design and performance
Premium comfort
Easy assembly
Specifically crafted for optimal performance
Cheap price
CONS
Doesn't have bottle screws
There is no kickstand
---
3. Sixthreezero EVRYjourney Steel Hybrid Bike for Women
Frame Material: Steel | Frame: 17.5-Inch | Brake Style: Linear Pull | Suspension Type: Rigid | Wheels: 26-Inch | Tires: 2-Inch | Speed: 07 | Max Weight Limit: 300 Pounds | Item Weight: 45 Pounds
Sixthreezero EVRYjourney Hybrid bike is specially designed for women and combines the features of comfort. It will perfectly fit riders from 5 feet to 6 feet, 2 inches tall people. The maximum weight limit is 300 lbs. With high gloss chrome components and a glistening sheen steel frame, the Sixthreezero EVRYjourney classic hybrid bike looks like a sleek, modern showpiece in your home garage.
The frame is 17. 5-inch, made of heavy-duty steel frame, which is great for upright riding position to keep your back, knees, and shoulders comfortable. The Shimano 7-speed external derailleur and front and rear hand brakes are also great for leisure riding to long-distance commuting.
Sixthreezero EVRYjourney hybrid bike comes with 26-inch wheels and 2-inch semi-slick tires which ensure excellent roll and a cushioned for stable rides. The wide tires mean more control on all types of terrain. And from rough trails to beachside streets, you'll have the smoothest ride every time.
Although this is the Steel frame model, not regular, it is light enough to move and carry. The handlebar is made of metal with leather grips for added extra comfort. The frame is packed with foam engineered for serious softness, and the extra-wide saddle cradles you like a cloud made of pillows.
The seat is comfortable enough for long trips without any back pain or problem. It has a rigid suspension that helps absorb shock, which is great as you can ride bumpy or rough roads with ease.
Down on one's luck, the Sixthreezero EVRYjourney hybrid bike will not perform well on unpaved trails, might be okay on a well-graded dirt road or path but not optimal. Also, it doesn't have coaster brakes, front handbrake. This model has only 7 speed levels, which is considerably low.
PROS
Steel frame but lightweight
Front and rear handbrakes for easy stopping
Very comfortable to ride
Comes with a kickstand
Decorative style
CONS
Brakes need to be adjusted
This bike has twist shifters
Rubs on the wheel a little bit
A bit difficult to assemble
---
4. HH Hiland Blue Grey Hybrid Bike for Adult
Frame Material: Aluminum Alloy | Frame: 18-Inch | Brake Style: Caliper Brake | Suspension Type: No | Wheels: 700C | Tires: 700 x 38C | Speed: 07 | Max Weight Limit: 275 Pounds | Item Weight: 28.0 Pounds
In the fourth place of the best hybrid bikes under $400, we find the HH Hiland Blue Grey city hybrid bike that immediately presents itself with a classic and very elegant design. Comfort and style are the predominant features and attention to detail completes a very high-quality product.
The HH Hiland Blue Grey is the cheapest hybrid bike in the range, with a discreet frame made entirely of aluminum. It is a very versatile hybrid bike under 400 dollars, making it suitable for men and women, road, track or route.
The beautiful blue-gray color looks pretty good, cars can see you on the road and avoid accidents.
The position of the bike is conscious and accurate, designed to facilitate an easier climb, while the tread that characterizes the tires is multi-purpose, adapting to both asphalted and slightly unpaved surfaces. However, the weight of the whole bike is 28 lbs, making it one of the largest city bikes in 2023.
The brake system consists of double Caliper brakes which are good for city biking. And SHIMANO 7-speed Shifters ensure total control in every situation of riding. The 700C wheels offer the high-speed experience of a road bike and the 18-inch frame is suitable for a person between 5″6- 6″ tall.
However, the tires are thick, and the seat is similar to an indoor cycling bike. We highly recommend it if you need to use it for everyday riding. The suspension fork is also missing, and this makes the model suitable mainly for flat sections, with a very compact and undemanding road surface.
Certainly, this model is not suitable for off-road routes but perfect for getting around the city for work and leisure. So if you have a plan to ride off-road occasionally, this might not be worth it for you.
PROS
Design both men and women
Very comfortable seat
Simple shifting
Easy to ride
Looks great
CONS
It is only available in one size
Doesn't have a kickstand
---
5. Vilano Step-Through Hybrid City Bike Retro Commuter
Frame Material: Steel Alloy | Frame Size: 19.5-Inch | Brake Style: Linear Pull | Suspension Type: No | Wheels: 700C | Tires: 700C x 35C | Speed: 07 | Max Weight Limit: 250 LBS | Item Weight: 32.0 Pounds
This is a special and multifunctional hybrid bicycle from Vilano. However, this bike is a little more complete than the previous one while remaining at a very affordable price. This model is available in one frame size, 50 cm. It is designed for riding in town, on errands, or on paved bike paths and rail trails.
It features quick 700c wheels and 700c x 35c tires which are able to handle varied riding conditions. The lowest that the seat height adjusts down to is 34.5″. With twist grip shifter controls 7 gears, you'll roll over hills and speed through flat neighborhoods.
The suspension saddle is well-matching with frame and comfortable grips are pretty much stylish. The saddle is very comfortable, which allows you to maintain a relaxed and low-fatigue position. Vilano Step-Through hybrid bike also has water bottle mounts, so you'll be ready for the commute or to grab groceries.
It weighs approximately 32 lbs and the maximum weight limit is 250 lbs. The aluminum frame and fork keep the weight low and ensure a longer life.
However, in the beginning, you need to adjust the gearbox, wheels, and brakes with a little more attention. You can replace the wheels to allow for riders above this weight limit. And good availability of accessories that can be installed after purchase to make it more versatile.
In conclusion and in our opinion, it is a great hybrid bike to whiz around the city quickly but also to enjoy an out-of-town adventure during your free time, with great stopping power.
PROS
Water bottle mounts, rack eyelets
Lots of improvement options
Strong and durable frame
Very cheap price
Lightweight
CONS
Assembly required
Only 7 speeds are available
---
Buyer's Guide: Best Hybrid Bikes Under $400
Now you have an idea of ​​which are the best hybrid bikes under $400 available to you. However, you need to consider the different components and features because these can vary from model to model.
The frame
Frame is the main element conditioning the weight of the bike. The frame of a hybrid bike should be lighter than a mountain bike but heavier than a road bike. While in the other categories, there are aluminum frames and carbon frames, the majority of hybrid bike frames are designed from only aluminum or steel.
If weight is very important to you, it's probably because performance is important too. A road bike would then be considered. Otherwise, you can find bikes with aluminum frames and carbon forks.
Keep in mind that carbon is known to be lighter and more expensive. It can offer better comfort at the level of the fork since it dampens slightly.
The design
Hybrid bicycles must be adapted to the profile. This obviously applies to children but also to gender. Thus, there are bikes for men and models for women.
Women's bikes generally have wider saddles. The geometry of the frames is also optimized for women. The lower limbs are generally lower than that of men. For women's hybrid bikes, the frames are primarily designed for small riders.
Wider wheels
To allow greater versatility and comfort, hybrid bikes have relatively wider wheels than road bikes. Because the wider the bike is, the better it will absorb road shock. On the other hand, the wider the wheels, the more friction they create.
You will find hybrid bike tires ranging from 30mm wide to 47mm wide. Sometimes use the dimensions: 700x35C. The first number represents the outer diameter in mm and the second number represents the width in mm.
Cassettes and speeds
The transmission of the hybrid bikes is directly inspired by conventional models. Since performance is not the priority, components come from entry-level drivetrain groups such as Shimano Tourney or Shimano Altus.
Note that these components can often be changed for better components.
Weight is often considered an important factor when buying the best hybrid bike under 400. But if performance is something you consider, the drivetrain is the place to invest. However, some would argue that it is better to invest in a good drivetrain on an aluminum bike, before paying for a carbon bike.
The majority of hybrid bikes, again for budget reasons, use a mixed group, meaning that the components will come from several different drivetrain groups.
Disc brakes or rim brakes
Disc brakes and rim brakes are commonly found on hybrid bikes. You should know that disc brakes are more responsive and have more stopping power. They also perform better than wet-rim brakes.
On the other hand, rim brakes are lighter, less expensive, and easier to maintain. Usually, the heavier the bike, the more powerful the brakes will be.
Handlebars and posture
Handlebars define the posture of the cyclist. The higher the handlebars, the more upright the rider will sit. The lower the handlebars, the more aggressive and aerodynamic the posture will be. Hybrid bikes don't have a geometry that creates posture like you would on a road bike.
To give you an idea, if we create a scale of postures going from very aggressive, to sitting with a straight posture we find: Road bikes are very aggressive, performance hybrid bikes are slightly aggressive, urban hybrid bikes are slightly aggressive posture but more relaxed, and comfort hybrid bikes are upright sitting posture.
You have to look at the level of the handlebars and the seat when buying a hybrid bicycle. In general, the further the seat is under the handlebars, the more comfortable you can travel.
The suspension
Many affordable hybrid bikes are not planning a suspension. Double-suspension forks add weight and can make pedaling less efficient. Some hybrid city bikes come with a front fork suspension system that helps lessen the impact of the front wheels on the most difficult journeys.
The price
In terms of budget, let us specify that hybrid bikes start at a few hundred dollars, and can be reached several thousand dollars. They are therefore aimed at beginners as well as professional cyclists, occasional users as well as high-level athletes.
The essential accessories
Again in comparison with the urban hybrid bikes, it is easier to find a standard setup with more standard accessories. The most popular accessories for hybrid bikes include the luggage rack, padlock, child seat, lights, and reflectors.
On hybrid bikes, it is more common to find a stand and front suspension fork. It is also possible to find models with a more minimalistic layout or proposals with an assembly that leans more towards off-road surfaces or on the contrary asphalt.
However, it is also important to accompany your practice with suitable accessories.
FAQs
What size hybrid bike should I choose?
The right size depends on your height and inseam measurement. Most manufacturers provide size guides to help you select the appropriate frame size. It's crucial to choose a size that offers a comfortable riding position.
Do I need to assemble the bike myself, and is it difficult?
Depending on where you purchase the bike, it can require some assembly. Some retailers offer assembly services, or you can choose to assemble it yourself if you have the necessary tools and experience. The difficulty level can vary but is generally manageable with basic mechanical skills.
Are there any additional accessories I should consider?
Depending on your intended use, you can invest in accessories like lights, a lock, a water bottle holder, and a bike rack. These can enhance your riding experience and convenience.
How should I maintain my hybrid bike to prolong its lifespan?
Regular maintenance includes keeping the chain lubricated, checking tire pressure, ensuring brakes are in good condition, and periodically inspecting the bike for loose bolts or damaged parts. It's also a good idea to schedule professional tune-ups if you're not comfortable with bike maintenance.
What warranties are typically offered for bikes in this price range?
Warranties can vary, but most bikes in this price range come with limited warranties that cover defects in materials and workmanship. Make sure to read the warranty terms and conditions before making the final decision.
Conclusion
Hybrid bikes have become so popular on the market because it is naturally healthy and doesn't pollute the air. But there are many models that do not last long. They are so delicate, and at the slightest contact with water and summer sun, they end up getting damaged. For that, it is necessary to give up walks on the quays or the beaches. So it is important to make sure that your choice has all the features you need.
The best way for you to find out and choose the best hybrid bike under $400 is from our comparison.
Have any questions? You can ask in the comment section below!