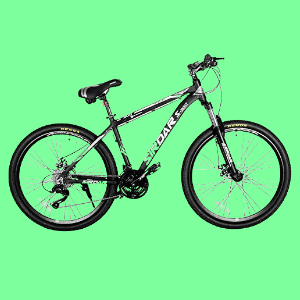 Buying a cheap mountain bike can be a more difficult task than it first seems. And it is an expensive investment that can sometimes be irrelevant if you don't know which one to buy. While the budget is modest, there are still plenty of mountain bikes that offer impressive performance and reliability.
If you are looking for the best mountain bikes under $400 but don't know how to choose the right model, you are in the right place.
In this article, we have made a list of the top 7 best mountain bikes under $400 that offer good value for money. From hardtail to full-suspension models, we'll discuss the different types of mountain bikes available in this price range, along with their key attributes and components.
We'll also explain the most important points to consider when choosing the most suitable mountain bike according to your needs, such as frame materials, wheel size, and the type of terrain you plan to conquer.
So, whether you're aiming to explore scenic backcountry routes or simply enjoy some off-road fun, our guide will help you narrow down your options and find the best mountain bike under $400.
Best Mountain Bikes Under $400 – At A Glance
Let's get ready to hit the trails without breaking the bank!
1. HH Hiland Hydraulic Disc-Brake Mountain Bike
Frame Material: Aluminum | Frame Size: 18 Inches | Wheel Size: 27.5 Inches | Suspension Type: Front | Brake: Hydraulic disc-Brakes | Speeds: 27 | Weight Capacity: 300 LBS | Weight: 40.65 LBS | Suitable for: 5'7″- 6′ | Assembled: 85%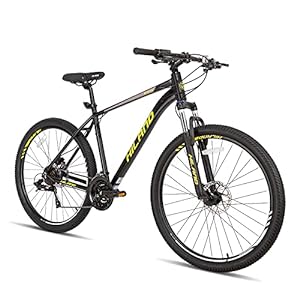 HH Hiland is a specialized company in the production of electric bikes and bicycles of various types, including models with folding frames, cruisers, and mountain bikes. They successfully and consequently offer the right solution for different types of distance covering and environment-friendly vehicles that you want to use.
HH Hiland Hydraulic Disk-Brake mountain bike built-in high-quality ultralight aluminum with an inner wire design. The 27.5-inch wheels, durable tires, and Lockout suspension fork make this a great bike under 400 dollars. It is suitable on mountain roads, highways, and forest ways.
The frame is available in 18 and 19 sizes. However, the 18-inch model is suitable for people height up to 6′ tall and the 19.5-inch frame is suitable over 6'6″ tall. The frame also has mounting holes for fenders and racks.
Compared to similarly priced mountain bikes on the market, the Hiland 27.5″ looks nice and so far a seemingly sturdy mountain bike with lots of neat features.
It has a wide range of gear for covering big hills. The double shock absorber greatly absorbs the impact with holes and obstacles while the 27-speed gearbox ensures excellent performance. It will exceed your expectations of quality and performance.
HH Hiland Hydraulic mountain bike comes with 85% pre-assembled and the required assembly tools are included in the package. We highly recommend this model for those approaching this world for the first time.
It will give satisfaction to the biker in his first experience riding a mountain bike. But after all appreciation, we recommend a slightly higher price to be sure of buying quality bikes, if you want to use them on different terrains.
PROS
Easy to assemble
Comfortable free pedals
Solid and durable frame
Smooth rides
Stable on the road
Five years warranty
CONS
Left and right shifter mechanisms are not very good
Handlebars are pretty much low
---
2. SIRDAR S-900 Full Suspension Mountain Bike
Frame Material: Aluminum | Frame Size: 17 Inches | Wheel Size: 27.5 Inches | Suspension Type: Fork | Brake Style: Dual Disc-Brakes | Speeds: 27 | Weight Capacity: 330 LBS | Suitable for: 5'7″- 6′ | Weight: 40 LBS | Assembled: 95%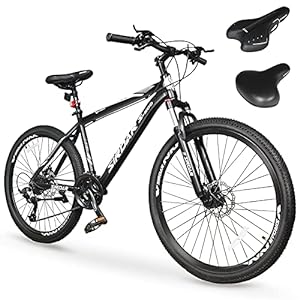 SIRDAR S-900 Full Suspension mountain bike is well known among regular mountain bikers, both professional and non-professional. In terms of durability, it is an excellent mountain bike under 400 dollars with no doubt.
This model is built to be fast and agile off-road and allows any cyclist, from amateurs to professionals, to excel on the race track or to enjoy a ride along with the great handling and safety that the bike offers.
It features 3 gears front derailleur and 9 gears derailleur which deliver 27 ultra-smooth speeds and easy shifting, finger-type shifter. The front and rear double disc brakes also provide powerful braking control and it won't easily accumulate dust in the brakes.
The SIRDAR S-900 mountain bike is very lightweight and easy to carry. However, it is strong enough to withstand any harsh environment. The sturdy materials also prevent the bike from damage, like on rainy days. The crank is 8 inches long. It also has a kickstand.
The wheels are undoubtedly high quality. The 27.5×1.95in wide tires with premium aluminum suspension fork help you to run smoothly over gravel. This is not a high-speed bike, but it is very smooth on the surface, which can allow you a comfortable experience regardless of how rough the terrain may be.
Besides high-quality materials, it has a nice paint job that gives it a stylish and modern look. The package includes a replaceable saddle, suitable for both mountain roads and highways. The company also offers an excellent one year service warranty.
Out of the box, SIRDAR S-900 mountain bike comes with 95% assembled. You just need to attach the front wheel, handlebars, seat, and pedals. However, this bike isn't designed for taller people. The recommended height is from 5″5′ to 6″2′
PROS
Nice looking bike, well made apparently
Metal pedals and not plastic
Two seats come in handy
Front and rear lights
Excellent Shock Absorbers
Thicker steel tube
95% Assembled
CONS
Handlebars are not adjustable
Backlight is very cheap
---
3. Schwinn High Timber Youth/Adult Mountain Bike
Frame Material: Steel | Frame Size: Small to Large | Wheel Size: 24 to 27.5 Inches | Suspension Type: Dual | Brake Style: Linear Pull | Speeds: 21 | Weight Capacity: 330 LBS | Weight: 40 LBS | Suitable for: 5'0″- 6'2″ | Assembled: 85%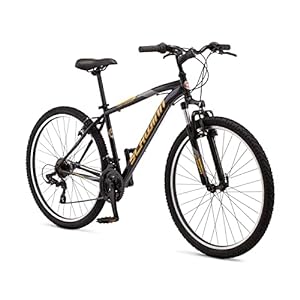 You should know that Schwinn is the original American bike brand since the 19th century. Over the years, Schwinn has earned a special place in the hearts and minds of new generations of bicycle riders. From commuting hybrid bike to affordable pro scooter, they touched all the niches professionally.
Let's be honest, Schwinn is a High Timber Mountain bike under $400 from Schwinn, designed for riders who want to take on a variety of terrain.
The suspension fork of the homonymous brand and the Shimano disc and transmission offer excellent support in competitions at an appropriate price. The resistance and lightness of this model also allow you to get the most out of the bike with minimum effort.
It is a High Timber Mountain bike that is undoubtedly safe and reliable, thanks to its comfortable seating position. Also, the Linear Pull brakes are an excellent alternative to more expensive models. The wheels feature alloy rims to deliver extra strength and the tires are designed for all-terrain.
The brakes are very nice, and the body has outstanding quality. It features a quick-release seat post so that riders can easily adjust the height. This bike is also easy to assemble. However, the disc brake caliper arm needs to be readjusted (two hex screws) so it doesn't bind.
It is made of an aluminum frame which offers extra durability for those who learn tough courses. The steel frame version is also available. Like all Schwinn bikes, this model comes with a limited lifetime warranty. Overall, this is a great designed dual-suspension mountain bike for trails and neighborhood rides.
PROS
Durable mountain bike under $400
Adjustable for different people
Good for beginners
Easy to assemble
Smooth rear shifts
Braking works good
CONS
Seat is a bit small
Front shifts clunky
Most of the gears feel the same
Limited upgrades
---
4. Eurobike X9 3 Spoke Wheel Durable Mountain Bike
Frame: Aluminium Alloy | Frame size: 19 Inches | Wheel size: 29 Inches | Suspension Type: Front | Brake: Mechanical Dual disc brake | Speed: 21 | Weight Capacity: 330 LBS | Weight: 38.5 LBS | Suitable for: 5'2″- 6'2″ | Assembled: 85%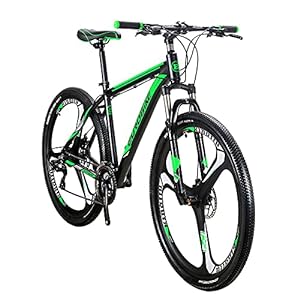 There is no need to go around the Eurobike X9 when it comes to choosing an affordable mountain bike. The most sought-after features of the Eurobike X9 mountain bike are speed and design. In both situations, it has achieved excellence, proving to be a valid ally for those who want to move around the city or on secondary mountain roads in a comfortable and fast way.
This 3-spoke bike is really excellent at this price range. It has durable aluminum frame with a single shock absorber. It is also very easily manageable and well-finished aesthetically.
Besides this, the total weight of around 38 lbs, which is pretty low, and allows you to carry the bike wherever you want. You won't tire excessively while pedaling because the 29″ wheels roll over obstacles super well.
Eurobike X9 mountain bike features 21-speed shifting system with double disc braking system, which improves braking efficiency and safety. Consequently, this model is particularly suitable as a vehicle for urban travel, on preferably paved roads and paths. It is designed for riders between 5'11" to 6'4″ in height. So if you are over 6'4′ in height, you should avoid this model.
Eurobike X9 mountain bike will arrive mostly assembled. You need to install the front wheel, pedals, handlebar, seat, and air up the tires. It takes 10-15 minutes with their included instruction and tools.
Although the frame is well manufactured and very strong, the graphics on the rims are stickers and not well attached. However, you can give them custom paint looks when they fall off completely.
PROS
Very well built
Easy to put together
Smooth ride
Beautiful design and painting
Great bike for the money
CONS
Comes with cheap and basic pedals
Most of the designs are stickers, instead of paint
---
5. HH Hiland Aluminum frame Mountain Bike
Frame Material: Aluminum | Frame size: 16.5 Inches | Wheel Size: 26 Inches | Suspension Type: Front | Brake style: Disc brake | Speed: 21 | Weight Capacity: 300 LBS | Weight: 31.0 LBS | Suitable for: 4'6″- 6′ | Assembled: 90%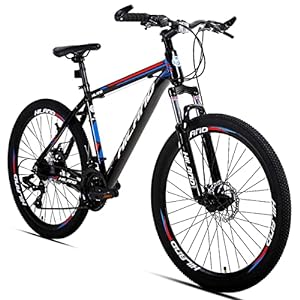 We have listed another great lightweight mountain bike under $400 from HH Hiland, which offers excellent support in competitions at an appropriate price. This mid-range bike can be used for everyday use. And with a size of 26 inches, it is suitable for people over approx. 5'1″ to 6'1 in height.
This mountain bike allows you to take the advantage of different levels of mountain bike riding. It ensures adequate support that can be convenient for those who want a little help when the path becomes more difficult. It also allows you to tackle even the most demanding trails in the name of safety and stability.
The resistance and lightness of the bike allow you to get the most out of the bike with minimum effort. Thanks to the double-disc brakes, it is an excellent alternative to more expensive models.
The perfect mechanical double disc braking system offers greater safety to the cyclist by limiting the risk of skidding in the wet. And it will give you the exact and strong braking force. The Shimano's 24-speed gearbox ensures total control in every situation. It is undoubtedly a safe and reliable mountain bike.
HH Hiland mountain bike is also a real eye-catcher from long distances, which leaves a lasting impression thanks to its high-quality painted finish. The integrated mounts allow you to add racks or fender.
Just beware that your bum will hurt a lot due to the lack of suspension on the back wheel, as you will need a new seat or cycling shorts with pads. The package also includes assembly tools and KICKSTAND.
PROS
Solid construction
Strong and durable frame
Impressive frame design and shape
Lower gear ratios
Quite comfortable
CONS
Not designed for the expert rider
Tires could be better
---
6. Dynacraft Silver Canyon 26″ Mountain Bike (Black)
Frame Material: Alloy Steel | Frame size: 17.0 Inches | Wheel Size: 26 Inches | Suspension Type: Rear, Front | Brake style: V brake | Speed: 21 | Weight Capacity: 300 LBS | Weight: 19 LBS | Suitable for: 4'10"- 5'7″ | Assembled: 80%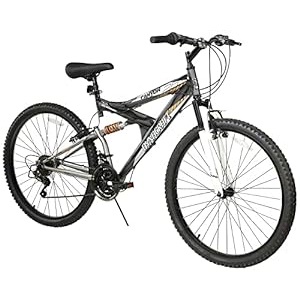 If you're looking for 26″ wheel mountain bike under 400, Dynacraft Silver Canyon is a great bike for you. And if you are willing to try your hand at steep descents double-disc mountain bike, this model could be a good option to test the terrain.
Also, if you're a beginner mountain biker, we recommend you pick this model. Because this bike is designed for long time use; you don't need to spend thousands of dollars to find a stylish front-suspension mountain bike when you become an expert.
Dynacraft v-brake mountain bike made from strong high carbon steel with dual suspension frame. It features a 17-inch frame and 6-spoke fashion rims which ensure more safe and fast ride. Although the bike is very robust, it weighs only 19 pounds.
The 21-speed gears allow you to switch through the gears very quickly, so you can quickly select a gear for different terrain. You will also have more control over gear when stopping.
You will be like the large sprocket gear, which gives a range, avoiding having to adjust it all the time. The maximum recommended weight is only 300 lbs. The adjustable seat height is suitable for different people. However, the height range is from 4'10" to 5'7″.
The tires are solid and all components are set up nicely. It guarantees excellent descent and ascent maneuvers in dangerous terrain. The front and rear V brakes help to keep the cyclist safe even at high speeds and down sloppy terrains. The free pedals and comfortable seat are also included in the package. Overall, this is a great front & rear suspension mountain bike under 400 dollars.
PROS
Fashionable mountain bike
Portable kettle device design
Built in high quality
Excellent braking system
Easy to assemble
CONS
Handlebar height is fixed
Pretty much heavy
Cheap grips
---
7. Pacific Youth and Adult Hardtail Mountain Bike
Frame Material: Alloy Steel | Frame size: 16.5/17.0 Inches | Wheel Size: 24/26 Inches | Suspension Type: Dual |Brake style: V brake | Speed: 18 | Weight Capacity: 200 LBS | Weight: 31.0 LBS | Suitable for: 4'10"- 6′ | Assembled: 80%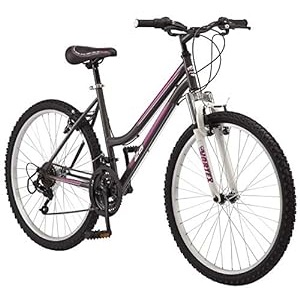 The price to pay to buy the best off-road bike that the market offers is certainly not popular, especially if the goal is to buy a model that makes quality its workhorse. This reasoning is flawless unless your attention is drawn to the Pacific Bikes. This is an anti-slip hardtail mountain bike, which offers some of the significant features of top-of-the-range products despite the entry-level price.
Pacific Sports mountain bike is also ideal for everyday use. It has front suspension that offers excellent support to those who want to better manage the city and country routes. This will greatly avoid unpleasant surprises when driving conditions worsen.
The aluminum frame ensures a good level of stability. It is also impact resistant, so we can compare this model with expensive and high-performing mountain bikes. Thanks to the adjustable seat and handlebar, it easily adapts to the user's physical conformation.
However, the Pacific front suspension mountain bike is able to withstand a maximum load of 200 lbs. This is pretty much low and an indicator of lack of robustness.
It is undoubtedly one of the best mountain bikes under 400 dollars for both adults and teenagers. Even in terms of construction, it has excellently passed the tests that have already put it to the test. There is no shortage of essential options for the safety and comfort of the user.
The double cushioning of the wheels is phenomenal, and the Shimano brakes guarantee braking at the right moment. This bike allows the cyclist to compete in total safety and practicality with excellent lightness.
However, the only real trade-off is the grip shifters rather than rapid style shifters make shifting a little more cumbersome. Keep in mind that there is no assembly tool included in the package.
PROS
Cheap price
Good build quality
Easy to assemble
Looks very sharp
Stable frame
Lightweight
CONS
Too many decals on the frame and wheels
Instructions are not clear
Hand Grips are cheap
---
Buying Guide: Best Mountain Bikes Under $400
Riding style and terrain
The frame
Suspensions and shock absorbers
Wheel dimensions
Braking system
The transmission
Men's or Women's bikes
Riding style and terrain
The first criterion looks at your type of driving as well as the type of terrain on which you want to go. If you are looking for a versatile mountain bike under $400 that can tackle most terrain or need a bike that specializes in a certain type of trail, we recommend a trail bike, as the majority of riders are very satisfied with it.
Budget-conscious cyclists will look for more affordable hardtail bikes instead.
The frame
Aluminum or carbon frame is the first choice you should make.
Choosing an aluminum frame offers great cost savings, although it is slightly heavier and bends more easily than a carbon frame. Also, if you are looking to exercise in an amateur way, aluminum is the perfect option!
Consider carbon frames if investing in your bike is your priority and if you want to keep it for a very long period of time or for conscientious training such as that of real sportsmen. Carbon fiber lifespan is better than aluminum, which is an important point to consider.
Suspensions and shock absorbers
The most important criterion for most bikers remains the choice of mountain bikes according to the suspensions they offer: whether they are complete or more rigid by only being at the front.
Some mountain bikes have a so-called "suspension lockout" feature that allows you to turn voluntarily off the suspensions when you are riding. This can come in handy for anyone who wants to drive in the mountains or up steeper climbs, where the suspensions could absorb too much of the energy.
Wheel dimensions
The wheels of mountain bikes have different heights, and obviously, you have to choose the one that best suits your needs. Some models are standard for children and others for adults. However, the wheels should be of good quality, and pay attention to their rim width, as this can make the tires more or less efficient.
Braking system
Typically, the braking system of mountain bikes focuses on disc brakes. Mechanical disc brakes are still the cheapest option when buying a mountain bike, but they are less efficient than their hydraulic or brake fluid counterparts. It is therefore a very significant factor you need to be considered.
The transmission
As for the transmission, you will need to inquire about the number of chainrings. For example, if your bike has a dual-chainring drivetrain, that means you'll have controls on both sides of the handlebars, which is a real plus! It's also simpler, easier to manage, and leaves more room for seat post-drip control, not to mention the higher sturdiness.
Women's bikes
Women-specific mountain bikes have bars and cranks on the saddle. Also, they usually have lighter shocks than unisex bikes.
Bulky mountain bikes are considered unisex bikes, so every bike is suitable for women as well, in theory. However, the only problem arises that the unisex models are designed for average riders. Generally, men are taller and heavier than women, which makes the design of these types of models unfair.
Many bicycle manufacturers counter this problem by designing female models, and others specialize squarely in designing unique bicycles for women, suitable for their size and weight.
Apart from the aesthetic aspect of the frame, the frame and the shock absorbers are the essential elements that distinguish a women's trekking bike from a men's trekking bike.
First of all, a bicycle must be adjustable. Second, the fork and shock absorber must respond to small impacts and fully absorb the more brutal impacts of rough terrain.
FAQs
Can I find a mountain bike under $400 with disc brakes?
It's possible to find mountain bikes in this price range with disc brakes, but they aren't as high-end as those on more expensive models. Look for mechanical disc brakes as they are more common in budget-friendly bikes.
Do I need any additional accessories or gear when buying a mountain bike?
Depending on your intended use, you need accessories like a helmet, gloves, and a water bottle holder. Additionally, consider investing in a good lock if you plan to leave your bike unattended in public areas.
Can I upgrade a budget mountain bike later on?
Yes, you can upgrade certain components on a budget mountain bike over time, such as the saddle, handlebars, or tires. However, major upgrades like the frame or suspension system aren't cost-effective.
Should I buy a new or used mountain bike in this price range?
It depends on your preferences and the availability of used bikes in your area. A used bike could offer better components for the same price as a new one, but you should carefully inspect it for wear and tear.
Conclusion
Buying a cheap mountain bike under 400 dollars can be a great investment or a waste of money if you don't choose a mountain bike with reliable components. Keep in mind that don't spend the entire budget on the bike alone, since several other tools and accessories are needed for mountain tours, such as a sports suit, protective gloves, and above all a suitable protective helmet. Always consider the additional expenses unless you already have the remaining equipment.
Choosing a mountain bike is more difficult than taking a hybrid bike at this price range. Hope this article helped you to know which bike is the most suitable model for your needs and budget.
We also have sorted all the mountain bikes we have reviewed on the basis of budget: less than $300, less than $600, and less than $750.