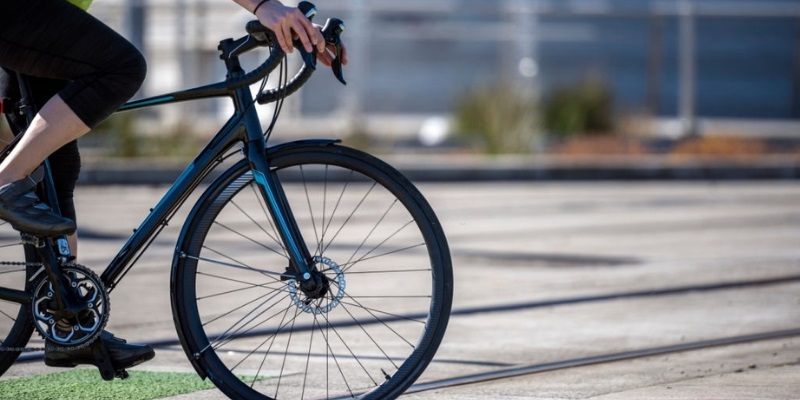 Hybrid bike is very popular for commuting, adventure, leisure, sometimes for fitness, and more. The good news is that you can buy a good-quality hybrid bike under $500. In the $400-$500 range, you can get a bike that can be used for different purposes.
However, all models are not equally suitable, and finding the best hybrid bikes under $500 is not always easy. The best hybrid bike doesn't mean that just has a very cool design for riding around town, it must meet other useful qualities to ensure long-lasting durability.
We make our recommendation of the top 10 best hybrid bikes under 500 dollars for men, women, beginners, and for pro riders so that everyone can find the right model at this price range. We also show all the characteristics to consider in order to choose the most suitable model for your needs.
What is the Best Hybrid Bike Under $500 in 2023?
Among the best hybrid bike models under 500 dollars we have selected, the Hiland Road 24 stands out in the top position. It uses a fork and mechanical disc brake which is difficult to do at this price.
Best Hybrid Bikes Under $500 – At a Glance
Let's see the comparative analysis of the top ten best hybrid bikes under $500 in 2023.
1. HH HILAND Hybrid Fitness Road Bike: Best Overall
Frame material: Aluminum | Frame size: 18.0-inch | Brake style: Disc brake | Wheels: 700C | Speed: 24 | Weight limit: 300 LBS | Weight: 28.2 pounds | Fits riders: 5′ to 6'4″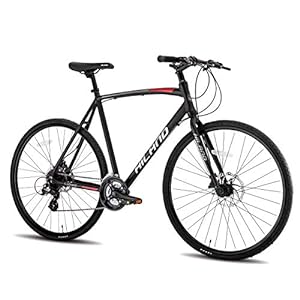 If you're looking for a high-performance best hybrid bike under $500 that enables you to enjoy a more rhythmic pedaling flow, the HH HILAND will be the best option for you. It is lightweight, easy to assemble, and pretty sturdy. The frame is made of aluminum, therefore quite strong and light. It is a versatile hybrid bike, designed for comfortable and fun riding.
It is equipped with 24-speed gearshift with Shimano components. You can quickly and easily reach higher speeds. The Shimano thumb grip switch makes shifting between different gears incredibly smooth. You will be able to pedal for hours without feeling fatigued.
HH HILAND hybrid bike built-in well-matched rear derailleur that helps you to drive on hills. It has 28-inch durable wheels. The saddle is very comfortable with different heights.
The 180 mm front and 160 mm rear radius disc brakes ensure your safe driving and precision in any terrain in any weather condition. There is a quick-release feature on both front and back wheels so that you can put the bike in your trunk to take it to a bike path.
What we liked:
HH HILAND hybrid bike is a great all-terrain hybrid bike at this price range. The rides will be nice when it comes to gear changes and the overall performance is outstanding.
It is easy to assemble; only takes almost 20 minutes from unboxing to assembling. The assembly directions are also clearly written.
It has a convenient design for both men and women. Different sizes are also available. This bike is very stable and both wheels are mounted with quick-release skewers.
The package includes all accessories, even though it has included instructions and free installation tools. It could be a great classic hybrid bike to explore the city without effort.
What we didn't like:
Great look but is not too flashy. It's not as light as those road bikes. Although we like how easy it is to assemble, it doesn't provide any information on how to fine-tune the brakes.
PROS
Easy to assemble
Durable construction
Fast and comfortable ride
Very useful bike for commuting
Looks good and high-end feeling
Comes with 5-year warranty
CONS
It's not designed for high-speed riding
Zero instruction on the front disc brake
---
2. Sixthreezero EVRYjourney Men's Hybrid Bike
Frame material: Steel | Frame size: 19.0-inch | Brake style: Linear Pull | Wheels: 26-inch | Speed: 07 | Weight limit: 300 LBS | Weight: 42.0 pounds | Fits riders: 5′ to 6'4″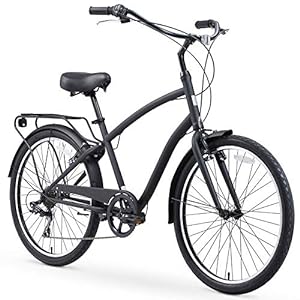 Sixthreezero is the most comfortable and easy-to-use hybrid bike for men under $500 on the market today. The quality of the components is good. This model is made from high-grade materials. The frame is made from high-quality steel. It is not too heavy but durable, which offers a ride that's less cumbersome.
The tires are of fine quality and have a delicate balance between big and road efficient. The frame is very strong, even you won't have an issue if you're planning on carrying 300 lbs at the highest level of weight capacity. From the grips to the pedals to the seat, the Sixthreezero EVRYjourney is just a wonderful quality sports bike.
Assembly is quite simple. You don't need extra tools to put it together because the package comes with Phillips screwdriver-tipped Allen wrenches and a multi-wrench that fits all the bolts. That said, it makes things easier if you use your own open-ended wrenches and a pair of pliers.
However, this model is only designed for between 5'4″ – 6'4″ in height people.
What we liked:
You only need 20 minutes to set up this bike to start riding. There are 2 versions of this model, the other one is aluminum. With an upright sitting position, comfortable wide seat and 7-speed modes, it could be an exactly great choice for someone who did not bike for many years.
The whole body of the bike is strong and reliable. And the frame is stunning, you always feel like a high-end model.
This city bike appeals to the use of a Shimano drive system and 26-inch wheels and 2-inch semi-slick tires which provide excellent roll and stable ride.
What we didn't like:
Quality is acceptable for the price, but it would be great if the quality of the parts would be improved especially the carrier.
Some welds aren't great, and the hardware is pretty much basic.
PROS
Super easy to assemble
Very comfortable to use
Matt Black looks so cool from near
Smooth and elegant style
High-quality hybrid bike at a fair price
CONS
Pretty large size
For beginners, it may take more time to adjust the rim brakes
---
3. Schwinn S5397 Discover Hybrid Bike
Frame material: Aluminum | Frame size: 16.0-inch | Brake style: Rim brake | Wheels: 28-inch | Speed: 21 | Weight limit: 275 LBS | Weight: 35.5 pounds | Fits riders: 4'10" to 6'2″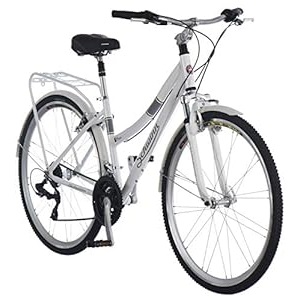 If you are familiar with hybrid/mountain bikes or scooters, you perhaps know Schwinn, a well-known brand, founded in 1895 in Chicago. The Schwinn S5397 hybrid bike is very resistant and versatile with a simple design. The finishing is very pleasant and will delight outdoor sports enthusiasts. You can use it to go everywhere.
The handlebars are adjustable enough to establish an enjoyable ride for any size of body stature. The storage rack on the back is very useful to help you carry your groceries. The gears are shifting pretty smoothly, and the brakes are outstanding.
The speed of the Schwinn S5397 is pretty fast and the twenty-one speeds are managed with a left-hand twist handle grip with three speeds for the front derailer.
If you're short on funds and looking for a bike to get to work or school or just cruise around town, then the Schwinn S5397 is for you. It's the perfect mix of urban city bikes and mountain bikes.
What we liked:
It is a durable and modern hybrid bike under $500 and designed to meet daily needs such as going to work, shopping or daily cycling. It adapts to any terrain, making this model a perfect companion for urban routes or to go out and enjoy nature on the weekend.
The handlebars are higher than a typical bike, that is what we liked about this model. This unit was made with high-quality parts which are common to all Schwinn products.
What we didn't like:
It's really designed to lean forward a little, but not to sit straight for long periods of time. The fenders are plastic – a little rattle-y and cheap. The tubes of this bike frame are weirdly shaped.
PROS
Durable construction
Looks pleasant and beautiful
Great bike for a beginner
Rides well and smooth
Speed is pretty fast
Comfortable seat
CONS
Can be a little tricky to put together the proper way
Plastic wheel cover isn't high quality
---
4. Windsor Rover 2.0 Durable Hybrid Bike
Frame material: Aluminum | Frame: 14″-22″ | Brake style: Linear Pull | Wheels: 700C | Speed: 21 | Weight limit: Approx. 300 LBS | Weight: 30.0 pounds | Fits riders: 5′ to 6'4″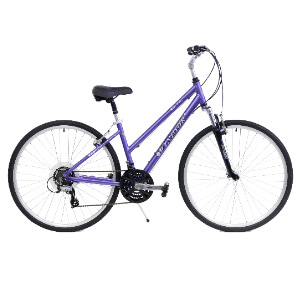 The Windsor Rover 2.0 is a noble quality affordable hybrid bike under 500. It features a light and tough aluminum frame, replaceable rear derailleur hanger, and rear rack mounting points. A sturdy structure makes the Windsor Rover 2.0 tough enough for the rough trail.
It has a front suspension that helps absorb impacts, which is very good since you can travel bumpy or uneven roads without problems. This model features 21 quite useful speeds.
Windsor Rover 2.0 slim hybrid bike with 29-inch wheels, suitable for everyone to ride. The rear wheel provides robust and smooth running. You will be able to reach high speed more easily and fast because of its 700c wheels. The 27.2mm suspension seat post ensures more comfort when you are riding frequently.
The seat is quite comfortable for long trips without any trouble. To ensure quality and durability, the frame part comes with a lifetime warranty, and other components are covered with one year warranty.
What we liked:
The Windsor Rover 2.0 is a stylish touring hybrid bike with a competitive price. The entire weight is 30 lbs, making it a perfect commuter bike for easy to handle and carry. This model is designed as multi-use and is good for road and light off-road use.
The aluminum frame with a low bar ensures very comfortable geometry that puts the back fence in a very straight position. Like the Schwinn S5397, this model adapts to any terrain.
What we didn't like:
Although this bike is a strong hybrid bike, we can't find its load capacity. Also, this unit doesn't come with instructions on how to assemble which is confusing for beginners.
PROS
Built-in very strong frame
Looks nice on the road
Lightweight
Very comfortable seat
Full factory warranty
CONS
There is no assembly instruction
Need tuning before riding
---
5. Diamondback Trace St Hybrid Bike for Beginners
Frame material: Aluminum | Frame size: 18.0-inch | Brake style: Linear Pull | Wheels: 700C | Speed: 21 | Weight limit: 300 LBS | Weight: 41.9 pounds | Fits riders: 5′ to 6'4″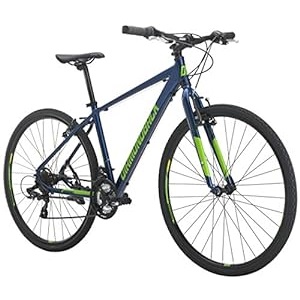 Trace ST dual-sport hybrid bike takes you across town and then keeps going. This entry-level hybrid bike has built-in efficient wheels with comfortable riding positions so that you can ride on-road and use it as a mountain bike. Moreover, this bike features quality equipment such as a 21-speed, Linear Pull.
Its alloy linear-pull brakes are able to keep you in control with ample stopping power. The dual high-quality sport tires deliver fast-rolling traction whether you're out traversing gravel paths or sticking to the streets.
The Diamondback Trace St is not a high-end model, but a nice bike under $500 for beginners. It is made almost entirely of aluminum, making it not only lightweight but easy to load and handle.
This model is equipped with high-quality components to get high performance with maximum safety. It can tackle any type of terrain with Shimano 3×7 speed drivetrain and 700c wheel.
What we liked:
Diamondback Trace St hybrid bike incorporates the best road and mountain bikes. It is durable, you can easily ride on a variety of terrains. It has a captivating, minimalist design with high-quality technical components.
This unit is lighter than the same size as other brands of hybrid bikes. The ride is smooth and relaxed, you can easily cover 100 miles comfortably. It comes nearly completely assembled with only the extremities to attach. This model is also available in several sizes.
What we didn't like:
First, the smaller frame doesn't have legroom, so you need to extend it. Like a bicycle, it's thin and definitely light. However, it works well for heavy people.
The seat is also a bit on the hard-on side if you don't ride much.
PROS
High-quality construction
Suitable for different road
Smooth and comfortable ride
Great bike for the price
Excellent customer service
CONS
Frame isn't rugged enough
Entry-level bike
---
6. Schwinn GTX S5230D Advanced Hybrid Bike
Frame material: Aluminum | Frame size: 16″-20″ | Brake style: Rim brake | Wheels: 28-inch | Speed: 21 | Weight limit: 300 LBS | Weight: 26.2 pounds | Fits riders: 5′ to 6'2″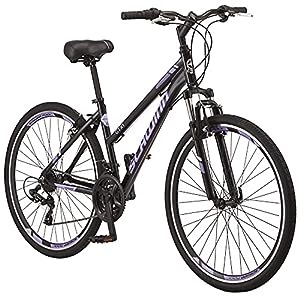 If you are handy and feel confident in your basic tool skills along with the ability and patience to follow assembly instructions… just take a look at the Schwinn GTX S5230D. It is a doable hybrid bike under 500 dollars. This bike is the delight of thousands of cyclists who use it daily.
Schwinn GTX2 hybrid bike comes in two different versions; a light blue design that has 16″ frame and a black and red 18″ frame. The light blue model has a standover height on the frame of 26″ with a seat height of 30″, which is great for different size people.
The bike itself is only 32 pounds. However, when it's fully assembled, the weight will be 34 lbs. The pedals are a 9/16 plastic body with a steel cage in satin silver. The front and rear wheels are quick-release. It's great for riding on pavement and light trails.
However, it is a mix between a mountain and road-style bike. The tire is 700c which converts roughly to 28″ in diameter.
What we liked:
The front suspension is mechanical and does a great job of handling cracks and bumps in the road. It also has reflectors on the wheels, handlebar and seat.
This unit has built-in Shimano good quality steering wheel brakes and speed changers. It is a multi-use bike, great for both paved paths and dirt riding, and pretty great for the price point.
The seat has an excellent design with a comfortable sitting position and has a central channel to avoid compressing the arteries and nerves.
What we didn't like:
We didn't like that this model doesn't have a set weight limit because of the testing done to meet industry standards. It was tested at a variety of weights and forces and several factors determine how much weight a bike can hold such as tire psi, maintenance, and riding style.
You need to assemble the front wheel, steering handle, saddle, and pedals by yourself.
PROS
Aluminum dual sport frame
Smooth-shifting and riding
Strong but lightweight design
Comfortable sitting area
Easy to ride
Fairly straight-forward handlebars
CONS
Handlebars aren't adjustable
Assembly needs standard tools
---
7. Sixthreezero Pave N' Trail Women's Hybrid Bike
Frame material: Aluminum | Frame size: 20.0-inch | Brake style: Handbrakes | Wheels: 36-inch | Speed: 21 | Weight limit: 300 LBS | Weight: 33.5 pounds | Fits riders: 5′ to 6'4″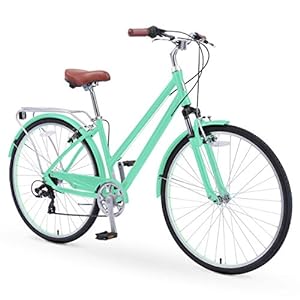 The Sixthreezero Pave 'n Trail is ideal for aggressive hobbyist bikers who spend most of their time on the pavement but aren't afraid to live a little and go off-road. It is designed to ensure maximum body comfort. It is built for riders between 5′-6' tall.
Sixthreezero Pave 'n hybrid bike features a Vibrazorb front suspension fork that helps reduce vibration and shock on rougher rides.
The saddle is very comfortable, which allows riders to pedal for hours without any discomfort. The smooth operation of the shifter makes it one of the best hybrid bikes under $500, but it is meant for paved or solid areas.
The package comes with detailed instructions; everything can be assembled very easily and bolts right together. However, the Pave 'n Trail is a women's hybrid that can also be used for both paved paths and soft trails.
The frame of this model is made of aluminum. The wheels are black and the size is 26″. The front wheel is quick release. The Sunlite brand bike rack has a weight limit of 45 lbs and the total weight limit is 300 lbs.
What we liked:
If you're more interested in a more versatile version, Sixthreezero Pave 'n Trail hybrid bike could be a great option for you. It was designed for city terrain, off-road trails and trails.
This model includes fenders, back rack, and an adjustable handlebar. The back rack is a great option for women to ride in the city for different uses.
It is a great commuter bike for long rides. It has 21 gear options and the superior handbrakes give you high-end specs without the heavy price tag. And other things, the bike comes almost 90% assembled. You will need to mount the handlebars, front wheel, Seat, seat-post, and pedals.
What we didn't like:
The total weight is 33.5 lbs when fully assembled which is a little heavy. Also, there is not much of a curve, as in curved toward your body. It is not at all like the cruiser handles.
PROS
Fairly simple to put together
Sleek, clean and simple design
Includes durable rear rack
Very stable for any conditions
Easy to tune up
CONS
It isn't good for mountain road
Includes assemble guide is not clear enough
---
8. Vilano Diverse 3.0 All-Around Hybrid Bike
Frame material: Aluminum | Frame size: 57 cm | Brake style: Disc brake | Wheels: 700C | Speed: 24 | Weight limit: 275 LBS | Weight: 26.5 pounds | Fits riders: 5′ to 6'4″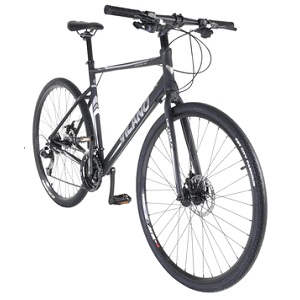 Vilano is a well-known brand for its affordable high-quality bicycles since 2008. The Vilano Diverse 3.0 is a convenient all-around hybrid bike under 500 dollars for riding, work, and weekend fun in any weather condition. All the parts are top-notch and pretty light too.
This high-performance hybrid bike is the right choice for commuters as they're able to go distances over varied terrain with ease. The disc brakes provide plenty of control and stopping power in varied conditions. Because of the lightweight construction, the handling is very simple.
It is very fast, responsive, and stable on pavement and gravel. The disc brakes are unbelievably powerful. It has plenty of speed options. The 24 gears shift remarkably smoothly and quietly. This bike is suitable for long periods of time riding to burn extra fat.
However, this is a road-only bike, no trail riding at all for this one.
What we liked:
The pedals are unique, good and sturdy; you don't require bike shoes or clip-ins. Your feet feel secure on the pedal.
The Diverse 3.0 model is also lightweight; approximately 26.5 pounds. It looks decent as the picture says and has a curve in the top bar. With a different design and efficient mechanics, it is equipped with quality components and guarantees long durability and excellent performance.
What we didn't like:
The seat post clamp is not a quick release. The bike's weight limit is only 275 lbs which means the overall construction of the bike is not much strong because the manufacturer compromises the quality. It should accommodate one.
Another thing we don't like is that it does not come with a kickstand.
PROS
Looks super sleek and modern
Disc breaks are very effective
Upright handlebar for comfort
Easy and fast ride on city streets
Good value for money
CONS
This is a road only bike
Directions are basic
---
9. Retrospec Barron Comfortable Hybrid Bike
Frame material: Aluminum | Frame size: 20.0-inch | Brake style: Linear Pull | Wheels: 700C | Speed: 21 | Weight limit: 300 LBS | Weight:32.0 pounds | Fits riders: 5′ to 6'8″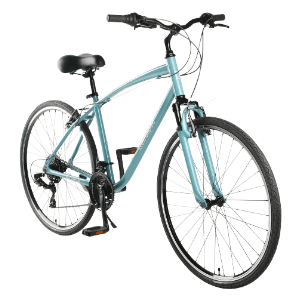 The Retrospec 3460 is the best entry-level hybrid bicycle under $500 but it is very comfortable to use on city roads. This model is made of aluminum and has a 21-speed that allows you to move comfortably throughout the city. It is almost as fast and easy to pedal as a road bike while still being as versatile as a mountain bike.
Its super sturdy and lightweight frame ensures great strength and agility and is designed to take on a variety of terrains. Retrospec 3460 hybrid bike is also designed with upright handlebars and a sturdy rear mount kickstand for an effortless ride. It is very elegant.
The wheels are 700c which is the standard for road and city bikes. The braking surface is machined to allow for a clean braking surface so it is silver.
It is equipped with black rims. You can use this bike to go to work or to hit the mountains on the weekends. We highly recommend this model for those looking for a hybrid bicycle to be used on the multi-surface.
However, before placing an order make sure you know the size you need.
What we liked:
It is a well-built, sleek design and easy-to-use hybrid bike. You can easily put it together without following the instruction. It is a brilliant choice for on-campus travel for a college kid.
The plastic material seat is very comfortable, you can adjust your seating position based on what you want.
You can continue to use it for a long time period without any problem! This model comes in various sizes for different heights people.
What we didn't like:
This model doesn't come with 100% assembled, you'll need to attach the front wheel, pedals, handlebars, saddle, and any accessories.
When this bike is assembled, it will be 36 lbs, pretty much heavy for someone who suffers from back pain.
This bike is not equipped with quick-release hubs.
PROS
Very sturdy construction with a user-friendly design
Great bike for city travel
Smooth rides on city hills
Widely adjustable seat
Offers comfortable riding experience
CONS
Tires are not top quality, they could be better
---
10. Schwinn Volare S5460F Adult Hybrid Road Bike
Frame material: Steel | Frame size: 18.0-inch | Brake style: Linear Pull | Wheels: 28-inch | Speed: 21 | Weight limit: 300 LBS | Weight: 26.0 pounds | Fits riders: 5′ to 6'4″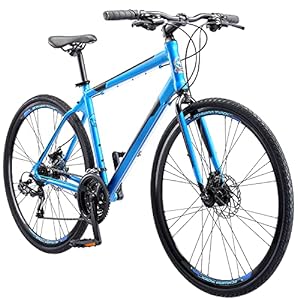 We conclude our list of the best hybrid bikes under $500 in 2023 with the Schwinn Volare S5460F. It is a well-made hybrid bike with an eye-catching design, that you can rarely find in this price range.
With this bike, you can travel in the city and out in peace. Because this commuter bike is made of steel and has a 21-speed Shimano gearbox, which allows you to tackle routes with ups and downs without problems. This model has relatively easy speed-changing features.
Schwinn Volare bike is also fairly lightweight, easy to transport on a roof or rear bike rack, and has quick-release clips on the front and rear wheels for easy removal and security. It does not require any tools for installation. You just need to install the front wheel, the seat, and the handlebar.
The frame of this model is 19″ and the seat post is 27.2 x 300 mm. The stand-over height is about 32″. The sitting position is widely adjustable, making it a good place to start if you're unsure or just getting into cycling. The brakes are outstanding, you can lock the wheels at any speed with moderate pressure.
What we liked:
It comes with fantastic wheels and 28C tires, though they're quite thin. Gear shifters are precise and have easy movement. The front crank is more sleek and attractive than it appears in the pictures.
This city bike features light and strong high-profile double-wall alloy rims. It has the quality and resistance necessary to meet all the demands of the users.
Fit and finish all around are equal to bikes costing four or five times the price.
What we didn't like:
The seat is very cheap and hard, not to mention that it squeaks when pedaling. The brakes squealed hard.
The (rear gears) freewheel is not prime quality; loud clicking and distinctly lower quality than the rest of the bike on this list.
PROS
Excellent braking system
Lightweight design with a strong frame
Smooth gear-switching mechanism
Limited lifetime warranty
Cheap price
CONS
Cheap handlebar grips
Seat is a bit hard
---
How to Choose the Best Hybrid Bike Under $500?
Before choosing the best hybrid bikes under $500, it is necessary to review more about their principal characteristics. Here we analyze the most important factors to consider before buying a hybrid bike, such as the purpose of use, frame materials, wheels, brand, and more. Within the wide online catalog available, they may vary from one model to another.
Purpose of use
You know that hybrid bikes are the right mix of a road bike, a mountain bike and a racing bike. These bikes offer a versatile, utilitarian ride with a relaxed riding position.
Essentially, new hybrid bikes are recommended as transportation for riding around town, commuting, and hiking compact trails. They are different from urban trekking bikes in terms of load capacity (saddlebags), potholes, slippery or wet surfaces, and uneven terrain which requires more specialized models.
If you use it over long distances, you will give more priority to comfort over the speed. The equipment of the bicycle must be consistent with your frequency of use, or even training. An athlete who likes high intensity must choose a high-performance bike to allow intensive use.
Frame materials
Hybrid bike frames can be made from different materials. And the truth is each material has its own advantages and disadvantages. But which will be the most convenient for you?
Let's take a look now:
Aluminum: you know that aluminum is a light material, but it is strong and affordable. Newer aluminum frame hybrid bikes absorb shocks better than older aluminum frame models.
Steel: steel is stronger than aluminum, but it is heavier. Its resistance and flex provide a comfortable and smooth ride. Steel frame hybrid bikes also ensure long-lasting durability.
Carbon: this fiber is even lighter than aluminum and stronger than steel. However, a road bike with carbon frame is more expensive compared to steel and aluminum.
Gears
Hybrid bikes typically use shift gears with mechanisms that move the chain through the sprockets and connecting rods. They are light but vulnerable to damage.
Some hybrid bikes come with fully closed hub gears. On the other hand, the number of speeds will depend on the gear. The multi-gears usually have three sprockets on the cranks and between seven and ten at the rear.
Brakes
V-brakes or disc brakes are currently used in most of the hybrid bikes on the market. V-brake is placed in the frame near the rims and the disc brake has a brake cable that pulls the arms to bring the pads closer to the edge. Disc brake also has a unique hub-mounted braking surface on the wheel and performs better on wet roads than V-brakes.
Wheels and tires
Although the size of the wheel is a personal preference, you can't afford to ignore it. Manufacturers usually use wheels the size of those used by bicycles with drop handlebars, which are 700C. However, there are some that use 26-rim tires such as mountain bikes.
Most hybrid women's or men's bikes have a low pedaling axle, 700cc wheels, and 26" wheels.
When considering wheel size, tire size comes in simultaneously. Generally, wider tires provide great traction and stability. For more comfort, you can go for a hybrid bike with wider tires but without the usual mountain cleats. Smooth and semi-smooth are good options to have more control when driving.
Bicycle suspension
Many hybrid bikes do not include suspension. Dual suspension forks add weight and can make pedaling less efficient. Some urban hybrid bikes come with a front suspension fork that helps soften the front wheel impacts on more rough trips.
Suspension gives the bike a classy look and adds extra comfort. However, suspensions add a little weight but it is almost unnoticeable.
Handlebars and seats
You should look at the level of the handlebars and the seat when buying an affordable hybrid bike under 500. In general, the farther the seat is from under the handlebars, the more comfortable you can travel. Another aspect of hybrid bikes is the flat design of the handlebar, which makes hybrid bikes easier to pedal upright.
Friendly tip: if possible, always take your bike on a test ride to let you know if the bike is perfect for you. Furthermore, if you have to raise the seat to the maximum, it means that the bike is too small for you and does not fit your size.
Accessories
Accessories obviously depend on the use you will make of the bike. Hybrid bikes can be as versatile as the number of accessories that can be added to them. Most include accessories are fenders, dedicated to users who travel the streets regardless of weather conditions, even on muddy roads.
The same ones serve to place luggage racks on the back of the bike, ideally, they are easy to adjust. Front and back lights are preconditioned for your safety, especially if you like to go for night walks or if you are in an area with a lot of fog or little light.
There is also the option of the GPS that serves to map the route that you can travel and see alternatives in case you cannot go where you always do.
And of course, you can't miss a good lock when you park your bike outside.
Brand
The brand of bike you are going to buy can certainly make a difference in terms of quality. We always recommend choosing a bike from a well-known brand in this case, you will get friendly customer support and of course warranty. Among the best, we certainly point out Schwinn, Diamondback and Vilano.
FAQs
Is it possible to find a good-quality hybrid bike under $500?
Yes, but it is not easy to find the right hybrid bike at this price range if this is your first time or don't have any particular knowledge. Because they are available in various levels of range. For example, a cheap hybrid bike costs from $300 to $700, and a high-end model can reach $500 to $ 2,000, or even more.
The most common mistake people do is to save money by choosing a cheaply made hybrid bike, then they have to change the bike suddenly because it does not correspond to the use you make of it.
However, in that case, sometimes an additional investment of $200 is enough to optimize your purchase and keep the bike longer!
Do I plan to change the use of my bike?
If you have any doubts about your uses, you should choose a hybrid bike that will fit most of your rides on two wheels. If you are planning a few sporadic races at the convenience store or a few hikes of one or two hours, a higher comfort hybrid bike will make you happy. A good performance hybrid bike won't give you as much of a hard time if you change your rifle afterward.
Performance hybrid or relaxed hybrid: which one is best?
Relaxed hybrid bike is more suitable for short distances covering because it is more comfortable to ride. On the other hand, the performance hybrid bike is more suitable for long distances and effort
If you plan to take long walks or return to work five days a week, a performance hybrid bike is always better. Although it is a little more expensive compared to relaxing one.
Can I ride a hybrid bike on trails?
There is some controversy about the correct use of hybrid bikes. However, it's suitable for paved or unpaved bike trails. Keep in mind, hybrid bikes aren't as efficient and lightweight as road bikes, so we do not recommend them for rough trails. Because your bike may cause some serious damage.
Do I need suspension with the hybrid bike?
It is not mandatory to ride the bike with suspension. Even most hybrid bikes don't include this component. However, suspension adds comfort while riding and, at the same time, adds extra weight that makes pedaling less efficient.
Maintenance Tips
The maintenance of hybrid bikes is identical to a conventional bike. It is essential to adjust the saddle height, according to the profile of the user. The chain must be sufficiently lubricated. Moreover, don't hesitate to turn your crankset upside down before setting off: you will thus get rid of dust and other foreign bodies.
Brakes and tire pressure are two other things to watch out for.
For tires, the pressure should be checked regularly. You can apply pressure close to the maximum pressure indicated on the tire (in PSI). In this way, the risk of punctures is reduced and energy is saved.
Regarding the brakes, they will be adjusted at the time of purchase. But in the long run, a regular check of the skates helps.
Finally, a practice to avoid: washing with a high-pressure cleaner. This can damage the paint, and more seriously the bearings. Soapy water is enough to clean.
Conclusion
For a good traditional hybrid bike, a price range between $300 and 600 is acceptable. However, when choosing a hybrid bicycle for under 500 dollars, it is important to know where it will be used the most. You also need to make sure that the bike is more comfortable to carry if you want to ride long distances.
Do proper research on its characteristics and specifications that will reduce your future additional cost.
We have reviewed versatile hybrid bikes, designed for all kinds of practices and are able to meet many needs. So choosing a model on our list will be safe for you without spending tons of time.
---
Our buyer's guides for different price ranges of hybrid bikes and mountain bikes: