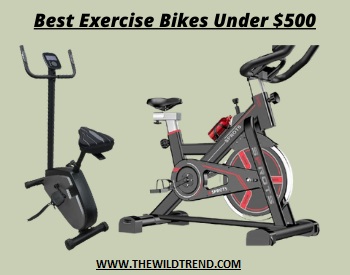 Exercise bike is one of the best ways to do a complete workout at home. Like elliptical trainer and treadmill, indoor exercise bike is a perfect combination for sport and fun at your own pace. As a sports and fitness enthusiast team, we used to test different brands and models.
However, the number of exercise bikes is excessive, and most have different from their characteristics. And choosing the best exercise bikes under $500 is not always easy among all the models available on the market.
They are equipped with a variety of unique features from each other. There are lots of features you should consider before making the final decision. To help you avoid a bad purchase, we're going to offer you the top 10 best exercise bikes under $500 in 2023.
We enlisted this top 10 list based on practical tests, reviews, specifications, and features that made them stand out. We also include a complete guide on how to choose the best exercise bike for less than 500 dollars and answer all of the questions that come to your mind.
Best Exercise Bikes under $500 Reviews 2023
Whether you're looking for a space-saving spin bike, like Ativafit Exercise Bike, or need something for high-intensity workouts, like L NOW Indoor Cycling Bike, we're here to narrow your search.
1. Ativafit Stationary Indoor Cycling Bike – Best Overall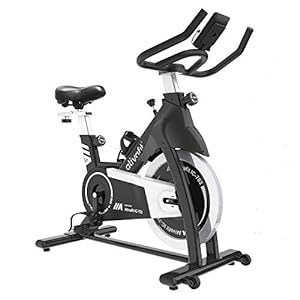 Ativafit stationary bike is built with durable steel frame and 35 lbs flywheel, so you can achieve smooth indoor cycling experience in your home. The belt-driven mechanism keeps your workout quiet without disturbing anyone around you.
It comes with 2-way adjustable multi-grip handlebar and 4-way padded seat which adapts to any size of the user from 5.1-6.5ft. With a large range of resistance levels, you can always challenge yourself. The tension knob also allows for increased difficulty.
Ativafit indoor cycling bike has a modern LCD monitor that tracks your paddling time, speed, distance, calories, and odometer at the same time. With the IPAD holder, you can start your exercise right away with your favorite music or video. If you don't need the display, you can stop instantly or it will shut off after about 5 minutes.
The cage pedals are adjustable, which protects you from a fast ride. Ativafit exercise bike also has a water bottle holder near the arms so that you can get it easily. The padded seat is widely adjustable so that users can move up and down and adjust the suitable height.
It has transportation wheels that help you move the bike easily. Operation processing is very simple. You can simply press the resistance bar if you need to stop the flywheel immediately. To ensure quality, this model comes with 12 months warranty and lifetime replacement parts. The package includes all the tools that you need to put together.
However, it has several hazardous edges, so if you have a baby or a toddler running around it will give you a nightmare. The water bottle holder is also a kind of flimsy.
PROS
Smooth and quiet operation
Simple and customized design
Built-in high-quality materials
It has case pedals and transport wheels
Great bike at a reasonable cost
Safe to use
CONS
Not recommended if you have a tiny space
A little bit heavy
---
2. Marcy ME-706 Recumbent Exercise Bike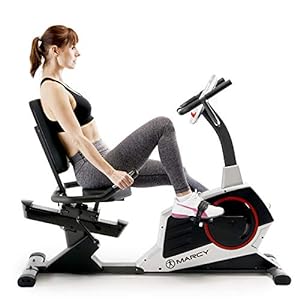 If you are looking for a sturdy and high-quality recumbent exercise bike under 500 dollars, you can't beat the Marcy ME-706. It is one of the best Recumbent Exercise bikes for the price. Its step-through design helps you keep store easily.
The frame is made of durable steel which combines with a beautiful design. The counterbalanced strapped pedals build to ensure superior pedaling and a comfortable cycling experience. It is a perfect choice for users between the ages of 10 to 99 years. Even if you don't need an electrical connection, simply start pedaling at your own pace.
The overall dimensions are 57″ x 24″ x 42″ and the maximum weight capacity is 300 lbs. This model comes with a manual magnetic resistance mechanism that includes 23 programs and 24 levels of resistance that are able to follow different terrains' effects. You can also use a manual mode.
Marcy ME-706 indoor bike provides ample space for the legs and the adjustable padded seat is able to accommodate most users. It has a large LCD display with backlight that helps you to monitor the distance traveled, current speed, pulse rate and calories burned. The pulse monitor works without the chest belt.
However, it does not come with a cup holder or a built-in fan that could be included for dehydration in the summer season. If this is not a big deal for you, Marcy ME-706 recumbent bike could be a decent home exercise bike for someone who does a moderate workout.
PROS
Great choice for everyone
Sturdy and durable frame
Large Clear display screen
Very efficient padded seat & recumbent handles
24 levels resistance
CONS
A little bit hard to put together
Doesn't have a flywheel
It has no cup holder
Footprint is very slim
---
3. Alpha Sports Indoor Cycling Bike for Home Gym
Alpha Sports indoor cycling-style bike is top of the line in 2023. It features a heavy-duty flywheel and solid steel frame, which ensure more stability when you practice fastly.
This lightweight spin bike is built with an infinite resistance system and silent belt drive system that will provide smooth and comfortable indoor cycling experience. It has four balance adjustable knobs under the front and rear stabilizer that keep this equipment steady on various surfaces. With a maximum load capacity of 300 pounds, it will enhance your safety when start cycling.
The seat and handlebar are adjustable for different heights, so your all family members can use this spin bike. The handlebars are soft with a slightly padded cushion. The minimum height is 31 and the maximum height is 37 inches. It features with emergency stop brake that allows you to stop exercising when feeling tired.
This model also has a water bottle holder. It could be a great choice for body workout training, weight loss, muscle building, and promoting blood circulation. It is easy to assemble even if you don't have the experience (only takes 30 minutes). You can simply increase the resistance by tightening the resistance bar.
It has two wheels in the front bar so that users can easily move wherever they want. You just need to uplift the rear part and go forward with less effort. To ensure quality, Alpha Sports exercise bike comes with 12 months warranty.
PROS
Solid construction
Easy adjustable with humanized design
Lightweight and easy to install
Quite and smooth paddling
Safe and convenient to use
Easy to move
CONS
It requires manual operation
Not good for professional athletes
---
4. L NOW Upright Exercise Bike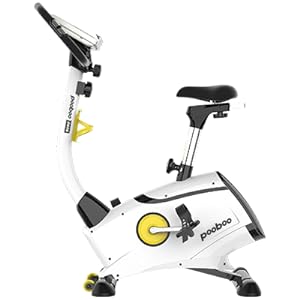 To reach more than millions of demand customers, L NOW is one of the best fitness equipment brand manufacturers on the planet. However, this upgraded upright bike is built with magnetic tension control system, which makes it convenient to customize your workout levels. For example, you can set easier to more difficult sessions.
The ergonomic belt drive mechanism and magnetic resistance ensure smooth and ultra-quiet workouts while cycling. Even if you don't need to maintain it regularly, this is part of L NOW easy-to-use upright bike.
L NOW upright exercise bike comes with 12 months replacement warranty. It has 8 levels of magnetic resistance. You can easily control the intensity with a multi-control resistance switch which provides a responsive riding experience.
You can adjust the wide leather padded seat in 4-way and the seat can be adjusted in order to fit different heights or arm lengths. The rotatable handlebar also allows your hand in a comfortable position.
L NOW exercise bike has a phone/IPAD holder so that you can watch videos, making fun to stick their workout. By using multi-functional LCD display, you can track your exercise Rpm, time, speed, distance, calories burned, pulse and body fat. You can monitor your exercise progress on a regular basis.
It is designed with an all-inclusive flywheel that ensures high safety to avoid touching and injuries around toddlers. The pedals are built with adjustable straps so that you can increase the stability and comfort level and give more support while pedaling.
PROS
Built with large LCD Display
Attached iPad Holder
Comfortable and fully adjustable
Silent and ergonomic design
4-way seat adjustment
Safe to use and maintain
CONS
Instructions aren't appropriate
It has no transportation wheel
---
5. CIRCUIT FITNESS AMZ-594U Upright Exercise Bike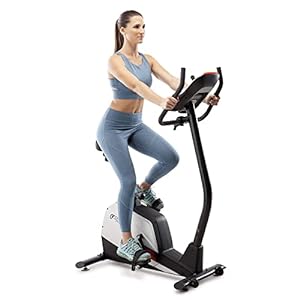 You should know that CIRCUIT FITNESS is always famous for its durable ellipticals trainer, treadmill, and exercise bike. The CIRCUIT FITNESS AMZ-594U is made from a combination of high-grade plastic and steel, making it one of the best magnetic upright exercise bikes under $500.
It features a durable frame that will improve your overall indoor cycling performance. This upright exercise bike is designed for all skill levels. The unique design helps you to enter quickly and exit from the device and supports weighing up to 300 lbs.
This indoor bike comes with a beautiful LCD monitor that tracks the distance traveled, the time elapsed, calories burned and current speed. The display runs on rechargeable batteries.
This model is also equipped with a pulse sensor that monitors heart rate. It comes with 15 modes of preset levels that simulate the effects of biking on different terrains. You just need to select the desired program simply to personalize your training then get ready to start.
The handlebars can be angled differently and then tightened into place. The pair of contoured handles allow you to comfortably grip and provide superior support to your upper body. The seat is standard size, so you can replace it for extra comfort.
You can adjust the padded seat and move it up, down, forward, and backward to accommodate each user's leg size. The pedals have straps that will prevent your feet from sliding. However, the resistance is controlled by electricity, so if the machine is not plugged in, it won't work.
PROS
Built with a large adjustable seat
Features pulse sensors for monitoring heart rate
Easy-to-read LCD display
Ergonomic handles and safety pedals
Heavy-duty construction
Great for customized cycling workout
CONS
It runs on electricity
A bit hard to assemble
---
6. BARWING Foldable 3-IN-1 Magnetic Upright Bike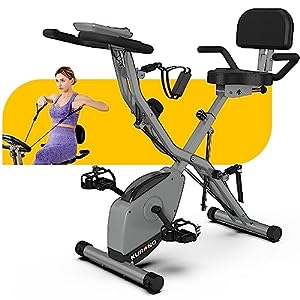 BARWING 3-in-1 foldable exercise bike comes with 16 levels of adjustable resistance to ensure various degrees of movement so that you can improve your workout confidence level. Its ergonomic design and angle cushioning system provide a variety of adjustments that are suitable for whole family workouts.
The 3-in-1 stationary upright exercise bike is built-in arm resistance bands that help to better improve your upper body strength and sculpting while you cycling. It has an extra ankle strap that allows you to exercise your leg strength efficiently and effortlessly.
BARWING exercise bike is sturdy enough to stand up out of the seat and pedal. The heavy-duty steel frame combined with X-type design physical balance theory to ensure more stability. However, it supports up to 300 lbs. The magnetic resistance mechanism delivers a smooth and quiet cycling experience over a long time period.
The functional LCD monitor tracks your working process and gives you a more scientific exercise date. This model has a heart rate sensor on the handlebar and shows the data on the monitor. You can place your phone on the pad holder to watch your favorite shows while workout.
You can fully fold it to store it in minimal space. BARWING upright bike built with transport wheels. We highly recommend it if you're looking for an affordable exercise bike for weight loss.
PROS
Beautiful LCD display
Large phone holder
16 Levels intensity resistance
Great choice for a whole family workout
Foldable and very stable
easy to store
Quiet operation
CONS
Holder is not good for large iPad
Doesn't have a cup holder
---
7. Sunny Health & Fitness SF-B1877 Spinning Bike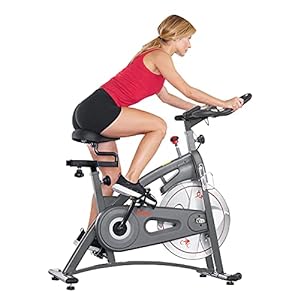 Sunny Health & Fitness SF-B1877 indoor cycling bike is virtually maintenance-free and provides a better biomechanical and ergonomic exercise experience. It allows you to pedal faster and harder more effectively. It has a smart device holder so that you can easily put different sizes of Pads or smartphones.
It is a compact and practical spinning bike under 500, which is strong enough for long time use. You will never be bored during your workouts thanks to a multiplayer mode screen. This indoor cycling bike is compatible with heart rate monitors. It has convenient transport wheels, allowing you to move in your house easily.
It is very silent with 29 lbs flywheel and offers multiple levels of adjustable resistance, thanks to an electromagnetic system. The included bottle holder also helps you to stay hydrated for extended training sessions.
The seat is adjustable in 4-Way and the handlebars in 2-way which will help you stay in proper form. However, it accepts a user with a maximum weight of 265 lbs, which indicates that some parts are not well established. However, Sunny Health & Fitness SF-B1877 exercise bike offers the most options for your comfort, all in a very compact format.
PROS
High-quality performance monitor
Comes with iPad and bottle holder
Micro-adjustable resistance
Durable and adjustable seat
Simple to store and move
CONS
Maximum weight limit is only 265lbs
Some parts are not high quality
---
8. JEEKEE Recumbent Exercise Bike for Seniors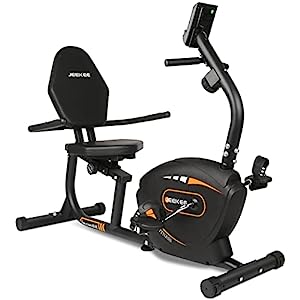 If you're more interested in a recumbent exercise bike, we recommend this senior model from JEEKEE. Compared with the Marcy ME-706, the JEEKEE Recumbent bike has 53.5″ long frame with extendable space and 9 positions seat which fits for adult height 4'9″-6'5″ (basically designed for seniors).
It is built with the superb process of the external magnetic flywheel and dual-belt system that provide smooth and quiet operation. The LCD monitor tracks all of your fitness data and the iPad holder allows you to watch your favorite show while cycling.
With 300lbs of weight capacity, JEEKEE exercise bike featured the highest quality 8 neodymium magnets. The resistance is great to ensure longer service life than another magnetic bike. To ensure quality, JEEKEE also offers 1-year of free parts replacement guarantee.
The large seat and backrest are able to take high pressure. This is a lightweight recumbent stationary bike that offers low-impact leg exercise free from joint pain and increases your blood circulation.
It comes with 8 levels of magnetic tension so that users can easily customize workout difficulty according to their fitness level. This model also has a heart rate monitor. It builds endurance and is the perfect choice for physical therapy, rehab, and elderly parent.
JEEKEE recumbent exercise bike concentrates on the lower body and builds endurance without subjecting the hip to the strain of walking. You can peddle backward and will count miles biking backward too.
PROS
Good in appearance and sturdy
Lightweight and compact
Ergonomic design
Comfortable for all ages people
Stable and quiet operation
Multi-functional monitor
CONS
Pedaling is not initially smooth
Tension is very poorly positioned
---
9. L NOW D600 Spin Bike for Cardio Workout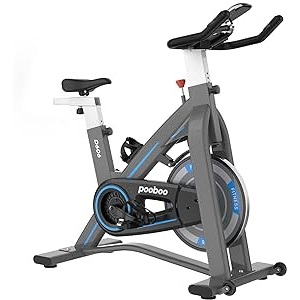 This is another great exercise bike under $500 from the L NOW brand. If you have limited space for your home gym setup, the L NOW D600 can be the best solution. It is built with a magnetic resistance control system with a normal friction resistance policy, which provides quiet and smooth operation consistently with a turning knob.
This unit can be easily customized to your workout levels. The beautiful LCD monitor tracks your different workout processes and allows you to check your real-time workout. L NOW D600 exercise bike has a tablet holder that allows you to enjoy exercising and music at the same time.
It has 2-way multi-grip handlebar and 4-way adjustable breathable seat so that users can fit different body sizes. It can be a great choice for the whole family's cardio workouts. With durable materials construction, the maximum weight capacity is 280 lbs. It is also very easy to assemble.
The handlebars are comfortable and the padded can use different positions. L NOW D600 indoor bike is very smooth even at very high resistances. It won't make a single sound or squeak. To ensure quality, it comes with 12 months free replacement parts guarantee.
However, it is a little smaller than what you would find in a spinning bike.
PROS
Built with phone and tablet holder
Comfortable and large seat
Noiseless paddling
Cheap but very reliable
Easy to assemble and store
Simple to move around
CONS
Handlebars are not sturdy
A little bit heavy
---
10. Cyclace L-003B Exercise Bike with Comfortable Seat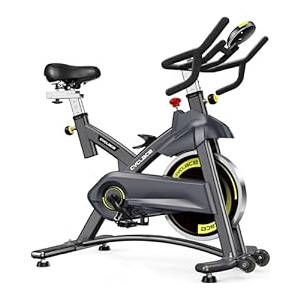 And last but not least is the Cyclace L-003B, which is a stable indoor bicycle under $500. It will deliver quiet and safe indoor cycling experience. It is equipped with thickened steel and triangular frame to ensure more durability. With a 36lbs flywheel and belt-driven system, it is pretty smooth.
The seating position is very comfortable; you can burn fat quickly and able to build core muscles and strengthen the heart, and at the same time, it will reduce injuries. The multi-grip handlebar with adjustable resistance meets the needs of beginner to professional users. It can support up to 330 lbs.
It's compact and doesn't take up much space. Although it is a little bit heavy on the front side, the small transportation wheels will help you to move and store the bike easily. Cyclace L-003B exercise bike also has a phone holder to watch videos.
The superb LCD monitor shows all the statistics you could ever want so you can get the most out of your daily training. It will inform you in real time about the vital constants of your body. The seat cushion provides a long time of comfortable riding.
Cyclace L-003B spin bike works well in the lower limbs and muscles of the upper body. It is fully adjustable for family use and works for up to 6ft tall people. The versatile design meets all the requirements you have, to get the best results. It is also easy to maintain.
PROS
Very effective exercise bike for home use
Easier to stick to the workout
Ergonomic resistance bar
Security protection setting
Comfortable seat cushion
CONS
There is no manual for assemble it
Seat is too wide
---
The Advantages of Indoor Cycling
Exercise bike has different advantages, whether compared to classic road bike or other cardio machines. Here is a list of benefits of using an indoor cycling bike:
It is practical in all weathers: even if it is raining or cold; you are well sheltered at home. Exercise bike is more compact and therefore takes up less space than the elliptical trainer, treadmill or rowing machine. Often more economical than the machines mentioned above.
Play sports while watching TV to combine business with pleasure: when you come home at night you like to watch an entertainment program, but you would like to do some sport. With the exercise bike, you can do both at the same time. You don't have to watch where you are going or pay attention to traffic.
Possibility of choosing the type of terrain: one of the biggest advantages of cycling at home over normal cycling is that you will be able to choose the type of terrain. For example, if you want to climb the equivalent of a slope of 15 ° over a distance of 2 km; it is possible without having to travel the region in search of this slope.
Observe and manage your performance live: thanks to the onboard console, you have all the live information to know your pace, the number of km traveled, the number of calories burned, your heart rate, etc.
You do not commit to anything: always available, you can pedal whenever you have a free moment and stop at any time, unlike outdoor outings which require a little more time and organization.
You don't have to ride an exercise bike every day to see the benefits. If you can do it 2 to 3 times a week at the level of 1 hour of exercise bike per day, you will already deserve to get excellent results.
Different Types of Exercise Bikes & Alternatives
Exercise bikes are characterized by the functionalities they offer such as programs, resistance, build quality, comfort, and more. Above all, there are also different families of exercise bikes:
Classic upright bike: the one we all know and on which we stand relatively upright. We can figure out here the folding models or not. Folding models have the advantage of being less bulky. They are found in all price ranges.
Spinning bike: it looks more like a racing bike and the user's posture is more like that adopted by professional cyclists. Spin bike is especially suitable for athletes who looking for high performance. It often offers more advanced functions.
Semi-recumbent bike: more comfortable, the user benefits from a wide backrest and a backrest tilted back. The knees go up to the torso when you pedal. Above all, it offers a better posture for the back. However, Semi-recumbent bike takes up significantly more space.
Elliptical trainer: it is not really an exercise bike, but very common in the fitness rooms. Elliptical trainer has the advantage of working more muscles than the conventional exercise bike. In particular, the muscles of the back, shoulders and biceps.
Mini exercise bike: mini exercise bike has the same principle as the exercise bike but in a mini version! It is in fact only a pedal, which allows for saving a maximum of space but also and especially to exercise while being at the office on his computer.
How to Choose the Best Exercise Bike Under $500?
To help you find the best exercise bikes under $500, we've put together a list of criteria that should be considered before making the final purchase decision.
Frequency of use
Is it used occasionally, regularly or intensively?
Don't invest a fortune in an exercise bike that you will use very little. On the other hand, pay the price for a sturdy and comfortable bike if you plan to use it regularly.
Your height and weight
If you have a physical specificity for example very tall, or obese situation, you must check the limits of the exercise bike. Generally, the cheap price models are not suitable in that case because they are too light.
Keep in mind that the heavier your bike, the more stability is assured.
Flywheel weight
This is one of the most important technical criteria of most exercise equipment. Because Flywheel determines the quality of movement, comfort, and fluidity of pedaling. For better joint comfort, you must avoid exercise bikes with a flywheel of less than 10 lbs. For efficient work, focused on resistance and opt for a heavier flywheel of more than 15 lbs.
The dimensions
Folding exercise bike or not?
Many people are looking for foldable exercise bikes under 500 due to the lack of space. Indeed, this is a good reason, but they are less stable. Foldable indoor bike is ok for an occasional user for example fitness or weight loss purposes. Otherwise prefer a classic model, but compact.
Comfort and ergonomics
Several aspects of the exercise bike can increase your comfort level: An ergonomic seat, a backrest for the back, an adjustable seat height, non-slip pedals, a good quality adjustable belt, etc. The comfort options can take into account elements such as PC support, a bottle holder, and wheels to facilitate movement.
The technology
Modern exercise bikes are often equipped with a touch screen with different options such as statistics, pre-installed training programs, Google Maps, and more.
Some best spinning bikes under $500 are compatible with Smartphone applications, most include a heart rate sensor. Few exercise bikes offer incline. However, for those preparing for a cycling competition or those who enjoy riding in real conditions, be aware that it is an extra option.
The price
We talked about the price at is last moment, however; it is obviously the most determining criterion in the choice of your bike, and the criteria above depend on it.
If you don't have over 300 dollars to put in, you won't be able to have a top-grade exercise bike and you will necessarily have to make concessions. On the other hand, if your budget is higher, then you can choose according to your norms what suits you best.
FAQs
What parts of the body do the exercise bike work on?
Exercise bike helps in particular to strengthen the legs and thighs. However, two aspects must be taken into consideration: sports activity and diet. The second point is very important for good shape. So make sure you have a balanced diet.
How often should I use an exercise bike?
It depends on your fitness goals and other activities you have practiced. You can use it every day without any other exercise or include it in a sports program twice a week. However, make sure you adjust the saddle correctly, flex your lower limbs slightly and keep your knees away from the handlebars.
What kind of sport should combine with an exercise bike?
Several sports can be associated with an exercise bike. Even this type of fitness equipment can be combined with all sports that require a warm-up. According to studies based on professional research, researchers recommend an interval exercise program to burn calories faster.
What is the lifespan of an exercise bike?
An exercise bike can last about fifteen years if it will be well maintained regularly. Annual maintenance is necessary to extend the lifespan of your exercise bike.
Does the recumbent bike make you lose weight?
Recumbent exercise bike helps firm the muscles of the lower limbs, but it is not the ideal alternative for weight loss. However, the recumbent bike allows you to use more muscles and is more comfortable. This type of exercise bike can also work on the lumbar and abs.
Five Reasons to Use Home Exercise Bike
Lose weight
Many people choose the exercise bike to lose weight, and it is good for this. Because you know sport is often overlooked when trying to lose weight. If you are not athletic and can't find the motivation, then an exercise bike is a good option for you. Because it is much easier to use, control and store.
Build your legs
Depending on the intensity of the session and your physical predispositions, it is quite possible to increase the muscle volume of the thighs while pedaling on the exercise bike. It is an option generally chosen by men, and safe for the back. However, you will have to put a high resistance because, at low or moderate resistance, you will not have big thighs.
Work on cardio
By practicing regularly and gradually increasing the duration and the difficulty, you will work your cardio and improve your endurance. Exercise bike is a good alternative to running because cycling has no negative impact on your joints.
Keep in shape
Not really a goal of physical transformation or performance, but just want to play sports because it's good for your health. Here again, we recommend an exercise bike. Without pressure, you can go at your own pace.
For rehabilitation
Physiotherapists often recommend exercise bikes for rehabilitation following a leg injury, hip arthritis, etc. The advantage is that you will be able to adjust the difficulty according to your needs at the precise moment of your rehabilitation process. However, in the beginning, you should favor a very low resistance, then you can moderately increase the resistance."
Final Verdict
As we have said several times, you must choose an exercise bike according to your needs, and what type of practice you plan to do: rehabilitation, fitness or performance. Similarly, think about the frequency of use: how many times do you plan per week, and what will be the average duration of these sessions!
For beginners, we recommend choosing a model between 200 and 500 dollars. At this price, you will find the perfect starting and sturdy exercise bikes. However, below the price range of 200 dollars, you really risk falling on a low-end model that is inefficient and won't last. Also, remember to adapt the exercises to your level by accumulating the difficulty. And yes, that's how you will progress!
Hope you find all the answers to the questions that store in your mind. If you need any support or information, don't hesitate to contact us, by using the comment box below.
---
Related Posts: