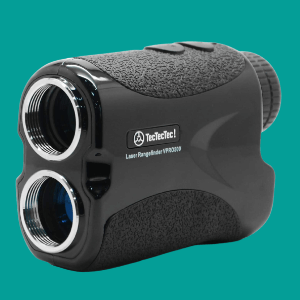 Whether in the forest's thicket or with a view over the fields: a hunter must always know the distance between himself and the game. Because the best sense of proportion is not enough to calculate distance. Therefore, a hunting rangefinder is always recommended.
On the Other hand, Golf watches and portable GPS units are great, but nothing beats a golf laser when it comes to the accuracy of the distance to the flag. You will see the best players and caddies in the world use golf laser rangefinders to measure their distances during practice rounds.
In both cases, selecting a good quality rangefinder under 150 dollars is not easy. There is an immense number of rangefinder models available from different brands. But the good news is that there are suitable rangefinders under $150 for hunters golfers and outdoor enthusiasts.
Without further delay, check out the list of the best rangefinders under $150 this year.
1. TecTecTec VPRO500 Golf Laser Rangefinder with Pin Sensor
Magnification: 6X | Objective Lens: 20mm | Measuring Time: 0.5-1 sec | Distance Measure Accuracy: ±1Y | Measurement Distance Range: 5-500 Yards | Item Weight: 190g | Coating: Fully multi-coated | Scan Mode: Yes | Water Resistant: Yes | Warranty: 2-Year | Dimensions: 1.61 x 2.83 x 4.09 inches
TecTecTec VPRO500 golf rangefinder has the latest laser technology, which measures up to 500 yards with continuous ProScan mode. This model also built-in pin seeker technology which delivers reliable accuracy. You can improve your handicap with the modern rangefinder and reduce your game slightly by a few strokes. It is a valuable rangefinder under 150 dollars, for both casual players and experienced golfers.

With quick measurements accuracy of 1 yard, the distance to the object is calculated based on the speed of light. The flag is automatically recognized as the target of the measurement and the effective distance on the slope is calculated. You can also use the angle compensation to determine the angle so that you can concentrate fully on golf.

TecTecTec VPRO500 rangefinder features 6x magnification with multi-layer coating for a bright and clear view. It is also easy-to-read thanks to the lens display with distance and battery status display as well as continuous measuring mode for quick and convenient measurements.

The adjustable focus gives you a sharp image, and the measurement takes just a second. The large exit pupil also makes it easy for people who wear glasses to use. The laser golf rangefinder is compact enough to be taken anywhere. Whether for golf, hunting, archery or surveying, it can be used anywhere and in a variety of ways.

TecTecTec laser rangefinder is made of high-quality water and dust repellent and durable material and features stall grip technology to lie comfortably in the hand.

PROS
Built in advanced pin-seeker technology
Lightweight and portable design
Provides accurate measurement
Premium grade laser rangefinder
Comes with 2-year warranty
Super easy to use
CONS
It has a much more difficult time locking on the target compared to the more expensive devices
---
2. Laserworks Rangefinder for Hunting & Long Distance Shooting
Magnification: 6X | Objective Lens: 21mm | Measuring Time: 0.5-1 sec | Distance Measure Accuracy: ±1Y | Measurement Distance Range: 5-1200 Yards | Item Weight: 330g | Coating: Fully multi-coated | Scan Mode: Yes | Water Resistant: Yes | Warranty: 1-Year | Dimensions: 1.61 x 3 x 4 inches
This is a professional precision laser rangefinder with measuring range 5-1200Y and speed ​​measuring range 0 ~ 300 km / h. Laserworks rangefinder can make accurate measurements with 905nm laser technology. It can be used for hunting, building construction, hiking and any series of measurements. Laserworks rangefinder is also the best gift for golfers or outdoor players.

This model is a one-hand operation rangefinder that offers a 6x high-resolution field of view and a fast measuring experience and enables a 7x magnification in a well-lit environment. The diopter of ± 7 ° makes it easy for people with myopia or presbyopia to see the world in their eyes without glasses.

Laserworks long-range rangefinder is equipped with the most advanced laser technology, which can perform multiple measurement modes such as angle/height/distance/tilt/flag lock/speed/ continuous measurement on objects.

The package comes with a CR2 battery and hand wrist, and manufacturer 12 months quality warranty after the date of purchase. The CR2 battery can be charged quickly via USB. After a full charge, it can be measured 30,000 times at a time. You don't have to worry about underperformance while driving outdoors.

This device is also waterproof, very light and compact. It is equipped with a pocket and a wristband that can be carried around and can be moved as much as possible with each use.

PROS
Professional precision laser rangefinder
Multi-function measurement mode
Ergonomic and rechargeable
Consistent accurate yardage
Premium slope function for golf and hunting
Easy to pick up the distance to various objects
CONS
Doesn't perform well in low light as it performs in brightness
---
3. Golf Buddy GB-LASER-LITE Laser Accurate Rangefinder
Magnification: 6X | Objective Lens: 24mm | Measuring Time: 0.5-1 sec | Distance Measure Accuracy: ±1Y | Measurement Distance Range: 5-880 Yards | Item Weight: 143g | Coating: Fully multi-coated | Scan Mode: Yes | Water Resistant: Yes | Warranty: 1-Year | Dimensions: 1.5 x 2.91 x 4.05 inches
The GB-LASER-LITE from the American company Golf Buddy is the 4th generation rangefinder of their popular Laser-Lite series. This is a high-end laser rangefinder under $150 that combines all of the previous experience. It is small, handy and reliable. It measures the flag from up to 400 meters.

Thanks to our Flag-Finder technology, the Golf Buddy briefly vibrates with vibration when the target is captured. So you can almost feel the distance. This technology will help you hit the flag easily even if there are trees or bushes behind the green. You can also choose between three different crosshairs so that you can decide for yourself how it is easiest for you to aim.

The vibration also helps you capture the target correctly. Once the birdie has captured the target, it vibrates briefly and indicates the distance to the flag. This means that the player receives immediate feedback and can be sure of preparing the shot. The SLOPE function shows you the actual distance to be played. Uphill or downhill is no longer a problem with this device!

With the scan mode, you can determine distances to different objects quickly and easily. And with the button pressed, you can find out the distance to the flag, the beginning of the green, bunker or tree in seconds. The display will turn off after 10 seconds of inactivity.

The package includes CR2 battery, a sturdy bag & a packet of golf tees! This Golf laser can be used immediately.

PROS
Good golf range finder for the money
Fast and accurate measurement
Sleek, ergonomic, compact design
Pin Finder with Vibration
IPX4 Water-Resistant
CONS
A little hard to use for beginners
Vibration could be better
---
4. Bushnell BoneCollector 202209 Laser Light Rangefinder
Magnification: 6X | Objective Lens: 24mm | Measuring Time: 0.5-1 sec | Distance Measure Accuracy: ±1Y | Measurement Distance Range: 5-850 Yards | Item Weight: 180g | Coating: Fully multi-coated | Scan Mode: Yes | Water Resistant: Yes | Warranty: 5-Year | Dimensions: 2.17 x 4.96 x 6.26 inches
Bushnell is one of the leading optics manufacturers in the United States, has been serving the outdoor and wildlife enthusiast for more than 70 years. And it makes sense to bring their penchant for high-quality hunting to the rangefinder market. There are many different brands of rangefinders specific to bow hunting, but the Bushnell BoneCollector 202209 is a model that serves as the Jack of All Trades.

Bushnell BoneCollector hunting rangefinder extends nearly 1 kilometer, with results displayed up to the nearest 1/10 of a yard. You can reliably ward off deer up to 850 yards, making it a perfect companion for deer hunters. The larger Objective lens also brings more light to your eye to provide bright image.

This unit also features Modified Angle Compensation, which gives you a more accurate distance. Not just the line of sight, but the angles to what you plan to shoot. It's waterproof, fog-free, and extremely lightweight, at just 180g. It is fully multi-coated with ultra-wide band coatings.

This model comes with quick start guide, hand strap, microfiber cleaning cloth, and CR2 batteries. To ensure quality, Bushnell also offers 5-year warranty with satisfaction customer support. If you're on a smaller budget, the Kilo Bushnell BoneCollector should be a hand-down choice, no doubt.

However, this model doesn't come with a carrying case. Therefore, we can't call it a complete package!

PROS
Ideal for long-distance shooting
ARC technology for true horizontal distances
Made with durable aluminum and plastic
Very accurate and simple to use
Lightweight and compact
CONS
Carrying case isn't included in the package
---
5. AOFAR HX-1200T Range Finder for Hunting Archery
Magnification: 6X | Objective Lens: 25mm | Measuring Time: 0.5-1 sec | Distance Measure Accuracy: ±1Y | Measurement Distance Range: 5-1200 Yards | Item Weight: 180g | Coating: Fully multi-coated | Scan Mode: Yes | Water Resistant: Yes | Warranty: 2-Year | Dimensions: 1.69 x 2.83 x 4.76 inches
AOFAR HX-1200T rangefinder adopts the latest Al technology and supports arc and range two modes. This device is dust-proof, fog-proof, waterproof, and designed for all hunting enthusiasts. It will Show angle and horizontal distance when showing the distance in. This rangefinder measures up to 1200 meters with 6x magnification.

Although the 6×25 optics are a bit small for the brightness, the clarity of the lenses allows you to see clearly what you are aiming for. The best thing is the calculation of the site angle and therefore of the effective distance of the target, essential for those who shoot with the bow! Great buy!

It is beautiful, well made, comfortable, easy to use hunting rangefinder and we would say very functional. It is built with Update pin sensor technology and accuracy with ± 0.5 meters in 5 ~ 300M which is greater than 300 meters is +/- 1 meter. The price is half compared to regular branded rangefinders, but it works extremely well. The dimensions are 121 x 72 x 43 mm and the weight is 180 g.

The package includes a carrying case, CR2 battery, high-quality portable rope, carabiner, cleaning cloth and manual. However, the only problem is over long distances, because it is difficult to hold it still with one hand … too bad there is no threaded hole, so you can install it on a tripod.

PROS
It has arc and hunt mode
High accuracy rangefinder
Complete package
Precise and simple to use
Exceptional price-quality
Excellent visual quality
CONS
We wish the numbers were a little darker on marking the distance
Random spot/target reduces the distance range
---
6. LaserWorks LW1000PRO Professional-Class Laser Rangefinder
Magnification: 6X | Objective Lens: 21mm | Measuring Time: 0.5-1 sec | Distance Measure Accuracy: ±1Y | Measurement Distance Range: 5-1000 Yards | Item Weight: 152g | Coating: Fully multi-coated | Scan Mode: Yes | Water Resistant: Yes | Warranty: No | Dimensions: 1.91 x 3 x 4.9 inches
LaserWorks LW1000PRO rangefinder is presented as a multipurpose rangefinder under $150 for both hunters and golfers. It has become more popular because of the ergonomic feel and less to the actual specifications of some of its competitors. And with 6x of magnification level and transparently clear objective lens, it will give you very close feeling to your target.

LaserWorks LW1000PRO rangefinder can measure distance smoothly around 1000 yards. It has a scan mode which makes it useful when moving. This device is also water-resistant. It is more favored by compound bow hunters but is slowly turning in the shotgun hunting circuit as well.

However, the big win here is the ergonomic feel of the rangefinder – hunters love the grip and finger recesses, making it ideal for long-term use. This model also holds well, and the improved ergonomics has many users excited about how it feels in their hands. For all the features it offers, it's hard to beat for the price.

LaserWorks rangefinder is equipped with a new generation of laser ranging special chip. It is surprisingly small and light, only 152g, making it perfect for carrying while golfing or hunting, or for measuring and surveying.

PROS
Accurate rangefinder performance
Minimalism operation design
Incredibly compact
Simple operation
Superior functional
CONS
Turns off after about 15 seconds, we think pretty much.
---
7. Caddytek LRF-V2-JOLTSLOPE Golf Laser Rangefinder with Slope
Magnification: 6X | Objective Lens: 21mm | Measuring Time: 0.5-1 sec | Distance Measure Accuracy: ±1/2Y | Measurement Distance Range: 5-800 Yards | Item Weight: 226g | Coating: Fully multi-coated | Scan Mode: Yes | Water Resistant: Yes | Warranty: 1-Year | Dimensions: 1.5 x 2.9 x 4.1 inches
Caddytek LRF-V2-JOLTSLOPE Laser rangefinder is equipped with Target Range System which allows the user to choose between the first target priority mode which displays the distance to the closest subject (useful when measuring the distance to a target in front of an overlapping background) or Distant Target Priority mode (displays the distance to the farthest target).

In addition, it features both an LCD readout and an active brightness control finder which provides clear viewing by automatically turning on and the brightness of the LED is automatically adjusted based on the light of the environment.

Caddytek laser rangefinder also provides a new level of extreme range measurement accuracy with pinpoint, 1/2 yard, accuracy up to 800 yards. Therefore, it is also the perfect choice for golfers who require extremely accurate, long-range measurements of targets at distances. And with flag-seeking and Pin-Validation technology, you can easily get the distance to the flagstick while ignoring subjects behind the green such as the Bush and trees.

It also uses original digital measurement process to provide faster and more accurate measurements in extreme hunting conditions, making it a great laser golf rangefinder under 150 dollars. The package also includes Battery, Pouch, Cleaning cloth, Mode changing plates and user manual.

PROS
Built in flag-seeking technology
Not too big or small
It works flawlessly
Easy to use and carry
Good value for money
CONS
At evening, it is difficult to read the screen
---
8. Blue Tees Golf Series 2 Laser Rangefinder for Golf
Magnification: 6X | Objective Lens: 20mm | Measuring Time: 0.5-1 sec | Distance Measure Accuracy: ±1Y | Measurement Distance Range: 5-800 Yards | Item Weight: 450g | Coating: Not Specified | Scan Mode: Yes | Water Resistant: Yes | Warranty: 2-Year | Dimensions: N/A
The Blue Tees Golf Series 2 laser rangefinder has been designed to be the best bow hunting and golf rangefinder under $150. It will provide you with an accurate distance measurement even at steep angles up to 89 degrees! And with 20mm lens diameter, it will deliver crispy view at any angle.

Additionally, it features waterproof and fog-free performance in even the wettest conditions combined with 6-power magnification and legendary multi-layer optics for easy target acquisition and superior clarity image. It will work well when you measure on courses overlapping subjects like wooded areas, flags, and wilderness.

Besides all these functions, the display can show distance measurement in yards or meters depending on your preference in increments of up to 0.1 yards/meters. Plus, its small size also makes it easy to carry in a shirt or pants pocket, however, it is a bit heavy at 450g.

Blue Tees Golf Series 2 laser distance finder doesn't have slope technology, making it legal for use in tournaments as per USGA rules. Whether you are practicing your game or moving up on the tour, it is a must-have golf accessory to have in your golf bag.

The included exterior case is also sturdy enough and water-resistant, which is excellent for all weather conditions including rain.

PROS
Multi-functional device
Precise and crystal clear
Sturdy and water-resistant
Built in flag lock technology
Very simple to use and accurate
It features pulse vibration
---
9. PEAKPULSE Golf Laser Rangefinder with Flag Acquisition
Magnification: 6X | Objective Lens: N/A | Measuring Time: 0.5-1 sec | Distance Measure Accuracy: ±1Y | Measurement Distance Range: 6-600 Yards | Item Weight: Lightweight | Coating: Full Multi-Coated | Scan Mode: Yes | Water Resistant: Yes | Warranty: 2-Year | Dimensions: N/A
PEAKPULSE focuses on the research and development of high-quality outdoor products, especially in the field of rangefinder and compass. Its flag Acquisition Technology makes it effortless to lock on to the flag and provides the golfer with a short vibrating burst to verify the laser. It also has locked onto the flag verifying that you have the right distance.

PEAKPULSE rangefinder is definitely lightweight and can therefore be used with one hand. The carrying case is very functional, thanks to its durability, you can carry it any weather. The design pleases and the easy focus adjustment with one finger makes the handling easy. The slope distance also helps you get a more helpful distance. It is completely sufficient for average golfers.

The vibration indicator shows young trees next to or behind the target flagpole. The inclination is helpful, this gives some targets a new length. You can display the distance either in yards or meters.

The perfect design of the tilt switch for GOLF TOURNAMENT can help professionals turn off the slope. Even with glasses on, you will not face any issues to adjust the focus to see the target precisely and clearly. Just turn the eyepiece to focus on your target.

PROS
Features fast focusing system
Complete package
Great battery power
For the price, it works really well.
Slope is great
CONS
The "mode" button is very close to the "pinsetter" button
---
10. SG Surgoal HD Golf and Hunting Waterproof Rangefinder
Magnification: 6X | Objective Lens: 24mm | Measuring Time: 0.1-.3 sec | Distance Measure Accuracy: ±1Y | Measurement Distance Range: 5-1600 Yards | Item Weight: 160g | Coating: Multi-Coated | Scan Mode: Yes | Water Resistant: Yes | Warranty: 2-Year | Dimensions: 1.38 x 2.72 x 4.01 inches
And finally, SG Surgoal is not a well-known company but building superior quality rangefinders at an affordable price. They also build top-of-the-line laser rangefinders for different uses, and the SG Surgoal HD laser rangefinder isn't exceptional.

It features high-performance optics which provides 6X power magnification. This model is combined with multilayer lens coating which ensures crystal clarity and the best possible light transmission for a clear image even in low light conditions. The coating also ensures that both rain and snow slide off the lens immediately and allows dirt to be easily removed without a trace.

Although it is a small rangefinder, still a rugged unit that resists shocks and/or drops because the sensitive electronics are contained and protected within a waterproof, dustproof and durable armored case eraser.

SG Surgoal rangefinder can be easily operated from two measurement buttons. And the unit will display the distance measurement within half a second of releasing the button for extra fast readings. You can put into Scan mode by simply pressing and holding the button as the unit is moved across the field of view to provide multiple distance measurements across multiple targets.

PROS
Accurate measurement
Features particular algorithms
IP54 water and dustproof
Delivers rapid feedback
Portable and lightweight
CONS
The display is a little hard to make out depending on what you are measuring
---
Buying advice: best rangefinders under $150
Buying a good rangefinder under 150 dollars is not difficult if you're familiar with the characteristics. However, to make the right choice for your needs, it is important to understand the quality and price differences. You should follow these criteria to make a wise purchase:
Scope of application
You want to buy a rangefinder for hunting or golfing. In most cases, it is a combined aid. You get more functions that can be used for other sports such as golf or fishing. The question now arises: whether you have a need for it or not? After all, not everyone needs a speedometer. But if you are there, you pay more accordingly. Therefore, our first tip is that you determine your personal needs.

A multifunctional device saves space in the equipment but is not needed by everyone.
Distance range
Manufacturers indicate a minimum and a maximum distance range. You need to make sure that your rangefinder determines the greatest possible distances. It is therefore of little relevance whether it starts measuring from 3 or only 10 meters. Useful devices come with 600, 800, 1,000 and more meters' distance range. Also make sure that the distance is given in meters or yards. Ideally, it can be switched, as there is a small difference between the two units.
Enlargement
Besides calculating the distance, you also want to observe. After all, from a distance, it is not always possible to see immediately what kind of animal it is. Therefore, take a laser measuring device with multiple magnifications. This means that you don't necessarily need separate binoculars in your backpack.

The structure and size of the rangefinder determine how much the image is enlarged. For the hunt, you want a multiple, because the game is usually far away from you.
Furnishing and housing
The housing of the rangefinder should at least be splash-proof. Better still completely waterproof. Because if you are a hunter, you will be confronted with any weather, not just when the sun is shining. A completely smooth surface is therefore hardly advisable. A few rubberized areas should be available so that you have everything under control even with wet hands.

Additional functions are common for a good hunting rangefinder. So you can use it for other purposes as well. We already mentioned the speedometer. Ideal for motorized model making or similar. For golf, there is a feature to fix the targeted flag.

Occasionally, angles and heights can also be determined in order to show them on the display. Also, pay attention to details such as the supplied hand strap and whether a standard tripod thread with ¼" is available.
Power supply
More and more rangefinders with an integrated battery are now being offered. As long as it still has enough energy, it is definitely the best solution. Good for the environment and space-saving at the same time, as you do not have to take replacement batteries with you. However, if the battery needs a charge and cannot be replaced, it stops working immediately.

The best way to do this is to swap the battery and always have a second one at hand. The manufacturer should tell you beforehand how many measurements or how long continuous operation is estimated. It also depends on the range of functions and whether this can be reduced to the minimum if necessary.
Weight and dimensions
Whether in the backpack or in the bag hung around the shoulder, every gram counts on the hunt and you still need space for more equipment. So the hunting rangefinder should be as compact as possible. In order to achieve a higher range and magnification, lenses and lasers also require some space. So make sure to check the proportions of different models beforehand.
Design
It should be inconspicuous. Bright colors and reflective surfaces are taboo. Otherwise you could spot the game too early. Manufacturers already know this very efficiently. On the one hand, they therefore only choose dark colors such as black or dark green. The lenses have a special coating that minimizes possible reflection.

When buying a golf laser, you should pay attention to the following points:
Measurement accuracy
Quality of the display
Maximum distance
Easy to use
Speed
Battery life
Flag finder function
Slope function
Conclusion
As we previously mentioned, a good sense of proportion is not enough when hunting. A laser measuring device helps from observation to determining the distance. Its precise calculations allow you to prepare your shot. Whether with a rifle, bow or crossbow. On the other hand, there is always something to improve on the golf course. With a modern golf rangefinder, you can easily reduce your game by a few strokes.

Because of the large number of rangefinders with variable functionalities, we recommend that you take time to pick the right one. You can also recognize quality and price differences based on existing reviews.

We hope this guide helped you choose the right rangefinder under 150 dollars.

These articles might be interesting for you: