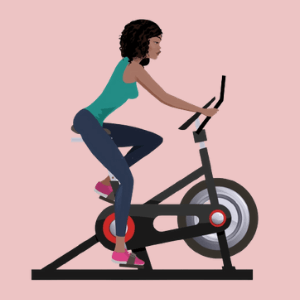 To stay fit without going to the gym and spending money on the gym membership card, buying a spinning bike is the perfect solution. These cardio machines are useful for both professionals and those who are new to physical activity and do not have a high-level fitness aim.
However, with countless options available, choosing the best spin bike under $1000 can be confusing. There are hundreds of brands on the market, and not all of them are able to produce high-quality fitness equipment. So it's essential to find a spin bike that not only fits your budget but also offers top-notch features and durability.
Fortunately, if you want to get the most out of your shopping in your budget, you have landed on the right site! In this article, we will show you the 7 best spin bikes under 1000 dollars for home use. From advanced digital displays to customizable resistance levels, these spin bikes are designed to provide an immersive and challenging workout experience.
Best Spin Bikes Under $1000 in 2023
The best spin bike under $1000 in 2023 is the Sunny Health & Fitness SF-B1986. Why? It is simply a sturdy exercise bike designed with high technology. It has a 40 lbs flywheel and is a silent spin bike during workouts. The onboard computer does an excellent job.
Let's see immediately all the best spin bikes under $1000 available for you.
1. Sunny Health & Fitness SF-B1986 Evolution Pro II – Top Pick
Item Dimensions: 49 x 24 x 50.5 inches | Resistance Mechanism: Magnetic Resistance | Max Weight Limit: 330 Pounds | Drive System: Belt-Drive | Flywheel Weight: 40 pounds | Pulse Sensors: Yes | Handlebar: Adjustable | Transport Wheels: Yes | Total Weight: 136.2 pounds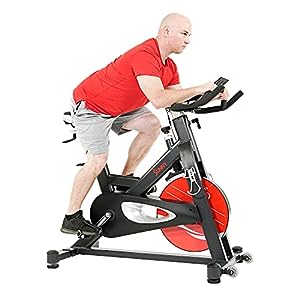 To kick off our review, we're starting strong with Sunny Health & Fitness SF-B1986 Evolution Pro II. This exceptional spin bike has been making waves in fitness industries for advanced technology. It is the best commercial-quality spin bike under $1000 for home gym. It offers superlative performance with magnetic resistance.
If we talk about the design, it has extremely durable and solid construction, which can support 330 pounds of weight. The robust 40-lb flywheel guarantees great stability. To guarantee a smooth ride, it uses a belt-driven mechanism.
The SF-B1986 Evolution Pro II spinning bike is equipped with handheld sensors that allow you to measure your heart rate during extended workouts. It also features multi-grip handlebars and adjusts both up and down as well as backward and forwards. The dumbbell holder helps you to keep your dumbbell set, which ensures your upper body workout at the same time.
The integrated adjustable bottle holder allows you to drink liquids as often as you need while exercising. The device mount places your device above the digital monitor and starts your workout routine with entertainment.
The quality of the SF-B1986 Evolution Pro II spin bike is beyond the average of the others. For this reason, it is the best choice for both beginners and professionals.
If you want to move the spin bike from one part of the house to another, you can do it thanks to the transport wheels and the basic leveling feet. However, the display is hard to read if the lights are low or you are standing. But It is large and legible in good light.
PROS
Very solid construction
Reasonably comfortable
Advanced performance monitor
Quiet operation
Adjustable dumbbell and bottle holder
CONS
Handlebars should be more adjustable
Dumbbell holder is not located conveniently
---
2. SCHWINN IC4 Large Indoor Cycling Bike – Editor's Choice
Item Dimensions: 47.8 x 21.2 x 51.8 inches | Resistance Mechanism: Magnetic Resistance | Max Weight Limit: 350 Pounds | Drive System: Belt-Drive | Flywheel Weight: 40 pounds | Pulse Sensors: Yes | Handlebar: Adjustable | Transport Wheels: Yes | Total Weight: 106 pounds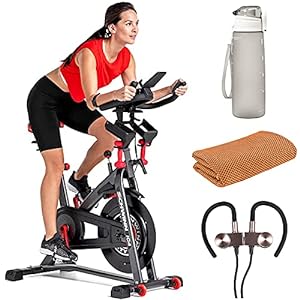 Here is the best Indoor spin bike in its range: the SCHWINN IC4, belonging to one of the best brands in the world in terms of cycling and riding. Whether you just want to lose weight or want to do some professional-level extra training, the SCHWINN IC4 spin bike will satisfy you.
It is designed with an extremely sturdy frame, with a modern and technological design. It has a front flywheel which is 40 lbs. It is also very resistant and can support up to 350 pounds of weight, bringing the effectiveness of a gym directly to your home.
SCHWINN IC4 spin bike adapts perfectly to your family thanks to the wide range of adjustments. The handlebars can be adjustable up and down and back and forth and the same for the saddle.
It is equipped with cardiac detection through hand pulse sensors in the handlebar. The heart rate monitor is wildly accurate. The computer also shows you time, speed, calories, distance, and more. You can connect with the Peloton and Zwift apps, which allow you to stream thousands of classes directly into your home.
With 100 micro-adjustable resistance levels, it comes with numerous accessories, such as a heart rate belt and receiver, and a water bottle holder. The transportation wheels allow you to move it effortlessly. The package includes all the tools to assemble the bike. The instructions are helpful.
PROS
Up to 100 resistance level
Balanced racing pedals
Handlebar and saddle adjustable horizontally and vertically
Heart rate receiver and heart rate monitor included
Smart connectivity
Easy to assemble
CONS
Manual could use a little more detail on the operation
Adjustments for the handlebars and seat are a bit clumsy
---
3. Pooboo S1 Commercial-Grade Indoor Exercise Bike
Item Dimensions: 51 x 23 x 48 inches | Resistance Mechanism: Magnetic Resistance | Max Weight Limit: 330 Pounds | Drive System: Belt-Drive | Flywheel Weight: 42 pounds | Pulse Sensors: Yes | Handlebar: Adjustable | Transport Wheels: Yes | Total Weight: 121 pounds
As we move down our list, we arrive at our third contender Pooboo SI indoor exercise bike. Pooboo is a professional brand, that focuses on developing exercise equipment that could help people enjoy sports at home. The Pooboo SI is a commercial-grade spinning bike that offers you excellent performance at a very affordable price. It turns out to be the best spin bike under 1,000 dollars if you want a way to train comfortably at home or if you are a cyclist and need extra training.
Its streamlined and essential design is not the aggressive one of the most professional spin bikes, but it is extremely robust and supports up to 130 kg of weight. In fact, the fixed pinion flywheel measures 42 pounds.
This heavy-duty spin bike features a pad brake system and a sufficient smooth belt drive mechanism. It is able to adapt to your body, thanks to the ergonomic and vertically adjustable handlebar and the adjustable saddle both horizontally and vertically. The seat is wide and soft, so you can ride for a long time.
It also features 3 different position riding modes: sitting, standing, and hill-climbing. It has a multi-function holder that can support a lot of subjects. For example, you can put on water bottle, mobile phone, tablet, hand weights, and more. The water bottle and dumbbell holders are also conveniently located.
Overall, if you have high expectations but don't want to spend too much on a spin bike for home use, you can choose the Pooboo S1. It'll give you a lot more than you would need. Many users have done it and from their opinions, they have not regretted it.
PROS
Commercial standard
Solid built and quiet operation
Functional digital monitor
Multi-functional device holder
Wide, soft and adjustable seat
CONS
Assembly manual is poorly written
Pretty much heavy
---
4. Sunny Health & Fitness Synergy Pro Spin Bike
Item Dimensions: 49 x 22 x 46.5 inches | Resistance Mechanism: Magnetic Resistance | Max Weight Limit: 300 Pounds | Drive System: Belt-Drive | Flywheel Weight: 40 pounds | Pulse Sensors: Yes | Handlebar: Adjustable | Transport Wheels: Yes | Total Weight: 40 kilograms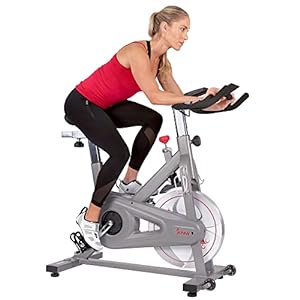 Would you like to lose a few extra pounds but are too lazy to run or cycle outside the home? Then, the Sunny Health & Fitness Synergy Pro is among the best spin bikes under 500 dollars to overcome this personal issue. With 4-way adjustable seat, this model is ideal for training at home when you want to lose weight, increase endurance, and tone muscles.
The seat is comfortable, padded and ergonomic, guaranteeing the best comfort even during long sessions. You can easily adjust both the seat and the handlebar according to your body. However, the seat center bar is fairly wide, so if you have some girth on your thighs you may be uncomfortable.
The Synergy Pro spin bike has a solid, sturdy and long-lasting frame, capable of supporting up to 300 pounds of weight. The digital monitor is not fancy but useful and allows you to view all race information. Despite its affordable price, it looks like a professional gym model.
It has a bigger and wider flywheel. It can be used by any type of user. Whether you're an expert or not, this bike ensures maximum comfort for most workout programs, regardless of your height. It is designed to perfectly simulate pedaling with a traditional bicycle.
The infinitely variable resistance allows for an excellent simulation of pedaling on the road. You can immediately stop with the convenient emergency brake button. There are also big wheels to move the bike without difficulty. However, the wheel is not silent, but it is quiet enough and moves smoothly.
PROS
Emergency stop brake
Super sturdy frame
Easy to adjust handlebars and seat
Easy to increase resistance while riding
Relatively easy to assemble
CONS
When standing up, the bike makes a weird squeaky noise
Seat center bar is fairly wide
---
5. L NOW D501 Commercial Standard Indoor Bike
Item Dimensions: 50 x 21 x 48 inches | Resistance Mechanism: Magnetic Resistance | Max Weight Limit: 440 Pounds | Drive System: Belt-Drive | Flywheel Weight: 35 pounds | Pulse Sensors: Yes | Handlebar: Adjustable | Transport Wheels: Yes | Total Weight: 136 pounds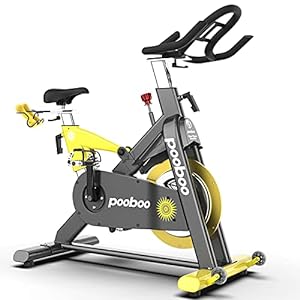 With a wide variety of fitness equipment, L NOW is the brand focusing on the latest technology. The L NOW D501 is the best spin bike in terms of safety and reliability. You can choose this model if you want to save some extras from your budget. It is a professional and commercial-grade spin bike that allows you to use it for a long time. And with a price of less than $900, you'll get a model that helps you lose weight, achieve your target, and keep fit at your own pace.
It can hold up to 440 pounds of weight. L NOW D501 spin bike also has an ergonomic design and heavy-duty construction that reduces wobble as you pedal. Despite the moderate price, it allows you to simulate uphill rides. There are also transport wheels so that you can move the bike without any difficulty.
Both the seat and handlebar padded with foam rubber, are adjustable according to the user's height. It can also be easily adjusted for family members. Just like in an elliptical, the resistance to friction can be easily adjusted, so as to decide the intensity of the workout and its difficulty.
L NOW D501 spin bike has a 35 lbs flywheel and is equipped with a silent belt drive mechanism to keep noise-free while you train. You can pedal in complete tranquility of day, listening to your favorite music without interference and saving those around you from annoying noises.
The LCD display informs you about time, speed, distance, calories and heart rate. Thanks to the heart sensors in the handlebar, you'll be able to track the intensity of your training. This model also has a support holder for smartphones, tablets, and water bottles.
PROS
Professional grade design
Convenient display with all information
Silent and quiet operation
Stable seat post
Very affordable price
CONS
There is no resistance indicator
---
6. YESOUL Smart Connected Magnetic Spinning Bike
Item Dimensions: 40 x 20 x 50 inches | Resistance Mechanism: Magnetic Resistance | Max Weight Limit: 265 Pounds | Drive System: Belt-Drive | Flywheel Weight: 40 pounds | Pulse Sensors: Yes | Handlebar: Adjustable | Transport Wheels: Yes | Total Weight: 40 kilograms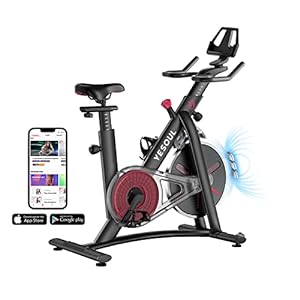 It was the first time YESOUL introduced exercise bike, and luckily, we had the opportunity to review and test this model. With up to 100 resistance levels, it is pretty much smooth and mostly quiet. YESOUL magnetic spin bike is incredibly quick and easy to assemble. Also, the instructions were super clear to follow. The bike looks nice and doesn't take up a ton of room.
It features an ergonomic and modern sturdy design, suitable for home training. The seat and handlebar height are adjustable in 6 levels. The seat can also be adjusted forwards or backward by 6 cm to best fit your body. The armrest is padded to ensure comfort and reduce muscle tension on the upper body in case of need.
The handlebar is padded with foam rubber. However, the handlebar is wobbly, even if you tighten it hard. The seat is made of PVC, which gives you a soft but excellent workout experience. The pedals are comfortable and non-slip just like those on an electric bike, which guarantees maximum stability and safety.
YESOUL spin bike has a 40 lbs balanced flywheel, made with the highest quality materials. The rotation of the wheels is constant, homogeneous, and fluid without creating vibrations and instability. The 1.5mm carbon steel frame supports weights up to 100 kg.
The App connectivity that YESOUL offers is interesting, allowing you to choose the paths to take and reproduce the real conditions of each path. In this way, each workout will be much more fun and enjoyable! To ensure quality, YESOUL also offers 1 year warranty.
PROS
Professional quality at an advantageous price
Resistance level adjustment during training
Multifunctional Console
Compatible with the app + tablet holder
Soft and resistant saddle
Silent
CONS
Bottle holder quality is not good
Tiny phone/tablet holder
---
7. Sunny Health & Fitness SF-B1805 Belt Drive Spin Bike
Item Dimensions: 48 x 23 x 45 inches | Resistance Mechanism: Magnetic Resistance | Max Weight Limit: 300 Pounds | Drive System: Belt-Drive | Flywheel Weight: 44 pounds | Pulse Sensors: Yes | Handlebar: Adjustable | Transport Wheels: Yes | Total Weight: 125.7 pounds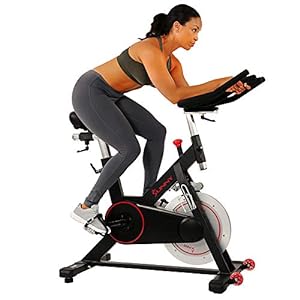 And now, we come to the final recommendation on our list, it is a convenient spinning bike that certainly deserves its place among the top 7. We've been very satisfied with its smooth operation (No noise or vibrations with the heavy flywheel) and good painting. You can grab under 600 dollars.
We know that when it comes to spinning bikes, performance, and various features are the first things to look at. Sunny Health & Fitness SF-B1805 spin bike has a 44 lbs flywheel and is extremely quiet, to avoid disturbing people who live with you or your neighbors.
The LCD computer is simple and functional and allows you to monitor and record the most important training data, such as time, speed, km traveled, calories, and even heart rate. The weight it can support is among the largest on this list and reaches 300 lbs.
This model has been painted with high-strength powder paint, making it wear-resistant. It is fully adjustable ( (4-way adjustable seat and handlebars) and can be adapted to any size and used by all the people in the family. It also has an excellent shape. It is built with soft and comfortable armrests and a holder for your smartphone or tablet.
Overall, if you want a professional indoor cycling bike at an advantageous and above all safe price, do not hesitate to choose the Sunny Health & Fitness SF-B1805. Although it is a little big and heavy, transportation wheels help you to move it without too much effort.
PROS
Silent and no vibrations
Safe and convenient
Sturdy and each part feels heavy
Feels like a peloton bike at 1/5th the cost
Effective seat height adjustment
Easy to put together
CONS
Handlebars are too far away
Seat is too far back
---
Buyer's Guide: Best Spin Bike Under $1000
You need to take into consideration some factors in order to avoid the mistake of buying a high-end spin bike that does not reflect your needs and therefore risks ending up in oblivion.
Type of resistance
There are two types of resistance available in spin bikes; mechanical and magnetic.
Mechanical resistance spin bike can be changed by pressing the flywheel. Because of the pressure, the flywheel actually slows down, which makes it run more difficult. For this reason, it is necessary to bring more energy for a more performing workout. Mechanical resistance spin bikes are the cheapest spin bikes on the market, that's why we haven't included them in our guide. Another reason to avoid this, this type of spin bike has a pad that must be replaced over time as it easily wears out.
on the other hand, magnetic resistance is changed by moving a special magnet, usually very strong. These are spin bikes that cannot undergo wear and therefore do not include elements that need to be replaced over time. However, they are also the most expensive models on the market.
Chain drive or belt drive
Spin bikes can use two types of transmission to connect the flywheel to the pedals: chain and belt. The chain one is the same as traditional bicycles. It is a little louder but has more resistance. The belt drive on the other hand consists of a kind of elastic band. It is quieter but more subject to wear.
Frame
The frame of the spin bike must be fundamentally robust and capable of carrying even a fairly substantial weight. For the rest, you can choose the design and shape that you prefer or that best matches the rest of the house. Steel frame is resistant to heavy loads.
Q factor
By Q factor we mean, simply put, the position your feet occupy on the bicycle. The distance between them and the amplitude of the angle your legs form when pedaling are all factors that affect the quality of your exercise and you need to make sure that this is the best based on your physical characteristics.
The flywheel
Flywheel is basically a disc that is placed between the pedals and constitutes the heart of the spin bike. The resistance of the pedals and any settings such as the climbing effect depend on this. The flywheel of the spinning bike must be heavy and sturdy because it is the part that gives solidity to the spinning bike.
Ergonomic saddle and riding position
Check that the seat of the spin bike is comfortable to make the ride more comfortable. The pedaling position must be comfortable so as not to subject your body to incorrect and harmful postures.
Pedals and handlebars
The pedals of the spin bike must ensure a comfortable position for your foot, as well as the handlebar. The former must not be too small but must properly accommodate the sole of the foot. The handlebars must also be comfortable to grip and the handles ergonomic.
Space needed
You need to carefully evaluate the space you have. Otherwise, the risk is buying a model that is too large, then it can be difficult to place in the room. Fortunately, the market is full of slim model spin bikes, designed specifically for home use.
Despite being compact, it is still important to measure the length. Those with little space can consider placing the bike in a corner of the room and then moving it to the center at the time of actual use.
Ease of transport
It is obviously important in this case that transportation wheels are available for moving, which could otherwise be difficult as many spin bikes are heavy.
Other features
Best spin bikes must have a functional display, allowing you to manage information such as training duration, kilometers traveled, and calories burned. You also noticed that the best spin bikes under $1000 all have heart rate sensors that allow you to track your heart rate, or they can connect to heart rate monitors via Bluetooth technology.
Other accessories such as device holder, bottle holder, towel rack, and dumbbell holder that a spin bike can possess.
FAQs
Which muscles of the body do you train with a spin bike?
You can strengthen the muscles of the legs, both those of the thighs and those of the calves and buttocks. However, this does not mean that the mass of these muscles increases excessively. Spin bike also trains ABS and arms, but not in a particularly intense way.
Is spin bike harmful to legs or affects the thighs?
After the first few spinning sessions, it seems that the legs are much larger than they were previously. However, this is a completely normal reaction of one's organism, not used to intense training of this type. In a short time, the legs return to their size, more toned obviously, and for this reason even more beautiful.
Is it possible to train only with the spin bike?
The short answer is no.
While pedaling, the abdominals and arm muscles are also set in motion, but not particularly intensely. This means that the muscles of the upper body are not toned, and it is not possible to achieve a sculpted physique. Precisely for this reason, it can be useful to alternate training with the spin bike with targeted training for these muscle groups.
However, the spin bike allows you to train the muscles of the legs and buttocks incredibly. It also allows you to carry out a cardio workout, which improves circulation, allows you to burn calories and fat, and gives the metabolism greater speed. It is therefore an excellent workout, but remember that spin bike is not designed for people's whole-body workouts.
Does the spinning bike help burn excess fat?
Yes, spin bike, another named Cardio trainer, increases the heart rate and the oxygenation level of the muscles. It is a workout that requires a lot of energy, which the muscles take from the carbohydrates consumed with food and calories, as well as from excess fat in the body.
Is the brand important for spinning bikes?
For beginners, well-known brands are always recommended. Choosing a spin bike from a well-known brand in the sector certainly brings an advantage from many points of view. In fact, it often happens that these brands were born from the experience of athletes and coaches, who have poured their knowledge and skills into the creation of products that can really meet the needs of the user.
Final Thought
The cheapest spin bikes, starting at a price of around 200 dollars, can be suitable for those who looking for a device for training at home two to three times a week. However, they don't have advanced technological features and lose performance over time. For this reason, smart people orient themselves towards models at least in the medium price range, with a cost ranging between 500 to 1000 dollars.
The market for spin bikes under $1000 continues to offer a wide range of excellent options for fitness enthusiasts. After the due evaluations, now you are able to decide which one to choose and easily identify the best spin bike that suits your needs. It's time to jump in the saddle and start training right away.
Our related buyer's guides for different price ranges: