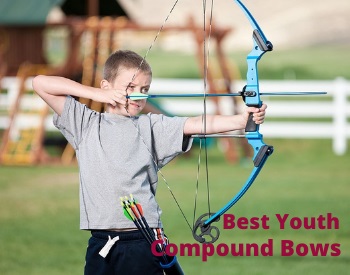 We're very happy when we see the kid has shown an interest in archery and bowhunting. It is a great way to instill a lifelong love for outdoor sports & activities and spending time in nature.
However, to keep them interested in this outdoor activity, choosing a proper youth compound bow is a key decision. Because safety and comfort is the fundamental aspect for kids to use it. You also need to make sure that size, shape, and weight are adaptable to your youngster's body.
In the rest of this article, we will cover the best youth compound bows for every budget. These are the best options for kids, pre-teens, teens, and new archers as well.
Best Youth Compound Bows in 2023
Comparison Table of the Top 7 Best Youth Compound Bows in 2023.
IMAGE
PRODUCT
DETAILS

Best Overall

Best Overall

Draw weight:

15-29lbs

Draw length:

19"-28"

Let-off:

65%

Weight:

2.5 lbs.

Check On Amazon

Draw weight:

30-70lbs

Draw length:

23.5"-30.5"

Let-off:

75%

Weight:

3.6 lbs.

Check On Amazon

Draw weight:

18-29lbs

Draw length:

22"-25"

Let-off:

60-70%

Weight:

Lightweight

Check On Amazon

Best for Beginner Youth

Best for Beginner Youth

Draw weight:

10-20lbs

Draw length:

19.8"-28.8"

Let-off:

55%

Weight:

3.4 lbs.

Check On Amazon

Draw weight:

20-70lbs

Draw length:

17"-29"

Let-off:

75%

Weight:

3.61 lbs.

Check On Amazon

Draw weight:

0-70lbs

Draw length:

18"-31"

Let-off:

70-80%

Weight:

3.8 lbs.

Check On Amazon

Best Value

Best Value

Draw weight:

5-50lbs

Draw length:

12"-27"

Let-off:

75%

Weight:

2.7 lbs.

Check On Amazon
1. PANDARUS Compound Bow Archery for Youth
IBO Speed: 260 fps | Axle-to-Axle: 27.75″ | Draw weight: 15-29lbs | Draw length: 19"-28" (no bow press needed) | Brace height: 6.75" | Let-off: 65% | Net weight: 2.5 lbs.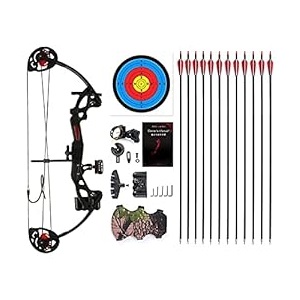 PANDARUS compound bow for kids is small in size compared to full-range hunting bows, and it has all the user-friendly and safety features that help young hunters or target shooters get comfortable with the basics. This bow is designed specifically for beginner youth and could be a great option to help kids graduate to more advanced models.
The draw weight is adjustable from 15 lbs to 28 lbs and the adjustable length is from 19 to 28 inches. This bow is very powerful and quite accurate. Fitting the bow in draw length/pull weight is a breeze. Your youngster can easily adjust the tension and stroke length.
This model is available in a wide range of colors and is made for lefties and righties. The package also comes with everything needed to start archery practice. The arrows are not the best but good enough to start with. The arrows alone would typically cost around $30, so this package offers excellent value for the price.
The sight, peep hole, rest, and quiver are coming apart. You have to install them yourself. If you're unfamiliar with setting up a bow, it's important to invest some time in research to ensure you have a comprehensive understanding of all its components. As an entry-level compound bow, it can also be perfect for women.
What we liked:
Designed for righties and lefties
Sturdy and durable
Very accurate
Lightweight
Affordable
What we didn't like:
Arrows are very medium quality
It has no stabilizer
---
2. CREATIVE XP: 2021 Compound Bow for Adults & Teens
IBO Speed: 320 fps | Axle-to-Axle: 30″ | Draw weight: 30-70lbs | Draw length: 23.5"-30.5" (no bow press needed) | Brace height: 7.4" | Let-off: 75% | Net weight: 3.6 lbs.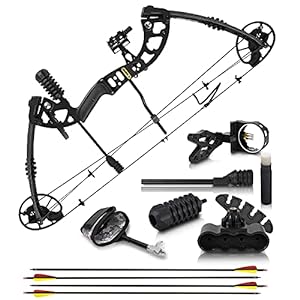 CREATIVE XP is a very popular inexpensive bow manufacturer, and the GlassHarrier is their smallest, most affordable, and easiest-to-use compound bow for youth. CREATIVE XP GlassHarrier compound bow, while not designed specifically for youth, is a great middle option with user-friendly features to help kids graduate to more advanced models. However, we wouldn't recommend this model for kids less than 14 years old.
At just over 320 fps velocity, this bow is the perfect size for practicing target shooting, yet is sturdy and stable enough to be used for hunting even big game. This model is also one of the fastest compound bows on the market today. It is accurate & consistent and the string and cam are very strong.
To ensure full safety and lifetime durability, the cams and modules are made of 100% aluminum. It is 100% adjustable for adults, youth, and teens without losing performance. You can adjust the draw weight and draw weight in a wide range of options. This is a right-handed bow but left-handed is now available.
CREATIVE XP GlassHarrier youth bow comes with all the accessories you need. However, the carbon arrows aren't very rigid, therefore we recommend them more for target shooting than hunting. This model also has a solid foundation and will last a very long time with regular maintenance.
What we liked:
Premium quality at an affordable price
Compact and lightweight design
Ready to Shoot Out of the Box
Very smooth on the draw
Ergonomic design
What we didn't like:
Some minor assembly is required
---
3. Barnett Vortex Lite Youth Compound Bow
IBO Speed: 135 fps | Axle-to-Axle: 27.5″ | Draw weight: 18-29lbs | Draw length: 22"-25" (no bow press needed) | Brace height: N/A | Let-off: 60-70% | Net weight: Lightweight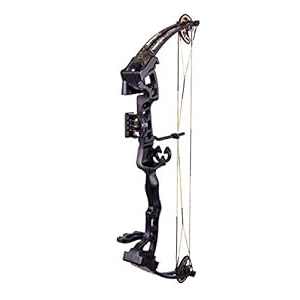 Barnett comes to the market with their high-quality youth compound bows aside from its incredible crossbows. The Barnett Vortex Lite is designed for tweens, making it perfect for ages between 8-12 years old. This versatile compound vertical bow is specifically designed to evolve alongside the advancing skills of developing archers.
The finish is somewhat standard and under full power; the bow shoots 290 fps. It is well-equipped and designed to provide long-term service life. And it will perfectly suit for a youth shooter to build strength, teach basic fundamentals of archery, and gradually work into a larger bow as they age and grow.
The draw weight is adjustable from 18 lbs-29 lbs and the draw length from 22"-25". The height is adjustable to fit a wide range of archers. The Barnett Vortex Lite entry-level compound bow is also lightweight and constructed to ATA/AMO standards, so it can be pulled back without a lot of effort. However, this series is now available only in right-hand form.
Barnett bow kit comes with a Bright Glow bow sight, arrow rest, quiver and three arrows, which means it is ready to put together and take out to the archery range. The simple 3-pin sight is good for starting out but nonetheless pretty basic. Yet, it's important to mention that this model carries some weight, equivalent to that of adult bows.
What we liked:
Affordable
Outstanding quality
Nice to handle
Oversized dual cam system
Synthetic string and cable system
What we didn't like:
Only Right-handed version is available at this moment
Doesn't come with bow sling
---
4. Southwest Archery Ninja Kids Youth Bow Kit
IBO Speed: Not Specified | Axle-to-Axle: 36″ | Draw weight: 10-20lbs | Draw length: 19.8"-28.5" (no bow press needed) | Brace height: 7.5 | Let-off: 55% | Net weight: 3.4 lbs.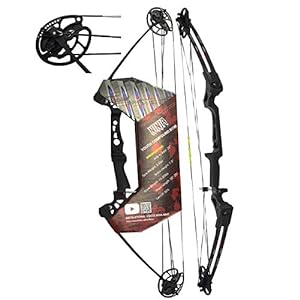 The Southwest Archery Ninja Compound Bow for Youth is an excellent entry-level bow, perfect for introducing young kids to archery. This comprehensive bow kit provides a fantastic learning experience. This package is ideal for kids, youth, or any beginner archer in search of a dependable yet budget-friendly compound bow.
You can easily adjust the draw length between 19.8″ and 28.5″, and alter the draw weight between 10 and 20 lbs without requiring a bow press. It has an axle-to-axle length of 36″ and a brace height of 7.5". The bow is perfect for ages 8 – 15 years old. Nonetheless, it is very lightweight with 3.4 lbs of weight without adding accessories.
It is a versatile youth compound bow under $200 The compound design provides a 55% weight reduction during the draw, meaning if you pull 20 lbs, you'll only need to hold 9 lbs! Additionally, the Ninja includes a split yoke tuning system for precise adjustments and optimal arrow flight.
For precise adjustments and proper arrow flight, the Southwest Archery Ninja compound bow features a split yoke tuning system. It's also sturdy and a little more durable. There is also five color option available. If you need something that is easier to pull, we highly recommend this bow. It's powerful enough to shoot the arrows with a satisfying.
What we liked:
Sturdy construction
Widely adjustable
Available both left and right handed
Versatile design
Lightweight
---
5. XGeek Compound Bow and Arrow kit
IBO Speed: 320 fps | Axle-to-Axle: 30″ | Draw weight: 20-70lbs | Draw length: 17"-29" (no bow press needed) | Brace height: 8" | Let-off: 75% | Net weight: 3.61 lbs.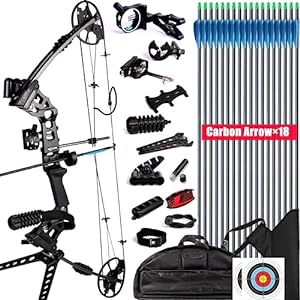 This is an incredibly unique and versatile compound bow package, ideal for any enthusiast from adult, youth, and even beginner archers. If you're searching for a compound bow for your youth that will grow with you as you continue in the sport for several years, the XGeek is an excellent choice. This versatile compound bow is designed to adapt and progress alongside your skills and experience.
The body is made of aluminum-magnesium alloy, which is extremely strong and light, but heavy feeling. It has a lot of speed and power but is still easy to draw and use. The draw weight of the XGeek is from 20 to 70 LBS and the draw length is from 17 to 29 inches. This is the reason this model is also suitable for younger adults.
The package comes almost assembled. All accessories are included and packed tightly to prevent damage. However, some of the accessories are a little competitive but work great. Quality for the price is very good – you will be very satisfied with the purchase.
Overall, the XGeek is a great compound bow with a great ratio between speed, draw weight and weight. However, as a starter bow, the instruction booklet could be more clear.
What we liked:
Perfect Platform
Shoot more accurately
Longer range
More durable frame
Complete Accessories
What we didn't like:
Currently, not available for left-handed youth
Instructions could use some improvements
---
6. Sanlida Archery 2021 Dragon X8 Hunting Compound Bow
IBO Speed: 310 fps | Axle-to-Axle: 30″ | Draw weight: 0-70lbs | Draw length: 18"-31" (no bow press needed) | Brace height: 6.6" | Let-off: 70-80% | Net weight: 3.8 lbs.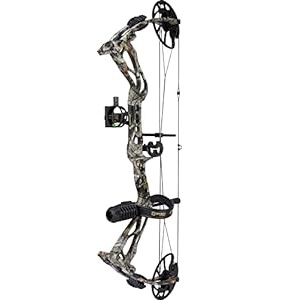 You might have already heard about the Sanlida brand, a great archery brand, famous for its ultimate performance bow at a great value. The variable draw weight and length make the Dragon X8 an excellent hunting bow for a growing archer. The draw weight goes from 0 pounds to 70 pounds, while the length varies between 18 inches and 31 inches, allowing any beginner to expert youth or teen to grow with the bow.
The let-off of the Dragon X8 bow is 70-80%. Compact 30″ axle to axle ideal for the tree stand and/or ground blind. It's a solid bow for youth, especially for the price, and you will be impressed by how versatile and lightweight it is. We recommend this model for shooters 12 years of age or older.
The package comes with everything you need to start shooting including a 5-pin sight (which works quite well), arrow rest and stabilizer. However, the package does not come with arrows or a release so make sure to order those separately. For hunting, you can hardly do any better.
The Dragon X8 offers reliable accuracy, maintaining consistency in your shots. Its lightweight and compact design, while convenient, does make it less forgiving compared to some larger bows. While we didn't test it for hunting, we have full confidence in its capability to effectively take down a deer.
This model is also straightforward to assemble and install all the accessories, you just need to set the draw length, and draw weight.
What we liked:
Draw weight is adjustable for maximum convenience
Comes with 70%-80% let-off for maximum comfort
Full-size compound bow
Solid construction
Best budget compound bow
What we didn't like:
Doesn't come with a carrying case
This model is available only for right-handed youth
---
7. Bear Archery Royale Youth Compound Bow
IBO Speed: 290 fps | Axle-to-Axle: 27″ | Draw weight: 5-50lbs | Draw length: 12"-27" (no bow press needed) | Brace height: 6" | Let-off: 75% | Net weight: 2.7 lbs.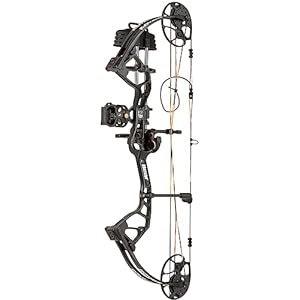 Bear Archery is a venerable and highly regarded bow manufacturer with a rich history dating back to 1933. Established by Fred Bear, a pioneer in the world of archery, the company has played a pivotal role in shaping the modern archery industry. If you're looking for an extremely versatile youth compound bow that can be easily adjusted, the Bear Archery Royale is a great option for you.
This model offers a choice of six appealing colors that naturally attract young archers. It boasts an adjustable draw weight range, starting from a gentle 5 pounds and going up to an impressive 50 pounds. Additionally, it achieves a maximum arrow speed of 290 feet per second, demonstrating outstanding performance.
It's incredibly adjustable for draw lengths from 12 to 27 inches, so it can adjust and grow with the bow user. The draw is easy enough to pull, with lots of room for increase with growth. performance. The bow also features a 70% let-off, a notable attribute that enhances ease of use and accuracy.
The quiver is detachable. The tough aluminum riser and composite limbs also ensure long-lasting as they grow and learn. With an optional camo finish, this is a great bow for hunting.
Bear Archery Royale compound bow comes fully assembled. You just have to make a couple of sight pin adjustments for your kids. The package includes a peep, sight, rest and quiver. Additionally, you need to purchase arrows and a release. Overall, it's a good quality youth bow at a reasonable cost.
What we liked:
Looks super sharp
Great adjustability
Light enough for kids to handle
Strong enough for hunting
Pretty decent 70% let-off
What we didn't like:
It doesn't come with arrows and releases
---
Buying Guide: Best Youth Compound Bows
Youth bows are a little simpler than adult compound bows, so you need to consider some extra things when you're selecting one, including the age and size of your child, budget, draw weight, draw length, assemble weight, and more. For having some fun after a series of practices, it is important to consider all the aspects we will mention below.
Your Child's Age and Size
When it comes to youth bows, pay close attention to the manufacturer's recommendation for age. Most manufacturers try to design bows that are suitable for beginners and kids as they grow. However, not all brands are thriving and reliable. You can change the bow when your kids turn to be an expert, so make sure it is adaptable to your child and not your child to the bow.
The height of the child is also important to determine the right bow. Keep in mind, a well-fit bow can be safer to use and can reduce the risk. Our best advice is to see the product specification section wisely. This means you will choose a model that fits most.
Draw Weight
A little heavy draw a bow can improve kids' skills very fast and it will increase their confidence in target practice. But to prevent injuries to growing muscles and bones, smaller children need a bow with a draw weight that they can manage at their current age. So that your youngster can easily draw the bow back without overly straining.
Draw weight recommendations:
On average, most children under 4 years of age should use a bow with a draw weight between 6-10 pounds, and this is true until kids weigh between 55-70 pounds.
If your child age between 4 to 9 years and bodyweight of 70 to 100 pounds, a 10-29 pound draw weight works fine. However, for fast-growing children, it can be extended up to 35 pounds.
For youths who are more than average between the ages of 9 to 18 and average with a body weight of 100-130 pounds, we recommend a 15 to 52 pounds draw weight. The age range here is not important in case your son or daughter reaches 100 pounds.
Draw Length
The draw length is one of those of the handles you're gripping with one hand to the spot where you hold the string with the other hand. You can find the ideal draw length by dividing 2.5 by your child's height. It's a pretty simple way to find.
Children's compound bows must have a draw length between 14-25 inches if your kids are between 3-10 years old. A draw length of 15-30 inches is recommended for youth aged between 9 to 19 years.
Keep in mind, there is no standard format for draw length, so you need to balance both draw length and draw weight with the size of your child.
Right or Left Handed
Make sure to see if your child needs a right or left-handed model because it will make it easier for your child to improve their skills. Some compound bow models are designed for left-handed others for right. Most of the well-known brands offer both-hand options.
Physical Weight
The weight of the bow can vary greatly because it determines the comfort and safety level. A heavy compound bow is difficult to hold and can cause painful injuries. If your child is over 10 years, it will be easy for you to find the right bow, but it can be more difficult to find one that is designed for smaller children.
The bad news is that not all manufacturers have lightweight compound bows that are designed for youth under the age of 10. If your youngster is under the level of age, the best option is to start with a lightweight model (weighs 3 pounds or less).
Bow Weight recommendation:
– 3-8 years old: 1.3-2 pounds.
– 4-10 years old: 2.3-2.8 pounds.
– 10-19 years old: 3 pounds to more.
Durability
Like any hunting or target shooting weapon, durability is a fundamental aspect. We recommend you choose a bow that is made of durable materials. You know youth bows lose durability much faster than others. So if the purpose of the use is more than a few years, make sure it can still hold up against harsh weather conditions.
Accessories
Accessories are important because archery is an aggressive sport. Arrows, a quiver, a bow sight, an armed guard, and a target are basic important things that are included in the package. If possible, you can choose a complete bow package – it will save you a lot of time and money.
According to our market research, most beginner or youth bows come with complete sets that your child will need to learn how to shoot properly and still enjoy the sport.
However, it is wise to think about safety instead of trying to save some money. For added extra safety, make sure the package includes an armed guard to prevent the string from slapping the arm when released. Or buy it additionally. A glove or tab is also needed to protect the fingers' skin.
Budget
If this is the first time your child to start this sport, you don't need to spend a lot of money on the most expensive youth bow. However, the price significantly affects the quality.
As previously mentioned, make sure, you get an arrow, bow, release, and other accessories like the quiver, sight, arrow, rest, and more. But still, in the beginning, make no sense to invest more money and purchase a highly expensive model. For around 300 dollars, you will get a package and arrow setup.
Youth bows basically used for a few years and then become a keepsake. For this reason, you can put your money in the future as you will need to upgrade the accessories.
FAQs
Are there any safety precautions I should take when my child is using a compound bow?
Yes, safety is most important. Ensure your child receives proper instruction on handling and using the bow. They should always wear appropriate safety gear, like arm guards and finger tabs. Adult supervision is also crucial, especially for younger archers.
How do I determine the right draw weight for my child's compound bow?
The right draw weight depends on the child's strength and experience level. A general guideline is to choose a draw weight that allows the child to comfortably draw and hold the bow without straining.
What is let-off and why is it important for a youth compound bow?
Let-off refers to the reduction in draw weight that occurs when a bow is at full draw. A higher let-off percentage means the archer has to exert less force to hold the bow at full draw. This can be especially beneficial for young archers building their strength and endurance.
What are the advantages of a lightweight youth compound bow?
A lightweight bow is easier for a young archer to handle and maneuver. It reduces fatigue during extended practice sessions and provides greater control over the bow.
Can a youth compound bow be used for hunting?
Yes, many youth compound bows are suitable for hunting, provided they meet the legal requirements in your region. It's crucial to ensure the bow has an appropriate draw weight for hunting game animals.
Conclusion
Compound bow is a fantastic opportunity to teach your kids bowhunting or archery. However, to put safety ahead of any other considerations, it takes some time to find the right youth compound bow for your child. Most youth bows on our list are affordable so you can easily find one that fits your budget. Your kid can achieve exceptional skills when you find the right adaptable bow.
We hope this guide helped you in the direction of a quality bow for your youngster. If we're missing anything or you have any questions, leave a comment or send us some feedback.
You also might be interested in: