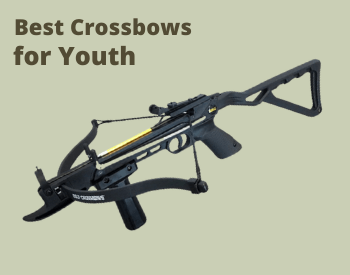 Finding the best youth crossbow can be harder. There are numerous factors to be taken into consideration when choosing crossbows for youths, especially safety will be paramount. But a few additional measurements too.
We working for more than 6 years with crossbows and have significant experience in safety, accuracy, and trustworthy brands.
That's why we made a list of the most popular and well-made youth crossbows from the available options on the market. Our list includes many different shapes, sizes, and types of crossbows that will meet your expectation if your kid's age is between 10 and 24 years.
Best Crossbows for Youth in 2022
To get you started our first choice is from a well-known brand that designed the crossbow high safety, lightweight and feels sleek and smooth with every shot. The BOLT Crossbows BT121 is a multi-functional crossbow that won't break the bank and delivers a long time service life.
Without further delay, let's see our ranking of the best youth crossbows 2022:
1. BOLT Crossbows BT121 The Seeker Crossbow
Velocity: 200 FPS | Draw weight: 80 lbs. | Power Stroke: 6.5 inches | Weight: 4.5 lbs.
Whether it is your child's first crossbow or they're a seasoned pro, the BOLT Crossbows BT121 is our first recommendation for both cases. This is a beautiful-looking youth crossbow that can be used for both target practice and small game hunting. Thanks to its durable, small power stroke and medium speed, your kids won't get bored after consistency shoots.
It has 80 lbs draw weight, which makes it quite easy to load deterring many younger or more inexperienced shooters from learning how to shoot. And with this crossbow model, your youngster can shoot plastic bolts over 200 FPS and aluminum bolts over 160 FPS.
BOLT Crossbows BT121 crossbow also features an automatic safety mechanism to prevent dry fires while the adjustable sights allow for extreme accuracy. It has an easy cocking stock and no rattle with the cocking lever/stock. The cocking lever is located above the pistol grip.
The package includes three aluminum bolts and a paper target. And to ensure quality, the manufacturer offers 1-year warranty. Also, it comes with a Foregrip for steady aim and excellent control. It's lightweight (less than 5lbs) that could be easily stored in your backpack.
The noticeable downside we've found so far is no real available bolts that are of high quality. The aluminum arrows are of delicate quality but they will bend easily when shooting a hard Target.
What we liked:
Very well made
Extremely accurate
Easy to assemble
Easy to use load and carry
1 year manufacturer warranty
What we didn't like:
Included bolts aren't the best
Strings aren't durable enough
---
2. Barnett 78125 Recruit Terrain Crossbow
Velocity: 330 FPS | Draw weight: 140 lbs. | Kinetic Energy: 91.9 ft. lbs. | Power Stroke: 12.5 inches | Weight: 6.4 lbs. | Length: 34.25 inches
We chose the Barnett Recruit Terrain Crossbow for youth partly because of its high safety design – it has anti-dry fire trigger system + finger safety reminders. But this model also has received notable reviews from adult hunters. Nothing to envy from other high or mid-range price crossbows towards accuracy.
With the wonderful design, it contains 330 FPS of velocity and 140lbs of draw weight to enable takedown of any game in the hunting field. It's highly durable and will not break in the middle of hunting season. Barnett Recruit Terrain crossbow can hit up to 90 91.9 ft. lbs of kinetic energy.
The shot is smooth, thanks to an Anti-Vibration Foot Stirrup and lightweight composite stock. The rubberized foot stirrup absorbs some of the vibrations and offers a good grip while manipulating the crossbow. It is also lightweight and easy to maneuverable at a price range of under $300. You can also choose Barnett Recruit youth crossbows in varying colors and draw weights.
In the package, you'll also receive 4×32 scope, rope cocking device, lightweight quiver, two 20-inch Headhunter arrows and lube wax. Barnett Recruit Terrain is Crank Cocking Device Compatible but does not come with the package, it is an additional purchase. Overall, it is one of the most recommended beginner crossbows, designed for small-farmed hunters or newbies.
What we liked:
Compatible with crank cocking device
Designed for youth and small frame shooters
Compact and lightweight design
Quick and easy to assemble
High arrow speed
What we didn't like:
Only two bolts are included
---
3. Daisy 4003 Regular Youth Crossbow
Velocity: Not specified | Draw weight: 29 lbs. | Power Stroke: Not specified | Weight: 4.9 lbs. | Length: 38.38 inches
Daisy is a well-known brand to teach children how to shoot crossbows safely. And the Daisy 4003 is a great youth crossbow for beginners because of its extremely lightweight design, which makes it suitable for small range hunting and competition or fun shooting. This unit has everything that a youth crossbow should have and great dimensions for smaller people.
It has a 29-pound draw weight and weighs 4 pounds and looks really cool. The Daisy 4003 was designed for both right and left-handed and works just as well in either hand. And because of its lightweight design, the frame is quite easy to handle for children. However, we don't recommend this crossbow for competitive or even recreational hunting as the power and accuracy are not top-notch.
The highly adjustable rear sight helps to improve the accuracy of shots. Unfortunately, it has no ring to attach a scope. The bow is a lot easier to cock than the Barnett Recruit Terrain, however, adult supervision is highly recommended whenever kids are using it.
Daisy 4003 crossbow comes with two high-quality aluminum bolts for efficient target practice. If you're looking for a great way to introduce your children or grandchildren to use the crossbow without breaking the bank, then Daisy 4003 is the best option for you. However, this model is quite expensive, but you can't beat the quality.
What we liked:
Lightweight
Built in high-quality
Great for beginners target practice
Easy to cock and shoot
Built for a shooter of both hands
What we didn't like:
Not efficient for hunting
No scope included
---
4. TenPoint Turbo GT CB16020-5522 Crossbow Package
Velocity: 360 FPS | Draw Weight: 175 lbs. | Kinetic Energy: 107 ft. lbs. | Power Stroke: 12.6 inches | Weight: 6.5 lbs. | Length: 36 inches
The TenPoint Turbo GT Crossbow Package is extremely versatile, and TenPoint designed it to be a long-lasting option for just about any crossbow user from the age of 13. You can use this crossbow at all ages for target shooting and hunting. In fact, it's a very popular hunting crossbow, widely used for deer hunting. It will come fully assembled.
The Turbo GT length is 36 inches long and weighs only 6.5 pounds. The compact 13.5 inches axle-to-axle (when cocked) makes it easy to handle in tight treestand or ground blind spots. And with 175-pound draw weight, it will deliver arrows up to 360 feet per second. It is so easy to draw the bow.
Cocking this crossbow is an absolute breeze by using ACUdraw crank cocker even beginner youth can do it. Just remove the crank handle from underneath the stock, disengage the crank and bring the cocking mechanism forward onto the string.
To reduce weight and improve handling and balance, the Fusion S stock uses strategically placed cutouts in the foregrip and buttstock. That also encourages shooters to wrap their thumb and fingers through the foregrip to keep them safe. Also, the glass-reinforced nylon safety wings enhance safety.
The Turbo GT crossbow is reasonably much quieter than most of its pricier competitors, but you will still notice a bit of snap when you shoot. It's rare to find a high-end versatile crossbow at this price that is so adjustable.
What we liked:
Devastating speed
Safety engineered
Great accuracy
Versatile
---
5. Barnett Assault Recruit Recurve Crossbow Package
Velocity: 245 FPS | Draw Weight: 150 lbs. | Kinetic Energy: 65 ft. lbs. | Power Stroke: 12.5 inches | Weight: 4.5 lbs. | Length: 37.5 inches
With a compact and lightweight design, the Barnett Assault Recruit Recurve Crossbow is a great pick for both newbies and youth shooters. It's an ease-of-use design and built-in features to keep the archers and hunters safe. It is affordable within this price range and has excellent built-in quality.
You can cock quickly whether you follow official instructions or not. It is powerful enough for a 50-yard target making it suitable for hunting small game, deer hunting, and target shooting. You should be able to Shoot consistently in 2″ grouping out to 50-yard. It can reach a maximum speed of 245 feet per second and has a 150LB draw weight.
Like most of the models in this list, the Barnett Assault Recruit features an Anti-Dry Fire (ADF) trigger, making it effortless and safe for youth shooters, even newbies. Also, this unit features above grip finger guards. On the crossbow is Metal Injected Mold trigger. It allows for tight quality tolerance and a smooth trigger pull.
The body and the rail are made of high-quality composite resin, designed for small frame archers. It weighs only 4.5 pounds and comes with an adjustable stock. Barnett Assault Recruit is also a complete package, typically found in much more expensive crossbows. The included scope is an easy-to-see red dot scope. It illuminated to see in low light conditions.
What we liked:
Excellent build-up quality
Simple and lightweight design
Crisp and smooth trigger pull
Comes with 5 years warranty
Finger Reminders
What we didn't like:
Doesn't include a rope cocking device and crossbow bolts
---
6. Wicked Ridge WR15025-7536 by TenPoint
Velocity: 300 FPS | Draw Weight: 150 lbs. | Kinetic Energy: 70 ft. lbs. | Power Stroke: 10.8 inches | Weight: 5.9 lbs. | Length: 33.9 inches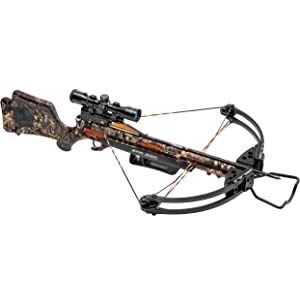 TenPoint is the biggest US-based high-end crossbow manufacturing company. And the TenPoint Wicked Ridge is the perfect crossbow for shooters of all ages, making it suitable for small-framed shooters. It has been designed to introduce experienced young people to crossbow shooting.
With 150 lbs draw weight, the TenPoint Wicked Ridge crossbow forces arrow up to 300 feet per second with a range of 70 ft. lb kinetic energy. It comes with Self-Retracting Rope-Cocking System that reduces the draw weight by 50 percent while drawing the bow accurately enhances the overall performance.
This Wicked Ridge from TenPoint is very simple to use. Once you get the hang of how the handles sit after cocking, this is a breeze to load and shoot. Parents praise how easy it is to assemble. It can be cocked with ease and is powerful enough to deliver consistently lethal arrow speed. The accuracy is also excellent but a little louder than we expected.
This product is also pretty much sturdy, and the strong frame is durable as well as stable on the hand. The power stroke is also good, measuring 10.8 inches. The package includes everything you need, so don't need to buy additional accessories to optimize this crossbow.
What we liked:
Ideal length-of-pull
Light physical weight
Excellent customer service
Compact design for smaller shooters
---
7. Barnett 78404 Jackal Crossbow Package
Velocity: 315 FPS | Draw Weight: 150 lbs. | Kinetic Energy: 95 ft. lbs. | Power Stroke: 12 inches | Weight: 7.7 lbs. | Length: 35.5 inches
Whether it is the first bow for your youth or already having enough experience, the Barnett Jackal crossbow is worth a look. The Barnett Jackal is a powerful hunting youth crossbow with great stability and control for the user. Its sleek and military-style design gives you power as you draw and release for a kill.
The lightweight build material allows your kids to distribute evenly the weight across the crossbow and their shoulders for a precise shot every time. This well-constructed crossbow can also be used by adults too.
Although it is a bit loud, the Barnett Jackal is certainly an accurate, precise, and powerful crossbow under $200 with great stability to give the user the ability to focus and fire without any misses. However, it is a little loud when fired but it will not matter if the purpose of the use is hunting.
The included red dot scope is fine for backyard target practice, but not effective for hunting. You need to replace the scope with a quality upgrade for hunting. Also, it does not come with a rope cocking assist, and we would highly recommend you get one to improve accuracy over hand pulling.
What we liked:
Easy to assemble
Safe and reliable youth crossbow
Beautiful camouflage design
Powerfully built with durable parts
Good built-in quality
Ergonomic design
What we didn't like:
It is not very quiet
Mid-rage scope
---
8. Arrow Precision Inferno Fury Crossbow Kit
Velocity: 235 FPS | Draw Weight: 175 lbs. | Kinetic Energy: 50 ft. lbs. | Power Stroke: 10.5 inches | Weight: 4.84 lbs. | Length: 31 inches
Arrow Precision Inferno Fury isn't the new youth crossbow, but it is capable of providing good performance to improve archery skills. And this is the reason it has been regarded as one of the best choices for young hunters for more than a decade.
The aluminum and fiberglass material gives this crossbow lightweight and easy-to-use features. It can also be an outstanding model for someone who prefers a less noisy crossbow. This is also an ultimate light crossbow that will deliver both performance and ease of use during hunting and sports for both adults and kids.
This package includes every user's needs even the most amateurs of shooters look like a pro within minutes of handling. For example, the package comes with four 16-inch fiberglass bolts, three red dot sight, arrow rest, rope cocking device, foot brace and basic arm guide. The string accessory is also handy enough to lessen the burden of reloading.
The total width of the crossbow is 27 inches, while the string length is 26.5 inches. You can confirm that the limbs would not splinter even after you fire hundreds of arrows. It's also the best alternative crossbow for hunters looking for a lighter option than carrying heavy bows when hunting.
The extra safety measures such as the ambidextrous stock, anti-dry fire triggers and thumb guard make the Arrow Precision Inferno Fury an adequate choice for beginners. These features also prevent potential injury since awkward movement is prevented.
What we liked:
Great for shooting in tight spaces
Ambidextrous auto safety
Very attractive design
Strong and durable frame
Extremely lightweight
What we didn't like:
Not a premium site
Poor instruction
---
9. Parker X306-MR Bushwacker Youth Crossbow
Velocity: 300 FPS | Draw Weight: 160 lbs. | Power Stroke: 10.5 inches | Weight: 7.0 lbs. | Length: 37 inches
If you're looking for an elegant crossbow for a young hunter that can easily take down small to medium games safely, the Parker Bushwacker would be the best bet. The Parker X306-MR Bushwacker beginner crossbow can be used for both target practice and hunting.
The model includes an ergonomically designed pistol grip and forearm that makes it comfortable to hold and it is designed to keep user fingers out of the flight rail. It also comes with Anti-Dry Fire protection. You don't have to worry about making unnecessary noises that will scare the game away.
You will be able to shoot over 300 feet per second. The trigger is very responsive, easy to use and safe. The included Synergy Cam can reduce the cocking effort by over 50% when it is used with Roller Rope Cocker. Parker Bushwacker is also an economical choice but still gets a high-quality crossbow backed by lifetime warranty.
The package includes a 4x multi-reticle scope to help see the target clearly in all lighting conditions. It also comes with four standard Parker Hunter Arrows with field points (which are specifically designed for modern crossbows) and a quick detach quiver for precisely four arrows.
What we liked:
Lifetime warranty
Ultra-lightweight design
Affordable
Beautiful design
Powerful crossbow
---
10. Barnett 78651 Youth 30 Compound Crossbow
Velocity: 140 FPS | Draw Weight: 30 lbs. | Kinetic Energy: 17 ft. lbs. | Power Stroke: 12.5 inches | Weight: 6.2 lbs. | Length: 37 inches
Last but not least is the Barnett Youth 30, this youth crossbow with crank, designed specially to make children feel as safe as possible but still delivers the same effect as you would get from using an adult crossbow. The Barnett Youth 30 is a great crossbow to learn useful techniques for hunting and archery.
The draw weight is 30lb, which is ideal for a youth who's starting out in archery or hunting. It is equipped with fore-grips that will remind them about the correct placement of their hands to get the most accurate shot on their target.
Barnett youth crossbow features an adjustable butt pad on the stock for optimal comfort. It has a metal injected molded trigger with a 3.5 lb. pull. It can reach 140 feet per second. All safety features also include this bow such as finger reminders, a pass-through finger grip, and an anti-dry fire trigger. This model is extremely easy to maneuver for kids.
The package includes everything a beginner needs to get started; premium Red dot scope, rope cocking device, 3 arrow Quiver. However, the arrows are suitable for target archery, not for hunting.
What we liked:
Perfect starter model for juniors
High safety design
Light draw weight
Easy to assemble
What we didn't like:
Not suitable for more advanced youth
Doesn't have a sling with it
---
How to Choose Crossbow for Youth Boys or Girls
We've already mentioned that finding a good selection of crossbows that are built for children is a bit difficult, especially for the first time. In this section, We'll cover how to select the finest crossbow for youth. So let's see which features you should consider before making the purchase decision.
User Safety
Safety is the first criterion you should be considered before picking the crossbow for your child. If your child age between 10-24 years you can prefer an anti-dry fire system crossbow to avoid the most dangerous situations. Because the younger your child, the more conscious you have to be.
Keep in mind the ease of simply pulling a trigger makes the crossbow more dangerous.
Physical Weight
If your kid is small, the lighter crossbow would always be recommended, even if he/she knows how to aim and use a crossbow. Because heavy models can be hard to keep steady or carry. Also, if you want to go hunting with your kids or going to be carried around, then you should be considered as light as possible to avoid fatigue faster.
Size of Youth Crossbow
Another important thing to keep in mind is the size of the crossbow. a smaller crossbow much easier to handle and maneuver and provides comfort during prolonged use.
The Price
The third but most important factor is the price. When we were a kid, our father always gave us affordable devices to figure out our dedication and passion. Making a big investment isn't worth it if kids aren't dedicated to sticking with archery for a long time.
However, the prices vary a lot but that doesn't mean quality simultaneously. In our ranking, some more affordable options can be comparable with high price tag-powerful and efficient models.
Draw Weight
You may know that draw weight is the amount of force applied to the string while it's pulled back. Don't need too many draw weights for the youth crossbow. The higher draw-weight bows are more power to deliver arrows when pulling the trigger (means crossbows with heavy draw weight are harder to load). If you want the child to use it for hunting, 30 to 150 pounds is sufficient to fit your child.
However, it will be worth buying a model that comes with a rope cocking mechanism that acts as a pulley system, that reduces the draw weight of the crossbow. If the package is not included, these can be purchased separately.
Accessories
The included accessories with a crossbow must be child-friendly. They should be outspoken and easy to handle so that your child can practice better without getting any hand injuries.
Generally, a crossbow scope, quiver, bolts and some other essentials are included in the scope of delivery.
Conclusion
If you are a hunter and have kids that love hunting like you, a youth crossbow is the best way to introduce hunting and make fun with them. Throughout this article, we reviewed the top 10 models (that highlight the top products in the market) and addressed well-researched key points to consider when purchasing a new crossbow.
However, if you are still unclear about which one to buy, you can go with Barnett Recruit Terrain Crossbow without a shadow of a doubt. The majority of these features focus on making the Barnett Recruit Terrain crossbow easy as possible so that a youth who has never shot a crossbow before will be able to use this crossbow.
If you liked this article, make sure to check out our newest guides here: