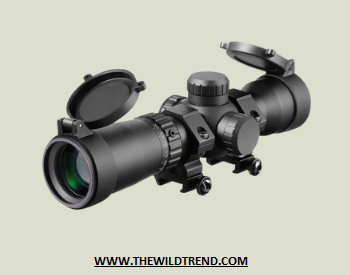 The quality of a crossbow scope should not be inferior to the quality of your crossbow. Also, a good quality crossbow scope must have some essential features so that it can be useful for hunting or target shooting for years.
However, you know that there are hundreds of models and all seem top of the market at first glance, to make you the perfect sniper.
It is not so. Therefore, many are just crap.
Today's newest crossbow scopes have more powerful features to pick up more clear sight and run longer than the wimpy models of years ago;
In this review, we've meticulously researched and evaluated various crossbow scopes to bring you a selection that balances performance, features, and affordability. Our goal is to help you make an informed decision so that you can confidently select a model that meets your specific needs without breaking the bank.
Let's see what we found as the best crossbow scopes for the money of 2023. In addition, you will find all the relevant data on how to choose the best crossbow scope on a budget in the buying guide section, so that you have substantial knowledge to make the purchase decision.
Best Crossbow Scopes in 2023 – At a Glance
Let's see our today's ranking of the best crossbow scopes for the money…
1. Hawke XB30 Crossbow Scope – Our Top Pick
Sport type: Hunting | Weight: 15.3 ounces | Material: Aluminum | Magnification: 2-8X | Objective lens diameter: 36 Millimeters | Eye relief: 3-inch | Speed adjuster: 250 to 400 fps | Max distance: 100 yards | Waterproof: Yes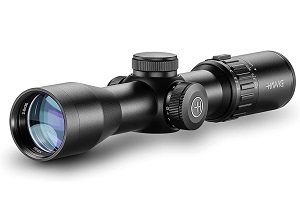 According to our practical test report, the Hawke XB30 crossbow scope is capable of delivering a clean and sharp image with high-contrast colors. It features 14-layer fully multi-coated optics and wide angle optical system, which ensure exceptional clarity and performance even in the low-light condition.
It features a 2x-8x optical zoom lens with 36 millimeters objective lens diameter, which covers distance of up to 100 yards. This means that you can use this scope more closely, such as for hunting or shooting distances of 20 to 100 yards.
The 30mm mono-tube chassis is designed to withstand the heavy crossbow recoil. The 32 millimeters lens diameter is good in the midfield and suitable for less optimal light. The speed adjuster able to match the bow speed from 250 fps to 475 fps for accurate reticle calibration, lets you dial into the speed of your bolt.
Hawke XB30 crossbow scope is suitable for all types of crossbows, especially crossbows that are designed for hunting. It is waterproof and cannot fog up from the inside because it is a nitrogen-purged optic. So you can use it in the rain without any difficulties. And with a weight of 435 grams, this crossbow scope is comparatively easy to carry.
This device is also equipped for stronger solar radiation, as the sloping housing prevents reflections from direct solar radiation. It is easy to set up. The package includes lens covers and a lens cloth. It's like having a high-quality optic device for your crossbow.
However, it doesn't come with rings.
PROS
Wide Angle optical system
Waterproof and fog proof
Provides crisp and clear view
Very lightweight design
Comes with 2-year warranty
CONS
Doesn't come with rings, you need to buy them separately
---
2. TRUGLO 4X32 with Rings Cheap Crossbow Scope
Sport type: Hunting | Weight: 12 ounces | Material: Aluminum | Magnification: Maximum 4.00 | Objective lens diameter: 30 Millimeters | Eye relief: 4-inch | Speed adjuster: 250 to 475 fps | Max distance: 100 yards | Waterproof: Yes
TRUGLO 4X32 Pro crossbow scope is exceptional in features because its well-thought-out design makes this model an invaluable attachment for crossbow hunters. The fully–coated lenses provide maximum brightness, clarity, and contrast on your target.
TRUGLO crossbow scope is durable and scratch-resistant. Also, it has non-reflective matte finish and is filled with Nitrogen gas, so foggy weather won't be a problem for you.
In addition, this model is equipped with a parallax compensation for even more accuracy. You can focus on the target and reticle together. It has intuitive crosshairs, which is the coolest thing on the market that we found at this price range. And it provides a crystal clear field of view.
The multiple lines for crosshairs make it super easy to find your target at different distances. You can easily install the scope without taking too much effort. It can capture aim from up to 100 yards distance (at a maximum of 475fps). However, once installed, only minor adjustments needed to be made to zero in at 20 yards, 30 yards and 40 yards.
It has a clear and beautiful look, and the surface is water and impact-resistant. The dual-lighted reticle will be helpful a lot at dusk and early mornings. The TRUGLO 4X32 is in the medium weight range with its 1.2 lbs. In addition, the package includes Weaver–style rings with battery. It comes with lens covers on an elastic band.
However, some consumers complain that they had a bit of trouble mounting it. You have to get a wrench to tighten them otherwise they will really crank down or come loose, making it impossible to sight in. If this is not a big deal for you, undoubtedly the TRUGLO 4X32 is the best crossbow scope value for the money.
PROS
Dual color illuminated reticle
Can be used without illumination
Best choice for the price
Works well in low light
Easy to adjust
CONS
Illumination could be a little brighter
---
3. Killer Instinct LUMIX SPEEDRING Crossbow Scope
Sport type: Hunting | Weight: 1.4 Pounds | Material: Aluminum | Magnification: Maximum 1.5-5X | Objective lens diameter: 32 Millimeters | Eye relief: 4-inch | Speed adjuster: 270 to 450 fps | Max distance: 100 yards | Waterproof: Yes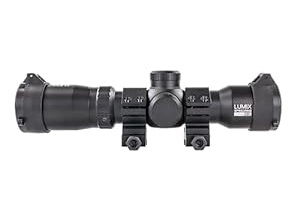 Killer Instinct is certainly an inventive company to design advanced technology hunting crossbows as long as crossbow scopes. The Killer Instinct the LUMIX is an all-rounder scope in the middle class. It fits most of the crossbows on the market and gives you an advantage in the hunting area.
This model is built in a durable metal case that's weather-resistant and has spring-loaded covers that protect the lenses. It is fast and easy to set up. The package comes with everything you need. However, you will need a Picatinny base to fit your rifle.
The adjustable speed ring allows you to diversify the scope for crossbows between 270 and 450 FPS. And the red/blue illuminated reticle provides sharp contrast for accurate sighting in low-light conditions, making it a great option for night hunters.
This scope has a 30mm tube and 4 inches of eye relief that works fine. The illumination is crisp and does not make the entire aperture glow. The front objective lens is implemented with a coating that can largely avoid reflection from the sun. You can adjust the brightness with a variety of options.
The magnification of the Killer Instinct the LUMIX is 1 to 5. It is very stable (won't wobble) and shockproof. Overall, this device offers a huge field of view at a cheap price (under $100).
PROS
Durable frame
Fits most crossbows on the market
Variable brightness
Waterproof and shockproof
Very accurate
CONS
Focus ring is far from stiff, if you need to quickly re-focus you're not going to be happy
---
4. TWP 4×32 Multi-Range Hunting Crossbow Scope
Sport type: Hunting | Weight: 15 ounces| Material: Aluminum | Magnification: no, Fixed at 4X | Objective lens diameter: 32 Millimeters | Eye relief: 4-inch | Speed adjuster: 250 to 400 fps | Max distance: 100 yards | Waterproof: Yes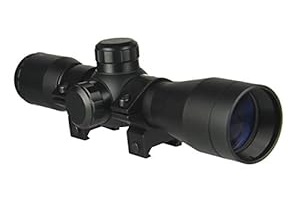 TWP 4×32 Compact Multi-Range crossbow scope has a switchable red and green illumination of the crosshair with a clear brightness. You can mount the scope on crossbows as well as on a rifle and use an ergonomic rotating ring to enlarge it continuously three and a half times to ten times.
Like most of the crossbow scopes on our list, the TWP 4×32 is waterproof and shockproof. According to the manufacturer, the user can find it easy to calculate the distance between the user and their target with the help of this scope. Fast and safe installation is also guaranteed.
The click adjustment works surprisingly cleanly. Also, the image is sharp right up to the edge. Even with driven hunts, it can be used because of the fixed magnification of 4x. The fine luminous point can be regulated very well. It has a very good price-performance ratio, especially for young budget hunters.
The objective diameter is 40 millimeters. It is practical for every weapon with its excellent optical performance and has a slim appearance. This model is 10.1 inches long. However, the zoom is not adjustable, but the focus is adjustable to a certain extent.
PROS
Waterproof and shockproof
Lightweight design
Compact but durable
Cheap price
---
5. CenterPoint LC432ERG2 Multi-Line Reticle Scope
Sport type: Hunting | Weight: 2.0 pounds | Material: Aluminum | Magnification: 4X | Objective lens diameter: 32 Millimeters | Eye relief: 4-inch | Speed adjuster: 250 to 400 fps | Max distance: 100 yards | Waterproof: Yes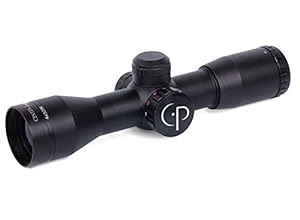 If you're a crossbow hunter, you may know that CenterPoint offers a variety of crossbows, scopes and hunting accessories for different hunter needs. CenterPoint is really a contender in the crossbow market because they provide high-end crossbows and accessories at a reasonable cost.
CenterPoint LC432ERG2 crossbow scope is designed specifically for crossbow hunting crossbow. The manufacturer announces that users can attach this model to the rifle. However, we haven't tested it with rifles, but with crossbows, it did well.
The illumination is amazing with the tactical reticle. And the illuminated reticle has 3 colors red, blue, and green and each color has a brightness setting that is perfect for different types of hunting. Even with low light at the highest power, you have no problem seeing your aim by using this scope.
The one-piece tube construction provides a long time service life. This model is 100% shockproof, waterproof and fog proof, which protects your device from the harshest weather conditions. The dots also make it very easy to acquire the target and very accurate out to 60 yards.
This unit is designed with a crisp, clear optical system with specially formulated multi-coated lenses, and comes with 1-inch rings. You can adjust the speed with your crossbow from 250 to 400 FPS.
The package also comes with a lens cover. However, The LC432ERG2 model doesn't have a built-in rangefinder. It would be nice if it would work.
If you need a hunting range finder on a budget, you can check our unbiased reviews of top-rated hunting rangefinders from here.
PROS
Best crossbow scope for the price
One-piece tube construction
Strong and well-fitted
Includes Lens cover
Easy to set up
CONS
Doesn't come with a cleaning cloth
---
6. MA3TY 1.5-5×32 Crossbow Scope with Ballistic Reticle
Sport type: Hunting | Weight: 1.48 pounds | Material: Aluminum | Magnification: 1.5-5x | Objective Diameter: 32 Millimeters | Eye relief: 4-inch | Speed adjuster: 300 to 425 fps | Max distance: 100 yards | Waterproof: Yes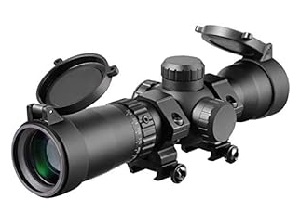 MA3TY 1.5-5×32 Crossbow Scope has 1.5-5x magnification power, aim points out to 100 yards. You can adjust the speed from 300 to 425 FPS. It is the perfect upgrade crossbow scope that is suitable for all types of crossbow models on the market, from cheap to high-end.
The lens has a large diameter of 32 millimeters. Therefore, there are a lot of features packed into this model. MA3TY 1.5-5×32 crossbow scope is filled with nitrogen to protect against internal fogging. It is waterproof and able to withstand challenging weather.
It has a brightness control in five levels with red and green lighting for a high degree of reticle clarity regardless of day and night. The 93% light transmission allows you to make a precise shot on your target very quickly. This allows you to focus on your target sharply even in poor lighting conditions.
MA3TY crossbow scope is more flexible; you can shoot it at various ranges to ensure it shorting to the sites. The included scope rings will fit any 20-22mm Picatinny or Weaver rail. The long eye relief eye bell design allows the scope to quickly come up to the eye which could be for features of deer hunting.
The Ballistic Reticle illumination provides maximum brightness and clarity from a wide angle of view. Also, the reticle does not require batteries to use, just to light up red or green.
Extra Contents:
2 x scope rings | 2 x Flip-open Lens Caps | 2 x CR2032 battery | cleaning cloth | wrench | Manual
PROS
Multi-coated Optical System
Impact resistance up to 1000G
Easy speed adjustment
Pretty accurate
Package includes all the accessories you need
1-year warranty
CONS
Don't have instructions anymore
---
7. TenPoint HCA-095 EVO-X Marksman Crossbow Scope
Sport type: Hunting | Weight: 1.26 pound | Material: Aluminum | Magnification: 1.5-6X | Objective lens diameter: 30 Millimeters | Eye relief: 3-inch | Speed adjuster: 330 to 450 fps Max distance: 100 yards | Waterproof: Yes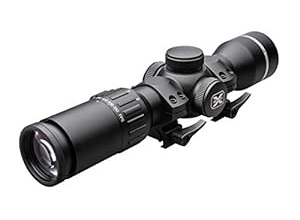 The TenPoint EVO-X is one of the most accurate crossbow scopes on the market. This model is designed by professional crossbow hunters with state-of-the-art technology to maximize crossbow accuracy and performance.
It is built with an ultra-strong 30mm aluminum tube which is equipped with etched glass reticles and fully multi-coated 2-7x optics, which increase the field of view. It comes with quick-detach scope rings that allow you to easily install and remove them from the scope.
TenPoint HCA-095 crossbow scope is completely waterproof and fog-proof. It features a variable speed and arrow drop-compensation setting that allow you to shoot between 330 and 450 FPS. It is designed to help you better estimate the distances or compensate for the ball drop.
This device has simple and slim design. And to ensure more visibility in low light conditions, the infinite-position rheostat controls the light intensity of the Red illuminated crosshairs. You can aim well from different distances.
Overall, the TenPoint EVO-X is a very good long-range scope in the middle price segment that offers outstanding performance with a well-functioning mechanism.
PROS
Variable speed
Features Arrow Drop-Compensation Setting
Works well in difficult weather
Quick-Detach Scope Rings
Infinite-position rheostat
Great adjustment knobs
---
What terms should you know as a buyer of a crossbow scope?
You don't have to be familiar with all the technical details of the best crossbow scopes. But you will come across some technical terms again and again. Knowing them is essential in order to make a wonderful investment. Because there are so many crossbow scope options on the market, they all seem to offer similar features but at very different prices.
Now let's see the most important features for buying the best crossbow scopes for the money.
The reticle
This is the name given to the marking in the scope image that enables aiming. Another name of the reticle is colloquially the crosshair. This will help you focus on the target. A simple reticle is usually sufficient for amateur shooters. Hunters and snipers, benefit from additional markings.
Twilight number
At twilight, the visual acuity of the human eye is reduced. A crossbow scope allows the shooter to see the target in detail, and the twilight is expressed in terms of the twilight figure. For example, a crossbow scope with a maximum zoom of 10 and a diameter of 50mm will have a twilight factor of 22.3. The higher the twilight number, the better the crossbow scope is suitable for twilight.
Lens coating
Best crossbow scopes have coated optics, i.e. an anti-reflective coating on the lens. This reduces reflections on the glass. The lens diameter is also an important factor to look out for. The larger the lens, the more luminous it is. This means that you can still shoot safely in poor lighting conditions. A larger lens crossbow scope is especially ideal for high-seat and stalking hunts.
Minute of Angle (MOA)
Minute of Angle translates as an angle minute. One MOA is equal to one-sixtieth of an angular degree. At a distance of 100 yards from the target, the adjustment by one MOA is an adjustment of 2.9 centimeters.
Parallax compensation
This function, which some best crossbow scopes have, prevents the shooter from aiming errors when looking through the telescope's eyepiece at an angle. A crossbow scope that is designed for long distances must have parallax compensation. Parallax is the apparent change in the position of an object when the observer changes his own position.
The price
The cheapest crossbow scope currently costs around 30 dollars – if you have more budget, you can choose the most expensive product for 249 dollars. On average, the products presented here in the crossbow scope comparison cost around 100 dollars.
Easy to assemble
The best crossbow scope won't be useful for you if it is not mounted correctly and firmly enough. A specialist charges 50 to 100 dollars for the assembly. That is an amount that you might shy away from at first.
However, if you are unsure about the installation of your crossbow scope, a professional installation by a gunsmith is worth the money. You shouldn't glue scopes and scope mounts. Because you may have big problems if you want to change the scope to another crossbow. The glued rings can then often only be removed with force, which can damage the telescopic sight.
FAQs
What is the crossbow scope needed for?
Crossbow scopes are enlargement tubes with a built-in aiming device. They are part of the standard equipment of hunters and amateur shooters in order to better capture targets from small and medium distances. Crossbow scopes are particularly useful in poor lighting conditions. Without a crossbow scope, you need to constantly switch the focus between the rear sight, front sight and target.
When you look through the best crossbow scopes, the target and reticle, also known as the crosshair, are optically in the same plane. Your eye relaxes because it doesn't have to change focus constantly. You can fully concentrate on your target.
Which crossbow scope is good for hunting?
An important factor for hunting is that the crossbow scope is waterproof and fog proof. It must be robust enough so that the crosshair does not tear or other damages occur.
Also, pay attention to the appropriate magnification level. Choose a high magnification if you are hunting from long range. On the other hand, if you often hunt in the dark, the magnification should be lower and the lens diameter larger. Avoid cheap models, especially if they come from poorly made Chinese companies. Better to use well-known manufacturers whose products offer high shot resistance.
What does information such as 3-18 × 50 mean?
This combination of numbers on the crossbow scope stands for the optical properties. The first number indicates the smallest possible magnification. The second number stands for the greatest possible magnification. The last number indicates the diameter of the lens in millimeters.
Which magnification do I choose for a crossbow scope?
For driven hunts, it is best to choose a low magnification of approximately one to six times. A one and a half to twelve times magnification are good for stalking and hiding. However, for twilight and at night, you need a strong magnification of three to twelve times.
How do I recognize a good reticle?
You can recognize a good reticle by the fact that the bars, threads and lettering are always easy to see, even in poor lighting conditions. In addition, you should be able to pinpoint the target with pinpoint accuracy. This means that the center of the reticle must be easily recognizable.
The bars of the crosshairs should not be too thick so that they cover as little of the image as possible. So fine lines that are clearly visible are best.
Tips: A good thing is a reticle with lighting that you can customize depending on the ambient light. In addition, a scale for estimating distance is a very useful feature.
Can I adjust the reticle?
With modern glasses, there is an adjustment for the height and the sides. Older glasses often only have a side adjustment. Here, a horizontal adjustment is made by shifting the mounting foot to the side.
With a few exceptions, all modern crossbow scopes have an adjustment with click notches. With crossbows from European production, the reticle adjustment per click is usually one centimeter. Non-European models usually have an adjustment of 1/4 MOA, i.e. 1/4 angular minute, which corresponds to about 7 millimeters at 100 meters.
Conclusion
Many consumers looking for a crossbow scope often gravitate towards the more expensive one or the riflescope that offers the most unique features. And while those features may seem attractive, they don't always deliver on their promise.
Sometimes buying a product that has all the best features is the best option like a product that offers unique and technologically advanced features often fails. For example, there are several crossbow scopes reviewed here that aren't particularly expensive but they are very robust & easy to use and offer exceptional performance for hunting. Because we only picked the best models with reasonable cost.
Hope this guide helped you find the best crossbow scope in your budget.
Read More Articles in this Category…