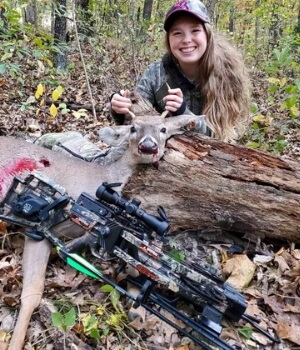 The popularity of both target shooting and hunting has increased enormously in recent years. This is why many well-established brands grasped this trend and designed a range of crossbows with advancements in technology, focusing on women's body shapes and related engagements.
For women who have a passion for hunting, target shooting, or simply enjoy the thrill of archery, finding a crossbow that suits their unique needs and preferences is crucial.
Before choosing the best crossbows for women, you should take certain factors into consideration as per your expectations. It isn't just a case of choosing a light model with low kinetic energy, it is also important to make sure that your chosen crossbow is easier to carry around and configured according to women's physique.
We make an unbiased roundup of the top 7 best women's crossbows for this year. Whether you're a seasoned archer or just starting your journey, this comprehensive overview will help you make an informed decision and find the perfect crossbow to fit your lifestyle and pursuits.
All of these models come ready to hunt for any game. You can also practice target shooting during the off-season with these crossbows.
Best Crossbows for Women – At A Glance
Take a look at our ranking of the best crossbows for women in 2023
1. CenterPoint Tormentor Whisper 380 Camo
Speed: 380 fps | Draw Weight: 185 lbs | Axle to Axle: 14.0″ | Kinetic Energy: 120 ft. lbs. | Weight: 6.5 lbs | Length: 34.25″ | Power Stroke: 13.75″ | Silencing System: Yes
CenterPoint Tormentor Whisper 380 Camo crossbow is less expensive, but the quality is remarkable. It is definitely easy to use because a lot of safety features are included in this model. For example, it features an anti-dry-fire trigger system that prevents accidental fires and injuries.
With a speed of approximately 380 fps, it is one of the fastest crossbow bows on the market. Carrying it around is not a problem because the weight is only 6.5 pounds, which is pretty much light just like all the other recurve crossbows.
CenterPoint Tormentor Whisper 380 is a professional crossbow. Pros women can hit up to 120 ft. lbs. And to help you focus your aim like a beast, this unit features a silencing system to help reduce the noise. This is one of the standout features of this model.
Another advantage of having this Camo crossbow is that it has one of the best scopes that can accurately zoom in on the target without any fuss at all. The hard rubber portions are good quality—not too hard or soft. It can not only be used for target shooting but also big game hunting.
It is built with Whisper Silencing Technology to reduce noise and vibration, and provide a quieter shooting experience. This is particularly advantageous when hunting, as it helps to minimize the chances of startling game. With a draw weight of about 185 lbs, it is a favorable crossbow for women.
This device is well built and shoots as well as more expensive crossbows. The assembly process is also made easy with a user manual that helps you assemble the crossbow without any previous experience. It takes less than 20 minutes to assemble and first test it.
What we liked:
Compact and silent
Grip and butt-stock are effective
Safety mechanism is well thought out
Absolutely a well-built and quiet crossbow
Narrow width makes when cocked makes it great for tight places
What we didn't like:
The included scope is not illuminated
Poor quality bolts
---
2. Barnett Explorer XP Crossbow
Speed: 370 fps | Draw Weight: 165 lbs | Axle to Axle: 16.35″ | Kinetic Energy: 105 ft. lbs. | Weight: 6.0 lbs | Length: 34.5″ | Power Stroke: 15.5″ | Silencing System: Yes
Barnett is the top listed crossbow manufacturing brand on the planet. They continue to produce high-performance crossbows while lowering prices or staying the same. Explorer XP is their latest crossbow model, specially designed for women. It's also a high-end quality crossbow with an adaptable design for women's bodies.
One of the best features of Explorer XP we loved, is the TriggerTech trigger, which ensures you a good feeling while shooting. It also gives you full control over the shot. It is moderately quiet during shooting. Also, the trigger system doesn't make too much noise and there are no annoying vibrations.
The stock and foregrip are fully adjustable, allowing you to get the perfect fit on your shoulder. Another notable feature is its lightweight design and slim structure. It weighs 6.0 pounds, which makes it extremely portable.
Barnett entry-model crossbow is easy to cock and comes with all the safety features you'd want from a crossbow. It is a reliable compound crossbow that is designed for hard-hitting and accurate shots. This model shoots up to 370 feet per second. It could be a worthwhile deal for less than 300 dollars.
What we liked:
Lightweight and easy to handle
Adjustable and comfortable to use
It has great knockdown power
Beginner-friendly crossbow
Cheap price
Very accurate
What we didn't like:
Included scope poorly designed
It has no pre-installed track mounted string dampeners
---
3. TenPoint Turbo M1 Crossbow for Expert Women
Speed: 380 fps | Draw Weight: 165 lbs | Axle to Axle: 9.0″ | Kinetic Energy: 122 ft. lbs. | Weight: 9.0 lbs | Length: 32.5″ | Power Stroke: 14.0″ | Silencing System: Yes
The Turbo M1 crossbow from TenPoint was first introduced in 2019. The Turbo series is the most popular crossbow from TenPoint because of its light and narrow design. It is the perfect example of a crossbow model specifically engineered for experienced women; it is user-friendly for small-framed folks.
Turbo M1 crossbow comes with an excellent T5 trigger, one of the biggest pain points with crossbows of the past is the amount of creep or travel in a trigger. This trigger has 50% less creep than triggers on the previous model (we have reviewed other posts). And, it also features an anti-dry fire mechanism for added safety, and with new T5 trigger that is one of the safest triggers on the market.
It is going to be very accurate shooters out to 40-50 yards. Also, the package comes with the Pro Elite arrows from TenPoint, which weigh 400 grains (with a 100 gr. field tip installed). It's sturdy, interconnected, lightweight and Robin Hood accurate – even in inclement weather.
When it comes to the IBO speed of the Turbo M1, it shoots at speed of 400 feet per second. TenPoint Turbo M1 crossbow offers an incredible balance between force and weight so it's far simpler for women bowhunters to operate the crossbow without complications.
The package includes pre-mounted illuminated scope, quiver, ACCUdraw cocking system, and explicit instruction manual. It is American-made and comes with limited lifetime warranties.
However, this model is not suitable for beginner hunters or target shooters. Therefore, it weighs 9 pounds, slightly heavier than other models designed for women.
What we liked:
Consistent Lethal Accuracy
Compact but powerful crossbow
Designed for long time use
Comes with a very high quality hunting scope
Ultra-maneuverable
---
4. PSE ARCHERY 01318CA Coalition Complete Package
Speed: 380 fps | Draw Weight: 185 lbs | Axle to Axle: 21.5″ | Kinetic Energy: 127 ft. lbs. | Weight: 7.5 lbs | Length: 35-36.5″ | Power Stroke: 14.5″ | Silencing System: Yes
PSE ARCHERY Coalition crossbow package cut down the price range without compromising the quality. It is one of the robust crossbows from PSE. It comes with 380 FPS and 185 lbs of draw weight, which means it can shoot or take down a large deer or elk pretty quickly. This model however offers fewer features compared to other women's crossbows in our list.
This bow is decently easy to draw back by hand, so you don't need very good back strength. It's also as compact and lightweight as more expensive women's crossbows, with a weight of 7.5 lbs. Another plus for this model is its structure and shape, which allow users to move through narrow areas with ease. Although the string stops aren't adjustable, it is a beast of a crossbow.
It is also fairly easy to assemble. However, the instructions are not details. It is a great women's crossbow that is not only suitable for beginners but for experienced users. Like all previous crossbows on this list, this unit built-in anti-dry-fire trigger system. Cocking was also pretty easy once you get used to it.
Unfortunately, the scope is designed poorly and doesn't offer the customization that some shooter users may seek. If you can overlook the issues with the scope, and desire a sturdy, accurate and lightweight model, the PSE ARCHERY 01318CA could be your choice.
What we liked:
Easy to assemble
Impressive accuracy and power
Auto safety trigger
Excellent value for money
Great all-around crossbow for hard-hitting and accurate shooting
What we didn't like:
Instructions are not great
Includes average quality scope
---
5. Barnett Whitetail Hunter II Crossbow
Speed: 350 fps | Draw Weight: 150 lbs | Axle to Axle: 16.125″ | Kinetic Energy: 103 ft. lbs. | Weight: 6.4 lbs | Length: 34.5″ | Power Stroke: 12.5″ | Silencing System: Yes
The Barnett Whitetail Hunter II is the best hunting crossbow for both beginners and experienced. It is a reliable and effective crossbow for women that performs with an excellent degree of versatility that enables you to stalk the game. It comes with a high-quality design that shoots fast and accurately.
The limbs are made of custom composite laminate, making them durable for hunting in cold weather. It features nock sensors, a pass-through foregrip, and anti-dry fire technology, which ensure high safety while shooting.
The 6.4 lbs weight is well-fitted for female hunters and the small frame ensures that the weight isn't too much of a burden. The compact design also allows easy handling in tight spaces.
Barnett Whitetail Hunter II crossbow features premium crosswire strings and cams. The TriggerTech creates a smooth roller between the sear and the trigger. It is also easy to maneuver in the field. This is especially important when need to walk long distances or navigate through dense terrain. The balance is also fantastic, because of the quad limbs.
However, the package includes a multiple-reticle scope, rope-cocking device, two headhunter arrows, and lubrication wax. The scope isn't of the highest quality, but good enough for most activities. Overall, the Barnett Whitetail Hunter II is the best choice for a beginner woman who still doesn't know how to maneuver a heavy crossbow.
What we liked:
Compact and lightweight design
High-definition camo pattern
Quick speed and lightweight
90% assembled
Comes with 5-year limited warranty
What we didn't like:
Scope is not high end
Stock is a little uncomfortable
It's pretty loud at the highest speed
---
6. CenterPoint Sniper 370 Crossbow
Speed: 370 fps | Draw Weight: 185 lbs | Axle to Axle: 18.0″ | Kinetic Energy: 130 ft. lbs. | Weight: 7.5 lbs | Length: 40.0″ | Power Stroke: 13.5″ | Silencing System: No
If you are looking for a sturdy and powerful women's crossbow under $400, you can pick the CenterPoint Sniper 370 right away. It is built with aluminum and composite material that assures you of its durability. And with 130 ft. lbs. of Kinetic Energy, it has a great mix of qualities with some impressive specifications. It is simple to assemble, making it accessible even for those who are new to crossbow hunting.
With tremendous accuracy, it can shoot arrows at 370 fps, which is enough for hunting deer, bear, and other big games. The 185-pound draw weight with an 18-inch width configuration can shoot the bolt with excellent strength and speed.
CenterPoint women's crossbow has a fully adjustable stock and foregrip that adopts your shooting style. The safety guard is also big enough to prevent losing the finger. Furthermore, this device delivers super quiet and vibration-free shots that help to hunt deer in a peaceful environment.
It is also lightweight and effortless to carry for women. Whatever your body size, you will find this crossbow fairly easy to carry. It will complete the needs of small-framed hunters without compromising durability. The Sniper 370 model is also backed by a 5-year warranty.
However, a couple of improvements would make it quieter. The trigger and stock adjustment lever make some rattling noise. Otherwise, there is no reason to avoid CenterPoint Sniper 370 crossbow.
What we liked:
Powerful, accurate and well-made
Lightweight and user-friendly
Easy to carry
Good for target shooting and hunting
Comes with a five-year warranty
What we didn't like:
Adjustable stock is quite sloppy
---
7. Wicked Ridge RDX 400 Crossbow – Editor's Choice
Speed: 400 fps | Draw Weight: 185 lbs | Axle to Axle: 15"/9.0″ | Kinetic Energy: 140 ft. lbs. | Weight: 7.6 lbs | Length: 32.25″ | Power Stroke: 15.5″ | Silencing System: Yes
Wicked Ridge RDX 400 crossbow added incredible value in the hunting industry. The weight of this crossbow is 7.6 pounds, making it one of the lightest, and at the same time, most durable compound crossbows available in the market. It is made of aluminum, which ensures it can withstand the rigors of hunting in various conditions.
The package includes all the necessary tools, so you can enjoy hunting right out of the box. It can shoot arrows at the speed of 400 feet per second and it can produce 140ft./lbs of kinetic energy. The accuracy is also great, thanks to the illuminated 3×32 scope.
It comes with an ACUdraw cocking device that reduces the weight of force up to 5 pounds, which is really helpful for women. The package includes a rope-sled that helps in locking the arrow in the bow. With a width of 9 inches from axle to axle, the Wicked Ridge RDX 400 provides more shot opportunities in tight shooting situations.
This model also works on the Dry Fire Inhibitor so that you can cock the bow safely in the fire position. It tends to produce one of the quietest shots with the same hole group accuracy.
Wicked Ridge RDX 400 crossbow is super compact for all-day hunts and narrow design perfect for shooting from the tree. It is capable of doing a lot of wonders that a hunter ever wishes.
What we liked:
High speed
Quiet and deadly accurate
Extremely comfortable to handle
The package includes all the required accessories
Patented narrow crossbow technology
Great accuracy and easy to load
What we didn't like:
Scope quality is cheap
It comes with only three arrows
---
Buyer's Guide: Best Women's Crossbow
When looking for a crossbow for women, there are specific factors you need to consider before you make a purchase. Here are some things to keep in mind:
IBO Speed
The first thing that always comes to mind while buying a crossbow is the IBO speed. Because the speed of the crossbow increases the rate of success.
The fast-speed bow increases the probability of hitting your target accurately. For hunting, the velocity of your crossbow is also important to reach the target. A minimum 300 FPS crossbow must generate sufficient speed and power to hit the target.
However, speed isn't the main factor to be considered when it comes to shooting at stationary targets. You also need to consider the ease of use draw weight and more.
Weight
For women's crossbows, you need more attention to the weight. Getting a lightweight crossbow for hunting is preferable because hunters require a long-distance trip. Lighter ones are more stable and will increase the chance of success in this case. For target shooting, you can go with heavier ones. Because in that case, you don't need to carry on.
Draw weight
The draw weight of the crossbow determines how much strength and effort you need to pull the arrow back. Heavy draw-weight crossbow tends to shoot faster compared to the small range draw weight model.
For women, the draw weight should be 120 lbs to 180. Because heavy draw weight crossbows will cause arm fatigue as they require higher effort. Therefore, we advise you to choose a model that you can pull easily or draw it back.
Axle Length
Axle length is defined as the crossbow's overall length. Short axle-length crossbows are more maneuverable compared to longer ones. So choose the one that is easy to maneuver. If you are new to target shooting or hunting, we advise you to choose a crossbow with a longer axle length.
Crossbow Scope
Scope helps to improve the crossbow hunter's efforts in getting true accuracy while targeting. With the crossbow scope, you can sight the game easily. Therefore, make sure that the included scope is decent for a better hunting experience (if included). It must be shockproof and waterproof.
You can learn more details about the best crossbow scope from
here
.
Safety System
Safety should be the primary concern while shooting with a bow. Most crossbows require disengaging a safety lock before firing the arrow. However, there are a variety of locks and sensors on crossbows from different manufacturers. Each model is designed with various safety systems, so consider the one that suits you. Also make sure that your crossbow has an Anti-dry-fire trigger system that prevents accidental fires.
Noise Level
Quieter crossbows can be beneficial for hunting. In a natural environment, there are many subtle sounds that animals use to communicate or detect potential threats. A quieter crossbow allows the hunter to blend in more effectively and minimize disruptions to these natural sounds.
Budget
When it comes to buying the best crossbow for women, it is proven that the price is pretty low and dependable compared to the traditional crossbow. This is why you need to consider your budget before you purchase one. Because most of the time, you need to spend an extra amount to buy your favorite one.
If you are a beginner woman, you should pick a basic model. It helps you to understand the process of mechanisms. Experienced female hunters should focus on mid-range crossbows.
The good news is, our selected crossbows have been categorized by price range. They are affordable yet guaranteed to be accurate and fast. You can compare the models with price ranges easily to find the best value for the money.
Conclusion
A female hunter who is trying to choose the right crossbow has many points to think about before making a purchase. You should consider all safety measures before going to archery competitions or hunting. As explained, some models are safer for beginner users than experienced ones.
If you are still feeling confused about which model is suitable for your needs, we recommend the CenterPoint Tormentor Whisper 380 Camo. Because of its high accuracy, power and design, it is one of the best high-performance crossbows in 2023. Stay calm with every stroke thanks to new technology equipment. CenterPoint brand never compromises design and always comes up with something new.
Hope this guide helped you find the right female crossbow for your needs.
These Articles Might Interest You: