Are you looking for the best crossbows under 500 dollars? If yes, then there are plenty of such sports equipment to choose from in the market today. This means you don't have to break the bank to get one. But, which one should you buy?
In recent years, technological advancements have led to the development of crossbows that offer impressive accuracy, power, and durability, all while remaining affordable. So finding the best crossbows under 500 can be quite difficult. Also, there are so many things to consider and it can easily be overwhelming and time-consuming.
Don't worry…
We have been working on the crossbow test nearly for 6 years, and we scoured the internet to find you the 10 best crossbows for under $500! Our aim with this guide is to help you navigate through the options available in the market and make an informed decision.
So whether you are new to crossbows or an experienced user, you have come to the right place to find the best crossbows under 500 and everything you need to know when looking for.
Let's jump into it.
Best Crossbows Under 500 Reviews 2023
From compact designs suitable for carrying on your back to models equipped with advanced technology, here you can find a range of options to suit your needs.
1. BARNETT Whitetail Pro STR Crossbow
2. BearX Constrictor CDX Crossbow Package
3. Barnett BAR78098 Avenger Recruit Crossbow
4. CenterPoint AXCD190FCK Crossbow Package
5. Killer Instinct Camo Burner Crossbow
6. BearX Intense Crossbow
7. Wicked Ridge WR20005 Invader 400 Crossbow
8. Barnett TS380 Hunting Crossbow
9. Killer Instinct Burner 415 Crossbow
10. PSE ARCHERY Fang HD Crossbow Package
1. BARNETT BAR78004 Whitetail Pro STR Crossbow
Speed: 400 FPS | Power Stroke: 16.375″ | Axle-to-Axle: 17.625″ | Kinetic Energy: 140 FT. LBS | Draw Weight: 187 LBS | Silencing System: Yes | Length: 36.5″ | Weight: 6.9 LBS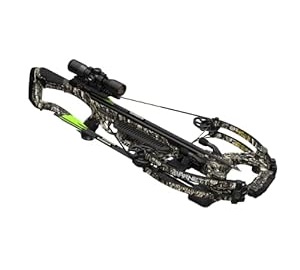 If this isn't the first time buying a crossbow, you hear the name Barnett, they are the pioneer of the modern crossbow, a history back in 1963.
The BARNETT Whitetail Pro STR is a popular model from the Whitetail Pro series. It has great build quality along with top-notch specifications. And could be an excellent choice if you're looking for a good-quality hunting crossbow under $500.
Whitetail Pro STR fits right into the list and offers premium-grade accessories at this price range. The construction quality is absolutely aggressive as it offers 400 fps speed with 187 maximum draw weight. It is quite precise and easy to use for beginners.
For enhanced stability and ultimate accuracy, the innovative design creates improved balance to combat the ill effects of power from the riser to the stock. Along with that, the Whitetail Pro STR is equipped with Nock Sensor and Anti-Dry Fire Trigger System to eliminate Dry Fires.
Its sturdy build and Step-Through Riser platform make it more suitable to carry. This model comes with lots of useful features like Barnett Crank Cocking Device, Finger Guards & Finger Safety Reminders, which make it a high-performance hunting crossbow from the box to the field.
For increased power and speed without the need to lengthen or widen the limbs, this device allows for two additional inches of draw length. You can also cock and load the crossbow easily. This model is suitable for both men and women hunters, thanks to its adjustable stock and Picatinny rail scope mounting system.
What we liked:
Powerful and high-performance hunting crossbow
Crisp and safe crossbow trigger
Impressive arrow speed
Super easy to assemble
Accurate enough for both large and small distance target
What we didn't like:
Cocking is difficult for novice hunters
---
2. BearX Constrictor CDX Ready-to-Shot Hunting Crossbow
Speed: 410 FPS | Power Stroke: 12.7″ | Axle-to-Axle: 14″ | Kinetic Energy: 136 FT. LBS | Draw Weight: 190 LBS | Silencing System: Yes | Length: 32″ | Weight: 7.8 LBS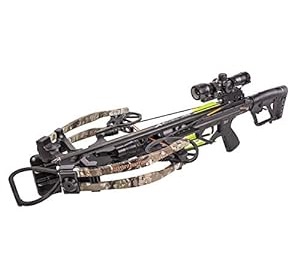 Are you ready for some top-notch specs under $500? We love this compound crossbow and hope you will too. It has a velocity of up to 410 feet per second and a draw weight of 190 lbs. It's necessary to mention that the BearX Constrictor CDX is a beginner-friendly crossbow.
The Constrictor CDX is a feature-rich crossbow that comes with all the functions you need to enhance the hunting experience. It has dual-mount string recoil suppressor system, which helps you remain stealthy by reducing noise and vibration. This also enables accurate features.
The adjustable stock and cheekpiece are also very comfortable and easy to match anybody's preference. It's solidly built, so you can carry it all over the year.
BearX Constrictor CDX crossbow has a couple of functions, including an Ambidextrous top mount 5-arrow quiver for custom quiver placement, which allows you to position the quiver on either side of the crossbow. And with 136 FT. LBS of kinetic energy, this hunting crossbow has more than enough fire ability for hunting elk, deer, moose and zombies!
In the package, you'll receive an Illuminated (4×32) scope, Anti-dry fire mechanism, Pre-Installed String Dampeners, Rubber anti-vibration pads, Ambidextrous top mount 5-arrow quiver, 3 Bear X TrueX bolts, Rail lube, Sling, and a Cocking rope. It comes mostly assembled.
The total length is 32 inches and weighs 7.8 pounds, making it pretty large and heavy. However, the 14 inches wide uncocked and 10 inches wide cocked is really compact and perfect to bring along on any hunting or camping trip.
What we liked:
Includes a good set of advanced features
Great arrow flight speed at this price range
Built in noise-reducing system
Ready-to-hunt package
Deadly accurate
---
3. Barnett Black (BAR78098) Avenger Recruit Crossbow
Speed: 330 FPS | Power Stroke: 16″ | Axle-to-Axle: 16.125″ | Kinetic Energy: 130 FT. LBS | Draw Weight: 130 LBS | Silencing System: Yes | Length: 34.25″ | Weight: 6.4 LBS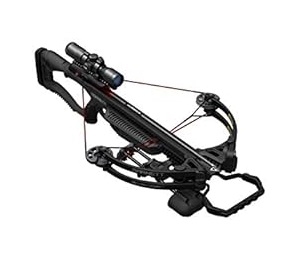 The Barnett Avenger Recruit is third in our ranking of best crossbows under $500 because of its slim design, powerful precision, and high-performance control. This recruit crossbow is able to shoot up to 330 feet per second.
It has 130 pounds of draw weight. Although the draw weight is comparatively low, it is very fast and accurate. And the noise is not bad. It can be suitable for both right and left-hand users because safety features work on both sides.
Barnett Avenger Recruit crossbow built Anti Dry Fire (ADF) trigger system which prevents you from shooting without the arrow. It also features above-grip finger guards for comfortable shots. The metal Injected Mold trigger also allows a smooth trigger pull.
The total length is 34.25 inches and the shoulder rest is extendable, which means that it can be perfectly adapted to different shooters. It's a perfect crossbow for an adult woman and works very effectively on all big games.
The included quiver and 4×32 scope are pretty good in quality. The scope comes mounted. However, you still need to be sighted into your preference. Although the package comes with a rope cocking device, a bolt puller isn't included in the package.
What we liked:
Fast and accurate crossbow on the market
Easy to maneuver for both left and right-hand people
Quiet and powerful enough for small to big game hunting
It has the highest precision
Slim and easy to carry
What we didn't like:
Does not come with arrows and bolts
Light but front-heavy design
---
4. CenterPoint AXCD190FCK Dagger 390 Crossbow
Speed: 390 FPS | Power Stroke: 16.0″ | Axle-to-Axle: 18″ | Kinetic Energy: 130 FT. LBS | Draw Weight: 185 LBS | Silencing System: Yes | Length: 34.25″ | Weight: 7.8 LBS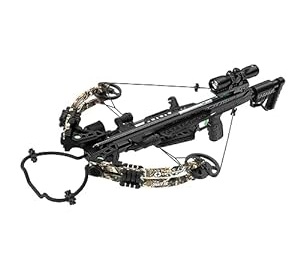 The CenterPoint Archery AXCD190FCK is one of the fastest crossbows under 500 dollars on the market. And with an output of 185 lbs, it can reach the arrow speed at 390 fps (approx. 430 km / h).
The secret of these impressive numbers lies in the construction of the elements: it is made by injection molding of carbon fiber reinforced plastic that can store a lot of energy, which transfers energy completely to the boom.
The tactical stock is adjustable, which provides consistent shooting and aiming experience. With the adjustable shoulder rest, the Archery AXCD190FCK model features an anti-dry fire. It is also a very high-standard crossbow under 500 dollars in terms of accuracy and efficiency.
It features a whisper-silencing system and is integrated with string suppressors. The limb dampeners provide quiet and vibration-free shot. And the narrow 18″ axle-to-axle width ensures compact mobility. This Dagger 390 crossbow is therefore ideal for long-range shots.
This is a complete hunting crossbow package that comes with bolts w/100 grain target points, cocking rope, mountable quiver, 4×32 scope, and rail lube. Also, the Allen wrench includes assembling it. To ensure long-lasting service life, CenterPoint offers 5-year warranty.
However, the combined scope and bow weight will be 8.5 pounds and the bow weight is 7.8 pounds, which is a bit heavy. The scope is a little off, if you aren't a complete beginner it's useable.
What we liked:
Very quiet operation
Compact and narrow axle-to-axle width
Sights in easily
Easy to assemble
5 years warranty
---
5. Killer Instinct Gray Camo Burner Crossbow Package
Speed: 415 FPS | Power Stroke: 14.5" | Axle-to-Axle: 18.75″ | Kinetic Energy: 141 FT. LBS | Draw Weight: 220 LBS | Silencing System: Yes | Length: 34.5″ | Weight: 6.7 LBS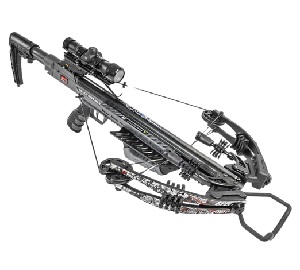 You may notice that high speed crossbow is rarely found at this price range, and Killer Instinct launched their latest high-velocity crossbow, called BURNER. It can generate up to 415 FPS of wicked speed while offering both high accuracy and simple control. The Finishing is beautiful and completely noise-free, reducing integrated Dead.
It is also one of the best lightweight crossbows for hunting. Weighing just less than 7 lbs. The Killer Instinct BURNER is equipped with advanced shooting technology. It could be a considerable advantage for the professional hunter or someone who knows about Killer Instinct.
This model is built with 6-position style buttstock, which enormously reduces the overall length of the crossbow for smaller frame hunters. At the same time, it can be extended comfortably to fit a variety of medium to taller shooters as well.
The Micro-Lite aluminum barrel eliminates excess weight while still producing dead-on accuracy and provides deadly results. Killer Instinct crossbow has built-in 3.5-pound Killer-Tech trigger, which delivers consistently accurate shots. The new X-Lok adjustable foregrip and easy-to-handle narrow frame also ensure a well-balanced and compact shooting experience.
The package includes an IR-W Scope, Rope Cocker, String Suppressors, 3-Bolt Quiver, HYPR Lite Bolts, and Stick of Rail Lube. This unit accepts all Killer Instinct DSC Dead Silent Crank. So it could be a long time investment for your hunting journey.
What we liked:
6-position style buttstock
Precise design for shooting
Crank compatibility is remarkable
Accurate crossbow with high velocity
Comes with 5-year warranty
What we didn't like:
Not designed for women
New on the market
---
6. BearX Intense Ready-to-Shoot Crossbow Package
Speed: 330 FPS | Power Stroke: 12.7″ | Axle-to-Axle: 14″ | Kinetic Energy: 145 FT. LBS | Draw Weight: 130 LBS | Silencing System: Yes | Length: 34.5″ | Weight: 6.4 LBS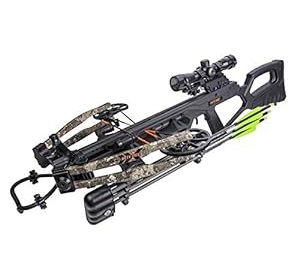 The BearX Intense is an incredibly powerful crossbow under $500, and you'll be very impressed with the whole package. It is very accurate to shoot from long distances. The cams and barrel are aluminum, and the rail is composite.
The two rubber parts that are on the stirrup are dampeners to help keep the vibration and sound quieter. Also, the length of the shaft is adjustable for better shooting comfort.
BearX crossbow is equipped with a stirrup; it is very easy to arm the missile crossbow with the ammunition belt. The safety device engages automatically as soon as you tension the rope. There is a lot of torque and vibration that goes through the bow when shot.
The included scope is rather amazing. The arrow is 260 grains and comes with a 100-grain point for a total of 360 grains. It comes with 20″ bolts with half-moon nocks and the total bolt weight is 365gr with the point. With anti anti-dry fire safety feature, it is a heavy duty crossbow.
It is fairly easy to assemble. The instruction book has very basic guidelines for novice shooters.
BearX Intense is easy to cock. You'll unquestionably need the included cocking rope, do not try with your hands. It is definitely able to take down a big game in a single shot. To ensure quality, BearX offers a limited lifetime warranty.
However, the size is pretty big but not heavy. If you're under 6′ and not particularly strong, we'd definitely say to look at other options, but otherwise, we'd highly recommend it.
What we liked:
Very high quality crossbow package
Easy to put together
Easy to sight in
It's deadly accurate
Excellent design
What we didn't like:
Included scope is not illuminated
A little bit big and heavy, so you need a bow compatible backpack
---
7. Wicked Ridge WR20005 Invader 400
Speed: 400 FPS | Power Stroke: 16.0" | Axle-to-Axle: 15″ | | Kinetic Energy: 140 FT. LBS | Draw Weight: 185 LBS | Silencing System: Yes | Length: 35.5″ | Weight: 11 LBS
The new Wicked Ridge WR20005 combines advanced technologies and legendary design, which make it the toughest, most reliable crossbow in its class. This model consists of a lightweight riser and machined aluminum limb pockets fitted with 11" WRX double-laminated limbs.
It features an easy 1-bolt assembly and is pre-sighted at the factory and ready for the woods. This ensures greater momentum when firing, and less effort when cocking the crossbow. The maintenance effort of this crossbow is limited, making it an admirable choice, especially for beginners.
The safety knob on the new Wicked Ridge WR20005 can be moved to the left side of the trigger box, to better accommodate left and right-handed shooters. It is also fairly easy to put together. After a few adjustments, you will get it to sight in.
The low weight is just as impressive as the compactness to offer the shooter an optimal feeling in every situation. It is built to perform in the tightest of shooting situations. The extensive package includes a 3-arrow attachment quiver, carbon bolts, and a multi-range scope.
Wicked Ridge Invader 400 crossbow built with ACUdraw, which reduces the draw weight to a mere half of the total weight and provides easy cocking for all ages. It is equipped with finger guards, plastic barrel, and the proven Matrix Power-Load limbs, which enable arrow speeds of up to 400 fps.
What we liked:
Solid construction
Ultra-Narrow design
Very powerful and efficient
Easy to load and carry
Silent
What we didn't like:
Doesn't come with an uncocking bolt
Minimal assembly require
---
8. Barnett TS380 Hunting Crossbow
Speed: 380 FPS | Power Stroke: 12.625″" | Axle-to-Axle: 16.75″ | | Kinetic Energy: 135 FT. LBS | Draw Weight: 201 LBS | Silencing System: Yes | Length: 32.375″ | Weight: 6.9 LBS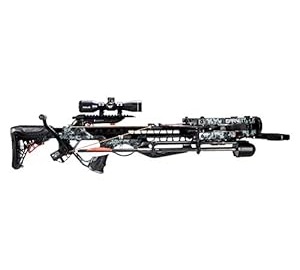 The Barnett TS380 is certainly a more inexpensive crossbow than its direct competitors, but the quality is unbeatable. It comes in the box with a quiver, a couple of arrows, and a scope that can be used immediately after packing. It also features a Soft Lok floating bristle arrow retainer to keep it from dry-firing.
This model is characterized by the typical compound system, which is used in the corresponding hunting bow. In addition, the assembly process is surprisingly easy. Even for beginners, it shouldn't take more than a few minutes. So going hunting straight out of the box, all you have to do is equip yourself.
It is made from lightweight materials to present itself as the most powerful crossbow. Barnett TS380 has metal injection molded trigger, CNC machined aluminum flight track and magnesium riser, which ensure high performance even in the toughest situation. The durable frame is also completely weatherproof.
It is a complete hunting package for under $500. It can be set up on either side or crossways. However, it requires some strength but is very accurate.
Its lightweight design, well-balanced shape, and crank cocker make cocking the device much easier. So it could be a great crossbow for women. However, the crank is not dead silent. It makes a clicking noise during loading. Since its safety won't allow it to fire without a bolt installed.
If you're a beginner woman in this sport, then we recommend starting with the best women's crossbow.
What we liked:
Features finger Safety reminders
Trusted brand for excellent customer support
Very accurate for long distance shooting
Compact and lightweight
What we didn't like:
Scope quality is very cheap
---
9. Killer Instinct Burner 415 Pro Package
Speed: 415 FPS | Power Stroke: 14.5″ |Axle-to-Axle: 17.75″ | Kinetic Energy: 114 FT. LBS | Draw Weight: 220 LBS | | Silencing System: Yes | Length: 34.5-37″ | Weight: 6.7 LBS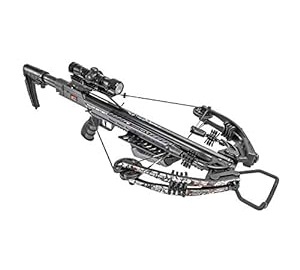 The Killer Instinct Burner 415 is one of the most affordable crossbows currently available on the market, with a complete set of accessories. Indeed, it is equipped with effective noise-reduction technology. As a result, the gun is quieter but still deadly. These features make this device ideal for hunting.
It is not too heavy. The 6-position AR-style buttstock can be adjusted in 6 different positions and the adjustable X-Lok provides a customized fit. This crossbow is easy to assemble and dead on. Very little kick back and is easy to handle.
Once armed, it is only 14.5 inches long from axle to axle, making it very easy to use. To emphasize this comfortable side, the frame is made of lightweight aluminum. In addition, you can camouflage yourself relatively easily with this ultra-compact model. However, it doesn't come with a carrying case.
You will be able to knock down the biggest & strongest game with a heart-pounding 415 feet per second. The 3.5-pound KillerTech trigger also provides consistent accuracy shot after shot.
The purchase of this item offers its beneficiaries some accessories such as a gun rope, three arrows, a quiver and a scope. Killer Instinct also offers a lifetime limited warranty for this model. However, the included bolts are too light and of poor quality. So we recommend getting heavier bolts to prevent from limbs being damaged easily.
What we liked:
Powerful and silent
Lifetime limited warranty
Pretty well made
Great speed
What we didn't like:
Bolts are too light
The stock is a little loose
Very hard to pull back
---
10. PSE ARCHERY Fang HD Hunting Crossbow
Speed: 405 FPS | Power Stroke: 14″ | Axle-to-Axle: 18″ | Kinetic Energy: 134 FT. LBS | Draw Weight: 205 LBS | Silencing System: Yes | Length: 35.5″ | Weight: 7.3 LBS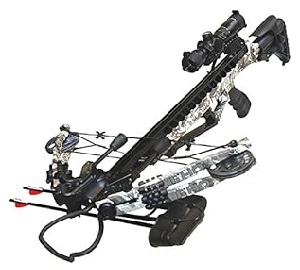 Unlike the other crossbows on the list, the PSE ARCHERY focuses on making a fast and slim crossbow that is suitable for hunting. And the Fang HD Crossbow is a great example. If you prefer soft coat trigger grip crossbows just for hunting, the PSE ARCHERY Fang HD will just work best for you. As it is primarily made for hunting, it will experience many more big games than any other crossbow.
It will deliver incredible accuracy as the crossbow scope uses reverse cam technology, which increases power and speed. The slim profile allows you to shoot more easily. You can easily de-cock without firing arrows, which makes it extremely safe to use for both experienced or beginners.
It flights arrows toward your target at speeds up to 405 fps with 134 ft. lbs. of energy. Needless to say, all PSE ARCHERY crossbows are equipped with an Anti-Dry Trigger System, which eliminates the risk of dry fires. Also, the Adjustable Buttstock is very strong.
Most parts are assembled; just a basic setup is required. You need to install the limbs, scope and quiver. Since this model is easily compatible with hunting backpacks, it facilitates compact storage without any need for uninstalling propellers after use.
The package comes with everything you need. However, the included arrows are very poor. Also, when you draw the string, the cocking rope tends to come off the side of the rails and jump to the center.
What we liked:
Value with big speed
Smart and unique design
Unbeatable accuracy
Easy to assemble
Anti-dry fire & auto safety triggers
What we didn't like:
Included optics are not very good
---
Buyer's Guide – What To Know Before Spending $500 On A Crossbow
When looking for the best crossbows under 500 dollars, there are certain features all modern crossbows should have. You want to make sure you pick a model that is durable. It must have a decent amount of energy, good velocity and high accuracy, and gives you the level of quality you're looking for.
Let us quickly explain some of the key factors that really matter in the best crossbow for the money. This makes it easier for you to get a suitable and effective model.
Speed of shooting
Speed refers to feet-per-second that the crossbow makes an arrow fly. The minimum speed of 300 fps is considered great speed for taking on bigger games like deer, elk, bear, etc.
However, over 300 fps is much better sometimes. High-quality crossbow strings, bolts, and triggers should also be considered before making the purchasing decision because they particularly impact the accuracy level.
Accuracy of distance
Accurate distance analysis helps the user to determine the accuracy level of the crossbow or how close a flying arrow is to the desired target. Here the speed of the arrow plays an important role. However, the overall characteristics and design should be taken into account.
Some crossbow, unfortunately, loses their accuracy for long-distance while other models are accurate enough for both short and long-distance shooting.
Notes on the draw weight
As soon as you want to buy a crossbow, you will be confronted with the draw weight again and again. This is the force that the string transfers to the arrow or other ammunition and with which you have to tighten the string. Simply put, the following applies here: the higher the pull weight, the faster the projectile.
Choose a crossbow model that has a high drawbar weight, as faster projectiles usually travel farther. If you want to shoot safely from a further distance and hit a small target, pick a model that actually has a draw weight of over 175 lbs.
Included scope quality
High-quality crossbow scope is one of the key factors and most crossbow scopes we have had experience with are 4x32mm which is best for the price. So before buying it, make sure that you have a 4 x 32mm rifle scope as it will help you a lot when targeting and hunting.
There is no doubt that the best crossbow scope can help you better hit the target you want with perfect precision. Most of the crossbows under $500 on our list come with a scope.
The essential accessories
The first essential accessory to accompany your crossbow: arrows! The longer this projectile, the more stable it is. Arrows come in different sizes and use different materials in their manufacture. Mini crossbow arrows are generally made of aluminum or plastic. Carbon ammunition is both light and stable.
Besides arrows, you need a crossbow scope and a rope that will allow you to pull the arms of the weapon backward. Although most crossbows come with scopes, they are not reliable. Therefore, they lose their performance after a certain period of time.
You also find other accessories useful. Among them, are the adjustable stock, the crank, the arrowheads, the quiver, or the red dot sight. For hunting, you can also carry a good quality hunting rangefinder.
How do I care for my crossbow?
Before you go hunting or target shooting practice, there are a few things to keep in mind:
1. Check the cable
You should examine all tendons very carefully. If you discover any damage, replace it as soon as possible. Otherwise, it can quickly lead to injuries because a damaged tendon can tear very quickly.
The string should be replaced every 1-3 years, depending on how often you use your crossbow. If you have tendons made of steel, you have to change these too. Steel expands much more than synthetic tendons.
2. Wax crossbow strings
Next, wax your strings. You should avoid the middle winding. Otherwise, there would be problems in the deduction system. By waxing regularly, you can significantly increase the lifespan of your string. Without care, your cable would become cracked and brittle very quickly.
Here's how to wax:
Spread the wax evenly on all sides. Then rub the wax into the string.
Use a cloth to avoid burns or blisters. Either a firm cloth or a leather cloth is very suitable for this.
When rubbing, the wax becomes liquid because of the high temperature and can therefore penetrate deep into the tendon cords.
Then wait a few seconds until the wax has set and check whether the wax is well absorbed.
If not, repeat the process again.
If your steel cables are covered with plastic, there is no need to wax them.
3. Housing and guide rail
Next, you'll lubricate the moving parts of the crossbow. This includes the trigger and the security mechanisms. This should be done several times a year. In this way, you can protect your crossbow from corrosion.
You should also smear the arrow guide with a little oil. Apply it to each side of the splint, then use your finger to spread it out. The light film minimizes friction. This allows your arrow to accelerate better.
4. Re-tight the screws
Vibrations are always created when you shoot. This way, some screws can become loose. That's why you should re-tight all screws and fasteners every now and then.
Be careful not to pull them too tight, otherwise, they can break off.
Conclusion
A powerful crossbow represents the absolute power to take down small to big games. Don't be caught up in thinking that a higher price crossbow always gives better service. As you've seen, there are plenty of crossbows on the market that won't cost you an arm and a leg but still provide incredible power & speed with plenty of cool features.
If you're confused about which model to pick, my recommendation is the BARNETT Whitetail Pro STR. It's very accurate and offers a solid balance between power and performance.
Remember that like every hunting device, you need to train with your crossbow to be effective. And, if you need to assemble it by yourself, make sure to check out the included instruction manual.
Let us know in the comments, which model makes you end up!