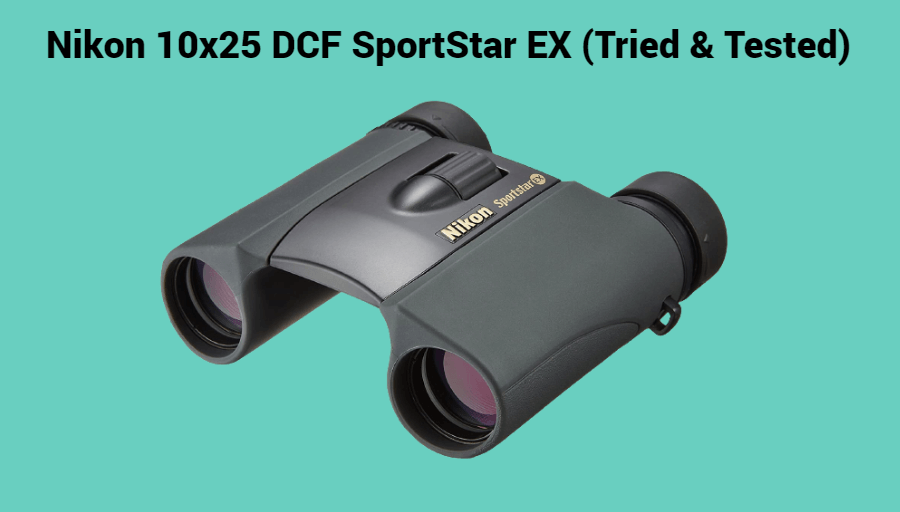 If your viewing preferences revolve around water sports, it makes sense to seek out binoculars that are resilient in wet conditions. The Nikon Sportstar EX 10×25 is well-suited for such scenarios, as it is designed to withstand water exposure, ensuring reliable performance regardless of the weather conditions.
Besides their waterproof and robust construction, these binoculars have technical specifications that contribute to a highly satisfying viewing experience. Continue reading this test/review to delve deeper into the features and performance of the Nikon Sportstar EX 10×25.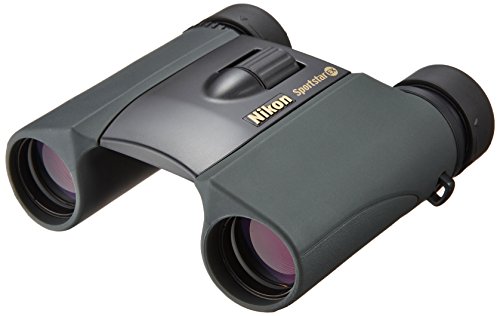 Best price: Check On Amazon
Specifications:
Objective: 25 mm diameter, multi-coated glass lenses and roof prism
Pupil exit diameter:5 mm
Optical zoom: 10x
Water resistance: 5 minutes under 2 meters of water
Actual/perceived field of view at 1000 m: 6 .5°/ 114 at 1000 m
Minimum focusing distance:5 m
Twilight index / light intensity:8 / 6.25 Safe
Design: eco-friendly glass and free of lead and arsenic
Weight: 300 g
PROS
Compact, foldable and lightweight
Waterproof (immersion in 2 meters of water)
Brighter, sharper field of vision
Comfortable to handle and use
Come with both a soft case and a neck strap
CONS
No tripod adapter
Limited low-light performance
Narrow field of view
Manufacturing Quality and Ergonomics
The rugged design of the Nikon Sportstar EX 10×25 is crafted to endure various environmental challenges, including exposure to dust, dirt, and adverse weather conditions. As previously noted, these binoculars fear no water, maintaining their optimal condition even after being immersed in water (up to 2 meters) for a duration of up to 5 minutes. For enthusiasts of water sports, the waterproof feature of the Sportstar EX 10×25 makes it an ideal and reliable choice.
These all-weather binoculars can also be used on a daily basis, both indoors and outdoors. Besides its anti-fog, compact and lightweight design, the Nikon Sportstar EX has a folding function. This makes it easy to store and take them with you whether you are going to a picnic, a hike or a show.
In addition to their durability, the Sportstar EX 10×25 binoculars prioritize user comfort. Encased in ergonomic rubber armor, these binoculars provide a secure grip, even in inclement weather. The well-positioned controls, including the central focus wheel, contribute to the overall ease of use, allowing for quick and effortless adjustments.
Adjustable eyecups are indeed a beneficial feature for individuals who wear glasses. The ability to rotate and slide the rubber eyecups allows users to customize the binoculars for comfortable viewing, ensuring that those who wear glasses can maintain the proper eye relief for an unobstructed and clear view.
Optical Performance and Possible Uses
Nikon Sportstar EX is equipped with 25mm objective lenses, featuring excellent quality roof prisms and multi-coated lenses. This design maximizes light capture and utilization and enhances the overall optical performance. While the large objective lens collects extra light, the multi-coated lens coating ensures minimal reflection, resulting in bright, vivid images even in poor lighting.
It has 10x magnification, making your subjects appear 10 times closer. If you do a lot of long-distance viewing and want to see more detail from farther away, the Sportstar EX 10×25 is a good choice. This device has a wide field of view that lets you see more of the area surrounding the observed subjects. This is particularly interesting for observing several subjects at the same time or fast-moving objects.
That said, to get a closer look at a subject in intricate detail, you'll need a good close focusing distance on your binoculars. The Nikon Sportstar EX 10×25 binocular has a close focusing distance of 3.5m and is equipped with a twist-type diopter ring for manual focus adjustment for each eye.
However, one potential limitation of this model is its reduced low-light performance, attributed to the smaller objective lens size of 25mm. Smaller objective lenses capture less light, which can impact image brightness, particularly in low-light conditions.
The Verdict
In summary, the Nikon Sportstar EX 10×25 could be a good option for those looking for comfortable, waterproof, and durable binoculars suitable for water sports, as well as everyday indoor and outdoor activities. With its premium performance, stability, and commendable magnification, it earns an overall rating of 4.5 out of 5. The versatility of this model makes it a well-rounded choice for a range of observational needs.
This pair of binoculars offers both a wide field of view and close focus. With compact and lightweight design their unobtrusive nature allows users to almost forget they are hanging around their necks.
We Also Reviewed…