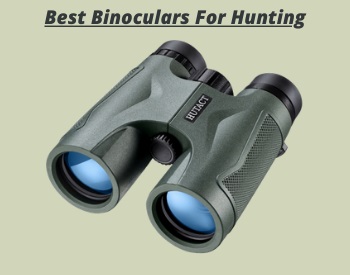 There are different types of binoculars with various characteristics and features, and each one is more suitable for particular uses rather than another. The best hunting binoculars must be waterproof, fog-proof, and impact & dirt resistant. Because they are gracefully dedicated to hunters,
It doesn't matter if you're sitting on a tree stand or on a stakeout, the best hunting binoculars are essential if you want to locate the game every moment.
Are you looking for expert advice for buying the best hunting binoculars for this year? The expert team is here with the list of the most popular hunting binoculars available on the market.
We have spent tons of hours making an impartial, reliable, and unbiased comparison of the top 10 best hunting binoculars for people who wish to get the best model at a reasonable price. We also tested hundreds of products and finally shorten our list depending on the costs and performances.
Best Binoculars for Hunting for 2023
We bring together the best brands and guarantee quality and reliability for long time use.
Bushnell Legend L-Series – Best Overall
TecTecTec BPRO Wild – Best On A Budget
Vortex Optics Diamondback – Best Compact Hunting Binos
Bushnell Realtree Xtra – Editor's Choice
Leupold BX-2 Acadia – Premium Hunting Binoculars
Xgazer Optics HD – Best Deer Hunting Binoculars
1. Bushnell Legend L-Series Hunting Binoculars
Magnification: 10x | Lens Diameter: 42mm | Field of View: 340 ft @ 1,000 yds | Eye Relief: 18.0 mm | Close Focus: 8 ft | Glass: BAK-4 | Optics Coatings: Fully multi-coated | Weatherproof: Waterproof & Fogproof | Tripod Adaptable: Yes | Weight: 1.5 lbs
We start with the best of the best – Bushnell Legend Binoculars are going to give you everything you need to see clearly your prey. It is one of the most useful hunting binoculars for different explorations. You won't see a glint or glow pass through your lens, blind you, and flicker on your prey.
Bushnell Legend L-Series design is pleasing and professional. It comes with a solidly built silicon rubber case with a high-quality metal frame. The HD optical lens, FMC coating lens, and bak4 roof prism deliver stable images thanks to the optimal refraction of light to make your lens brighter and clearer.
This model is also durable and compact. The strong rubber armor and snug protection make it usable to withstand even the toughest weather conditions. Also, the manufacturer ensures that this model is waterproof and fog proof, and it can work fine even if they fall into deep water.
This device is lightweight, only 1.5 pounds. You can easily carry it in your backpack side pocket. It has 42mm large lens (mostly recommended for hunting) that allows more light transmission. The multilayer coating will minimize the loss of light when delivering; full views even in low-light situations.
With a wide field of view, Bushnell Legend L-Series hunting binoculars can reach up to 340ft field of view to capture easily remote sceneries and animals. This high-power gear presents crisp, clear, and authentic high-quality images.
The package comes with a shoulder strap and a small carrying bag which helps you easily transport it and is pleasant to use all day long. On the front center of this device, there is a cap, and twist it down you could find the port to install a tripod. It can be used on any type of tripod that enhances your aiming experience.
What we liked:
Professional hunting binoculars
Clear view in wet weather

Full layers mount coating

Night vision in low light
What we didn't like:
Rubber covers aren't protective
PROS
Waterproof and fog proof
Ensure precise focus on prey
Compact and lightweight design
Solid construction
Clear and bright views
CONS
Rubber eye cup on one side comes off when you remove the cover
---
2. Bushnell Trophy Roof 10×42 Hunting Binoculars
Magnification: 10x | Lens Diameter: 42mm | Field of View: 325 ft @ 1,000 yds | Eye Relief: 15.2 mm | Close Focus: 8.2 ft | Glass: BAK-4 | Optics Coatings: Fully multi-coated | Weatherproof: Waterproof & Fogproof | Tripod Adaptable: Yes | Weight: 1.56 lbs
Do you need unique hunting binoculars at a reasonable price? Then the Bushnell's Trophy Roof super-equipped binoculars are undoubtedly the best of their kind.
It is the first binoculars from Bushnell designed for hunting, so you can get the most out of their years of experience and proven procedures. No matter how far you are from your prey, you will be able to locate them very precisely.
This device uses non-slip rubber grip to absorb any shock. This model is also able to calculate the distance between you and objects automatically. This model has an anti-glare system for viewing without any kind of disturbance. You can customize these binoculars based on your specifications.
The Bushnell Trophy Roof is not only powerful but also practical to use, thanks to the focus lens and very comfortable ergonomic handle. These allow you to see things 10x their actual size. However, there is no zoom, the only adjustment is the focus at the magnification level.
Bushnell Trophy Roof 10×42 binoculars feature O-ring sealed, nitrogen-purged optics for 100% waterproof and fog-proof dependability. This model is established by professional hunters. These are bright in a durable format with a useful focal length.
However, the covers on the big end are loose. But if you put them on so the caps fall forward and are attached from the underside of the binoculars, they will be perfect. They fall out of the way when you are looking through the binoculars, but easily are snapped back into place when you put them away.
What we liked:
Non-slip rubber absorbs

Compact folding compact

Provides razor-sharp images
What we didn't like:
PROS
Very well constructed
Provides a super clear view
Excellent choice for the price
Fast focus center focus wheel
O ring sealed, and nitrogen purged
CONS
It doesn't have night vision
Fixed power not zoom
---
3. Nikon Prostaff 3S Elk Hunting Binoculars
Magnification: 10x | Lens Diameter: 42mm | Field of View: 393 ft @ 1,000 yds | Eye Relief: 15.3 mm | Close Focus: 10 ft | Glass: Eco-Glass | Optics Coatings: Fully multi-coated | Weatherproof: Waterproof, Fogproof & Shockproof | Tripod Adaptable: Yes | Weight: 1.75 lbs
If you are looking for the best affordable hunting binoculars, you have just found the Nikon Prostaff 3S! Thanks to the aluminum optical hull and the comfortable handle, these powerful and professional binoculars are compact and light. You can easily carry it in your hunting backpack.
The package comes with Carrying Case, Neck Strap, Lens Caps, Nikon Lens Pen, and a Lumintrail Cleaning Cloth. It could be an ideal choice for big game hunting.
However, the strengths of the Nikon Prostaff are undoubtedly the lead- and arsenic-free glasses; the thick rubber coating, and the internal focusing system combined with a good pupil extraction which allows observation even for wearers of glasses.
It features 42mm objective multi-coated lenses as well as phased correction coated roof prisms. They are designed to observe without difficulty and focus at large distances. The large field of view allows you to locate the subject very easily.
This model is both anti-fog and waterproof and fully coated with multiple layers that offer excellent image quality. However, the minimum focus distance is 9.8′ / 3m and the field of view is 1000 yards.
With excellent optical performance and perfect sharpness, the Nikon Prostaff 3S is a must among hunters and enthusiasts of naturalistic observations. You can rely on the Nikon brand because they always offered an excellent quality guarantee and products and you have a grand chance to enjoy the world in all its splendor!
What we liked:
High-eye-point design

Lead- and arsenic-free glass

Wide apparent field of view
What we didn't like:
Size a bit large to carry while hunting without backpack
PROS
Compact and lightweight
Vision image quality is good
Great for both adult and child
Included a lot of accessories
Easy to use
CONS
A little touchy to focus on long distances
Eyepiece adjustment takes a bit to learn to get a full view
---
4. TecTecTec BPRO Wild Budget Hunting Binoculars
Magnification: 10x | Lens Diameter: 42mm | Field of View: 305 ft @ 1,000 yds | Eye Relief: N/A | Close Focus: 9 ft | Glass: BAK-4 | Optics Coatings: Fully multi-coated | Weatherproof: Waterproof & Fogproof | Tripod Adaptable: Yes | Weight: 1.55 lbs
TecTecTec BPRO Wild Camo hunting binoculars are lightweight and feature a compact design for easy grip and use on the go. It is well built with soft-touch rubber armor. This model is also quite compact.
These binoculars will give you crystal clear vision because of their 42mm lenses and BAK-4 Barium prism mechanism. And with a massively impressive 10X magnification feature, you'll be able to see farther than you need to hunt the game and line up a clean shot. The ten magnification level offers a clear vision from three yards away.
All lenses are made of ED glass and have several treatments. The lenses are treated with FMC and the eyepieces and prism are with FBMC to ensure better light transmission and eliminate glare.
To enhance the experience of nature lovers as well as sports & entertainment spectators, a straightforward smartphone adapter include in order that allows you to immortalize breathtaking views with ease. Both left-handed and right-handed users are able to adjust the center focus wheel with one finger.
This model is also anti-fog and water-resistant so you can easily transport it. It comes with an ultra-wide field of vision at a distance of about 1000 yards. You don't need to spend more to get the equipment you'll actually use, because it comes with everything you need.
TecTecTec BPRO Wild Camo binoculars offer excellent resolution and color contrast. At the same time, virtually eliminates all color aberration and color fringes. The package includes a neck strap carrying case and lens covers as well as rain protection making it one of the top-rated binoculars for hunting.
What we liked:
Full broadband multilayer coating

Smooth and stable focusing system

Unique and quality design

Powerful magnification
What we didn't like:
Focus Ring is located on the central hinge
It is not shockproof
PROS
Crystal clear and quality optics
Extensive and complex camouflage
Waterproof IPX6 construction
You can hold your cell phone
CONS
Carrying bag is not good enough
Strap is too long
---
5. Vortex Optics Diamondback Compact Hunting Binos
Magnification: 10x | Lens Diameter: 42mm | Field of View: 393 ft @ 1,000 yds | Eye Relief: 18.0 mm | Close Focus: 5 ft | Glass: HD | Optics Coatings: Fully multi-coated | Weatherproof: Waterproof & Fogproof | Tripod Adaptable: Yes | Weight: 1.5 lbs
Just when you thought reality couldn't be augmented with HD, Vortex went ahead and made their new and better range of hunting binoculars. If you are a both hunter and nature lover, the Vortex Optics Diamondback is the right one for you!
This unit is completely waterproof, and submersion should not affect performance. The wide-angle lens is specially designed for the observation of fast-moving objects.
It features a durable high-quality finish, but it is compact and lightweight. The vision is made appreciable by the lenses with multilayer coating for maximum brightness and contrast and coating for UV rays.
Diamondback HD binocular is optimized with select glass elements to deliver an exceptional resolution. To enhance the practicality of use, this device comes with a tan case that can turn into a chest harness.
This model was built with 10x magnification and 42mm objective lenses. However, you can customize the features according to your requirements. You can use the non-slip rubber grip to absorb any shock. To ensure ease of carrying, it comes with a black strap that goes around your neck.
There is also a mounting hole for use with a tripod. There is a threaded hole in between the focus wheel in the front of the Binos. But you need the adapter to be able to mount the tripod.
What we liked:
Durable external protection

Great binoculars for both hunting & bird watching
What we didn't like:
Focus ring makes springlike sound when rolling to the right
PROS
Comes with a lifetime warranty
Durable external protection
Incredible brightness
CONS
It would be nice if Vortex had the same side buckles on both
---
6. Bushnell Realtree Xtra: Editor's Choice
Magnification: 10x | Lens Diameter: 42mm | Field of View: 330 ft @ 1,000 yds | Eye Relief: N/A | Close Focus: 10 ft | Glass: BAK-4 | Optics Coatings: Fully multi-coated | Weatherproof: Waterproof & Fogproof | Tripod Adaptable: Yes | Weight: 1.58 lbs
If you want to equip yourself with a pair of crystal view binoculars, then the Bushnell Realtree Xtra should be at the top of your adventure cart list. This device is well made and Bushnell proves that they are leaders in the optics industries to release unparallel optics devices with low prices.
With an all-surface treatment for maximum transmission and brightness, the Bushnell Realtree Xtra is the only model "without focusing" and ensures perfect image clarity at almost all viewing distances. The eye cups extend out for comfort and are easy to use with eyeglasses.
Its widened field of vision makes it the ideal instrument for sporting events, wildlife observation, and winter use with gloves. The image remains clear and bright and the ergonomic rubber-wrapped case won't escape your hands, even if you're wearing gloves.
The focus dial is really smooth but precise. Focus wheel just the right amount of slip. Enough light comes through the 42mm lens for most purposes, and the magnification is strong enough for most uses.
The Bushnell Realtree Xtra comes with a neck strap, a soft case, and a soft pouch made of lens cleaning cloth, so you don't need to buy extra equipment. Dress for the most intricate forest camouflage you'll ever get to see. However, don't place them near a tree stump or on the campsite floor. You may have trouble finding them.
What we like:
Lead-free glass

Heavy-duty construction

Pure performance
What we didn't like:
PROS
Very fantastic quality Binos
Durable and crystal clear view
Great hand-feel and balance
Built-in solid construction
Easy to adjust
CONS
End lens caps are poorly designed
---
7. Carson VP Series Binoculars for Low-Light Hunting
Magnification: 8x | Lens Diameter: 42mm | Field of View: 393 ft @ 1,000 yds | Eye Relief: 17.0 mm | Close Focus: 8 ft | Glass: BAK-4 | Optics Coatings: Fully multi-coated | Weatherproof: Waterproof & Fogproof | Tripod Adaptable: Yes | Weight: 1.55 lbs
Carson VP Series hunting binoculars provide high-quality and reliable images even in extreme low-light conditions. It is an affordable device that brings out the pleasure of all outdoor activities including natural research hunting fishing bird hunting and stargazing.
Compared to the best hunting binoculars we just featured above, this one is far superior in terms of versatility and has all the features every hunter looking for.
The Carson VP has multi-layer coated lenses and phase-corrected roof prisms, so the images you are about to see will be crisp and clear. The lenses are so clear even in tough weather and you can see quite far. These have a build quality that matches other units that cost hundred dollars more. They have a heft and feel that is reminiscent of a professional DSLR camera.
The package comes with a cleaning cloth, a nice case with some pockets, and a neck strap. Even the included case has a build quality that is very well fitted to this fine optic device.
This device was designed, made and assembled in the USA. There are 5 different sizes available from the VP series. However, the 10x25mm and 8x32mm options are compact sizes. And the 8x42mm, 10x42mm, and 12x50mm options are full-sized options.
What we liked:
Tripod mountable

Extra-long eye relief

Phase corrected prisms

Crisp and sharp and viewing
What we didn't like:
Included accessories are cheaply made
PROS
Comes with lifetime warranty
Very clear and good magnification
Completely waterproof and Fogproof
Includes high-quality case/strap
Fine adjustment
CONS
Not top of the line optics because of its price
A tiny bit heavy
---
8. Leupold BX-2 Acadia high-End Hunting Binoculars
Magnification: 10x | Lens Diameter: 42mm | Field of View: 368 ft @ 1,000 yds | Eye Relief: 15.5 mm | Close Focus: 13.8 ft | Glass: BAK-4 | Optics Coatings: Fully multi-coated | Weatherproof: Waterproof & Fogproof | Tripod Adaptable: Yes | Weight: 1.75 lbs
Although it is not exactly the most economical option in this category, the purchase of the Leupold BX-2 is sure to be considered because it has technical characteristics, design, and optical capacities.
The Leupold BX-2 is the first binocular to combine the handling characteristics of a roof prism with the performance and price of a Porro prism design.
It is flexible and made from non-slip rubber armor, which absorbs moisture and allows comfortable use of your device. The built-in slim design makes it one of the best space-saver binoculars on the market. In addition, it provides you with a clear and large vision.
Thanks to its adjustable pupil distance, it can be used for different ages people. Leupold BX-2 binocular has a twist-up eyecup. It comes with 303 feet wide-angle field of view, 42 mm in diameter, magnification x diameter 10 X 42, and these lenses meet all your requirements for hunting.
It performs especially well in low-light situations such as hunting at dusk & dawn. You can mount a tripod by using a threaded adapter that screws into the front of the swivel hinge. Leupold also offers a lifetime warranty. You can easily contact them by email or social media if you have any issues.
What we liked:
Superior low-light performance binoculars

Premium edge-to-edge clarity

Phase coated roof prisms
What we didn't like:
Stickers came off pretty quickly
A little bit heavier than similar size binoculars
PROS
Built to perform for a lifetime
Easy to adjust and clear optics
Great for dawn and dusk viewing
Waterproof and fog proof
---
9. Vortex Optics Crossfire HD 10×50 Hunting Binoculars
Magnification: 10x | Lens Diameter: 50mm | Field of View: 393 ft @ 1,000 yds | Eye Relief: 17.0 mm | Close Focus: 5 ft | Glass: HD | Optics Coatings: Fully multi-coated | Weatherproof: Waterproof & Fogproof | Tripod Adaptable: Yes | Weight: 2.9 lbs
Crossfire Hd is the versatile binocular from Vortex. It can be used for hunting and exploring the flora or fauna in the wild. This device will provide impeccable optical quality, thanks to a diameter of 50mm objective lens, for an exit pupil of 5.2 mm. You can find better optics out there but not for the price.
The Vortex Crossfire Hd weighs only 1.5 lbs and has won the favor of many users who have already experienced it. Its robustness was put forward by some, while others appreciated its ease of handling.
The waterproof non-slip grip prevents moisture, dust, and debris from getting inside the device. In addition, the non-slip rubber outer armor can absorb shock while providing a firm grip.
Vortex Optics Crossfire HD could be a splendid choice for crystal-clear viewing. You can get very sharp images, and your eyes take care of the different distances. The lifetime warranty makes it a no-brainer and the ability to attach a tripod makes it a budget-friendly choice to avoid purchasing additional spotting scope.
However, the case is a disappointment to the store. Although it looks great and is of wonderful quality, there is no option for belt carry, handle or shoulder strap.
What we liked:
Durable external protection

Provides smooth and clear pictures

Quick and easy focusing
What we didn't like:
Cheaply made carrying case
Not shockproof
PROS
Lighter than some large 12 powers
Very good choice for the price
Comes with a nice case
Decent resolution
Well constructed
CONS
Very sensitive and overly precise in focusing
Carrying case is cheaply made
---
10. Xgazer Optics HD Deer Hunting Binoculars
Magnification: 10x | Lens Diameter: 42mm | Field of View: 393 ft @ 1,000 yds | Eye Relief: 15.6 mm | Close Focus: 6 ft | Glass: BAK-4 | Optics Coatings: Fully multi-coated | Weatherproof: Waterproof & Fogproof | Tripod Adaptable: Yes | Weight: 1.65 lbs
Last but not least, the Xgazer Optics HD is a powerful professional pair of hunting binoculars, thanks to its 10x magnification and 42mm objective diameter. It is the ideal product for you if you are at the beginning and need a reliable binocular but without particular performance to put on the scale.
The optics with BAK4 prisms with full multilayer coating guarantees the maximum reduction of diffused light giving you the vision of images with high brightness and sharpness.
It weighs only 1.65 lbs, and the shipping weight is about 2.5 lbs which includes a beautiful hard case and all other accessories. The integrated tripod connection offers you to mount it on a stand to ensure maximum stability.
This instrument with dioptric compensation and folding rubber eyecups allows you to make the most of your field of vision even if you wear glasses. It is great hunting gear to spot any wildlife. This model is a slightly more affordable alternative that we found among the highest-rated binoculars of this year.
However, the included strap could be better in quality. Also, this unit is a little flimsy and not so easy to adjust.
What we liked:
High definition viewing

Excellent design for hunting, and bird watching
Waterproof, fogproof and shockproof
What we didn't like:
Does not come with a carrying case
Eye space is a little bit small
PROS
Eye cups are very user friendly
Outstanding quality for the price
Perfectly designed for hunting
Great clarity and looks nice
Included Glasspak Bino Harness
CONS
Neck strap is a little difficult to attach
---
How to Choose the Best Hunting Binoculars
All binoculars aren't designed for hunting specializations. Hunting binoculars that are effective in one function may not be excellent for other purposes. First of all, you have to make a decision about the features you want in your hunting binoculars. That's why getting the right pair for the business is critical.
Let's see what are the fundamental characteristics to be considered when making a good purchase decision.
Magnification
The magnification level indicates how close an object will be seen compared to when you observe it with the naked eye. For example, if you are looking at an object 100 meters away, with 10x magnification binoculars you will see it as if it were only 10 meters away. So when you buy, consider the distance and how detailed you want to see.
Depending on the use you prefer, you should choose the combination that will best suit you. The most versatile binoculars are 10×50 (mostly suitable for all purposes), while those used for hiking, hunting, and birdwatching are generally 8×42.
Keep in mind that a pair of binoculars with a magnification smaller than 8x does not bring out enough detail in the image. So if you want a little more distance from your binoculars, 10x magnification is a great choice for hunting.

The prisms
Prisms are the fundamental part of hunting binoculars because they have the function of inverting the image. There are two types of prisms, Porro's prisms, which owe their name to their inventor, and roof prisms.
Porro's prisms allow for a greater three-dimensional view of objects even if they are very far away, and guarantee greater brightness. The negative characteristic of this type of prism is its size, which is rather bulky. And this causes a greater weight on our device.
The second type of prism is the roof one. Roof prisms offer a greater perception of depth, thanks to the fact that they are composed of multiple reflective surfaces. However, this could be a disadvantage. Because if the surfaces are not perfectly calibrated you could lose sharpness in the vision.
On the side of the advantages, however, we can count on the compactness of this type of prism, and therefore on its reduced size and weight.
Lenses & focus
Basically, binoculars found on the market can mount plastic or glass lenses. Plastic lenses refer not only the lower quality images but are also cheaper and more robust than glass lenses. Most of the products on the market however mount glass lenses. Although they are more expensive, they have a higher yield and higher quality.
The most commonly used glasses are of type BAK4 and BAK7. The BAK4 is used on high-end binoculars such as professional military binoculars while the BAK7 is for medium-low-end models.
However, the problem with glass lenses is the possibility of producing reflections. But this drawback can be easily solved because most of the models are equipped with anti-reflective treatment.
The focus is used to view the object clearly and precisely and can be managed through a special wheel. Usually, this wheel is placed between the two eye tubes to be more easily managed while holding the binoculars.
In professional hunting binoculars, we can find independent focus; each lens is equipped with an adjustment ring, and therefore you have to adjust them one at a time. You can therefore adjust the focus differently for the right eye and the left eye. Cheap binoculars often have autofocus.
Materials of body
As for the materials of the body of the hunting binoculars, protective materials are generally used so that they can protect from bumps and scratches, and at the same time guarantees a firmer grip on the instrument.
The binoculars are designed for those who want to carry out nautical activities and are very often covered with non-slip and waterproof materials. Optical tubes are commonly made from aluminum, which makes it possible not to weigh down the structure of the binoculars.
Waterproof & anti-fog coating
Hunter must be able to rely on his binoculars in all weather. You cannot look through fogged lenses. It'll negate the point of bringing binoculars with you.
Most of the time, they are glare-proof which is more than essential not to scare your prey. If you bow properly, a chandelier can alert a doe drinking in a pond and send it running.
Dimension & weight
The dimension is another very important factor to evaluate before buying hunting binoculars because they considerably affect the practical use of the device. On the market, you can find pocket binoculars, small and not very heavy, or larger models much more inconvenient to carry.
The weight of hunting binoculars should not be underestimated if your observation continues for a long time. Sometimes in long hunting trips where the same position needs to be maintained for a long time, it must necessarily the device is light, such as to be maintained even with one hand.
Field of view
By field of view, we mean the size of the visual window. Essentially, it refers to the largest dimension visible through binoculars. Some binoculars with the same magnification offer wider fields of view. These are called wide-angle and are preferred when observing fast-moving objects.
Remember: the field of view decreases when you increase the magnification range, so if the wide visibility is what you are looking for then buy a model with limited magnification or wide-angle binoculars. Also, you should know that binoculars with leek prisms offer a larger camp than those with roof prisms.
Eye-relief
Many people wonder if binoculars can be used with glasses. The good news is that most hunting binoculars on the market are made to allow comfortable vision even for eyeglasses or sunglasses wearers and offer you longer eye relief. Eye relief is nothing but the distance at which the images are projected from the lenses to the focal point and varies from 5 to 23 millimeters.
Generally, the ideal is an eye relief of the hunting binoculars at least 15 mm.
Dioptric adjustment
Most quality hunting binoculars allow you to adjust the focus on one of the two eyepieces (usually the right one) using a diopter adjuster. The purpose of the diopter adjuster is to compensate for the differences in your eyes so that you can see the images through the binoculars as clearly as possible.
Average cost
If you want to buy the best hunting binoculars, remember that it doesn't have to be the most expensive. Of course, expensive models are good in some cases, but there is always the possibility that you can find an option with better value for the money. If you want to get the most out of your hunting binoculars, choose wisely and consider all their features, not just the price.
Most hunting binoculars fall in the price range from 20 to 1000 dollars. You can choose the best hunting binoculars with BAK-4 Prisms, FMC Lens, and Compact design with Tripod Phone Adapter for around 100 dollars. However, if budget is not an issue, we suggest you choose a high-end model.
The brand
There are many hunting binoculars produced by many truly famous companies in this sector. The brand is not essential, but it is still a factor that guarantees the quality of the luminaire and materials with which they are made.
Among the brands that produce top-of-the-range hunting binoculars, we mention Nikon, Bushnell, TecTecTec, and Vortex which ensure excellent customer service.
FAQs:
What magnification should I choose for hunting?
Bigger is better is not the case when it comes to choosing the best hunting binoculars. In general, a magnification of 7 to 10 times is sufficient for most hunters. However, if you think you need higher magnification, you can take a look at spotting scopes that are more suitable for your need.
What material should be preferred for hunting binoculars?
The models intended for hunting should be made from very resistant but light material. You know binoculars can be quite heavy and weigh up to 2.5 pounds which is not ideal for hunters, especially when going out for a whole day. Also make sure that the device is waterproof and fogproof.
What is the maximum weight of binoculars you recommend when hunting?
When hunting, it would be wise to choose a model that does not exceed the 2 pounds mark. Because with a weight of 1-2 pounds, you will be able to get the most structured results.
What is exit pupil?
This technical term refers to the precise relationship between the magnification and the total diameter of the objective lens.
What is an FMC lens?
These are high-end lenses that have benefited from the application of an additional layer of protection.
How much does a good pair of hunting binoculars cost?
All the features we have told you influence the final cost of your chosen binoculars; quality and technology obviously pay for themselves. Based on the combinations of these elements you can get a high-end product or an entry-level. To help you guide your choices, we report a rough division of the price ranges:
Entry level: up to $100
Low range: from $100 to $300
Medium range: from $300 to $500
High range: from $500 to $2,000
Conclusion
Now you have no more excuses because you know very well which one to choose. Then don't waste your time anymore and proceed with the purchase of the best hunting binoculars for you.
Keep in mind that the material of your binoculars is certainly important when they going to be used for hunting. When you have a strong material to support the frame, you will be safe. Make sure that your device is well suited for your need and preferences with the features you are looking for.
If you have any questions or know a model which is better than any of the best hunting binoculars we have mentioned, feel free to comment. We are looking forward to hearing from you!
These Posts Might Interest You: