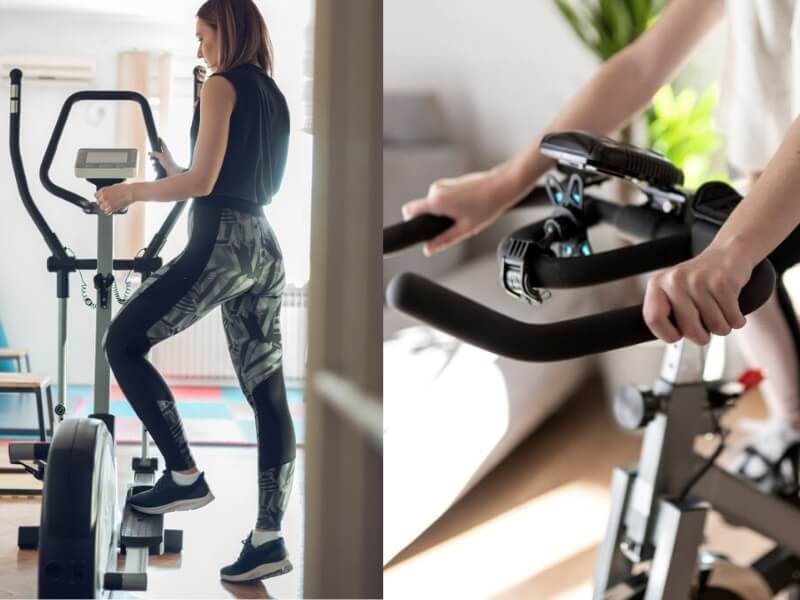 Spin bikes and elliptical trainers are two effective fitness equipment that will keep your body fit and healthy. They also help you to lose weight and tone the body. But what are the differences between spin bikes and ellipticals in terms of functionality and benefits?
Here are a series of useful tips to understand the purposes of both types of fitness equipment and to figure out when it is better to buy an elliptical bike or a spin bike.
First Let's find out the common aspects of spin bike vs elliptical.
Common Between Spin Bike and Elliptical
They are basically two types of fitness equipment that have different common points. But because of the diversity and different use, it is often difficult to understand which one to choose.
There are basically three aspects in common:
They allow you to lose weight by burning fat.
Both guarantee cardiovascular work by increasing endurance and cardiorespiratory capacity.
They do not present the risk of muscle shock. And they are both made for those who do not want to put pressure on the joints and want to avoid joint problems.
After understanding the significant common advantages, now we understand what the differences have and which specific uses they are suitable for.
Spin Bike vs Elliptical – The Differences
Elliptical Trainer
Elliptical bike is a particular model of a stationary bike that combines the characteristics of an exercise bike, a treadmill and a traditional elliptical. When you use the elliptical, 80% of the muscles are involved. And at the end of your workout, the calories burned will be many more.
Elliptical trainer also allows pedaling backward, which is not always possible with a spin bike. This aspect is important for those who need to strengthen the joints and rebalance their overall forces.
Spin Bike
Spin Bikes are much more solid and robust in structure than normal exercise bikes. These are tools that are made to be used on a regular basis and at a certain level of intensity.
The main feature of training with Spin Bikes is the fact that you will go to work almost exclusively in the aerobic band. This means that you will constantly work at a certain intensity.
Differences
The first difference between the spin bike and the elliptical trainer is the position and the consequent movement that this can favor. Elliptical has benefits on the balance of the body, as it forces the user to remain stand and coordinate the muscles with each other. On the spin bike, you are seated and the upper body is not stressed in any way.
A clear consequence of the different positions of the user during exercise is the greater stress on the muscles with the elliptical, which makes it easier to understand the difference between a spin bike and an elliptical.
When to Choose a Spin Bike
Spin bike allows you to burn a good number of calories very fast. However, it varies according to some parameters. Most classic spin bikes have a small display that will show the number of calories burned during the workout. With 30 minutes of light pedaling, you can lose up to 120 Kcal. It can reach up to 500 Kcal in case of very intense pedaling.
Spin bike is suitable for those who want to practice a type of physical exercise very similar to brisk walking on the treadmill. Spin bike is also ideal for those who want to stimulate circulation in the lower limbs, toning the most critical areas such as thighs, buttocks and stomach. In general, it represents a tool within the reach of all users, of any age and with any more or less specific need.
Spin bike is easy to handle (in most cases) and relatively small. This space-saving tool has very affordable prices and is a versatile choice.
When to Choose the Elliptical Bike
If you need to train intensely, but without subjecting the joints to excessive pressure, it is better to choose an elliptical trainer. Those who would like to run, but cannot do so due to joint problems in the lower limbs, knees or ankles, he/she will find the elliptical an excellent ally to keep fit and train the whole body.
Elliptical bike is in fact designed for those who need or want to carry out complete and aerobic workouts with convenience without moving from home.
Unlike the classic model, elliptical requires particular attention to the posture to be kept during the training phase. Therefore, allowing you to train the upper body as well. It requires the necessary coordination to develop in order not to risk going to put too much pressure on the back.
There are ellipticals of all types for different people's needs, with different sizes and for the most diverse needs. A classic elliptical length is less than one meter, which guarantees the considerable convenience to store it without too many problems in the empty spaces of your home.
Spin Bike or Elliptical Trainer for Weight Loss: Which is Better?
Elliptical or spin bike both guarantee visible results for weight loss, for both men and women. However, choosing between a spin bike and an elliptical requires an analysis of your overall needs.
Between the spin bike or elliptical to lose weight, surely the multi-functional spin bike can guarantee better results in faster times. Training with the elliptical bike requires more precautions as it involves a more refined balance. Because it allows you to train both the lower and upper body.
Spin bike or elliptical is a question that can be improved your physical condition and help you to reach goals. You can use them for whatever performance you want. However, to achieve your fitness goals, you need a certain awareness in order to use it day after day.
You can surprisingly improve physical strength without seeking or too much stress on your joints with spin bike. This is why spin bike is also suitable for older people who want to lose weight and keep fit.
Elliptical trainer ensures total body activity with high heart rate that will allow you to burn fat very quickly and delivers truly remarkable results. However, physical activity is combined with adequate healthy nutrition.
However, this does not mean that among the spin bike or elliptical the second is the best. The spin bike is also excellent for those who need to undertake a rehabilitation path and get back in shape after accidents or fractures. Also ideal for those who cannot perform certain exercises.
However, elliptical is the best option for those who want to have quick results in both slimming and toning. Above all, you have to be aware of the tool you are going to use.
Spin Bike or Elliptical Trainer: Which is Cost-Effective?
From a cost point of view, you can buy the elliptical or the classic magnetic, mechanical or electromechanical spin bike at rather similar prices. However, the price is sometimes a little vary according to size and functionality.
Conclusion
Spin bikes are virtually suitable for all and very easy to find and place in the house and allow you to train while sitting. Therefore, they are ideal for those with back problems, the elderly, and those in rehabilitation. Elliptical trainers are ideal for those looking for a tool that allows you to perform a complete workout but is fluid and harmonious.
We have briefly analyzed spin bikes and elliptical trainer and their advantage for different people's needs and budgets. Now you know everything there is to know on the subject, you just have to choose!
Spin bike and elliptical trainer together with the treadmill. Treadmill represents the classic home fitness trainer for excellent workouts. It is a commonly purchased gym equipment for home physical activity.
Learn more benefits of using a treadmill at home from this article: 11 Good Reasons to Buy a Treadmill for home use