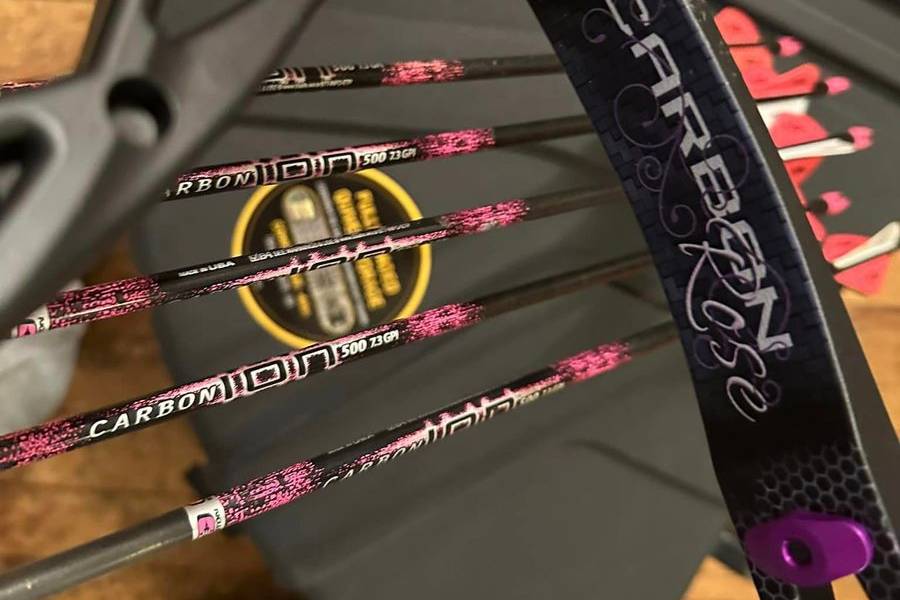 Welcome, fellow bow hunting enthusiasts! As we engage on another exciting year in the world of archery, it's essential to stay ahead of the game with the latest and greatest equipment. Whether you're a seasoned pro or just beginning your journey into the thrilling area of bow hunting, choosing the right carbon arrows can make all the difference in your shooting experience.
Here at WILD TREND, we understand the crucial role that top-notch arrows play in your success as a bowhunter. That's why we've researched and tested the market to bring you the definitive guide to the best carbon arrows of 2024. As your trusted source for all things bow hunting, we're committed to providing you with expert insights and recommendations to elevate your archery game.
Best Carbon Arrows in 2024 (At a Glance)
Ranking of the best Carbon Arrows of 2024:
Why Choose Carbon Arrows?
Well, let me guide you through the reasons why carbon arrows are the preferred choice among seasoned bow hunters. As we navigate through the best carbon arrows of 2024, keep these advantages in mind:
First and foremost, when it comes to speed and accuracy, carbon arrows have proven to be unparalleled. Their lightweight construction allows for faster arrow speeds.
Now, let's talk durability. Carbon arrows are well-known for their robustness and resilience. In the unforgiving environments where bow hunters often find themselves, durability is not just a luxury – it's a necessity. Whether you're navigating dense forests, rocky terrains, or facing unpredictable weather conditions, carbon arrows are designed to withstand the rigors of the hunt.
But it's not just about strength; carbon arrows offer a level of consistency that is essential for any serious bow hunter. Their uniform spine and weight tolerance make them incredibly reliable, shot after shot. Moreover, carbon arrows are known for their versatility. Whether you're a bowhunter focusing on big games, small games, or target shooting, there's a carbon arrow designed to meet your specific needs.
Stay tuned for our expert picks that align with these principles, ensuring you make the most informed decision for your bowhunting journey.
1. Carbon Express Maxima Photon SD Arrow Shafts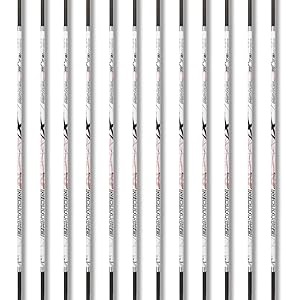 In the world of premium hunting arrows, the Maxima Photon SD is a groundbreaking addition to the bow hunting arsenal. It is designed with optimized construction that makes a lethal small-diameter hunting arrow on the market. With a .203 inner diameter, the Photon promotes hyper-accuracy at all ranges by minimizing wind drift and ensuring enhanced penetration.
The aluminum half-out insert design eliminates the need for special insert systems and provides unparalleled strength and tunability. It is made from a custom weave of 30-ton carbon, which offers a 25% faster recovery. This will ensure your arrows maintain their trajectory with precision.
The integration of patented Tri-Spine Technology sets the Maxima Photon SD apart from the crowd. This unique construction results in up to 4X the accuracy of traditionally single-spine arrows. The innovation at play here guarantees a level of performance that serious bow hunters crave.
The Red Zone center section is remarkable for generating faster recovery. The distal ends stay rigid to effectively manage arrow oscillation. The lighter composition adds to your maneuverability, making each shot feel more effortless and controlled. However, there is a learning curve, especially if you're accustomed to a different arrow setup.
Although this model is a bit expensive, the investment in the Carbon Express Maxima Photon SD is a commitment to superior performance. As the best carbon arrows for 2024, this arrow shaft promises durability. With proper care, it can be a worthy long-term investment in your bowhunting success.
Pros
Cons

Hyper accuracy
Reduced wind drift
Faster recovery
Exclusive technology
Lightweight and versatile

Higher price range
Tip compatibility
2. TenPoint Wicked Ridge Match 400 Crossbow Arrows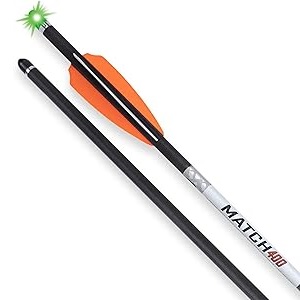 TenPoint Wicked Ridge Match 400 is a pinnacle in crossbow arrow innovation and evidence of nearly 30 years of TenPoint's unwavering commitment to excellence. The Wicked Ridge Match 400 takes tracking your point of impact to a whole new level. During firing, the ingenious design activates the lighted nock and provides superior flight visibility.
The Match 400 arrows undergo a thorough inspection, ensuring a straightness tolerance of within .004. The inclusion of a 60-grain aluminum insert results in an improved 13% Front-of-Center (FOC) and generates up to 20% tighter groupings than traditional carbon arrows.
It is made with a 20-inch carbon shaft. The use of high-quality carbon ensures durability and optimal performance and meets the demands of high-performance hunting crossbows. Needless to say, the 400-grain weight delivers the necessary penetration for big game hunting.
TenPoint's Alpha-Nock technology goes beyond the ordinary. With a deep groove and a large smooth radius base, it holds the bowstring in place to prevent shoot-over and shoot-under scenarios. The HP Aluminum Bushing adds increased strength and accuracy to your shots.
In terms of ease of use, the Wicked Ridge Match 400 doesn't disappoint. The Alpha-Blaze lighted nock has easy on/off functionality. Deactivating the nock is very simple – pull it straight out until the light turns off. No tools are required. The LED light lasts approximately eight hours.
Pros
Cons

Innovation prowess
Diverse crossbow line
American craftsmanship
Easy Nock Deactivation
Improved accuracy and penetration
High-performance construction

Learning curve
Limited information on shoot-over elimination
3. Easton Archery 4MM FMJ® Carbon Arrows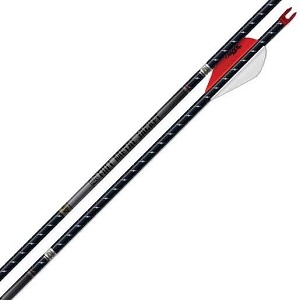 In bow hunting, where accuracy, penetration, and durability reign supreme, the Easton Archery 4MM FMJ® Carbon Arrows stand tall as the epitome of excellence. These arrows are a good package for serious bow hunters looking for the perfect balance of lightweight strength and devastating kinetic energy.
The foundation of the 4MM FMJ arrows lies in an advanced carbon core, which ensures a feather-light yet robust structure. What makes these arrows unique is the integration of a 7075 alloy jacket, forming a full metal jacket that improves accuracy and makes target retrieval easier. The 4mm micro-diameter design is an example of Easton's commitment to pushing the boundaries of arrow engineering.
The revamped spine configuration and 8-32 point outsert system catapult these arrows to the zenith of performance. For example, the standard 8-32 thread point outsert optimizes front-of-center balance and simplifies broadhead tuning. The arrows come pre-installed with 4mm Microlite Nocks.
The advanced carbon core and full metal jacket combine to generate kinetic energy, facilitating deep penetration and delivering more pass-through impacts. This leads to quicker kills and leaves heavier blood trails. With a straightness tolerance of +/- .002″ (also available in a razor-sharp .001″ Match Grade version), these arrows redefine precision.
Pros
Cons

Unrivaled penetration power
Advanced carbon core
Easy target pull
Redesigned graphics for a sleek appearance
8-32 point outsert system
Pre-installed 4mm Microlite Nocks

Limited stock length for 6-pack boxes (32″ only)
4. Tiger Archery 30-Inch Budget Carbon Arrows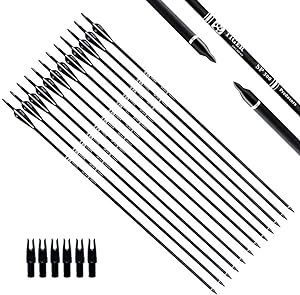 If you're looking for precision without breaking the bank, the Tiger Archery 30-inch Carbon Arrows prove to be formidable. These arrows are designed for draw weights ranging from 35 to 60 pounds, accommodating a variety of bows, including recurve, compound, or long bows.
With 30 inches length and 0.309 inches outer diameter, these arrows have a solid and well-made construction. The 2 black and 1 white vanes, paired with colored plastic fletching, ensure consistent flight orientation, always pointing in the right direction. The nickel-plated stainless steel tips add a touch of resilience.
The Tiger Archery arrows come with replaceable nocks which provide an adjustable fit for your bow. The nocks are not fixed by glue, allowing you to customize and fine-tune according to your preferences. This adaptability ensures compatibility with various bow setups and offers a personalized experience for all levels.
The arrows come extremely well packaged, emphasizing the brand's commitment to delivering impeccable quality. Each package includes 12 carbon arrows and 6 free nocks. The user-friendly approach continues with the arrows' easy assembly and provides archers with a hassle-free experience right out of the box.
The arrows withstand challenging conditions, such as hitting rocks and penetrating plywood. If you're a novice archer or a budget-conscious enthusiast, Tiger Archery Carbon Arrows can be a wise investment.
Pros
Cons

Affordable but excellent quality
Solid and well-made
Versatile compatibility
Colored plastic fletching
Replaceable nocks

Recommend having extra vanes/fletchings
Beginner-friendly
5. Carbon Express Maxima RED MO Contour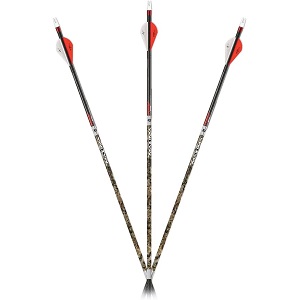 The Carbon Express Maxima RED MO Contour carbon arrows are designed with precision and utilize cutting-edge technology. They feature a high-tech carbon design that incorporates Mossy Oak Contour camouflage, which provides functionality and a stealthy aesthetic. The strategic placement of stiffer distal ends in the carbon construction effectively contains arrow flex to the RED ZONE.
You should know that Carbon Express is serious about arrow performance, and they demonstrate this commitment with their exclusive Tri-Spine Technology featured in the RED ZONE arrows. This central section of the arrow shaft is designed to control the dynamic spine, which ensures that broadheads shoot consistently.
The incorporation of K-360 and Diamond Weave technologies further sets these arrows apart. The K-360 process integrates a 100% low modular carbon weave for exceptional strength and spine consistency, while the Diamond Weave outer layer ensures unparalleled stiffness.
The BullDog Nock Collar, made with aircraft-grade aluminum, is a top-notch feature to protect arrows from nock-end impact damage. This collar is specifically designed to form-fit over the back end of the arrow shaft, which provides a durable barrier against potential impacts from other arrows.
Carbon Express maintains quality through the BuffTuff process, an exclusive patented outer layer that incorporates a super-strong element, creating the world's toughest and quietest carbon arrow finish.
Pros
Cons

Mossy Oak contour camouflage
Built with Tri-spine technology
BullDog Nock Collar
Laser-checked for straightness
Available in 350 and 400 spine

Require additional maintenance
Not ideal choice for beginners
6. Excalibur Firebolt 20″ Lightweight Crossbow Arrows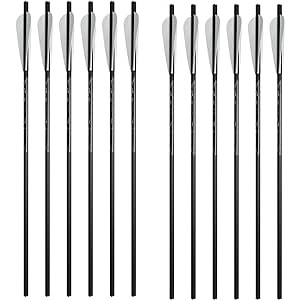 For optimizing the performance of your EXO-Traditional series crossbow, the Excalibur Firebolt 20″ is the go-to choice. These carbon arrows are designed to deliver unparalleled speed and accuracy.
It features a flatback insert for more reliable string contact, reinforced spines, and 4″ offset vanes for superior consistency. With a length of 20 inches, an inner diameter of .300 inches, and an outer diameter of .346 inches, these arrows weigh 250 grains. The .003 straightness tolerance and equipped Rhino Nocks contribute to the arrows' superior accuracy.
Excalibur Firebolt arrows are equipped with flat surface inserts. These are ready to use straight out of the package. They do not require additional nocks when used on Excalibur recurve crossbows. This ensures a hassle-free and efficient shooting experience.
Achieving tight groups up to 50 yards, we highlight the arrows' consistent accuracy and reliability. An additional advantage is the ease of tracking arrow flight during target practice, even in bright sunlight.
Pros
Cons

Ready to use
Superior accuracy
Features a flatback insert
Reinforced spines and 4″ offset vanes
Compatible with CeaseFire Technology crossbows

Specifically designed for EXO-Traditional
Specific instructions for using 150-grain tips
7. Gold Tip Hunter Pro Arrow with Raptor Vane
With a rich tradition in crafting top-tier graphite arrows, the Gold Tip name has become synonymous with innovation, durability, and precision. The Hunter Pro Arrow, the top of the Gold Tip Hunter series, takes durability to unparalleled heights while maintaining some of the tightest tolerances in the industry. With a straightness tolerance of +-.001″ and a weight tolerance of +- 0.5 grains, you can rest assured that these arrows will consistently perform at their peak.
We appreciate its inclusion of GTO series nocks with bushings and factory-fletched 2-inch Raptor vanes. These vanes contribute to the arrow's remarkable accuracy. The attention to detail in the manufacturing process ensures that these arrows fly true and pack a little extra hitting power.
For those who prioritize versatility, the Hunter Pro Arrow is available in sizes 500 (7.3 GPI), 400 (8.2 GPI), 340 (8.9 GPI), and 300 (9.3 GPI). Although slightly heavier and with a larger diameter compared to arrows like the Carbon Express Maxima Hunters, the Hunter Pro Arrows maintain true flight and deliver an extra impact while hitting the target.
The Gold Tip Hunter Pro also offers a great price for top-quality shafts. It provides an excellent platform for customization and allows you to replace the GTO nocks with a simple and effective method.
Pros
Cons

Unmatched durability with tight tolerances
Precise weight tolerance
Factory-fletched with 2-inch Raptor vanes
Good value for the money
Versatile size options

Slightly heavy compared to other models
Larger diameter
8. Carbon Express Mayhem Fletched Carbon Crossbolt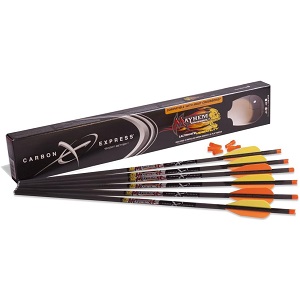 For maximizing your crossbow performance, the Carbon Express Mayhem Fletched Carbon Crossbolt is a top-tier choice. As a leading name in archery products, Carbon Express has designed the Mayhem crossbolts to fulfill the promise of allowing you to "Shoot Better."
The Mayhem crossbolts are designed with innovative multi-layer construction, having an optimal diameter of 0.348 inches and precision-sorted for straightness to an impressive tolerance of +/- 0.004″. This sorting ensures shot-after-shot consistency.
Similar to the Maxima RED MO Contour, the K-360 Weave Technology distinguishes these crossbolts. They feature a patented process that integrates a carbon weave into the outer layer of the bolt. This enhances the bolt's strength and contributes to spine consistency. This is a key element for down-range accuracy and penetration with a broadhead.
Each 6-pack of Mayhem crossbolts comes fletched with 3-inch Dragon vanes which provide the perfect balance of stability and aerodynamics. With a total weight of 420 grains, these crossbolts are optimized for today's high-powered crossbows.
The package includes inserted moon nocks for immediate use and an additional 6 universal flat nocks. The straightness tolerance is +/- 0.004″. The crossbolts are available in two sizes: 20 inches with a weight of 420 grains and 22 inches with a weight of 449 grains.
Pros
Cons

Innovative multi-layer construction
Precision-sorted
Built with K-360 Weave Technology
Fletched with durable 3-inch Dragon vanes
Comes with inserted moon nocks
Available in two sizes

Some users prefer different nock options
9. Pointdo Fluorescence 30inch Carbon Arrow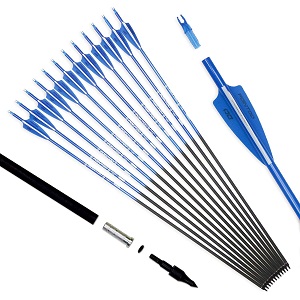 The Pointdo Fluorescence Carbon Arrows are a remarkable addition to the arsenal of any archer, offering a blend of quality craftsmanship, durability, and affordability. These arrows have a shaft length of 30 inches, which provides optimal performance for recurve and compound bows with a draw weight ranging from 25 to 60 pounds.
The fluorescent design of both the shaft and fletching makes these arrows functional and visually striking. The outer diameter measures 7.8mm, which contributes to stability and precision during flight. The 3-inch peltate vanes, with 2 in blue and 1 in white, enhance visibility and aid in arrow stabilization.
The package includes a set of 12 arrows, each weighing about 35g. Additionally, 6 Bohning Double Lock nocks are provided for free, making a versatile and adjustable option for various bows. The rotatable nocks are designed without glue, which allows for easy customization based on individual preferences.
The arrows are thoughtfully packaged to prevent damage during transit, which reflects the manufacturer's commitment to delivering a quality product. This attention to detail extends to the inclusion of 100-grain tips with O-rings. The insert of the tips is securely glued.
Pros
Cons

Budget-friendly
Versatile compatibility
Adjustable nocks
Replaceable tips
Well-packaged

Unattached nocks
Fixed insert
10. GPP Archery Carbon Arrows for Targeting, Hunting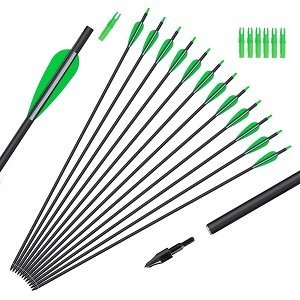 Introducing the last but certainly not least entry on our list of the best carbon arrow rests of 2024 – GPP Archery. It can be a reliable and cost-effective choice for both targeting and hunting. The carbon shafts are a carefully crafted mix of strength and lightweight design. They're paired with replacement field points to deliver optimal accuracy and target penetration, making them suitable for bows with a draw weight ranging from 40 to 60 pounds.
The arrows feature colored fletching and nocks, with a rounded permanent nickel-plated 100-grain stainless steel tip and 3-inch plastic vanes. This combination is ideal for target practice and outdoor shooting and provides both visual appeal and functional precision. The arrows have a diameter of 7.8mm.
A notable feature is the inclusion of six extra free nocks, and these nocks are not fixed by glue. The 30-inch Arrows also come with high-quality screw tips. The total length of the arrow is approximately 31 inches.
We appreciated their strength and durability, even in instances where arrows were subjected to substantial impacts. For example, bouncing off stone surfaces, the arrows remained undamaged.
However, we've noticed a few inconveniences, like unglued inserts, tips, and nocks, but we've found a simple fix by using 5-minute epoxy to secure these components. Additionally, traditional bow users might find opting for vanes instead of feathers to be a minor inconvenience.
Pros
Cons

Standard 30-inch length
Field points included
Straight and true at various distances
Surprisingly durable
Comparable to higher-priced options

Vane design instead of feathers
Vane replacement needed periodically
Factor to be considered before buying a carbon arrow
As an expert in the field of bow hunting, I understand that finding the right carbon arrow can be an overwhelming task. Fear not! Just follow the steps below for your future purchase decision.
Spine Selection
One of the critical factors in choosing carbon arrows is understanding the spine, or stiffness, of the arrow. The spine must match the draw weight and draw length of your bow to achieve optimal performance. I recommend you read your bow's manufacturer guidelines, and if in doubt, seek the advice of a knowledgeable professional.
Arrow Weight
The weight of your carbon arrows can significantly impact their trajectory and penetration. Consider the balance between speed and kinetic energy that aligns with your hunting or shooting style. If you're after speed, opt for lighter arrows, but if you prioritize kinetic energy for larger game, a slightly heavier arrow may be the way to go.
Straightness Tolerance
Look for arrows with tight straightness tolerances. This ensures that each arrow in your quiver flies true and enhances accuracy. A lower straightness tolerance indicates a more precisely manufactured arrow, contributing to consistent performance.
Fletching Options
The type of fletching on your arrows can influence stability and accuracy. Consider the fletching material, shape, and length based on your shooting preferences. Helical or offset fletching often aids in stabilizing broadhead flight, which is crucial for bow hunters.
Arrow Length
Choosing the right arrow length is crucial for optimal performance. A properly sized arrow enhances accuracy and ensures that it clears the bow's riser smoothly. Most manufacturers provide charts to help you determine the ideal arrow length based on your draw length.
Diameter Matters
Pay attention to arrow diameter, especially if you're using broadheads. A larger diameter can enhance penetration and accuracy when coupled with fixed or mechanical broadheads. Check your bow's specifications to ensure compatibility.
Consider Inserts and Nocks
The quality of arrow inserts and nocks should not be overlooked. Durable inserts contribute to the arrow's longevity, while reliable nocks ensure consistent arrow release. We recommend inspecting and upgrading these components if necessary.
Related Questions
Navigating the world of carbon arrows can raise a multitude of questions. Here we provide answers to some of the most frequently asked questions to guide you on your quest.
What's the significance of arrow weight, and how does it affect my shooting?
Arrow weight influences both speed and kinetic energy. Lighter arrows provide faster speeds, making them suitable for certain shooting styles, while heavier arrows offer increased kinetic energy, ideal for larger games. Balance your preferences for speed and energy based on your hunting or shooting needs.
What factors affect arrow straightness?
Arrow straightness is influenced by manufacturing precision. Higher-quality arrows often have tighter straightness tolerances. However, handling and storage also play a role; avoid bending or dropping arrows, and store them in a secure quiver to maintain straightness.
Do arrow inserts and points matter?
Yes, the type of arrow points and inserts can impact arrow performance. Consider the weight, material, and design of points based on your shooting style and the type of archery you're engaged in (target shooting, hunting, etc.).
Can I use the same arrows for both target shooting and bow hunting?
Yes, many carbon arrows are versatile enough to be used for both target shooting and bow hunting. Consider factors like arrow weight and broadhead compatibility to ensure that the arrows meet the specific requirements of your chosen activity.
Can I cut carbon arrows to a custom length?
Many carbon arrows can be cut to a custom length. However, it's important to follow the manufacturer's guidelines for cutting. And if necessary, use the appropriate equipment and tools.
Conclusion
As I wrap up this exploration of the best carbon arrows of 2024, I want to express my gratitude for joining me on this journey through the intricacies of bowhunting equipment. Choosing the right carbon arrows is not just about picking a product; it's about selecting a companion that aligns with your skills, preferences, and the challenges of the hunt.
I hope that this guide has equipped you with the knowledge needed to make an informed decision. Each arrow in our selection has been chosen to align with the needs and expectations of discerning bow hunters like yourself.