In the pursuit of precision and excellence, every seasoned archer knows that the devil lies in the details. Arranging arrows that fly true requires not only skill, but the right tools for the job. Enter the fletching jig, a crucial companion for those who understand that the art of the arrow is more than just nock and release. At the WILD TREND, we've started on countless hunting journeys, testing and relying on the very best fletching jigs that 2024 has to offer.
Whether you're a passionate bowhunter keen on crafting your own arrows or a skilled sharpshooter seeking unwavering reliability in the field, rest assured that we've carefully examined every option to offer you the best selection available. These jigs aren't just tools; they're the cornerstone of precision and ensure your arrows hit the mark with unwavering consistency.
Best Fletching Jigs of 2024 (At a Glance)
Comparison Table of Top Seven Best Fletching Jigs for 2024:
IMAGE
PRODUCT
DETAILS

Best Overall

Best Overall

Material:

Feather, Metal

Style:

Classic

Weight:

3.35 lbs

Check Price

Premium Choice

Premium Choice

Material:

Metal

Style:

Modern

Weight:

1.8 lbs

Check Price

Best Value

Best Value

Material:

Aluminum

Style:

Modern

Weight:

2.4 oz

Check Price

Most Accurate

Most Accurate

Material:

Metal

Style:

Advanced

Weight:

2.46 lbs

Check Price

Best for Average Bow Hunter

Best for Average Bow Hunter

Material:

Plastic

Style:

Modern

Weight:

1.06 lbs

Check Price

Easy to Adjust and Use

Easy to Adjust and Use

Material:

Synthetic

Style:

Modern

Weight:

.47 lbs

Check Price

Simple Design

Simple Design

Material:

Synthetic

Style:

Modern

Weight:

4.8 oz

Check Price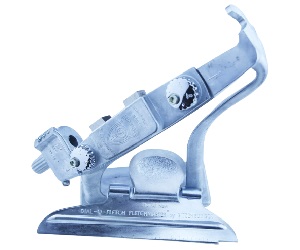 The Bitzenburger Fletching Jig is a hint of excellence in the world of arrow fletching tools, setting the industry standard with its true precision craftsmanship. This high-precision jig, trusted by arrow manufacturers worldwide, is an example of quality and durability. It is made from robust die-cast alloy, which possesses a powerful permanent magnet that ensures the consistent placement of feathers and vanes.
Thanks to the large dials on both the top and bottom of the magnet holder, you can adjust the fletching angle easily. Whether you prefer straight or offset fletches, or wish to experiment with a variety of angles, the Bitzenburger jig offers a wide range of possibilities. Its self-supporting design eliminates the need for additional support and provides a seamless fletching experience.
The Bitzenburger Fletching Jig is well-known for its versatility and adaptability to any shaft with its all-metal construction. The package comes complete with a clamp, wrenches, and comprehensive instructions, so you have everything you need to start on your fletching journey.
The self-centering receiver and flexible feather spacing options make for a user-friendly experience, while the clamp is thoughtfully positioned at a 45-degree angle to ensure a clear view of the fletching process every time. We declared it as the best fletching jig they've ever used. Its reputation for longevity and reliability is a testament to its Michigan-made craftsmanship.
Pros
Cons

Self-supporting design
True-precision craftsmanship
Made of durable die-cast alloy
Strong permanent magnet for consistent feather/vane placement
Easy angle adjustment

Challenging to establish precise and consistently repeatable offsets
Higher price compared to other fletching jigs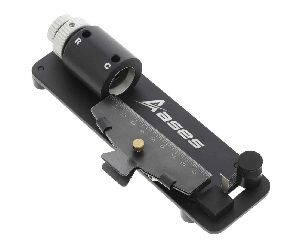 ASES Fletching Jig Pro, a versatile and highly adjustable tool for arrow fletching enthusiasts, has quickly gained recognition in the market. Despite its recent introduction, this brand has the potential to significantly enhance your archery experience. It has a robust construction and dependable performance, with a strong emphasis on its durability and long-lasting quality.
It is designed for three-fletch configurations at a precise 120-degree angle, which offers flexibility for both recurve and compound settings when indexing the indicator vane. The sturdy arrow retainer ensures that shafts remain in place as the clamp is applied to the jig. This eliminates any unwanted movement, resulting in consistent spacing between fletches.
One of the key features of the ASES Fletching Jig Pro is its user-friendly design. The self-centering three-jaw chuck securely holds the arrow shaft in place and provides a stable foundation for fletching. This feature greatly contributes to the accuracy of the fletching process and allows users to achieve uniform and precise placements.
It is best suited for arrows with a diameter of 23 and under, making it an excellent choice for a range of arrow sizes. Keep in mind that the clamp is capable of offsets, but not twisted helical fletching. Despite these considerations, we are highly satisfied with the ASES Fletching Jig Pro. It proves to be a reliable investment that outperforms many of its peers in the same price range.
However, the jig does not come with a manual. There is an online video available on the manufacturer's website demonstrating its operation, but the video is in Turkish with subtitles. This may be a minor drawback for some users seeking detailed instructional guidance.
Pros
Cons

All-metal and super stout build
Compact, highly adjustable, and accurate
Self-centering three-jaw chuck
Easy transition between recurve and compound fletching
Capable of offsets, but not twisted helical fletching

No included manual
Not suitable for shafts larger than 23 in diameter, particularly 25 or 27.
Unable to perform twisted helical fletching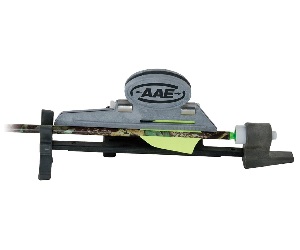 The AA & E Fletch III is designed for archers and bowhunters looking for a reliable and straightforward tool for arrow fletching without breaking the bank. With a design reminiscent of the renowned Bitzenburger, this jig offers simplicity without sacrificing accuracy. In an affordable price range, it provides a gateway to a world of possibilities for those interested in crafting their own arrows effortlessly.
Its fixed 1-degree offset provides a consistent and precise fletch every time. This eliminates the need to calculate tiny variances that could potentially affect shooting accuracy. This jig simplifies the fletching process and ensures consistent results with minimal effort.
It accommodates a wide range of arrow diameters, from .240 inch to .370 inch, covering both ACC and 25 aluminum shafts. This adaptability means you can use it for various types of arrows.
Its clamp is made from a specially designed material containing Teflon and silicone. This innovation ensures that glue doesn't stick to the clamp, streamlining the fletching process and preventing messy mishaps. It's a small but significant detail that demonstrates the thoughtfulness put into the jig's construction.
The Fletch III's portability is another noteworthy feature. Its compact design makes it an ideal companion for in-the-field repairs. Whether you're on a hunting trip or at the archery range, this jig is easy to carry and set up. You can maintain your arrows with minimal hassle.
Pros
Cons

Affordable
Super accurate
Fletching made simple
Portable and easy to use
Fletch large and small diameter shafts

Plastic clamp holder is not user-friendly
Design is not meant to last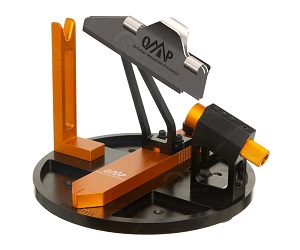 The OMP Phoenix Fletching Jig sets a new standard in arrow fletching with its exceptional construction and precise design. It is made from rugged die-cast and machined aluminum materials and built to withstand the test of time to ensure ultimate durability. Its oversized base plate, complete with padded rubber feet, provides unparalleled stability, which allows for confident and secure fletching sessions.
Its superior micro-adjustability guarantees an accurate and consistent fletch every time. With the ability to fletch at 120° (3 fletch), 90° (4 fletch), or 75°x105° (4 fletch "X"), this jig offers a range of options to suit various preferences and shooting styles. The 5° offset adjustment, available for both right and left helical clamps, can be fine-tuned at 1° increments.
The lower shaft angle helps to minimize glue runoff. Access points on both sides of the jig make it easy to clean up any excess glue, maintaining the integrity of your arrows. The fixed-slotted arrow tower ensures that the arrow remains securely in place for consistent fletching, time after time.
It is compatible with arrows of all diameters, accommodating a wide range of shaft sizes. The inclusion of laser-ticked adjustment lines further enhances the precision and consistency of the fletching process, particularly useful for batch fletching.
The Phoenix Fletching Jig shines with its accessory cutouts. These strategically placed cutouts keep glue and fletchings organized and within arm's reach, streamlining the fletching process and minimizing potential disruptions. Also, the easy-view nock receiver ensures that arrows are held securely and can be easily mounted in the jig.
Pros
Cons

Ultimate durability
Superior micro-adjustability
Compatible with all arrow diameters
Lower shaft angle reduces glue runoff for a clean finish
Accessible from both sides for easy cleanup

A higher investment compared to basic fletching jigs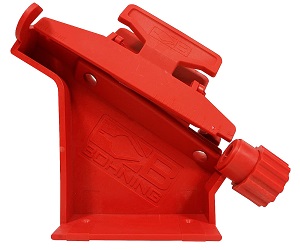 Bohning is a reputable company with a long-standing history of producing high-quality archery products since 1946. The Pro Class Fletching Jig is a versatile and reliable tool for any bow hunter looking to achieve precise and consistent fletching on their arrows.
The quick-set magnetic clamp makes operation easy and provides a secure grip on the arrow shaft. The larger grips on the clamp add to the ease of use, making adjustments a smooth and efficient process.
The jig also has a simple offset adjustment mechanism and accurate "snap" indexing, which allows you to achieve the perfect fletch every time. This level of precision is significant for ensuring consistent arrow flight and accuracy downrange. This model is also adaptable to fit arrows of all sizes.
While it is relatively lightweight, it comes with anchor holes at the bottom to provide additional stability. The fletcher also comes with extra cams for easily switching between 2, 3, and 4 feather fletching configurations.
We have noted a minor drawback in the nock notch, which could benefit from being slightly thicker to ensure a snug fit for the arrow shaft. This is an important consideration, as it could impact the alignment of the feathers. However, with proper attention to detail and methodical fletching, this issue can be easily managed.
Plastic construction offers both benefits and drawbacks. For example, it keeps the tool lightweight, but susceptible to glue residue. We suggest lining the clamp with metal.
Pros
Cons

Easy to Operate
Quick set magnetic clamp
Includes jig and right-wing clamp
Adjustable to fit all sizes of shafts
Pre-set dial stops for consistent fletching

Less sturdy due to its lightweight construction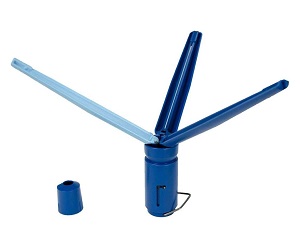 The Carbon E-Z Fletch Pro Tool is easy to adjust and use. Arizona Rim Country Products boldly claims that this tool is the fastest fletching device on the market, and after putting it to the test, it's hard to argue otherwise. With the ability to fletch a dozen arrows in 30 minutes or less, the E-Z Fletch Pro lives up to its reputation.
The key to its efficiency lies in its unique design, allowing for the simultaneous application of all three vanes or feathers. This is a significant departure from traditional clamp-style fletching tools that handle only one vane at a time. The result? A drastic reduction in fletching time without compromising on precision. Furthermore, the E-Z Fletch Pro allows for easy replacement of individual damaged vanes, ensuring your arrows stay in excellent condition.
The tool is available in various styles to suit different arrow types. It handles aluminum arrows ranging from 2013 to 2514, offering options for 4-degree offset, straight (1 degree), 8-degree right helical, and 8-degree left helical. On the other hand, the Carbon E-Z Fletch is designed for carbon arrows, accommodating sizes from the smallest carbon up to a 2018 aluminum arrow, available in straight (1 degree) and 6-degree right helical styles.
Using the E-Z Fletch is easy. First, clean the arrow shafts and vanes. Then, place the vanes in the slots on the open arms, using the gray arm for the cock vane. Apply a light layer of glue along the vane. Insert the arrow shaft into the base, and the spring-loaded mandrel locks everything in place, ensuring even tension on all three fletching arms.
During testing, fletching a dozen Gold Tip XT Hunter 5575 shafts with 2.0″ VaneTec vanes took just 33 minutes, even with careful glue application. The vanes were consistently positioned perfectly. While some thicker vanes may pose a slight challenge due to the narrow slots, this is a minor concern compared to the overall effectiveness.
Pros
Cons

Inexpensive
Quick and simple to use
Consistent and repeatable vane positioning
Ready to use right out of the package

Nothing fancy
Thicker vanes may not fit in narrow slots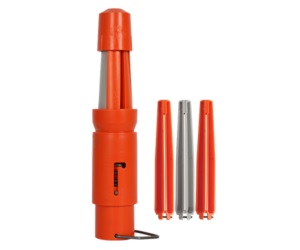 If you're looking for a hassle-free and efficient fletching solution, the Easton EZ Fletch is a game-changer for you. What sets this Easton Jig apart from others, like the Arizona EZ Fletch, is that it comes with both sets of arms for helical and straight setups. This means you don't have to worry about buying separate sets. It's available in two sizes, Small and Large to meet different arrow diameters and vane sizes.
It includes a 2" Mini Helical tool and an extra set of straight offset arms, which provide versatility for all arrow materials and diameters smaller than 20/64" for the Small size, and accommodating anything larger in the Large size. This means you can fletch a variety of arrows without the need for additional equipment or adjustments.
Its simplicity and user-friendly design save both time and money in the process. It is designed for standard two to five-inch vanes. You can effectively place all three vanes at once.
While it does not offer the same level of customization options as some other jigs above, it provides a straightforward and effective solution for archers, particularly those new to the fletching process. Overall, it strikes a perfect balance between quality and affordability, making it an excellent choice for beginners.
Pros
Cons

Accurate and fast
Suitable arrows with larger diameters
Includes multiple sets of arms
Quick and easy fletching process

Not suitable for smaller ones
Limited customization
Things to Consider Before Buying a Fletching Jig
Before investing in the best fletching jig for your archery pursuits, there are several factors to consider. These considerations can make all the difference in achieving consistently accurate arrow flight. Here is a comprehensive buying guide to lead you toward the perfect choice:
Type of Fletching: Determine the type of Fletching you plan to use. Some jigs are designed for specific fletching styles (such as straight, offset, or helical). Ensure the jig you choose is compatible with your preferred fletching.
Ease of Use: Look for a fletching jig that is user-friendly, especially if you're a beginner. An intuitive design and clear instructions can save you time and frustration.
Adjustability: Consider the level of adjustability the fletching jig offers. Some models allow for customization of fletch angle, offset, and spacing. This flexibility can be invaluable for fine-tuning arrow performance.
Durability and Build Quality: A sturdy and durable fletching jig will withstand regular use and last for years. Look for materials like high-quality metal or robust plastic in the construction.
Portability: If you plan on using the fletching jig in the field, consider its portability. Compact and lightweight jigs are easier to carry and set up on-site.
Batch Size: Determine if you'll be fletching arrows in large batches or one at a time. Some jigs are optimized for mass production, while others excel at precision work on individual arrows.
Compatibility with Arrow Shaft Material: Ensure that the fletching jig is compatible with the material of your arrow shafts, whether it's aluminum, carbon, or wood. Different materials require specific adaptations.
Additional Accessories and Features: Some fletching jigs come with extra features like built-in arrow holders, adjustable nock receivers, or compatibility with different arrow diameters. Consider if these additional features align with your needs.
FAQs (Frequently Asked Questions)
Can I use a fletching jig for different arrow shaft materials?
Many fletching jigs are versatile and can be used with a range of arrow shaft materials, including aluminum, carbon, and wood. However, it's essential to verify the compatibility of the jig with your specific arrow material.
How adjustable should a fletching jig be?
The level of adjustability you need depends on your preferences and shooting style. A highly adjustable jig allows for fine-tuning of fletch angle, offset, and spacing, and provides greater customization for arrow flight.
Can I use a fletching jig in the field, or is it strictly for workshop use?
Some fletching jigs are designed for field use, and offer portability and ease of setup. These models are ideal for making on-the-fly adjustments or replacing damaged fletchings while in the field.
Are there specific fletching jigs for left-handed archers?
Yes, certain fletching jigs are designed specifically for left-handed archers. These jigs accommodate the orientation of the fletchings to ensure proper arrow flight for left-handed shooters.
Do I need to be an experienced archer to use a fletching jig effectively?
While experience can certainly be beneficial, many fletching jigs are designed with user-friendliness in mind. Clear instructions and intuitive designs make them accessible to archers of all skill levels. Remember that practice and patience are key to mastering the process.
Can I use a fletching jig for crossbow bolts as well?
Some fletching jigs are versatile enough to accommodate crossbow bolts, but it's important to verify compatibility with the specific jig model. Also, ensure the jig can handle the diameter and length of your crossbow bolts.
Final Thoughts
In our aspiration for excellence, we understand that every detail matters. After extensive testing and real-world application, we proudly present the Best Fletching Jigs of 2024. These selections have proven themselves not just as instruments, but as indispensable companions on countless hunting journeys. From the seasoned veteran to the aspiring enthusiast, these jigs are ready to serve a spectrum of needs and preferences.
If you have any specific questions or concerns, feel free to consult with our knowledgeable team.
Related Posts: