Kayak fishing has quickly become a popular trend because of so many reasons. For example, you can spend a day on the water, doing a bit of sport at the same time. Paddling on a kayak is also an excellent workout for the entire upper body. And the best part is you won't feel like training at all.
However, anglers can face difficulty sometimes finding the best fishing kayaks under $700 for their needs.
Before buying the best fishing kayak under $700, make sure to evaluate some factors and choose them according to your needs. It is also necessary to check that there are special compartments inside to put useful fishing equipment, such as lockers and storage areas.
In our extensive research, we have researched product data sheets, and forum discussions often tested physically and collected feedback from real customers. And after collecting all of this information, we've narrowed down our list to the top 5 best fishing kayaks under $700.
Best Fishing Kayak Under $700 – At a Glance
Check out our comparison table top 5 best fishing kayaks under $700 in 2023
IMAGE
PRODUCT
DETAILS

Best Overall

Best Overall

Length:

10′

Width:

32″

Capacity:

375 lbs.

Weight:

57 lbs.

Check On Amazon

Best Value

Best Value

Length:

11.5′

Width:

34″

Capacity:

550 lbs.

Weight:

68 lbs.

Check On Amazon

Length:

12′

Width:

30″

Capacity:

300 lbs.

Weight:

68.2 lbs.

Check On Amazon

Length:

11′

Width:

33″

Capacity:

425 lbs.

Weight:

62 lbs.

Check On Amazon

Length:

13′

Width:

32″

Capacity:

330 lbs.

Weight:

73 lbs.

Check On Amazon
Best Fishing Kayak Under $700 Reviews 2023
Vibe Kayaks Yellowfin 100
BKC RA220 Solo
Riot Kayaks Escape 12
Vibe Kayaks Sea Ghost 110
Vanhunks Boarding Black Bass
1. Vibe Kayaks Yellowfin 100 Sit On Top Fishing Kayak
Length: 10′ | Width: 32″ | Weight: 57 LBS | Fully Loaded Weight: 64 LBS | Paddlers: Single person kayak | Lakes / Ponds: Perfect | Rivers / Streams: Perfect | Open Water: Good | Ocean Surf: Good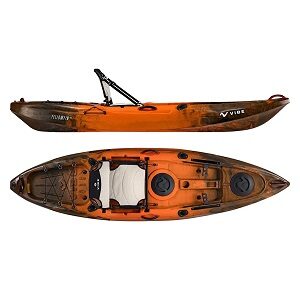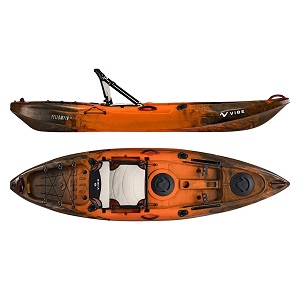 Key Features:
375 Pounds of Load Capacity
4 Fishing Rod Holders
Attached Fish Finder Mount
4 Accessories Gear Tracks
Waterproof Cargo Hatches
Lots of Storage Space
4 Phantom Grip comfort handles
If you're looking for the most premium, compact & slim fishing kayak under $700 for the water that's easy to move and fun to play around with a lot of customization, then the Yellowfin 100 is the best option for you. Vibe Yellowfin fishing kayak offers game-changing speed, high stability, and pro fishing performance.
It engineered best-class stability, tracks smoothly across all sorts of waters and conditions, and delivers the perfect slip resistance movement. It comes with a Vibe Hero seat, which provides extra comfort and supports long days on the water. This unit is lightweight, so comfort and portability come together.
It is quite wide and very easy to paddle. The speed hull design ensures very quickly arriving where the fish are, and at the same time saves your energy during long paddles, windy days, and strong currents.
The adjustable foot braces for any size person + easy access to fishing gear tracks, paddle parks, and a cup holder makes your fishing trip an adventure activity.
Vibe Yellowfin 100 fishing kayak is designed for all-day fishing delight, perfectly fit for any water or angling situation whether blazing speed, tandem, or throw-and-go. This Sit On Top Fishing Kayak is also manageable by one person to lift load and unload.
All in all, we don't think you'll find a better fishing kayak for under $700.
PROS
Comfortable seat
Super compact design
Includes high-quality hatch bags
Fast speed and easy to control
Very stable
---
2. BKC RA220 Solo Sit on Top Angler Fishing Kayak
Length: 11.5′ | Width: 34″ | Dry Weight: 68 LBS | Height: 14.25" | Paddlers: Single person kayak | Lakes / Ponds: Perfect | Rivers / Streams: Perfect | Open Water / Ocean: Good | Ocean Surf: Good
Key Features:
550 Pounds of Load Capacity
2 Flush-Mount Fishing Rod Holders
Plenty of storage space
Foot Rudder Control system
3 Waterproof Hatches
Multiple drain Ports
If you are a beginner and want to get into fishing from a yak or you want to upgrade your previous experience and do some serious fishing, then the BKC RA220 is the best fishing kayak under $700 for you. It will take your fishing experience to the next level without breaking the bank. You just need a reel and bait.
It is developed with an ergonomic aluminum frame seat, adjustable aluminum paddle, and pedal-operated rudder which ensure ease of use with maximum comfort.
The Roto-Molded single Piece High-density polyethylene material is superior and provides a long time service life.
BKC RA220 fishing kayak capable to craft on the ocean, lake, or river while supporting up to 550lbs of capacity. It will remain stable and well-balanced even in choppy waters or swift currents thanks to its 34-inch beam.
The twin flush-mount rod holders and single articulating rod holders keep multiple lines deployed at one time, or just keep the rods out of your way during paddling, making transport easy.
The foot pedal-operated rudder offers ultimate control in all water conditions and helps you deftly steer around obstacles or through chop, without paddle steering required. BKC fishing kayak also comes with plenty of attachment points so you can customize it according to your needs.
You can keep all your valuables and bring along enough supplies for multiple-day adventures in ample watertight storage and a large cargo area.
However, this unit is pretty heavy and awkward, so we wouldn't recommend it if you plan on transporting it on your car roof. But if you're looking for a single-seat cheap bass kayak that you can throw in the back of the truck and hit the road, BKC RA220 is the model you are looking for.
PROS
Comes full of accessories
Very comfortable chair
Durable construction
Stable on water
5-year warranty
CONS
Paddle is pretty much short
Edges inside the hatches are very sharp
A little bit heavy
---
3. Riot Kayaks Escape 12 Angl-P Flatwater Fishing Kayak
Length: 12.0′ | Width: 30″ | Weight: 68.2 LBS | Height: 12.5" | Paddlers: Single person kayak | Lakes / Ponds: Perfect | Rivers / Streams: Perfect | Open Water / Ocean: Good | Ocean Surf: Fair
Key Features:
Attached New Flex Comfort Seat
4 flush-mount & 1 swivel rod holder
Integrated console with molded-in cup holder
Quick-lock adjustable foot braces
300 Pounds of Load Capacity
Anchor trolley system
Pilot rudder system
The best thing about Riot Kayaks Escape Angl-P Sit-On-Top Flatwater Fishing Kayak is the fact that it comes pre-equipped with lots of features frequently needs. And it will track better than most sit-on-top angler kayaks at this price range, with its 12-foot length and rudder.
It is made from glass-reinforced plastic and the pilot rudder is light and strong with a profiled blade. It is designed for fishing-minded kayakers and equipped with features for serious anglers.
The high back and seat combo lets you customize your sitting position and stay comfortable for a long time. The cross-Max construction process combines the right equation of stiffness, weight, and strength for top-notch performance. It also has great stability for fishing and recreation.
The great combination of durability and performance with 300 lbs of load capacity will keep you well-provisioned and properly organized. And with a sit-on-top high back outfitting and adjustable sliding foot braces, the Riot Kayaks Escape 12 fishing kayak is the perfect boat for all fishing environments.
The mounted rod holder is able to rotate 360 degrees and you can adjust it vertically for precise placement. The standard rod holder has a rear saddle that accepts all types of rod and reel combinations. Riot Escape 12 Sit-On-Top fishing kayak also has a large, smooth swivel locking ring that prevents rod loss.
However, the seat is minimalistic, and not a touring design for long paddling events.
PROS
Modifiable seat
Great front hatch
It comes with cupholders
Good speed
CONS
A bit heavy
Doesn't have central storage
---
4. Vibe Kayaks Sea Ghost 110 Sit On Top Fishing Kayak
Length: 11.0′ | Width: 33″ | Weight: 62.0 LBS | Height: 12.0" | Paddlers: Single person kayak | Lakes / Ponds: Perfect | Rivers / Streams: Perfect | Open Water / Ocean: Fair | Ocean Surf: Good
Key Features:
425 Pounds of Load Capacity
Toe-Controlled Rudder Included
Watertight Dual-Hinged Console with cargo bags
2 flush-mount fishing rod holders
Fish Finder and Accessories Mount
6 Accessories Gear Tracks
Lots of Storage Space
We just tested this kayak ourselves. Our first impression was the Slate Orange Camo color which is outstanding to look at from a long distance. We can confirm that Vibe Kayaks Sea Ghost Sit On Top Fishing kayak provides the best speed and stability and maneuvers on flat water, rivers, and tight quarters.
It has a dual position Vibe Hero seat which provides comfort and support for long days on the water. The well-balanced hull also provides unparalleled performance and the rudder system saves your energy during long paddles, even on windy days and strong currents.
The Vibe Sea Ghost 110 offers a lot of storage space for both fishing tackle and personal items. It features 2 flush-mount rod holders and 4 integrated gear which tracks for customized rigging.
Another great thing is that you can load in the back of your truck, unload, and launch this kayak completely by yourself.
However, this model is a little heavy and cumbersome, but able to be done solo by a reasonably fit person. It is also the most customizable fishing kayak under 700 dollars on the market.
All hardware is stainless steel and brass while the Hero seat frame is aluminum to prevent corrosion. It is the most advanced premium angling watercraft of its kind with the greatest assortment of features.
One thing we don't like, it doesn't come with a paddle. If this is not a big deal for you, then go with Vibe Kayaks Sea Ghost 110. We recommend this model if you are under 6 feet tall. Because if you're over 6' it will be a little wobbly.
PROS
Premium seat
Adjustable foot braces
Optimum control
Superior comfort
CONS
Not good for beginner anglers
Doesn't include a paddle
Heavy
---
5. Vanhunks Boarding Black Mass Single Fishing Kayak
Length: 13.0′ | Width: 32″ | Weight: 73.0 LBS | Height: 14.0" | Paddlers: Single person kayak | Lakes / Ponds: Perfect | Rivers / Streams: Perfect | Open Water / Ocean: Fair | Ocean Surf: Fair
Key Features:
550 Pounds of Load Capacity
Rudder system (Foot pedal & Fin)
1x 2-piece aluminum paddle
1 Swivel and 2 Fishing Rod Holders
2x Side Aluminum Accessory Tracks
Deluxe adjustable aluminum seat
Recessed Tackle Box Storage
If you are a professional angler and want to get a durable and well-finished fishing kayak for less than 700 dollars to reach difficult places, then the Vanhunks' black bass is for your needs. The Black Bass single fishing kayak is constructed with 5mm rotomolded polyethylene and the premium-quality fixtures are of marine-grade stainless steel. This unit is also UV and impact resistant.
The seat is made of deluxe mesh fabric and an aluminum frame with adjustable settings which provide more comfort while pedaling. The forward stowage hatch hinge is strong and the storage space is pretty big.
With a width of 34 inches, you can stand on the Black Bass fishing kayak without a problem. There is a small dry storage area behind the seat. However, it is a little difficult to reach when paddling.
The easy-to-install rudder system guides the submerged fin at the stern from side to side for enhanced steering and keeps you on a straight course with helpful tracking.
It is very convenient to store, thanks to its compact and lightweight design. And with a max capacity of 550 lbs, the Vanhunks is a great single angler kayak under $700.
It has rear bungee storage and a center console hatch. You can use the center console for your fish finder or electronics. For added convenience, it has two more carry handles on either side of the single seater.
However, you'll need a little help to lift this kayak yet, which weighs in at 73 lbs.
PROS
Ready to go package
Very stable on the tidy water
Solid construction
Safe and comfortable
Comes with 12 months warranty
CONS
Size pretty much big for small height people
A bit shaky on the ocean
---
Best Fishing Kayaks Under $700 Buying Guide
Before buying an inexpensive fishing kayak under $700, you should pay attention to some special features to avoid a bad purchase. Useful extras include fishing rod holders and paddle mounts, but there are several other factors that must be taken into account.
Here is a list of the main points to consider, before choosing the best kayaks under $700:
Storage space
The available storage space is extremely important for a fishing kayak. Because the fishing accessories take up a lot of space. Furthermore, the ideal fishing kayak should offer to store the equipment to protect from the water. Even in the unlikely event of capsizing, your equipment should be protected and not be able to become detached.
However, a smartphone or other electrical devices are best packed in a waterproof case to protect them completely from moisture.
Getting in and out
Many best fishing kayaks under $700 are sit-on-top kayaks. These boats with open decks offer a high degree of freedom of movement. Getting in and out of the canoe is also very easy. In adverse weather conditions such as waves, wind or cold, it quickly becomes uncomfortable for anglers on a sit-on-top kayak.
Die-hard people who don't want to let the weather spoil their fishing trip should rely on sit-in fishing kayaks, as they provide much better protection against adversities. With a splash guard, hardly any water gets inside the kayak and your legs stay dry.
Freedom of movement and comfort
Anyone who wants to spend a full day on the water needs enough space to move around. So when choosing a kayak for fishing, make sure that it offers enough freedom of movement. So that you should be able to stand upright on the Angel kayak or at least fully stretch your legs.
After just one to two hours, many paddlers find it a bit uncomfortable to sit down and start changing their sitting position. It is therefore important that you can change your position on your kayak. Sit-in-top kayaks are typically better at the freedom of movement because the open deck doesn't restrict you.
One of the most important features is adjustable seats. Many good but affordable fishing kayaks allow you to flexibly adjust the seating position.
Fishing rod holder
Many fishing kayaks have one or more fishing rod holders. The brackets are mandatory for longer fishing trips. Nobody wants to hold the fishing route in hand for hours. Also, without a fishing rod holder, fishing with several rods would not be possible, which reduces the fun.
If the kayak you choose does not have a holder for the fishing rods, this is not a big problem. The brackets can be attached to the kayak in less than half an hour.
Paddle mounts
Paddle mounts, like fishing rod holders, are pretty handy – if not quite as essential. Once a place to fish is found, there is no longer any need for a paddle.
Paddle holders also help you easily clamp the paddle to the clips provided. This way you have your hands free and you can fully focus on casting the line.
Total weight
The weight of the fishing kayak is a big argument. You must transport your boat and your fishing equipment to the body of water. For kayakers who are used to fishing alone, try to find the lightest model possible.
Transport and storage
The storage and transport of the fishing kayak depend entirely on the type that you ultimately choose. For storage and transport, an inflatable fishing kayak is extremely uncomplicated, while fixed fishing kayaks (made of all materials), both mean more planning and effort.
For example, an inflatable fishing kayak can be folded up into a large backpack.
If you want to store a permanent kayak at home, you should either have a garage or use wall brackets or a belt system to secure the kayak to a wall or ceiling. Also, you will likely need to mount roof racks on the roof of your car. If you drive a bus or a large SUV, you may be able to transport the kayak inside.
When choosing a storage location, make sure that the kayak is not exposed to solar radiation. Furthermore, the place should not be too cold or too humid.
The stability
With two side arms, the kayak is much safer in the water. The booms are inflatable. In this way, you can take two of them with you on tour and if you come to a place with troubled water, just inflate it.
The extra stability is especially useful for beginner kayak anglers because it gives a better grip when casting the bait. The inflated stabilizers also slow down the kayak a bit. You do not need to attach the outriggers for tours in calm waters.
FAQs
Is kayak fishing fun?
Kayak fishing brings a lot of fun because it makes it easy to change position while fishing. A fishing kayak is therefore the ideal boat for fishing.
Can I stand up on the fishing kayak?
Because of their narrow design, fishing kayaks are not designed to be used to stand up. However, if you have a very good balance, you can get up, but the probability of falling into the water is very high.
But there are exceptions: some fishing kayaks have outriggers that make it possible to stand in the boat.
Can a big fish capsize the kayak?
No. Unless a great white shark is attacking, a fish cannot capsize the kayak.
Can you attach a motor to the kayak?
It depends on the model. There are kayaks with transom and other mounting options for an outboard.
Can I use my regular kayak for kayak fishing?
There are profound differences between fishing kayaks and regular kayaks that ensure that one type of kayak is good for kayak fishing and the other is not.
Also, fishing kayaks are equipped with numerous extras that normal touring kayaks do not have.
Are the kayaks safe for anglers?
Fishing kayaks are very safe. Because they are stable in the water and the center of gravity is close to the water's surface. Even beginners will find it easy to ride the fishing kayaks presented.
Another reason is that these boats are built wider than typical kayaks.
How much storage space should a fishing kayak offer?
A kayak that only takes you out on the lake for a few hours requires less storage space than a fishing kayak that is also used for camping trips lasting several days. Compared to normal touring, kayak anglers need more space because they have to transport their fishing equipment and of course their catch.
What equipment do you need besides the fishing kayak?
The paddle is the most important part of your kayak equipment.
The life jacket comes directly behind the double paddle. If you have to drive through troubled water to get to the desired fishing spot, you should buy a splash guard.
A comfortable seat is the starting point for a successful fishing trip.
An anchor is helpful in order not to drift away from the fishing spot all the time.
You can bring a portable fish finder for more convincing.
A GPS is useful for trips in unfamiliar terrain. Alternatively, you can take your cell phone with you – well-packed in a waterproof cell phone case.
Also, don't forget to pick a high-quality survival knife that helps you a lot.
Final Thoughts
Buying a fishing kayak for the sea brings many advantages, including its low cost, compared to other types of boats. Kayak fishing is a method of fishing that originated in the United States but is now a known and widespread technique also very much in Italy.
However, if you fish alone, the one-seat kayak is ideal. Instead, if you consider bringing a few of your friends from time to time, look for the two-seater one. For beginners, it is important that the canoe is clearly visible in order to attract attention in case of danger.
We also have reviewed the best fishing kayaks under $500 for beginners or those looking for a basic, budget-friendly option.