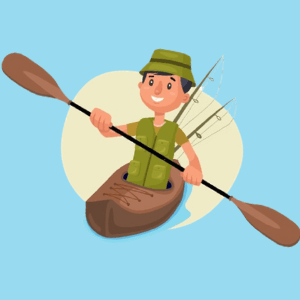 Kayak fishing has become increasingly popular in modern days for a couple of reasons. First, kayaks are much lighter and easier to maneuver than canoes. And second, the typical paddle of the kayak allows anglers full control during the movements.
Also, kayaks are typically much faster than canoes.
If you are looking for information and reviews regarding the best fishing kayaks for beginners, you are in the right place. We have created a comprehensive overview of the best beginner fishing kayaks in 2023.
The models on this list have been vetted by our team to include only companies that provide high-quality products and excellent customer service!
In the buying guide section, we are highlighting all the aspects to consider when purchasing your first fishing kayak.
Best fishing kayak for beginners in 2023
There are many factors to consider before buying the best fishing kayak for beginners, especially for first-time buyers. Because different types of models such as sit-on-top kayaks, sit-in kayaks, and inflatable kayaks come from different brands like Pelican, BKC and Vibe Kayak.
Among the models presented, we give a note of merit to the Pelican Sit-on-Top Sentinel 100X. With a wide range of adjustable seats, this model guarantees a good level of comfort even on long journeys for beginners.
Best Fishing Kayaks for Beginners – Reviews
1. Pelican Sentinel 100X Sit-on-Top Fishing Kayak
The SENTINEL 100X ANGLER will be around for years of exciting positive experiences to provide the best quality fishing kayak. This model is designed with excellent features, making it one of the best fishing kayaks for beginners.
Pelican SENTINEL 100X fishing kayak could be a great choice for those who looking for a kayak to cover long distances with minimum force and excellent maneuverability.
Key Features:
275lbs max load capacity
Molded carrying handles
Adjustable footrests
2 accessory eyelets
2 paddle holders
Smartphone holder
Drain plug
One of the main features of the Pelican Sentinel 100X we liked most, it has the excellent ability to slide smoothly on the water. The construction quality is noticeable, especially if you compare it with the price range. It has convenient handles that are molded into the sides for easy loading and unloading from the water.
It is 9'6″ long with weighs only 44 lbs including everything. The maximum capacity of 275 lbs. Sentinel 100X beginner fishing kayak has lots of separate gear carrying capacity. It has a multi-chine flat bottom hull which ensures stability when needed casting lines and reeling in fish.
It is incredibly easy to transport and store. The ExoPak and a removable storage compartment perfectly fit into the tank. The central locker is designed with a hinged opening while the fixed seat is foldable and adjustable at the rear.
Pelican SENTINEL 100X fishing kayak is extremely resistant and practically impossible to damage the hull during navigation. There is a nice rubber mat on the bottom so the component won't slide around. And in order to meet or surpass ABYC Standards, Pelican's unique manufacturing process allows them to include additional flotation inside the hull of all the sit-on-top fishing kayaks.
Overall, if you value stability over speed, the Pelican SENTINEL 100X model is for you.
However, the Exoshell is watertight but not waterproof. So it is better to waterproof valuable prior to taking it out on the water.
PROS
Good speed with less effort
Easy to carry and store
Removable storage compartment
Seat is much more comfortable
Decent fishing kayak at a reasonable cost
CONS
It is a little bit narrow and tends to dip on the sides
Some hooks are located near the area where one paddle
---
2. BKC RA220 Sit-on-Top Fishing Kayak for Beginners
BKC RA220 offers everything a beginner angler needs for the ultimate aquatic adventure except for a reel, bait, and a bit of luck. It is made of single piece High-density polyethylene material that can craft on the ocean, lake, or river. At the same time, it can support up to 550 lbs.
Key Features:
550 lbs load capacity
Made for all types of waters
Comes with lots of accessories
Water-resistant storage
Adjustable aluminum paddle
Paddle strap on both sides
Built-in fishing rod and rudder control
BKC fishing kayak doesn't lose balance even in choppy waters or swift currents thanks to its 34-inch beam, ideally suited for beginner anglers. It is even stable enough for standing to cast and reel. The built-in twin flush-mount rod holders and articulate rod holders are able to keep multiple lines deployed at one time.
It features a foot pedal-operated rudder for ultimate control in different water conditions that help the user deftly steer around obstacles or through chop without requiring paddle steering.
This model comes with a full load of accessories for the next excursion for beginners; ergonomic aluminum frame seat, adjustable aluminum paddle, pedal-operated rudder, 3 waterproof hatches, 2 flush mount rod holds, 2 paddle parks, 1 bungee cargo tie-down, and more.
You can keep dry all valuables inside the 3 watertight storage hatches. And with ample watertight storage and a large cargo area, you can bring adequate items for long trip adventures, making it an ultimate choice for getting any water you want comfortably.
The seat bottom is about 2 inches above that platform and it is adjustable. The seat is made of a metal frame and has straps to change the back position. Foot pegs are also too large. The chair is certainly removable and can be used to sit on the ground outside of the kayak.
BKC RA220 fishing kayak offers more mounting options with great stability. You will get a wonderful spot to mount a fish finder or trolling motor in front of the chair which offers two threads for mounting on each side. BKC also offers a five-year hull warranty and a one-year accessory warranty.
However, it is not so convenient to go long distances to find new fishing spots.
PROS
Simple to carry
Lots of storage
Crafted for stability
Very comfortable chair
CONS
Seat doesn't move up and down
Pretty wobbly for small person
---
3. Vibe Skipjack 120T Two Person Fishing Kayak
Double your fun and adventure with Skipjack 120T Tandem fishing kayak. This stable and extra-roomy sit-on-top kayak can be paddled solo or with multiple people. It's perfect for fishing or exploring for paddlers of all skill levels. Beginners can be benefitted to improve their kayaking skills.
Key Features:
500 pounds load capacity
Waterproof cargo hatches
Built-in 4 fishing rod holders
2 fish finder mounts or rectangular base accessories
2 paddle parks + 2 easy-access paddle rests
Front and rear tank well storage space
Built-in ergonomic seats & backrests
4 molded-in comfort handles
We were impressed with its outstanding quality and economical price. With a 500 pounds of load capacity, you can bring all your gear and a picnic basket. It includes waterproof storage for your phone and keys. It will perform well in surf, rivers, lakes and ponds.
Skipjack 120T fishing kayak has a pair of built-in water-resistant three positions seats that provide an easy and comfortable fit. Also, the leakproof compartments are nice too. Front and back for tandem. The ergonomic backrests ensure extra comfort.
The center built-in molded seat is perfect for a child or dog. The back allows both to swim and to dive in apnea holding on to the handles, and to go back up easily after a dip in the water. The open slip-resistant hull makes this easy to get on and off.
Vibe Skipjack 120T fishing kayak comes with four standard base plate mounting points. You can add other types of mounting brackets easily when you will become an expert. So it can be a long time investment for the passionate angler.
It tracks smoothly across all sorts of water conditions. The sleek hull design ensures fast and nimble tracking to get you quickly wherever you want to go. This model comes with a 230 Cm paddle. It also has built-in buoyancy to add safety and peace of mind.
Vibe Skipjack 120T beginner fishing kayak has 2 easy access cup holders, paddle parks, and 4 molded-in comfort grip handles for easy transport.
PROS
Pretty fast
Leak-proof
Cheap price
Comfortable handles
Easy to transport
CONS
Not enough storage
The front seat doesn't have great leg space
---
4. Perception Flash 9.5 Sit Inside Fishing Kayak
Perception Flash 9.5 fishing kayak is extremely stable on the water. It features an easy paddling mechanism, making this model an ideal choice for beginners and leisurely afternoon voyages. It is well made with a heavy-weight material. It is also wide enough to be stable when paddling and glides through the water well.
Key Features:
The maximum capacity is 325lbs
Simple and stable sit inside kayak
Padded seat with adjustable backrest
Perfect placed molded handles
Rear storage for small coolers
The boat weight is only 41 lbs
Made in the USA.
Perception Flash 9.5 fishing kayak is 28.5 inches wide and can carry gear and paddlers up to 325 lbs. It has 10" small gear storage to keep extra gear dry. The dual tracking channels keep the kayak on course and the 9′ 6″ short length makes it easily maneuverable in a small area.
The adjustable foot braces accommodate different size paddlers. And the zone comfort seat with a high seat back ensures a comfortable ride for all sizes of paddlers.
The front and rear handles are ergonomically optimized for easy transport. The maintenance-free molded handles are a great way to secure the kayak with a cable.
The stable hull and true tracking keep users on the straight-and-narrow when they set out on the open waters without sacrificing quick maneuverability. The bottom with an I-beam structure is water-resistant. The screw valve allows for quick inflation and deflation.
Perception fishing kayak is designed for low maintenance and ease of use. The sturdy carrying handles are very practical. Once you are done using it, you can easily store it in a small space.
One of the best features is the under-deck area for storage and the dash has a built-in water bottle holder and space for phone, etc. You can easily access the dashboard with cupholder. It is suitable for lakes, ponds, slow-moving rivers, and calm coastal environments.
However, if you want to spend long days on the river, we don't recommend this model. But for casually going out on lakes or canals, this kayak could be perfect for less than $400.
PROS
Spacious cockpit area
Comfortable back seat
Easy-access dashboard
Perfect for light trips
Designed for all skill level
CONS
Doesn't come with paddle
It sits a bit lower than some kayaks, so there is a bit of drag
---
5. Wilderness Systems PUNGO 120 Recreational Fishing Kayak
The Wilderness Systems PUNGO 120/125 is hands down the best fishing Kayak for beginners at this price. The PUNGO 120 is an upgraded model that offers the paddlers convenience and many options for customization. It is stable on the river, lake, or even at sea.
Key Features:
Highest-rated Sit Inside Recreational Kayak
Most of the parts are removable
Built with Phase 3 AirPro Seat
Boat length is 12′ 2″ and width is 29″
Boat weight 49lbs (includes accessories)
Maximum load capacity: 325 lbs.
Wilderness Systems PUNGO 120 fishing kayak features a removable box to keep accessories, two cup holders, a SlideTrax to hold mounts for phones, fishing rods, and two customizable mounting platforms, making it a complete fishing kayak package for beginner paddlers. It has a great secondary edge, good glide, and tracking.
The patented Phase 3 AirPro seating system provides more comfortable paddling. The fully adjustable seat also ensures ergonomic support for the lower back. The footrests are adjustable for different sizes of thighs, which ensure a more comfortable fit. You can adjust them while paddling.
The mesh covered with honeycomb-vented foam allows for great airflow to keep the user cool. With 12 feet in length, it is one of the best-selling sit-inside Recreation kayaks for beginners. Wilderness Systems PUNGO fishing kayak is wider than most with a large rear storage hatch.
The renowned hull ensures reassuring stability without sacrificing performance because the hull is made with durable materials. You can add more storage capacity to a pair of mesh deck pouches. There is a recess designed for keeps your electronics charged on the go.
The dashboard is excellent with plenty of spaces to put food and other items. It can be removed easily for extra room to fit a child or a dog with no problem paddling.
However, the seat is very low. So in rough water, you have a chance to get water inside. The removable dash makes it hard to get in and out if you have long legs (of course you can take it off). Also, the cup holders are too shallow compared to our other models.
PROS
Superior stability
Unmatched speed
Premium comfort
Cheap price
CONS
Not well wrapped or protected
Seat height is a bit low
---
6. Elkton Outdoors 12.2-Foot Sit-On-Top Fishing Kayak
Elkton Outdoors is one of the leading brands in the kayak industry right now. Elkton Outdoor Sit On Top kayak is built with anglers in mind because the design is optimized, especially for fishing! It is a perfect novice fishing kayak for lakes, rivers, and the ocean. The mounted adjustable rod holders allow for a flexible fishing experience in any weather conditions.
Key Features:
Ultra-durable rotomolded 12.2-foot kayak
Two adjustable premium kayak seats
Two double-sided paddles
Dry storage compartment
Two gear storage areas are located at each end
Two adjustable rod holders
Center platform is ideal for ice chests and coolers
The internal storage compartments are airtight and perfectly sealed so that users' valuables are not damaged while they stay on the water. Elkton Outdoors fishing kayak also included two premium quality seats and cup holders so you can kick back and enjoy your vacation day with fishing.
It has additional storage space so that you can bring all your fishing gear with you without cluttering the kayak! For example, the Center of the kayak has a large platform that fits coolers and ice chests perfectly. So you can keep your catch cool or bring your favorite beverage with you!
The rotomolded injected constructed body won't crack or puncture easily, and ensure long service life! Elkton Outdoors' 12.2-foot fishing kayak comes with Self-bailing scupper holes that keep water from pooling in footwells.
The package includes everything you need to surpass the water such as two paddles, two seats, rod holders, and bungee cords. It is large and wide enough for two people and the gear you need for kayak fishing!
Elkton Outdoors fishing kayak has two comfortable carrying handles which allow users conveniently transport. It perfectly fits in the bed of a truck or a trailer. The maximum weight limit is 650 lbs. And to ensure quality, This sit-on-kayak comes with 1-year warranty.
However, for a single rider, we recommend using the seat at either center or rear position of the kayak. There is a spot in the center to place a single seat.
PROS
Built to last
Built-in dry storage
Easy to use and launch
EVA Padded High-Back Seats
CONS
It's bulky and heavy
Hard paddling for one person
---
7. Lifetime Hydros Easy Transport Angler Kayak
Lifetime Hydros Angler kayak built with multiple footrest positions for different size anglers. It is built with durable High-Density Polyethylene (HDPE) construction which ensures long life.
Key Features:
225 lbs load capacity
The total length is 101-inch
Molded-in swim-up deck
Front and rear shock cord straps
Front t-handle for easy transport
UV-Protected – won't fade, crack, or peel
Lifetime Hydros fishing kayak combined with tunnel hull design, which provides great stability and tracking when sitting on the boat, making it a perfect choice for beginners.
It has a center carry handle for easy transport to the waterfront. This model offers all the advantages of a professional boat and guarantees ease of preparation and practice and fast transport.
It comes with two flush rod holders and one adjustable rod Holder and has plenty of "extras" to enhance your fishing experience. The total weight capacity is 225 lbs, so you and your dog should be okay.
The seat back can be adjusted according to your comfort level. The adjustable seats also have storage compartments that allow you to carry everything you need with you.
Lifetime Hydros Angler Kayak is designed for fishing with extreme safety and stability in mind. It's suitable for a little fishing or just cruising around the lake. It is fairly simple to move and very stable on the water. The package also includes a paddle.
This unit is 101 inches long and its weight is 38 lbs. However, it is a lot more stable than the 10 feet Kayaks. Because of the lightweight design, an average man easily carries to the lakeside. There is a handle in the back end for comfortable transportation.
You can easily store it in the bag that comes with the order. The floor has adequate rigidity even to deal with shallow and rocky bottoms.
PROS
Lightweight design
Good direction and speed
5-Year limited warranty
Very stable on the water
CONS
Small size
Standing on this kayak is a bit difficult
---
Best Beginner Fishing Kayak Buying Guide
Fishing kayak is generally available between rigid and inflatable models. The first one is larger and more robust and able to withstand the waves of the water. On the other hand, inflatable kayak is lightweight and certainly more comfortable to carry.
However, inflatable fishing kayak has much lower performance and is less suitable for facing the open sea.
One of the main features of a fishing kayak is its maneuverability. The ease of maneuvering depends on other aspects such as weight and size.
The length is another key feature. And the travel speed is in fact determined by this aspect. In particular, sea fishing kayak models are very long to allow you to travel long distances while for rivers and streams short models are made to allow greater ease of maneuver.
Another feature concerns the shape of the hull. In general, they are of three types: symmetrical, fish and turnip. It can be of different types depending on the use made of it.
However, the type of hull largely affects the stability. In this case, you will have to pay the utmost attention to this data in relation to the fact that you will also have to bring our equipment.
A key aspect in the case of beginner fishing kayaks is their load capacity. This indicates the maximum weight that can be carried on the boat.
Finally, the material with which they are made is very important. Generally, glass resin or plastic is used for the construction of most fishing kayaks, in particular polyethylene.
As a beginner, you need to consider some other characteristics carefully:
Skill level
Some of the best fishing kayaks are long, tapered, responsive and demanding. If you are still learning the basics, it may be best to opt for a wider and more stable fishing kayak that cost less than $500. And make sure they are normally easier to use.
Remember, how much your skill will be improved sometimes depends on the level of fun you feel when using the kayak. You can always get something more challenging as your skills improve.
While some experts argue that beginners should start with a high-performance kayak to develop proper techniques. A kayak for experienced users can carry significant risks such as being unable to cope with currents and strong winds. All this can help turn a leisurely paddle into a real nightmare.
Free space
The general rule is to bring only what is strictly necessary. The fact that your kayak has a lot of space below the deck. However, it does not mean it will handle well in rough seas if filled to the last available inch.
Immersion level
Whether you are a beginner paddling in calm water or an advanced kayaker who can handle strong currents, it is good to have a fishing kayak with a high level of sinking.
The level of the sinking of a kayak is determined by how much weight it takes to make it descend an inch lower in the water. The greater the capacity, the higher the weight the sea kayak can bear.
The brand
Brands that offer low-priced kayaks tend to economize on this aspect. Even some of the major brands offer cheap sea fishing kayaks, known for using substandard materials.
Beware of exposed steel and unsealed wood components. Also, keep in mind that plastic and polyethylene acrylonitrile-butadiene-styrene (abs) are the materials that are most appreciated for their performance.
Dimensions
For coastal offshore sailing, narrow and medium-sized fishing kayaks offer the best performance. Their small widths allow them to navigate with ease in both calm and rather rough waters.
Having a fishing kayak that is approximately 8 to 12 feet long will also help keep it stable on the water.
Type of water
The type of water, where you want to go fishing, plays an important role to make the right choice for beginners. For flat waters, such as those found around mangroves and enclosed coves, inexpensive, sit-on-top kayaks will be fine.
However, if you plan to deal with unstable currents, only fishing kayaks with waist wells and V-hulls should be considered.
The accessories
Many beginner fishing kayaks are supplied with a good range of accessories: a pump (generally a manual pump), a repair kit, and patches that allow you to intervene independently in the event of a puncture.
Portability
If you don't want to have any issues with transporting your fishing kayak, choose a lightweight model or one that can be collapsed to a size that can be squeezed.
In that case, you can't go wrong if you choose an inflatable fishing kayak. They can be deflated and packed in a very small size. Also, most inflatable fishing kayaks are now durable and can withstand rough use.
FAQs
As a beginner angler, of course, it is not easy to immediately find the most suitable fishing kayak that meets your needs. The most frequently asked questions from users, together with the opinion of expert kayakers can help you clarify a little more.
Should I take a single or two-seater fishing kayak?
Two-seater fishing kayak models aren't that common among touring or fishing kayaks. But if you have a child and you want to take it with you, then you can't help but orient your choice to a two-person kayak. However, always check the maximum capacity of the boat.
If you want to venture out into the waters with an adult family member or friend, your best bet is to opt for two single kayaks. This will avoid a lot of arguments. Of course, if you want extra space or plan to bring an experienced paddler with you, a two-seater model might be the best option.
Do I need to wear a life jacket when start kayak fishing?
In compliance with the law, you must always have a life jacket or life preserver on board. Children must wear one at all times and you too (get an inflatable one and wear it all the time), for your safety. Kayak fishing life jacket is generally light and thin, you will not even notice that you are wearing it.
A life jacket tied to the back of the kayak can be of great help in the event of a rollover.
Is a longer or shorter fishing kayak better?
A longer fishing kayak is faster. So for touring kayaks, longer is normally better. Regardless of the length, the provision of a waterproof bag allows you to store everything in order to make it easier to transport. For fishing, a wide and smooth kayak is always recommended.
Final Thoughts
Finding the best fishing kayaks for beginners can take a certain amount of time and effort. Because each people has a different budget and expectations. Also, the choice depends on whether you want to go out for a day, a weekend, or a whole week at a time.
Based on the analysis of the products and reviews, we believe that the best beginner fishing kayak for 2 people is Vibe Kayaks Skipjack, which scored a score of 90 points evaluated through the analysis.
Our last tip for beginner anglers…
You should dress up your kayak by adding some accessories, from roof racks to fishing gear to seat supports. You can even carry some components like survival knives, portable fish finders, and more. And by doing this, you can get the most out of your boat.
We've also reviewed some of the best fishing kayaks under $700 – suitable for beginner to experienced anglers. So don't forget to check out them.