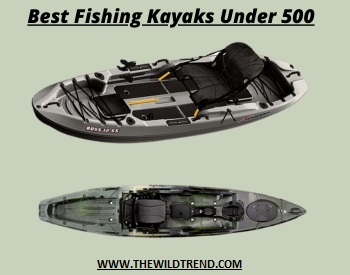 Fishing kayak is more stable than a float tube because it has a larger load capacity and excellent balance. Thanks to their ease of maneuverability, you can reach places where larger boats cannot move or maneuver.
You'll benefit from easy transportation, comfortable padded seats, and a myriad of storage options that won't leave anything behind on dry land.
The good news is you can find high-quality fishing kayak models without the thousand-dollar price tag. In fact, keep scrolling for the 10 best fishing kayaks under $500 that function the same as their pricier counterparts.
The various manufacturers have already offered the best fishing kayaks under $500 with the necessary accessories. Some models include compulsory equipment others need to be adapted.
However, given the number of options available in the market, it becomes really daunting to choose the right fishing kayak under 500 dollars that fits your needs.
Best Fishing Kayaks Under $500 Reviews 2023
Before making your purchase decision you should consider where you want to catch fish. Because most of the anglers emphasize the purchase of products from reputable brands such as Lifetime, Sun Dolphin, and BKC. Besides the brands, quality, durability, and customer service is something many people forget to check in advance.
We compiled a list of the 10 best fishing kayaks under $500 for 2023.
IMAGE
PRODUCT
DETAILS

Our Top Pick

Our Top Pick

Capacity:

275 lbs

Length:

10-foot

Weight:

54 lbs

Warranty:

5 years

Check On Amazon

Editor's Choice

Editor's Choice

Capacity:

250 lbs

Length:

10-foot

Weight:

108 lbs

Warranty:

Lifetime

Check On Amazon

Solo Sit-On-Top Angler Kayak

Solo Sit-On-Top Angler Kayak

Capacity:

330 lbs

Length:

9-foot

Weight:

50 lbs

Warranty:

No

Check On Amazon

Lightweight & Compact Design

Lightweight & Compact Design

Capacity:

250 lbs

Length:

8-foot

Weight:

38 lbs

Warranty:

5 years

Check On Amazon

2 Person Inflatable Fishing Kayak

2 Person Inflatable Fishing Kayak

Capacity:

470 lbs

Length:

10-foot

Weight:

40.5 lbs

Warranty:

Limited

Check On Amazon

Sit-on-Top Confidence

Sit-on-Top Confidence

Capacity:

425 lbs

Length:

12-foot

Weight:

57 lbs

Warranty:

Lifetime

Check On Amazon

Strong & Durable Construction

Strong & Durable Construction

Capacity:

395 lbs

Length:

12-foot

Weight:

48 lbs

Warranty:

Lifetime

Check On Amazon

Large Rear Storage & Dual Rod Holders

Large Rear Storage & Dual Rod Holders

Capacity:

325 lbs

Length:

10-foot

Weight:

57 lbs

Warranty:

No

Check On Amazon

Best for Easy to Carry

Best for Easy to Carry

Capacity:

395 lbs

Length:

12-foot

Weight:

47 lbs

Warranty:

Lifetime

Check On Amazon

Best 1 Person Fishing Kayak

Best 1 Person Fishing Kayak

Capacity:

325 lbs

Length:

10-foot

Weight:

40 lbs

Warranty:

No

Check On Amazon
1. Lifetime Tamarack Angler 100 Fishing Kayak – Top Pick
There are a lot of reviews on YouTube and various websites covered about the Lifetime Tamarack Angler 100 sit-on-top fishing kayak, and finally, we had a chanced to test it. We have chosen the Lifetime Tamarack Angler 100 in the first position of our ranking because of its stable flat bottom, huge storage and beautiful design.
Lifetime Tamarack lightweight fishing kayak provides everything a novice or experienced angler needs while coming at an excellent and affordable price to further sweeten the deal.
But not that all, this unit is built with high-density polyethylene and UV protection which means you will get a durable and reliable fishing kayak that won't crack if you expose yourself to the sun most of the year. The included paddle is not cheaply made.
It also offers maximum comfort level because of its adjustable padded seats and multiple foot holes, that is suitable for different age and height paddlers, and allows users to be completely autonomous, going out for a fishing trip alone, or even with friends.
It is stable and secure on the water, so you won't feel like you are ten seconds away from getting soaked to the bone. The excellent stability and good maneuverability, especially on the rivers, make the Lifetime Tamarack Angler 100 easy to stand up (when needed). It is large enough to carry all your kayak fishing equipment.
However, the model feels cramped while keeping everything at an easily accessible distance. But this case will happen when 2-person sit on. Despite this, Lifetime Tamarack is still a premium kayak for fishing under $500 that you would be wrong to overlook if you need a basic but reliable model.
The only improvement we would recommend to the Lifetime engineers is that the Tamarac for a better seat like their Lotus Sit-On-Top Kayak. However, you can add an extra cushion for more comfort.
Keep in mind that the holes in the rear scupper will explode the water behind your back if you are not careful, but barely enough to sink in and ruin the day. So just put on a pair of swimsuits or buy caps scupper to stay comfortable.
What we liked:
Widely adjustable padded seat
Stability rails for chines
Front and rear handles
What we didn't like:
Doesn't come with the plugs
The sitting position is not comfortable for heavy person
PROS
One of the safest fishing kayaks on the market
Excellent construction quality
Lightweight and durable
Multiple footrest positions
Several colors choice are available
CONS
Not designed to accommodate a trolling motor
Weight capacity only 275 lbs.
---
2. Sun Dolphin Journey Sit-On-Top Fishing Kayak
The SUNDOLPHIN Stand on Top Angler Kayak offers versatile fishing options for those who don't like to sit all day. It is made in the USA which means the quality is world-class and offers excellent balance and stability even when the water becomes a little too rough for our taste.
The first thing we would like to point out about the Sun Dolphin Journey is, you can't find a better fishing kayak at the same price. And second, it comes with paddle holders on either side which is a huge plus for advanced paddlers who expend full time on the water.
It built-in a lightweight design with excellent construction with the ability to bring a good amount of fishing gear. It has 200 lbs weight capacity, which makes it great a great choice for fishing on lakes and rivers and getting to those excluded fishing spots.
There is a large bottle holder in the middle (between your legs) and side pockets that can hold small bottles or cans. It is also equipped with a large pump with elastic straps which allow you to carry a small backpack.
The hull of the catamaran has a stable and reliable platform, which offers greater reliability thanks to non-slip pads and a strap that prevents falls. But it is not compulsory if you think you can overcome the ocean.
The compartments on the kayak are 100% waterproof, so you can carry any electronic device or important documents inside a dry bag. Whether you want to get started in kayaking fishing or it is an activity that you have loved for a long time, you can bet on the Sun Dolphin Fishing Journey. It is a versatile fishing kayak under $500 that will flawlessly suit both beginners and experienced paddlers.
However, there is a downside to its size. It is seen with the size of the oars, which given the length feels a little on short size and therefore doesn't offer the rowing as precise as you would like.
What we liked:
Great kayak for lakes and rivers
Retractable carrying handles
Adjustable foot braces
What we didn't like:
Stability is not great like Lifetime Tamarack
Heavy carrying weight
PROS
Self-bailing and storage compartments
It's very stable and comfortable
Very cheap price for the quality
Lightweight and easy to carry
Comfortable seating area
CONS
Doesn't come with an anchor
Only 200 lbs weight capacity
Design for single-person use
---
3. BKC FK184 9′ Single Sit On Top Premium Fishing Kayak
Whether you want to get started in kayaking or it is already an activity that you have enjoyed for a long time, you can bet on the BKC Single Sit-On-Top Fishing Kayak. Its TST thermoformed hull has been designed to ensure perfect gliding on the water without compromising stability.
You don't have to worry about quality because the hull of the UH-FK184 kayak is made of High-Density Polyethylene (HDPE). It comes with an adjustable seat which is definitely great for different people to use. Plus, when transporting the kayak, the seat can be unclipped and stored.
The curving design of the BKC FK184 makes sailing very fast and stable and allows you to reach your favorite fishing areas in no time. You can fish in remote places that traditional boats cannot reach.
There are two dry storage spaces in the front that work well in the rainy season. Your legs extend almost all the way to the second dry storage space at the top of the kayak so there's no place to put an additional seat. For a person who has owned other kayaks, this is by far one of the best!
This model ensures good fishing times, even for an adult accompanied by a child. You can use this fishing kayak in the ocean and it holds a max weight of 330 lbs. It is a wider boat, so the handling is pretty simple. Even the BKC FK184 fishing kayak is wide enough and stable in optimal water conditions.
Remember: it doesn't have a cup or bottle holder. However, there is a bottle holder attached to the Deluxe seat, so you're always safe from dehydration problems.
What we liked:
Durable, super tough and sturdy
Scupper plugs are excellent
Fully loaded accessories
What we didn't like:
Few features compared to other fishing kayaks
Doesn't have a lot of room
PROS
Suitable for beginners as confirmed
Perfect kayak for outdoor fun
330 lbs maximum authorized load
Waterproof storage area
Reasonable price
CONS
Doesn't have a cup or bottle holder
A little bit heavier than the Sun Dolphin
---
4. Lifetime Lotus Sit-On-Top Kayak with Paddle
We have already mentioned that Lifetime is a top-grade fishing kayak manufacturer and designer on the planet since 1986, located in the USA. This model has a very hydrodynamic and streamlined design, ideal for fast navigation. You will not have to fear any scream nor the tearing of the hull.
This model is equipped with stern storage areas, a spacious seat, a rod holder and a paddle stand. The paddle shaft is 2.9 cm. It is a perfect kayak for expert fishermen as well as for those who want to get serious about kayaking fishing. It is compact but wide enough to ensure comfort while paddling.
The width of the kayak is 30 inches, and the length is 8 feet. It can hold up to 250 lbs. The Total weighs 38 pounds, which is pretty much low compared to all previous models in this list. So one person should be able to lift it easily. Lifetime Lotus sit-on-top fishing kayak is easy to use, carry, and very functional.
The blue color prevents it from having good camouflage, and this is indeed the case. However, there are several types of fishing, and it is not always necessary to be equipped with a kayak allowing good camouflage. This unit is very steady in the water and comes with paddles, which are suitable.
If kayaking is an activity that you rarely do, you probably don't want to spend a lot of money on it. The Lifetime Lotu is one of the best versatile choices in our ranking of best fishing kayaks under $500 and would be fine for the open ocean because of the width which will give you the stability you are looking for.
The total price (including accessories) is less than 400 dollars with the included paddle. However, this model doesn't come with any type of locking mechanism, but you could secure it with the use of a cable/chain lock. It is well built but won't track quite as straight as longer kayaks If you want to go fast.
What we liked:
Very functional and professional fishing kayak
Hull design provides Ultra Stability and great tracking
Multiple footrest positions for different-size paddlers
What we didn't like:
Plastic mechanisms holding the seats on aren't super strong
PROS
Center carry handle for easy transport
Paddle Included
Well construction
Easy to maneuver
Simple design
CONS
Seats could be a little more comfortable
Only 250 lbs weight capacity
---
5. Sevylor Coleman Colorado 2-Person Fishing Kayak
If you are looking for a slightly more affordable solution, then the Sevylor Coleman 2-person inflatable fishing kayak is the best choice for you. It is sturdy and durable and has several independent compartments (Boston van) that can easily accommodate two people. With an 18 gauge PVC construction, the Sevylor Coleman Colorado is ideal for use on lakes because it is able to slide comfortably on more restricted roads.
Inside the kayak, there are multiple air chambers that provide security and keep you afloat in case some of the air is punctured. The airtight anti-leak system also makes you feel safe and dry no matter how busy the water is.
It has a nylon shell that protects the inner tubes from damage. This is a good sense because the nylon shell is stronger than PVC. In addition, the nylon coating makes the boat feel like a real canoe. The paddling is made more efficient by footrests, which you can remove.
Sevylor Coleman inflatable fishing kayak comes in a bag, so you can easily carry it as a backpack. It is great for both relaxing and fishing. You just need to be careful of the hooks inside the boat. This model works excellent on water but if you don't put enough air into it, you will get a little water leakage.
For hands-free fishing, you can take advantage of the fishing rod holders. If you're still on the fence, think about its inflatable nature, which makes it easy to store and transport compared to other solid models. There is also enough space to store your tackle box.
You can add a trolling motor to save energy on these long adventures. But if you still want to feel like you've done a bit of work, you can grab the paddles from the practical supports. If you need equipment, you can take it instantly in one of the many mesh storage pockets located there.
What we liked:
Lightweight and easy to inflate
Comfortable and spacious design
What we didn't like:
Doesn't come with a paddle
Documentation and Instructions are not clear
PROS
Excellent airtight anti-leak system
Adjustable rod holders
Mesh pockets for easy storage
Super portable design
Light and easy to store
CONS
Trolling motor is not included
Size a little bit small
---
6. Ocean Kayak Malibu Recreational Fishing Kayak
Ocean Malibu is the most popular tandem sit-on-top kayak on the market. With a high comfort level, the stock seats are fairly nice for the average person. This recreational fishing kayak has several independent chambers that can accommodate two people without difficulty.
It is able to carry up to 425 lbs and allows you to fish in the river, on a lake, or at sea, as long as the water is calm. Ocean Recreational fishing kayak is easy to arrange with a simple foot pump. It comes with an amazing stackable design that makes them easy to transport.
It has built-in durable construction and is equipped with easy-handling accessories. The basic design provides a stable platform, a versatile deck, and a hull that tracks true and helps handle the wind.
It is undoubtedly solid built and a bit heavy compared to others fishing kayaks at this price range. And it is an exclusive model for the price and suitable for those who practice fishing at a semi-professional level. It only takes a few minutes to set up and start looking for freshwater or saltwater fish.
The width of the hull will allow you to mount your fishing rods easily. It has two triple-layer polyethylene hull that delivers an ultra-stable ride even on ocean swells.
Keep in mind that if you embark with two, the kayak evolves more slowly. Also, it seats are a little flimsy, but this is a great recreational kayak under 500 dollars.
What we liked:
Four-way adjustable seat
Easy to get in and out of
Inexpensive considering the features
What we didn't like:
Doesn't have dry storage space
PROS
Comfort plus seats
Very easy to paddle
Durable and very stable
425 lbs load capacity
Comes with a lifetime warranty
---
7. Sun Dolphin Bali SS 12-Foot Sit-On Top Kayak
Another mid-range option is the Sun Dolphin Sit-on-top fishing Kayak, which brings a real triple threat of features that distinguish it from similarly priced options. It is the perfect Sit-on-top kayak under $500 for both beginners and experienced anglers.
It has adjustable foot braces, a dry storage compartment, protective thigh pads, and a paddle holder. This model also has built-in open cockpit for easy entry and exit and is able to hold up to 395 lbs.
There is a rod holder and a small table between your legs which is nice to store small items. Two-rod holders right behind the cockpit. The seat is quite nice, adjustable, and stays dry for a long time. The rear dry store is large and easily removable. The shell and floor withstand high-pressure thanks to their highly efficient shape.
With 144 x 29.6 x 14 inches dimensions, the Sun Dolphin Bali SS fishing kayak will give exceptional stability. Also, the comfortable carrying handles allow you to get easily from the car to the water without damaging your hands. Kayak tracks and paddles offer maximum stability out on the water.
However, the one thing we don't like, there is no seat pad on the bottom, which is ridiculous. It's the low point and you will get a wet butt if you take in water plan to spend extra for a suitable seat dollars.
What we liked:
Comfortable & adjustable seating area
Can be paddled solo or tandem
Pretty big with plenty of room
What we didn't like:
Foot stops a bit too short
Stickers are pretty lame
PROS
Made from high-quality materials
Lightweight and easy to carry
12-foot allows easy tracking
Very stable on the tidewater
Looks pretty decent
CONS
Doesn't come with a paddle
Foot stops a bit short for long people
---
8. Perception Pescador 10 Sit On Top Fishing Kayak
With Perception Pescador 10 Fishing Kayak, you can take your fishing experience to a new level. The Perception Pescador sit-on-top is the best choice for both Professionals and Beginners. There is a huge amount of storage options for fishing gear, fishing lures, fishing gear, and the ever-present beer cooler.
The pedal drive function gives you a simple and hassle-free movement, while the four molded rod holders offer you another possibility of being hands-free. This allows you to sip a drink, have lunch or take cool pictures of your surroundings while you wait for a bite.
There's also a one-hand rudder control so you can steer while fishing. It will give you a 360-degree turning radius, that feature is perfect for those who struggle with the controls and get stuck in a rocky corner infested with crabs.
Perception Pescador fishing kayak comes with leak-proof one-piece construction with built-in buoyancy for added safety. This affordable option includes a convenient drink holder to keep your favorite beverage from spilling. It is extremely safe, as well as perfect for a more demanding angler.
You can take off the chairs and pedals to give yourself more space so you're ready for anything. If you want to stay somewhere or take a break, you can lock the pedals in place, but they are not as reliable as we would like and there can be problems if they stay where you want.
What we liked:
Ample storage features & fishing features
Quick-adjust footrests for all paddlers
What we didn't like:
Doesn't come with paddle
Dry storage area is not centralized
PROS
Easy open front hatch
Comfort seating system
Large rear open storage
Easy to transport and carry
Good functionalities
CONS
Would be nice if they had a few rings to clip things to
Rear storage bungee is too short
---
9. SUN DOLPHIN Aruba SS 12-Foot Sit-In Kayak
If you're looking for a 12 feet best fishing kayak under 500 with more premium features, but aren't too keen on spending too much money, then the Sun Dolphin Aruba SS is a great option for you. It has a redesigned and ergonomic handle that makes it more comfortable.
This evolution continues with the seat which is equipped with additional padding to improve comfort when sitting all day and could make all these hours of waiting for a bite a little more bearable.
Sun Dolphin Aruba SS fishing kayak is stable enough to support you or your children standing without tipping you in the water. The accessory pockets can make it even more bearable, as you can store all the snacks and extra equipment you need close at hand.
The footrests are adjustable to fit and keep young kayakers safe. And if they want to take a stand, they can. There is a bulkhead located in the nose of the model and a piece of foam on either side of the seat. Aruba SS 12-Foot Sit-in Kayak model is wide, stable, and slower than other models from Sun Dolphin.
However, the opening is larger than many kayaks. And this is a heavy kayak though. And the main negative side is, it's a bit heavy to hoist up to a car-top carrier without help.
What we liked:
Strong and heavy-duty construction
Great fishing kayak for lakes and rivers
Easily adjustable foot braces
What we didn't like:
Not good for professional anglers
It isn't suitable for sea fishing
PROS
Very stable flat bottom
Comfortable and tracks well
Handles are very well built
Storage and shock cord deck rigging
Cheap price
CONS
Entry-level fishing kayak
Seat pad is a little thin
---
10. Pelican Sit-On-Top Lightweight Fishing Kayak
The last catch of the day is the Pelican Sit-on-top Fishing Kayak which is equipped with a swivel rod holder, an Angler ruler, and two flush mount rod holders. The ERGOFIT seating system includes a padded seat cushion and an adjustable backrest which gives you extra comfort.
Its weight is only 50 lbs. With ergonomic carrying handles, you can easily carry around, transport and store. Pelican Sit-on-top fishing kayak is an ideal choice for those who looking for good speed and maximum return of effort.
It can travel more than 5 miles an hour and allows hassle-free maneuverability to make your fishing trip enjoyable. The seat is breathable and adjustable which adapts to your body.
The design of this Sit-on-top kayak makes navigation very fast and stable and allows you to access your favorite fishing areas in no time. This could be the precise kayak under 500 for both more experienced paddlers and those who want to start kayak fishing professionally.
It is compact but wide enough; perfect for outings for two. You will not have to fear any impact or perforation of the shell. However, this model isn't built to hold that additional weight, it can take only up to 325 lbs. However, normally 10-foot sit-on-top kayaks aren't meant to accommodate trolling motors.
What we liked:
Perfect for all sizes of paddler
Easy to carry with two carrying handles
Wide and has lot of storage space
What we didn't like:
Designed for only calm water
PROS
Two retractable carrying handles
Multi-Chine flat bottom hull design
Specially designed for fishing
Design with Ergofit seating system
Lots of additional features
---
Best Fishing Kayaks Under $500 – Buyer's Guide
If you want to buy a good quality fishing kayak under $500 for long time use, you should pay attention to some particular features. And if you have never used a fishing kayak before, you may wonder what characteristics this type of boat should have.
Here is a list of the key points to consider before choosing a fishing kayak under $500.
Types of fishing kayaks
Unlike standard kayaks, fishing kayaks come in three different types:
Sit-In – These seats are larger in the cockpit and are better for fishing in cold water. As they offer more protection from the elements and stability is improved so that you are less likely to tip back.
Sit-On – Sit-On is the favorite type of fishing kayak for many anglers because they can easily add accessories while allowing them to go out and wade in the water.
Motorized and pedal-powered – It is great for saving energy and eliminating the need to paddle all the time. But additional features may mean more maintenance. You can adapt some standard kayaks by installing motors if they have the appropriate components.
Inflatable kayak: In ultra-resistant PVC, the inflatable fishing kayak only needs a foot pump and a few minutes to take shape. It requires less storage space when rinsed, dried and folded. Its purchase price is less expensive than rigid models.
The stability
No one wants to fall into the water from a fishing kayak, so stability is a huge thing especially if you like to stand on your kayak while fishing. You can check the stability by looking at the join they are using, which ranges from soft U-shaped loin to hard V-shaped loin.
In general, fishing kayaks are remarkably stable on the water. Even extra-wide and stable fishing kayaks allow you to stand and fish.
Keep in mind, stand-up capability might be very important on shallow water.
Sit-in or sit-on
A seated fishing kayak provides protection from the elements and is great for kayaking in cold water because of its more closed design. It comes with self-draining features that drain water for your profit.
Sit-on fishing kayaks are better for beginner anglers because they are easier to get on and off and more breathable. They're also perfect in hot weather. You won't be afraid of the small amount of water that will eventually seep through the waves or splash of the paddle.
The comfort level
If you sit in a kayak all day, you want to be more comfortable. So consider the padding and adjustability of the seat of your fishing kayak. You can further improve the comfort level by using available footrests, or you can just put your feet on your side and relax.
However, you must pay attention to the hungry fish that can bite your toes, though.
Storage space
Fishing kayaks have many excellent storage options under the hull and around the side walls. This will give you enough space to bring all the accessories and equipment you need for your fishing day.
Enough storage capacity not only gives you the chance to be over-prepared but also makes sure you have everything that you need when you're on the water including snacks and first aid.
Length & width
Keep in mind that longer kayaks will be faster than shorter kayaks. So if you like to explore as much as possible while fishing, a long fishing kayak will be the best choice. On the other hand, if you prefer to relax, take it easy and enjoy a little moment of relaxation short model is suit your need.
The wider the kayak, the more stable you will be, which will keep you dry while fishing. You will also have more space to balance and stabilize if you start to swing.
The weight
The weight of the fishing kayak will have an impact on its ease of transport. If you prefer solo fishing, look for something that is light because it will be difficult to transport a heavy fishing kayak from the surface to the water. It will determine the buoyancy of your kayak on the water and its impact on your top speed.
The pedals
Pedals can make your fishing trip easier, but they are not essential. If you want to fish hands-free, the pedals are a splendid solution. Because you only have to use the rudder to steer which is much easier than paddling. You won't have as much exercise for your arms, but we're sure you don't mind.
The rudders
Rudders determine how easy it is to steer your kayak. But the effectiveness of the rudder varies by brand and price range. You can find a rudder that offers 360-degree movement as close as possible to the east. Because it allows users to get out of any difficult situation easier, no matter where they are fishing.
The accessories
Accessories include motors, which go even further than standard pedals and provide the most efficient kayak fishing experience you've ever seen and make it easier to get around in the scorching sun.
If you've already tried kayaking in the hottest summer, you know how exhausting it can be after just a few minutes, then an engine will be a welcome addition to your kayak.
You can also invest in a kayak cart, which makes it easier to transport your boat to the water and prevents it from damaging by protecting it from rocks and debris.
Number of people
This criterion is obviously important because once you have chosen your fishing kayak in your budget, it is not expandable. Some models only accommodate one person, others two up to a certain weight. Finally, others fishing kayaks allow you to take two adults and a child.
Do not go beyond the supported weight, otherwise, you will damage your boat and put yourself in danger.
FAQs:
Are sit-in kayaks better than sit-on-top kayaks?
We don't like to say that anything is better than anything else, because it depends on your preferences or needs. Seated fishing kayaks protect you from the wind and keep your body dry in cold waters. Seated kayaks are more user-friendly because they make it easier to get on and off. They also flow by themselves through a process known as self-rescue.
Sit-on-top fishing kayaks may be better for beginners, but they are not suitable for all situations.
Is a longer kayak better than a wider kayak for fishing?
Longer kayaks can be easily covered distances. However, longer fishing kayaks are less stable compared to wider models, which is often disadvantageous when fishing.
How much storage space do I need?
You need enough storage space to carry everything you need. Fishing kayaks provide more space than you need for gear, accessories, refreshments, and fishing gear so that shouldn't be a problem. There are mesh pockets on the sides. Also, you'll have front and center hatches for other storage options.
Best models offer removable parts like pedals or seats, which provide even more storage space. If you are fishing with a buddy in the same kayak, you will need more space than if you were doing it alone.
What should I take with me when fishing with a kayak?
When you go kayak fishing, take everything you think you need with you. This includes food, refreshments, equipment, tackles, survival knives, and all the emergency equipment you deem necessary. Because having and not needing is always better than having and not having. So it's up to you to decide which accessories you deem essential.
The more you practice kayaking, the more you will become familiar with the essentials. And eventually, you will know what you will always need to take with you for a peaceful experience.
For a more complete experience, you can buy fishing shirts and other similar items, which are good to have. Because they will give you additional storage options for gear and accessories.
How to maintain my fishing kayak?
You don't want to damage your kayak especially when you buy it for the first time. Because we all know that it is not cheap. However, if you want your kayak to last as long as possible, follow these steps for all year-round care to ensure longevity and the pleasure of carefree fishing after the season is over.
Out of season
Check that the hull is not damaged
Inspect the rigging
Replace the old part or accessories
Restock emergency equipment
In season
Invest in a kayak cart
Clean it often
Keep it out of the sun
Cover the seating area
Are fishing kayaks under $500 safe?
Yes, fishing kayaks under $500 are as safe as you make them. This means that as long as you stay reasonable and recognize your limits on water status and know when to give up a tap, then you should be safe.
They are designed to be as safe as possible, but you cannot always guarantee that everything will be fine. What you can do is prepare for the worst. Hopefully, you will end up being over-prepared, but we can all agree that it's better than being under-prepared.
Conclusion
Kayak fishing is a great way to enjoy soothing wonders on the water. At the same time, it provides the safest balance whether you want to sit, stand or squat, and makes it easier than ever to get the grip you've been dreaming of since you were a child.
Of course, it is possible to find a fishing kayak for less than 200 bucks. But what about the quality?
The last tip, if you want to go fishing on your own, opt for a lightweight kayak, with seats on the top. If you are going fishing as a family, a full-size kayak with 2 or more seats is a good choice.
We sincerely hope you find this buying guide useful to purchase your own fishing kayak under $500.
We also have reviewed the best fishing kayaks under $700 (added thousand dollars value), and top-rated fish finders under $500 (suitable for many fishing styles). You can also check our comparative analysis of the best fishing float tubes in 2023.